Time to organize! We moved into this house about 9 months ago now and there are so many little spaces that I kind of just dumped our boxes into that desperately need organizing so I thought I'd tackle a couple of them today! I meant to do it with Kevin's mom when she was here yesterday, but the day got away from us.
So in this blog, I'm going to link some of the items that I used to not only organize, but a couple of other things that I've gotten from Walmart recently that I've just been helpful in my home. Let's start with the organization.
My Friends Company!
I should start by saying I'm so so so proud to be doing this today because the products I'm using to organize are from The Home Edit. I know a lot of you know this, but Clea and Joanna, the co-founders of The Home Edit, are two of my friends and I love them both so much! What they've accomplished is incredible and I absolutely love and will support anything they ever do! But beyond them being my friends, the products are just dang good! They are high-quality, but an affordable price and these girls are experts when it comes to organizing so they know what's up and what we need.
I'm telling you, I've gone to Clea's house dozens of times and she practices what she preaches! Her home is immaculate and so well organized! It gives me so much inspiration every time I go over! And she might even be coming over my house today, so I'm actually really excited to do this today so I can show it to her when she comes over later.
Kitchen Drawers
The first items that I used, and the one I use the most often to organize in my kitchen, are The Home Edit kitchen drawer organizers. The reason I love these drawer organizers so much is because they are small enough to organize and categorize things properly, but large enough to fit big utensils! The girls nailed it with these! I used three sets of them to organize my kitchen utensil drawer. Just to kind of give you an idea of how many you need for the drawers in your kitchen, the drawer is 40" x 20".
The Before…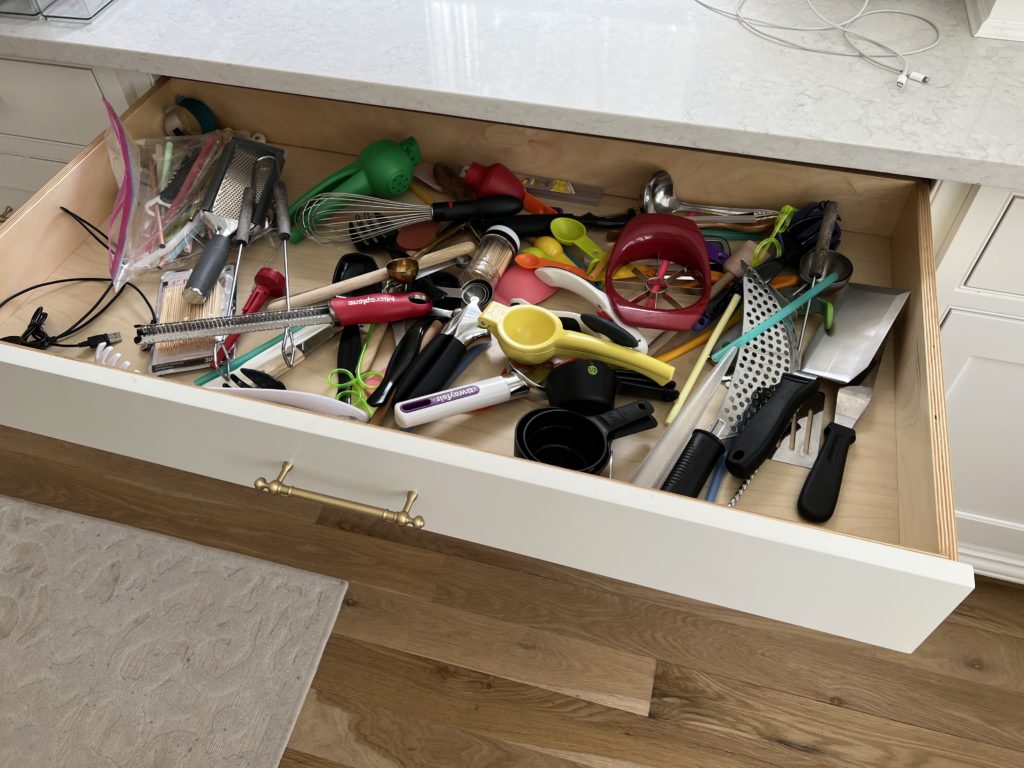 The After!!!!
I actually had my friend Clea from The Home Edit over at my house today and did the reveal of this drawer for her! Definitely go watch it over on my Instagram to see her reaction, you can click the link below.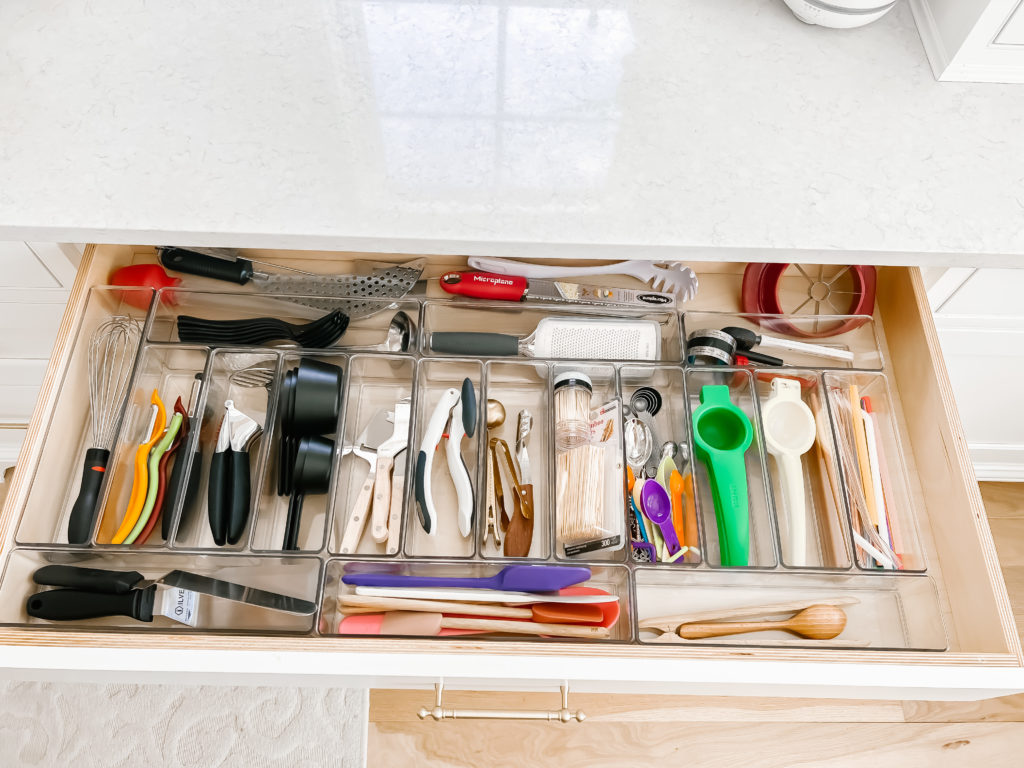 Then I used two additional ones to organize my tea and medcine drawer – that drawer is 32.5" x 20". I could probably add a third back the tea stacks nicely in the back.

I'm telling you guys if you have a junk drawer or any drawer in any room of your house that feels disorganized. These bins are fantastic! They also be great in bathroom drawers!
Tackling the Closet
Oh man I put a small small dent in my closet today in terms of organizing, but I have so much more to do. But I really wanted to start with giving myself more shelf space to organize my shoes because right now I have nowhere to put my shoes in my closet because there's no shoe storage and all of my shoes are basically just in one big box.
So when I saw that Clea and Joanna came out with these large bins with a drawer I thought they could be a perfect solution to not only help organize my shoes, but also almost add an extra shelf in my closet.
LEGIT DOING THIS RIGHT NOW! WILL ADD PICS WHEN I'M DONE!

Essentially I used one drawer to put a pair of shoes or even two pairs if they were sandals in and then placed another pair of shoes on top of those they are for doubling my space on the shelf. As you can see on the drawers they can also be used for sweaters or hats or pants or really anything you need to organize in your closet and I absolutely love them!
I haven't started yet, but I also got their new wooden hangers which are just so so so gorgeous but switching out the hangers is going to take quite some time so that's a project for another day.
I'll put the link to the entire The Home Edit collection here and link a few other items that I'm getting now that I've experienced the pure joy of using these products to organize my home! I wanna do every nook and cranny now!

Wooden Folding Chairs
I also wanted to share a few other things I want to share that I recently got that I think are amazing and will help elevate your home! The first is these wooden folding chairs. You guys know that I recently started playing mahjong with my girlfriends and when they come over we need a card table and chairs to play at. So I got a card table folding table and these beautiful wooden folding chairs. They're just so much more pretty than the plastic and metal ones that we are used to, and similar in price! You might pay a little bit more but it's worth it to have these because they're so pretty. These could be used for a wedding. We used them at Molly's party for extra seating and they just looked so nice! And they're easier to fold up and store in your garage. I Love Love Love these and I ended up getting two sets so we have them for a future parties/get together's.

Wool Dryer Balls
Another thing I got that are helpful in my home are these beautiful wool dryer balls. These have actually been out of stock on Walmart site for a while and I was so happy to see they are finally back in stock. I've seen so many influencers post about these and I wanted them so badly. Not only for the functionality because they help decrease the amount of time you have to run your dryer but I just love how cute they are in this little bag they come in. It just adds a little bit of charm and farmhouse feel to my laundry room and I love them!

1. WOOL DRYER BALLS | 2. DETERGENT TIN | 3. BASKET
Laundry Room Rug
Also linking cause it's in my laundry room and I think it's beautiful, is this round area rug. I absolutely love the detail in this rug, but that it's a solid. I usually don't buy many rugs with bold prints. I prefer more simple patterns. Or even solid colors. I saw a lot of rugs like this but they were just really plain so I love the detail in the way that the material is woven. I got the 5′ x 5′ round for under $100 but it also comes in 3′ x 3′, 4′ x 4′, 6′ x 6′, and 8′ x 8′!

1. WOVEN AREA RUG | 2. DETERGENT TIN | 3. DRYER BALLS
Rainbow light
This also might seem like a weird thing to link in this blog post and it kind of is but I'm linking it anyway because I bought two of them for my kiddos and they love them! They're only $10 apiece and they honestly looks so pretty and way more expensive! They be so cute in a college dorm room or any child's room! Or even if you just wanna add a little rainbow and color to your little workspace I feel like this little light will make you happy! It's got great reviews to so check that out. It is a fun thing to buy for you you are your kiddos for only 10 bucks!

Well that's it for me today! Hope you found this blog useful to either inspire you to start organizing your home or just grab a couple items that you might need! Let me know if you have any comments or questions in the comment box below
Last thing I need your opinion on while you're here. Should we get something like this for our screened in porch? I can't decide if I think it will be amazing and great especially to have during the cooler months or not. What do you think? Do these things look good? The reviews look good! Have you had one? Tell me in the comments below!

Thank you Walmart for being a sponsor of my blog!!! I'm so grateful!