Who's excited for a swimsuit edition of Affordable Friday! I knew when we planned this trip to San Diego I wanted to get a new swimsuit. But honestly I have so many great ones that I was really only planning on getting one. But you know me I wanted options, so I ordered a bunch from Walmart thinking I'd keep one and send the rest back. Well, I truly love with almost every single one that I decided to keep them all! Ha! Heck we are putting in a brand new pool in our backyard so I'm gonna need a lot of different suits this summer! All of these are so ridiculously affordable that I just went for it.
Not only are all these swimsuits affordable, but they're also on rollback. Making them extra affordable! Most of them are around $22, if not all of them.
A Sexy and Chic Look
I'm gonna start with this classic black one-piece. Not only because I think the one piece is super chic and sexy. But because the cover-up is one of my favorites of all time! And it's only $11! I've had a lot of coverups in my time and trust me when I tell you they all fit differently. Some are more flattering the way they fall and summer more cozy. This one is not only perfect for hot summer days because it's so lightweight, but it is ridiculously flattering for how it falls. And seriously to get it on rollback for $11 is a steal! I love this burnt orange color, but it also comes in a few other colors so definitely check it out.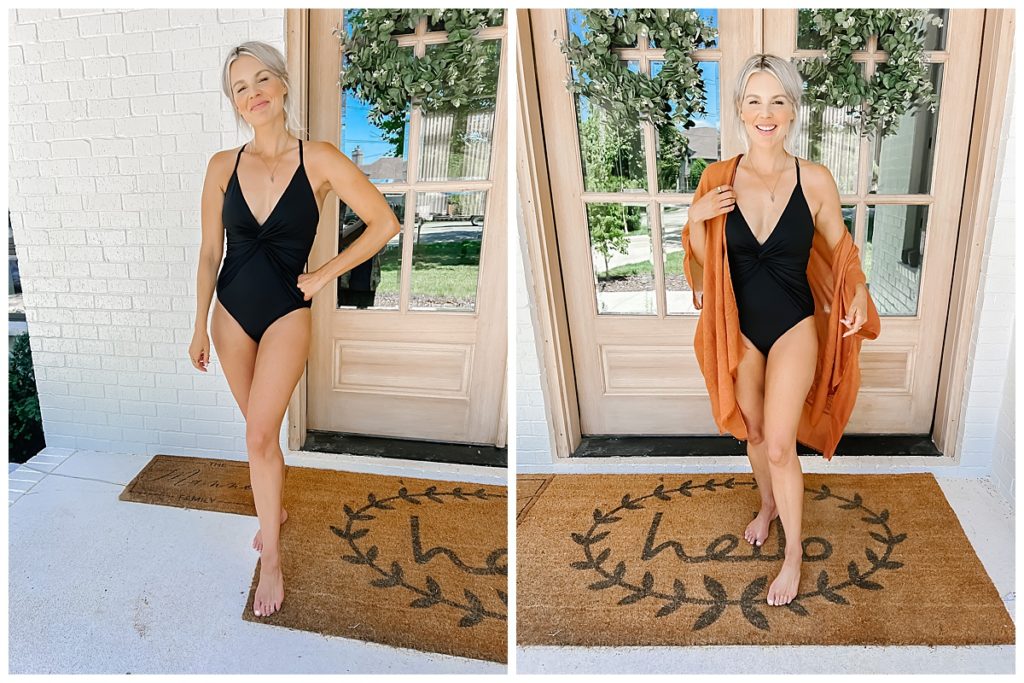 1. BLACK SWIMSUIT | 2. COVERUP
And then of course linking the black one piece. It's got this crisscross in the fabric in the front which I didn't realize when I bought it but I love it because I feel like it makes it look even more expensive and chic! It's only $22 and comes in sizes S to 3X. I'm wearing a size medium which is my normal size so it's true to size.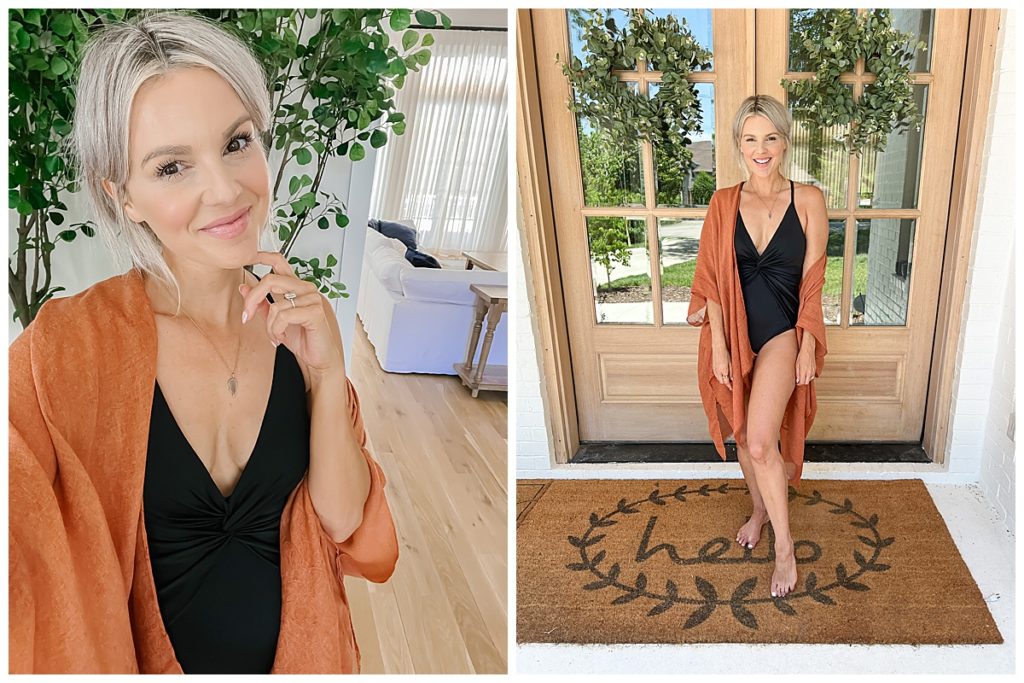 1. BLACK SWIMSUIT | 2. COVERUP
Fun Prints and Ruffles!
Moving on from simple and chic in black to some super fun prints! This first floral suit is one I knew I was going to love as soon as I ordered it. I got it in a size medium which is my normal size so it's true to size. The print is super flattering. Whenever you have a print on a piece of clothing it tends to work as a camouflage. And I am in love with the beautiful ruffle detail on the front and the cut out in the back! The size suit is also available in size S to 3X.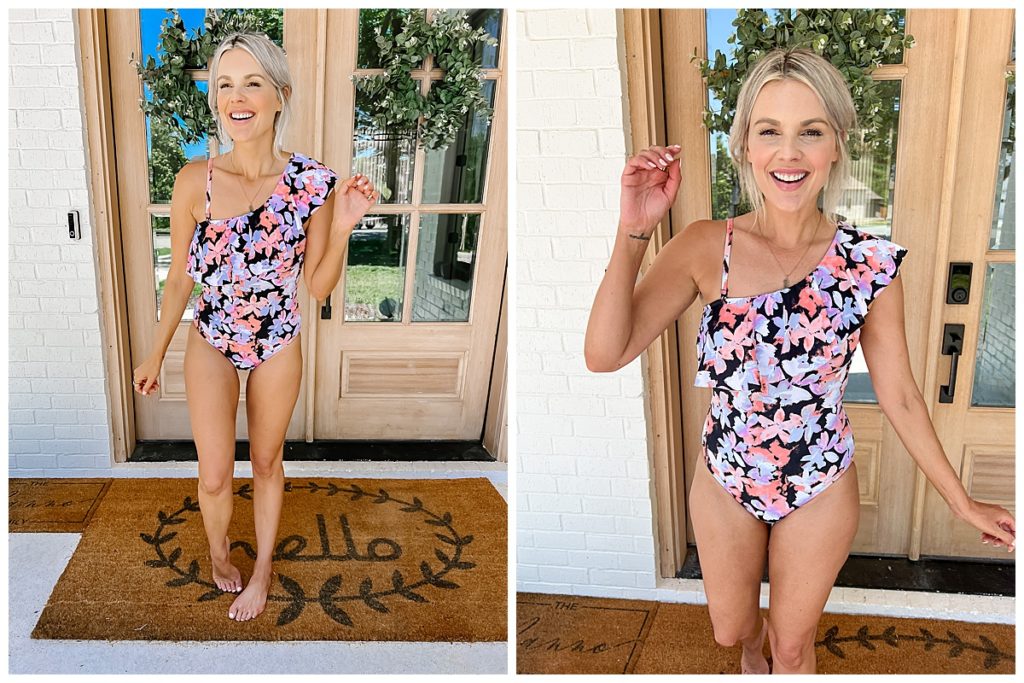 This next print is one I wasn't sure of because of the stripes. I was a little bit worried that it wouldn't be super flattering on me. Oh my gosh was I wrong. It's absolutely flattering and so gorgeous! Once again I love the ruffle detail around the top and I love that it has detachable straps so you can wear it with them or without it if you want a strapless look. I actually got this in a size medium at first but then I exchanged it for a size small because I think it fits me a little better. Right now, I am usually in between a size small and medium so I would say if you're in between sizes on this one size down.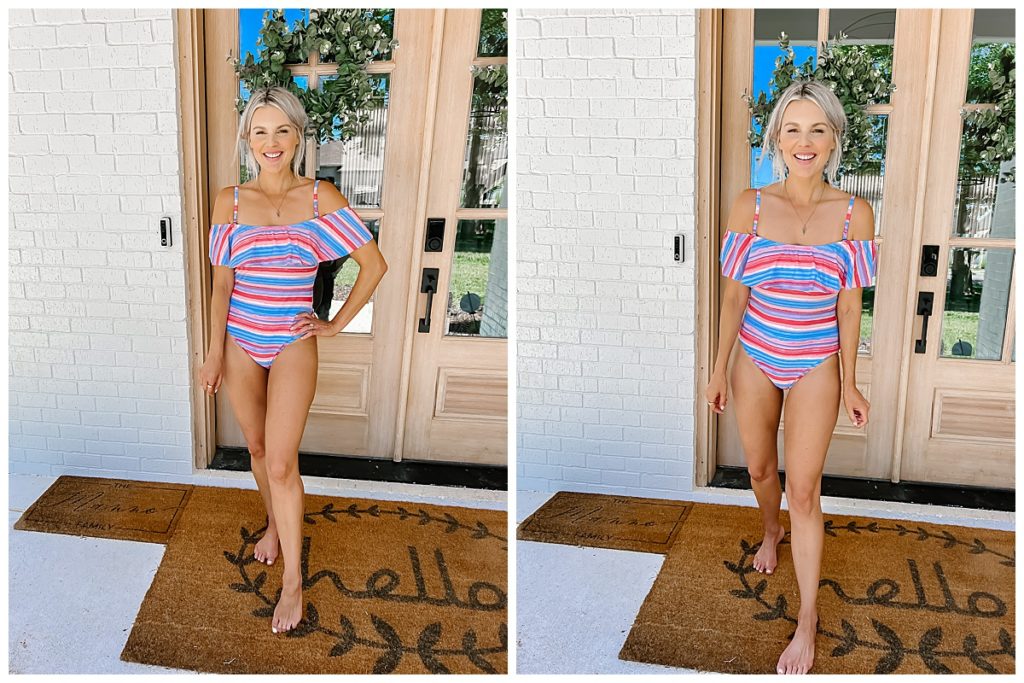 Bubble Gum Pink!
This pink swimsuit just makes me happy! It's available and size small to XL. It's from Jessica Simpson's swimsuit line at Walmart, and it's on rollback for just $25. This one definitely bunches a little bit when you wear it, but I just love it so much that I don't even really care. I honestly think this would be a little bit better suited for someone with a larger chest. I feel like I don't really fill out the cups that great. But even with the slight things I'd want to change, I still decided to keep it because I just love the bubble gum pink color!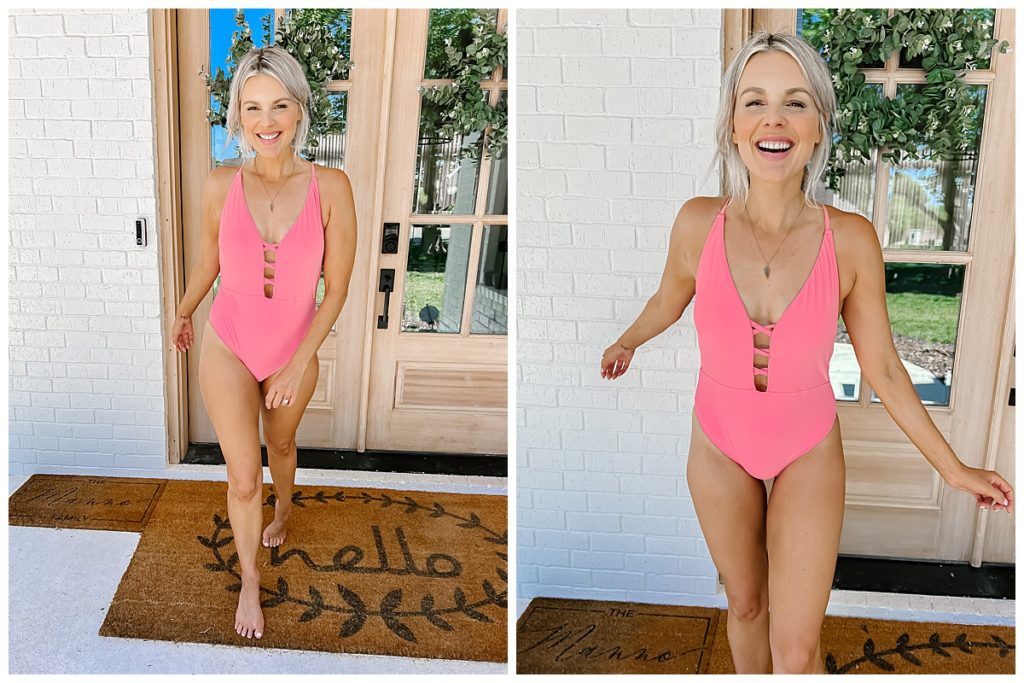 Baywatch Gal!
From pink to red, let's talk about this Baywatch inspired swimsuit! I had to play around when we were taking photos and do the Baywatch classic run. Ha! I love this suit! First, it is super super super flattering! There's a bunch of ruching in the middle that camouflages the tummy area, but it also really just sucks everything in. You can even kind of see that my chest is even sucked in a bit so it looks a little bit flatter than it normally does. So I would say women with curves are going to love this suit! It's going to make the girls pop up and flatter your curves and all the right places! I love that the suit is only $22 on rollback and available in size S to size 3X.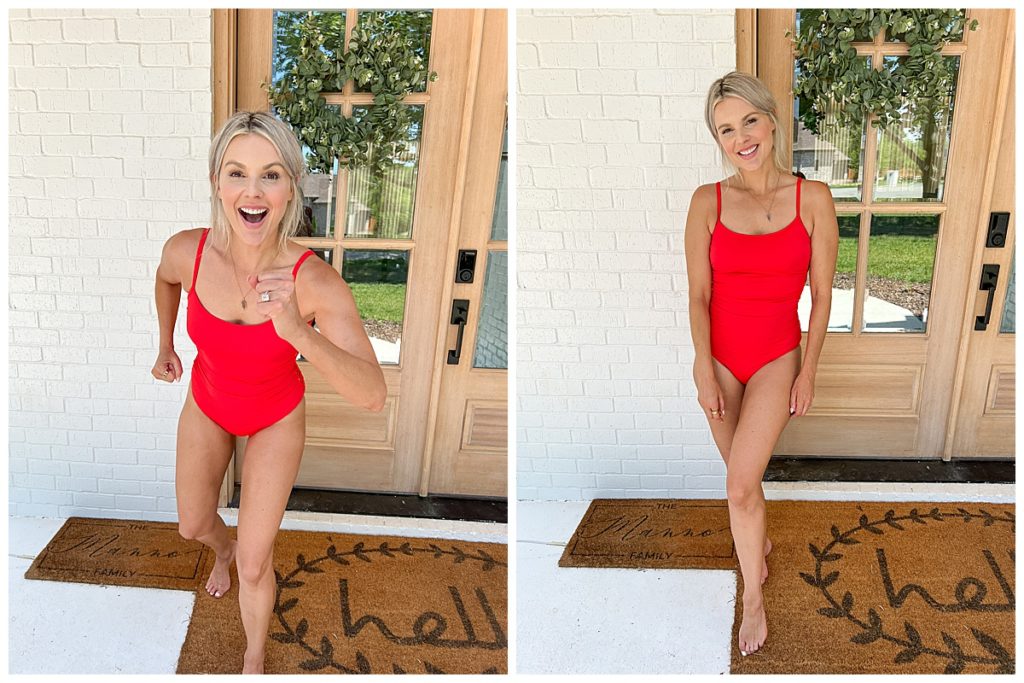 Bright Colors!
And last but not least, I have to share this swimsuit from No Boundaries at Walmart. I got the pink in a size medium and the blue in a size large so you guys can see both. I'm completely obsessed with the suits.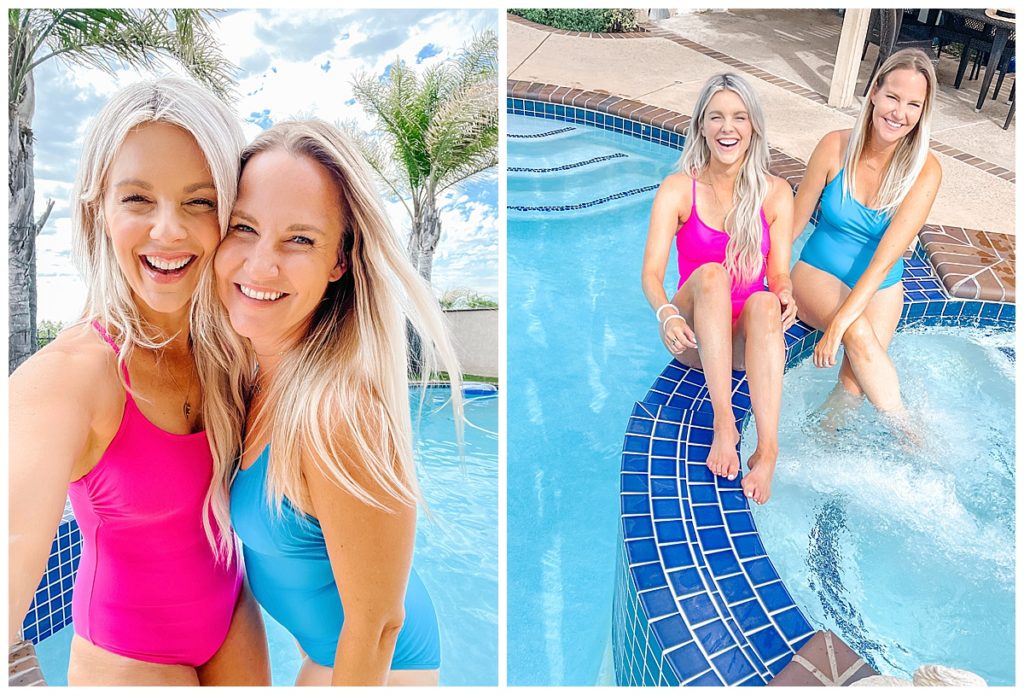 I have a different version of these exact suits with thicker straps that I bought last year that I love and posted about for you guys but they sold out quickly. These swimsuits are only $12.98 apiece so grab them super fast before they sell out! Because they absolutely will. I'm obsessed with the colors!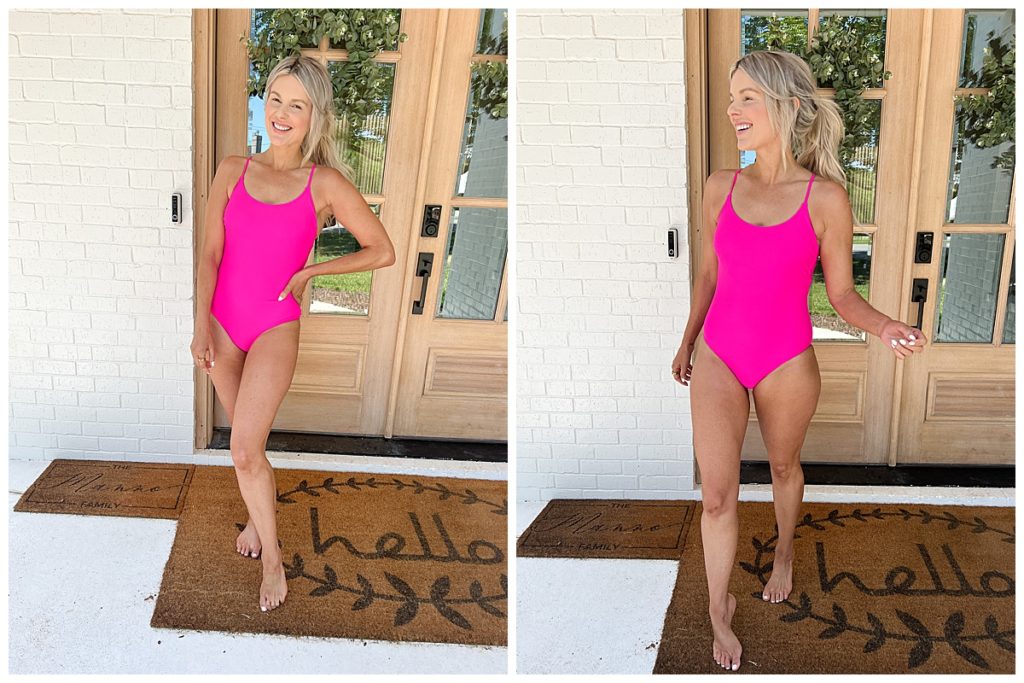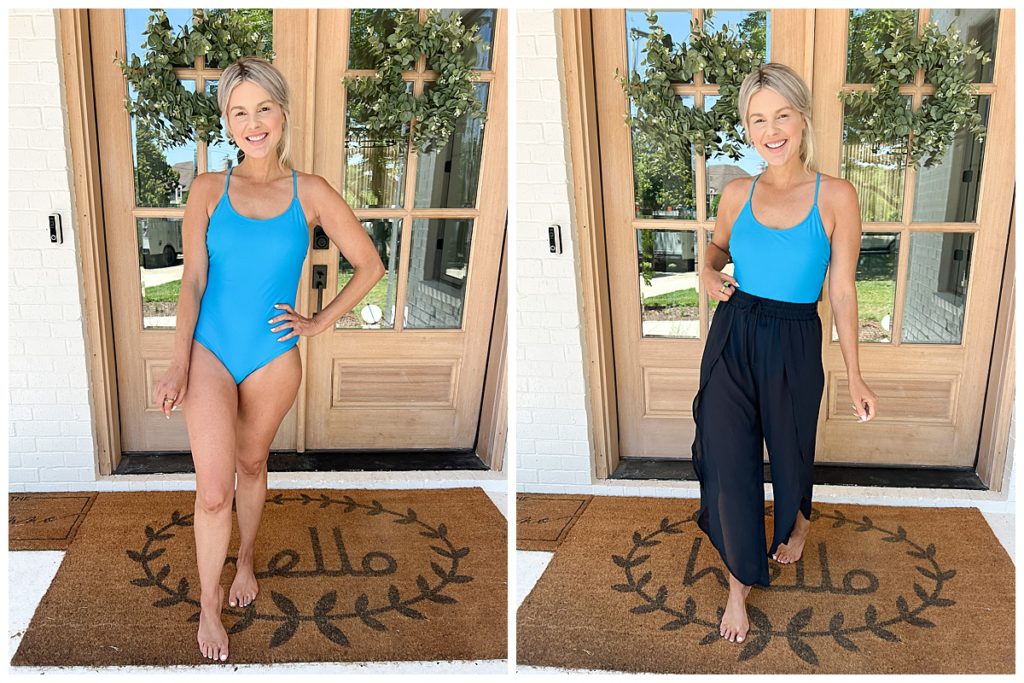 Darling Shoulder Ties
I thought this suit was so cute with a little bow details on the sleeve. You guys know I'm a sucker for bow sleeves! And the swimsuit is also only $22!
Black is always a great option for swimsuits. I love this one because it has ruching in the middle as well as at the bust. And I absolutely love any piece of clothing that ties in little bows at the shoulder. You guys know this about me. I have dresses like this and jumpsuits like this. It's just such a cute little feminine detail. At $22, this is a great price! I'm wearing a size medium which is my normal size but it comes in sizes S – 3X.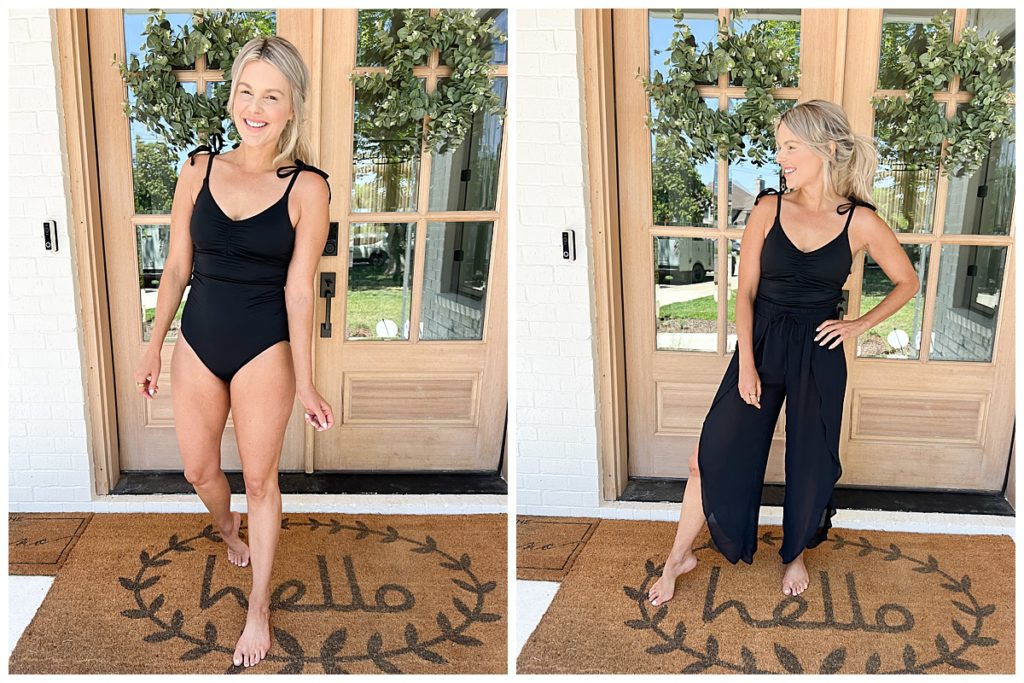 1. BLACK SHOULDER TIE SWIMSUIT | 2. COVERUP PANTS
Cover Up Pants
These cover-up pants are gorgeous! Like so pretty and flattering! I ordered them in black but they also come in a leopard print that is so good! And both pairs are on rollback for $15. Check out the reviews on these guys as well because they have nothing but five star reviews! The fabric is super lightweight and cozy and they're just really flattering. A great vacation pant!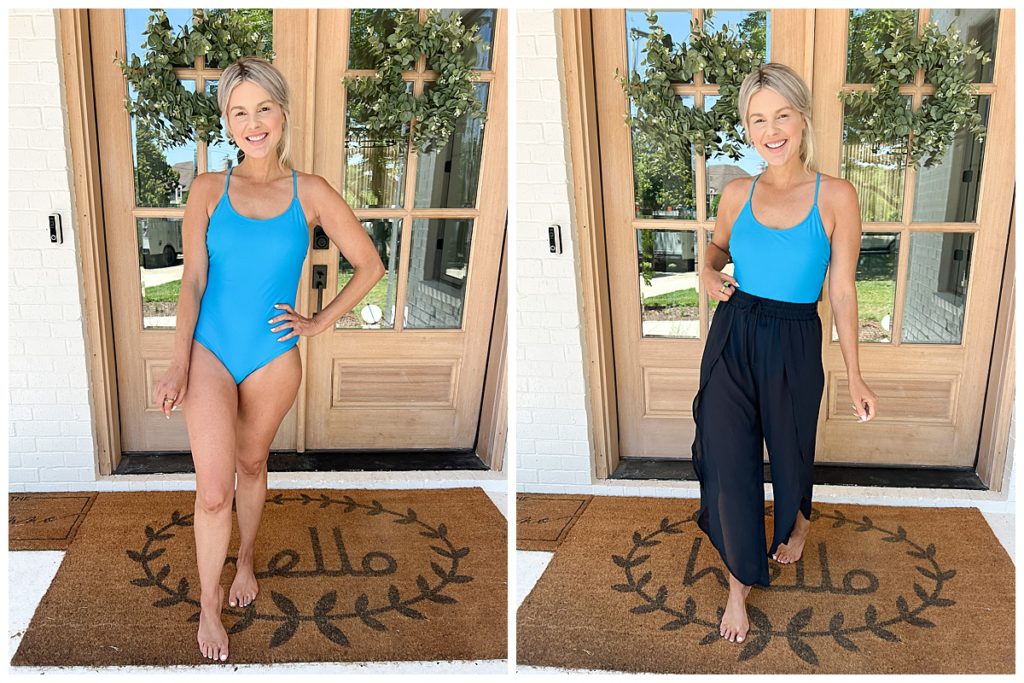 1. BLUE SWIMSUIT | 2. BLACK SHOULDER TIE SWIMSUIT | 2. COVERUP PANTS
Pajamas
I'm really randomly gonna throw in some PJs at the end of this blog post because I recently got two pairs from Walmart that are ridiculously affordable and both on rollback! This first pair with a tank and shorts is only $11. Yep you heard that right. Only $11 for both thetop and bottom. The reason I bought this is because a girlfriend of mine has these and she told me they're basically the softest pajamas she owns so I decided to get a pair myself, and oh my gosh she's right! They are ridiculously soft! Love love love these and my top speaks the truth. I need a nap! Ha! It also comes in a bunch of different colors with different sayings if you want to check those out here.

And then this pair I love. I have another pair of these pajamas in blue that I've had for a while and this pair with a beautiful purple floral pattern is a rollback for $15 for both the top and bottom. That's $7.50 for each piece. It's just such a great deal. Check out the other reviews to see what other people are saying. They're super positive! So treat yourself to a new pair of PJs at a great price!
Dresses!
I recently ordered these dresses and know I will be wearing them a bunch so wanted to link them here for you!

Also, adding this yellow floral dress that I posted in the last blog because I packed it for my trip to San Diego so linking it as well because it's only $12 and still in stock and comes in sizes XS through XXXL. It will sell out quickly so do not wait if you want to snatch this one up!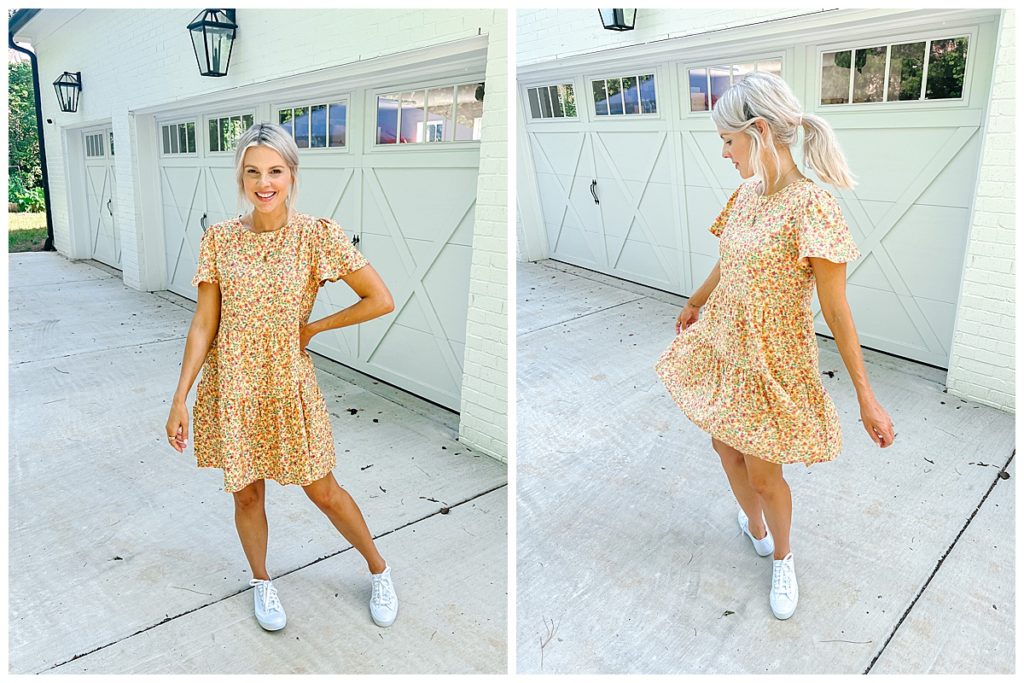 1. FLORAL DRESS | 2. SNEAKERS
Help Me Choose
I forgot to ask people on my Insta stories to help me with this in my last blog post, so I'm adding it to this one so that more people can chime in because I'm so torn on what to get. Help!!!
I feel like I'm always so indecisive about making a final choice about furniture, so I need you guys to help me! There's basically two different kind of looks/vibes I'm thinking could work really well for my outside furniture. One is more natural tones like the things link below. I mean how gorgeous are all these pieces by Better Homes and Gardens? The four piece set is seriously ridiculously affordable for how expensive it looks. If you read the reviews, people keep saying the same thing that it looks like a designer brand for such a more affordable price.
Plus, I love the neutral wood tone and then of course the white cushions. However because there's going to be a lot of white pavers in the backyard I'm wondering if I should go with a darker tone other than a wood tone. But I don't know!

So the next option would be the items linked below. With a darker base and still light cushions. You know me! Ha! I think either could be really beautiful but I'm just having a hard time picking.

What do you think? Do I go with the neutral color base or a darker color base to be a more contrast against the white pavers? Tell me what you think in the comments below!
Have a Wonderful Weekend!
Well that's it for me. I hope you absolutely love this blog post as much as I loved creating it. Sharing pieces that I think are beautiful and flattering, but affordable prices, is a passion of mine and I just wanna thank you guys for being here and checking it out. Let me know if there's anything else you'd like me to do an Affordable Friday post about and I'll try my best to do it! Tell me in the comments below!
Thank you Walmart for sponsoring my blog!