Oh my gosh you guys, I had to get the word out to you guys right now because Tarte has some of my favorite makeup products for as little as $5 right now! But the sale is only until the end of the day so I had to get this blog up asap!
$5 Items
I highly recommend, if you're looking for a good natural tinted moisturizer, that you try their Skin Treat. Tarte's travel size is only $5 right now and it's the perfect light coverage for summer!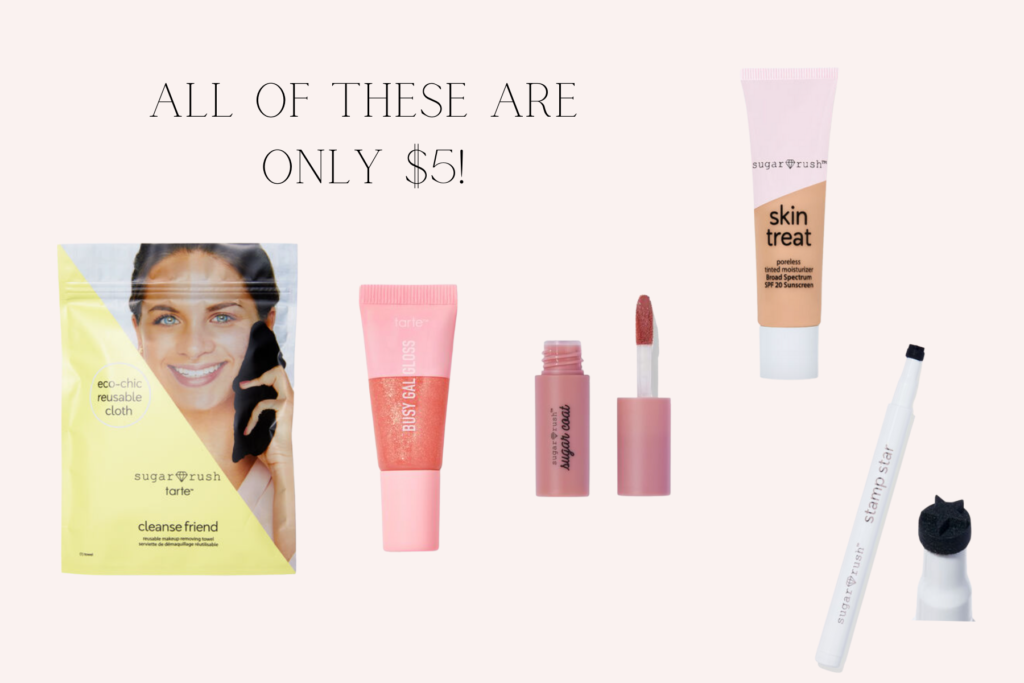 I have multiple of these reusable makeup cloths which are also on sale for $5. The Busy Girl Lip Gloss is great and only $5. Then I also got Molly the super cute star stamp that I feel good about her using knowing that it came from Tarte. It's essentially a little tattoo stamp of a star. She loves it and I trust Tarte's natural products!

$10 Items
The Maneater mascara is one of my favorite mascaras of all time and it's on sale for $10 right now – and that's for the full size! Even the travel size cost $15 right now. So to get the full size for just $10, which is $14 off, is incredible! I am wearing Maneater in both photos below! Their Big Ego vegan mascara is also on sale. I love the brush on the Big Ego mascara.
The Maneater Plumping Lip Gloss is also $10 and one of my favorites EVER!!!!
You can also get their Quench Lip Rescue. I have it in coral and it's so great when my lips get really dry and cracked with other lip stains and colors that I like. I'll put this over it to keep them moisturized.
Then one of my absolute favorite products of all time is the Fake Awake. Just put a little bit of this in the inner corners of your eyes and your eyes will instantly look more awake and brighter.

$15 Items
There are a bunch of $15 products on their site and I recommend you check them all out. But one of my absolute favorite makeup products of all time is their Sketch & Set brow pencil and tinted gel. I use it every single day and you can get it for $9 off right now! It's normally $24 and you can get it for $15. I use shade Ash Blonde.

$25 Items
The last product I wanted to link is their Amazonian clay tinted moisturizer. It's normally $36 for the full size. But you can get it for $25 right now. This is a product that I have legit used for about a decade and I can't say enough good things about it. Just check out the over 1500 reviews on Tarte's website.

Like I mentioned above, there are a bunch of other amazing deals so check out this link to see them all. These are just some of my favorites and the ones that I use the most often!