Hi guys! I've been finding myself buying things off of Walmart lately to help me tidy up some areas in my home or just make them look a little better so I thought I'd be fun to do a little affordable Friday spring cleaning/spring refresh blog! All these items either helped me tidy up a space or really just make a space look better. Everything is pretty affordable, functional, and beautiful! I hope you enjoy this post.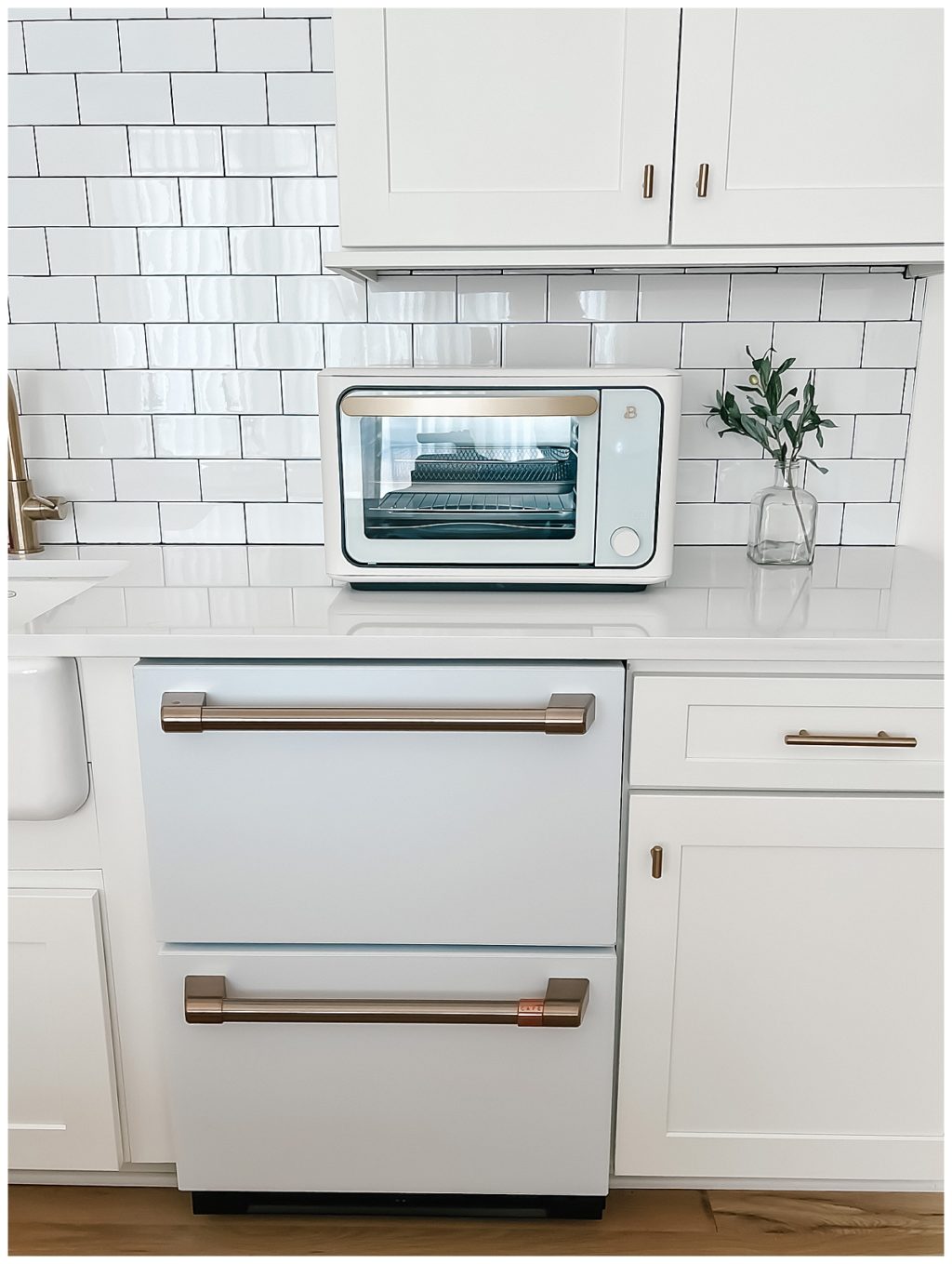 1.  AIRFRYER | 2. OLIVE SPRIG
Lanterns for Built-Ins
I have to recommend these lanterns for decorating around your home because they are really beautiful, a good size, and affordable at just $23 apiece! Because of the larger size of them they're really great for tidying up around your home by reducing clutter in your decorating. One of the biggest mistakes, in my opinion, when it comes to home decor is using too many small pieces. So it's really important to find large items that you love that will take up more space and leave shells less cluttered. And these lanterns are a great way to do that! I highly recommend checking out the reviews on them. There's over 80 of them and they are really positive! It's just beautiful, a great size, and well-made.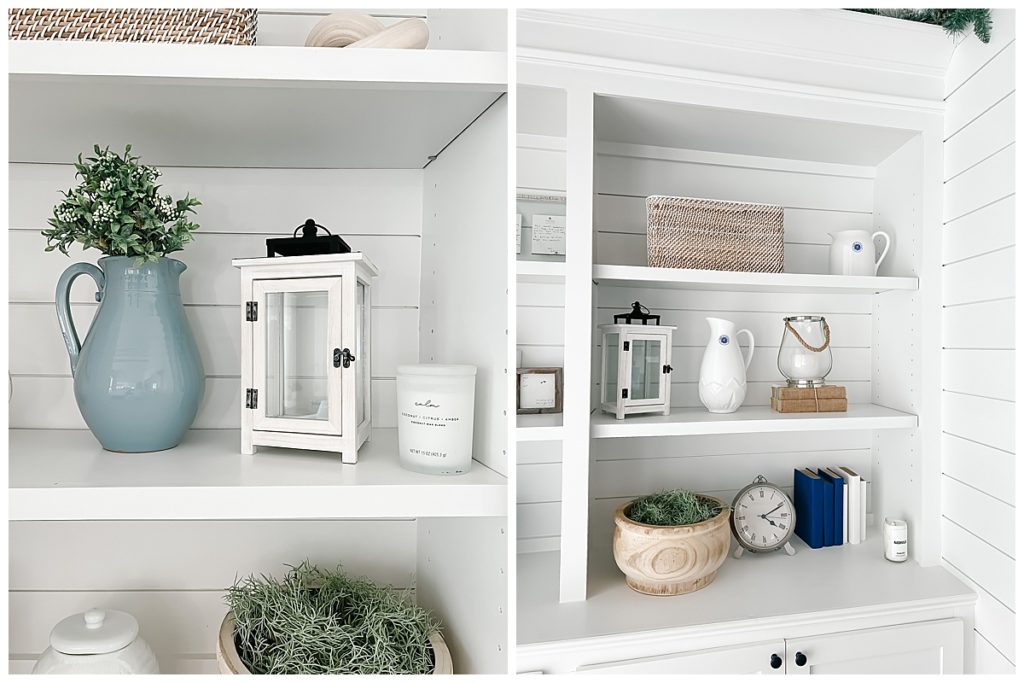 Laundry Soap Holder Tin
Another item I love for spring cleaning is this laundry soap holder tin. I've had this for quite a while now and I just love how it looks in our laundry room and love that it's functional to hold supplies. You could put dryer sheets in here, laundry pods, wool dryer balls, a bunch of different stuff! It even comes with a little scoop on the side if you decide to put powder detergent in it. At only $11.88, it's a steal! I'm also linking similar wire baskets, wicker baskets and ceramic canisters to mine seen below.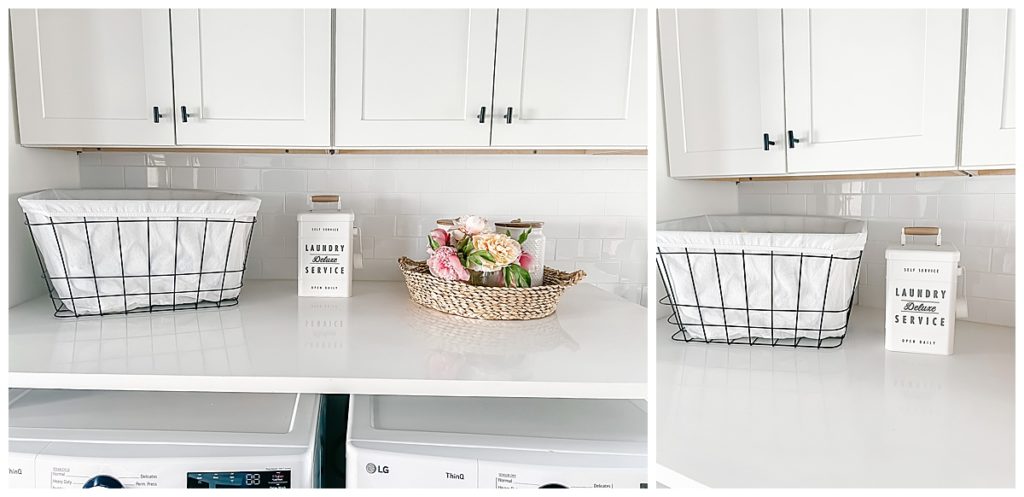 1. LAUNDRY SOAP TIN | 2. WIRE BASKET | 3. WICKER BASKET | 4. SIMILAR CERAMIC CANISTER
Beautiful Small Kitchen Appliances
It might seem weird that I'm including these small kitchen appliances in a spring cleaning post but the reason I am is because I think they're so beautiful and by having beautiful appliances like this on your kitchen counters they will look more tidy and clean to you. They are by a brand called Beautiful. It's actually Drew Barrymore's brand. And well they are quite frankly, beautiful! They come in a few different colors but I decided to stick with the white because that looks best in our kitchen.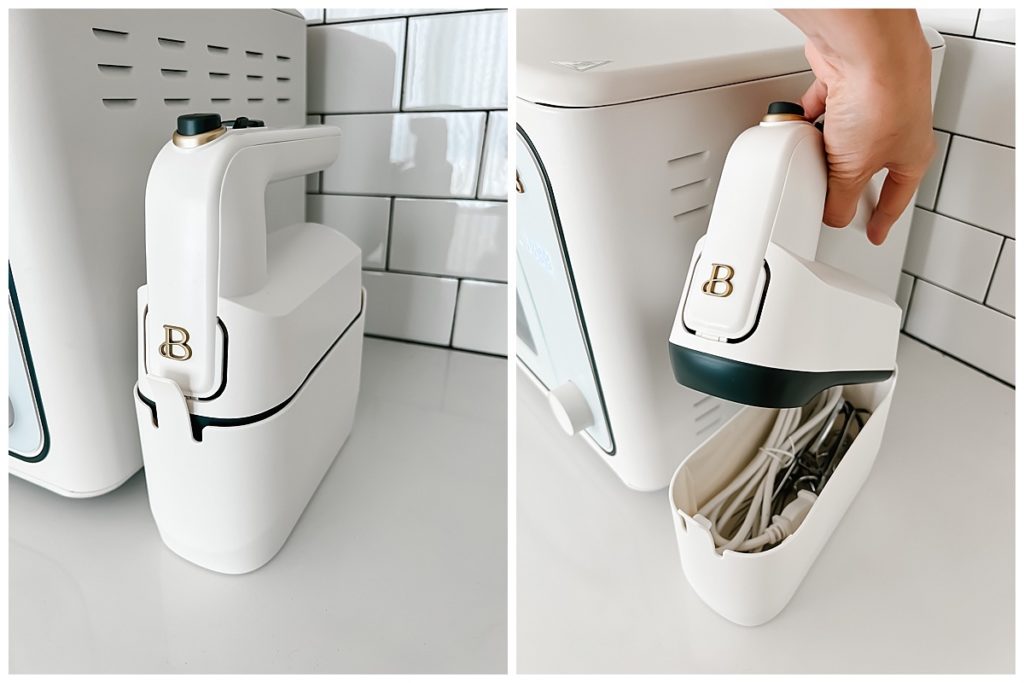 I got the hand mixer mostly because I don't have a hand mixer. Ha! But I love this one so so so much because it comes with a stand that makes it easier to store on a shelf and easy to store the extra attachments! I absolutely love love love how it functions and how pretty this mixer is.
I also got the stand mixer because well we didn't have one of those either! I feel like I'm finally becoming an adult by getting these things. Ha! I loved the price at $129. I was looking at getting another one that was double the price and I'm so glad I got this one instead because it's gorgeous and works great! It has all the attachments you need and when you have it up on your kitchen counter you'll feel happy looking at it!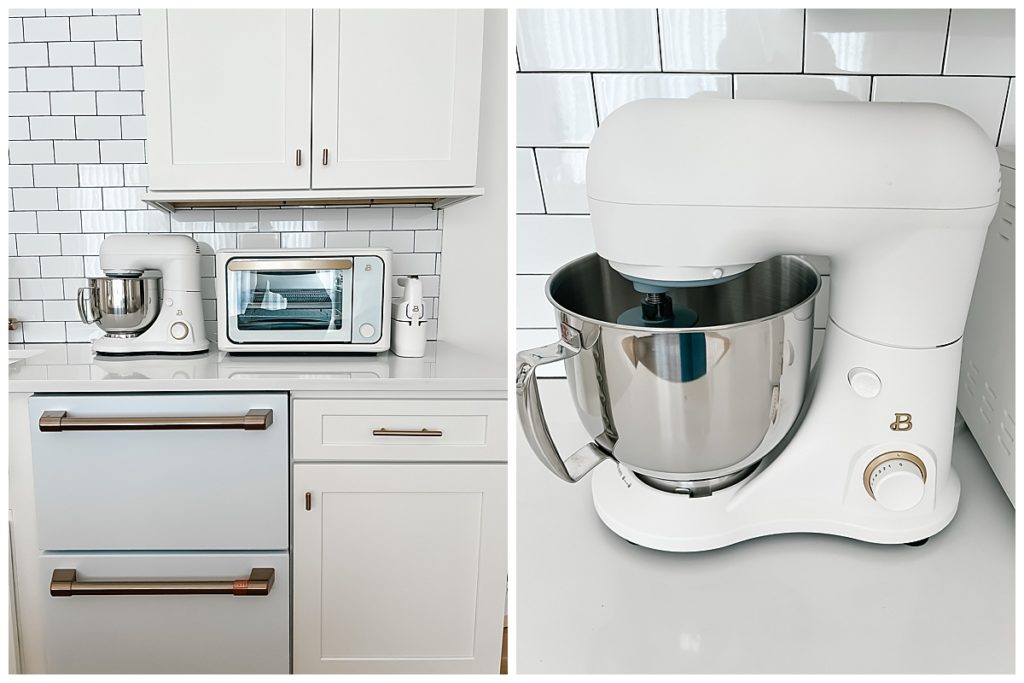 1. STAND-MIXER | 2. AIR FRYER | 3. TOASTER OVEN / AIRFRYER | 4. HAND MIXER
I already have an air fryer by this brand in our pantry. I'll link it here. It's $69, in that beautiful white color, and works great! We've had it maybe a year and a half now and have had no issues with it.
But I also wanted to get an air fryer and toaster oven situation for our in-law suite since there isn't any way to cook anything over there. So this one is absolutely perfect! It will toast bread, air fry anything you need, and really cook anything you would cook in an oven. I know I sound like a broken record but I wanted something really pretty since I knew it be sitting on the counter at all times in the little kitchenette area in our in-law suite and this one could not be prettier!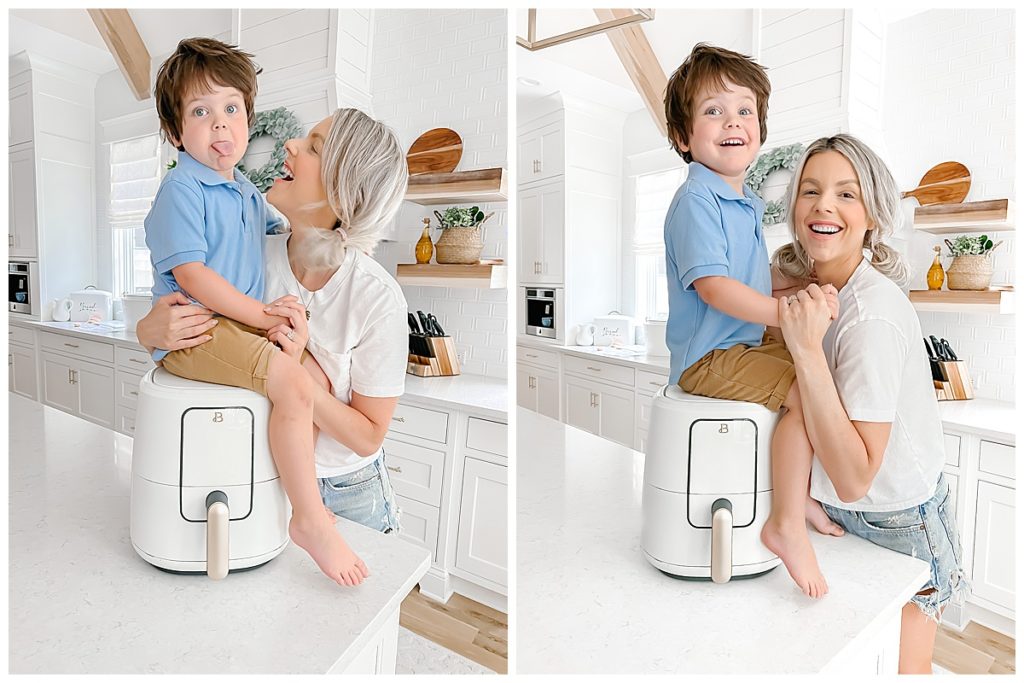 And here are my some of my favorite things to air fry! Potstickers, egg rolls, samosas, broccoli, cauliflower, leftover pizza, potatoes to make french fries, sweet potatoes to make french fries, and veggie bacon for BLT's. Tell me all your favorite things to air fry in the comments below! We use our air fryer multiple times a day and I'm always looking for new ideas of yummy stuff to make!
Also, so many people asked me where I got the white t-shirt that I wore at Riley's birthday party and that I'm wearing today so I'm linking it here for you guys as well. I got a size medium which is my normal size so it's true to size.
Farmhouse Trunks
I love these farmhouse-style trunks for a spring refresh. I feel like as we acquire more things our homes always get more messy. Like with my kids for instance. The more toys they get, the less space we have to put the toys. So these trunks are just a really great way to help tidy up and organize for some spring cleaning! They are a little pricier than I'd like to recommend for one of these blog posts. But I ended up getting them anyway and fell in love with them so I wanted to share them with you guys.

 1. FARMHOUSE TRUNKS | 2. OLIVE TREE
I currently have them in our guest room just because I needed something to fill an awkward space and I love that they gave some intrigue with their detail but then also height by stacking them. Then next to them, I put this faux olive tree that I have all throughout my home. No joke I think I have four of these trunks throughout my house. They're just the absolute perfect decoration to give a space visual intrigue with height but it's super skinny so it fits in tight spaces. This is also really perfect for apartment living or any small space. I think this would be beautiful in a bathroom! And here is the link to the exact olive tree in the pics with the trunks. I have 3 of them in my house because I love how thin they are so the work well to decorate small spaces.
Faux Olive Tree
Speaking of pretty faux trees to put in your bathroom. Whenever I post a story that shows my tub, people ask about the olive tree I have behind it. So I'm leaking it here for you guys. I got the 6 x 2' version. But it also comes in a 5 x 2′ version. When it comes to faux trees for your home. I've rarely found one under $100 that I love. I usually find all the quality ones are between one and $200. And the ones I have a link to this blog are all really great.

  1. 6′ FAUX OLIVE TREE | 2. 5′ FAUX OLIVE TREE
Bar Cart
I also decided to include this bar cart in my spring cleaning post. I'm really just including this one because I just bought it and I think it's awesome so I'm sharing it! Ha! We had this little awkward space in our in-laws suite that we needed to put something in and this bar cart works perfectly. Plus, it gives a space for us to put wine glasses and wine/liquor for our guess when they're staying with us. This one legit take all of 30 seconds to put together when you get it and it's really beautiful! Plus you really can't beat the price of under $100!

Wreath for Front Door
A few people asked about my eucalyptus wreaths that I got for our front door so I am adding them again to this to this blog! Not only are they absolutely gorgeous and perfect to hang up to replace your winter wreath with, but they are only $23.98! I got two because I have a double door on the front of my house. But you'll only need one of course if you have a single door. These wreaths fan out beautifully and give a perfect spring vibe!
I also think one of these would be gorgeous hanging above a bed or on the vent hood in your kitchen. – we have one over the vent in our home! There's really just so many uses for them and places you could hang them in your home. Like sometimes when I'm hanging art on one wall, I feel like putting art on a connecting wall feels like too much. So hanging greenery like this helps fill in the wall space, but also provide some thing different.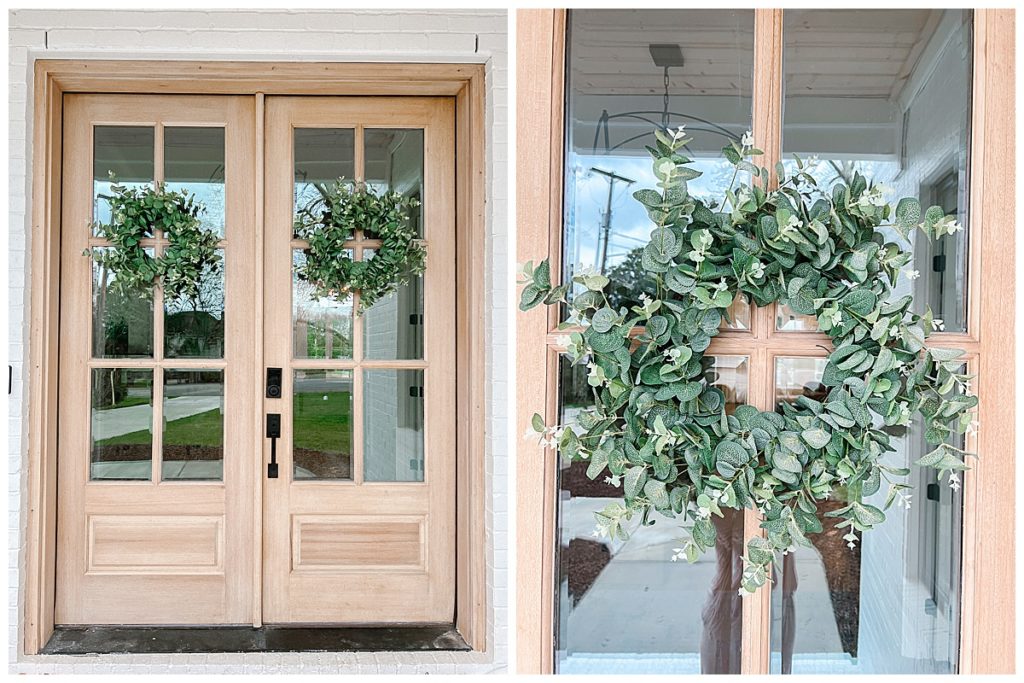 Thanks for coming by the blog!
As always, thanks for coming by the blog and continuing to support me, even by just reading through! I hope you found this helpful and found some little items to refresh your space as well. It is crazy how much a space can change by adding a simple tree or in my case, a bar cart. Is there anything you've found recently that's helped to improve or refresh your space? Tell us in the comments below!