Hi guys welcome to the blog today! I wanted to do a quick little blog post about our living room and link some of the main products in it just because I get daily DM's asking about them! I figured it would be best to write something here for people to easily be able to find everything in once place. I am so in love with our home and the kitchen/living room space is really the heart of the home, so it was super important to me to make this space really cozy and I think I accomplished that!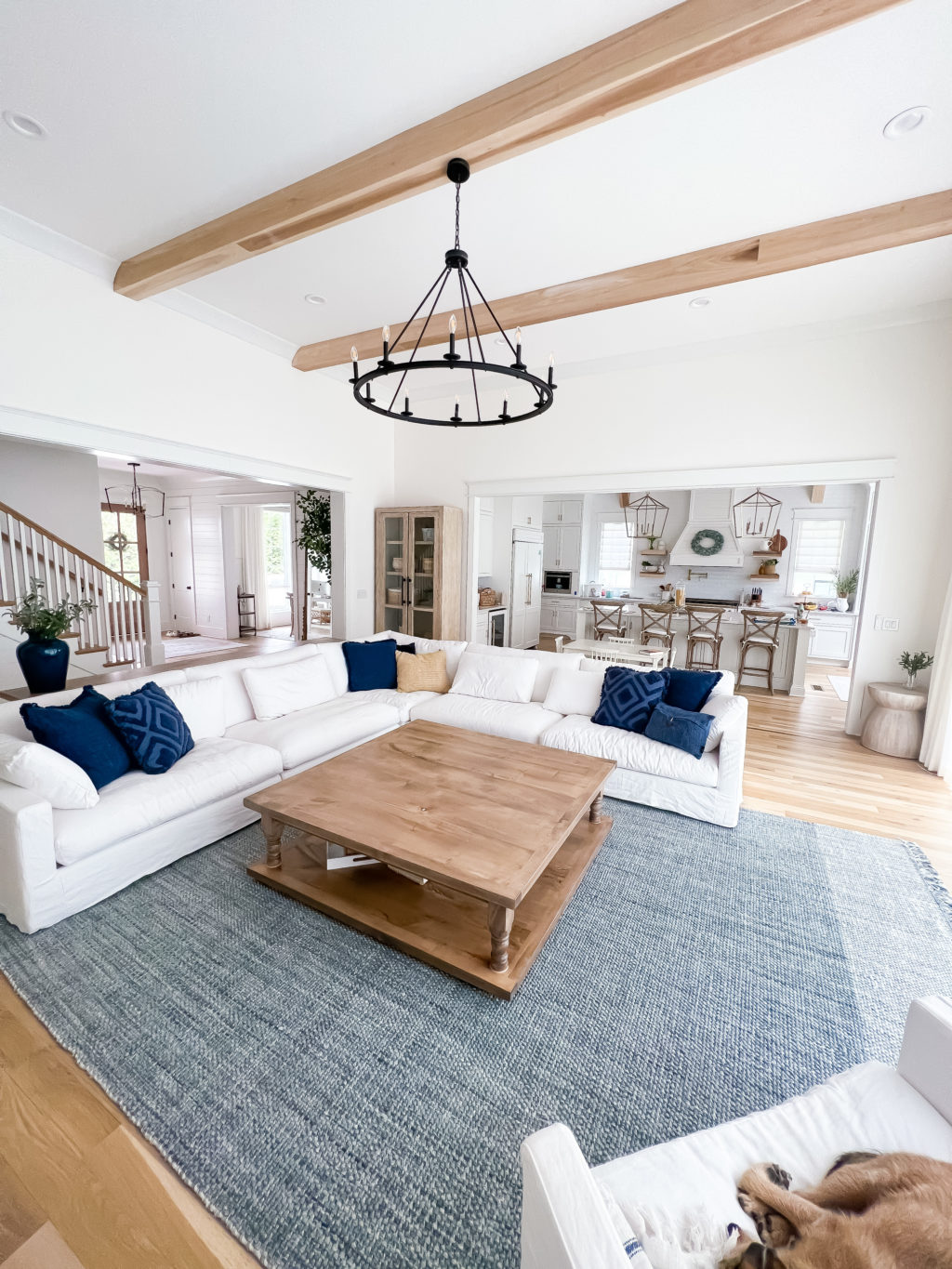 I don't know if you guys remember our old house in California, but I really didn't like it because the ceilings were so high and the space felt like it was to open concept. Like it felt like one big gymnasium or something. But what I love about our home here in Nashville and that even though it has an open concept it feels so much cozier. I also think a lot of that has to do with the pieces we chose to fill up the space. Starting with our couch!
I cannot even tell you how many hours I spent searching for the perfect couch! I probably visited over 50 different websites and spent hours agonizing over finding the perfect match. Well I'm here to save you all that time and unnecessary stress because I have found the perfect couch. It's by a company called Sixpenny.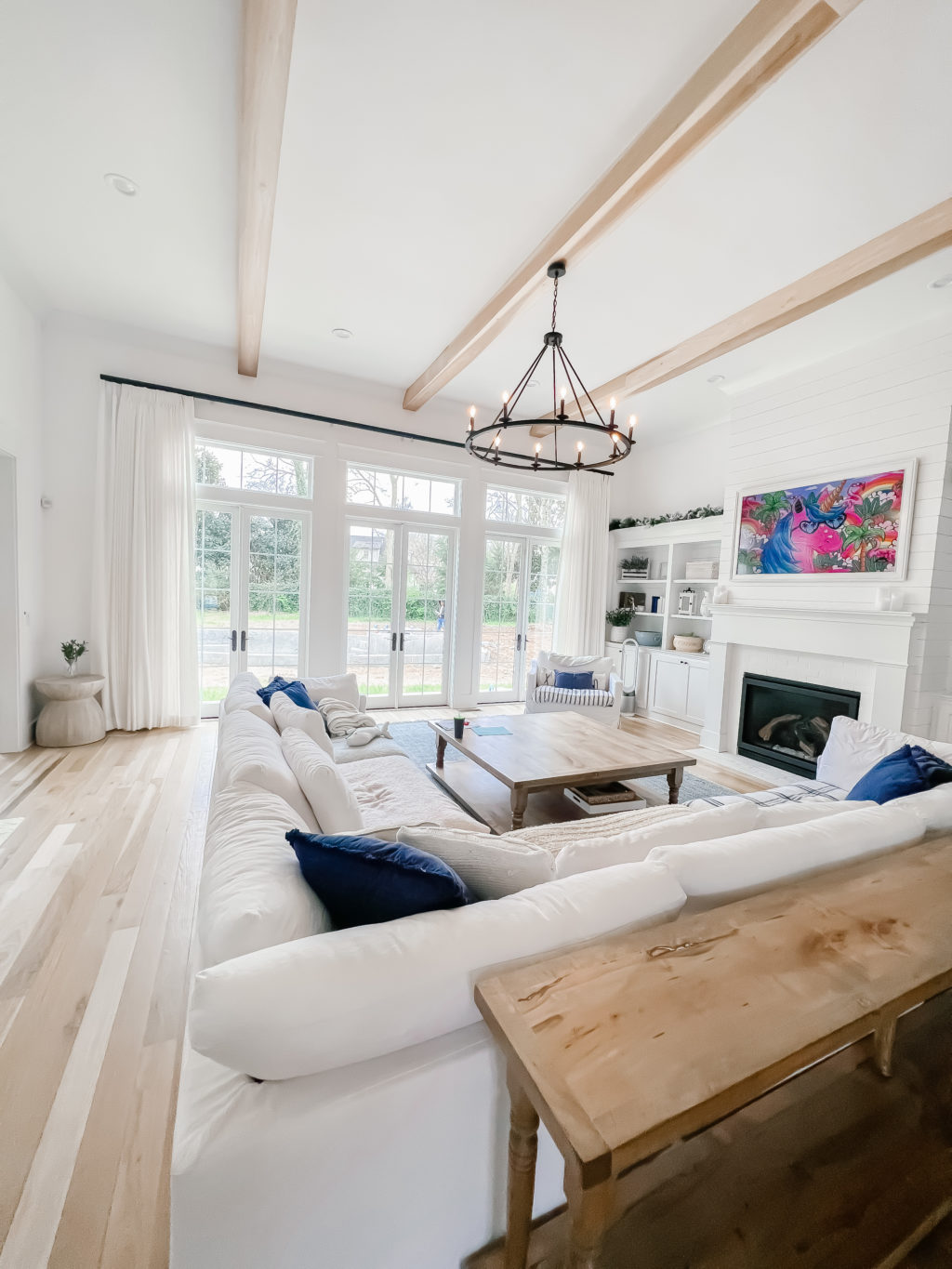 I discovered it because I was talking about my journey to find the best couch on Instagram and one of you sent me a DM saying that I should check out a girl named Chelsea on Instagram because she had just bought a new couch and it was dreamy. So I started following her and then started basically stalking her asking her to tell me about her couch. She was so sweet and got back to me and told me all about Sixpenny and how much she loves it. There's a few different reasons why I chose the couch.
1) The depth!!! I really wanted a super cozy couch that was deep, so that when you sit on it you feel like you never ever wanna get up again. We spend a lot of time with the kiddos on the couch watching movies and relaxing at the end of the night, so I wanted it to be super comfortable. I feel like in order to have that, you really need some good depth and the Sixpenny couch we chose, the Devyn corner sectional, is 44 inches deep and oh so cozy!
2) The material. I really love that they had the option to get either the down filling or down alternative. One, because of my allergies and two, my husband's vegan so we try to stick with down alternatives sometimes. I've heard amazing things about the down filling, but their down alternative filling is amazing! Plus, with my allergies it really helps.
3) The washability. You guys know I love a white couch and I knew I wanted to get another white couch from Sixpenny, but I needed it to be easily cleaned. But I also wanted it to have the feeling look of linen. We got the Pacific pearl fabric and it looks and feels like a soft linen, but each cushion can be removed to easily wash whenever something spills on the couch. Trust me, things spill on the couch! The other day Molly bumped into my hand and my full coffee spilled all over the couch so we took off the cushion right away threw it in the washer and it came out looking brand new. Not a spot on it!
I could seriously write an entire blog post, if not novel, about this couch. But I'll leave it at that. Oh and I also have to say I also got a matching chair which is the Amelia chair. It is also super deep and cozy and I love the size! Sometimes I'll curl up with a book in that chair and never want to get up! I think it at point me, Kevin, Molly, and Riley were all sitting in the chair at the same time. So you get an idea of the size. It's the best!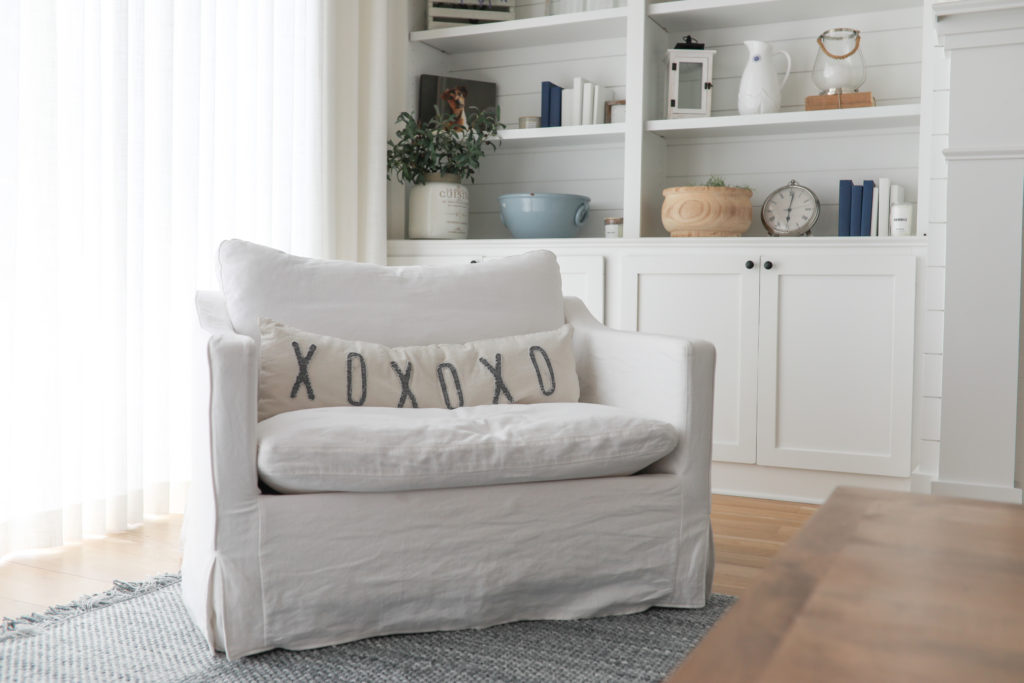 Last thing, our couch is a really big couch. So if you have a large space, this is perfect. You can also get it just as a sofa and not a sectional for smaller spaces. But Sixpenny has a bunch of other different size couches you can check out. I love the Neva couch! I almost went with that one because I love the edges, but I ultimately wanted one a little bit bigger to really fill our living room space and make it feel super cozy.
Coffee Table
Speaking of filling the space, I needed furniture to go with the couch that would also fill the space. I looked online for coffee tables also forever and couldn't find anything that I liked that was big enough. I really wanted a big square shape that had a more traditional feel. Every square table I found that was 60 in. was super modern looking and just not for me. That's when I discovered 1 of a Kind Live Edge Slabs on Instagram and saw the amazing furniture they make and knew I should make something custom!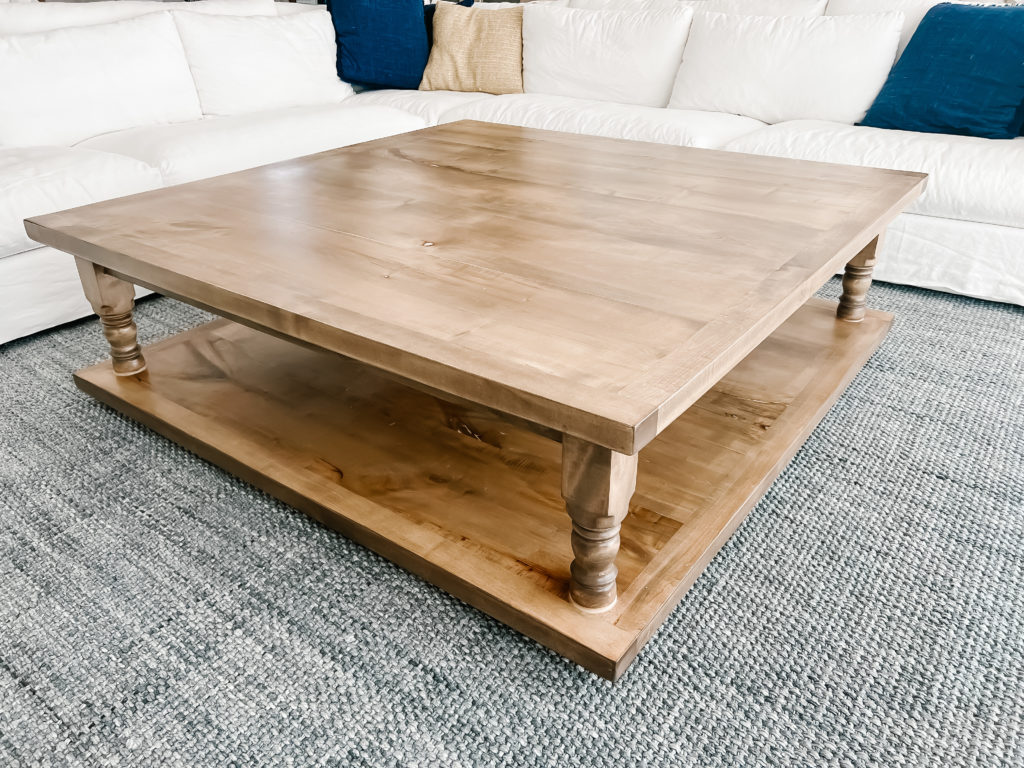 First, let me say the owners are amazing. This is a small, family run business and if there's anything I've learned over the last few months it's that owing a small business is tough work! So I want to support them in whatever way I can – and their work is impeccable! Not only did they go over every sample option with me and talk through the design before making my piece, but when it actually arrived, I was floored at the quality! These are heavy solid wood pieces that will last a lifetime!
The coffee table is so sturdy in fact that my children have turned it into a stage where Kevin and I get nightly dance performances! Ha! So on top of being a coffee table this is some thing that I'm going to remember for the rest of my life as creating the most wonderful memories for my children.
Console Table
Oh my gosh, and don't even get me started on the console table. We needed something a very specific length to go with our couch and it's almost impossible to find long console tables online to go behind a long couch. A lot of times you have to buy two console tables and put them next to each other, but I just don't like the look of that. So 1 of a Kind Live Edge Slabs made me the most beautiful console table to the exact height I needed. I haven't gotten around to properly decorating it yet. I still need to add baskets underneath it and a few other things and I swear I'll get to it at some point. Ha!
Blue Rug
Our rug is from Pottery Barn. I also get a slew of DM's asking me about it pretty much on a daily basis, so I wanna link it here for you guys. We got the 10′ x 14′ size. It's actually really hard to find 10′ x 14′ rugs, but Pottery Barn has a good selection of them and that's where we found this one. I wanted one that was blue so I didn't have to worry about stains on the floor, but not so dark blue that it felt too dark. This is a nice light color. You can get it in the chambray or the blue steel. The chambrays a little later. We went with the blue steel.
 1. RUG (BLUE STEEL) | 2. SIDE TABLE (HOURGLASS) 
And then also linking the Anthropologie side table that we have in the living room that I just think it's gorgeous. This was another one that I contemplated buying forever before I pulled the trigger. But I'm so glad I got it because I love it so so so much! It comes in 2 sizes, I got the larger one called, "Hourglass".
A few other things…
I'm also going to link a few things that we used to decorate our built-ins around the TV. Like the super affordable white lanterns I got on either side of them. I love using white and neutral items to decorate built-ins and then one color scheme. So as you can see I chose blue, white and neutral wood. Speaking of neutral wood, these bowls are fantastic for decorating! Not only are they super lightweight and pretty but it's really essential when you have built-ins to use larger items to decorate with rather than a bunch of small things because then the space will look a little bit too convoluted.
The clock in the built-in is also Pottery Barn FYI. I bought it like 12 years ago, so I am linking the newer version of it! And the painted books I got on Etsy – the shop I got them from is taking a break but definitely check there! The two baskets on the top shelf are Crate & Barrel and linked here. Everything else I've kind of just thrown together and had for a while so I don't currently have links.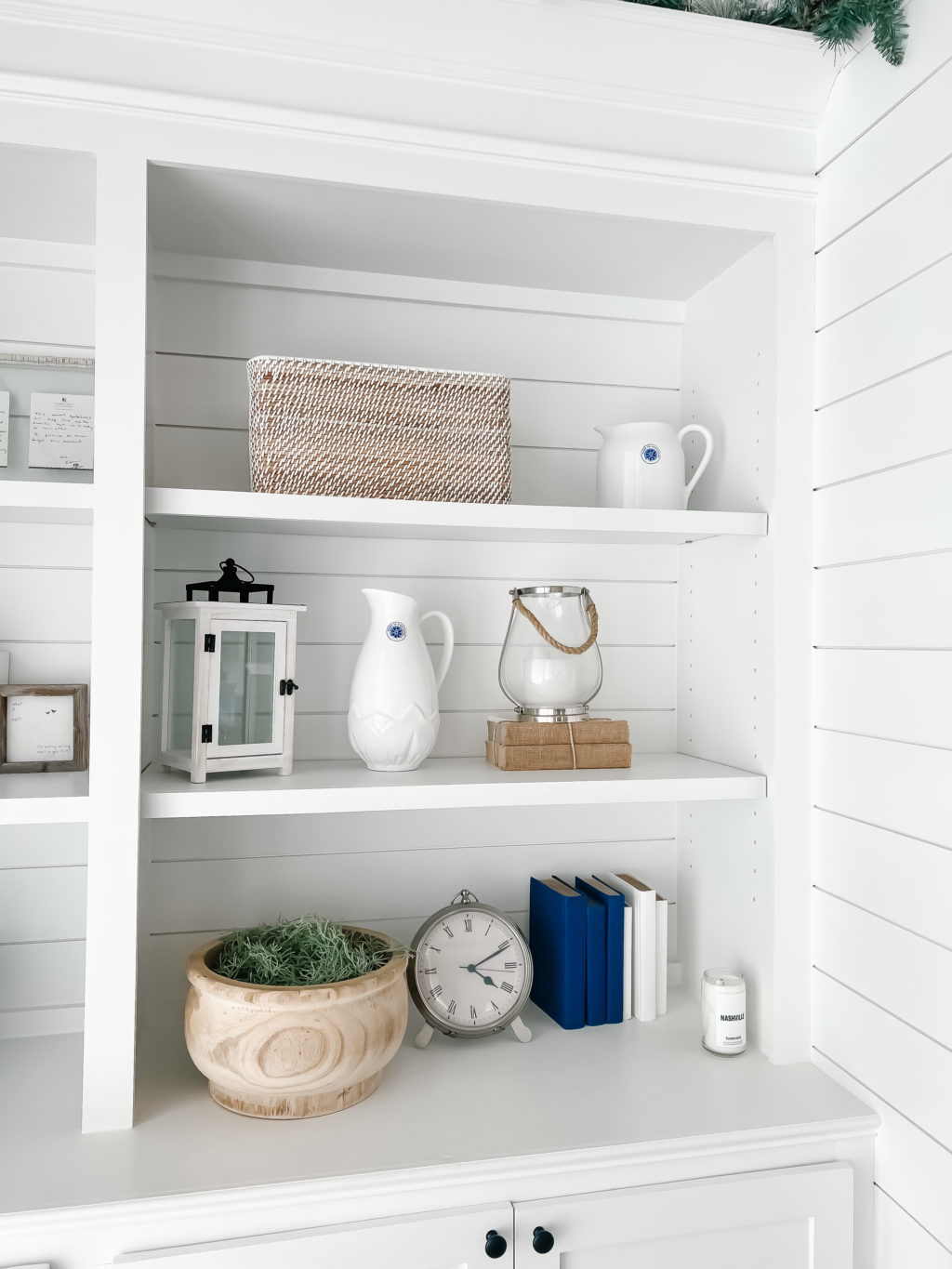 1. BASKETS | 2. PB CLOCK | 4. LANTERN | 5. WOODEN BOWLS
One more thing I just want to quickly link is our Frame TV picture frame. The Frame TV is essentially a TV that looks like a picture hanging on the wall, but I think to really make it look like a picture, you need a nice big frame and Deco TV Frames makes beautiful ones! So I'll link that  here for you guys.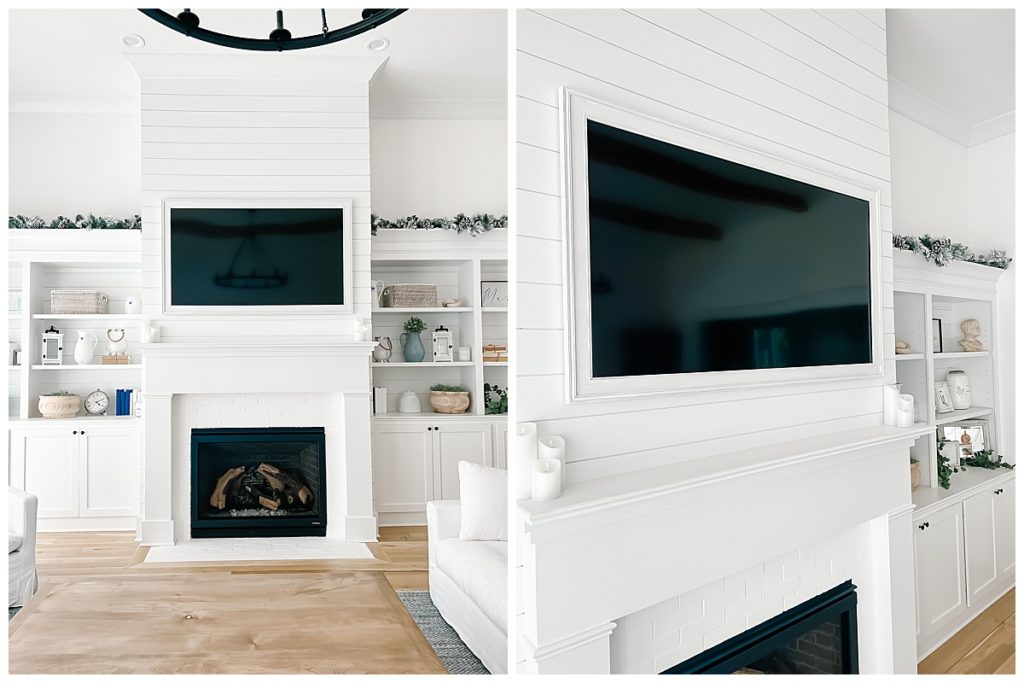 1. FRAME TV | 2. DECO FRAME
Tell Me About Your Living Rooms!
Thanks so much for joining me on this tour of my living room. We truly spend so much time in here and I wanted it to feel super homey and cozy for us! What is your favorite part of your living room? I want to hear about it below in the comments! What room do you want to see next?