Hi guys! So excited to share some affordable spring upgrades for your home! I know when spring rolls around, I always kind of want to have a little refresh in my home, but don't wanna spend a lot doing it. So I want to show you some spaces in our house that I've updated that I think you guys will love!
Eucalyptus Wreaths
I wanted to start with the new eucalyptus wreaths that I got for our front door because I am obsessed with them! Not only are they absolutely gorgeous and perfect to hang up to replace your winter wreath with, but they are only $23.98! I got two because I have a double door on the front of my house. But you'll only need one of course if you have a single door. These wreaths fan out beautifully and give a perfect spring vibe!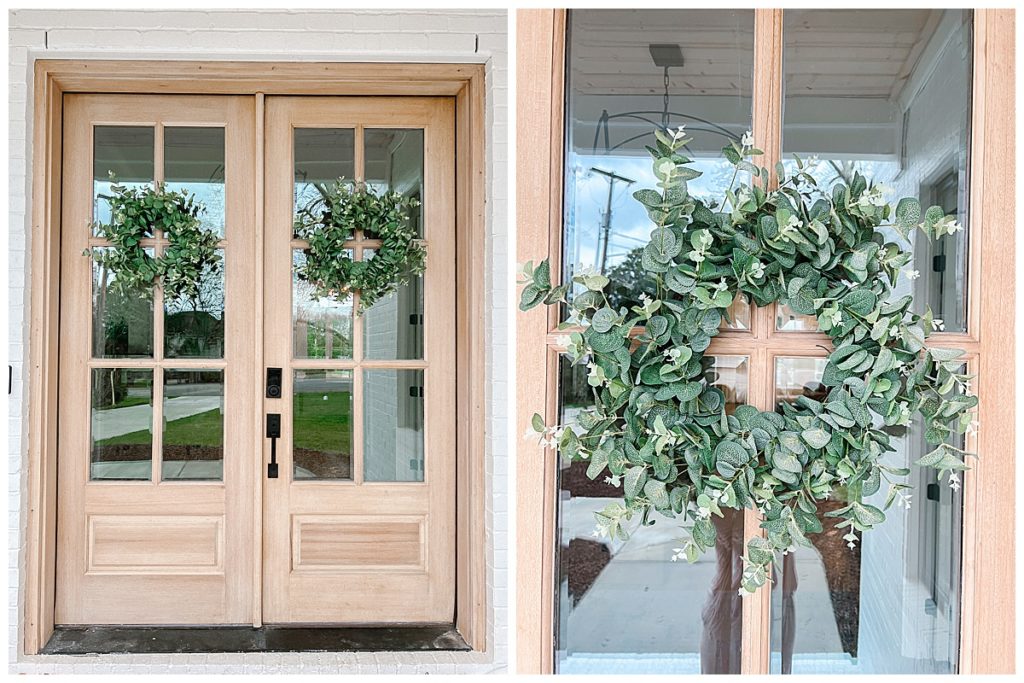 I also think one of these would be gorgeous hanging above a bed or on the vent hood in your kitchen. I mean how gorgeous does this one look hanging on the hood vent in our home? There's really just so many uses for them and places you could hang them in your home. Like sometimes when I'm hanging art on one wall, I feel like putting art on a connecting wall feels like too much. So hanging greenery like this helps fill in the wall space, but also provide some thing different.

Planter Boxes
Another really great thing to buy to update your home for spring are planter boxes! Trust me when I tell you gardening will bring you so so so much joy in life! I know it has for me. I absolutely love these boxes because they are a great price and they are such a good size! When we lived in California, I lined boxes like this right up about along our fence. Obviously here I have a little bit more room so I can put them in the middle of the yard. As of now, I've had a chance to set up 3 of them, but I have 3 more boxes to put together and will have 6 planter boxes in my backyard.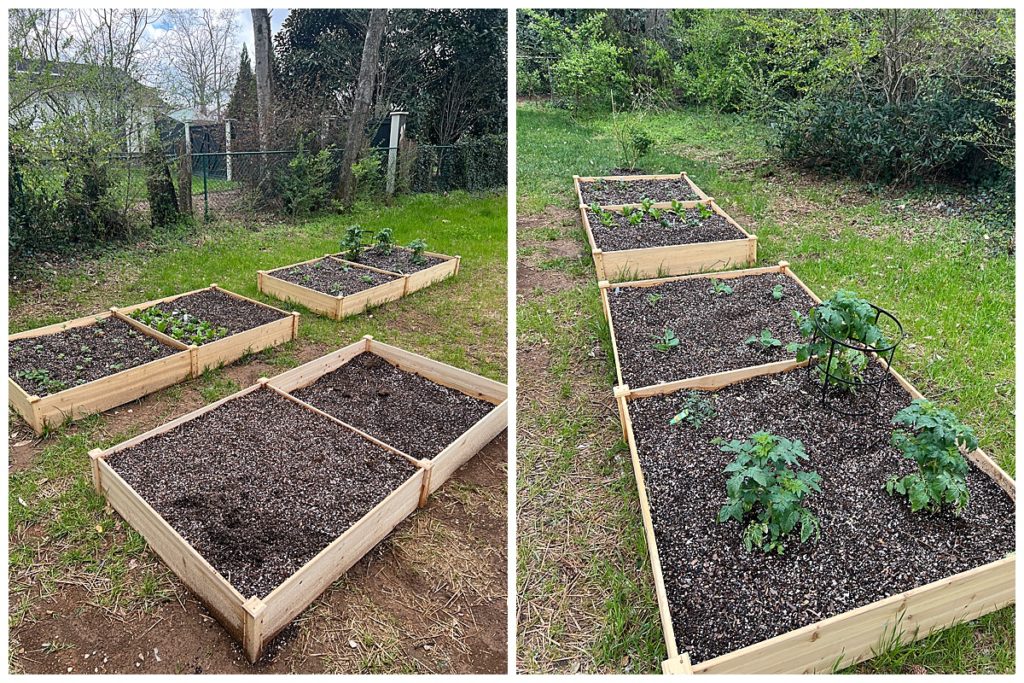 1. PLANTER BOX | 2. NARROW PLANTER BOX
But if you have less space you can totally put them against the side of your home or against the fence. I'm also going to link this style that's more narrow for you guys if you are working with a tighter space. Actually, this is the style that we had in California since we had a much smaller space to work with. But both versions are amazing, so easy to put together, and will hopefully help you find one of your greatest passions in life because I know it did for me! Here's a photo of Molly with our California planter box garden!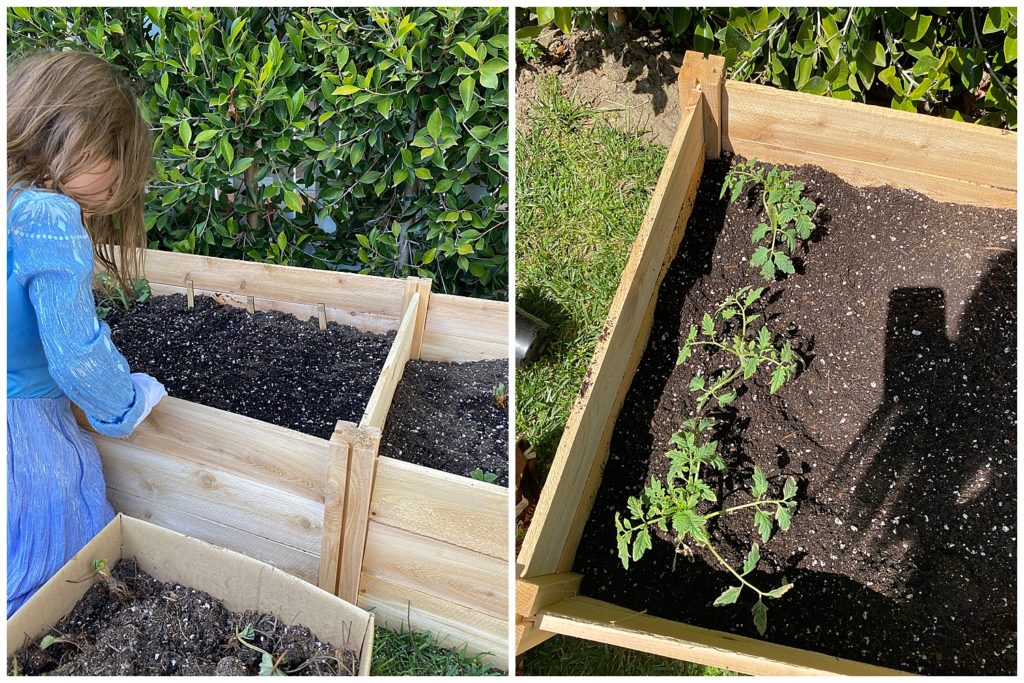 1. PLANTER BOX | 2. NARROW PLANTER BOX
Dining Nook
Next, I have to show you this little breakfast nook we created in the In-law suite in our home. This breakfast nook is absolutely perfect for small spaces. So if you live in an apartment or have a small space where you wanna create a bit of seating and somewhere to eat, I think you'll love these pieces. I'll start with the artwork since I was just talking about art. I absolutely love these pieces from the My Texas House line. I buy a lot of stuff from her line, so you can check out everything she offers here. It's all beautiful and affordable and I think you guys will love it too.
e $14 each and I love that they are covers that I can add to other pillows that I already had!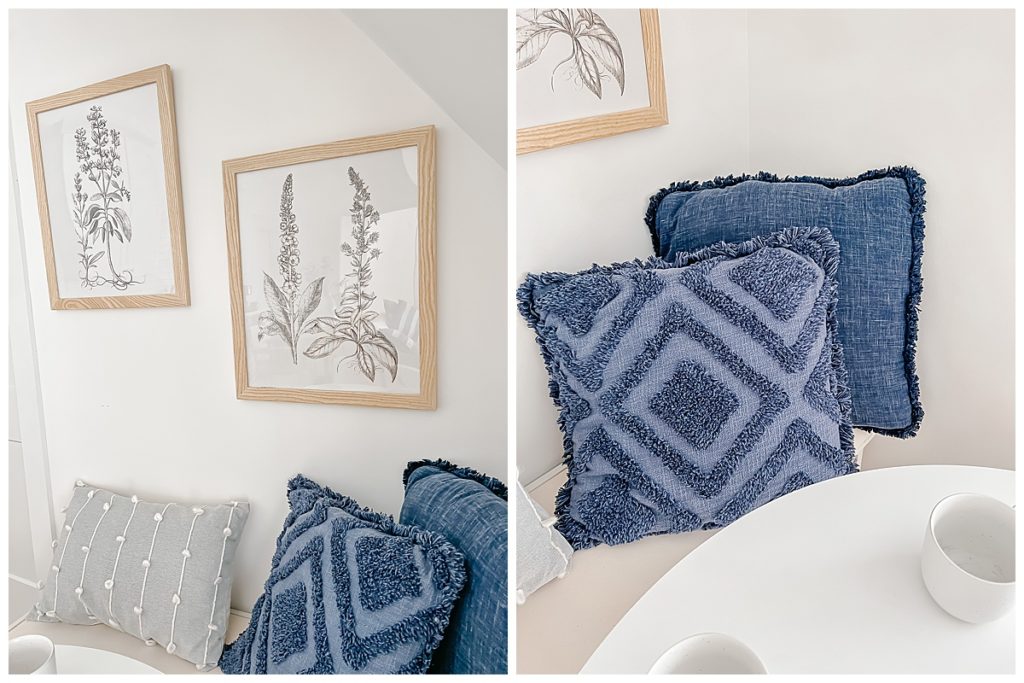 1. TABLE | 2. 2-PACK OF CHAIRS | 3. PILLOW COVER | 4. 3-PACK FLORAL SKETCH ARTWORK | 5. BENCH | 6. HOME SWEET HOME SIGN | 7. CANDLE  | 8. 2-PACK WATERCOLOR ARTWORK
I just love the simple artwork that almost looks like someone's drawn it with a pencil like in the photo below. How gorgeous is the natural wood frame?! The size I have in the space is the 16 x 20 but they're out of stock. However you can still get the three framed prints in size 11 x 14 for under $100 for all three!
These watercolors prints are just soo pretty and also from her line (they are in my guest bathroom FYI).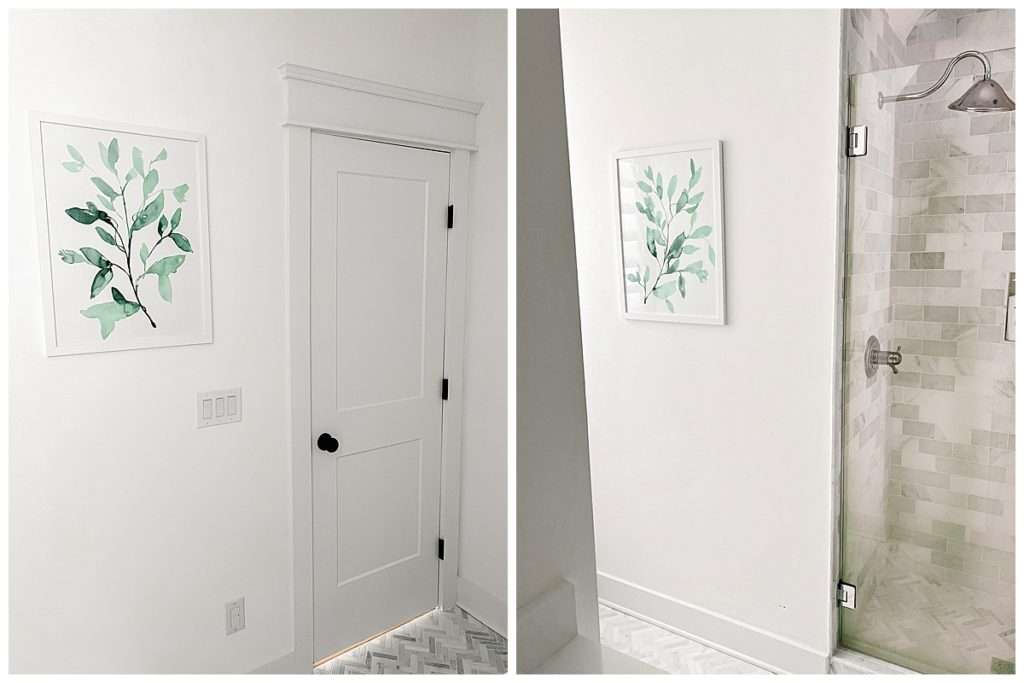 WATERCOLOR ARTWORK PRINTS SET OF 2
Also linking this cute little Home Sweet Home sign from our breakfast nook. I just think when I see it I instantly feel like I'm somewhere cozy and I want guests to feel that when they come to visit us. Plus, it's super affordable at only $4.86.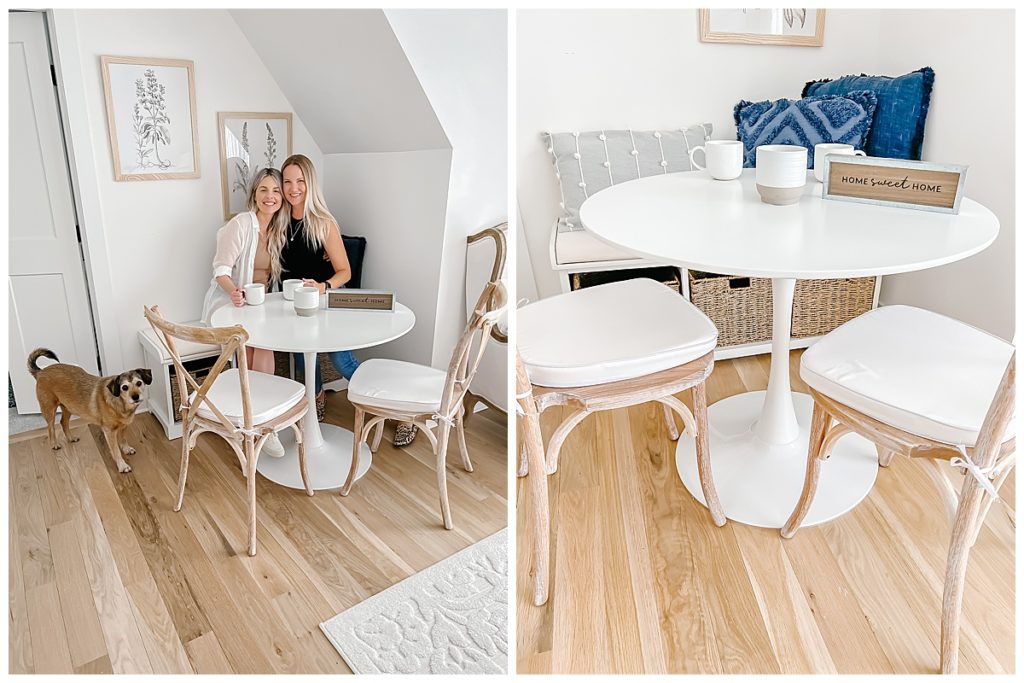 1. TABLE | 2. 2-PACK OF CHAIRS | 3. PILLOW COVER | 4. 3-PACK FLORAL SKETCH ARTWORK | 5. BENCH | 6. HOME SWEET HOME SIGN | 7. CANDLE  | 8. 2-PACK WATERCOLOR ARTWORK
As for these beautiful blue pillows, these are actually pillow covers! It is a tufted pillow cover that adds so much dimension to the bench. It would also be great on a bed and are 20″. They ar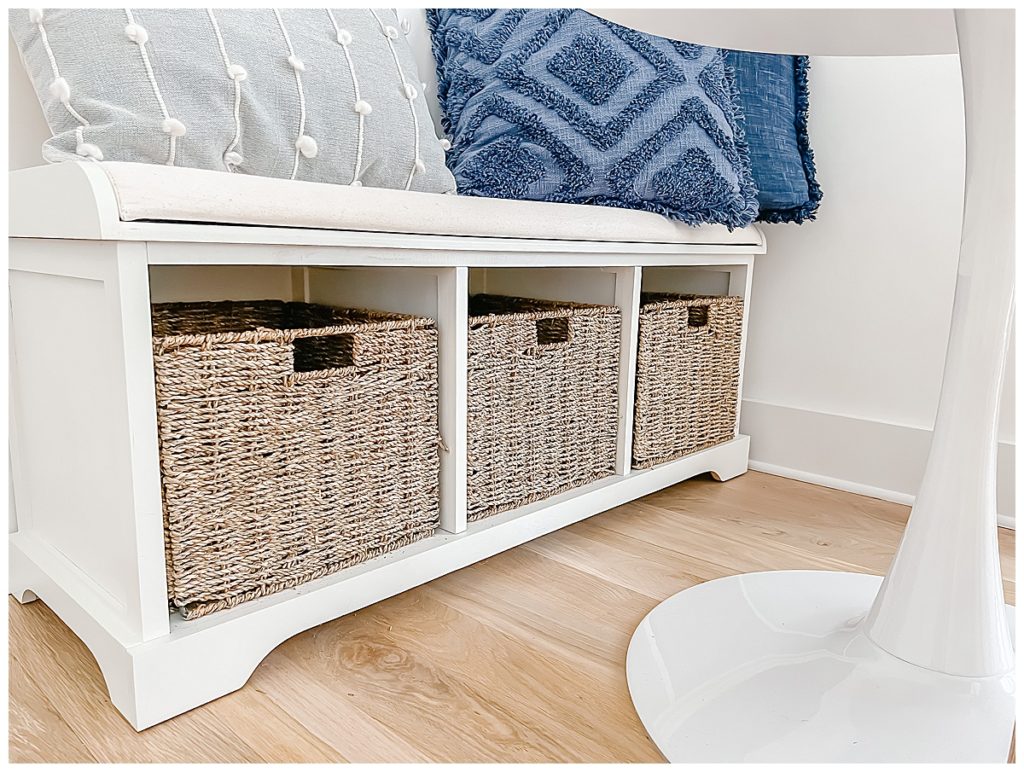 1. 3-PACK FLORAL ARTWORK | 2. BLUE PILLOW COVERS | 3. STORAGE BENCH
And what really creates the space is the bench and the table. At first I had no idea what I was going to do with the space because it was so small and I really didn't know how I was going to create an eating area, but the designer I was working with online had the incredible idea to use a storage bench for seating and then just use two chairs. I thought that was so so so smart! So I wanted to share that idea with you guys here in case anyone else is trying to figure out a space like this. The storage bench is great because it has a built-in cushion and three baskets below to keep things. We filled these baskets with a bunch of our favorite games to play with friends when they come over.
The table we used is this white round table. It's a really great price and the perfect size for a small space. I originally ordered one that was 42 inches in diameter and it was way too big. So I love this one at 35 inches in diameter. Definitely measure your space to see what would work best for you. It's sturdy, easy to put together, and really pretty.
Also, you might recognize these chairs because it is also the one that I have at Riley's desk in his bedroom! They are such beautiful chairs and so versatile, not to mention at 2 chairs for $280 ($140 each!), they are a fraction of the price of others I found in this style. They also come in a variety of colors.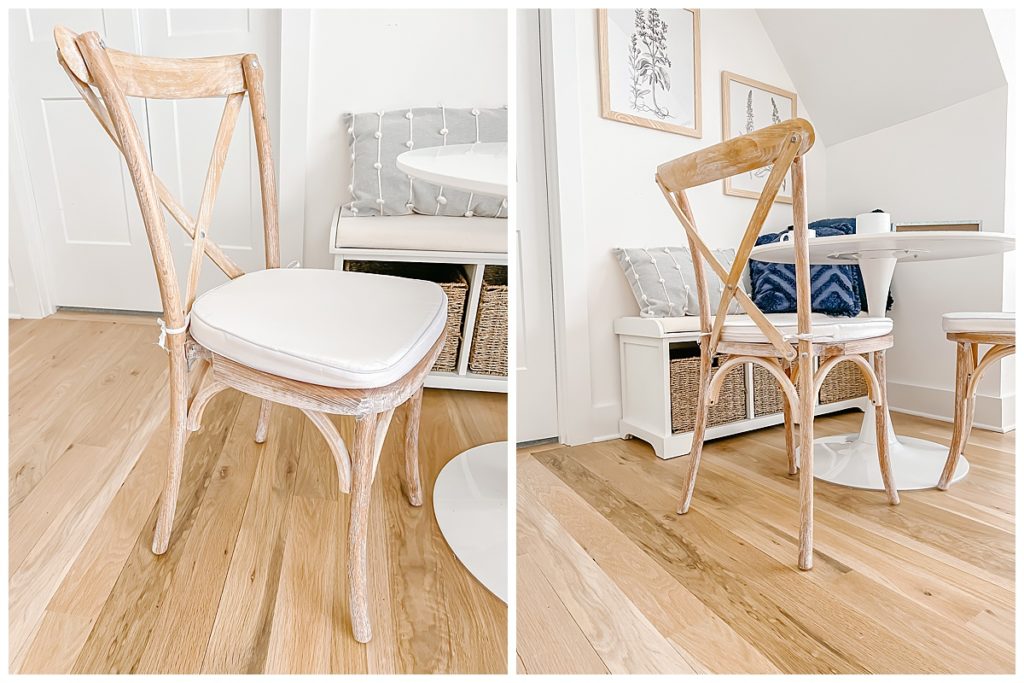 1. TABLE | 2. 2-PACK OF CHAIRS | 3. PILLOW COVER | 4. 3-PACK FLORAL SKETCH ARTWORK | 5. BENCH | 6. HOME SWEET HOME SIGN | 7. CANDLE  | 8. 2-PACK WATERCOLOR ARTWORK
Also can I just take a second to rave about this candle. Isn't it so gorgeous. I just ordered it last week and when it arrived I just thought it was so beautiful that I ordered a bunch more for decorating built-ins in my house. You guys know the built-ins have been a pain point for me in terms of decorating so I absolutely love that I found this candle. It looks gorgeous I love the texture and the colors. If white and neutral isn't your look at also comes in colors. And it's only $14.87. Once the candle burns through I plan on keeping it just for decoration. Which I think is such a good use of money. Normally when I candles done burning you get rid of it. But this one you can keep a decorator on your house. Such a great use of money!

1. TABLE | 2. CANDLE | 3. HOME SWEET HOME SIGN
Before I go, I also just have to mention these farmhouse style tissue holder/covers. Heck it's allergies seasons so tissue boxes are  ALL OVER my house. The cover is so beautiful and it comes in sizes for both kinds of tissue boxes. Like look at the two photos where I have two of the tissue boxes in my home and think about Howell much nicer it looks with the tissue box is covered. I really love them so I wanted to share!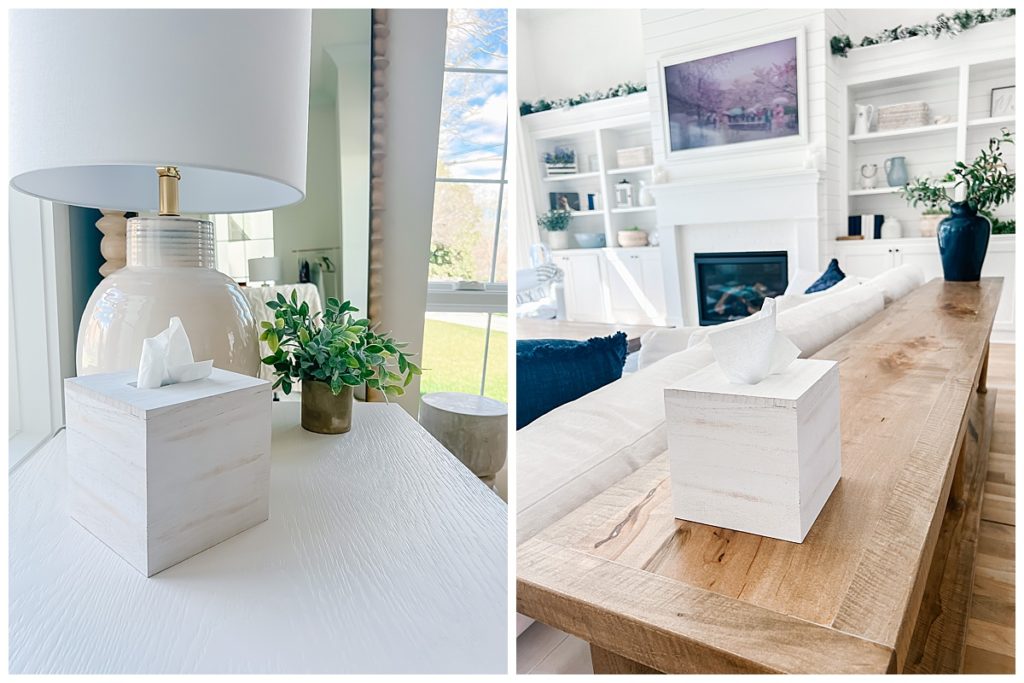 That's It From Me!
I hope you've enjoyed getting another glimpse into my home as I decorate it corner by corner and nook by nook. I try to make sure I am saving as much money as possible, it's expensive to furnish a house and so hard to get pieces right now and I want to make sure I am passing on these finds to you all. Is there a certain room you are updating soon and want to see from me? Let me know! As I've mentioned I am slowly going to show you the entire house, but I'd love to know what you all are excited to see too! Have the best weekend everyone!