This post is sponsored by Our Place and ShopStyle!
Welcome to my blog! I'm so happy you're here – whether you're here because you follow me on social media or you happen to stumble upon this blog post because you were searching for reviews on the Our Place Always Pan and Perfect Pot. I hope you guys find this review helpful and mostly I hope you love these products as much as I do!
But before you read any further and I tell you how much I love these products, I'll let you know right off the bat that I have a discount code for you guys. Code ALIMANNO10 will get you 10% off and always pan and/or a perfect pot. So, keep that in mind while reading.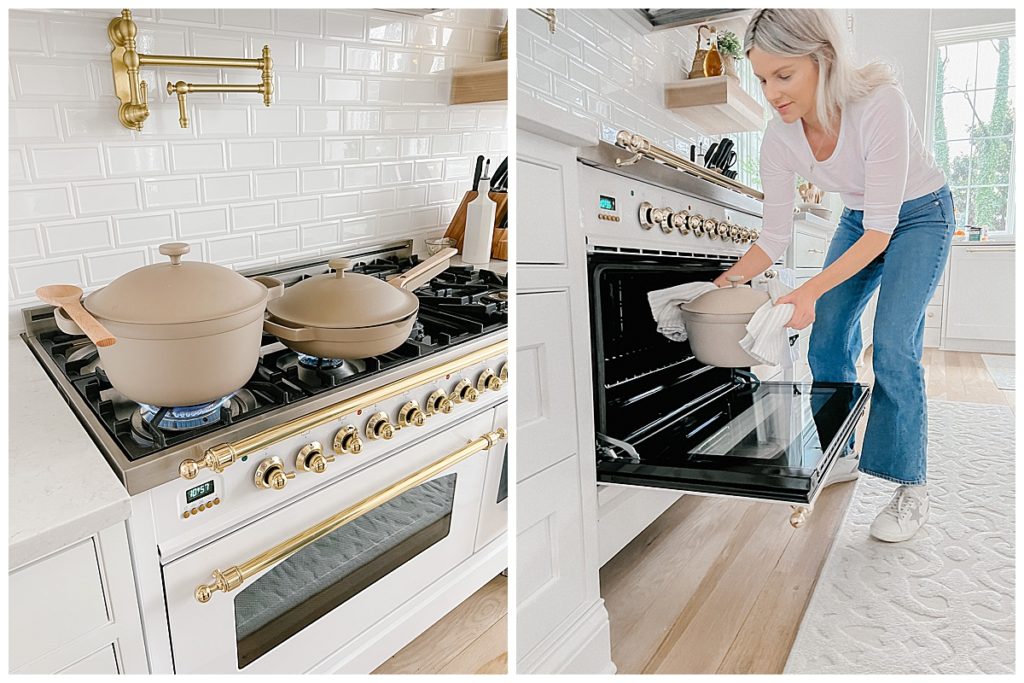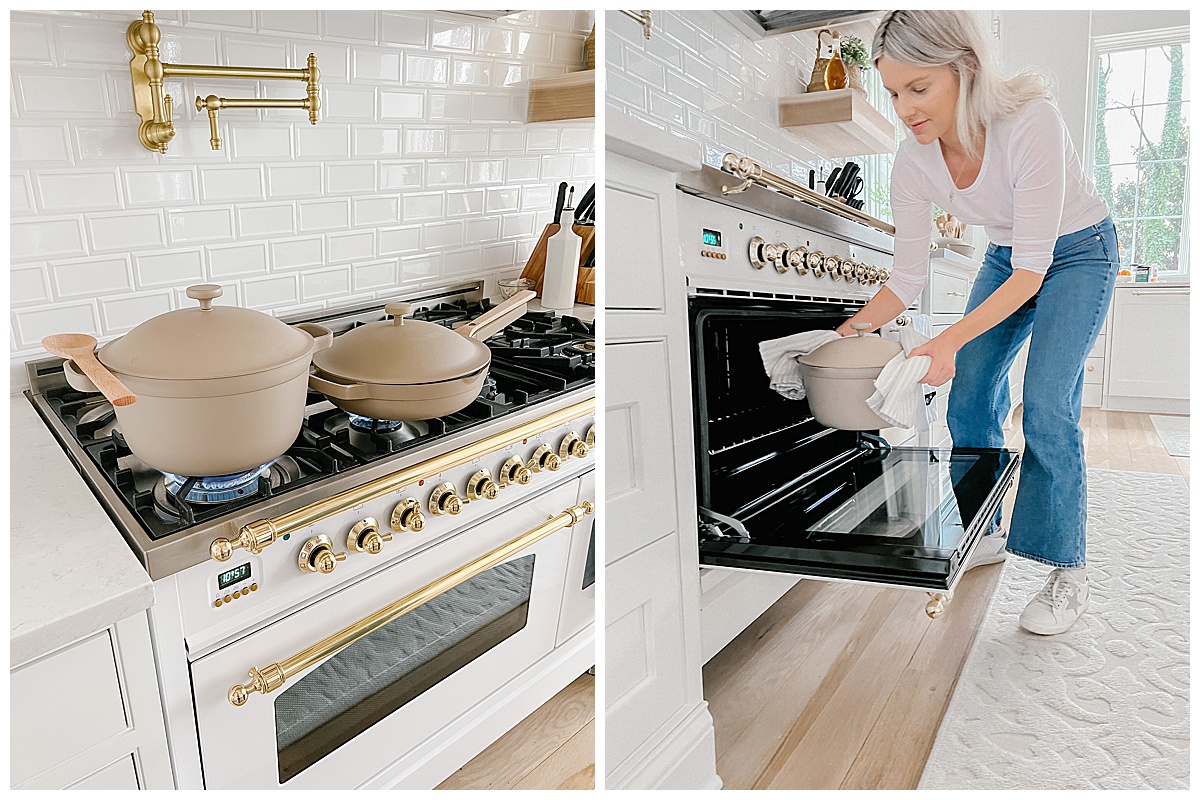 1. ALWAYS PAN | 2. PERFECT POT
The Always Pan
Full disclosure, I have partnered with Our Place for this blog post. But I wholeheartedly mean every single word I write on this blog. In fact, my first introduction to the Always Pan wasn't even through the company, but from my neighbor. My neighbor Jill was cooking with it one evening when I went over to her house for a glass of wine and that was the first time I saw the Pan in action. She raved about how much she loved it and how it was an incredibly thoughtful gift from her daughter over the holidays. She kept saying how impressed she was with her 13-year-old for giving such a thoughtful and useful gift that she loves. I was intrigued.
Well, here I am now with my very own Always Pan and now I get the hype. If you go to the Our Place website, you'll see their thousands of reviews from people who absolutely love this pan. And it's so clear as to why. First of all, it is a fry pan, sauté pan, steamer, skillet, saucier, sauce pan, nonstick pan, spatula, and spoon rest all in one and you can do so so so much with it!
Since I got it, I often find myself making one pan dishes in it that normally would take me three or four items to make. In these photos, I'm making a fried tofu with steamed broccoli and rice recipe that is a go-to in our family. Before getting my Always Pan, I would steam the broccoli in the microwave in a microwave safe dish, fried the tofu in a pan, dirty my spoon rest while cooking, and use an additional slotted spoon to get the tofu out from the oil when I was done. Now I can make the entire recipe with the Always Pan only.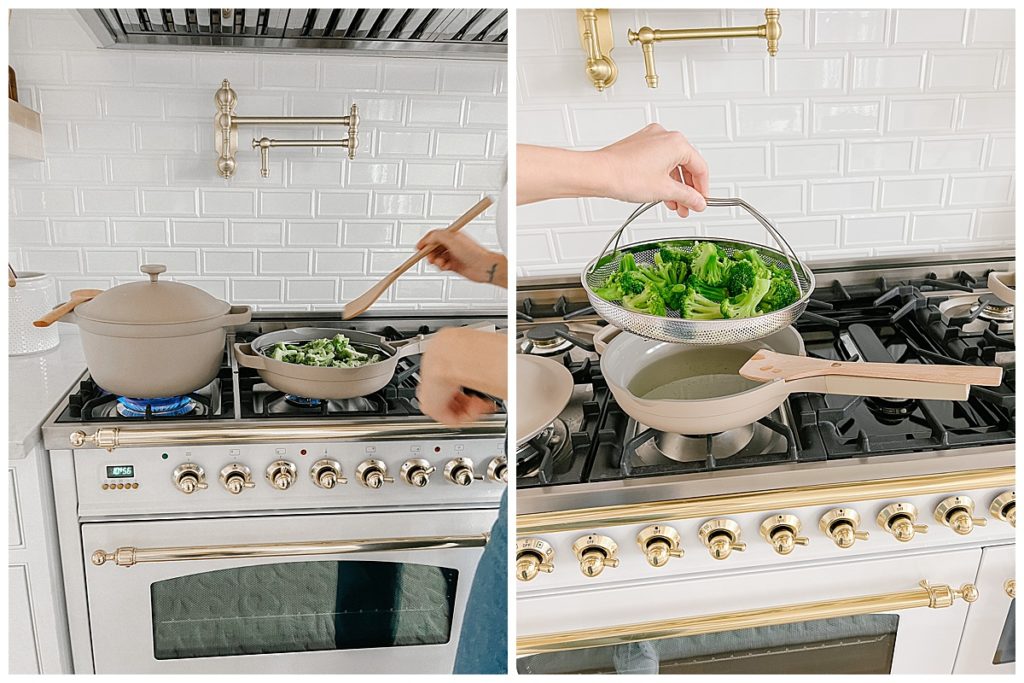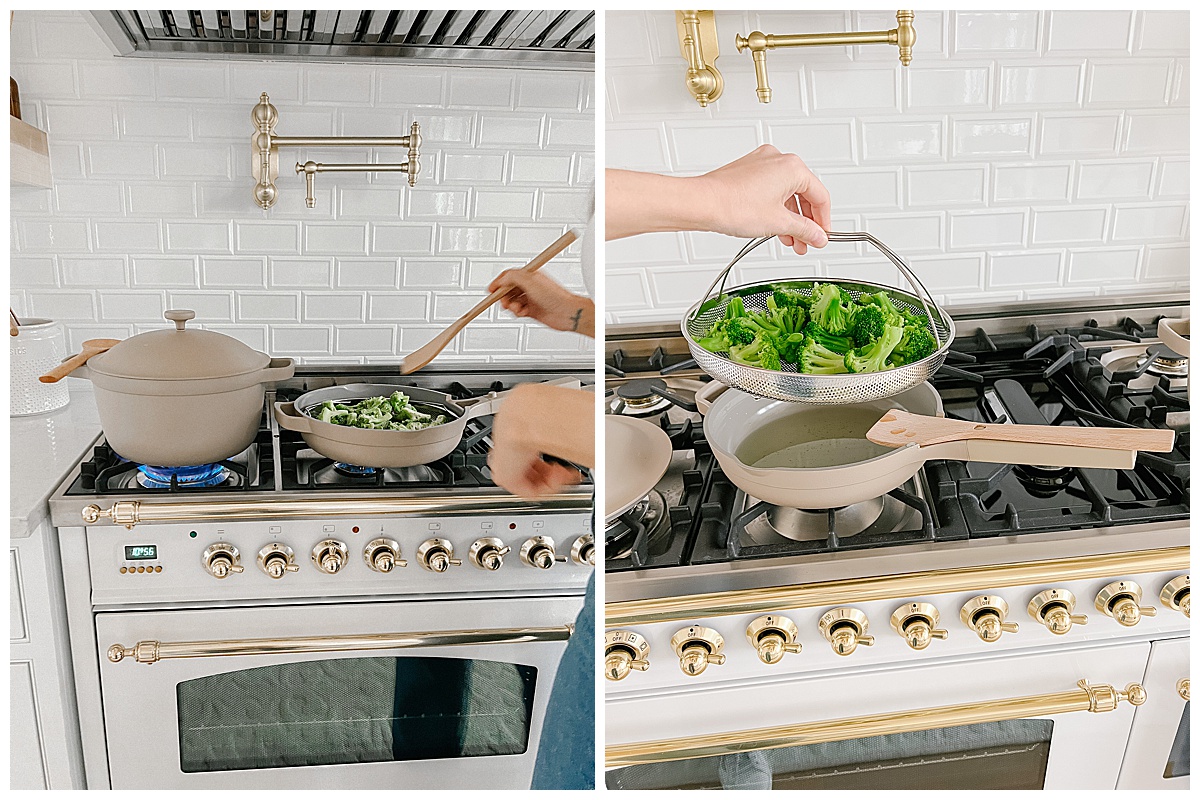 First, I steam the broccoli in the steam basket, and then fry the tofu in the Pan. Which I am then able to drain the oil through one of the spouts on the side to avoid having to use a slotted spoon to take the tofu out. Then I can use that exact same pan to cook my rice and then add all the ingredients back in with some teriyaki sauce, stir to combine and enjoy! Plus, it's so nice that I can put my spatula to rest on the side of the Pan, rather than in a spoon tray on the side of the stove. They really just thought of everything with this Pan!
The Perfect Pot
As much as I love the Always Pan, and I do love it, I might use the Perfect Pot even more. My followers on social media and my avid blog readers know how much I love pasta, and I love love love love love making pasta in this Pot. First, because it's just beautiful. By the way, I got the Steam color in both the Always Pan and the Perfect Pot. But I also love it because it limits the amount of dishes needed to make something. I'm able to cook my pasta in the pot and then use the strainer on the side of the lid to drain the water. This is such a big deal in my house given how much pasta I make.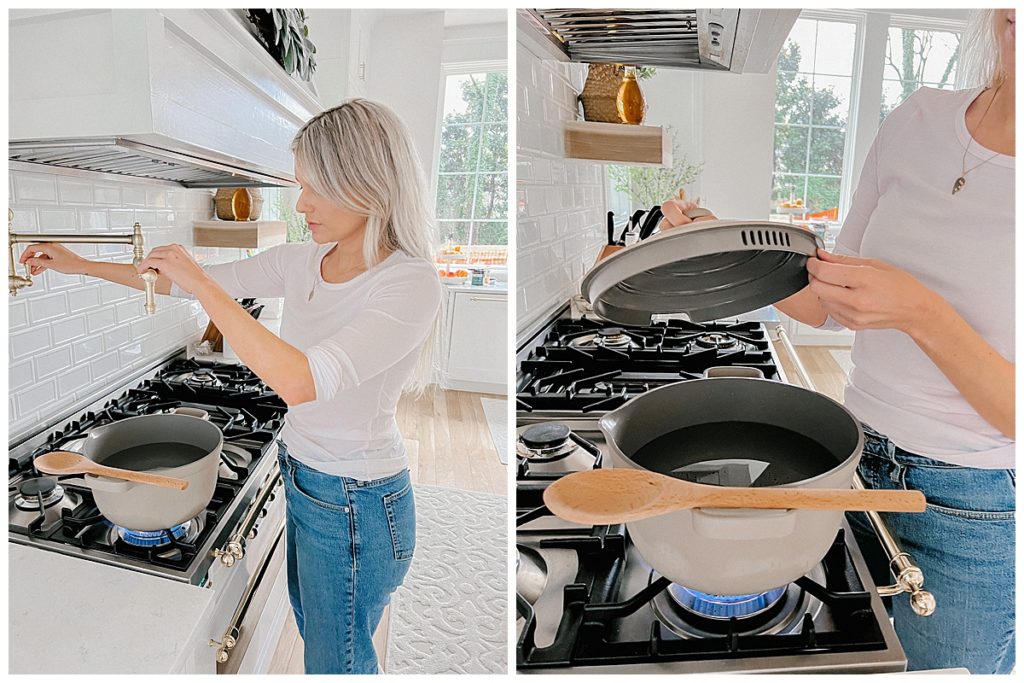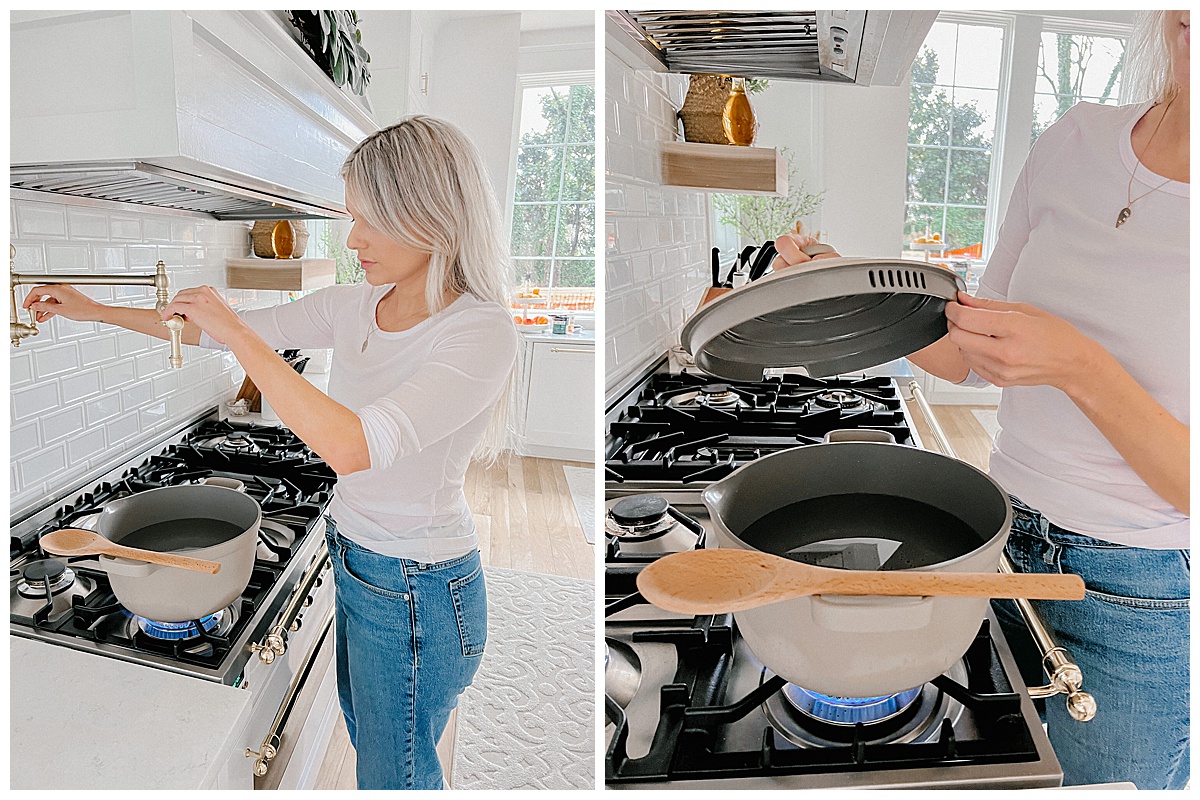 It also has some added features, like being able to go in the oven and a roasting rack (that doubles as a steamer)! So really, having both is the way to go, and truly all you will need in your kitchen in terms of cookware – having both replaces an entire 16-piece cookware set!!! With the Pot you can boil, crisp, bake, braise, roast, steam, strain, pour, serve, and store! I love that the Perfect Pot still has a spoon rest, just like the Always Pan, which again makes it so that there is one less thing that I have to clean.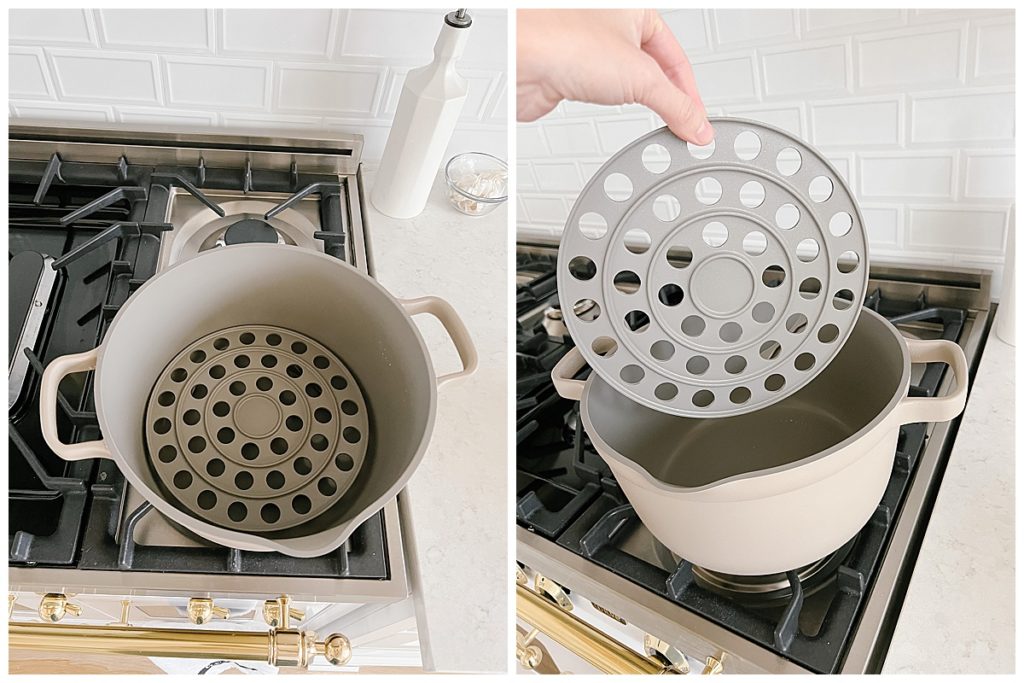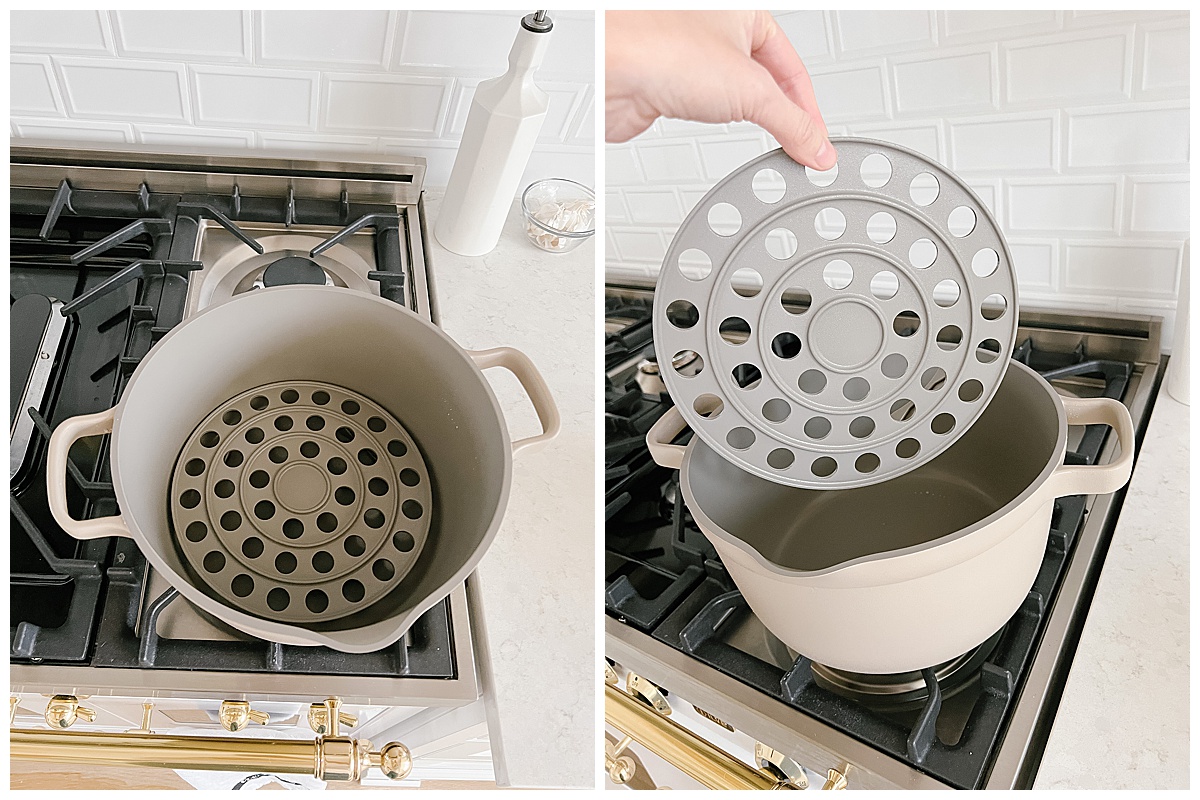 I LOVE that it is so lightweight (4.5 pounds, including the lid!), and makes it easy to just pop on the stove and cook! Another great aspect when I am making my pasta or boiling is that the lid is modular, so you can choose if you are letting steam out or not. I can't tell you how many times with a normal lid I ended up getting water all over the stove when trying to let some steam out. This completely eliminates that issue for me, which is so amazing! You would think with such a lightweight Pot would likely be small, but this Pot is 5.5 quarts, which definitely feeds my family and then some! It is absolutely perfect for having company over and cooking a large dish that can feed a lot of people – with little to wash afterwards!
Some other incredible features of the Perfect Pot:
Oven Safe Up to 450°
Beechwood Spoon that can rest two ways on your pot
Sturdy aluminum body for fast, incredibly even heat distribution
Super slippery non-toxic nonstick coating!

This means No PFOAS, PTFES, PFAS, lead, cadmium, toxic metals or nanoparticles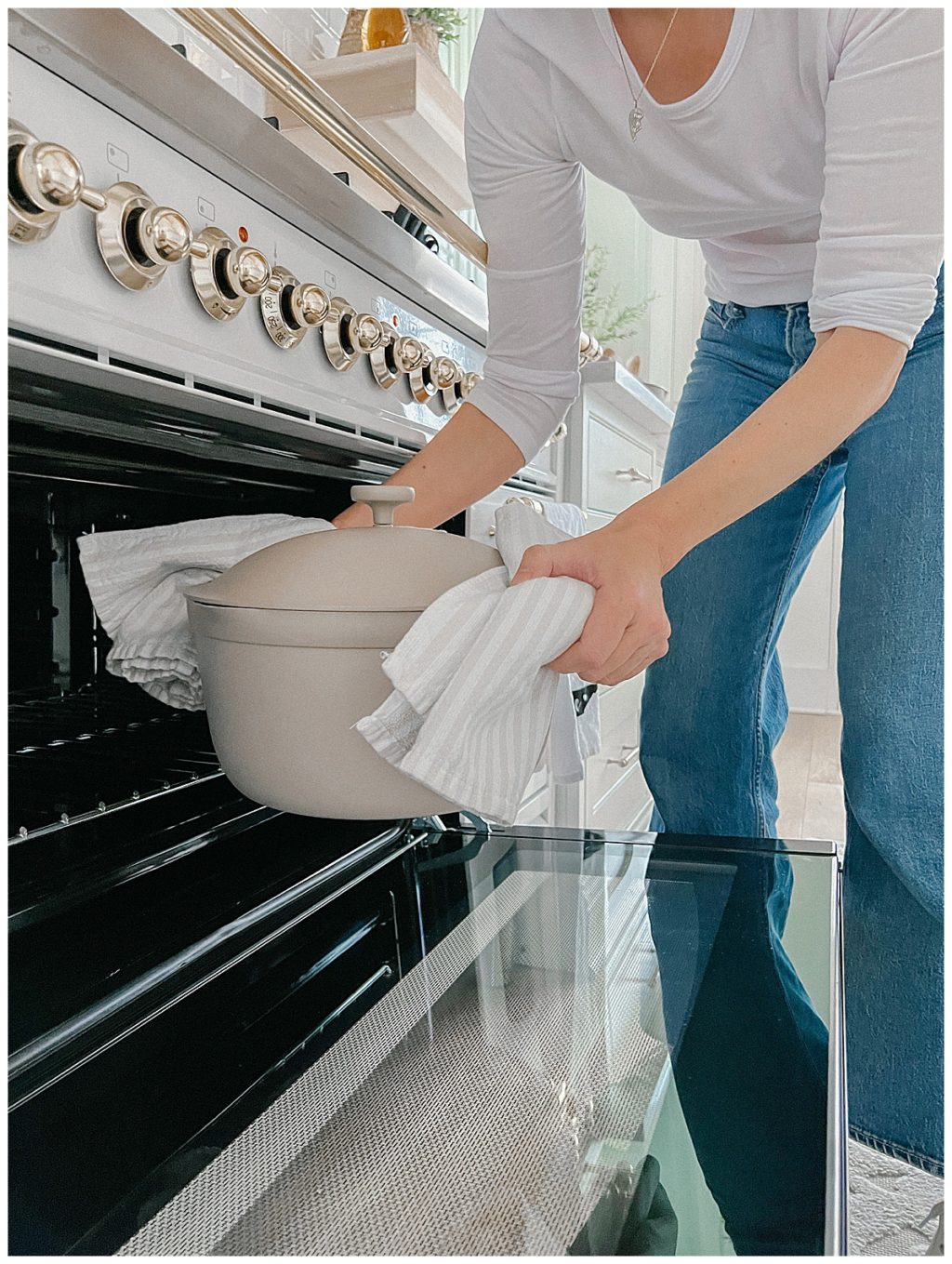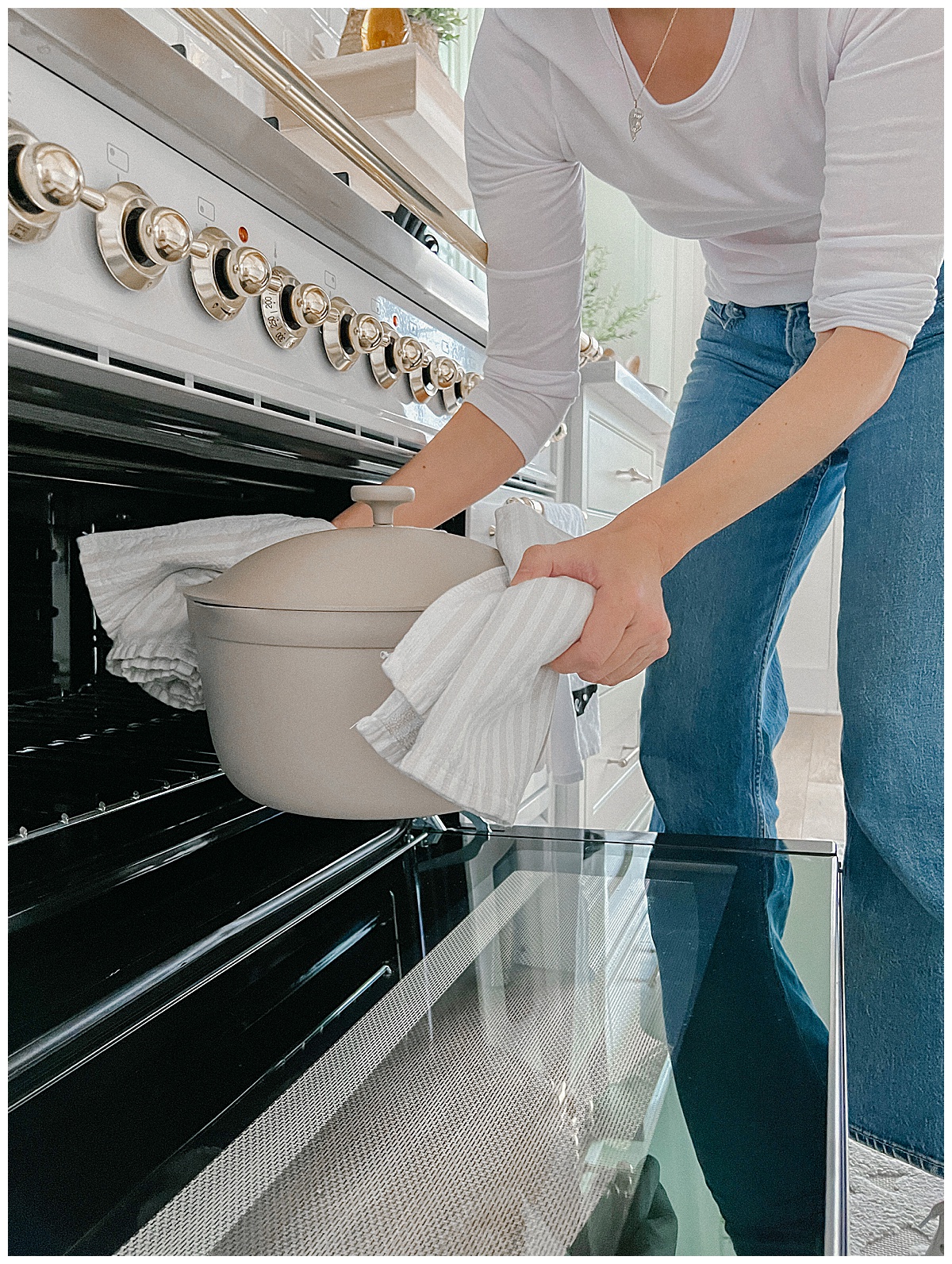 Is it worth it?
So, to answer the question I asked at the beginning, is it worth it? Absolutely! I not only love both of these products, but I plan on gifting them to people for years to come! My friend, Jill, that I talked about at the beginning of this blog is what sparked that idea – she just appreciated getting it as a gift so much and it's the type of thing that absolutely everyone could use. Plus, it's kind of made me discover more of a passion for cooking that I didn't really have before. It's just so fun to see what I can make in each one of these. I absolutely love them, and I know you will too! Don't forget to use my code ALIMANNO10 to get 10% off your Our Place order.