Warning. Gross pictures ahead!!!!
I thought for sure nobody was gonna wanna see my gross peeling feet from the mask I did a few days ago but I am getting hundreds of DM's on Instagram from people saying they want to see, so I decided to do a blog post. That way people who really want to see can come here to see the photos, while people who don't want to see won't be surprised on my Instagram stories. Ha!
I got this foot mask cause my feet were getting so dry and cracked from the cold weather here. I found it while scrolling Amazon and saw that it has almost 30,000 super positive reviews and I thought, oh my goodness I've never seen a product with this many positive reviews, this thing has to be great! I ordered it and, oh my gosh it's amazing.
Foot Peel Mask!
You ready to see? Here are pictures of my gross, peely feet. I used the foot mask that I linked in this live. It's the very first item linked. It costs $30 but you get 4 foot masks. That's enough to do both feet for two treatments. And I think you only use, at most, once a month. Although after this I doubt I'm going to need to use it for quite some time.
Not gonna lie the first time I did this I didn't think it was gonna work for me because it took a good five days for my feet to start peeling and the same thing happened this time. You do the mask by leaving it on your feet for 60 minutes and then your feet just kind of get a little more rough over the next 4 to 5 days before everything just starts peeling off. And oh my gosh it leaves the most baby smooth skin underneath.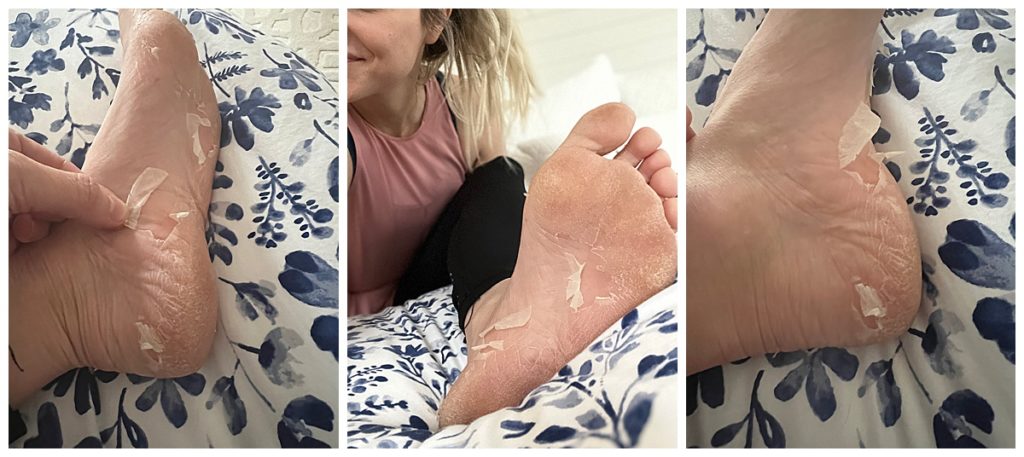 Only thing is, I have a formal event to go to Friday night and I was not thinking about this when I did the mask because I'm going to be wearing strappy high heels. Yikes! I really hope it all peels off in the next 24 hours. Or I'm gonna have to come up with a shoe plan B to wear with the gown I'm wearing. Can I wear boots with a gown to a formal event? Ha!
Anyway just wanted to share with you guys. I'll link the foot mask here again. It's the very first item linked below the video in the live I did the other day. I also linked the most gorgeous faux plants that I have in my house, my go-to lip color, an outfit that I'm obsessed with and a few other things. Essentially when I do these Amazon lives I just link a bunch of my most recent Instagram purchases of things that I found and really love and got for my home and think you guys would like to. Including the mask!
More Updates to Come!
Reminder, these are the results just five days in! It takes two weeks for the full results to happen so I will share updated photos once it all peels off and maybe even add some along the way to this post so keep checking back.
If you get it come back here and tell me how it worked out for you! I know you're gonna love it. I've already gotten hundreds of DM's from people telling me they've used it and love it too.