Good morning!!!! OKAY I HAVE to talk about this sale! First for transparency, this blog post is sponsored by Carter's, Afterpay and ShopStyle Collective. I am so so so excited to be working with them because they are one of my favorite kids clothing brands of all time and it's 50%-60% off their entire site today! This couldn't have come at a more perfect time for me because Molly and Riley are in desperate need of warmer clothes.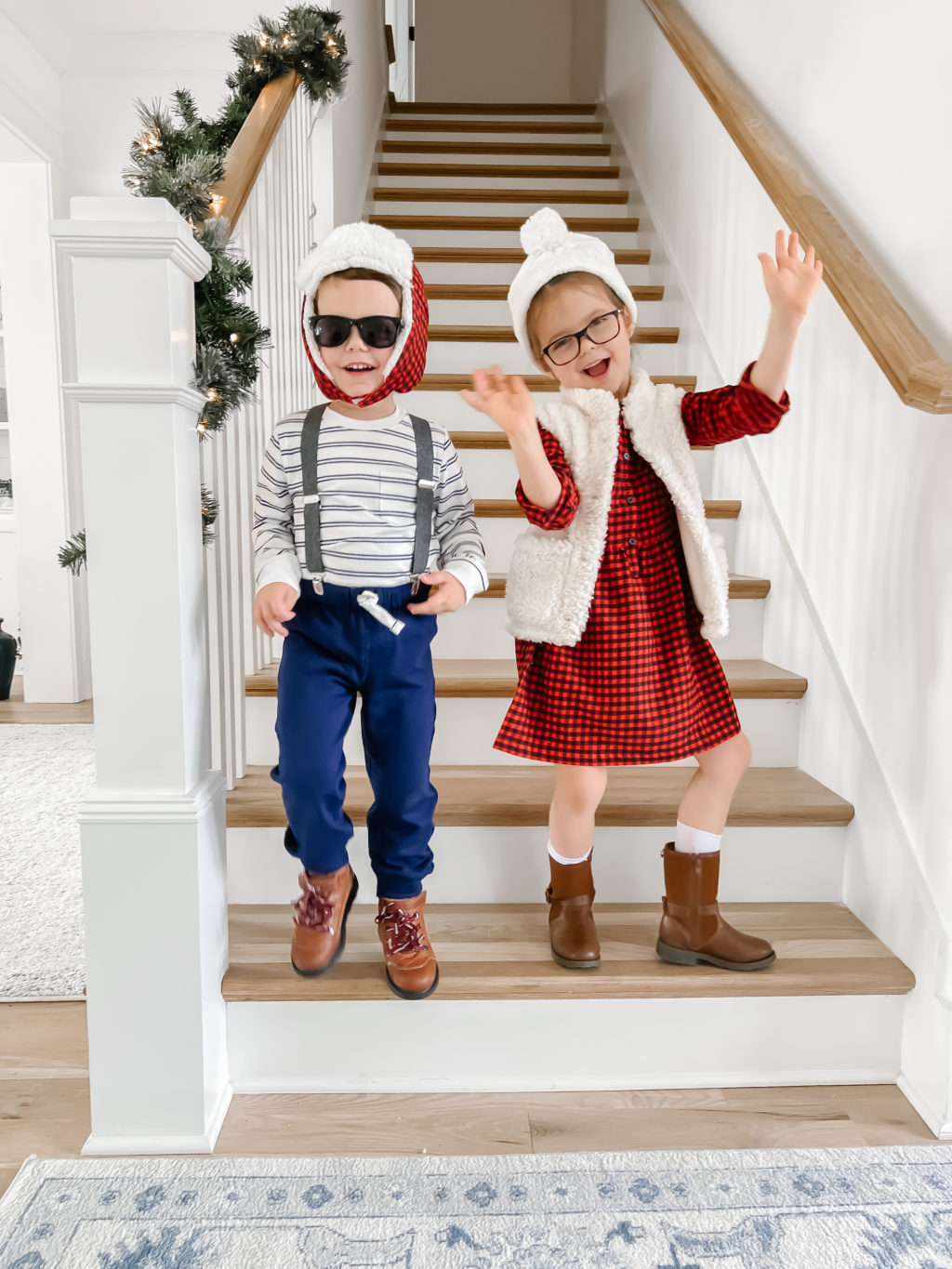 HAT | 2. SUNGLASSES | 3. STRIPED TOP | 4. SUSPENDERS | 5. JOGGERS | 6. BOOTS
Okay, that's a half lie, perfect timing because my kids need clothes, but also a little tough timing after all of my holiday shopping – I'm sure so many of you are in the same boat. But I have a solution! You guys know I love Afterpay, and this is one of those situations where I'm thankful for it! Essentially, I can stock up on a bunch of cute kiddo clothes for Molly and Riley right now, but I only have to make 25% of the total amount to start. So, let's say I get a bunch of stuff for Molly and Riley from the Carter's sale and spend $100 (and trust me you can get a ton of stuff for $100, just look at the prices below). By selecting Afterpay at checkout, I only have to pay $25 today and I can pay the rest over three more payments. So 4 payments total over 6 weeks. Plus, there's zero interest with Afterpay*, which is lovely. Anyway, it's a great option for those of you who want to shop the Carter's sale but you just shopped your heart out for the holidays. I'm in that boat too. I'll put the link here so you can check it out. Oh, and FYI you can use it in-store too! Just open the Afterpay app and tap it to the credit card reader like you would a credit card and you're good to go!
Regardless of my holiday shopping, my kids need warm clothes and I need them at a great price. I think I'm still kind of used to the California way of life where they wear the same thing pretty much year-round, maybe with a light jacket in the winter. But now that we live in Nashville and there's all the seasons, I'm realizing that it's so much harder to keep up with your child's wardrobe because you not only have to switch for the seasons, but then every season you have to buy all new stuff because they've grown out of the stuff before. That's why finding affordable kid's clothes is so so so essential for me right now and I'm sure for all of you.
So, the fact that Carter's site is 50% off everything (or more!) is insanity! I'm going to show you and link Molly and Riley's outfits because I think they're the cutest ever! But if for some reason they're out of stock, just head over to their site and check out all the things they have because they have tons of similar items and just the cutest clothes in general. Not just for toddlers! They have clothes for baby's and bigger kids too! So, if you have children older or younger than mine, Carter's is a great option for the whole family.
Riley's outfit
His Boots
I don't normally start an outfit talking about the shoes, but the fact that Riley's boots were originally $46 and are now on sale for $17 is just insanity. They are so cute, high-quality and look like they could be $75 toddler shoes, if not more. In fact, check out all the little boy shoes/boots on their site because they're at such great prices and if your children are anything like mine, they go through shoes so quickly because they wear them out while playing.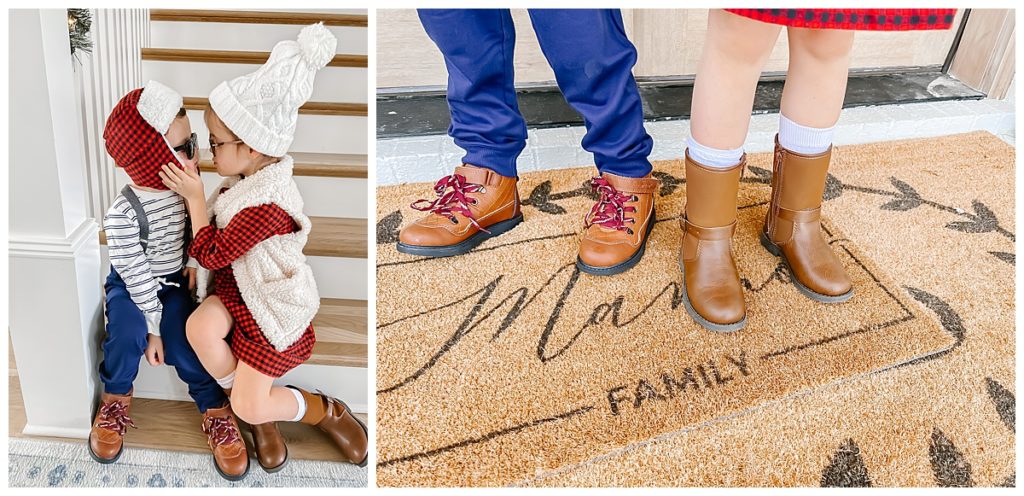 1. HAT | 2. SUNGLASSES | 3. STRIPED TOP | 4. SUSPENDERS | 5. JOGGERS | 6. BOOTS
Long Sleeve Tee
Riley's little pocket jersey tee is also the cutest and $9 with the sale. Like what?! It's hard for me to even wrap my head around that price for such great quality. I'm so excited about it. I just bought a few more in other prints because it's such a good deal. This is the type of shirt that's great for layering in the winter, but also really great to wear in the spring and fall, or even a cool summer night. In fact, this is such a great basic shirt that I even bought some in the size up because I know that he'll be able to wear them in the future and it's such a great price. I got this navy blue version too.
Joggers
Speaking of great prices, his pull-on French terry joggers are $6. When I saw the price, I immediately went to check out and went back to the link because I wanted to get more in bigger sizes as he grows and even though the larger size for toddlers were sold out, I realized that Carter's separates their kids clothes into baby, toddler, and kids sizes. So even if you click on any of these links and you don't see your child size, it could be because it's the toddler version and you need to look for either the baby version or the kid version. I'll link all three in the joggers below so you can see what I mean. It also comes in other colors.
Accessories
I always think a cute pair of toddler sunglasses just instantly make a child's outfit look cuter. A lot of people don't think kiddos need sunglasses in the winter, but the snow can be pretty blinding, so I don't only think they're cute I think they're a necessity. Riley's are on sale for 50% off and only $7!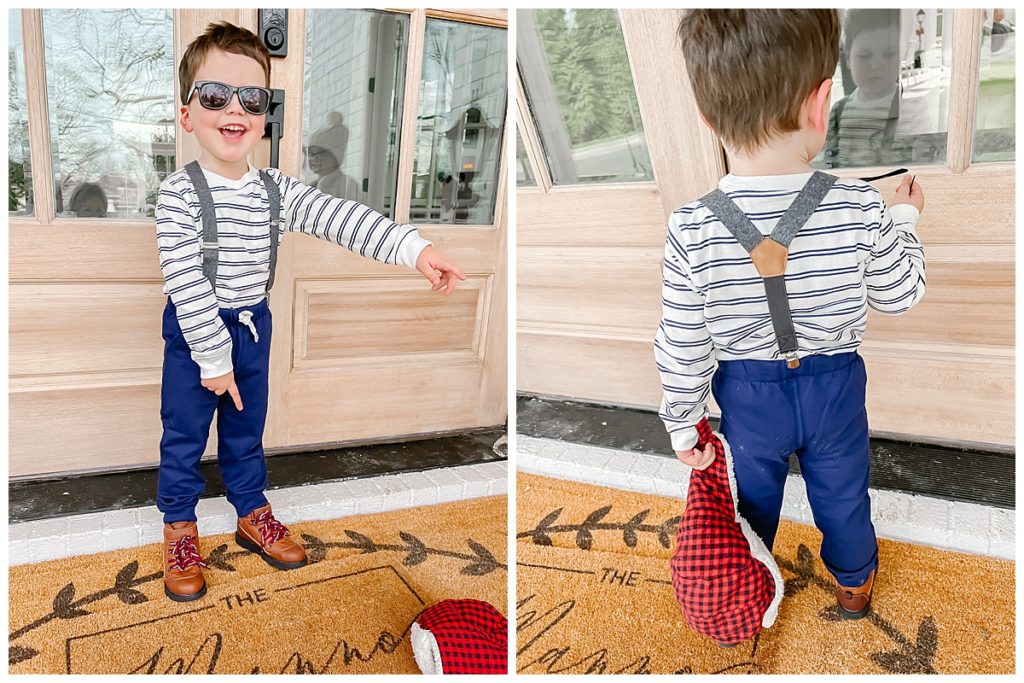 This buffalo sherpa hat, was the first thing I bought for Riley's outfit. When I first saw it I knew I wanted to create his outfit entirely around this hat. When I got it, it was $24, but it's on sale at 60% off for $9.60. It is darling and super warm. I also really love that it has the chinstrap so it actually stays on his head. I feel like in the winter I'm constantly trying to keep their hats on their heads because they fall off. So, this was just great for functionality as well. There's a bunch of reviews so check those out for sizing because it's only available in one size. I think this would be appropriate for children 2 – 4/5 years old. I tried it on Molly's head just to see if it fits her, but she would definitely only be able to wear it for one season. Whereas Riley will get to wear this for a few years. Just FYI both my kids have really large heads. They get it from their mama.
Last but not least, I will link these super cute pair of suspenders! Baby/toddler/kids suspenders hold a special place in my heart.
To Complete the Look
Oh my gosh, I just ordered this sherpa vest because I feel like it would be so cute to complete the outfit! It's on sale for 50% off and only $17! It has incredible reviews!
Molly's Outfit
Boots
Once again I'm going to start with the boots because I feel like this outfit revolves around these adorable boots! First, they are 58% off! They're normally $48, which is the price they were when I got them, and they're on sale for $20 right now! What a steal!
 1. HAT | 2. SHERPA VEST | 3. A SIMILAR PLAID DRESS | 4. BOOTS |
They are fully in stock in all toddler sizes right now so get them as fast as you can! They are darling, so easy to put on, and I love how cute they are, but more importantly Molly loves wearing them. I love that they have a zipper that goes all the way down on the side just so they are super easy for her to put on herself.
It's also available in kid sizes, but the stock is more limited. And they come in black too!
Sherpa Vest
Molly's fuzzy sherpa vest is also on sale for 60% off. It was originally $36 and now it's $14.40. It comes in ivory and black. This is just one of those items that no matter what I put on her, I feel like if I throw on a little vest to layer it, it just instantly makes the outfit cuter and warmer! So functional and cute! Plus, she said she feels fancy and in it, which I love.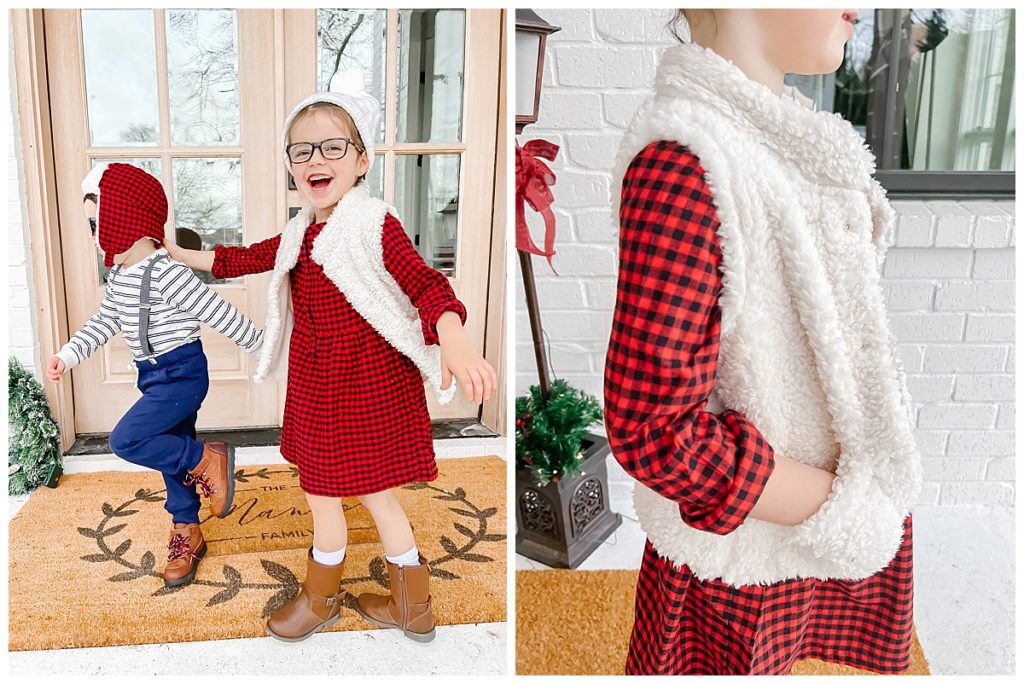 Plaid Dress
I'm so bummed because Molly's plaid dress is sold out. But I'll link a similar version here for you guys that's just as cute! It even has a little sparkle which I think she may have preferred. Ha! What I love about the similar option is that it's 60% off and only $13.60. Of course, I like the price. But even more so, I love that it's also got a little bit of a spring flair. Kind of like a farmhouse look. So this dress will easily work for her just as well come the spring and even early summer. In fact, I'm ordering right now because I love it so much. Her Carter's boots and this dress will be the cutest ever together!
Hat
Can I finish off her outfit with this cozy hat? It's 60% off and $8 and just really cute and warm. So, if you're on the site to get some items from the sale and your child needs a new fuzzy hat, this is a great one!
Sparkly Shoes
Last thing I want to link from the Carter's site are these gold/glitter ballet flats. Molly thinks they are the best thing she's ever owned. What little girl doesn't love a sparkly pair of shoes! So, I just want to link these for you guys cause Molly loves them so much.
Great Clothes, Great Prices!
Hope you guys enjoyed this blog post. I know it can be really hard to find affordable clothes that are well-made. Carter's prices are already really really great for the quality you get! But the fact that you can get this huge discount on top of that is just really a parent's dream! Super cute, well-made clothes for an incredibly good price! Don't forget you can use Afterpay to shop the sale! Just select Afterpay at checkout. I'll link everything one more time below!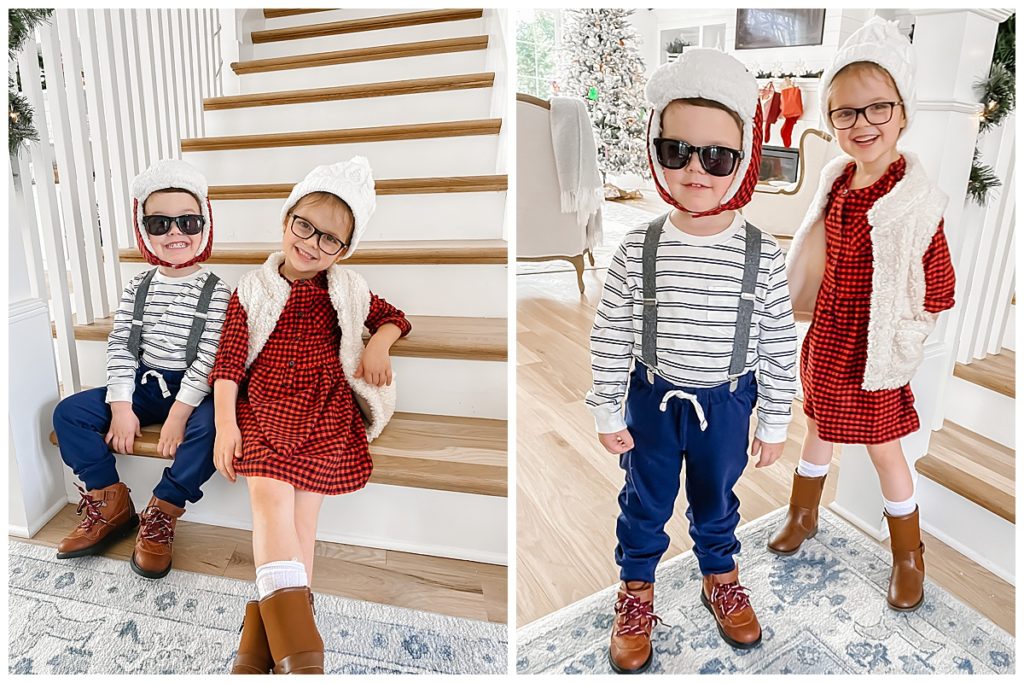 *For Afterpay you must be over 18, a resident of the U.S. and meet additional eligibility criteria to qualify. Late fees may apply. Click here for complete terms. Loans to California residents made or arranged pursuant to a California Finance Lenders Law license.