First, thank you Walmart for being a sponsor of my blog!
Kevin and I took these pictures last week and looking at them today I feel like I needed the laugh. Why did we take them you ask? Well, Kevin and I are hosting friends this week (if Riley is feeling 100%) and we thought it would be funny to answer the door dressed like this. We are now realizing, because we look so ridiculous, that it was a terrible idea. Ha! We do weird stuff, as you guys know. But oh my gosh, Kevin and I laughed so hard while taking these pics. I'm telling you if I have one piece of advice on who to spend the rest of your life with it would have to be to find someone you can laugh with!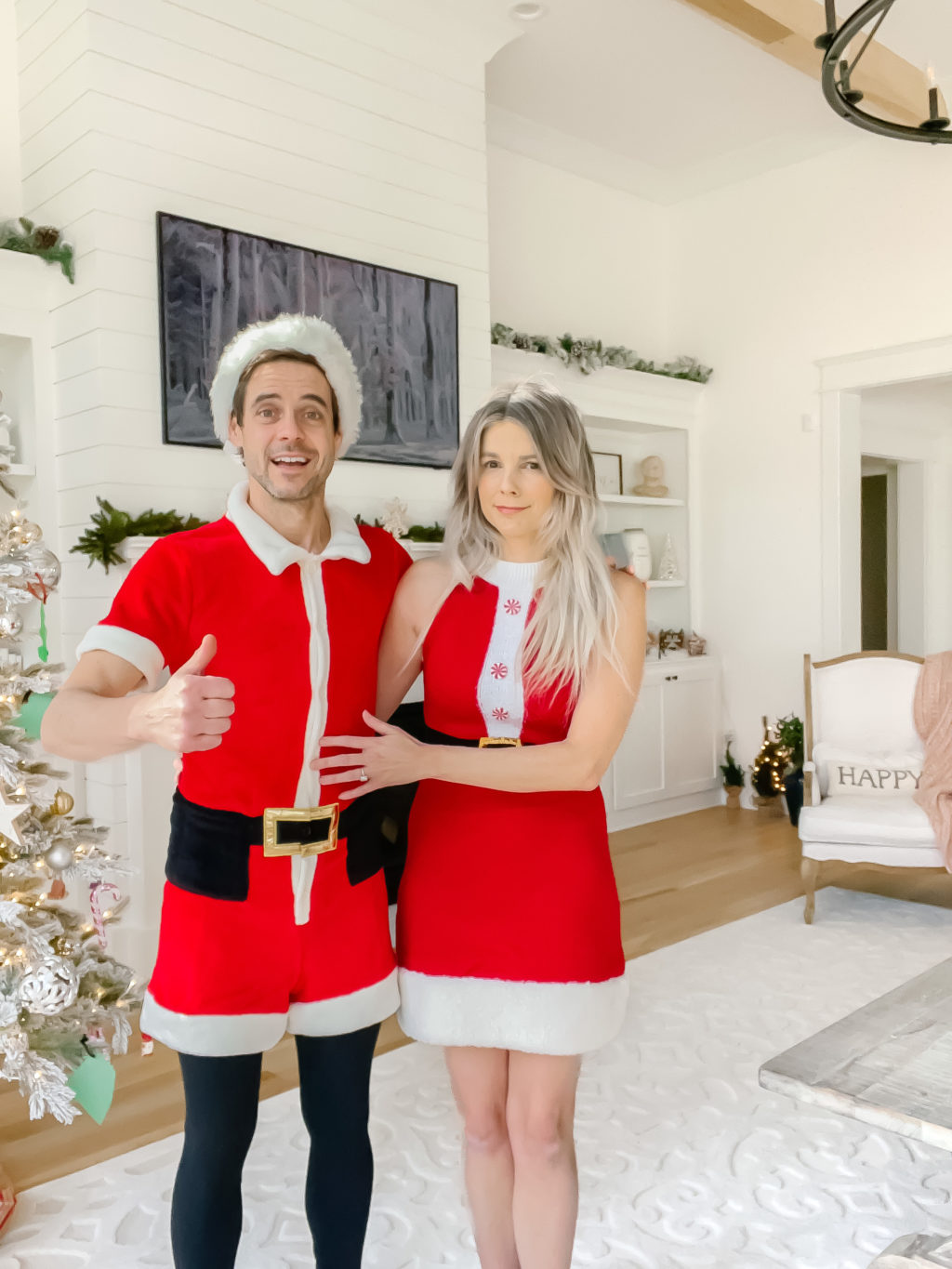 1. KEVIN'S SANTA OUTFIT | 2. MY SANTA DRESS
Unlimited Free Delivery from Your Local Store ($35 minimum and some restrictions apply)
Anyway, we are still very much in the middle of our moving in process at our new house, and every time our friends have come over we've poured them wine in regular glass cups because we don't have enough wine glasses. In fact, we don't have any white wine glasses. So I hopped on my Walmart app and ordered wine glasses that were delivered right from my local store. Next day!I was able to get them delivered from my local store for free (there's a $35 minimum for delivery from store FYI and some restrictions), and that's because I am a Walmart+ member. It is the best! You guys know Walmart is a huge sponsor of my blog – I'm so grateful for them.
One of things I do with my partnership with them is write about it and share with you guys where being a Walmart+ member has been particularly helpful. And this is one of those moments. It's just so nice that when I need something I can order it from a local store and get it so quickly! Every single time I've ordered from my local store I've been able to get free delivery the very next day. It's not always available the very next day, but for me it has been every single time I've used it. So I'd say it is often!
Free Shipping, No Order Minimum from Walmart.com
– with no order minimum
**
Excludes
most
Marketplace
items,
location
&
freight
surcharges
One thing I think you guys will absolutely love love love love love about Walmart+ is that if there is an item from one of my Affordable Friday posts that you really want but you only want that one item, you'll be able to get it and get it shipped free with your Walmart+ membership. No minimum required for this one! It just has to be sold and shipped by Walmart.com and I would say 99.99999% if not 100% of everything I write about in my Affordable Friday posts are sold and shipped by Walmart.com. So if you want the $15 top that I talk about it, you can buy it and get it shipped free instead of having to fill up your cart with more items (that maybe you don't necessarily need at the time) to hit the $35 minimum.


1. KEVIN'S SANTA OUTFIT | 2. MY SANTA DRESS
Grocery Delivery
The grocery delivery has also been huge for me! When I ordered the wine glasses, I also got some food to use for a charcuterie board for our guests and they all were delivered right from my local store. The holidays are busy! Anywhere I can save some time by not having to go out to the store, and I need something and need it fast, is so helpful! I know I'm going to be using my Walmart+ membership a ton when I realize all the last minute gifts I forgot to buy. Because you know we're all procrastinators and find ourselves buying things in the 11th hour! Walmart+ will help you so much with that!
Other Benefits
When you breakdown how much you're going to save by not paying delivery charges from your local store (other services that provide grocery delivery often have additional fees and prices are even marked up. With Walmart+ the prices you pay for delivery are the same price as your pay in the store). Think of all you'll save by not paying shipping (some restrictions apply) and you can even save money on your prescriptions and fuel for your car! I'm telling you the membership fee will pay for itself before you even know it. I don't remember exactly because I've been a member for over a year now but I'm pretty sure when I first signed up and paid for itself within a couple weeks. You can try it out as a FREE trial to see if you like it and then after the trial you can pay $12.95 monthly or save even more by paying $98 a year!
Early Access to Sales!
Also, and this is HUGE, Walmart+ members get early access to experiences, events, and deals! For example, as a Walmart+ member I got early access to their Black Friday deals which save me so much money and allowed me to get first dibs on some things that's sold out super quickly (Not available to trial members.  While supplies last.)! Things that I may not have been able to get if I wasn't a member since they sold out so fast. Those Black Friday deals are legit and I was so pumped to have early access to them! And even though Black Friday is over, if you sign up now, there will be more deals that we will get really access to!
Before I go just so you can get an idea of how helpful it could be for you, I'm going to link some gift ideas for kids that I love that are under $20 to show you what I could order right now and get delivered from my local store as soon as today if I use express delivery for $10 or by tomorrow with the FREE delivery from my local store ($35 minimum). I get last minute toys with my membership all the time whether it's for birthday parties or right now for the holidays. I just used it the other day to buy for the family that we sponsored here in Nashville through a program to provide toys to children in need. It not only helps me, but it helps me to do good!

Last but not least I leave you with more very weird photos of the 3 of us. Oh the things Owen does for us. Thanks for being a good sport bud!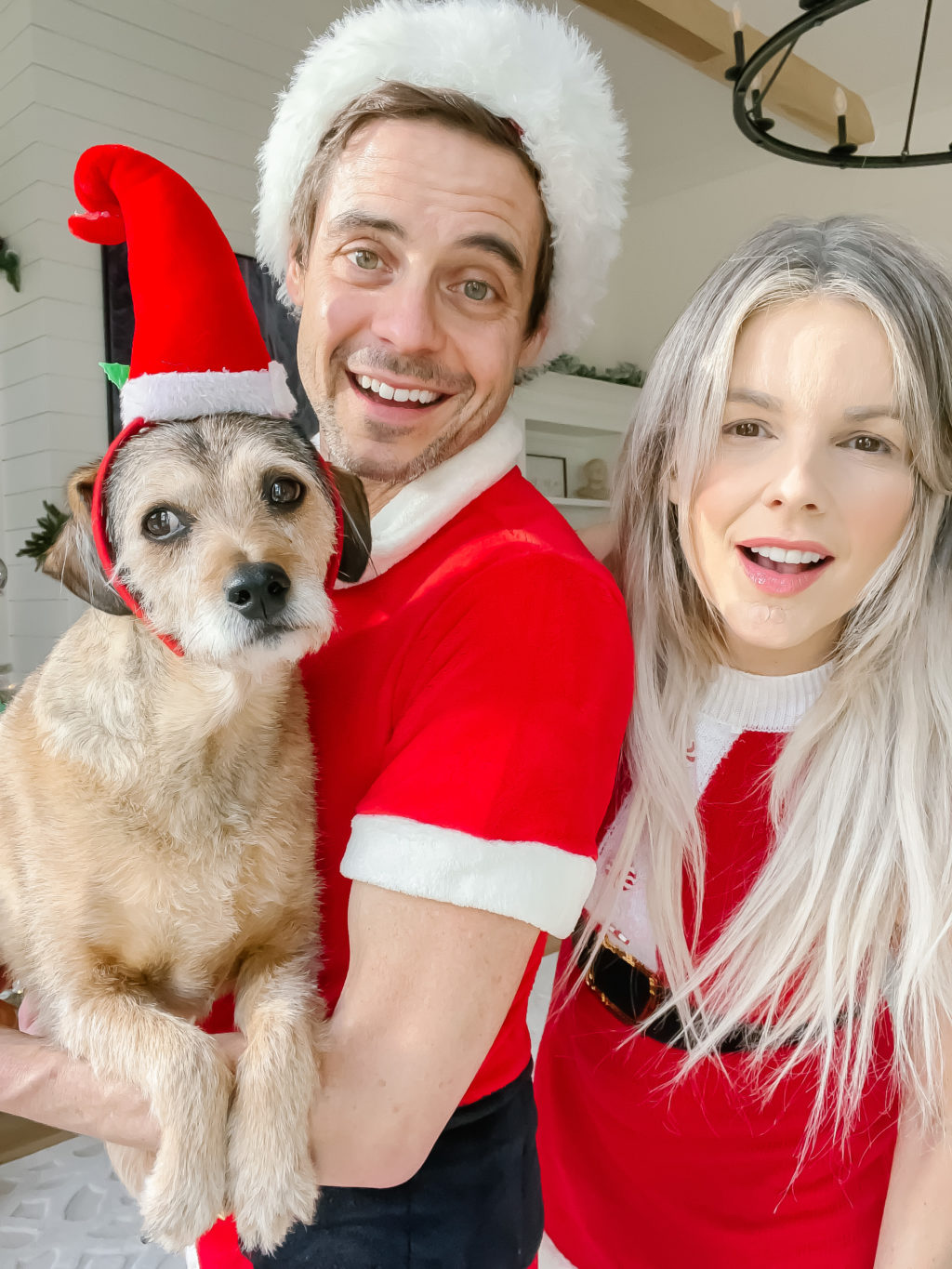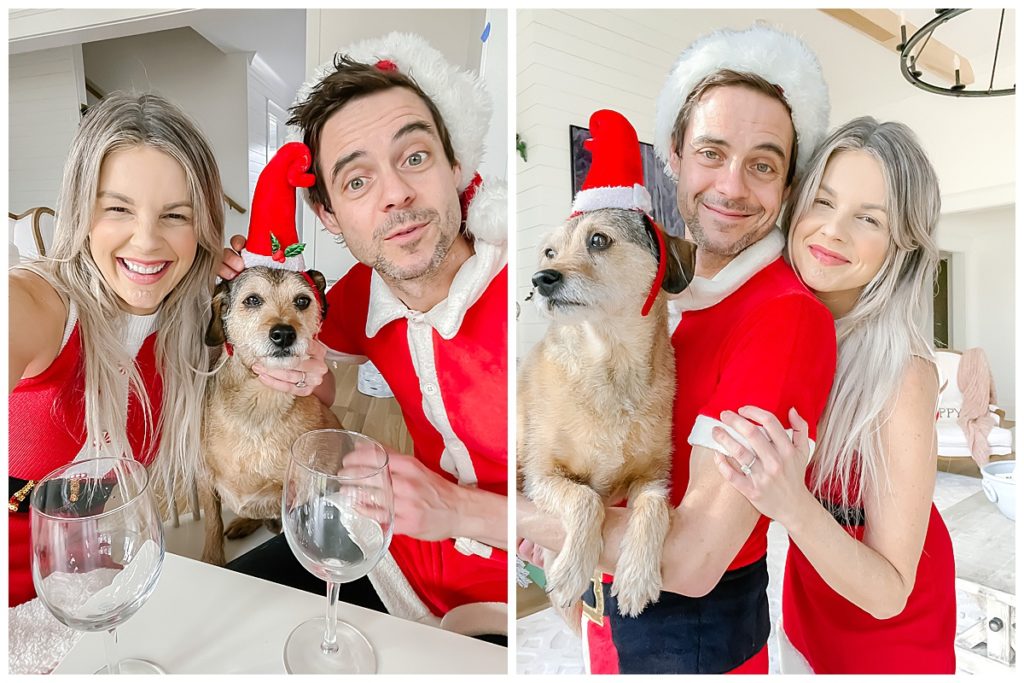 1. WINE GLASSES | 2. KEVIN'S SANTA OUTFIT | 3. MY SANTA DRESS
To make all the benefits super clear for you guys (cause it's A LOT) I will bullet point them here! Think of all you'll save!
Free delivery from your store with the s

ame

l

o

w

pric

e

y

ou

get

in

sto

r

es. That means no markups or hidden fees. Period. They're not like those other guys 😉 *$35 order minimum. Restrictions apply.

Free shipping, no order minimum

**

Excludes

most

Marketplace

items,

location

&

freight

surcharges

Rx for less. *The program is not insurance and cannot be combined with insurance.
Member prices on fuel.
Scan & go with make shopping in the store fast and easy!

Early

a

c

c

ess

to

experien

c

es,

e

ve

n

ts,

and

deals!

Not available to trial members.  While supplies last.
Visit Walmartplus.com to start your free trial!