Happy holidays, Affordable Friday edition! You guys know how much I love doing Affordable Friday posts and I figured this year I would not only write about the affordable Friday fashion that I love so much, but also include a bunch of Affordable Friday holiday gift ideas!
But before I get started on some of the things I found, I want to link this gift finder for you guys because I think it's a really great to help spark give you ideas for the people in your family. When I was scrolling through it, I found so many things that I can buy as gifts. I feel like it can be so hard to shop for some people during the holidays and that's why I love gift lists like this because it helps give me ideas that I maybe when I thought of before.
Ok now let's get into the Affordable Friday fashion that we all know in love!
Holiday Style, AF Edition
Ruffle Sweatshirt
Adding this ruffle sleeve pullover as a last-minute addition because it is so so so cute and only $11.98! Pics coming soon! I have to shower first. Ha! I got a medium which is my normal size and right now it looks fully in stock and most colors! And just look at the reviews! Other people love it as much as I do!

Sweater (It's on Clearance!)
I'm gonna start with the sweater that's on clearance because I can't believe it's on clearance! When I bought it, it was not on clearance and it was $23.98 and I thought that was an absolute steal! Well now you can get it for under $15! I'm wearing a size medium which is my normal size. I got this really pretty red and black plaid because I love it for the holidays, but it also comes in a gorgeous blue color and a chic neutral tone color. It's a really lightweight sweater so I like this on days where I wanna wear a sweater, but I don't want to be super hot. I bought these boots years ago, but I will link similar ones below that I also talk about later in this blog!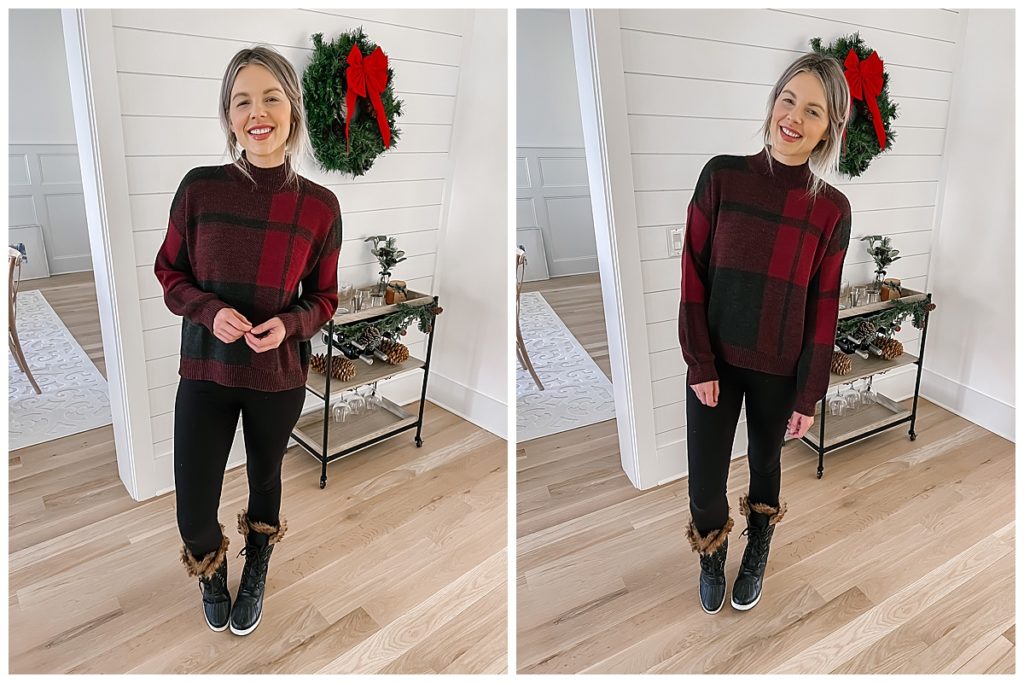 1. RED AND PLAID SWEATER | 2. LEGGINGS (2-PACK $9.88) | 3. SIMILAR BOOTS
Fleece Jacket
This next look has a fleece jacket that I absolutely love. It's so soft and comfy and I feel like it looks super expensive! I feel like this is something I see a fancy lady wearing at a ski lodge or something. Ha! I absolutely love it! I'm wearing a size medium, which is my normal size, so I would definitely say it's true to size. It also comes in two other colors. Plus, it's under $19! Such a steal! All of the reviews are super positive except for one negative review and honestly I'm almost upset at that person. Ha! I do not understand how anyone could not be totally obsessed with this fleece. I honestly feel like they must've been reviewing the wrong item. Ha!
The white with black like I am wearing here is almost sold out so I recommend checking for your size right away! I also LOVE the black with white. I've been wearing this so much that I think I am going to get that option too! It also comes in a really pretty creamy tan color that is especially great if you wanted to stick to a neutral color!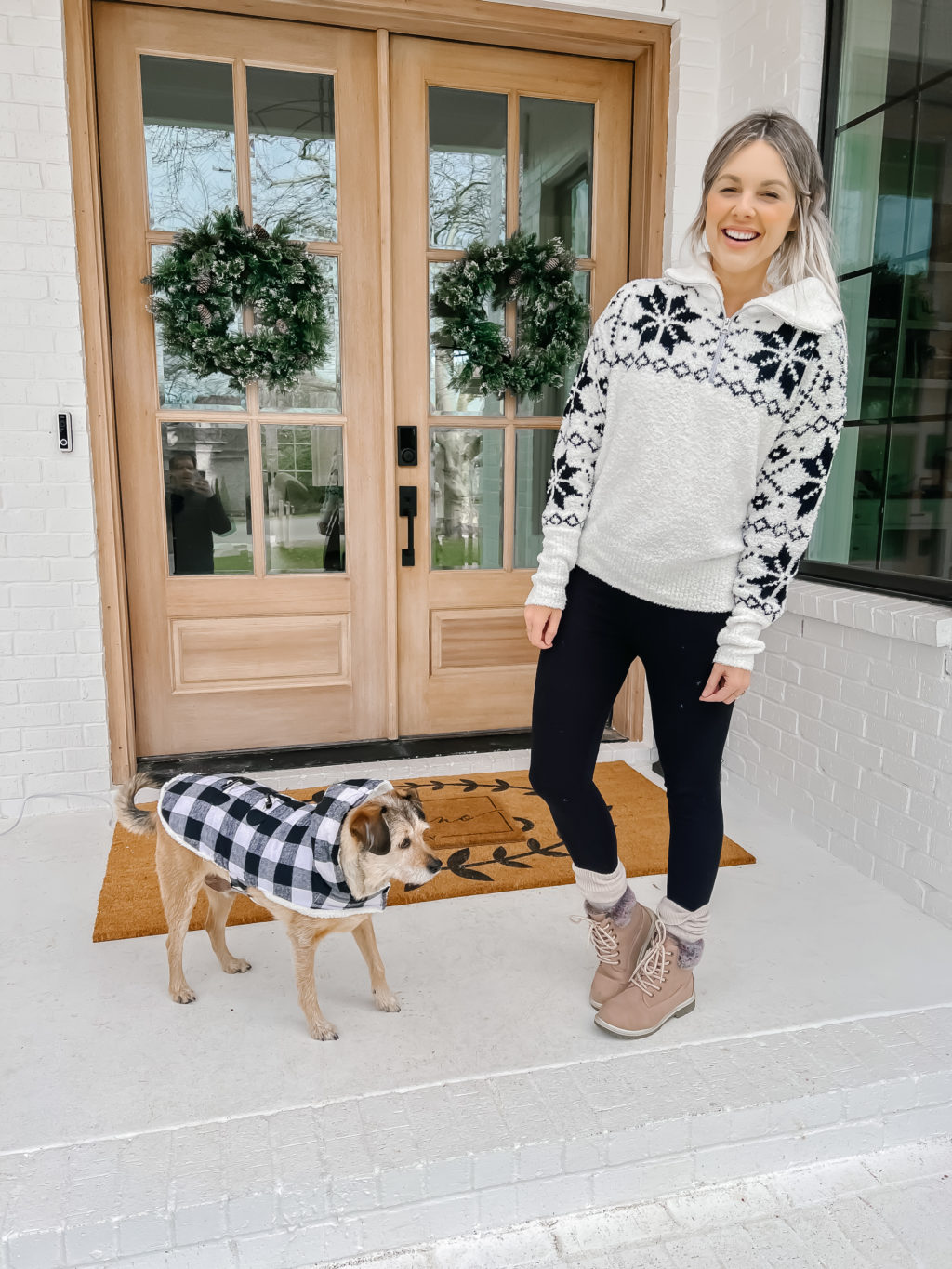 1. FLEECE JACKET | 2. LEGGINGS (2-PACK $9.88) | 3. BOOTS | 4. OWEN'S JACKET | 5. WREATHS
Leggings and Boots
By the way, these leggings and boots are also from Walmart. I've linked them in past Affordable Friday posts because I've had the boots for over a year and leggings are a ridiculously good for the price! Seriously I cannot believe that a two pack of these leggings is only $9.88. You're getting each pair for just over $4! I'm telling you they pass the squat test and are super comfy!
Plus, these boots are everything! I have the blush color although I wouldn't call them blush I would call them a light neutral. Which is exactly what I wanted when I bought them.
Speaking of boots I also want to link this pair that I found on Walmart's site. I'm so tempted to get them. Just because they're so stinking affordable and so so so cute! I just don't know that I need another pair of boots right now. Ha! But honestly I think I'm going to. I just love the rich caramel color and they also come in a few other colors as well even white if you're looking for a good white boot!
Sweatshirt
Time and True sweatshirts are my favorite and this oversized one is so cute! It is truly oversized, so if you're not wanting an oversized sweatshirt, you don't want this one. But oversized sweatshirts are so on trend right now! I got the neutral color, but it looks much more white in the photo online whereas in real life it has a bunch of black and gray speckles on it. I wasn't expecting that when I bought it but I absolutely love it. It gives it a worn out sort of vintage look that I love. I plan on wearing this a ton this winter with black leggings and boots.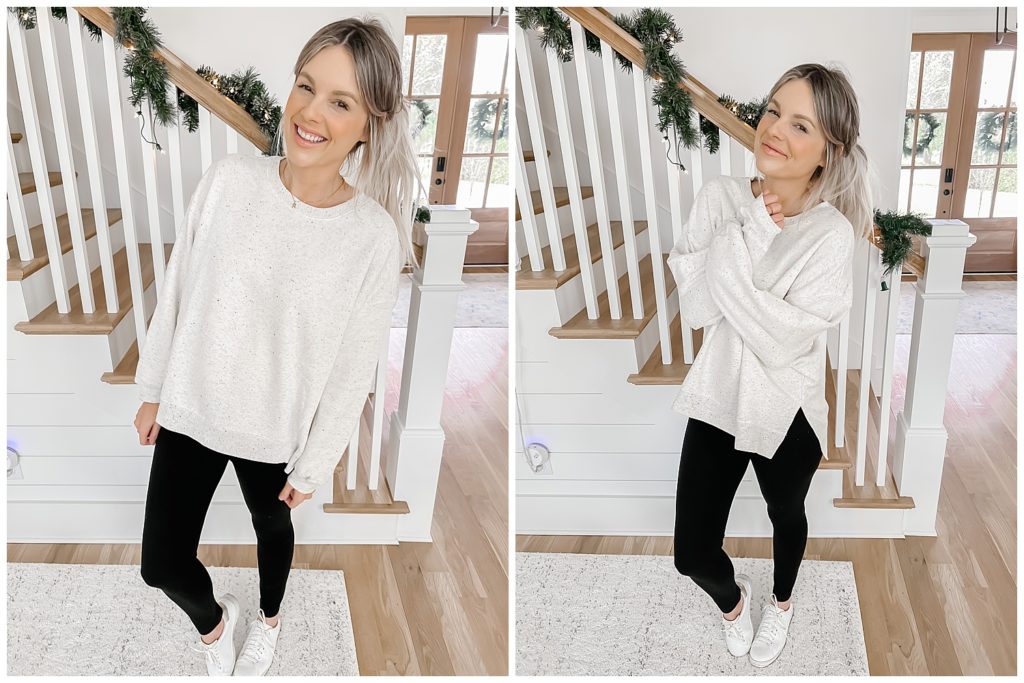 1. OVERSIZED SWEATSHIRT | 2. LEGGINGS (2-PACK for $9.88) | 3. WHITE SNEAKER
Affordable Friday for Him
Quilted Jacket
Time to include some affordable gift ideas for him in this blog post! Starting with this men's quilted jacket. I got it for Kevin and he loves it! He said it's super warm and he loves the fit. Plus, it's an absolute steal at $40. so if you're looking for a good coat at a great price I highly highly recommend this one! I got Kevin black because that's what he likes but it comes in three other colors. Plus, just check out the reviews they're all super positive.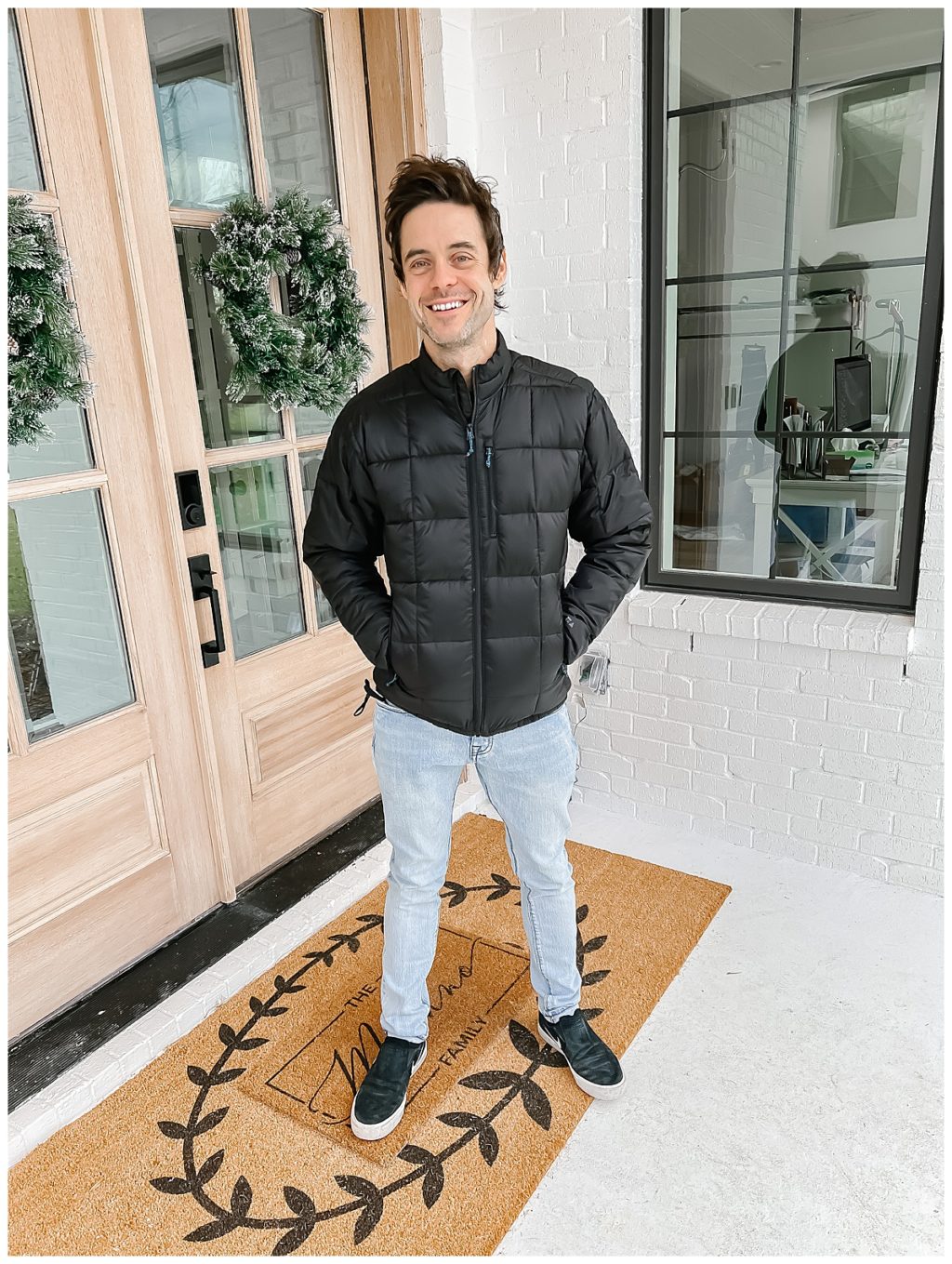 Golf Candycane
I hate putting something like this under a 'gift idea for him' because golf isn't just a guys sport. But this is definitely a gift idea for him or her so I'll just add that here. But I saw this little golf candycane on Walmart's site and I just thought for only $7 it was a perfect little gift to give any golf lover in your life! My grandpa was a huge golf person and this is definitely something I would've gotten him if he was still with us. Makes me think of him and smile though!
Smart Plugs!
I also think an iHome smart plug is a really great gift idea for him. We got one of these from our security camera brand the other day to plug-in our Christmas tree and we absolutely love that we can ask our Alexa to turn on and off our Christmas tree because of this smart plug. I feel like any man in your life would appreciate that! Heck anybody would appreciate that! So I think this is a cool gift to give!
Gift for the Kiddos
At the end of the day you're gonna want to buy your kids what they're into. But here are a couple gifts that I really love that I got for my kids that I wanted to share with you guys.
Cotton Candy Maker
You might think I'm crazy, but I think this cotton candy maker will be one of their favorite gifts at all! I was so surprised to see it was under $40 and I know my kids will absolutely flip when they open it on Christmas morning. I also just thought it was practical for future birthday parties. We plan on really going all out for the kiddos next birthday since they sort of missed out on the last two years due to the pandemic. So I plan on putting this out during parties so I feel like it's something we will use again and again and again! Doing gift bags and desserts for parties can get super expensive, so the fact that I just need some sugar, food coloring and this and it only cost me $37 I think is a huge win!
Wooden Cube Puzzle
I also love any toy that is made of wood for my kiddos. I absolutely love this Melissa and Doug Blues Clues wooden cube puzzle. Riley is obsessed with puzzles and I feel like this one sort of ups the difficulty a bit because the wooden cubes have different pictures depending on the side. I feel like that's got to be good for their brain for problem-solving. Plus it's on sale right now for just $11. It's multiple puzzles in one since each side of a cube has a different puzzle.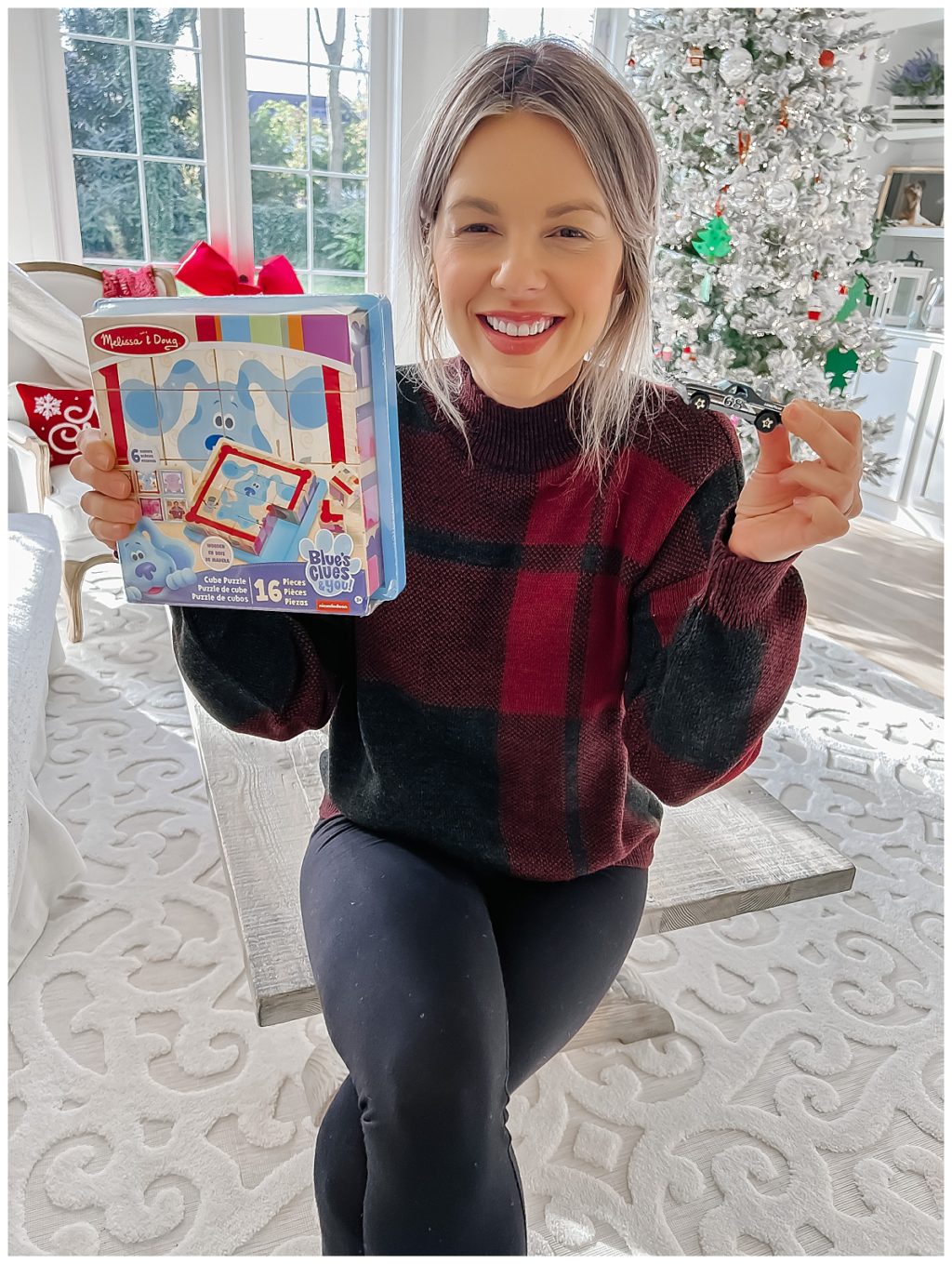 1. RED AND PLAID SWEATER | 2. LEGGINGS (2-PACK $9.88) | 3. WOODEN PUZZLE | 4. PACK OF 5 CARS
5-Car Set
I want to include this in the 'gift idea for kids' section because I feel like it truly will be a winner in my house. Not that giving a child a toy car is a new idea, but I just think this is the type of gift that my kids get so excited to get, but it's so affordable at only $4.66. My kids might as well think they got a $100 gift getting something like this with five different cars in it! So I just think it's super affordable and has a big impact on little ones!
Puffer Jackets
I also got my kiddos these jackets. Not for Christmas. I gave them to them already, but I feel like at $11 apiece these puffer jackets are a no-brainer! I got Molly the pink and red and Riley the blue and they love them! I also love the bright bright colors because whenever I take my kids to a park I always feel better when they're wearing a bright color because I can spot them easily and it makes me feel better safety wise.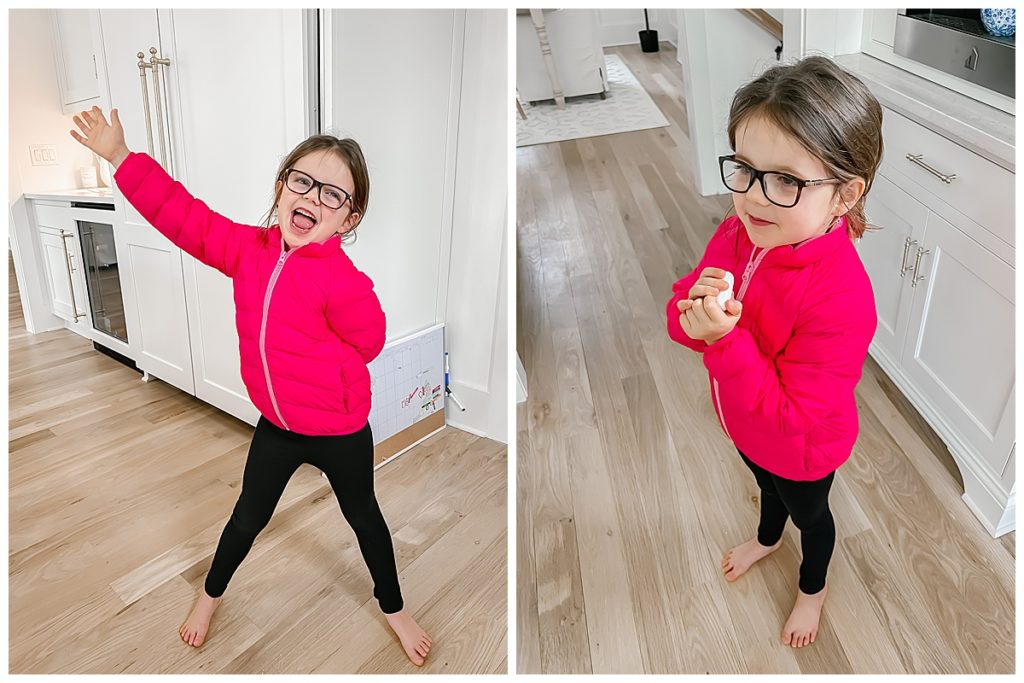 Gifts for the Poochie
Couldn't forget Owen on our gift list! How stinking adorable is this buffalo plaid jacket for pets. It's only $11.97 and it is so so so so so cute! Some people might think I'm weird, but I put a jacket on Owen almost every time we go for a walk in the winter. What can I say, he's a California dog! He's not used to this cold! Ha! This one is super easy to Velcro on and off and it's really warm! Plus, it's just cute for holiday photos! The buffalo plaid just screams holiday and I love it!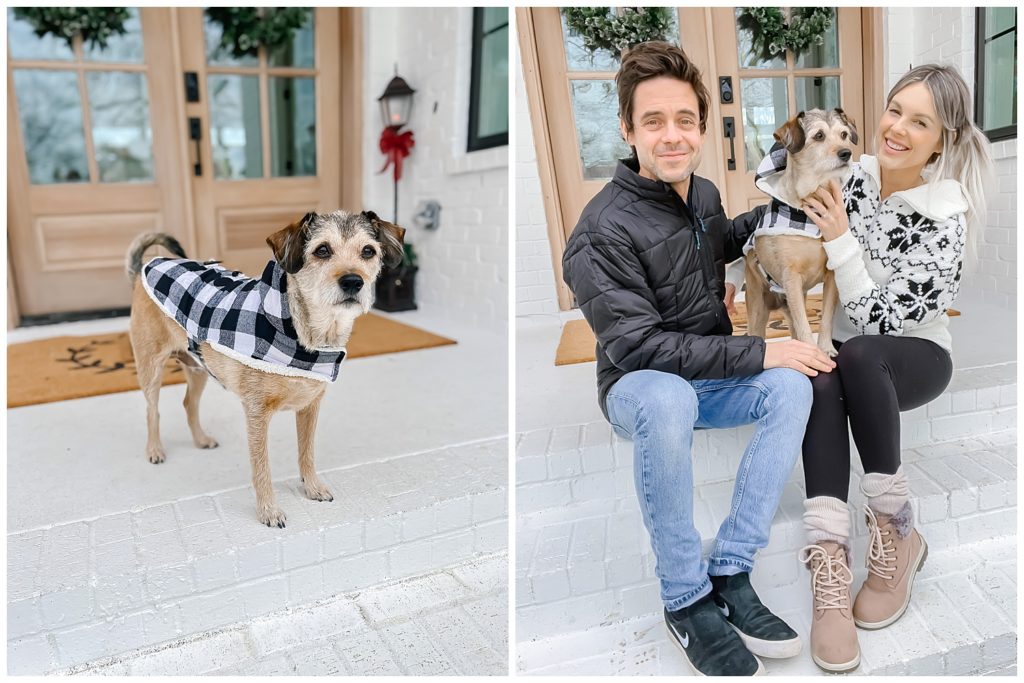 1. FLEECE JACKET | 2. LEGGINGS (2-PACK $9.88) | 3. BOOTS | 4. OWEN'S JACKET | 5. WREATHS | 5. PUFFER JACKET
Owen is wearing a size medium and he's about 40 pounds. I went off the sizing chart in the description.
Just a Dang Good Gift
I wanted to share this bamboo bath caddy tray in this post as well because not only did I buy one for myself for our home, but I got one for a friend of mine as a gift. It's under $30 and one of those things that people just don't think to buy for themselves. Well I guess unless you're me. Ha! I just love our new bathroom in our house so much and I wanna take lots of baths in there so I wanted to get there so I could light a candle and put it on top of here and read a book while soaking in the tub.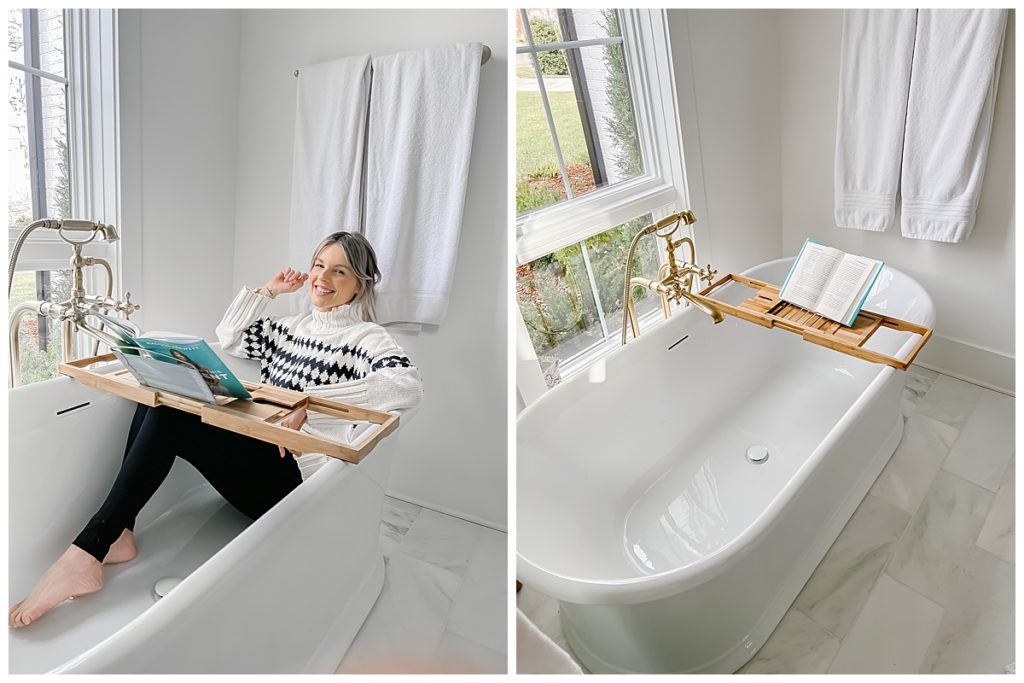 1. SWEATER | 2. LEGGINGS (2-PACK $9.88) | 3. BAMBOO BATH CADDY TRAY
Also, I absolutely have to link the sweater I'm wearing in the tub. Here's a picture of me below wearing it standing up. I'm so obsessed with it! It's absolutely perfect for wearing with leggings since it's a tunic sweater and will easily cover your butt even if you're tall! I'm 5'7 and it covers mine really well! If anything, if you're on the shorter side this might be too long for you. In the color/print I am wearing it's very limited in sizing available. But it comes in a few other colors in so depending on your size you'll at least find one color in your size right now. But it could sell out fast.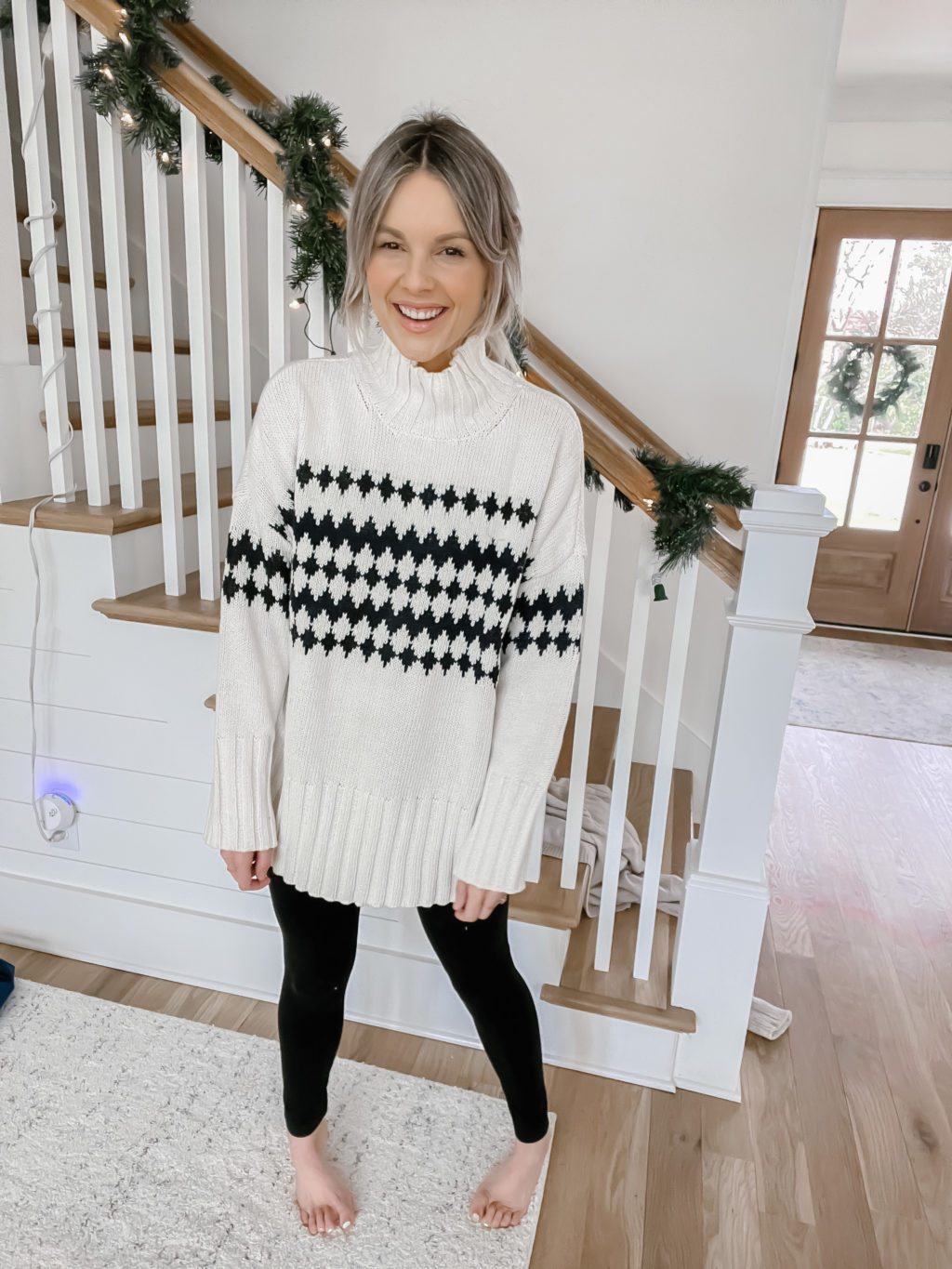 1. SWEATER | 2. LEGGINGS (2-PACK $9.88)
Items for Someone You Want to Splurge On!
I know this is an Affordable Friday post, but I want to recommend a few other things that maybe aren't considered affordable but are honestly great deals for what the products are. I think they make great gift options for the special someone you want to splurge on!
First, a Theragun. Yes they are an investment, but oh my gosh worth every penny! Whenever I'm super sore I use mine and it is the best thing ever! If there's someone on your list that enjoys physical activity or working out this would be such an incredible gift for them they will love you for it! And heck if you're getting this for somebody they love you anyway but you know what I mean. Ha!

I also want to recommend this Duraflame 3-D electric fireplace. We needed some sort of space heater for our laundry room because it's gonna be so cold out this winter, so I was looking up space heaters and I found this one and I love it so much! Unfortunately for us the space we need to put it in is too small for this one, but I just fell in love with it and I figured you guys would love it too so I wanted to link it for you guys. My mom actually has one almost identical to this. Honestly it might be the same one.
She uses it every winter to save money so she doesn't have to heat her entire big home even though it's just her staying there. My mom wants to save money and this is one of the way she does it. I guess I get my love for a good deal and budget fashion from her! And if you look at the reviews for this it's just insanely good so I wanted to share with you guys as a gift idea especially for someone that likes to keep their heat on the low side to save money. They'd be so grateful to get something like this.
Last but not least, I had to mention this Canon Rebel T7 DSLR camera. First click here to look at everything it comes with. Oh my goodness, what an incredible package for a photography lover! I actually bought my Canon from Walmart years ago in a package just like this and I love it! To get all of that for this price is such a great deal. So if you're looking to splurge for somebody this year this camera set is it! Plus it's such a great camera. I love Canon cameras.
HAPPY HOLIDAYS!
Thank you so much for coming by the blog today! I hope this gives you some inspiration for your holiday shopping, or just for yourself! I'd love to hear what you buy in the comments below and please share any other gift ideas you have with us as well! A big thank you to Walmart for being such a big supporter of my blog and sponsoring this post!