Hi guys! We, like many of you, are going to be hosting family for the holidays this year. I know you guys know how much this means to us given how long it's taking us to get into this home. But I really want everything to be as cozy as possible!
It's gonna be a long time before we are fully settled in this house. There's lots of furniture to buy! But we're getting started and I'm really grateful that I was able to find some affordable options to furnish this room so I'm gonna share them with you guys in today's blog post! By the way, this room is what we are calling Owen's Room – it is seriously where he spends most of his time. He loves it so much in there so we definitely want to make it cozy for our little Owie too!
And we did the ENTIRE room for less than $1000. The is HUGE! And by huge, I mean a small number to decorate an ENTIRE room. Ha! We still need a dresser but still. At most furniture places, the bed frame ALONE will cost you more than that. And we did already have the mattress so that helped! SO I hope you guys find this blog post helpful!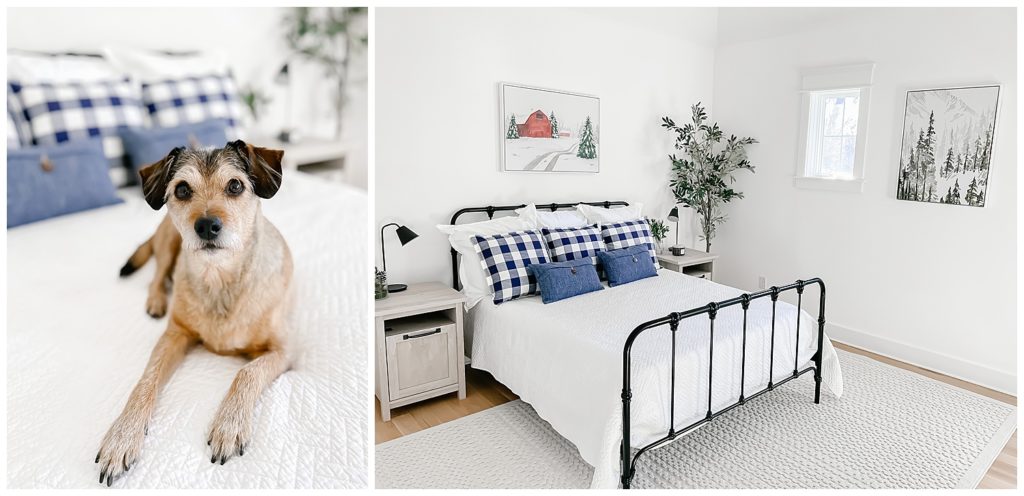 1. METAL BED FRAME | 2. PLAID PILLOWS | 3. QUILT | 4. RUG | 5. TREE ARTWORK | 6. BARN ARTWORK | 7. NIGHTSTANDS | 8. LUMBAR PILLOW | 9. SHEET SET | 10. CANDLE
Farmhouse Bed Frame
I mean how great is this bed frame! I really was so so so happy with the price for a queen bed frame – it was only $199. If you want a full, it's only $189! Unfortunately it looks like some of the sizes in the black are sold out right now, but the gray looks so similar to the black and it's fully in stock in all sizes! Just make sure you click the gray color to see it in stock (it looks out of stock until you click on it). And if you really want the black, I found this SUPER similar one fully in stock! Oh my gosh, if you're looking for a bed frame for a little girl's room, the white is perfect. Especially if you are transitioning your kiddo from a crib to a big kid bed. This frame would be perfect! It's gorgeous, was easy to put together, and I just love it! I will link all the color options below!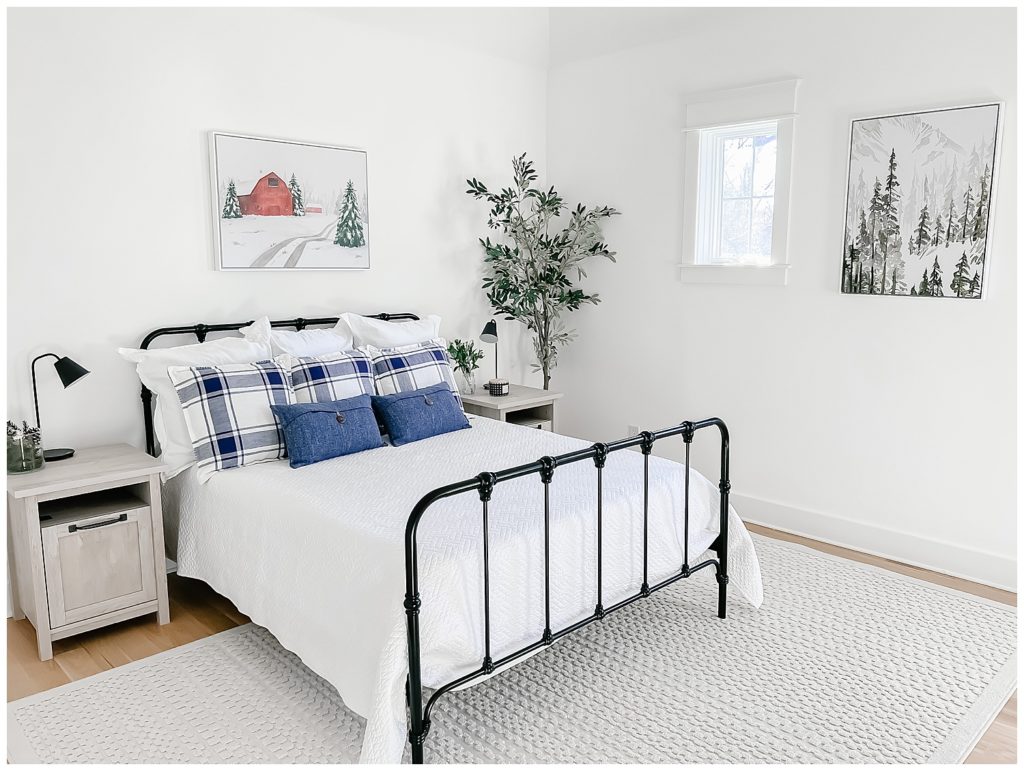 Gorgeous Rug
Now for the rug. This rug is by My Texas House and they have the most gorgeous rugs! Not only did I get this one for this guest room, but I've gotten five others that are going to go throughout our house! I have this in the color 'natural'. It's an off-white color. I know some people are scared of a white rug. But these are indoor/outdoor rugs, so they are so easy to clean! Plus if the off-white isn't for you, they have other colors as well (just click through the size options)!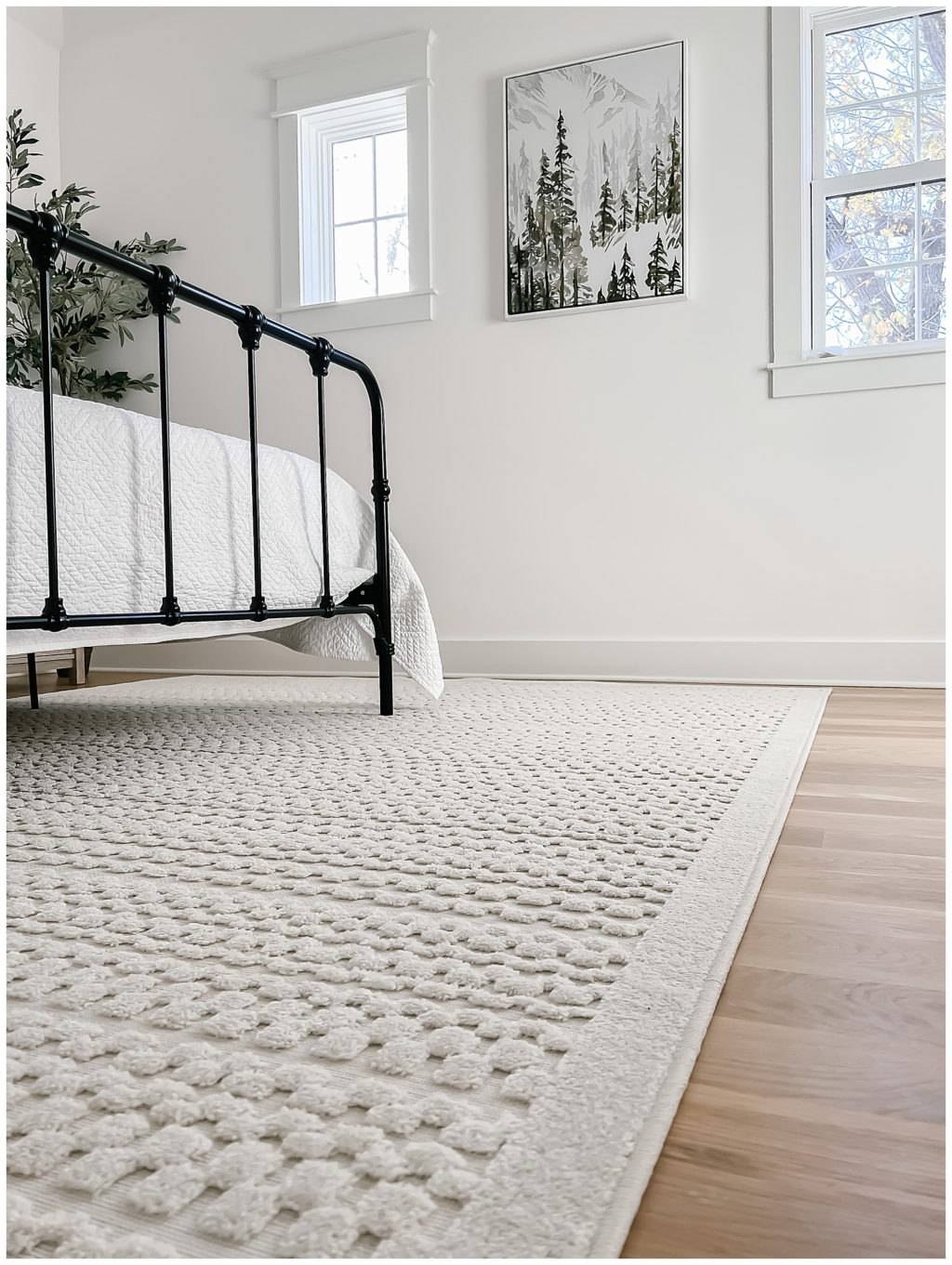 1. RUG | 2. BED FRAME | 3. TREE ARTWORK | 4. QUILT
But seriously, go read the reviews and see how happy people are with these rugs! There are tons of super positive reviews talking about how amazing they are! Linking the exact one I have, but I also put a link here for the entire My Texas House rug collection so you can see all the different ones they carry! Plus, I love how they come in a variety of sizes for each pattern. I can't wait to show you guys all the other rugs we got from them throughout the house.
Bedding
I really wanted the bedding to have a farmhouse feel. I want people to come in this room and feel cozy and comfortable, and I absolutely feel like the pillows create that feeling.
The Plaid Pillows
These 20″ x 20″ navy plaid pillows are super affordable. They are only $12 apiece and they are gorgeous! I also love that they have one plaid pattern on one side and then a different buffalo plaid pattern on the other side so that you can actually switch up the look depending on the day! These would be beautiful on a couch for the holidays, on a mudroom bench, or on a bed! Really anywhere! The plaid adds a subtle hint of the holidays, but it's and they also work year round. Here are some images so you can see both sides of the pillows and how easy it is to change up your room with a simple flip!


1. PLAID PILLOW | 2. LUMBAR PILLOW | 3. QUILT
Lumbar Pillow
A lumbar pillow is essential to complete a bed in my opinion! I got a beautiful two-pack of these navy blue ones with a button detail. I got the 12″ x 20″ size FYI. The button gives it that little hint of a farmhouse feel that I really love.
Pillow Inserts
You don't need inserts for the pillows above FYI! But I did need pillow inserts for the navy sheet set I got for the pillow covers. So I thought I'd share that I got these Bed Story pillows, they have five reviews that are all five stars and I love that they are down alternative, which is great for my allergies.
Then for the euro shams, I got these allergy-protection pillow inserts that are $13 apiece on sale right now.
Sheet Set
Speaking of the sheets, I got these for $18 in the navy. They come in a bunch of other colors too. They are pretty, soft and helped me save some money doing this guest room which I appreciate!
Quilt
Then I purchased this gorgeous queen size quilt for under $40. I really wanted the pillows to be the star of the bed, so I wanted something simple and classic for the bedding and this quilt is exactly that! Seriously, I think this is Owen's favorite thing in the whole room, he is always napping on this quilt!
I definitely need to add a comforter to the end of the bed. Any ideas for me? Tell me int he comments below and if you have links that's so helpful! And if it's affordable, even better!
Oh and this beautiful candle is also from My Texas House. I seriously love buffalo plaid everything for the holidays and this one smells so so good! The perfect welcoming scent for guests.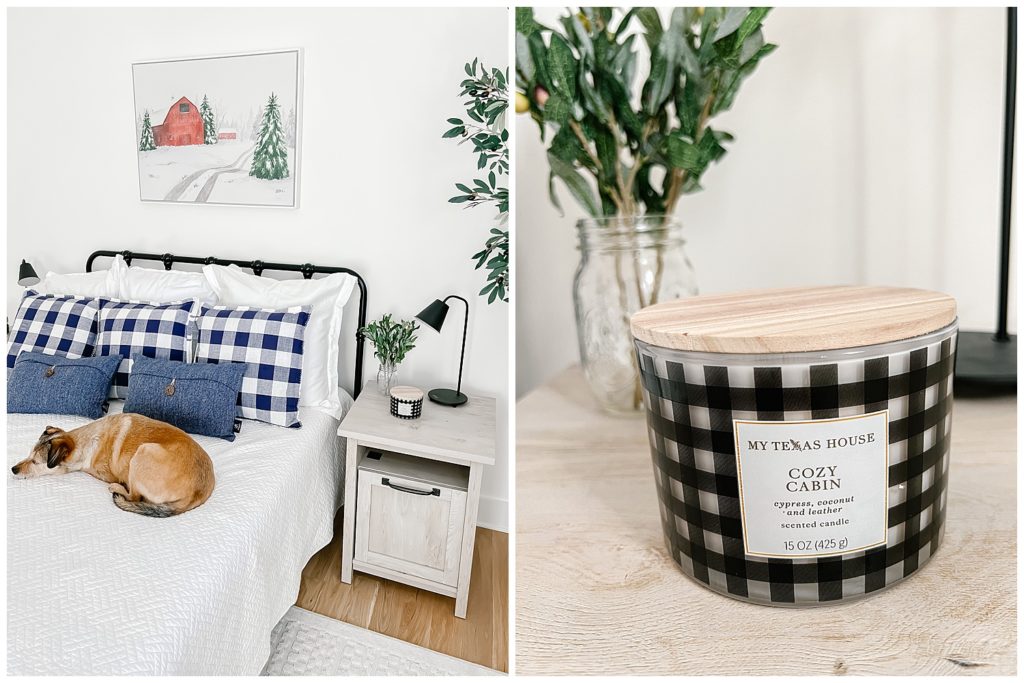 1. QUILT | 2. NIGHTSTAND | 3. CANDLE
Nightstands
Oh my gosh, I love love love these nightstands! They are so pretty, have that perfect farmhouse feel, and I love the convenience of the built-in USB port. I feel like guests are really going to appreciate that as well for charging their phone when they spend the night. There are over 700 reviews for them on Walmart website so definitely check those out. They are all positive except for one from what I can see. The one negative said that there's came with missing parts, but I think that is an outlier for sure. Mine had all its parts, plus extra! The instructions were super clear how to put it together.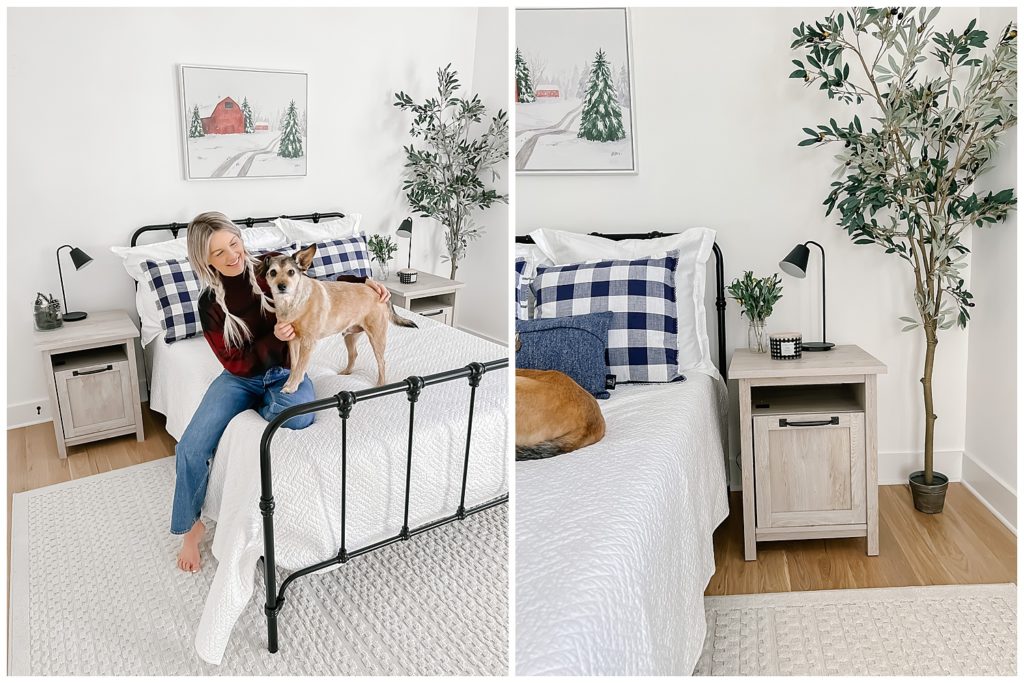 1. METAL BED FRAME | 2. PLAID PILLOWS | 3. QUILT | 4. RUG | 5. TREE ARTWORK | 6. BARN ARTWORK | 7. NIGHTSTANDS | 8. LUMBAR PILLOW | 9. SHEET SET | 10. CANDLE
Honestly I think you're gonna be surprised how heavy it is when you get it. I mean that in a really really good way. It feels like an expensive nightstand that's super sturdy! Not flimsy or cheap at all. I love them!
Table Lamps and Olive Tree
I wanted a black simple table lamp to put on either side of the bed and this one is perfect! And a great price! Other similar lamps I found were twice the price so I feel like I got mine for a steal!
And I've had a faux olive tree for years. I can't remember where I got it but I found 3 similar ones on Walmart site that I LOVE! I am actually buying a few more because I need them for this house! Linking them below! Make sure you look at the height before ordering to make sure it's the size you want.  Oh, and I will add a basket to the bottom of mine to make it look even nicer!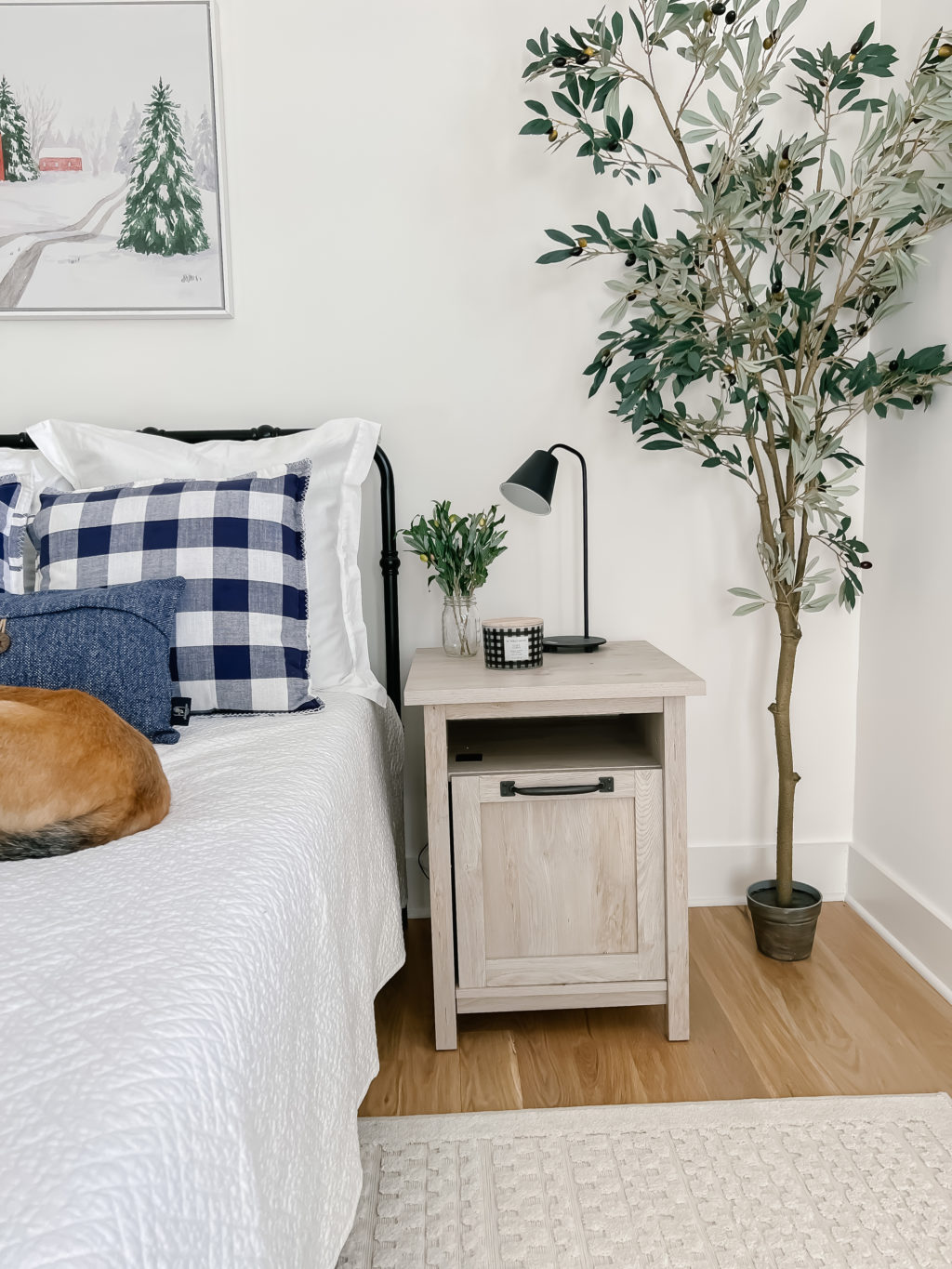 Artwork
If you can't tell already, I'm kind of obsessed with My Texas House's line at Walmart. Not only is the rug in this room from her line, but the majority of the rugs in our house are as well. Plus, I got the artwork from her line for this room too! I love love love love love these pieces because they are festive for the holidays, but it's no so festive that they work throughout the winter. I love having seasonal art in guest rooms because I feel like it adds extra special touch for whoever staying there and they feel immersed in whatever season it is! Plus these are stunning! I was blown away by the quality when I got them. They come in different sizes as well so you can find one to figure space!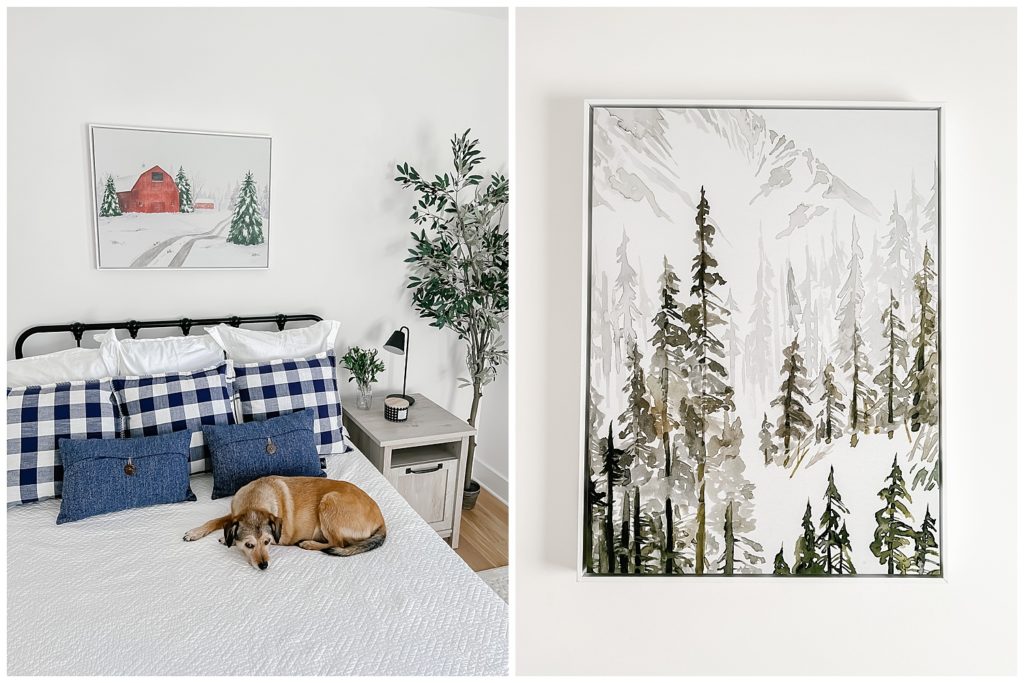 1. WINTER BARN ART | 2. TREE ART
Are You Hosting for the Holidays?
I'd love to hear what all of you are doing for your holiday hosting this year! This community was created so that we could all learn from one another and I love when we converse in the comments! What are you decorating with? Did you find the coziest blanket ever? Tell me in the comments below!
And thank you to Walmart for being a sponsor of my blog!