Hey guys! I just want to send out a quick email because I know we're all getting so inundated with Black Friday sales, so I just want to share a couple of my absolute favorites right now. I'm under no obligation to write this post from any of these brands they're just ones I truly truly love and I want you guys to be able to take advantage of the sales and have a great experience with these products like I have.
Nutrafol
Starting with Nutrafol. If you follow me on Instagram, you probably saw the other day I posted for them as part of a partnership. But I just had to include them in this post because I have been blown away at the difference they've made in my hair since I started taking them in January. This is an absolutely true story. I started taking them because my hairdresser told me too. I asked her what was the best of the best and she said no question Nutrafol.
1. $50 OFF 3-PACK | 2. $10 OFF GROWTH ACTIVATOR SERUM
So I started taking them and I kid you not three months later they reached out and asked to partner together. I couldn't believe my lucky stars! I've been taking them ever since and the little baby hairs in the front of my scalp that would never grow all of a sudden started growing. I'm not even kidding you I haven't cut those pieces since I was about 12 years old and now they are below my chin by about 2 inches which is honestly almost unbelievable to me.
Right now their Black Friday sale is to get $50 off their three pack of supplements. I know it seems like a huge investment when you see the price. And it is! But it works and you need at least three months to start seeing the difference as your hair grows, so just go ahead and get the three pack. They also have $10 off their new growth activator serum. Both of these products together are a dream team and I love them!
BOGO 50% Off My Scunci Accessories Line
Of course I also have to share that my Scunci hair accessory line is buy one get one 50% off this week! You guys know what a dream of mine this collaboration has been and it truly has only been successful because of all of you! I could cry, I'm so grateful for each and everyone of you who have supported this line! This is me basically begging you to consider buying it this week as holiday gifts! They would make such a great secret Santa gift or stocking stuffer! Or if you make gift baskets for people, these are such a great addition! It's the type of accessory/item someone can wear that you don't need to know their size so it's perfect as a gift!
My Texas House Rugs
I also really wanted to include the Black Friday sale for My Texas House rugs. Erin who is the owner of this company is a friend of mine and I love her rugs so so so so so much! You guys have probably noticed them throughout my house. We legit have eight of her rugs and I plan on ordering more. And they have a great sales on Walmart site right now. I actually blog all about them the other day so check that out.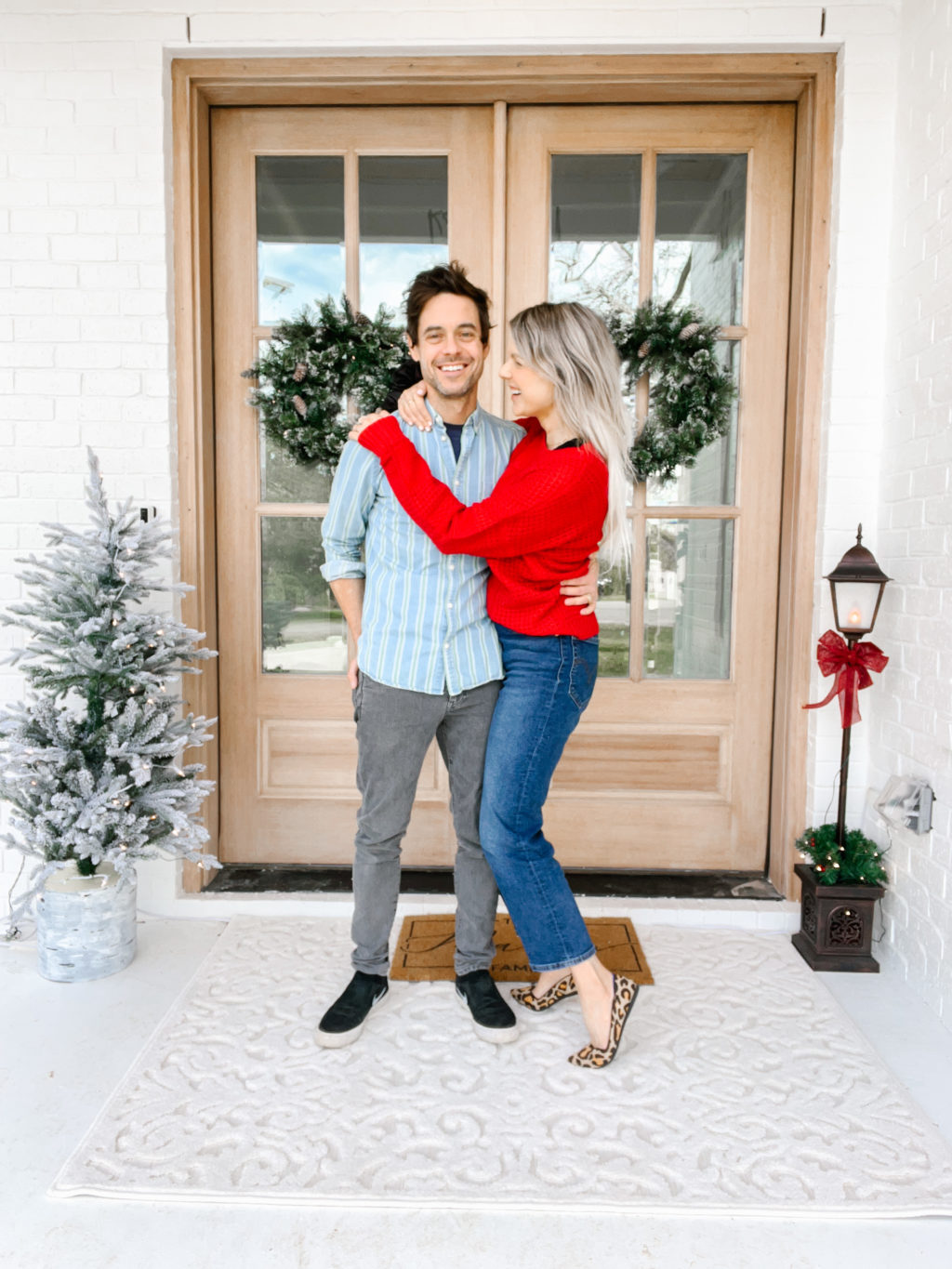 1. RUG | 2. LANTERN | 3. WREATH | 4. BATTERY-OPERATED STRING LIGHTS | 5. FAUX CHRISTMAS TREE | 6. RED SWEATER
Tarte Cosmetics
I also have to mention is that the Tarte sale! The sale is for Cyber Monday is 40% off site wide plus Holiday Steals starting at $10!!!  I am filling in all the gaps in my makeup drawer right now! Meaning all the product I'm starting to get low on! They rarely do big discounts like this for their entire site, so definitely use this one! My favorite products are the the Shape Tape concealer, this Eyebrow pencil, and the Amazonian clay blush.

It Cosmetics
Sticking in the subject of make up. I buy a lot of makeup on Black Friday. I love love love love love the It cosmetics CC cream foundation. However quick caveat. Make sure you get a shade lighter than you think you need. Normally I go light medium in my shade or even medium because I like my skin to look a little tan. But when I got that shade it was way way way too dark on me. So now I get the light and it gives me the perfect little tan but every time I order it, even now knowing that that's my shade, I always still think I need darker but when I get it I realized if anything I could even go later. So go later than you think. But this foundation is amazing and I love it so much and it's 30% off today! The entire site is 30% off! Plus some things are 50% off like like the Bye Bye Under Eye concealer which is fantastic! If you want lighter coverage and have more mature skin get the Tarte Shape Tape above. If you want more coverage and a pop under your eye, get the Bye Bye Undereye! Just for Cyber Monday, you can also get the CC+ Cream Original for 50% off too!!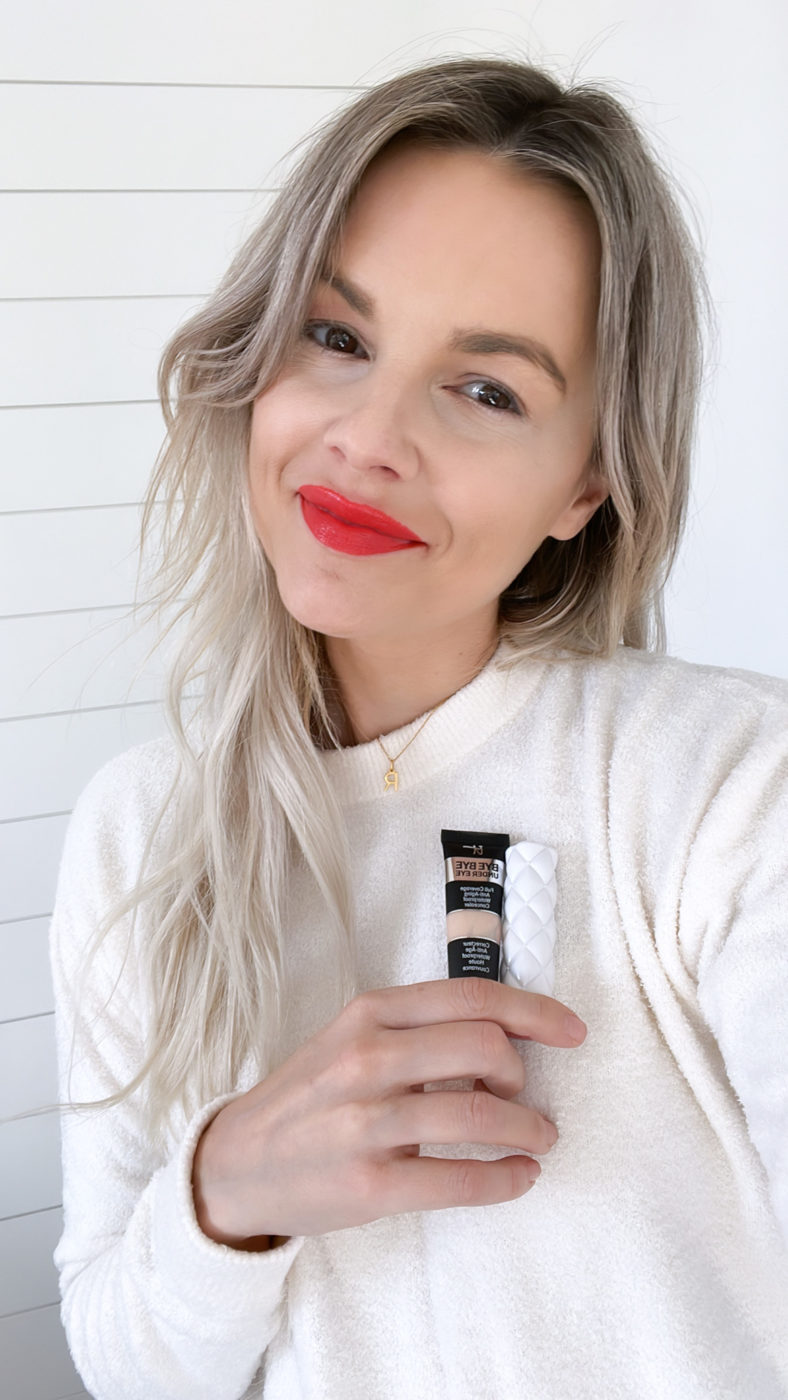 I also absolutely love the Pillow Lip lipstick in shade vision and fanciful. The fanciful is a perfect red orange. I love it for the holidays! And then the vision is a really pretty nude. It's a great every day lipstick! They're both super hydrating as well. My lips attend it really dry in the winter clothes because of the weather and because of the wine consumption. Ha! So I need a more hydrating lip stick in the winter.
Dime Beauty
And you know I can't write this without mentioning Dime! It's one of my absolute favorite brands of all time and with this link you can get 30% off their entire site using the code SUPER30. I'm actually surprised because I went to their site without using this link and they don't even advertise a Black Friday deal on their website. They're only giving certain people the links and codes to advertise their Black Friday sale. So if you love their stuff as much as I do then you absolutely have to take a vantage of this sale! I highly recommend starting with the works bundle and adding in the eyebrow and eyelash serum. It's truly transformed everything about my skin care routine. I love it so so so much! And I know you guys will too. Code SUPER30 for 30% off the entire site!
My Amazon Live!
And last thing, make sure you were following me on Amazon Live! I have a massive Black Friday TODAY! I'm going to have huge huge huge discounts on so many amazing things that I could seriously scream I'm so excited! For example, I know so many of you are a fan of Each and Every deodorant. I get questions on my Facebook group weekly about whether or not I have a discount code. Every week I have to say I don't because I haven't been working with them. But I convinced them to give me a massive discount for Black Friday that's even bigger than one they have on their site! Like WAY bigger!  So click this link and make sure your are following me on Amazon because I'm going live at 10 AM central on Black Friday with all of these crazy good deals and you don't wanna miss it!
My Favorite Things
Anyway that's all for me for now. I just really wanted you guys to know about the sales and share them in one place because I know everything out there can feel really overwhelming. Love you guys and thank you for being a part of my world, however that may be.