Since it's Thanksgiving tomorrow and a lot of you might be running to the store for some last minute things I thought I would share my two absolute favorite recipes with you guys! To die for cranberry sauce and the most delicious cauliflower rice you will ever eat! We're making the cauliflower rice today because my mother-in-law loves it so she asked me to make it. And then of course the cranberry sauce tomorrow!
I threw this together super quickly so I just kind of copied and pasted it from my old blogs about these things with any of the copy doesn't make sense that's why. Ha! Enjoy! And happy Thanksgiving!
Cranberry Sauce
I grew up thinking that cranberry sauce was disgusting. Ha! No, really! And now it's what I look forward to more than anything at my holiday dinners. This recipe was passed on from my friend Lisa who is basically like family to me. Because I spent most of my adult life in California and my family lives on the East Coast, I haven't spent Thanksgiving with them in years. Usually, I would visit them during other parts of the year because the air travel was so much less expensive than flying on actual Thanksgiving. So, my friends Lisa and Mith sort of took me in on Thanksgiving every year and out of the last 10 Thanksgivings I think I've spent seven with them. It's become our little yearly tradition to spend Thanksgiving together!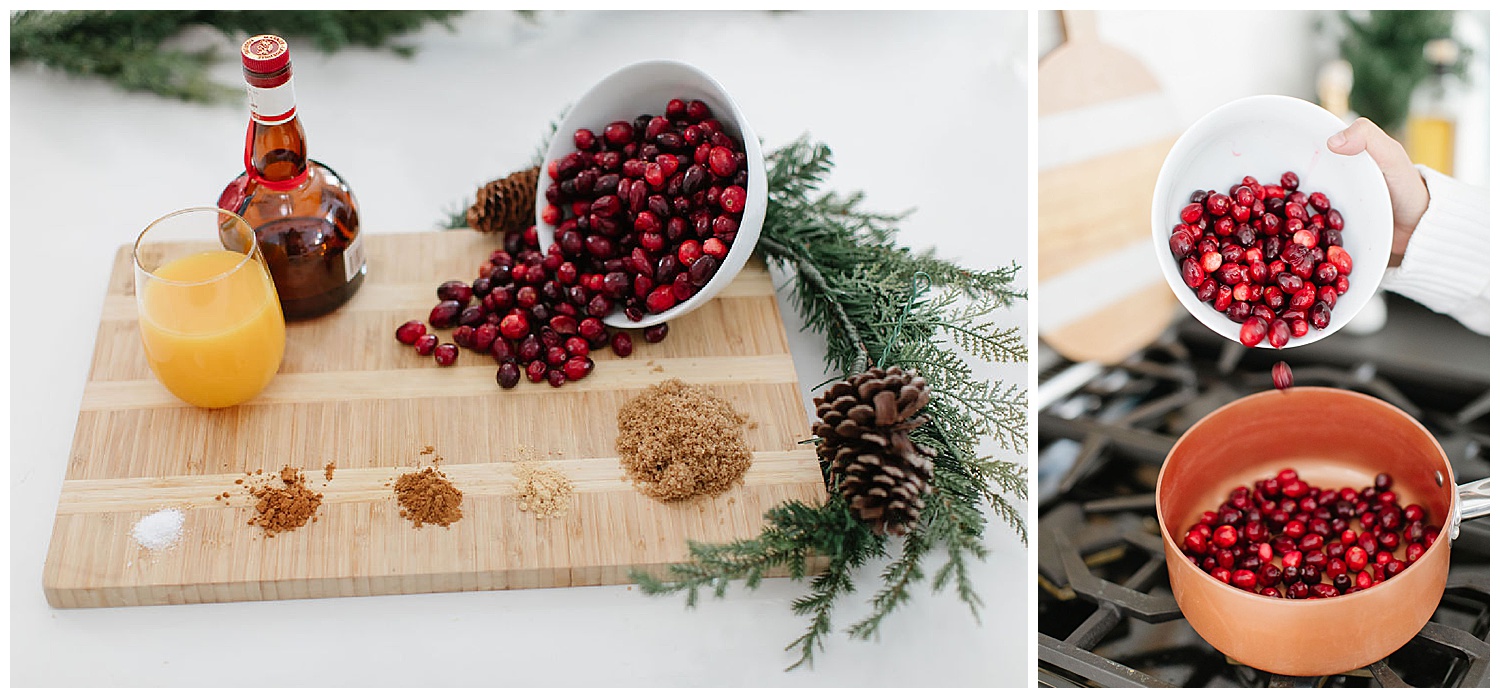 She always would make this cranberry sauce recipe every year, and it's now such a tradition to me that I made sure that I have it every year on Thanksgiving and Christmas, even when I am not with her! I met her when I was working at Facebook, and that's actually where she got this recipe! She spent an afternoon baking with a Facebook pastry chef and has been using it ever since! Here are her recipe cards!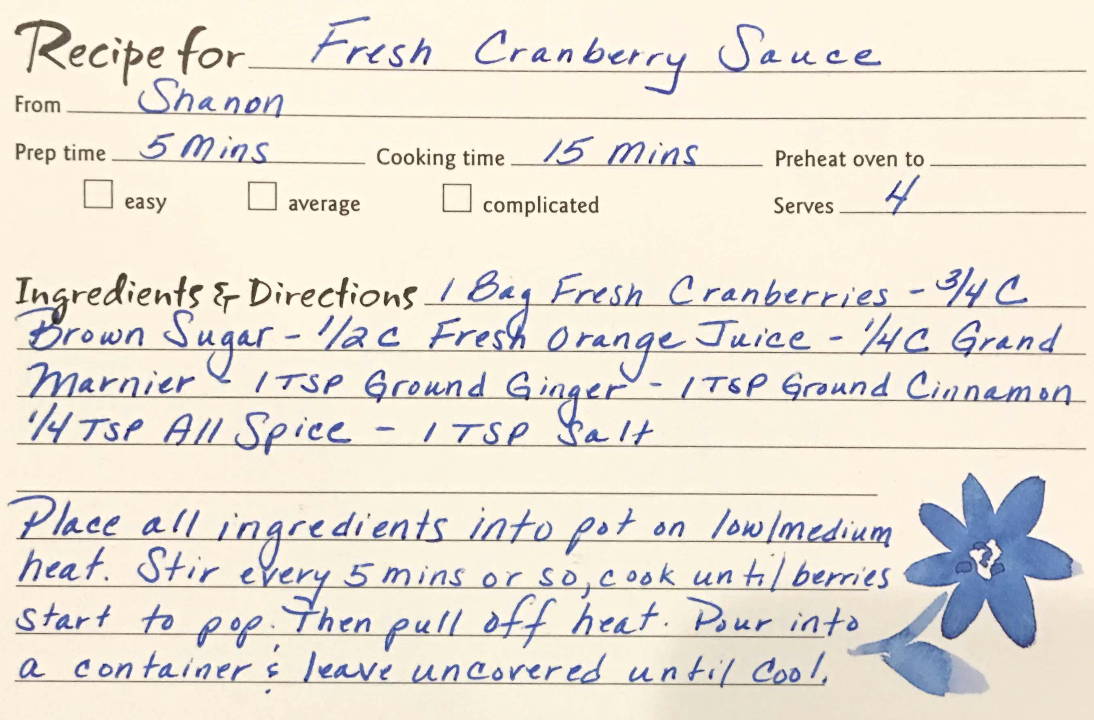 Ingredients
1 bag of fresh cranberries
3/4 cup brown sugar
1/2 cup fresh orange juice
1/4 cup Grand Marnier
1 tsp ground ginger
1 tsp ground cinnamon
1/4 tsp All Spice
1 tsp salt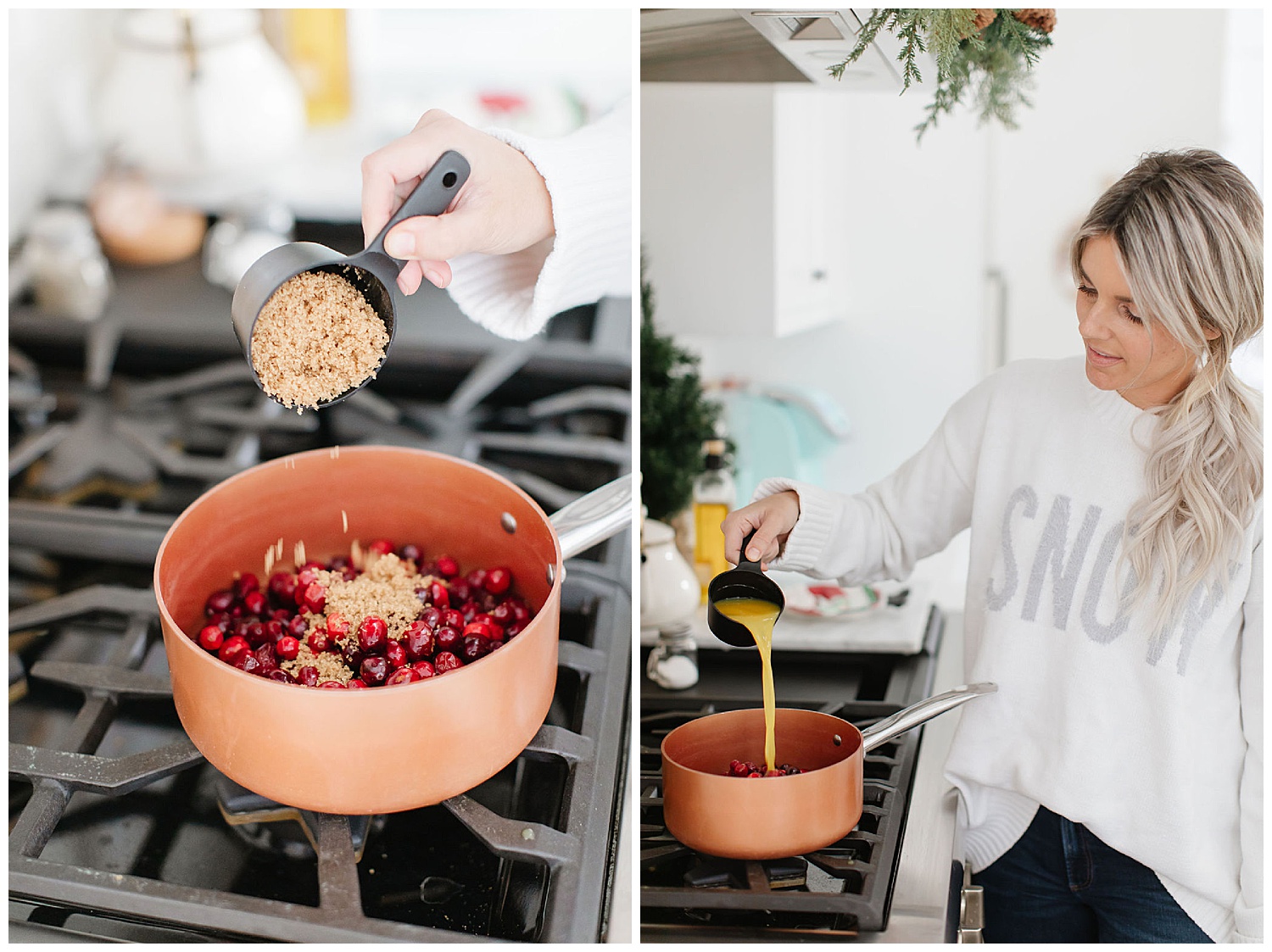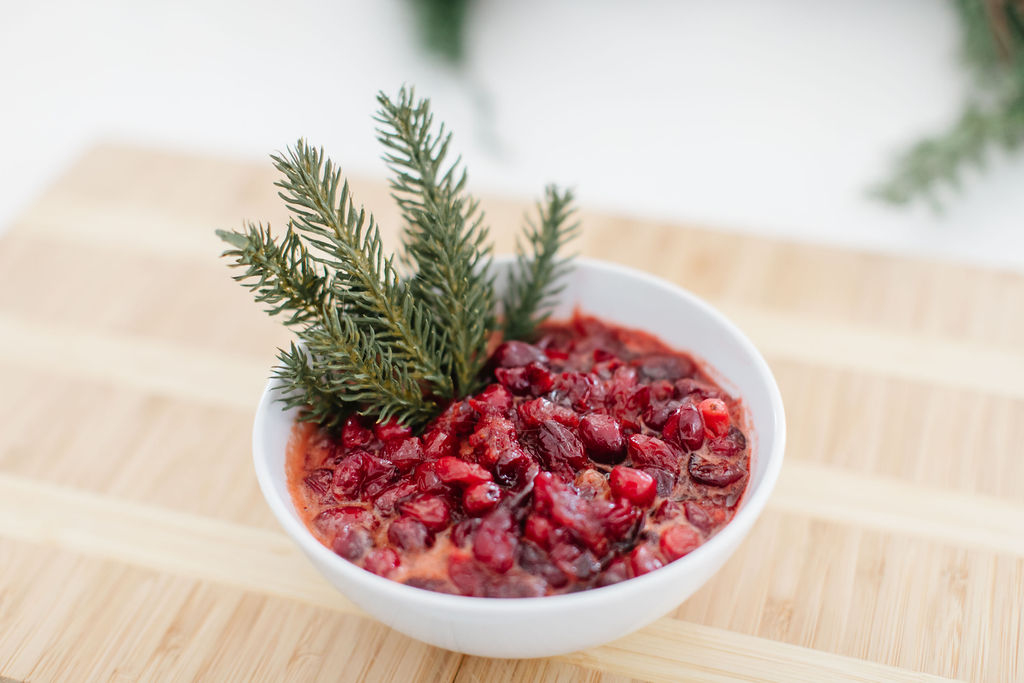 Cauliflower Rice
I can't take credit with this recipe though. I got it from Sophie Uliano on Home & Family. Check out her site HERE for a bunch of super yummy and healthy recipes! On one of my first days on Home & Family she made this dish and I told her right then and there that is was one of my favorite things I've EVER eaten! And that's the truth. Since I had it on the show, I've made it countless times. It's so so so yummy and SUPER healthy! But the best apart about it is that it's fulfilling and feels hearty. I legit feel like I'm eating carbs/rice even thought the entire dish is fruits and veggies! In fact, when these pictures were taken my friends Ashley and Kim were over and they were both obsessed too! Ashley went home and made it for herself the very next day! Anyway, I hope you guys love it as much as I love PLEASE let me know if you make it and tell me what you think. And also, please share YOUR favorite healthy recipes in the comments below. This preggo lady is obviously not trying to loose weight but I want to try to eat as healthy as possible for my little baby growing inside me!
Ingredients
1 bag of cauliflower rice (My was 16oz – You could also chip or grate a head of cauliflower)
Yellow onion
vegan butter
Fresh mint, cilantro, parsley
Sliced almonds
Dried Cranberries
Edamame
1 Lemon (2 if lemon is small)
Finely chop up half the yellow onion and sauté it in a pan or pot with some vegan butter until onion is translucent. I like to use a pot over a pan because it keeps the cauliflower more contained.
Add the cauliflower. I cook it on low to medium setting for about five minutes or until the cauliflower is more translucent.
That's the only cooking you need to do.
Take the leaves off the stems of all the herbs and finally chop them. You'll want about a cup of each herb (give or take). If you don't like cilantro just add a 1/2 cup more of parsley and mint.
I get edamame from the freezer section that is already de-shelled to make it easier. But if you get edamame with shells just de-shell them.
Combine all the ingredients in a large bowl. I'd say I use about 1 cup of cranberries, 1 cup edamame and 1 cup sliced almonds. But really it's to taste. If you add a cup and you think it needs more, add a little more of each. So
I add the juice from one lemon for dressing.
And there you have it! I delicious and healthy recipe that will satisfy your need to a hearty dish without the guilt! Hope you guys LUV it!!! Happy 2018!
And while you're here, check out my other recipes by clicking the recipe tab at the top of my site.