I really cannot even tell you guys how excited I am to be writing this blog post. For multiple reasons. First, when I tell you my Tonal is one of my absolute most favorite things that I own, I am 1000% telling you the honest truth. It has changed my life! And that's why I'm so so so so excited to share that they have a huge Black Friday sale going on right now.
It ends November 29th though, so make sure you act fast because this is by far the best deal they have ever offered! And that is $250 off your first Tonal purchase! It's automatically applied to check out so just click here, and buy a piece of equipment that can single-handedly change your life and I mean that.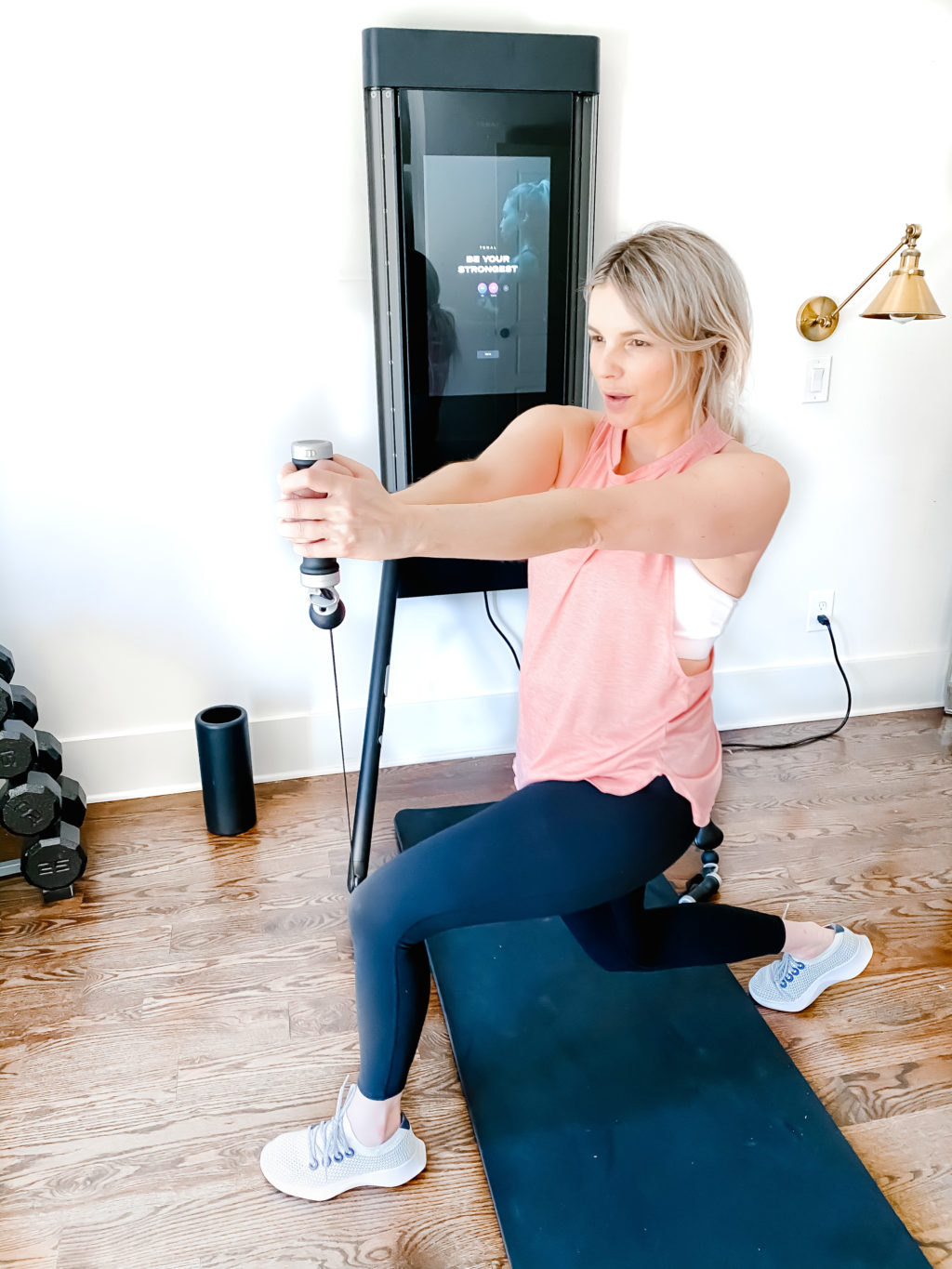 And I know you guys know that I work with Tonal but I want you to know they did not reach out to me to work together. I reached out to them because I fell in love with it! The fact that I now get to work with them to promote while I organically fell in love with it is just a blessing.
So you might be wondering what Tonal is. A lot of people have compared it to other machines that look the same when I tried to tell them about it and I immediately stop them. Tonal is unlike any other thing on the market. Sure you can buy another piece of equipment that is essentially a sideways TV to do workouts, but why would you do that when you can just stream workouts to your television from Instagram. Do you know what I mean?
Tonal is so so so so so different! And that's because it has adaptable digital weights that provide up to 200 pounds of weight that is built into the machine. It's impossible to even fully explain until you've experienced it. Every single time I workout on my Tonal I think about just how amazing it is and how grateful I am to have one.
So when you first get your Tonal you'll have it installed to your wall into studs. Once it's set up and ready to go you'll take a strength test. This initial strength test allows Tonal to set your perfect weight, custom for you, for each movement on the machine. After this initial strength test, it will automatically set your weights for every single workout you do on the machine, and as time goes on and you get stronger, it will adapt to increase your weight.
And they have the best trainers! They will walk you through each movement and the reps and sets, plus they are really funny and I just love working out with them as my coaches!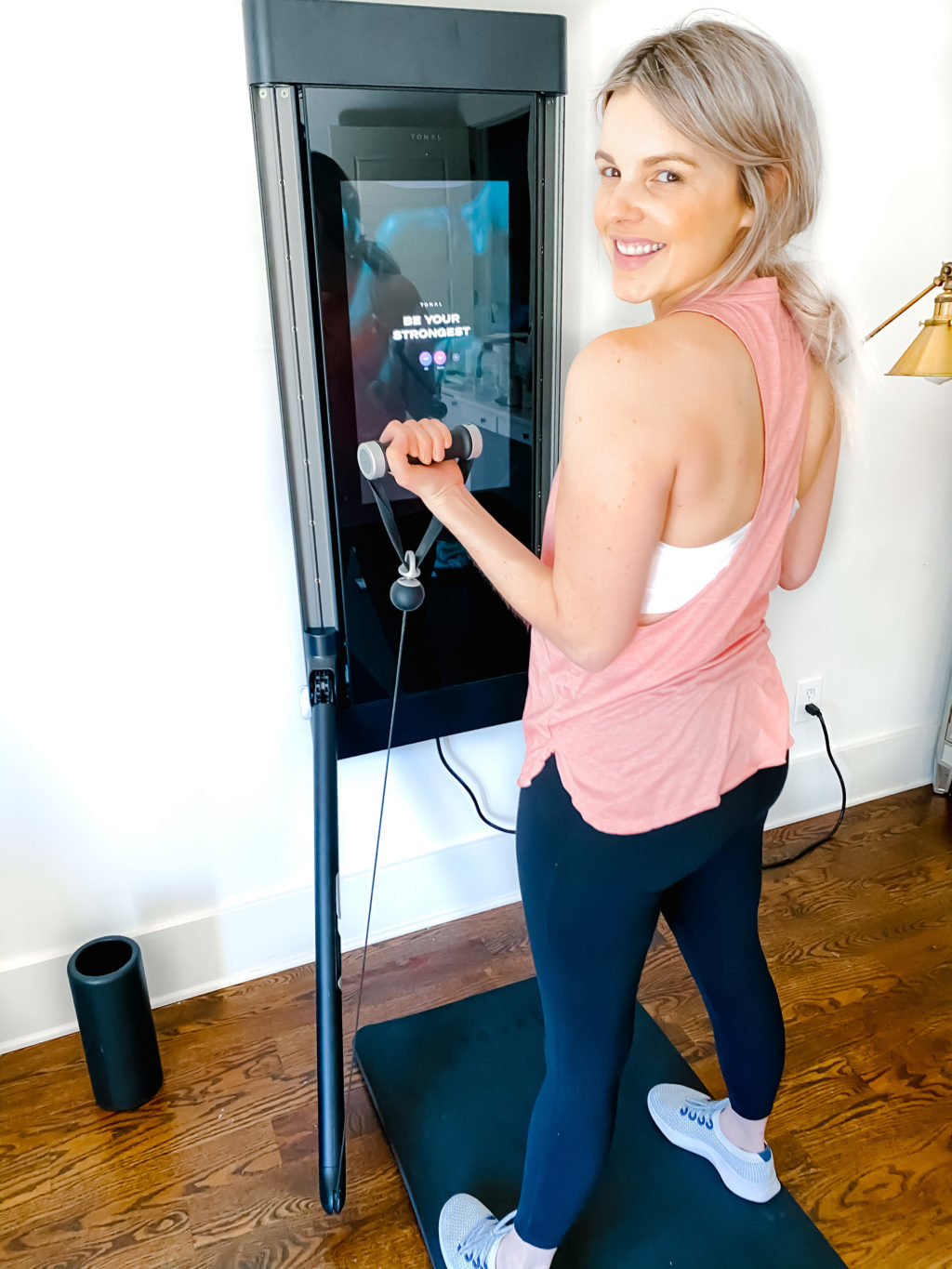 It also gives you form feedback which means if you're doing a move incorrectly it has sensors in the trainer and in the Smart Handles to help understand your movement and give feedback. With every single rep! It's honestly amazing! And allows me to know that I am lifting safely.
And after every workout it tells you what your strength score is, and over time you can see your strength score improve. My strength score has increased over 75% since I first got my Tonal years ago. It seriously makes me so proud to know how much stronger I've gotten. Not only for me and my health but also just to be a more active mom with my kids.
As you guys know we've been in the new house for almost a month now and the first few weeks we didn't have our Tonal and honestly I only did maybe two strength workouts in a months time. I did cardio but legit I could feel the muscles in my arms shrinking every single day. And oh my gosh did I work so hard to find those muscles with our Tonal. I don't know what it is but I just can't bring myself to do most strength workouts without it. I'm telling you if you're finally wanting to put your health and your self care first, start with this machine.
And look I get that it's an investment. But I will say they do offer monthly financing that's less than what it cost to join a gym and way less than a personal trainer. And Tonal is legitimately my personal trainer!
Anyway, I hope you guys feel my passion for this piece of equipment through this blog post. I love it so much and I want you to feel how I feel after my Tonal workouts. I feel like I can conquer the world and that's the truth.
So order now NOW to get the $250 off! And as always let me know if you have any questions at all in the comments below. I love this machine so much that I will make sure I answer every single question.