Okay, I'm starting with this. I'm gonna preface it by saying I love every single one of the ladies in my bachelorette sisterhood. So no disrespect to any of them, or even myself, but Michelle is the best (Bachelorette) there has ever been! My goodness there is just something so captivating about her! But beyond the beauty, her strong presence and class is this unbelievably intelligent human being. I hang onto every single word she says and I find that when she's talking she comes up with the words to say that I wish I had thought of but couldn't. OK I'll get into all of this more in a minute when I talk about her one on one date, but first let's talk about the group date.
I felt so bad for the guys for the classroom date. Only because I'm the worst speller of all time and I would've had so much anxiety if I was on that date. Honestly not much can freak me out, but I honestly think I would've cried if that was my date back when I was on the show.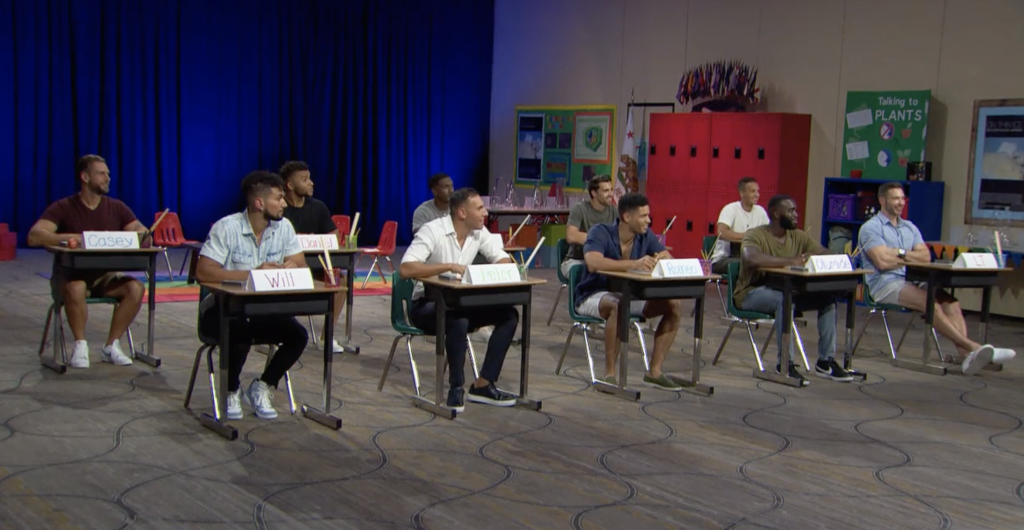 Oh my gosh, her one on one with Brandon during the night portion of the group date was super cute, but also so funny because you could tell she wanted him to kiss her. She even grabbed the side of his face. But then he just said those corny lines and they both started laughing. It was awkward but still super super cute!
I was honestly surprised when Jaime got the first one on one date. The person who gets the first one on one date of the season usually always makes it really far on the show. I guess I just kind of thought that it was editing when she was saying she liked him so much the first episode, but she must really like him!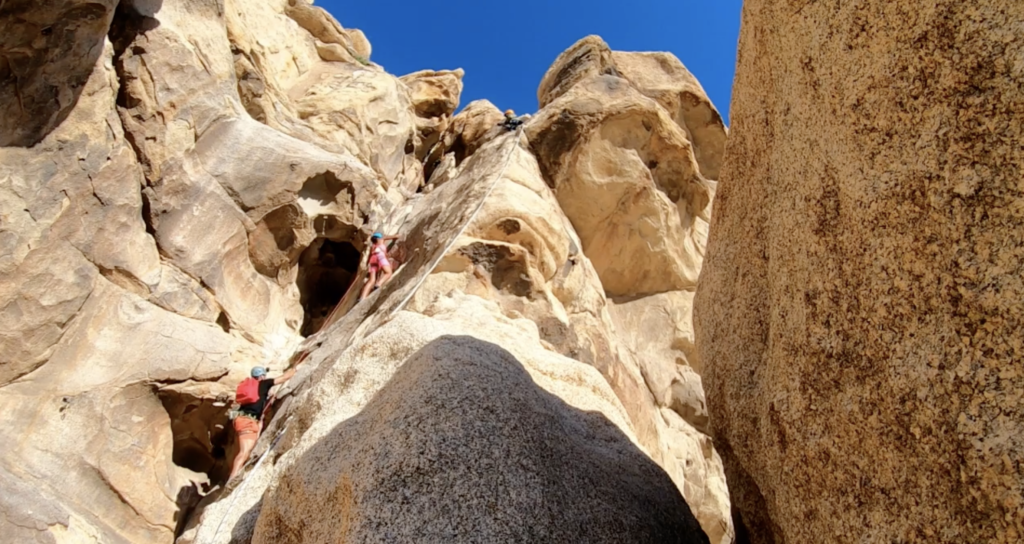 I loooooove Rick! I thought he was so weird the first night with the table/entrée thing. But oh my gosh, the little fill in the blank thing he did for her was so sweet and romantic and I just love them together. Again I did not think after watching the first episode that I would feel this way about him and her but oh my gosh I was sold after tonight's episode.
Jamie
Where to begin with Jamie? Even before all the stuff at the cocktail party I was so skeptical about him. \
That said, I absolutely loved their one on one time together, and I felt that when he opened up about his mom it was one of the most honest and raw conversations I've ever seen on the show. From any season ever. The way Michelle was able to respond to him just once again shows her level of emotional intelligence. And I am glad he felt safe to open up to her about it. I can't imagine going through that.
But I was not surprised that Jamie acted the way he did when he heard someone mention that she might've known Joe before. But the fact that he told her that he didn't really care about it but everybody else in the house did was so slimy and cowardly of him. I watch these episodes as screeners sent to me, so I  didn't get to see the clips for what's coming up next week on the show, but I can only imagine that Jamie is going to get exposed for what he did. And I hope he does because he doesn't deserve her.
2nd Group Date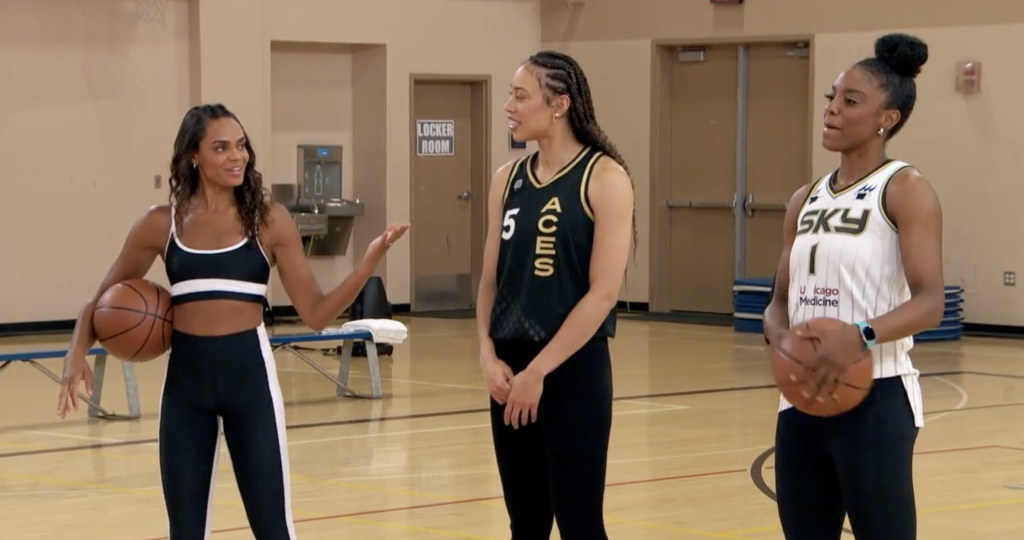 I love watching Michelle and Joe play basketball together on the group date. One of my absolute favorite movies of all time is called Love and Basketball. If you've never seen it I highly recommend it. And I've had this idealic picture in my mind of a relationship like the one in that movie ever since I was a young girl. So I love that they could potentially be that real life couple!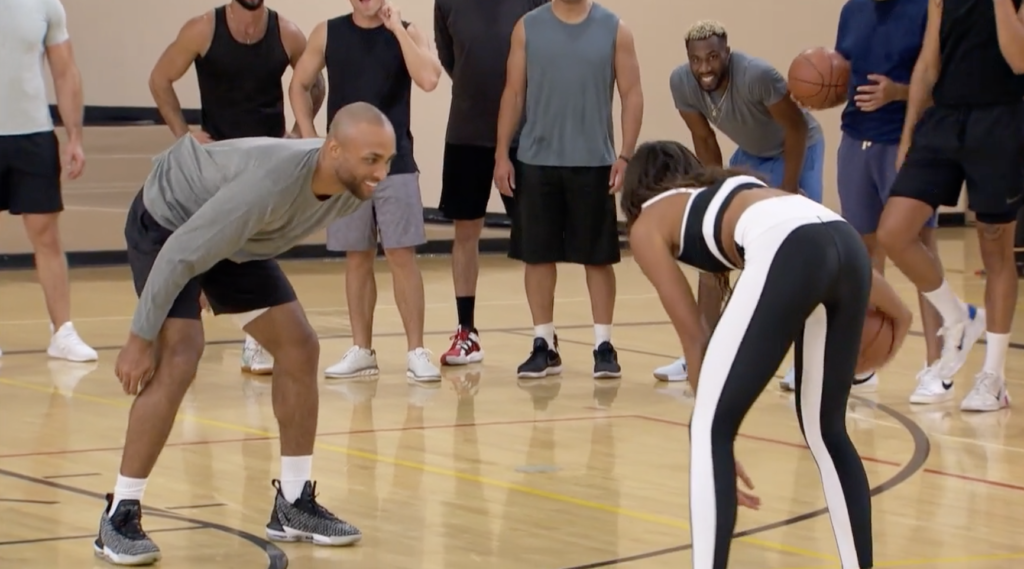 Although I will say her feelings for him make me the most nervous. He definitely has the most potential to break her heart in this experience. I'm slightly worried about how they talked before all this and he basically ghosted her.
She seems to have a really strong connection with Nayte too! Goodness I can't believe how many strong connections she has already! I take back what I said in my first blog about feeling like she didn't have a lot of guys there that were casted for her. She's got the start of some really great relationships starting and I'm so happy for her!
Scunci Launch!
OK you guys know I can't finish this post without mentioning that my third hair accessory line with Scunci just launched today! I truly can't believe that I have a third collection with them and that it's in 5000 Walgreens stores nationwide. I seriously have to pinch myself about it and it would not be possible without all of you! It would mean so much to me if you would pick something up for yourself, a friend or anybody on your holiday shopping list this year! This line really is perfect for the holidays and I designed it with all different hair types and people in mind! Plus all the pieces are affordable so I'm hoping you can cross a few people off your list with my hair accessory line this holiday season! The link to the entire collection at Walgreens is here. But I'll add a few photos of some of my favorite pieces below and you can always head to this blog post if you want to see photos of the entire collection and how I style them.