Even though we aren't able to live in the house yet, Molly has been talking about decorating it for Halloween for months and months so even though we don't have the opportunity to live here, I thought it would be nice for her to at least come to the house to do some Halloween decorations.
I absolutely love everything we got so I thought I'd write a quick blog post sharing all the items.
A lot of the stuff we did now, but we have a bunch more that we plan on doing next weekend for Halloween and if you order the stuff today you'll still get it in time! Starting with these really fun wooden skeleton crafts. Molly loves coloring and painting pretty much everything, and I love that for just about $2 apiece you get 6 of these in this kit. So not only can your kiddos decorate them, but then they can use them for spooky fun on Halloween!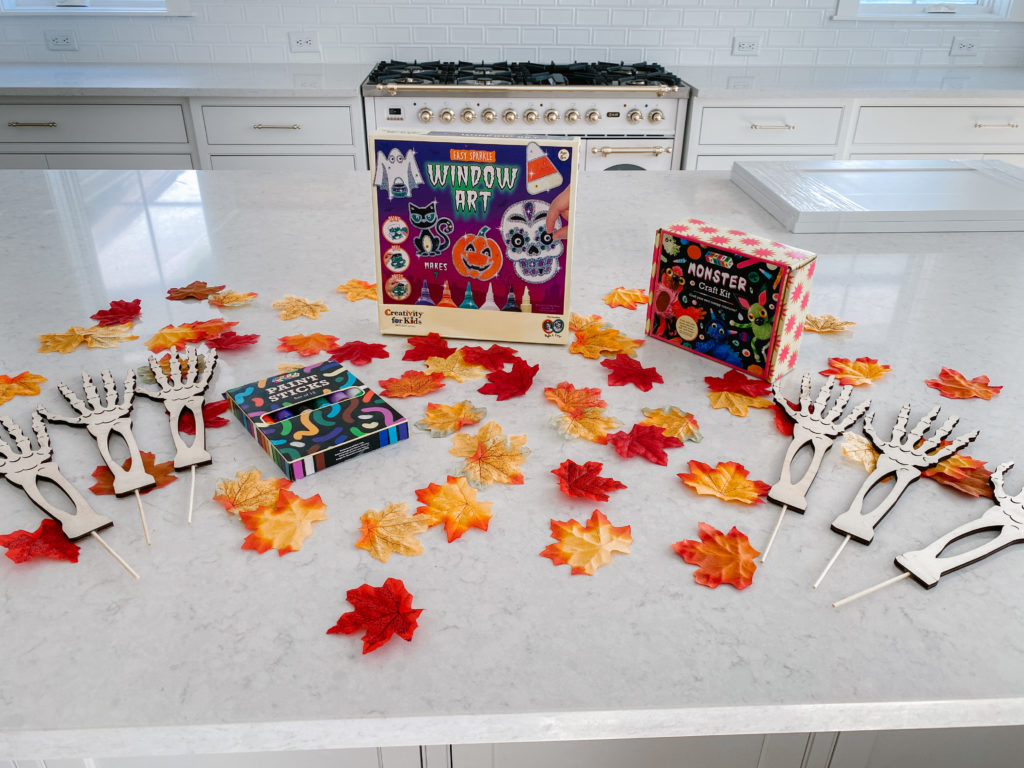 1. PAINT STICKS | 2. WOODEN SKELETON HANDS | 3. MONSTER CRAFT KIT | 4. SPARKLE WINDOW ART | 5. FAUX FALL LEAVES
Because we're at the new house and minimizing any messes because we haven't actually moved in, I got them these paint sticks to paint with. They're pretty great! If you read the other reviews they are very positive. It just limits the mess with painting and the paint dries really quick too which is a bonus! Plus I just love how convenient they are. So much easier than setting up all Molly's paint and paint brushes in a water cup, which ultimately ends in a mess.
 1. WOODEN SKELETON HANDS | 2. PAINT STICKS
Molly and Riley also love all things that sparkle, so I got this window art kit that comes with all the sparkly gems that you can use to decorate these Halloween figures. They have the same kits for the upcoming holidays if you want to get them both for Halloween and for Hanukkah or Christmas coming up! I'll link both below.

 1. HALLOWEEN WINDOW ART | 2. CHRISTMAS WINDOW ART
In general I just really love craft kits. This one's called a monster craft kit, but honestly you can make absolutely anything with what's in the box. The monster theme is fun for them to look at the front of the box for Halloween, but really it's just a bunch of pipe cleaners and pieces of paper, googly eyes, jewels and stuff like that to make really whatever their little imaginations can come up with! I've gotten several of these craft kids in the past and Molly loses her mind every single time I give her one. It's probably her favorite gift to receive.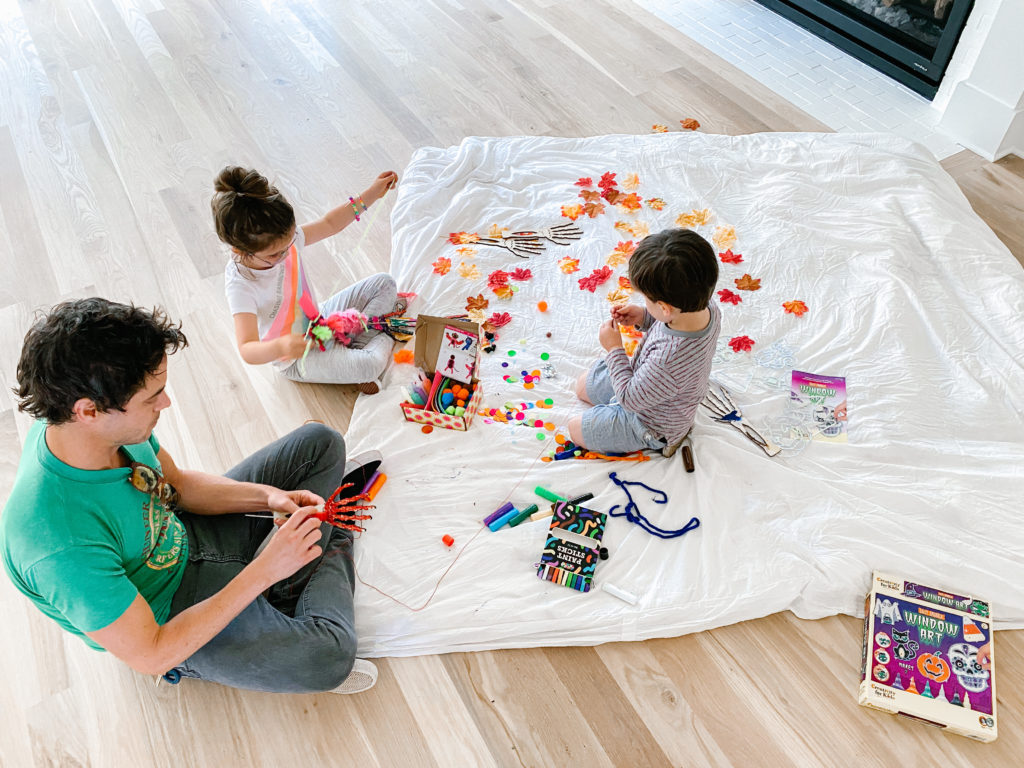 1. PAINT STICKS | 2. WOODEN SKELETON HANDS | 3. MONSTER CRAFT KIT | 4. SPARKLE WINDOW ART | 5. FAUX FALL LEAVES
I also got these mixed faux artificial maple leaves for only $11 and there are 450 pieces! I used to have these when we lived in California because we didn't actually get real leaves. But now that we live in Tennessee we get the real ones! However I still love having these because they're great for decorating your table for fall. We will use these to decorate our Thanksgiving table. Plus, Molly absolutely loves them for art projects! I think I'll also use these to decorate our mantle and built-ins around the fireplace up through Thanksgiving as well.

 1. PAINT STICKS | 2. WOODEN SKELETON HANDS | 3. MONSTER CRAFT KIT | 4. SPARKLE WINDOW ART | 5. FAUX FALL LEAVES
Also, this is so random but I figured since all these things are from Walmart, I'd share a few other things I bought recently that I think you guys will really love. I bought these gorgeous starry string lights to put behind Molly's curtains in her room. I got the daylight color because I really love the crystal clear color, but if you want more of a warm starlight color they have that as well. I just think they are so pretty and we already tested them and plugged them in and she is so so so excited to have them in her room when we move in. There's over 140 really positive reviews if you're curious about what they're like when it's all set up right. Plus it's a great deal just over $20.

I wrote about this pumpkin artwork in one of the recent Affordable Friday posts but wanted to add it here because I think it is the absolute perfect decor for not only Halloween, but through Thanksgiving! It's framed and comes in multiple sizes so you can order depending on what would work best in your house. I think it's just amazing.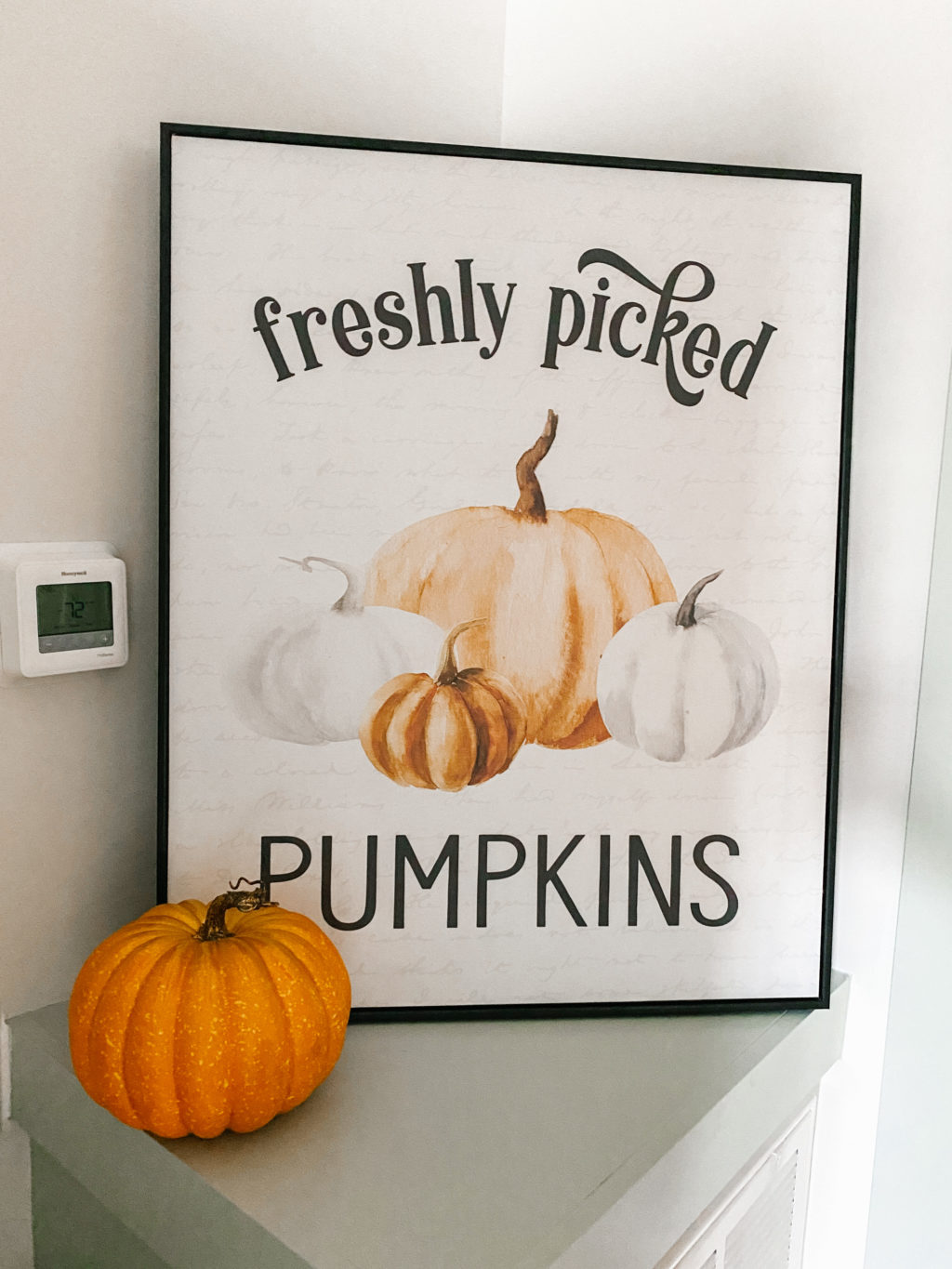 1. 3-PACK FOAM PUMPKINS | 2. FRESHLY PICKED PUMPKINS FRAMED ART
And last but certainly not least, oh my gosh how did I not know about this instant ramen cooker. It's only $4.94 and I can legit cook my ramen in the microwave in just a couple minutes. Honestly I'm disappointed in all of you for not telling me about this. Ha! Just kidding. But for a ramen lover like me, I am beyond obsessed already! If you know anyone who loves ramen as much as I do, this is a great white elephant gift, or just gift in general, because it's so inexpensive and such a big deal to someone who loves ramen as much as I do. I meant to take photos of this and the string lights, so I will do that today and add them to the blog!

Thanks for coming by the blog today! I hope you all have a great weekend and that this gives you some inspiration for Halloween crafts to do with your kids. Cross your fingers for me that we are in the house soon and can hang up Molly's string lights and let the kids put up their Halloween window art! Do you have any other fun holiday crafts that we can do this week? Comment them below! I'd love some ideas from all of you too.
Thank you to Walmart for being a sponsor of my blog!