My Bachelorette blog is back! I'm so sorry I've been MIA the past few seasons. As most of you know, we've been in a major transition mode moving from Los Angeles to Indiana to Nashville and being in between different rental homes. But we are in the homestretch and I can see the finish line! You know that part of my normalcy is watching the show and talking about it with all of you, so I really wanted to bring some of that back into my life. So I hope you guys are as excited as I am that this Bachelorette blog is back!
So Happy to be BACK and Here for Michelle!
I am so glad to come back this season. Oh my gosh, no joke I was tearing up emotional not even two minutes into the episode. Michelle started talking about her childhood and her parents and their love  -I just choked up. I don't know if it's because I haven't watch the show in a while or what,  but it got me. I adore this family and I adore Michelle!
I LOVE Michelle
Speaking of Michelle, let's just talk about her for a minute. I was able to watch most of Matt James season, so I am very familiar with Michelle. Oh my gosh I don't know that I ever realized just how stunning she is. Not just on the outside, but on the inside too! I always thought she was great on his season, but while watching her as the Bachelorette, I find myself completely drawn to her! She has this presence that is just so captivating that I can't help but stare and want more. I think she's going to be an absolute incredible lead and I'm so excited for her to find love! Whatever man ends up with her is one lucky guy.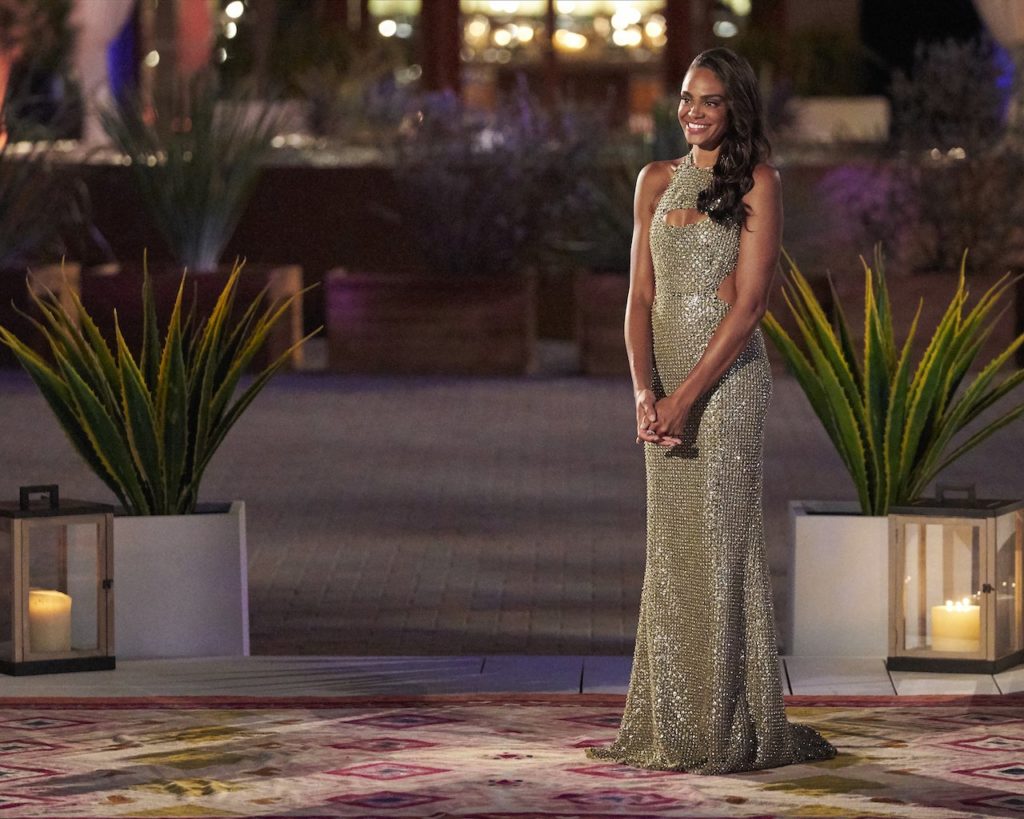 STOP HERE IF YOU DON'T WANT POTENTIAL SPOILERS
I just want to say upfront that there are potential spoilers in this blog. There has been a lot of talk all over the Internet about the new Bachelor and if ABC has already chosen. I'm gonna talk about that in this blog so if you don't want to know about that I wouldn't read further! Although nothing is confirmed by ABC. Also, if you're on the West Coast, wait until 10pm PST to read this if you don't want spoilers about tonight's episode!
The Guys
Chris S.
I really like him and so far he seems like a nice guy. But I guess I'm just immediately skeptical because he's from Louisiana and he moved to Los Angeles. Which makes me feel like he is not on the show just looking for love, but on came on TV because he's always wanted to be on TV.
Joe
I absolutely love how they have so much in common, and he seems like such a nice nice nice guy!
However I don't really know what to make about him ghosting her. If what he said is 100% true and it was just that he was very overwhelmed with the state of the world and what was happening around the George Floyd situation, then I truly feel for him. I love that she told him she wishes he communicated that and I agree with her. But on the other hand I could understand how it could cause you to shut down a little bit and not pursue someone you were talking to online.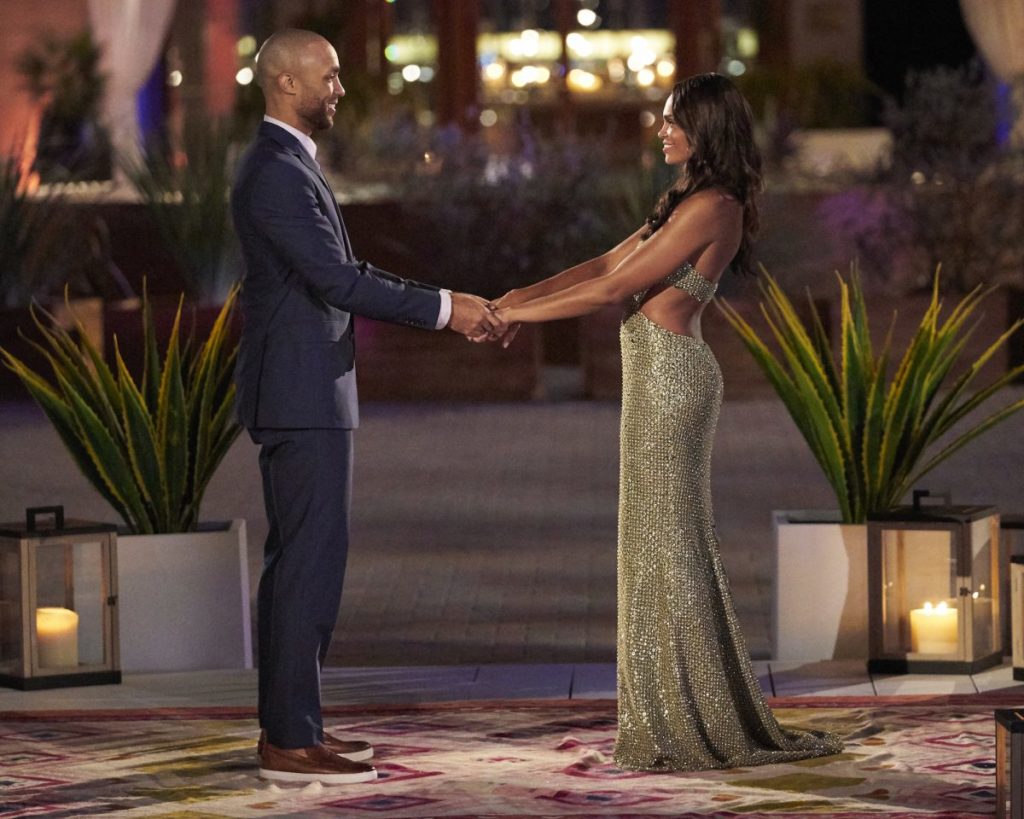 That said, part of me did wonder whether or not he was telling the truth. All I know is that if it comes out that he was not truthful in any way, it's going to really come back to bite him in the ass. Just part of me worries that we're gonna find out online from someone that he was actually dating and that's why he didn't message Michelle back. I hope for his sake that's not the case. I just have a bad feeling about it.
Clayton
So I know there's articles everywhere and tons of rumors that he is potentially the next Bachelor. I feel like that information had to of been leaked on purpose and I wonder why. Is the Bachelor franchise trying to see what people will say about him throughout the season knowing he is in the running to be the Bachelor and do they want the public to weigh in more before they make a decision? Or is it because the Bachelor has to start filming super soon in the season so ABC just knows they edited this guy well enough that everybody's gonna fall in love with him. Ha! I'm not saying he's not a great guy. I'm sure he is. But these editors know what they're doing and they know how to make us fall in love with their next Bachelor.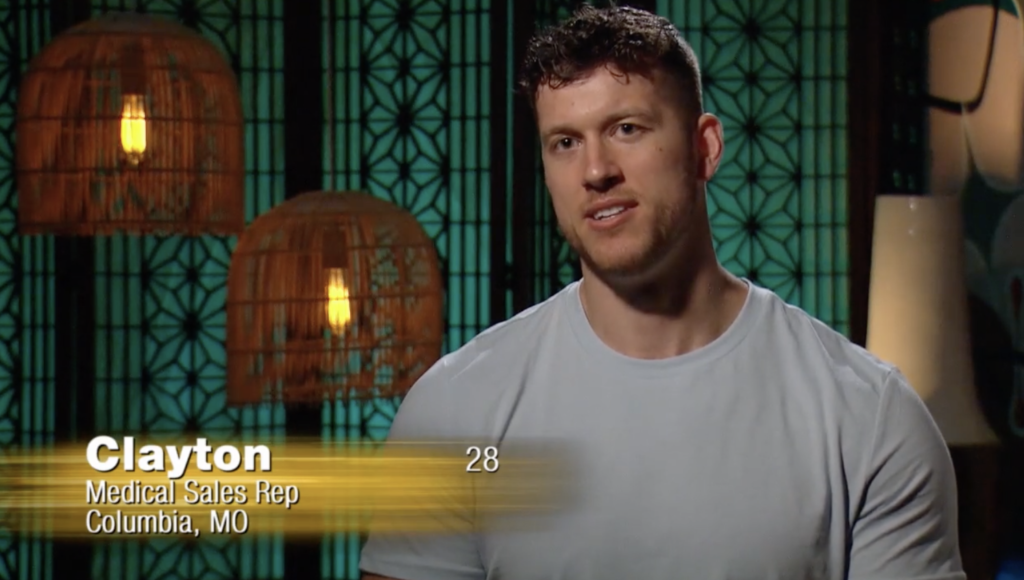 But even though ABC hasn't officially announced, other outlets like E! and pretty much every other source has said it is him and even already have lists of the women. Crazy huh?
I also know that the new host Jesse posted a photo with him and he used #thebachelor in the caption and he tagged all the main Bachelor Instagram accounts. Not to mention Mike Fleiss also tweeted that the new Bachelor is someone from Michelle's season.
So it's very interesting why they did all this. It must just be because they have to start shooting the Bachelor soon or maybe even already did. The way the seasons went this year is a little weird because usually the Bachelorette would've already fully aired, but because we have two Bachelorette's, Katie and Michelle, Michelle's season is airing way later than a normal Bachelorette season would.
Nayte
She makes it very clear that she liked Nayte when he came out of the limo. Every season the show and producers likes to start strong and usually has the first person out of the limo be somebody that they feel will have a strong connection with the lead. So I think will be seeing a lot more of Nayte!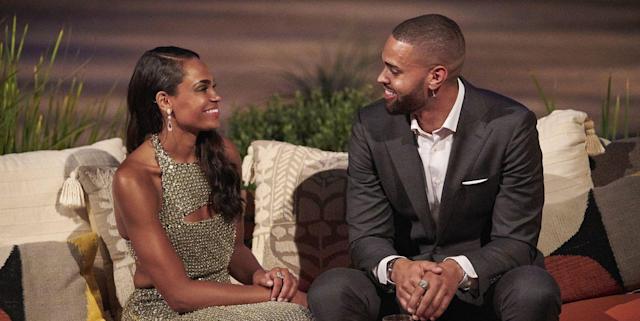 He got the first impression rose, so clearly there's a big connection there. But I can't help but feel like it wasn't a strong as a connection as we normally see. I don't know, that's just how I felt watching but only they know what they really felt.
Chris G
I mean the fact that he's  a speaker for a nonprofit that helps children is just incredible, of course! Their mutual love of kids is going to give them lots to talk about!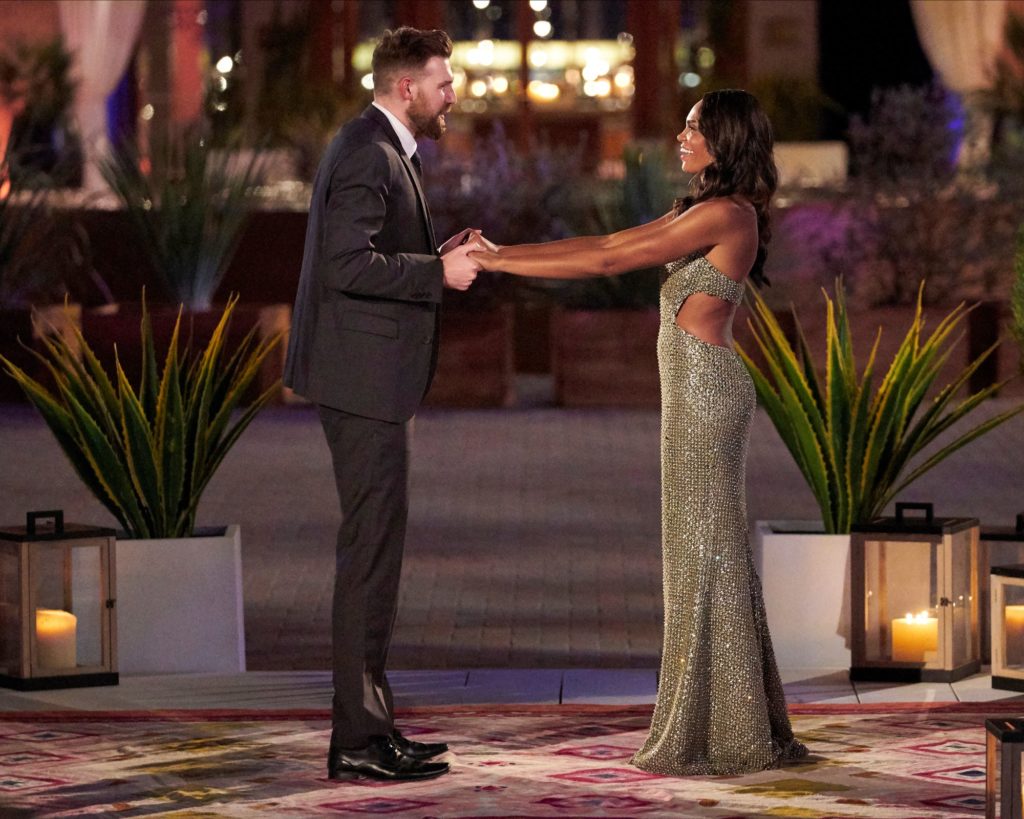 Ryan
I knew Ryan was trouble after his first few sentences in his opening package. Not because of what Kaitlyn and Tayshia found in his room…that came after and then we obviously realized he's a jerk. But right away in his opening package he used the: "I know how to plow a field ladies" quote and it really bothered me right off the bat that he was addressing the women watching the show as to sort of flirt with them rather than focusing on Michelle. It just seemed very bizarre to me.
I love that Michelle right away asked to see the notes. Like a good teacher should! Show me that homework! I want to see what you wrote!
Honestly it doesn't even matter what the notes said. The fact that he had notes at all is just not OK. It's clear that he wanted to be on the show and wanted to make sure he got a good edit more than he actually wanted to find love. Honestly I tried to see his side. I said to myself, "Okay he had his girlfriends give him some notes because he doesn't know much about the show and he's going on national TV". IF it's even true that he doesn't know a lot about the show, which doesn't sound like it's the truth. I tried to give him the benefit of the doubt that he wanted to be prepared. But there absolutely shouldn't been anything in there about screen time and wanting to get screen time and he should've left his notes at home. Sure he might have had a girlfriend write on things so he felt prepared and got advice. I think anybody would be smart to get advice before going on the show. But all the notes and then little places that he wrote in the notes it's just crazy. I'm so glad she sent him home right away and I love how she did it with such confidence.
A Few Final Thoughts
One thing I will say is that it's really hard to figure out when she says she's really into someone or if it's edited to make it seem like she's talking about a certain guy or if it really is that guy. I always try to pay attention if there's any cut in the editing or if she uses the persons name in a single continuous frame without edits. I know this is silly, but I just know how much the show can be edited to make it seem like she says certain things about certain people that she actually isn't talking about. I remember back when I was on the show it being edited to make it sound like I said something about being really into one of the guys and I actually said it about a different guy and not the one they made it seem like on the show.
Are These Guys for Her?
I absolutely hate to say this, but I feel like I have to because I'm so curious what all of you thought watching. Did anybody else feel like this didn't seem like the best group of guys suited for her? Absolutely nothing against the guys or any disrespect to them. There's some wonderful men there! But I just felt like so many of them didn't feel like a match for her. When she was talking about how great she thought the night went it felt like she didn't really mean what she was saying. I honestly hate saying this because I adore her and I want this to work out for her so badly. But I guess it only takes one. So as long as there's one guy that she ends up having a great connection with that's all that matters. But I just kind of feel like she wasn't set up for success. I'll be rooting for her the whole way regardless!
Now tell me all of your thoughts! I wanna know if you guys agree with me or disagree with me. So much to discuss in the comments below!
If You Missed My Affordable Friday!
Last but not least, before I go I always like to end my Bachelorette blogs with some looks I love from the week just in case you missed some past blog posts. If you did miss my Affordable Friday post from this past week, I'm so glad you're seeing some of the looks now! I'm just copy/pasting some of the outfits and blog copy I wrote about earlier in the week for you guys to check out. My top three items I wrote about are the over the knee boots, $14 white sneakers, and the gorgeous berry colored Turtleneck sweater tank. It's seriously so beautiful and flattering. More details below on some of my favorite looks I wrote about!
First though, just because I get so many DMs about robot vacuum sales and I swear at least once a week in my Facebook group people ask for good deals, I wanted to share this too! I know so many people love the iRobot so I just wanted to share with you guys real quick that you can get one certified refurbished on eBay right now for $27.99. That's seriously $100 less than anywhere else you'll find it online. In fact, I'll include a screenshot below of how much you would pay if you bought one on Amazon today for the 980 model. They also have one that's $149 that's a different model. I don't know if you guys know what certified refurbished is, but essentially it's just an item that was fixed and made to seem like it's brand new item! They come with a two-year warranty, money-back guarantee, and packaging to seem brand new. I have loved everything I've gotten certified refurbished, so I just wanted to share in case you're looking for a great gift or a great deal. I'm under no obligation to share this whatsoever I just love a good deal as much as the next person.

 1. iRobot 980 | 2. iRobot 670
Onto the Affordable Friday posts, I will start with this turtleneck sweater tank. I didn't know what to expect when I ordered it. I usually do not like shirts that cut off right at the shoulder. I don't know what it is about the cut of this specific sleeve, but it is so flattering! I think maybe because it's not tight around my arm and it's a little longer down. I'm not really sure. But I am so so so so so obsessed with this $15 tank.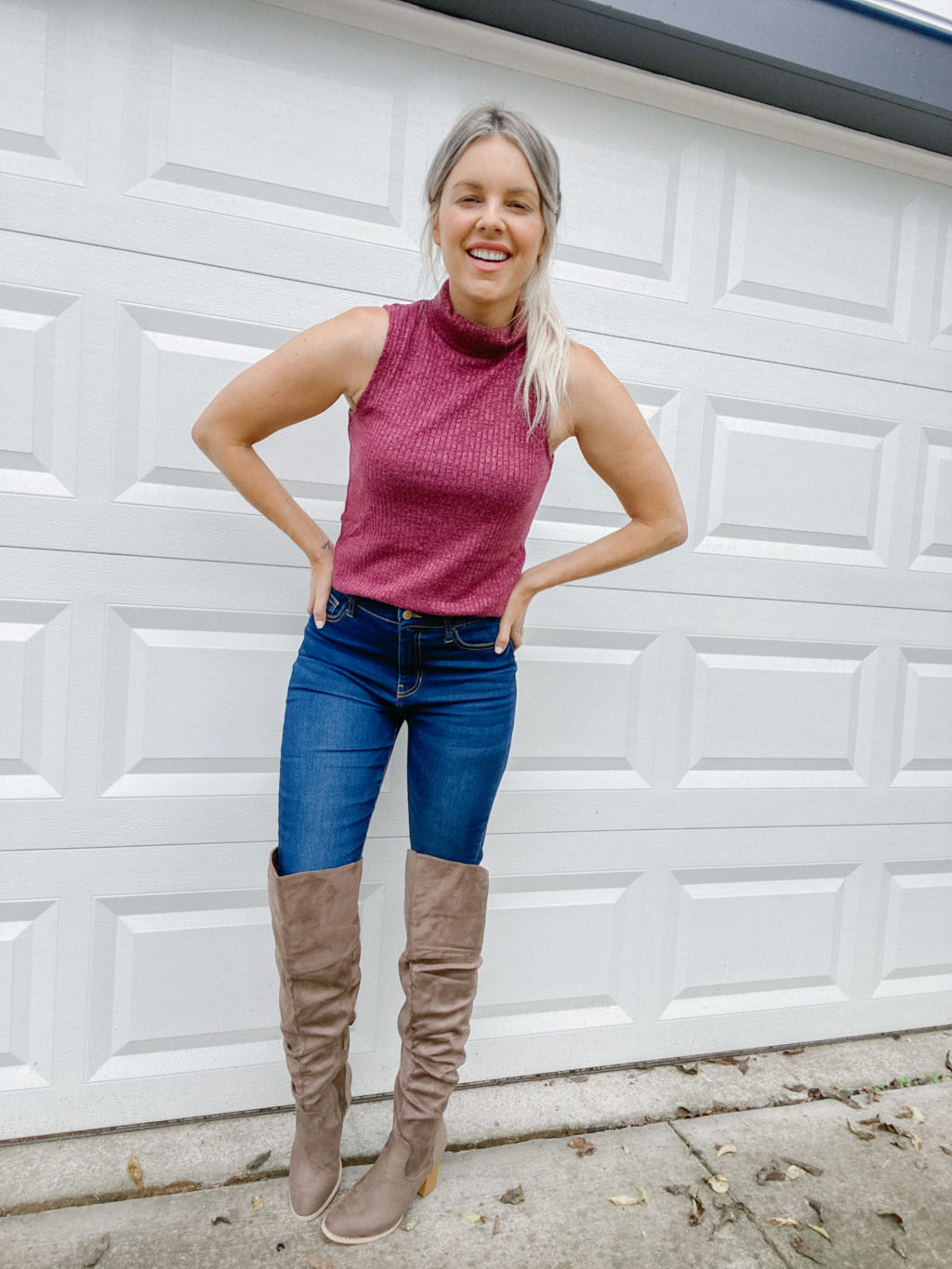 1. TURTLENECK TANK | 2. CELEBRITY PINK JEANS | 3. OVER THE KNEE BOOTS
I'm wearing it with this pair of Celebrity Pink high-waisted denim pants. I don't know if I should call them denim because it's actually more of a jegging, which essentially means it looks like denim, but it's super soft and stretchy more like a legging. It's kind of like if a rough denim and a super soft legging had a baby and it was a jegging. Oh my gosh, let me tell you I'm obsessed!
First they're only $17.98. A steal! If you look at the reviews on Walmart's website for Celebrity Pink denim, they're all exceptional and these are no different. I didn't really know how they would fit because it says they're juniors, but the juniors curvy line, and I didn't really know what that meant. I ordered them in the size that I would normally get which is a 7. I'm usually more of a 9, but I've lost a little bit of weight recently so I went with a 7 and they fit great! In fact they're so stretchy I could've probably even done a size 5. So if you're in between sizes definitely choose your smaller size.
Finished off my look with these over the knee boots. These boots are INCREDIBLE!!!! Let me tell you I am so so so obsessed with them. I can't even tell you how many bloggers I have bought boots from online because the boots look just so adorable and oversized on their tiny little legs. No body shaming here. All legs are beautiful. Big legs, little legs and teeny tiny little legs! But I will say I don't have those teeny tiny little legs, so when I would buy the boots they would be tight around my thigh and just not give the same oversized look that I saw from these other bloggers. So that's why I was so excited when I found these boots because they truly are oversized at the thigh. I feel like these boots will work so well for anyone who has wider thighs like me or wide calves! They're true to size and I got my normal size and they are an incredible price at under $45!
They also come in a few other colors if you're looking for a different color.
Graphic Tee Look
For this outfit, I'm wearing the same awesome denim and white sneakers, but I switched the top out for this MTV tee. Oh my gosh, oh my gosh, oh my gosh! Can I say 'oh my gosh' one more time? Get this T-shirt! It's under $12 and I absolutely love everything about it. From the bright colors, to the fit, to the retro MTV logo. I actually have another MTV shirt that I bought from Walmart a few months back and I love it so much and it just makes me feel so nostalgic! When I saw this one I had to get it, especially when I saw it was basically $10. Again, look at the reviews because there are so many amazing reviews.

 1. MTV T-SHIRT | 2. CELEBRITY PINK JEANS | 3. TIME AND TRU WHITE SNEAKERS
You'll see that it's technically a men's t-shirt, so when I originally bought it, I sized down to a small. But honestly it was super fitted on me in a small, so I ended up returning it to get the size medium. I just like my t-shirts a little bit more loose-fitting and the small size was just like a fitted t-shirt, so it depends on what you want. I would say get your normal size even though this is a men's tee. Medium is my normal size, and again I love thatt it comes in size small up to XXXL.
To complete my outfit, I'm wearing these white sneakers that are only $14.97! Let me point out right off the bat that there are over 213 reviews for the sneakers and they are overwhelmingly positive. People rave about these sneakers so I had to get them. They are super cute and have a really fun gold detail on the back that I love. I feel like it makes them look more expensive and truly the quality is amazing! If I didn't know I would think they were Steve Madden shoes, but for a fraction of the price. Also, the sizing is spot on. I got a size 7 which is my normal size and they fit great. Isn't this this perfect fall-fashion outfit AND so easy to throw on!?
Work & Fun
I really wanted to include a look for this Affordable Friday that could be worn to work during the day and then out to drinks with friends at night. This tank is exactly that! You seriously are not gonna believe the quality when you get it. I would think it was a $50 camisole in a boutique. Look at the reviews, there are 85 star reviews and it comes in 4 other color/prints!

 1. BLACK CAMI |.2. CELEBRITY PINK JEANS | 3. OVER THE KNEE BOOTS
I got a size medium which is my normal size and once again this tank top is size inclusive with size XS to XXXL. I wish you guys could feel the material. It's hard to explain, but it's not like that super thin cheap fake silk material that a lot of camis that look like this are made of. It's got more balance and weight to it and it just feels expensive. Plus, the way it falls on your body is just really flattering and comfortable. I truly love love love love love this tank and I think you will too!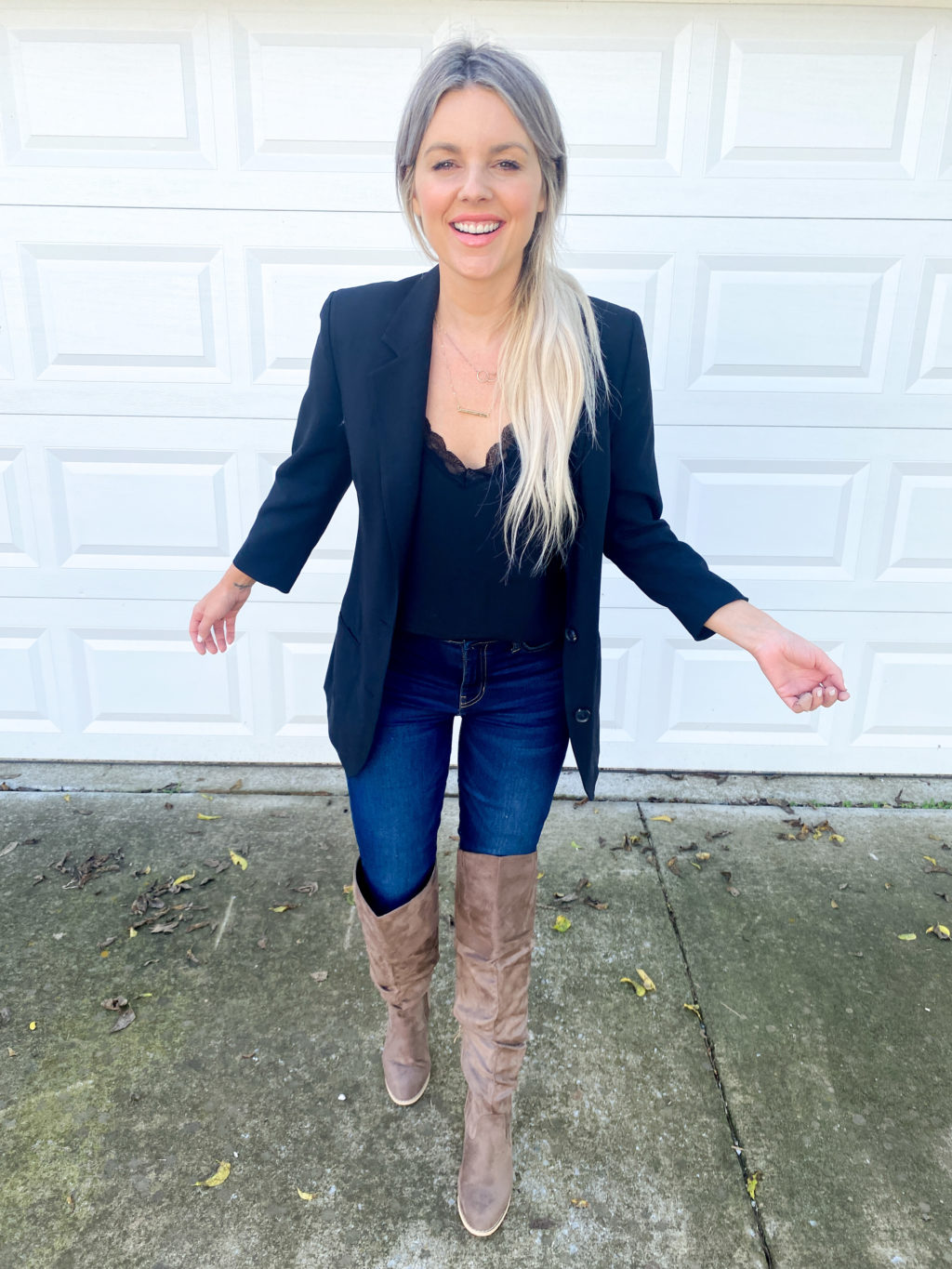 1. BLACK CAMI |.2. CELEBRITY PINK JEANS | 3. OVER THE KNEE BOOTS
For the office, I recommend throwing a blazer on over it and then when going out with friends after work depending on where you're going you could throw on this fringe sweater if you're going somewhere casual and it's chilly out or a full leather jacket to make it more nightlife appropriate. Stock is low on these blazers, but I definitely wanted to link them for anyone who fits these sizes or needed a suggestion!

DRESSES
Summer Dress for Fall/Winter Trips!
I also really wanted to make sure I included some cute dresses in this weeks Affordable Friday post. I didn't have any in the last when I did and I got some messages from people requesting them in this one! I'm gonna start with this beautiful dress that I brought on our trip here to Florida. I love absolutely everything about this dress! So I honestly don't even know where to begin. I guess I'll start by saying when I ordered it I thought there was a good chance that the material was going to be kind of stiff. But to my very pleasant surprise and material is so soft and lovely! I truly truly truly cannot believe that this dress is only nine dollars. It doesn't seem possible. Right now the exact one I'm wearing is still available in sizes small up to size XL. So snatch it while you can! You will not believe how amazing this dress is when you get it I ordered a size medium which is my normal size.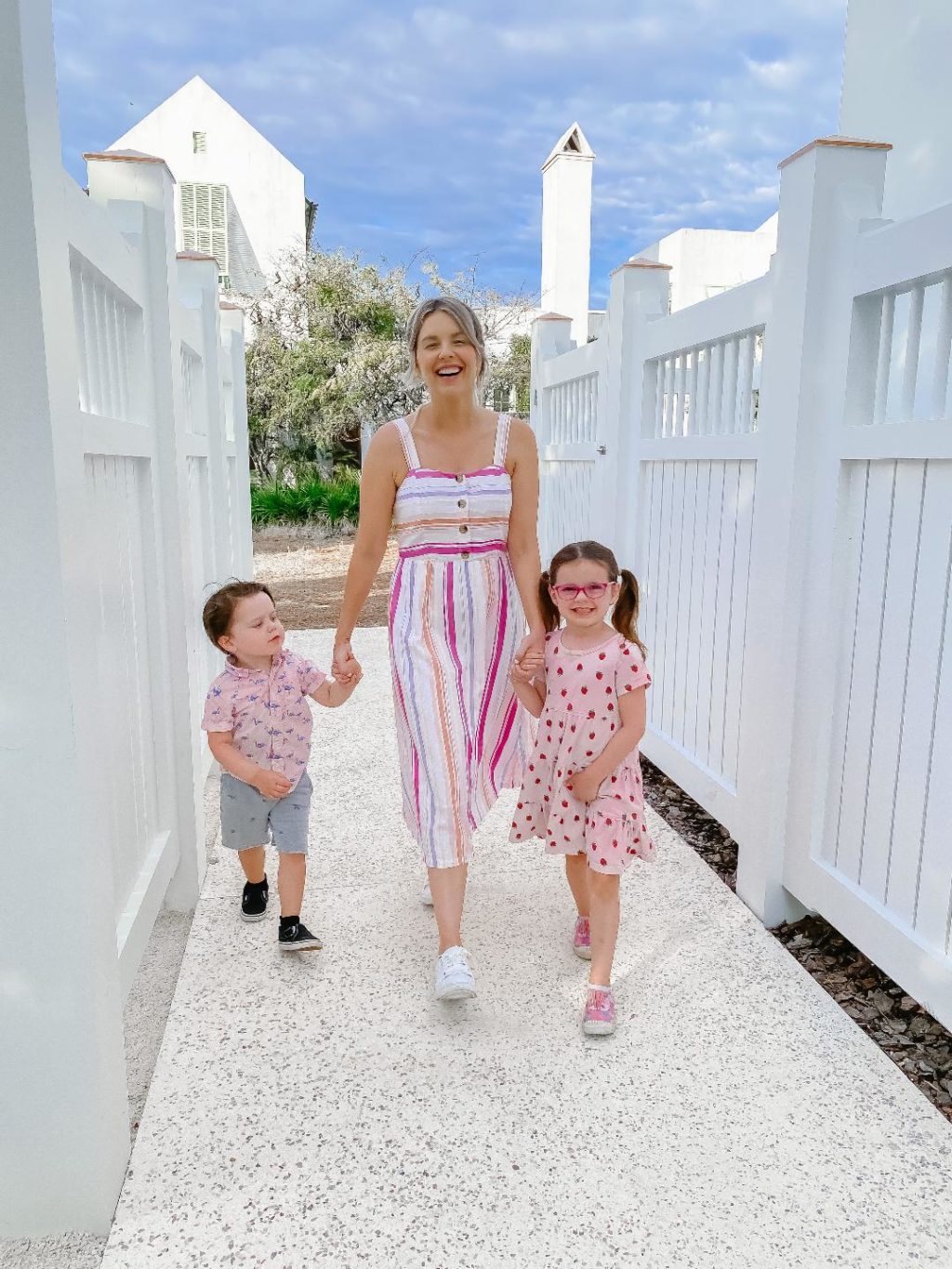 And last but not least is this absolutely adorable dress! But SIZE DOWN (keeping reading). To be completely honest you guys, when I first got it I thought I was going to return it because I thought it might be a smidge short on me. But here's a tip for you guys if you ever have a dress that you think feels just slightly short. All you have to do is pair it with a pair of over the knee boots and it instantly feels longer. When I first wrote this blog, I knew I was gonna share this dress, but thought I would let you guys know that it was best for somebody 5'6″ and under. But now I think it's actually great for someone my height too. I'm 5'7″, maybe even taller. It just works so perfectly with an OTK boot and I couldn't love it more!

1. DRESS (SIZE DOWN!) | 2. OVER THE KNEE BOOTS
And the dress is size inclusive and ranges in size XS up to XXXL. However I will say size down in this one! I'm normally a size medium and I got the size extra small based on the reviews. However that is kind of making me think that if I had gotten a small if it would've been a little bit longer on me. But honestly, I love the length with the OTK boot so sizing down 2 worked for me! So make sure to size down on this one – one or two sizes! It just really pretty! From the print to the chiffon balloon sleeve I just love it and it's only $16.88!