Happy Fall Fashion Affordable Friday, everybody! I know I'm technically on vacation, but you guys know I can't pass up a good Affordable Friday post! I don't like to wait on posting them because I don't want things to sell out, so here I am posting my Affordable Friday for Fall Fashion while on vacation at the beach. Ha! I took a bunch of these photos when these items arrived before we left for our trip and then the rest here, so that's why you'll see pictures from both locations. Even though I'm on vacation at the beach, these items are meant to be Fall pieces to help you transition from the warmer weather that most of us are still experiencing right now, to the cooler temps I know many of us are longing for!
Flattering Turtleneck Tank Outfit
I'm gonna go ahead and start with this turtleneck sweater tank. I didn't know what to expect when I ordered it. I usually do not like shirts that cut off right at the shoulder. I don't know what it is about the cut of this specific sleeve, but it is so flattering! I think maybe because it's not tight around my arm and it's a little longer down. I'm not really sure. But I am so so so so so obsessed with this tank.
I bought it in both the red/maroon color and in the beige. The beige is sold out of a bunch of sizes right now. But as of this morning when I checked, the maroon color I'm wearing in these photos and another minty color are both fully in stock from size extra small to size XXXL! Gotta love Walmart's size inclusiveness. It just makes me so happy. Oh, and I haven't even mentioned yet that it is only $15!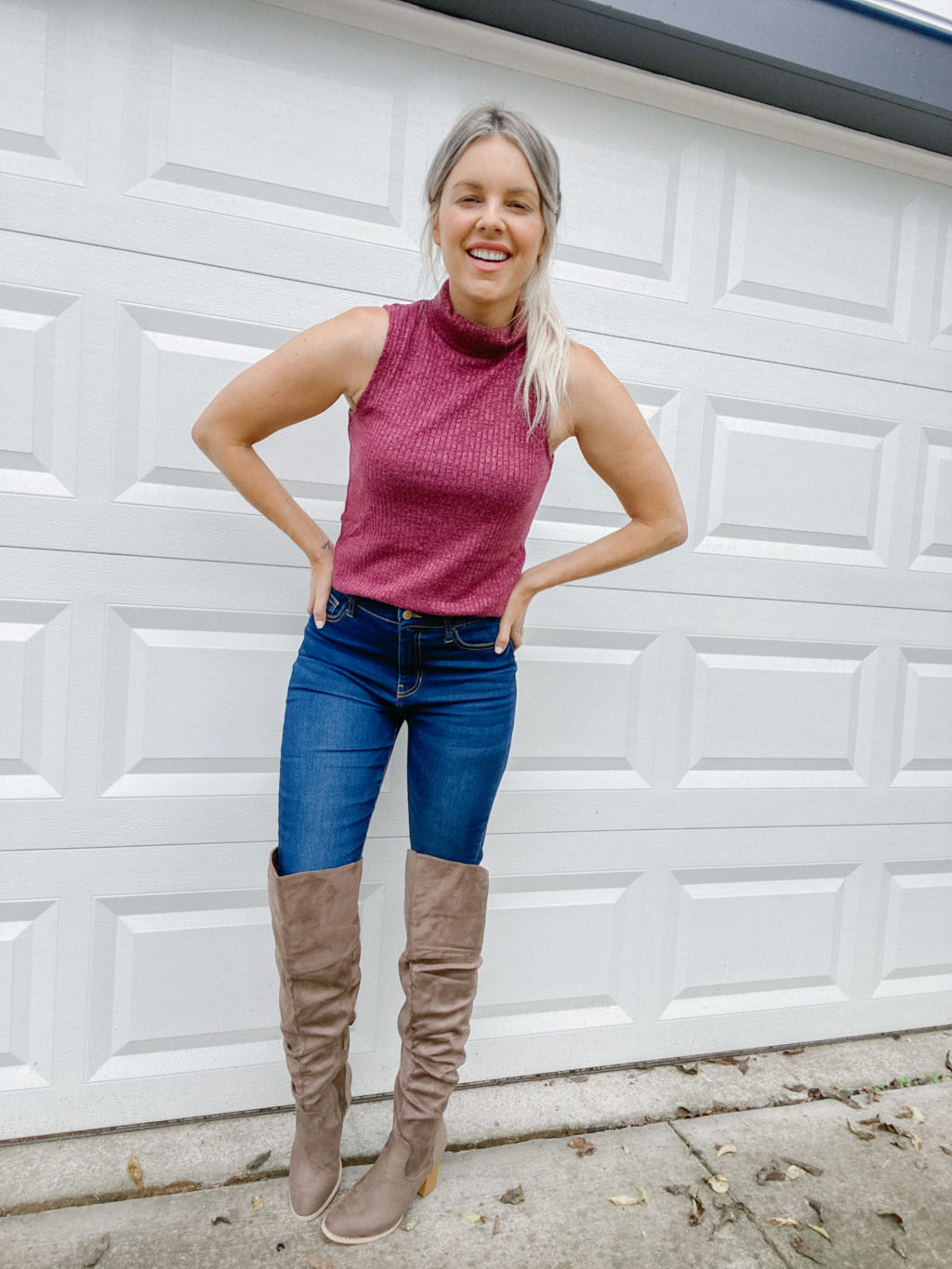 1. TURTLENECK TANK | 2. CELEBRITY PINK JEANS | 3. OVER THE KNEE BOOTS
I'm wearing it with this pair of Celebrity Pink high-waisted denim pants. I don't know if I should call them denim because it's actually more of a jegging, which essentially means it looks like denim, but it's super soft and stretchy more like a legging. It's kind of like if a rough denim and a super soft legging had a baby and it was a jegging. Oh my gosh, let me tell you I'm obsessed!
First they're only $17.98. A steal! If you look at the reviews on Walmart's website for Celebrity Pink denim, they're all exceptional and these are no different. I didn't really know how they would fit because it says they're juniors, but the juniors curvy line, and I didn't really know what that meant. I ordered them in the size that I would normally get which is a 7. I'm usually more of a 9, but I've lost a little bit of weight recently so I went with a 7 and they fit great! In fact they're so stretchy I could've probably even done a size 5. So if you're in between sizes definitely choose your smaller size.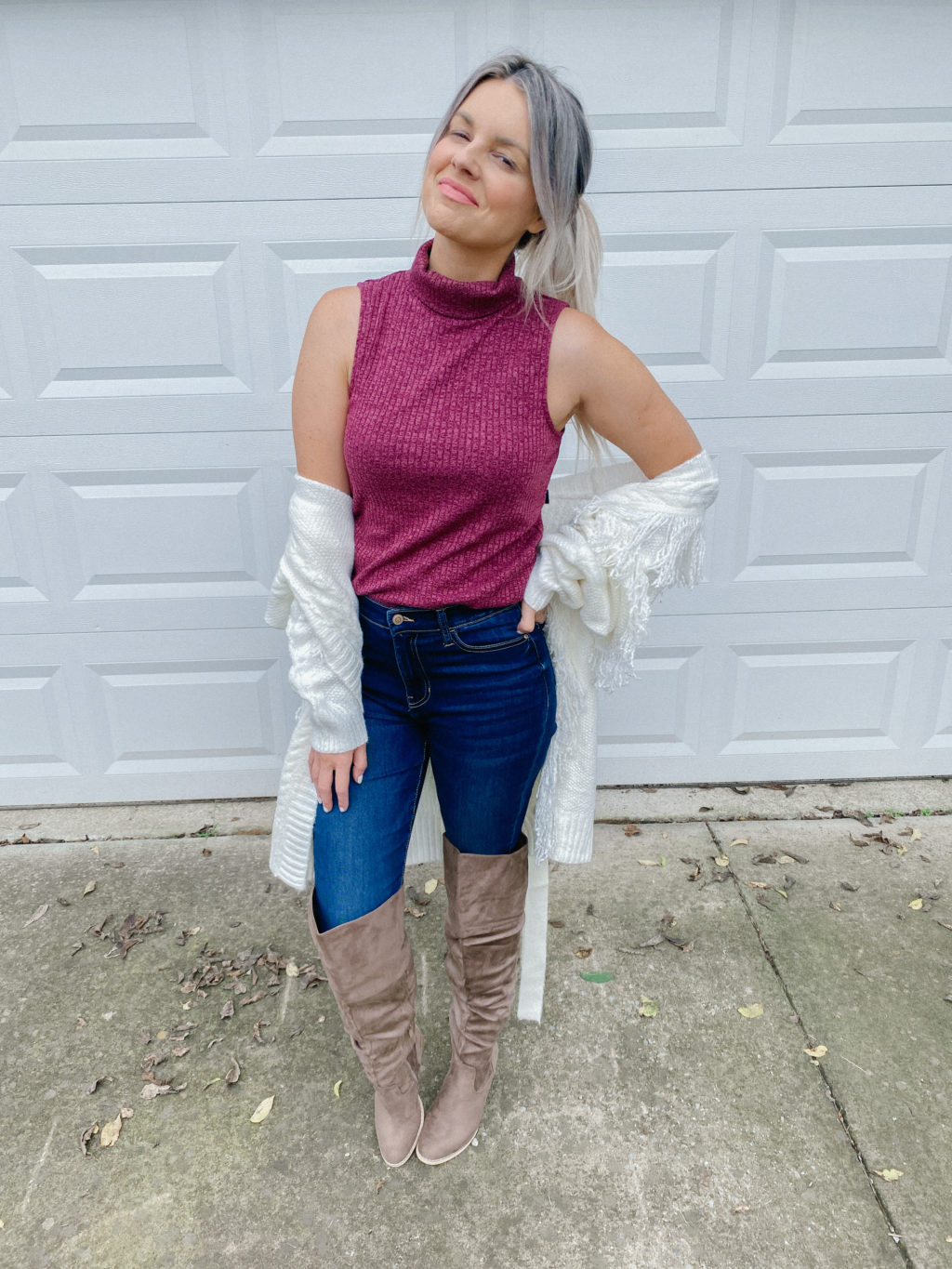 1. TURTLENECK TANK | 2. CELEBRITY PINK JEANS | 3. OVER THE KNEE BOOTS
These babies are so comfortable, I could legit sleep in them. Seriously get these now – you'll be so happy you did. I love that they feel like I'm wearing super comfortable leggings, but they look like nice work pants because they're a nice clean dark denim. Which by the way dark denim is Uber flattering so I know you guys are gonna love these.
I'm going to link a few other Celebrity Pink denim options below because they have so many good ones! I highly recommend checking out this super stylish and extremely affordable brand!

Finished off my look with these over the knee boots. These boots are INCREDIBLE!!!! Let me tell you I am so so so obsessed with them. I can't even tell you how many bloggers I have bought boots from online because the boots look just so adorable and oversized on their tiny little legs. No body shaming here. All legs are beautiful. Big legs, little legs and teeny tiny little legs! But I will say I don't have those teeny tiny little legs, so when I would buy the boots they would be tight around my thigh and just not give the same oversized look that I saw from these other bloggers. So that's why I was so excited when I found these boots because they truly are oversized at the thigh. I feel like these boots will work so well for anyone who has wider thighs like me or wide calves! They're true to size and I got my normal size and they are an incredible price at under $45!
They also come in a few other colors if you're looking for a different color.
Add A Cardigan to Your Look!
I also wanted to show you this look with this fringe cardigan sweater. The sweater is so soft and so fun! I'm wearing a size medium which is my normal size but it's pretty oversized so I feel like you could size down in this one if you wanted to. The white is sold out in a few sizes, but there's still some left! It's still available in a really beautiful burgundy/brownish color and a gorgeous turquoise! This is another one where you want to read the reviews. They're overwhelmingly positive and it's just really a super fun fringe cardigan for fall!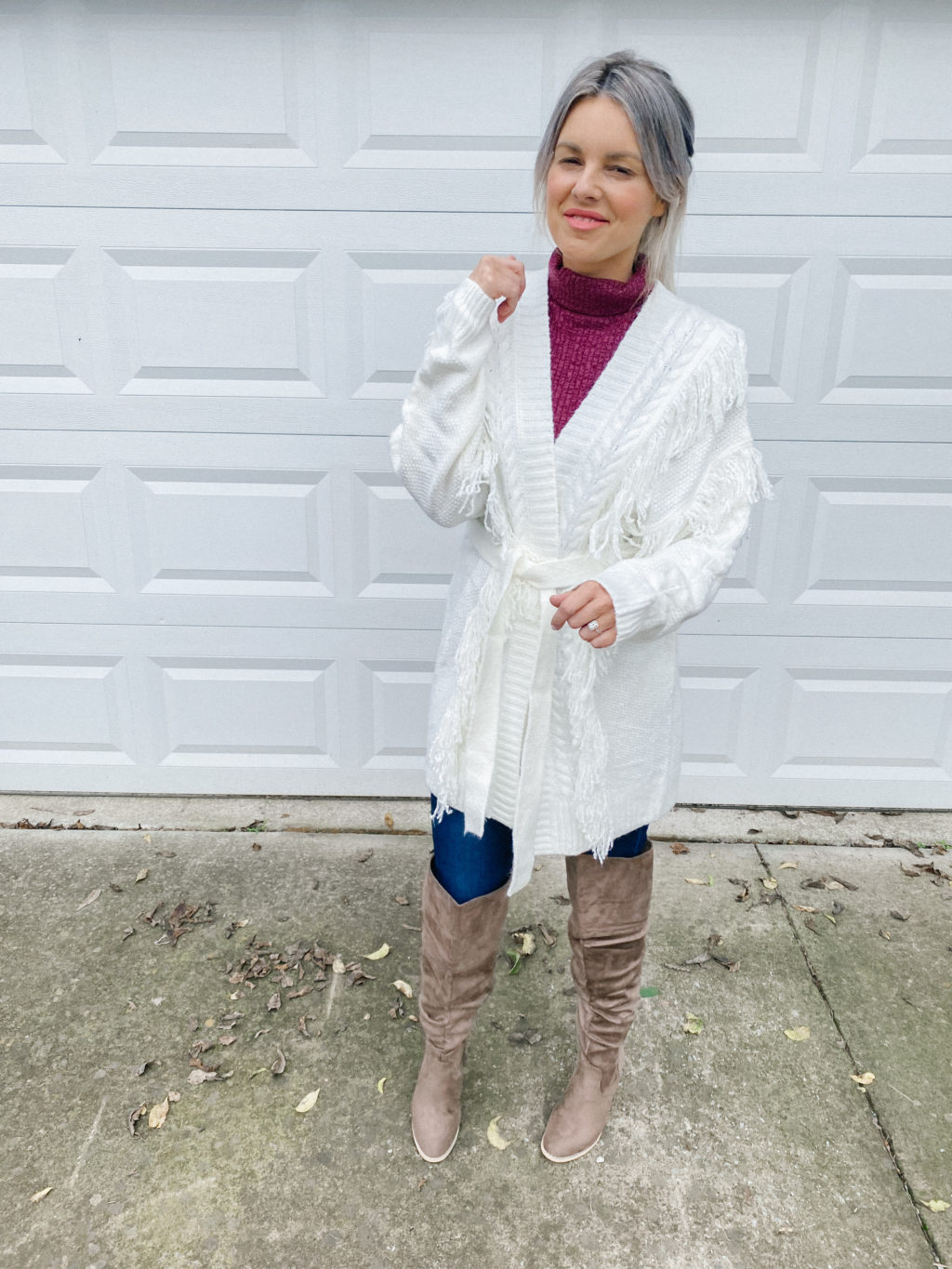 1. WHITE FRINGE SWEATER | 2. TURTLENECK TANK | 3. CELEBRITY PINK JEANS | 4. OVER THE KNEE BOOTS
Graphic Tee Look
For this outfit, I'm wearing the same awesome denim and white sneakers, but I switched the top out for this MTV tee. Oh my gosh, oh my gosh, oh my gosh! Can I say 'oh my gosh' one more time? Get this T-shirt! It's under $12 and I absolutely love everything about it. From the bright colors, to the fit, to the retro MTV logo. I actually have another MTV shirt that I bought from Walmart a few months back and I love it so much and it just makes me feel so nostalgic! When I saw this one I had to get it, especially when I saw it was basically $10. Again, look at the reviews because there are so many amazing reviews.

 1. MTV T-SHIRT | 2. CELEBRITY PINK JEANS | 3. TIME AND TRU WHITE SNEAKERS
You'll see that it's technically a men's t-shirt, so when I originally bought it, I sized down to a small. But honestly it was super fitted on me in a small, so I ended up returning it to get the size medium. I just like my t-shirts a little bit more loose-fitting and the small size was just like a fitted t-shirt, so it depends on what you want. I would say get your normal size even though this is a men's tee. Medium is my normal size, and again I love thatt it comes in size small up to XXXL.
To complete my outfit, I'm wearing these white sneakers that are only $14.97! Let me point out right off the bat that there are over 213 reviews for the sneakers and they are overwhelmingly positive. People rave about these sneakers so I had to get them. They are super cute and have a really fun gold detail on the back that I love. I feel like it makes them look more expensive and truly the quality is amazing! If I didn't know I would think they were Steve Madden shoes, but for a fraction of the price. Also, the sizing is spot on. I got a size 7 which is my normal size and they fit great. Isn't this this perfect fall-fashion outfit AND so easy to throw on!?
Work & Fun
I really wanted to include a look for this Affordable Friday that could be worn to work during the day and then out to drinks with friends at night. This tank is exactly that! You seriously are not gonna believe the quality when you get it. I would think it was a $50 camisole in a boutique. Look at the reviews, there are 85 star reviews and it comes in 4 other color/prints!

 1. BLACK CAMI |.2. CELEBRITY PINK JEANS | 3. OVER THE KNEE BOOTS
I got a size medium which is my normal size and once again this tank top is size inclusive with size XS to XXXL. I wish you guys could feel the material. It's hard to explain, but it's not like that super thin cheap fake silk material that a lot of camis that look like this are made of. It's got more balance and weight to it and it just feels expensive. Plus, the way it falls on your body is just really flattering and comfortable. I truly love love love love love this tank and I think you will too!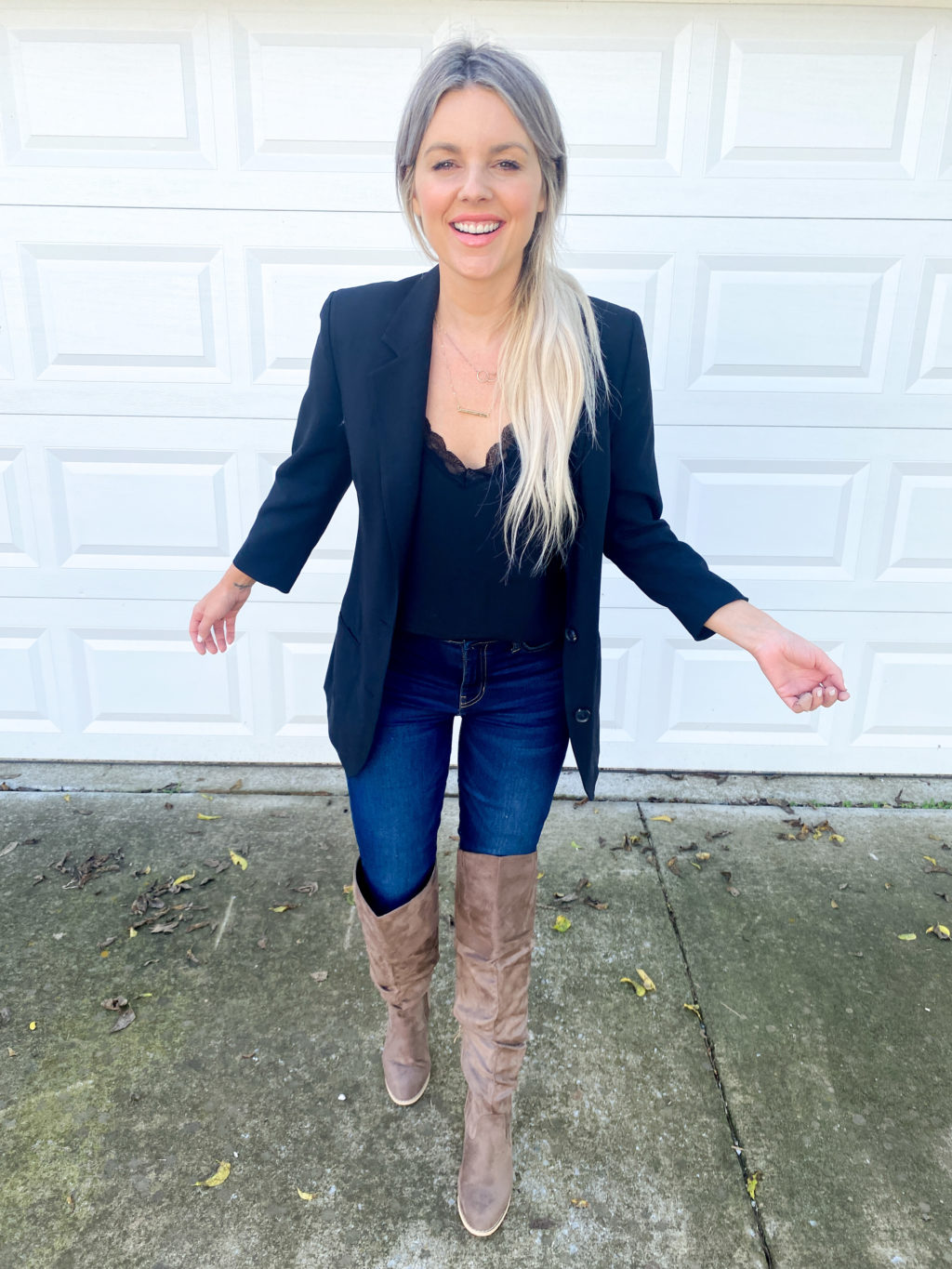 1. BLACK CAMI |.2. CELEBRITY PINK JEANS | 3. OVER THE KNEE BOOTS
For the office, I recommend throwing a blazer on over it and then when going out with friends after work depending on where you're going you could throw on this fringe sweater if you're going somewhere casual and it's chilly out or a full leather jacket to make it more nightlife appropriate. Stock is low on these blazers, but I definitely wanted to link them for anyone who fits these sizes or needed a suggestion!

Comfy, Casual
Another look, yep I'm not done! It's really the same denim I've been wearing in almost all these looks and this Free Assembly striped long sleeve t-shirt. This is definitely a more oversized, boxy top. Which I really love, but if you're in between sizes, size down in this one. It definitely runs a tad large. But I love this kind of tee because I feel like when you throw this on with a pair of denim and white sneakers you just look effortlessly put together. Something about navy and white stripes just says 'that girl has her life together'. Ha! I'm not even kidding, something about the nautical theme always makes me feel classy and put together. I love it so much and the fact that it's only $14 is a huge win!

 1. CELEBRITY PINK JEANS | 2. FREE ASSEMBLY LONG SLEEVE TEE | 3. TIME AND TRU WHITE SNEAKERS
DRESSES
Summer Dress for Fall/Winter Trips!
I also really wanted to make sure I included some cute dresses in this weeks Affordable Friday post. I didn't have any in the last when I did and I got some messages from people requesting them in this one! I'm gonna start with this beautiful dress that I brought on our trip here to Florida. I love absolutely everything about this dress! So I honestly don't even know where to begin. I guess I'll start by saying when I ordered it I thought there was a good chance that the material was going to be kind of stiff. But to my very pleasant surprise and material is so soft and lovely! I truly truly truly cannot believe that this dress is only nine dollars. It doesn't seem possible. Right now the exact one I'm wearing is still available in sizes small up to size XL. So snatch it while you can! You will not believe how amazing this dress is when you get it I ordered a size medium which is my normal size.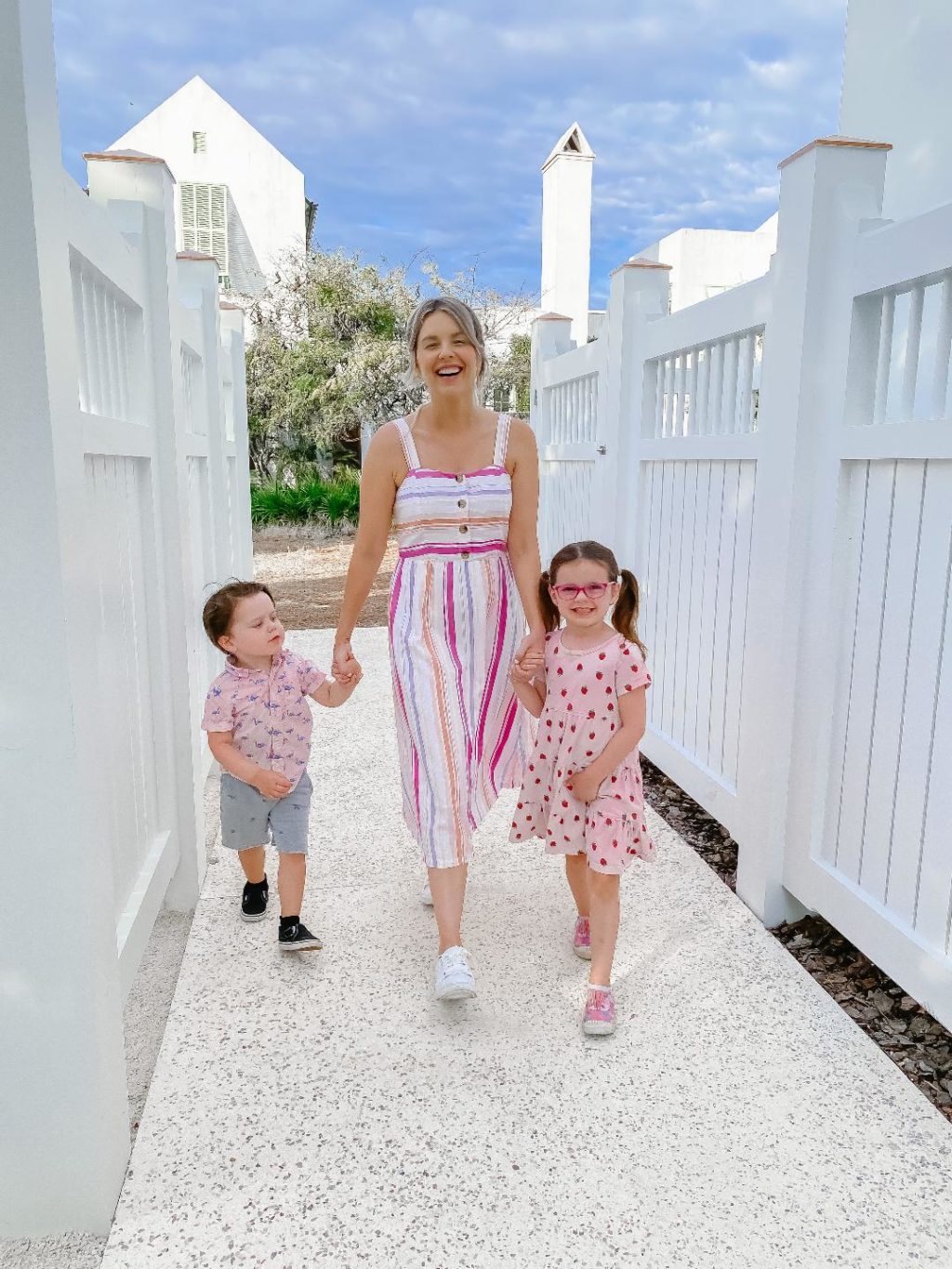 Fall Dresses
This next dress is equally as stunning! This is another one I was very pleasantly surprised by because when I saw it on the website I wasn't in love with the print, but oh my gosh, when I got it I couldn't love it more. Something about the way it fits and falls on your body is so beautiful and flattering. Just look at the reviews. There are eight reviews on Walmart's site that are all great! Many people bought one print and then went back and bought another because they liked it so much. There are two prints available and they're almost completely in stock. Oh and I forgot the best part of this dress is that it is under $17! I'm wearing it with my over the knee boots because I really love this look for fall but you could wear it with booties or sandals or even sneakers. I love wearing a dress with sneakers.

  1. DRESS | 2. OVER THE KNEE BOOTS
And last but not least is this absolutely adorable dress! But SIZE DOWN (keeping reading). To be completely honest you guys, when I first got it I thought I was going to return it because I thought it might be a smidge short on me. But here's a tip for you guys if you ever have a dress that you think feels just slightly short. All you have to do is pair it with a pair of over the knee boots and it instantly feels longer. When I first wrote this blog, I knew I was gonna share this dress, but thought I would let you guys know that it was best for somebody 5'6″ and under. But now I think it's actually great for someone my height too. I'm 5'7″, maybe even taller. It just works so perfectly with an OTK boot and I couldn't love it more!

1. DRESS (SIZE DOWN!) | 2. OVER THE KNEE BOOTS
And the dress is size inclusive like so many of Walmart's items and ranges in size XS up to XXXL. However I will say size down in this one! I'm normally a size medium and I got the size extra small based on the reviews. However that is kind of making me think that if I had gotten a small if it would've been a little bit longer on me. But honestly, I love the length with the OTK boot so sizing down 2 worked for me! So make sure to size down on this one – one or two sizes! It just really pretty! From the print to the chiffon balloon sleeve I just love it and it's only $16.88!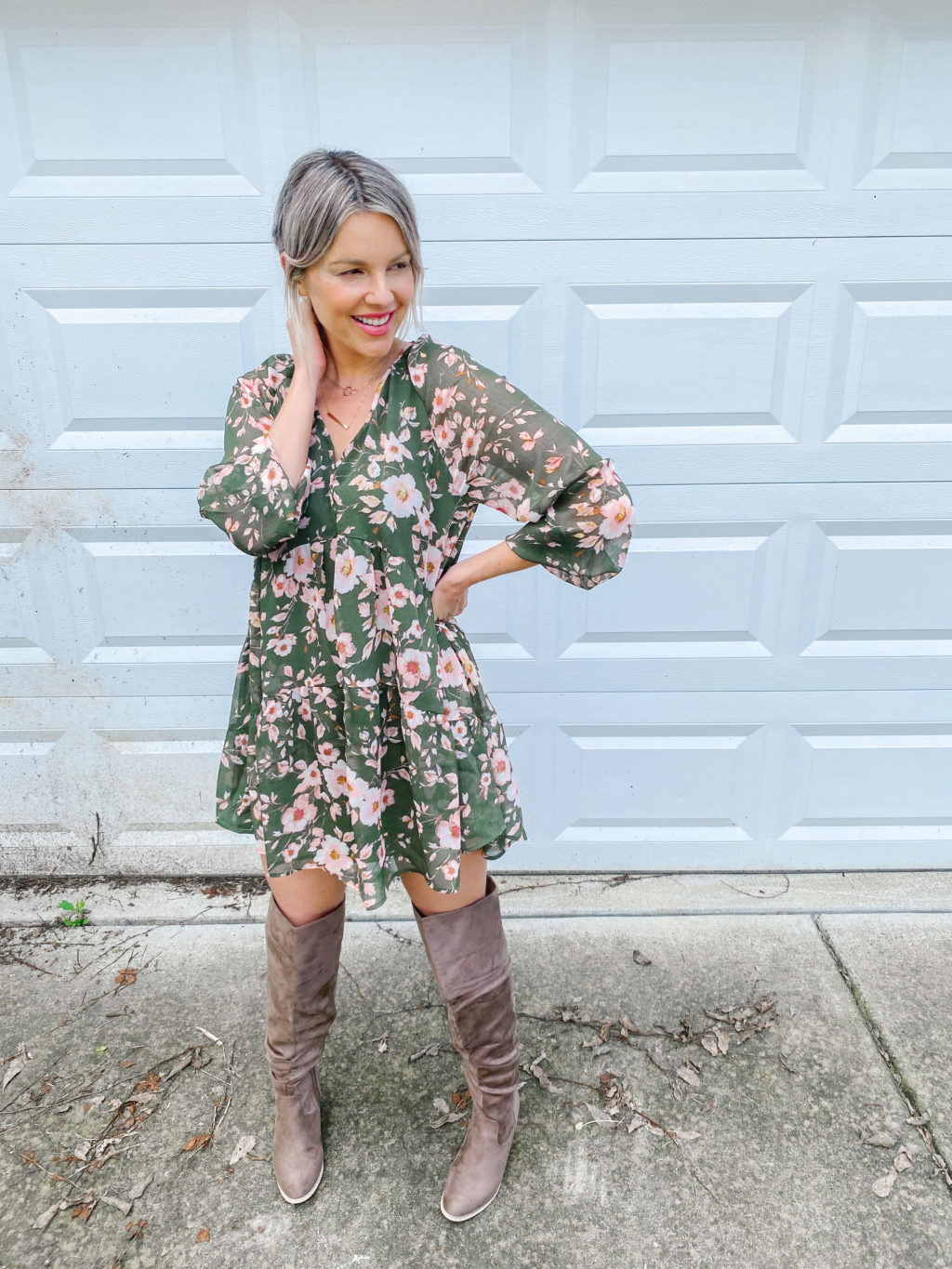 1. DRESS (SIZE DOWN!) | 2. OVER THE KNEE BOOTS
Intimates!
I'm going to finish off this pretty bomb Affordable Friday in my opinion (Ha!) with this amazing sustainable and affordable intimates company. I told you guys about these bras in my stories, but I really wanted to include them in this Walmart Affordable Friday because I just really think the quality is so amazing and I think the fact that they've been able to figure out a way to make sustainable clothing affordable to all is just really freaking incredible! I absolutely love their bralettes! I brought three of them on this trip with me. Plus, their T-shirt bra fits like a dream! It's just awesome that you can buy sustainable clothing and do something good for the planet without spending too much. I also recommend reading the reviews on Walmart's site!

And I didn't have a chance to take more pics of the bras (vacay mode over here!), so I just am putting a screenshot of my Insta stories here to remind you guys about them.
Happy Fall!
Well there you have it there's my Fall Fashion Affordable Friday post for today! I love doing these posts because I love sharing fashion that I think is super cute and that everybody can feel okay about buying an item from. Let me know in the comments if there's anything you've bought from a past Affordable Friday post that you really love or if there is a type of affordable look you'd like me to show you in the future. I wanna show you guys the things that you really need and want! I spend a ton of time scouring the internet for these looks so you don't have to!
And thank you to Walmart for sponsoring my site as always!