Ahhh you guys all know how much I LOVE Tarte, and I am so excited that they are offering my followers the first access to their new holiday sets AND the even more incredible part is that I also got a discount code for you to use on top of their already insane deals!
For their holiday sets, they pick their top items and bundle them together at a discounted price. For example, this Amazonian Clay Cheek Set is valued at $75, but with their bundle set, it's only $39! With the current exclusive offer for my followers, you can also use ALI15 to get an additional 15% off, making it only $34! That's more than $40 off what normal prices would be! This offer is only good through August 12th when the holiday sets go live to the public! Don't miss out!!!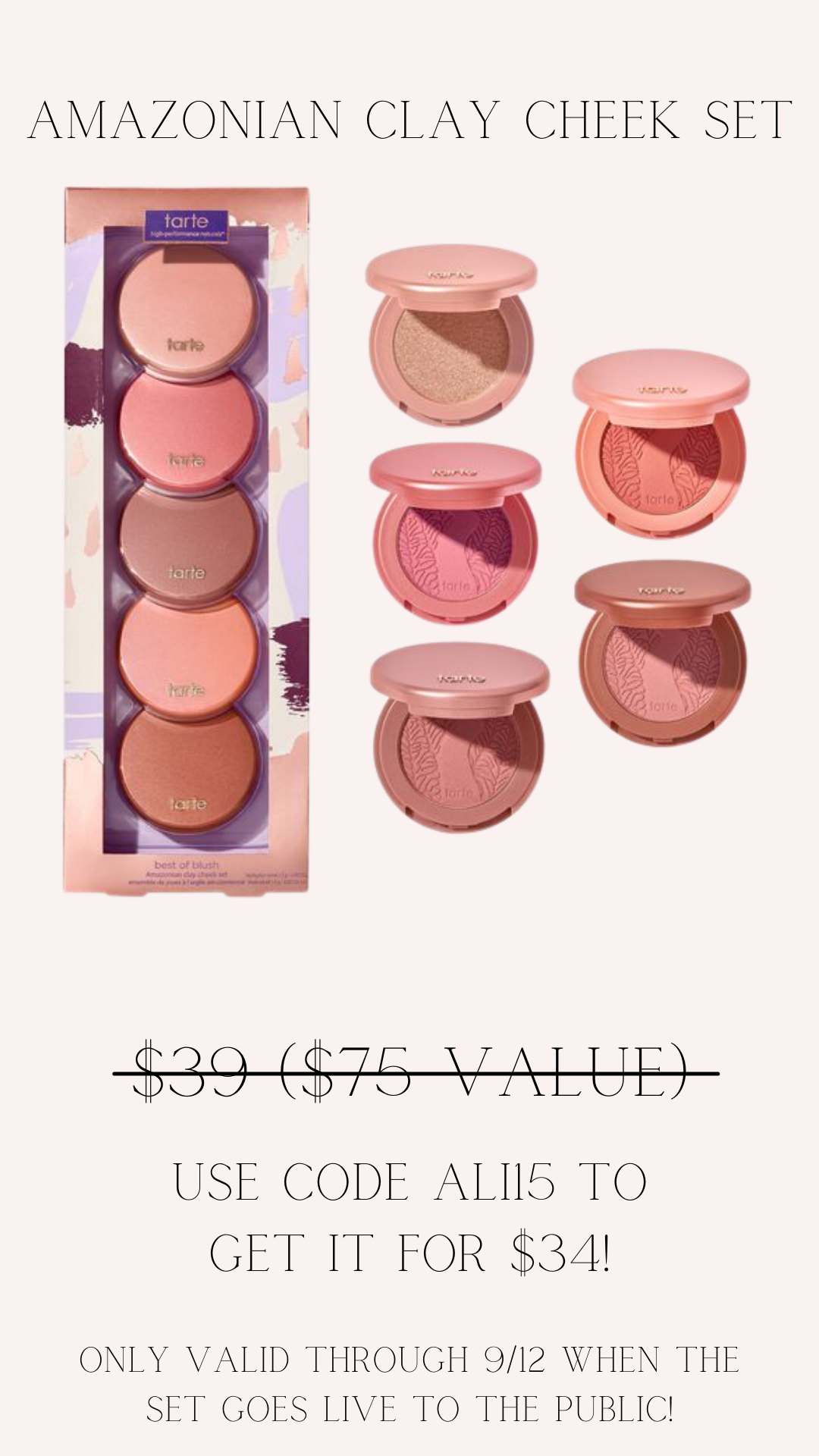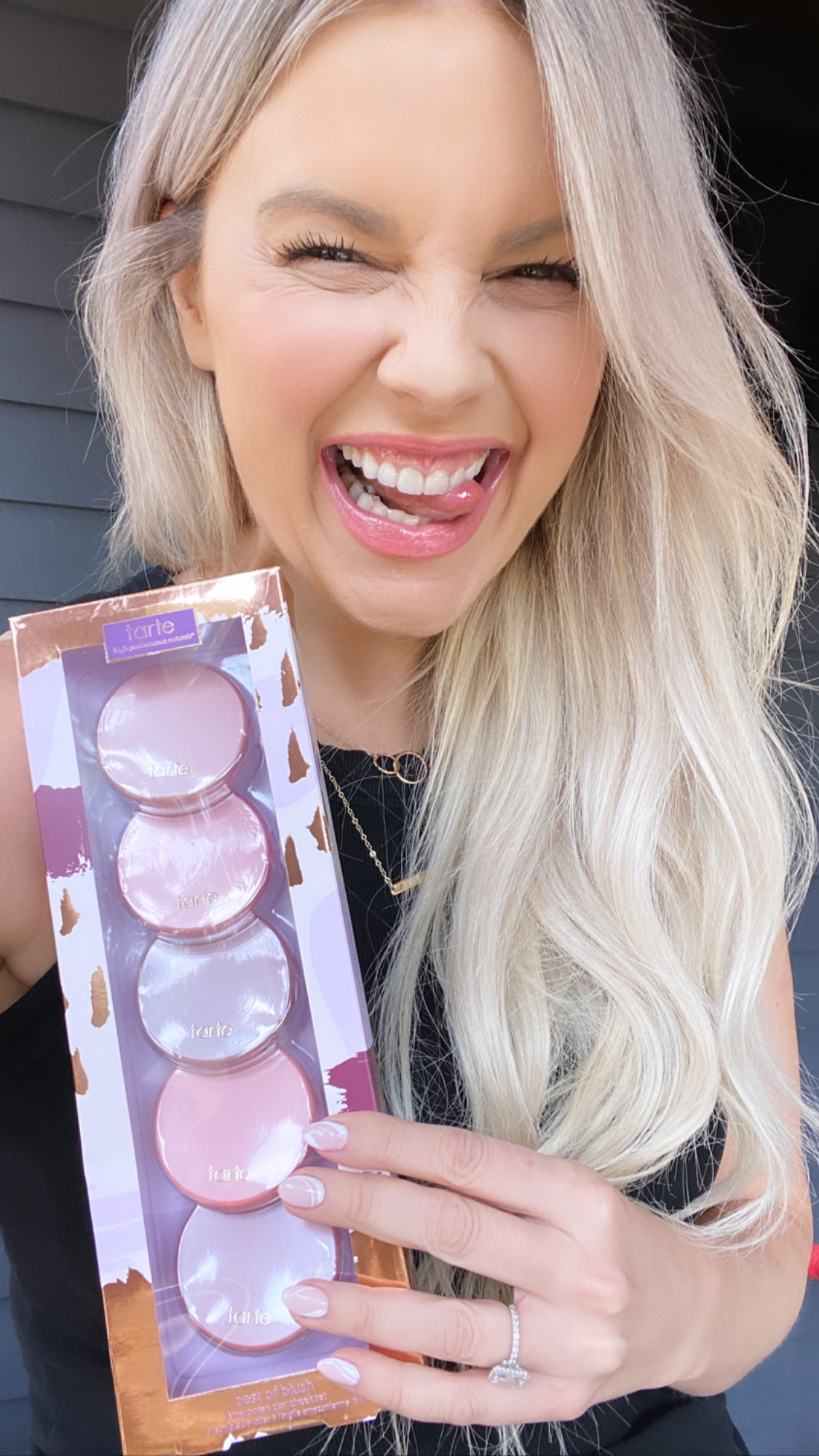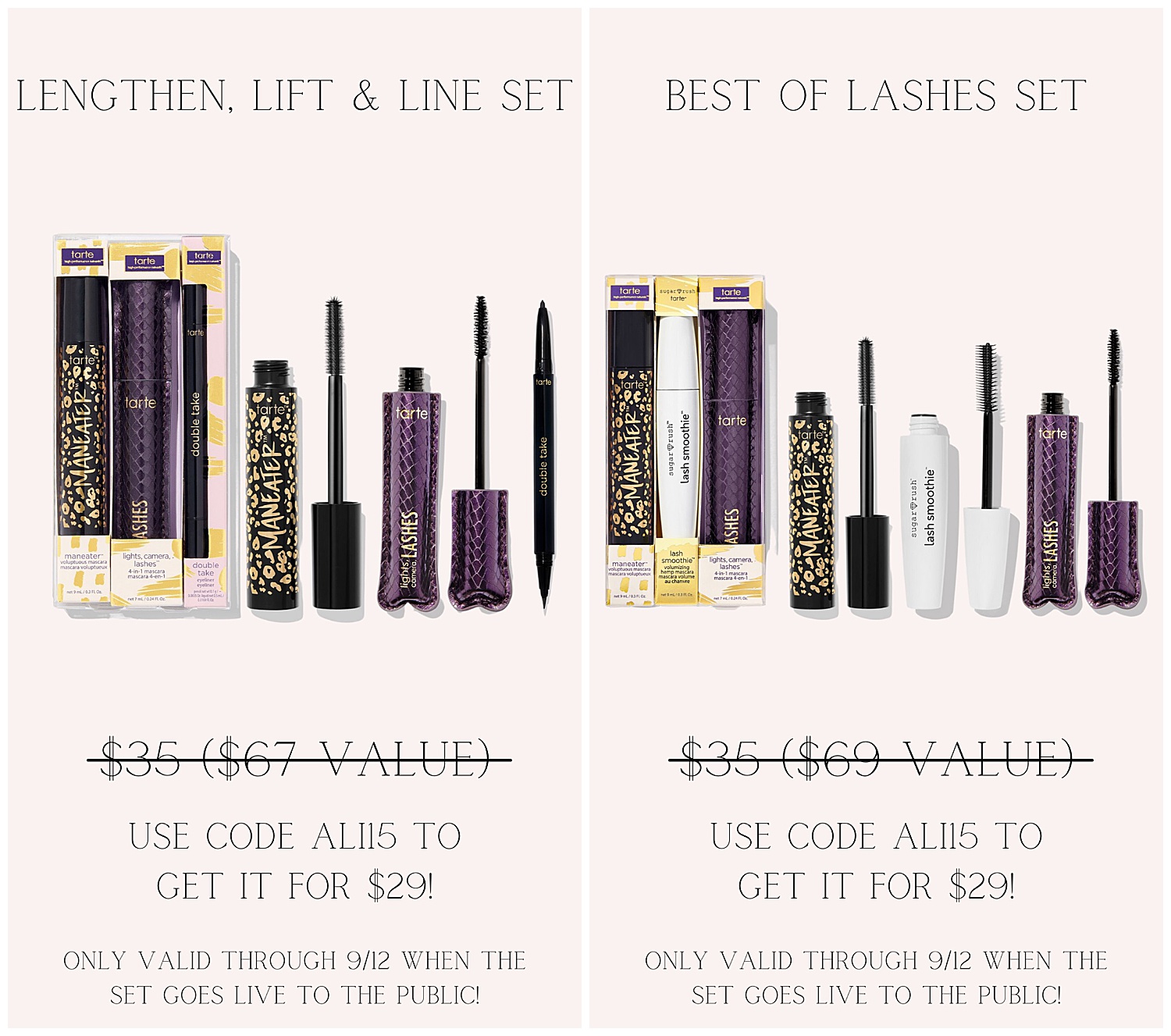 1. LENGTHEN, LIFT & LINE EYE TRIO SET $29 | 2. BEST OF LASHES SET $29
We can't not talk about this Shape Tape Best Sellers set. SERIOUSLY can't get over the price and how much you get with it. With my ALI15 code, you can get it for only $25!!! A normal sized Shape Tape costs $29! Especially if you've never tried it and always wanted to, this is the perfect time to test it out. I am sure you will love it as much as I do! It also comes with the Maneater mascara, which is one of my very favorites from Tarte and the Maracuja Juicy Lip in the color Rose that you can see me wearing below. I'm actually using all three of these products in the photo below. Seriously, I am not kidding when I say buy this now! Use the code ALI15 and get it for $25! You won't regret it!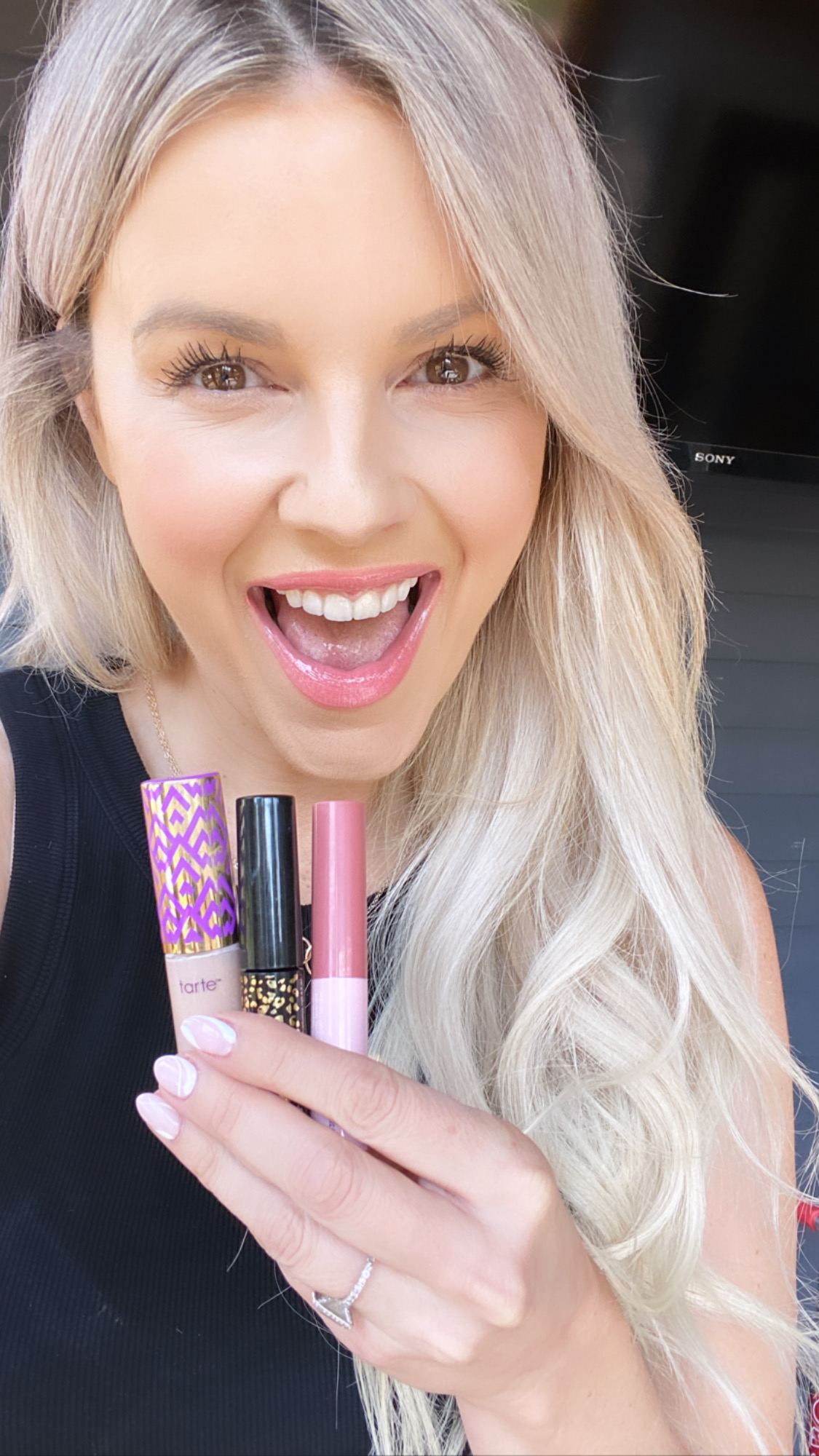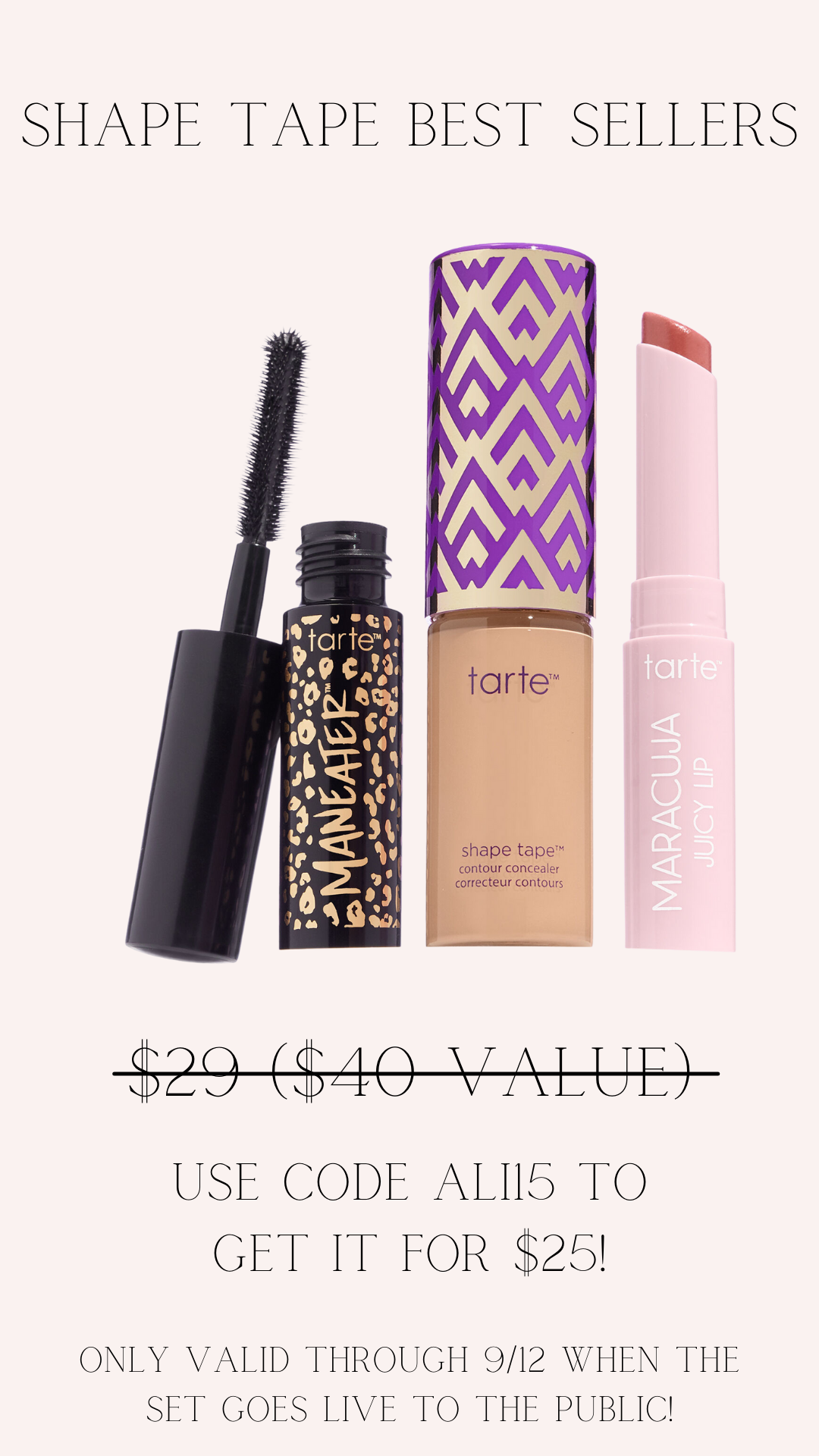 1. SHAPE TAPE BEST SELLERS $25 | 2. SHAPE TAPE ULTRA CREAMY BEST SELLERS SET $25
ALL THE INCREDIBLE HOLIDAY KITS CURRENTLY AVAILABLE TO US!
UPDATE: More sets were just released and I am linking a bunch of them for you here! Click this link to see them all, and make sure to use code ALI15 for the additional 15% off!





ALI15 Works Until September 12th
Still so excited that we were offered this special deal! The additional 15% off with ALI15 is only available until September 12th when the holiday sets go live for the public.
I'd love to hear what products you already use from these sets! Let's chat about our favorites below!