Happy Affordable Friday on a Monday! I know I know don't hate me for maybe for one second making you think it was Friday and a Monday. But hey at least it's a holiday right! It's a Monday where you probably don't have to work! Ha! I was actually planning on posting this Friday, but you guys know me. I always try to get these posts up as soon as possible just because things sell out so fast.  I am really really really excited about today's post.
The majority of today's Affordable Friday are a lot of basics, like denim pants and solid tops, but don't shy away from that. I know sometimes basics aren't the most exciting thing to buy. Like I'd love to buy a beautiful floral skirt instead of a black top, but honestly I think that's just my brain thinking that's what I want. Ever since I've put more time and energy into building out the basics in my closet, I find that I love getting dressed so much more in the morning and I find that I always can find something I want to wear because basics always complete the look. Oh my goodness are these basics good! So let's get right into it.
Non-Skinny Jean Look
I had to start with this outfit because it is so my style and so on trend. If you like to follow trends, great! If you don't, that's great too! I personally love the non-skinny jean trend so so so so so much! I am a girl with hips and a booty and sometimes I feel like when I wear skinny jeans, my body doesn't look very balanced. In fact one of my biggest styling tips that I've written about countless times on this blog is to wear over the knee boots with skinny jeans because it helps add width to the bottom of your leg so it feels more balanced with the top.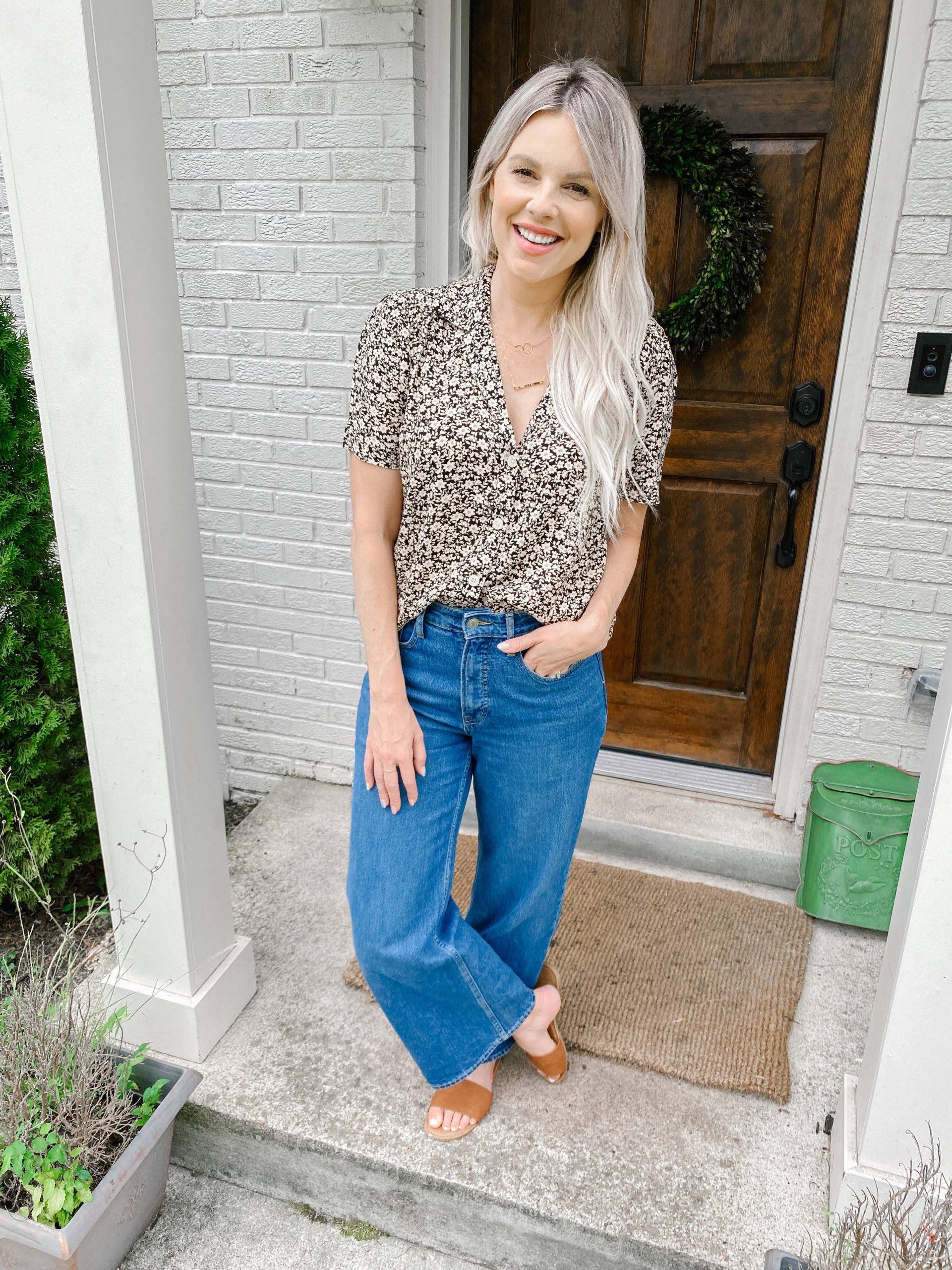 1. STRAIGHT-LEG JEANS | 2. FLORAL TOP
That's why I couldn't be more in love with these jeans! I'm wearing a size 8, which is my normal size, but I will say I have lost a little bit of weight recently so I do think that you might want to size up in these. The great thing about Walmart is that things shipped and sold by Walmart are so easy to return or replace if you need to get a different size. Usually if I'm unsure about my size, I'll just order two and then return whatever one doesn't fit me right. Anyway, do yourself a favor and get these jeans ASAP! Just look at the reviews for them on Walmart's site!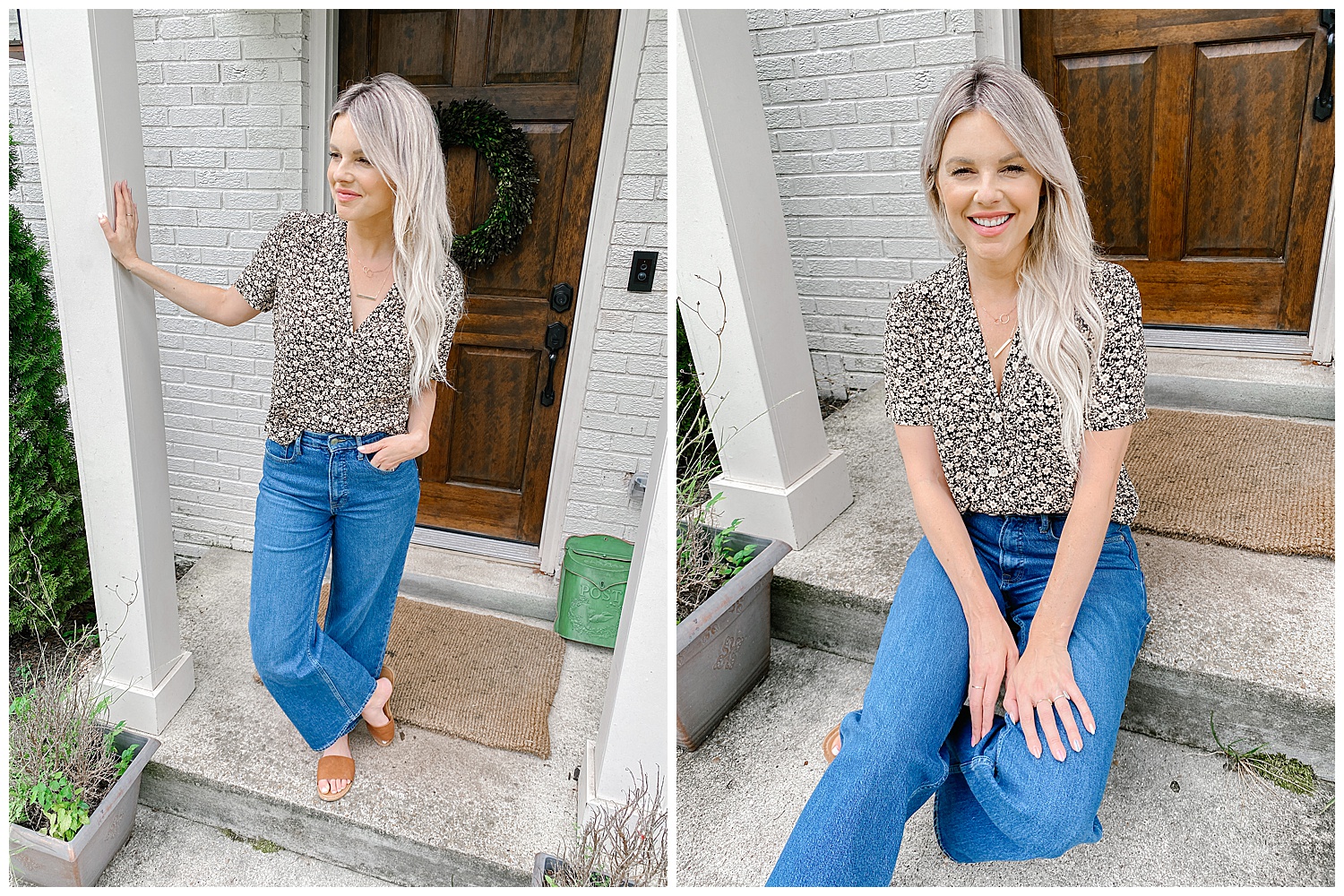 1. STRAIGHT-LEG JEANS | 2. FLORAL TOP
I love the high waist, I love the stretch, and I love the fit…. and you know I love the price at only $29! I don't know if you guys know this, but this brand, Free Assembly, is pretty amazing! They're all about sustainability, having a low water impact, use mostly organic cotton, and are LEED certified!
I know I started with the jeans, but honestly it was a hard toss-up between starting with the jeans or this top. You guys might recognize this top because I actually wrote about it months ago when I got it in white. It's one of my favorite shirts ever and I wear it so much. One of my favorite times to grab it is when I have to go to some sort of parent event where I want a top that looks nice, but I also want to feel comfortable.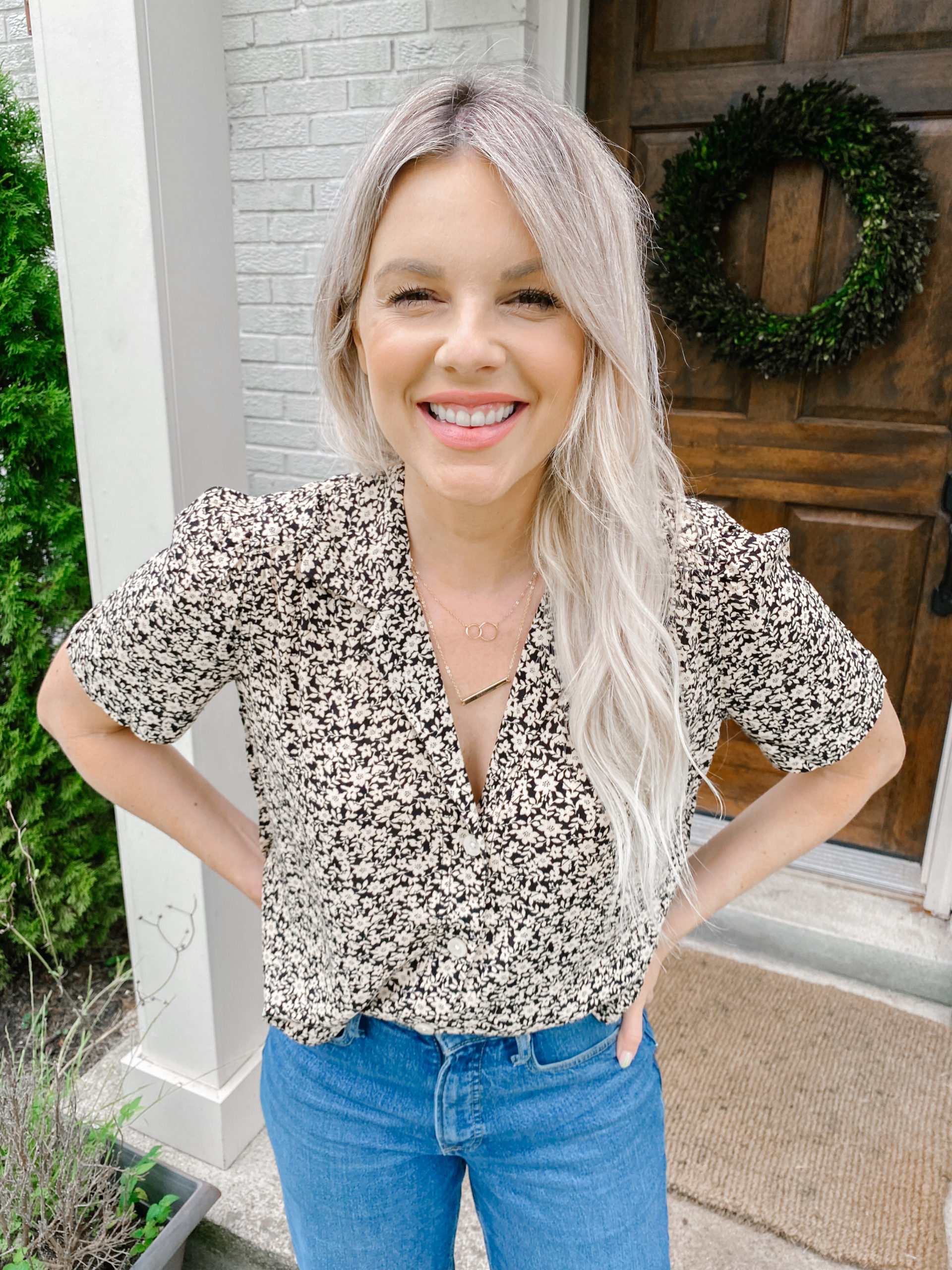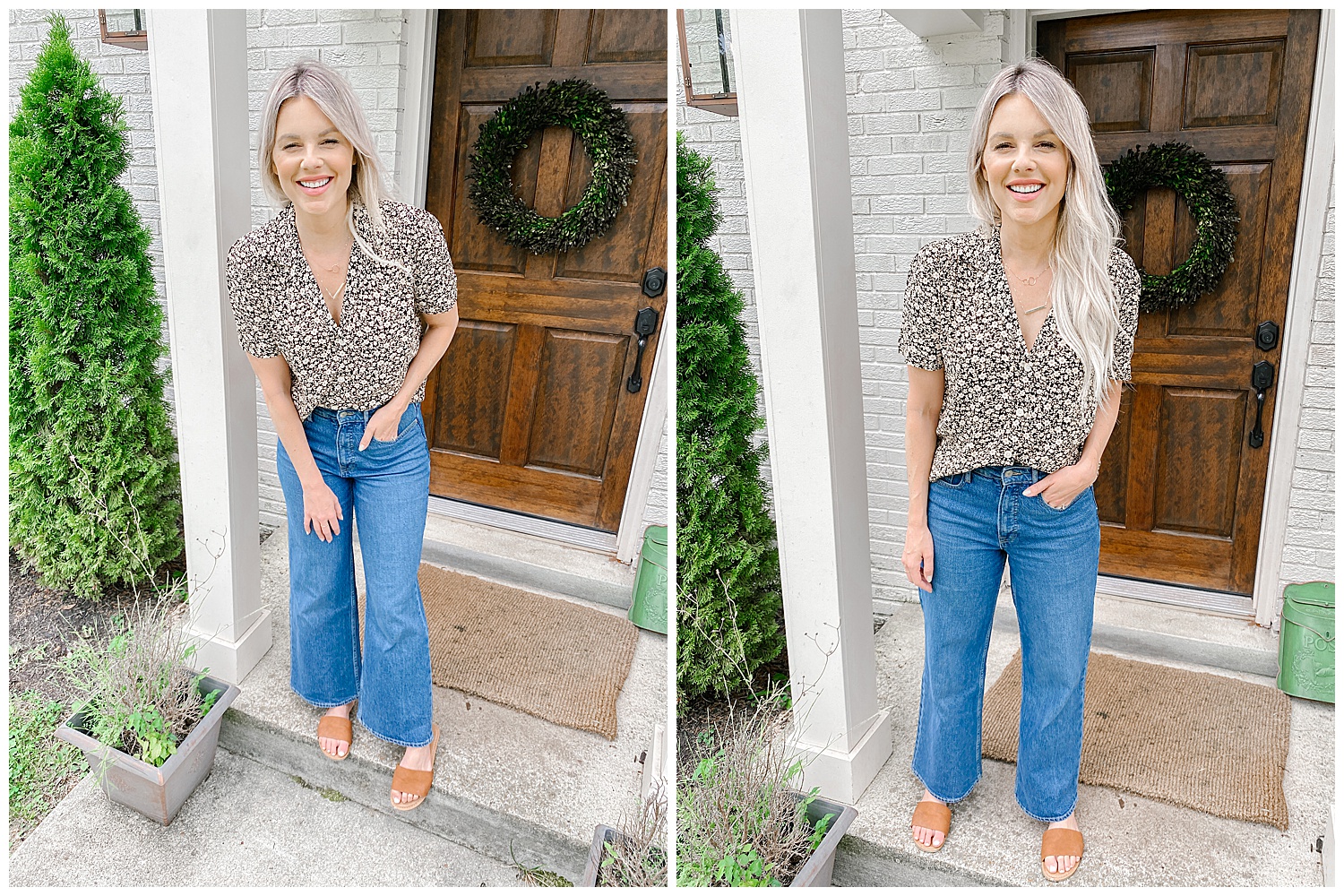 1. STRAIGHT-LEG JEANS | 2. FLORAL TOP
You know me, I love a white top, but I love the fit and style of this top so much that I couldn't help but get it in every single color that they make. I wash and dry mine normally in the washer and dryer. The only thing I'll say is that when it comes out of the dryer if you don't hang it up right away it will wrinkle, but I just hit mine with my clothes steamer and it looks perfect. At $24 you can't go wrong! I love every single print the shirt comes in!
Jeans and a Bodysuit!
In the next look I'm wearing the same high-rise 70s wide leg straight jeans. Love them, love them, love them! But I switched out my top. Or really I should say I took off my top and put on a $12 bodysuit. Yup, only $12!!!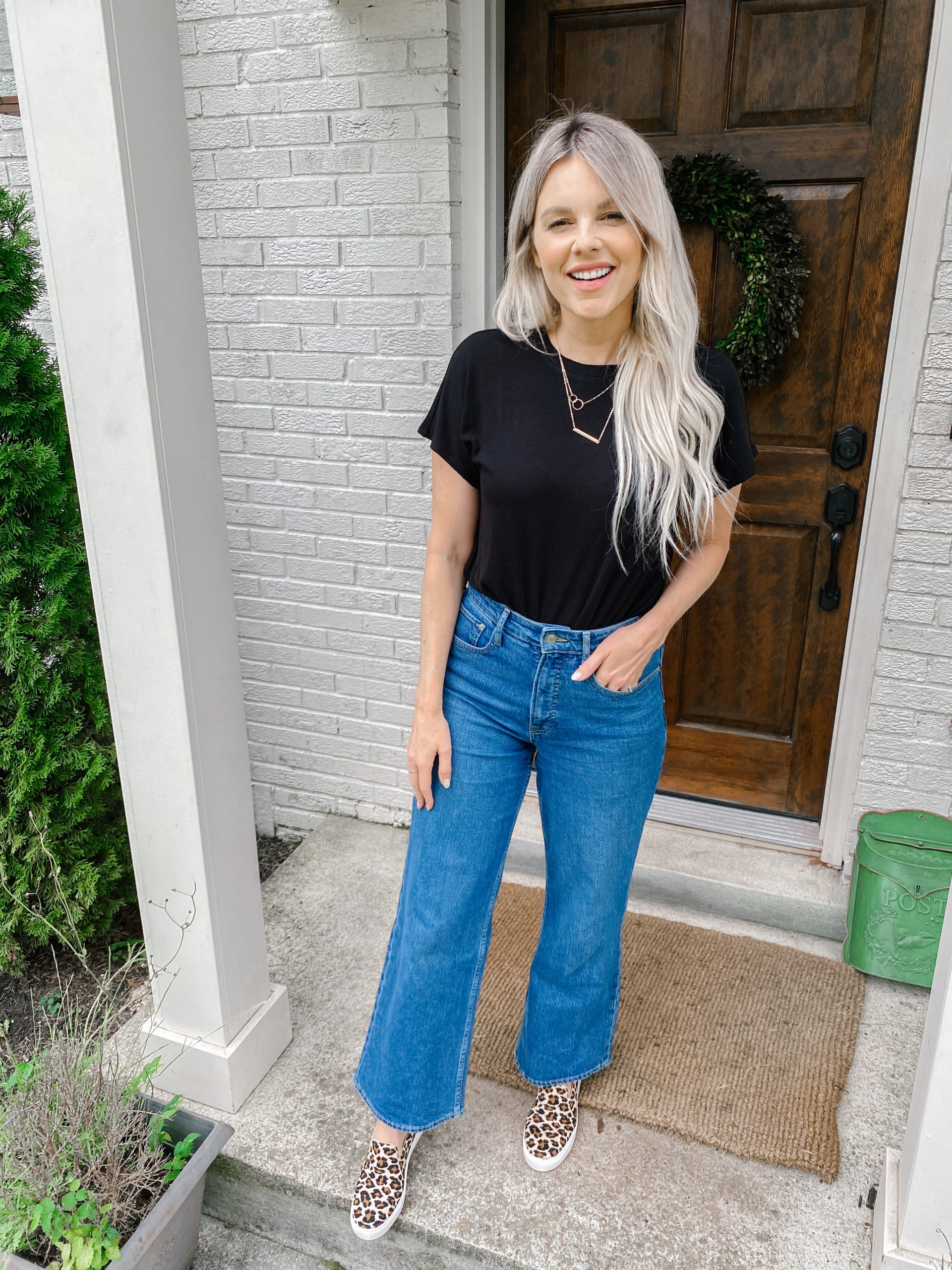 1. STRAIGHT-LEG JEANS | 2. BLACK BODYSUIT | 3. LEOPARD SLIP-ON SHOES
I got this bodysuit in both the black and the navy and I am obsessed! Truly I cannot reiterate to you guys enough how much I love this thing. I got it in both size medium and small. The black I'm wearing a size medium and in the navy I'm wearing a size small. I just wanted to try the different sizes to see the difference so I can give you guys tips on sizing. To be honest, I don't notice that much of a difference when I'm wearing either one. I guess if you're in between sizes I would recommend sizing down. I'm normally a size medium and right now I feel like maybe I like the fit of the small a little bit better. But honestly I love both so it doesn't even matter.
What I will say is that I feel like going with a smaller size fits the look I'm going for. Because the whole point of this bodysuit is to look like a nicely tucked in t-shirt. Normally bodysuits are fitting – what I love about this one is it gives you that perfect tucked in tee look. I always feel like there's something really classy and expensive about a nice high-waisted jean with a perfectly tucked in t-shirt and I've always wondered how women got that look. Every time I would tuck in one of my t-shirts it would come untucked or end up looking weird. This bodysuit gives you that perfect tucked in look. It honestly could not be softer! It is the softest most amazing material ever! I wish I had 1000 more outfits made out of the exact same material.
Last thing I wanna say quick about the bodysuit is that I have a really long torso and it still works really well for me. So I think you can't go wrong with if you have a long or short torso!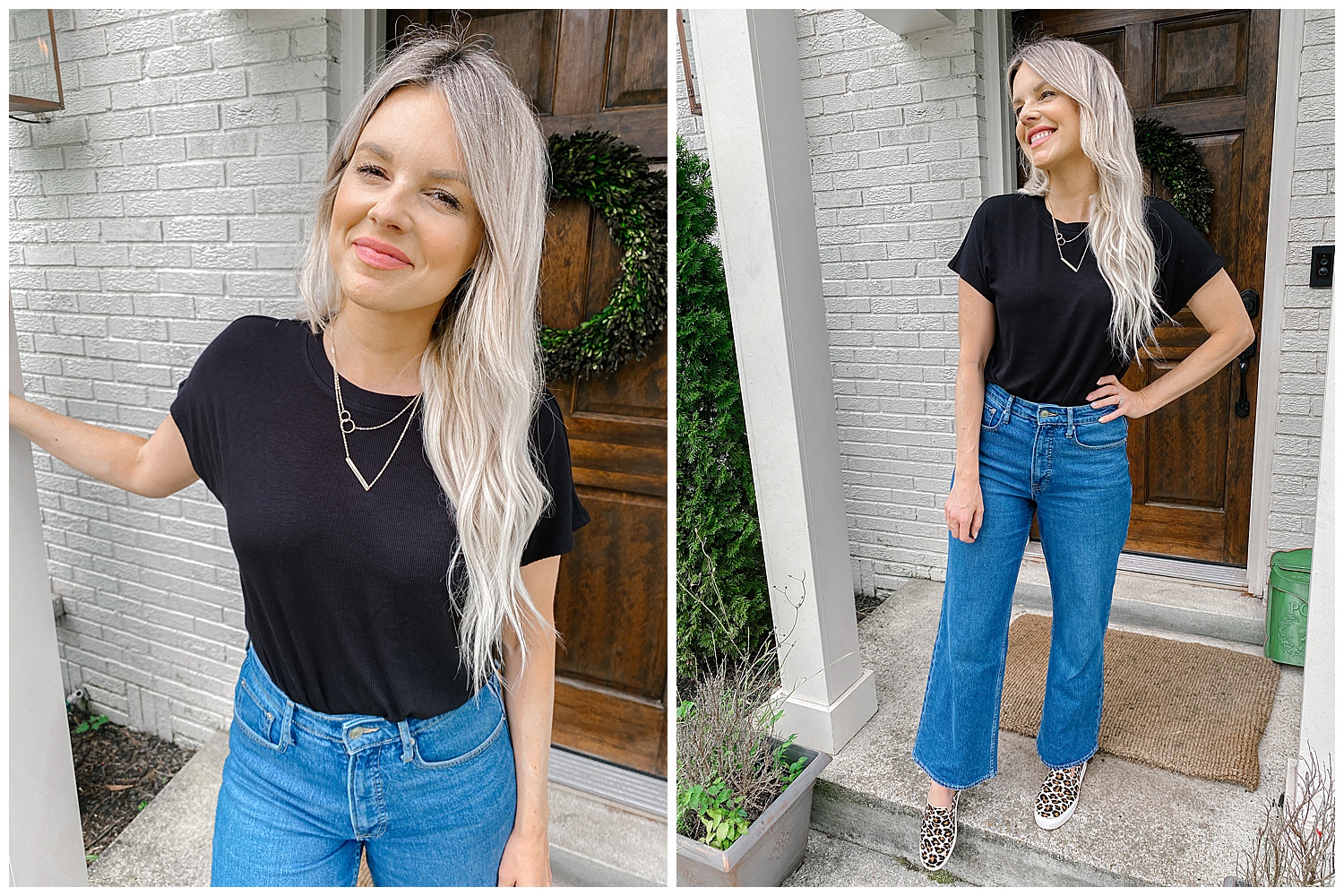 1. STRAIGHT-LEG JEANS | 2. BLACK BODYSUIT | 3. LEOPARD SLIP-ON SHOES
Last but not least for this outfit, oh my gosh! How freaking amazing are these slip-on leopard print shoes. They come in a few other solid prints as well FYI. When I bought them they were only $15 and I thought it was the best deal I could ever possibly get! But I just looked them up so I could link them for this post and now they're only $7 somehow.
I'm wearing a size 7 which is my normal size, but I definitely have some room in them so I almost feel like I could've gone down to a 6, but they fit great as a 7 so I kept them. Plus, the sole is so supportive and squishy. They are the most comfortable shoes ever! I think I'm gonna get them in the white as well because I just think they're so perfect for quickly slipping on as you run out the door. Seriously get these shoes, you will not be disappointed. I bet this will be one of the first things to sell out in this post.
Cozy for Fall
For look three, I LOVE this thermal top. Normally thermal tops have a more fitted look and I own a few of those as well, but what I absolutely love about this thermal/waffle top is that it's got a more boxy fit. Plus, it's only $11! Don't let the term 'boxy' scare you away. I feel like in the past a lot of people steered away from that look, at least I know I did. But it's so on trend now and I think super flattering when you do a half tuck in the front. I would not like this top nearly as much if it was fitted. The boxy shirt is what makes it! I love it so much and I know it's gonna be one of my go-to shirts all season long. Especially because you can dress it up with different necklaces or scarves throughout the season.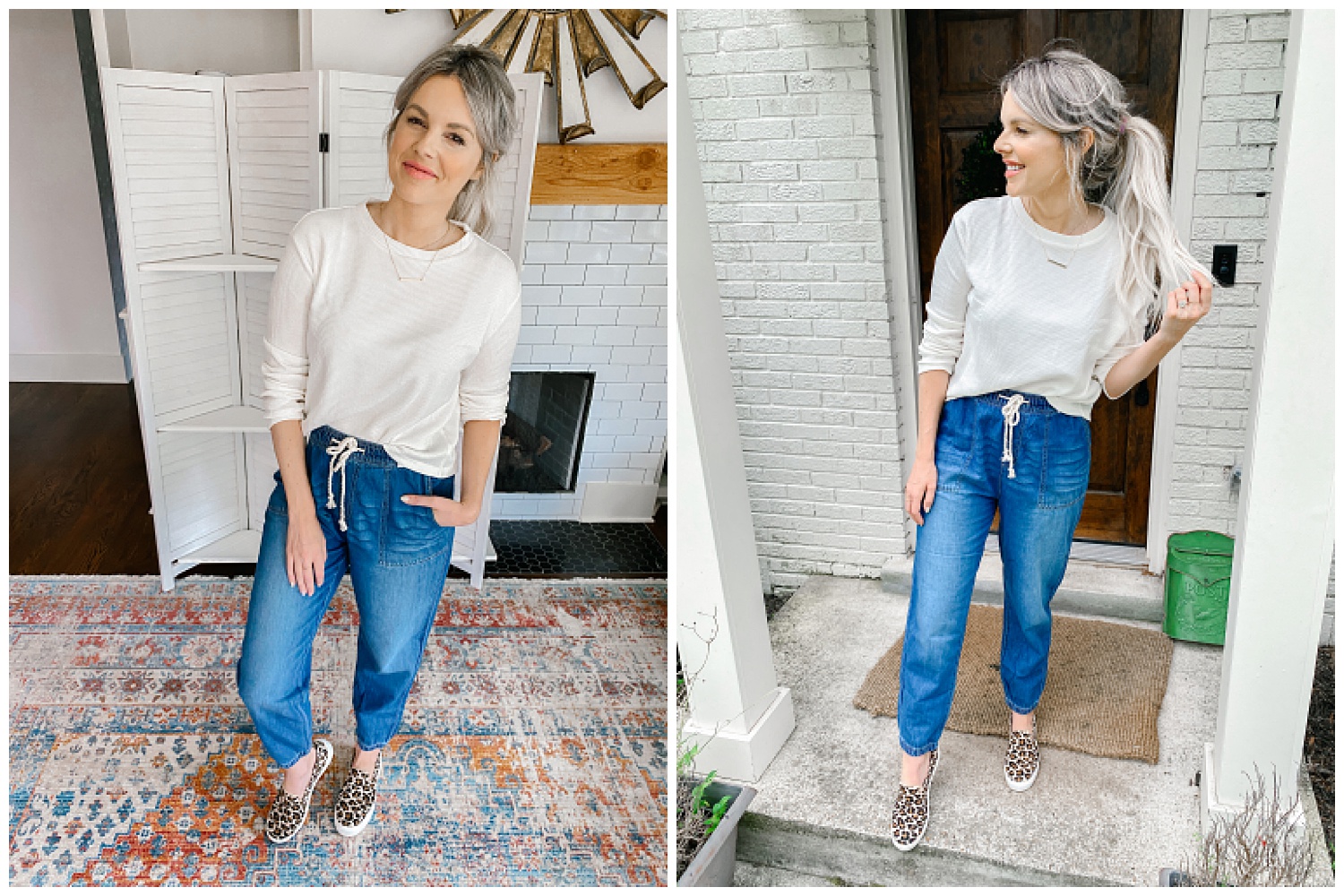 1. THERMAL TOP | 2. JOGGERS | 3. SLIP-ON SNEAKERS
I decided to style the top with these joggers – they're only $14! I chose them because I'm able to wear them when I want the look of jeans but the feel of loungewear. I feel like with many people avoiding jeans over the last year and a half these would be a good transition back to wearing denim. Ha! They're high-waisted which I love. So they're great to wear with any cropped shirts you may have or really any top in general. I feel like I'll wear these a lot this fall when I run out the door to get my kids to school and I want to look half put together in the car line.
Style these with a white tee or top like I'm wearing and then slip on my leopard print shoes and I feel like that's a pretty cute little outfit! I'm wearing a size medium in the joggers which is my normal size. Unfortunately these are out of stock in a couple sizes so I highly recommend getting them now before they completely sell out.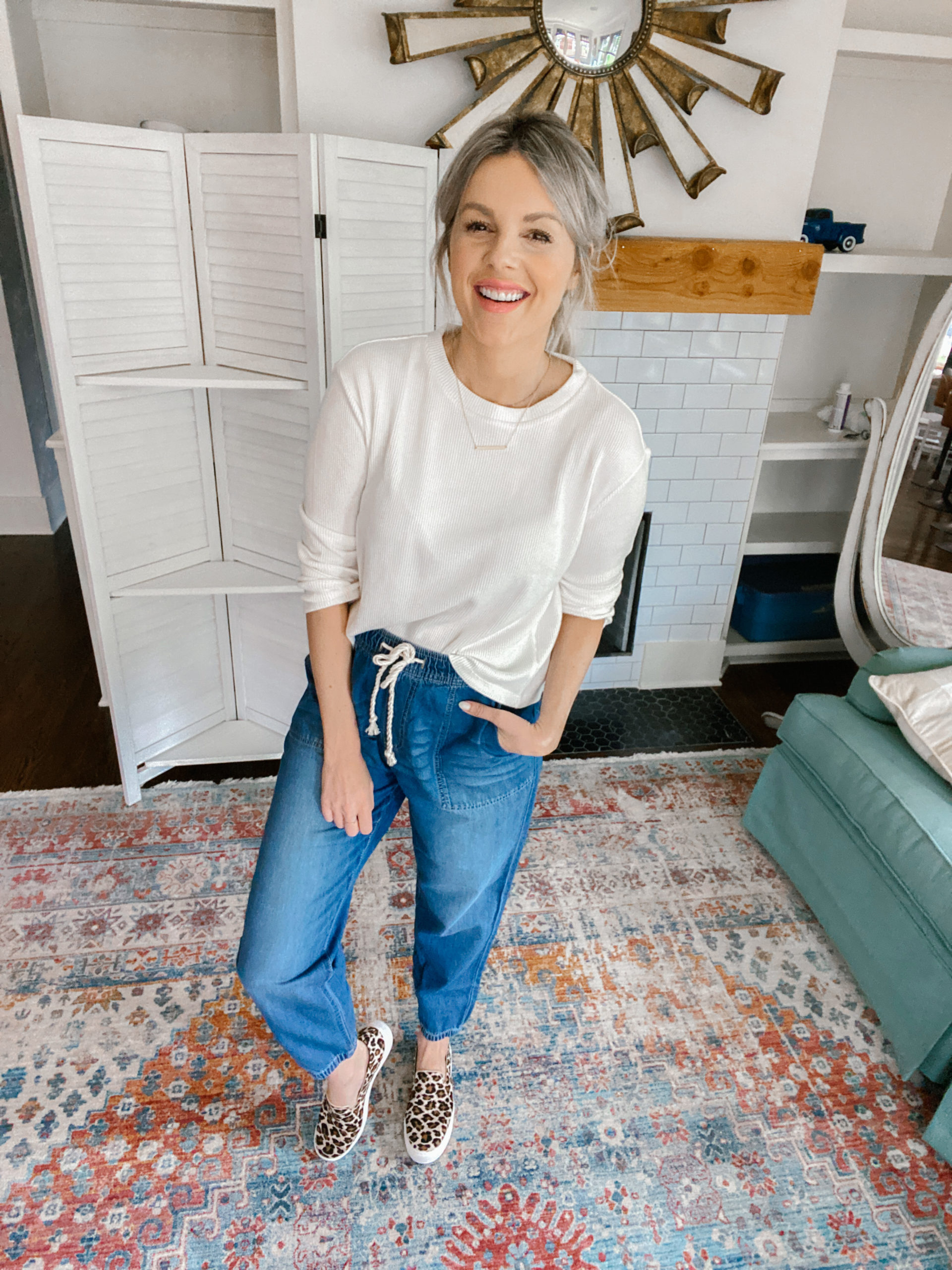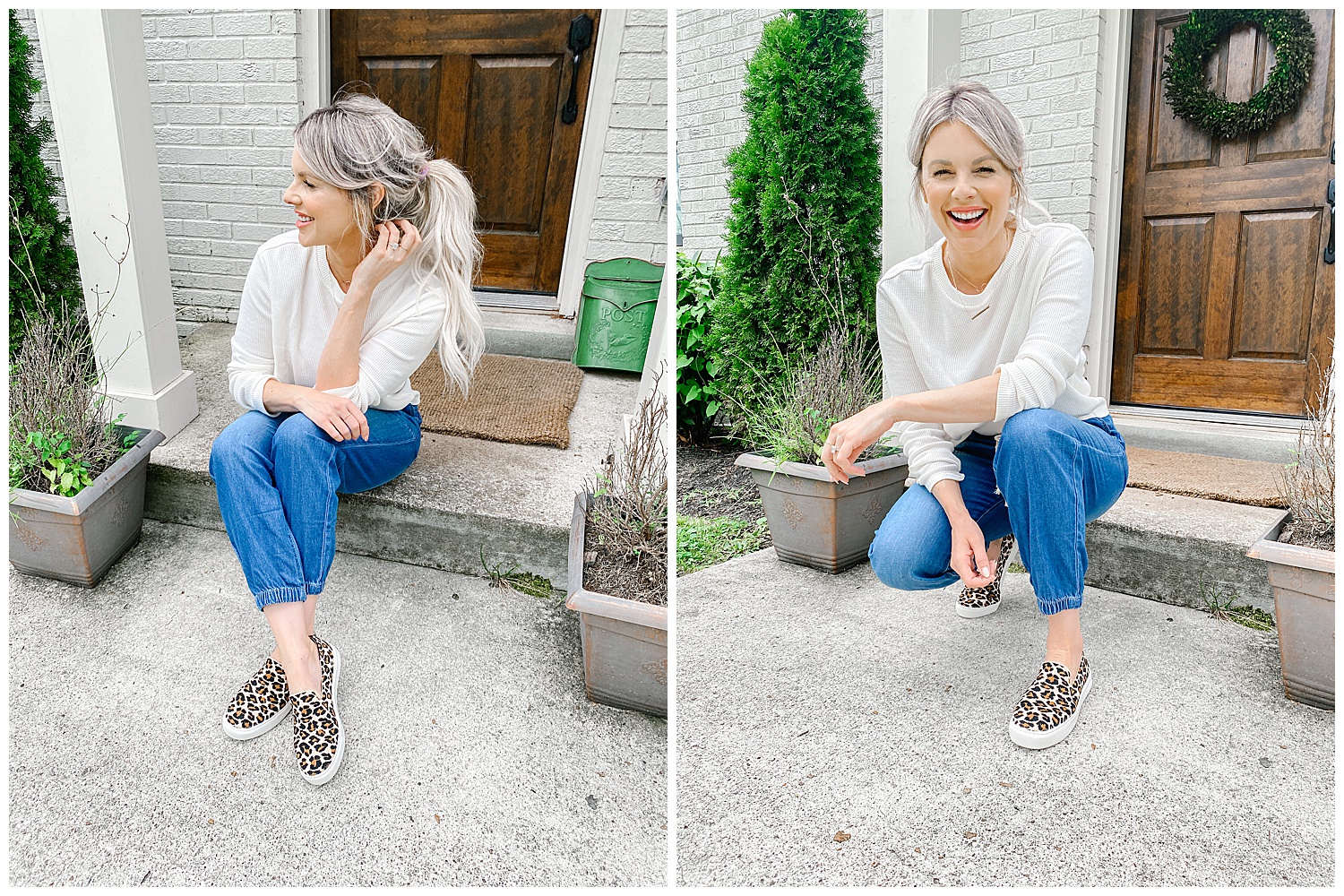 1. THERMAL TOP | 2. JOGGERS | 3. SLIP-ON SNEAKERS
$14 Dress!
I want to share a dress in this post because I've gotten some feedback from some of you that you really love when I include dresses in my Affordable Friday posts. This one is only $14, so it's definitely super affordable. I'm wearing a size medium which is my normal size, but I will say that I could've maybe sized up in this one. Only because it's junior sizing and I usually do size up in the junior stuff.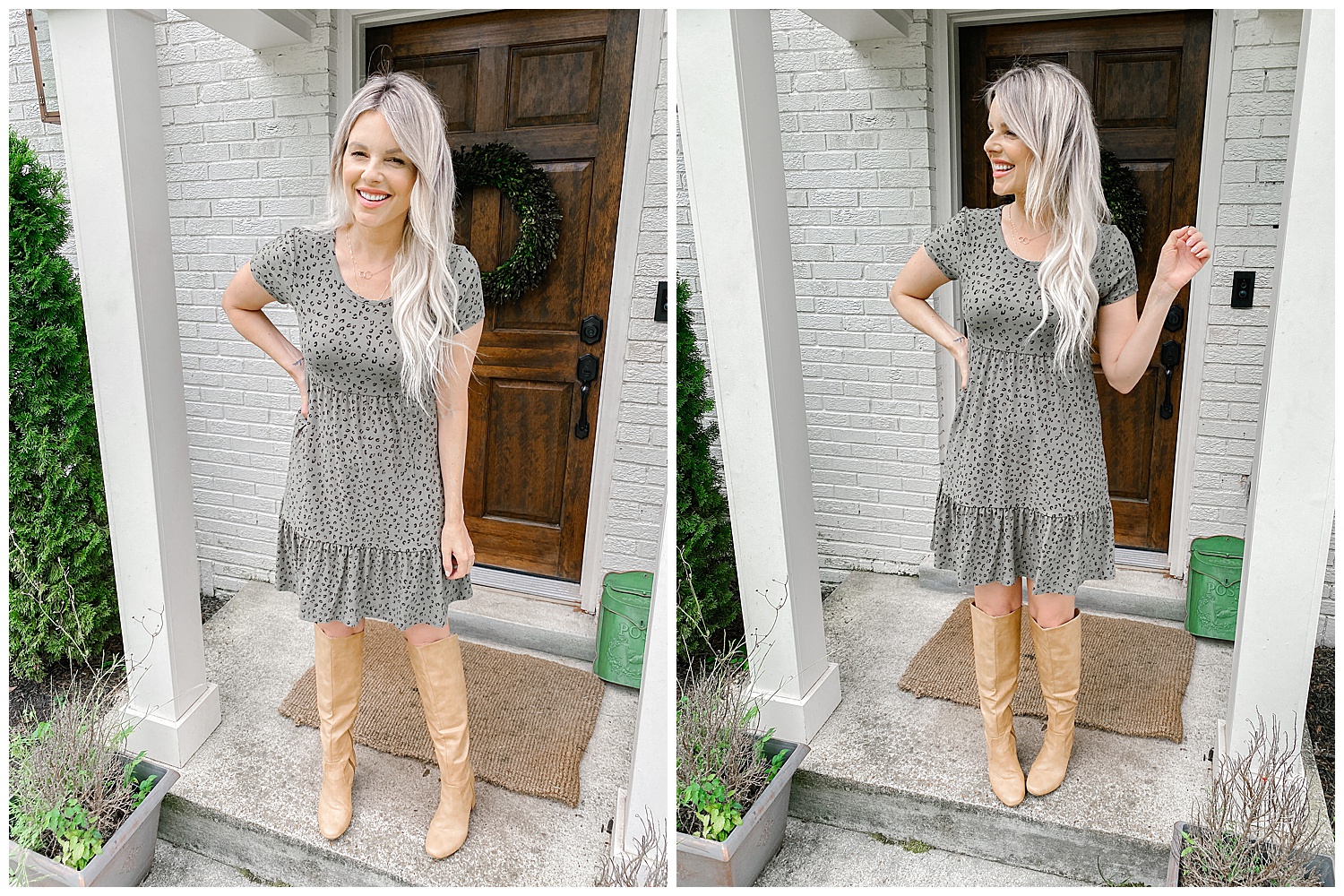 1. $14 DRESS
This dress could not be softer! Seriously it's going to feel like you're wearing a cloud or something, and it's got a ton of stretch. So even though the arms are a little fitted, they are super stretchy. I love this print, I think it's great for fall. The dress can easily be worn while it's still warm out right now in the summer and then transition to fall with booties in a cardigan or over-the-knee boots like I have on these photos. I'll also link a similar pair of boots like the ones I'm wearing so you guys can get the full look.
White Tee
I've had this white T-shirt for quite a while now. Maybe a year or even and I feel like it's looks pretty dang new. Plus the fact that it's under nine dollars makes it pretty dang affordable in my book. It's a boyfriend T-shirt. Which means it's got a little bit more of a boxy cut. But like I said earlier in this blog that's really the sale right now and it really is super flattering if you just do a half tuck in the front. And I just wanted to include it in this post because I happen to be wearing this outfit the day that Molly told me she want to take my affordable Friday pictures. I'm not even kidding you she loves taking these! She goes and picks out whatever she wants for my closet and we take the pics. Her outfit today is pretty special. Ha! And if you were to buy my entire outfit you could get the entire thing for under $45 which is pretty incredible! To be able to get a really cute top jeans and shoes for under $45 is a major win in my book!
Bonus: Versatile Top!
This isn't really a complete look, but I really wanted to link this top because I feel like it will be so flattering for so many different body types. When I ordered it, I didn't see sizing and I still don't see you sizing, so I just figured it was a one size fits all, but when I got it in the mail it does have a tag on it saying it's a L/XL. Honestly I have no idea why there is sizing on it at all because I really do feel like it's a one size fits all because of the way the shirt ties up. I feel like this is the absolute perfect shirt to transition from summer to fall.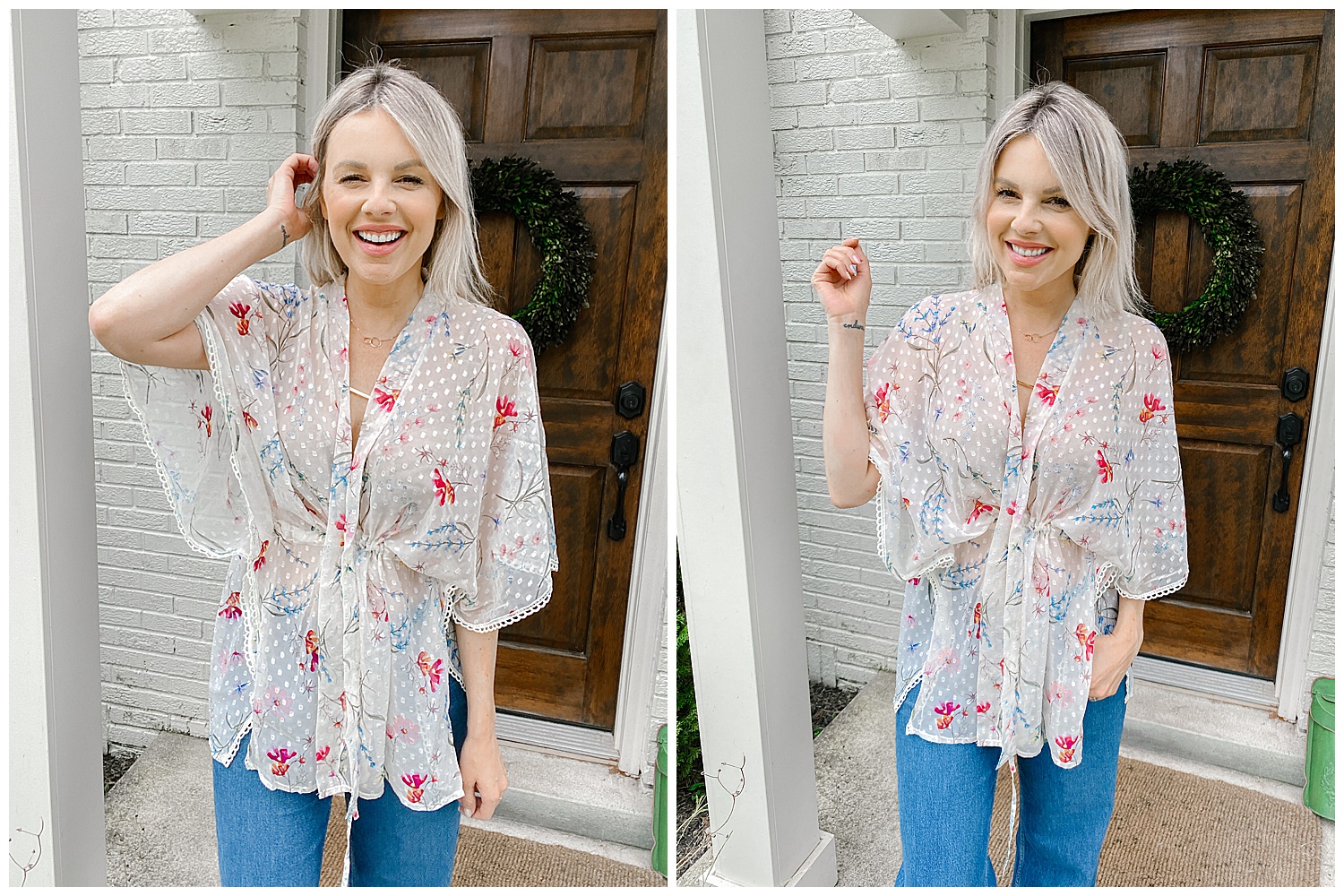 1. VERSATILE TOP | 2. JOGGERS
First it's gorgeous. Seriously when you get it and you see have a little details like the polkadots all throughout the sheer material and then the lace trimming along the sleeves you're just gonna be blown away. I truly don't know how this is only $17. But then you will see how it could fit all different body types. Seriously this could fit someone who is a size small and someone who is an size XXL. In the same breath I feel like I could see someone in their 20s wearing this and someone in their 70s. It's just so versatile. I love the very wide arm because I feel like it's perfect for anyone out there who likes to be cool in the hot summer months and warmer start of fall, but also cover their arms. I for one usually like to have my arms a little covered for multiple reasons and I just think this top so great.
Thank you!
Well that's all I've got for affordable Friday today. I hope you guys love this post as much as I do. And don't say away from the basics! I know sometimes they're not the most fun things to buy when you're looking at them online but I promise you you will love your wardrobe so much more if you have solid basics that you love. It took me a long time to figure that out but once I did it's just change the way I look at my clothes every day.