Before you read my blog today, seriously check out Walmart's Wow and Now page! It's all about items that are on trend for really good prices, seriously insane prices! I'm ordering a bunch of stuff for our house from there because I am just blown away at the how cute and affordable everything is! There are so many great items for home decor and stuff to celebrate the end of summer. If you have older kiddos, there are also perfect things for back-to-school and sending your kids off to college!
I am so excited to bring you an Affordable Friday – Home Decor Edition! You guys know I've been pretty bummed about the fact that the move-in date for our new home has been delayed multiple times. I know there are so many worse things in the world, but it's still a bummer. So I've been trying to distract myself and get excited for the move by buying some home decor pieces that are not only beautiful, but of course affordable! Oh and just wanted to note that I took these photos a few weeks ago before all my shingles and nerve pain started, but wanted to get this posted for you all today so items don't sell out!
Kitchen Decor and Servingware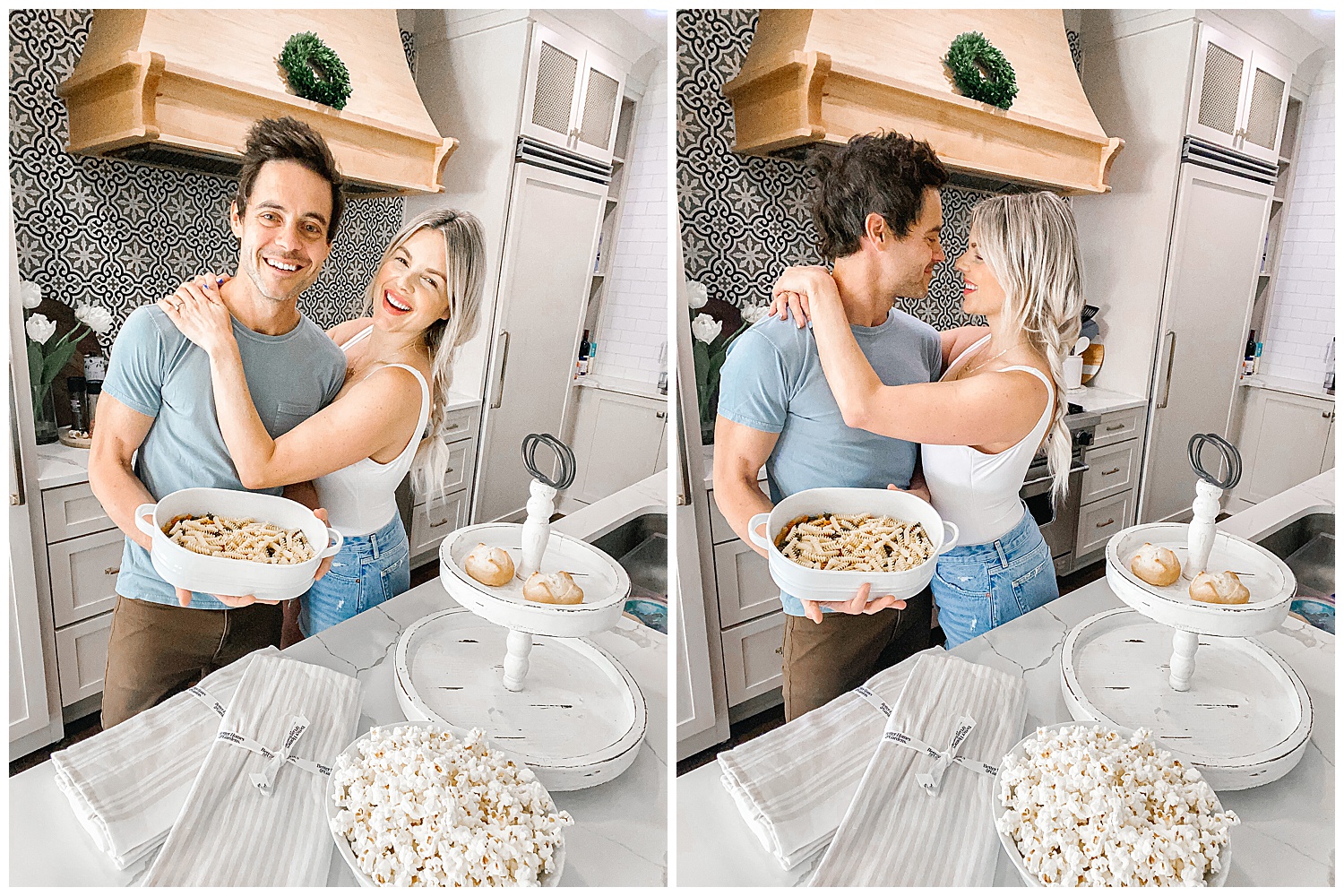 1. PORCELAIN BAKEWARE SERVING DISH | 2. TIERED STAND | 3. PORCELAIN SERVING BOWL | 4. DISH TOWELS
Let's get into it! Starting with this absolutely stunning porcelain bakeware serving dish from Better Homes & Gardens. In fact Better Homes & Gardens has a bunch of gorgeous items on Walmart site. I highly recommend you guys checking them out. I'm gonna link a bunch of my favorites below, but seriously just go to their page here and check out everything they have to offer.
What I love so much about this dish is that it has the most beautiful ridge details on the around the sides and it has that perfect farmhouse luck! I just keep thinking about it on my Thanksgiving table in our new home and it seriously makes me giddy! Seriously snag one of these – you'll be so happy you did. It has almost 100 5 star reviews on Walmart site, so I'm not the only one who loves it. The quality will blow you away and it's only $17! One of my favorite kitchen purchases ever!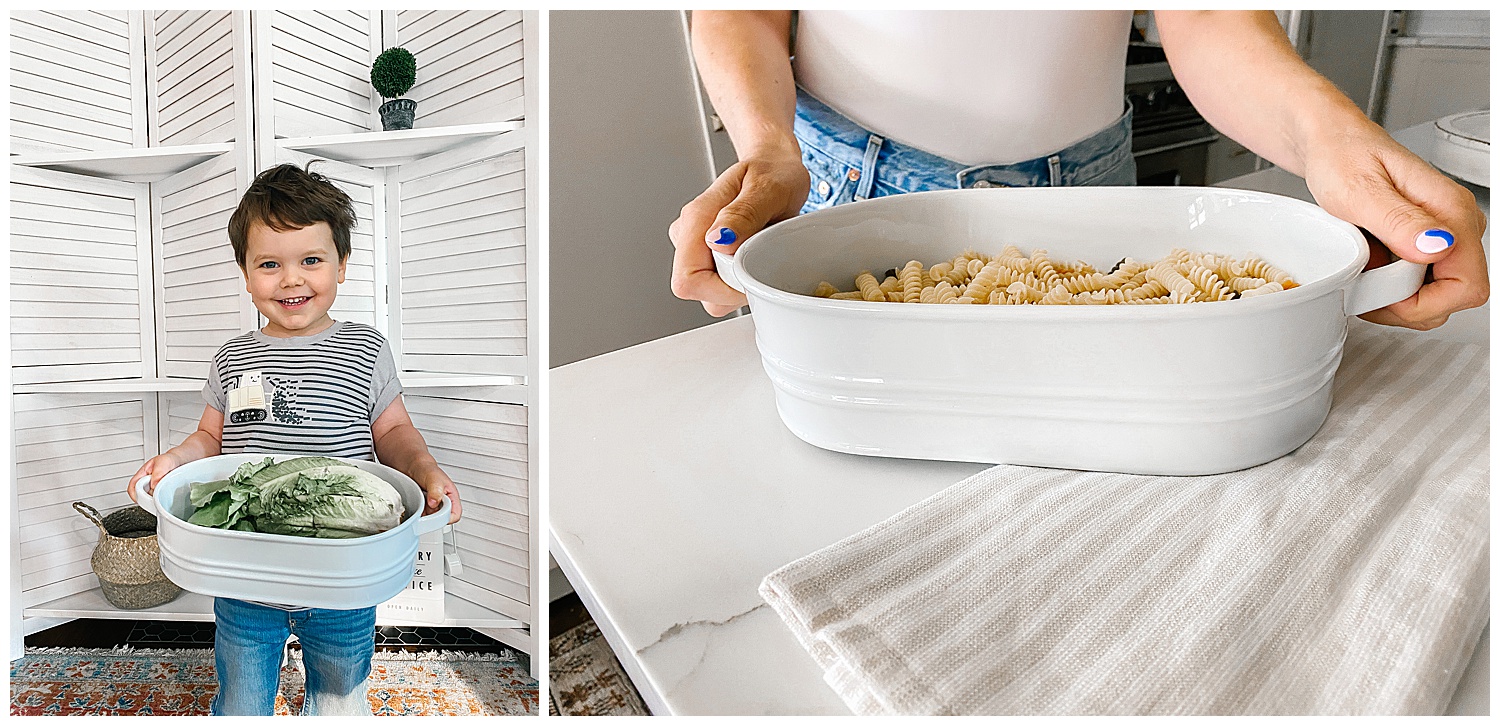 1. PORCELAIN BAKEWARE SERVING DISH |
Speaking of items for the kitchen, I also have to talk about this gorgeous porcelain serving bowl. First, can we talk about the fact that it's only $9.88. Like seriously, how?! It matches beautifully with the bakeware serve dish above and I actually ended up getting a few of them because I like the idea of having matching bowls when I'm serving my guests. I also feel like this will be a beautiful bowl to put a few fruit in on your kitchen counter or breakfast nook. Again, if you look at the ratings there are over 50 ratings and the average rating is 4.7 stars out of 5.
I've also come to believe that you can never have too many dish towels. My husband uses about a dozen a day so I think I'm getting that from him. I absolutely love this set and it's only $6.97 for three of them. The colors are just really pretty and would be gorgeous hanging from your oven handle or to decorate the table when serving.
Room Divider
This next item is a little bit more expensive than I tend to link on Affordable Fridays, but I feel like the amount of things you could use this for make it worth every penny and it's one of the most beautiful AND functional room dividers I've seen.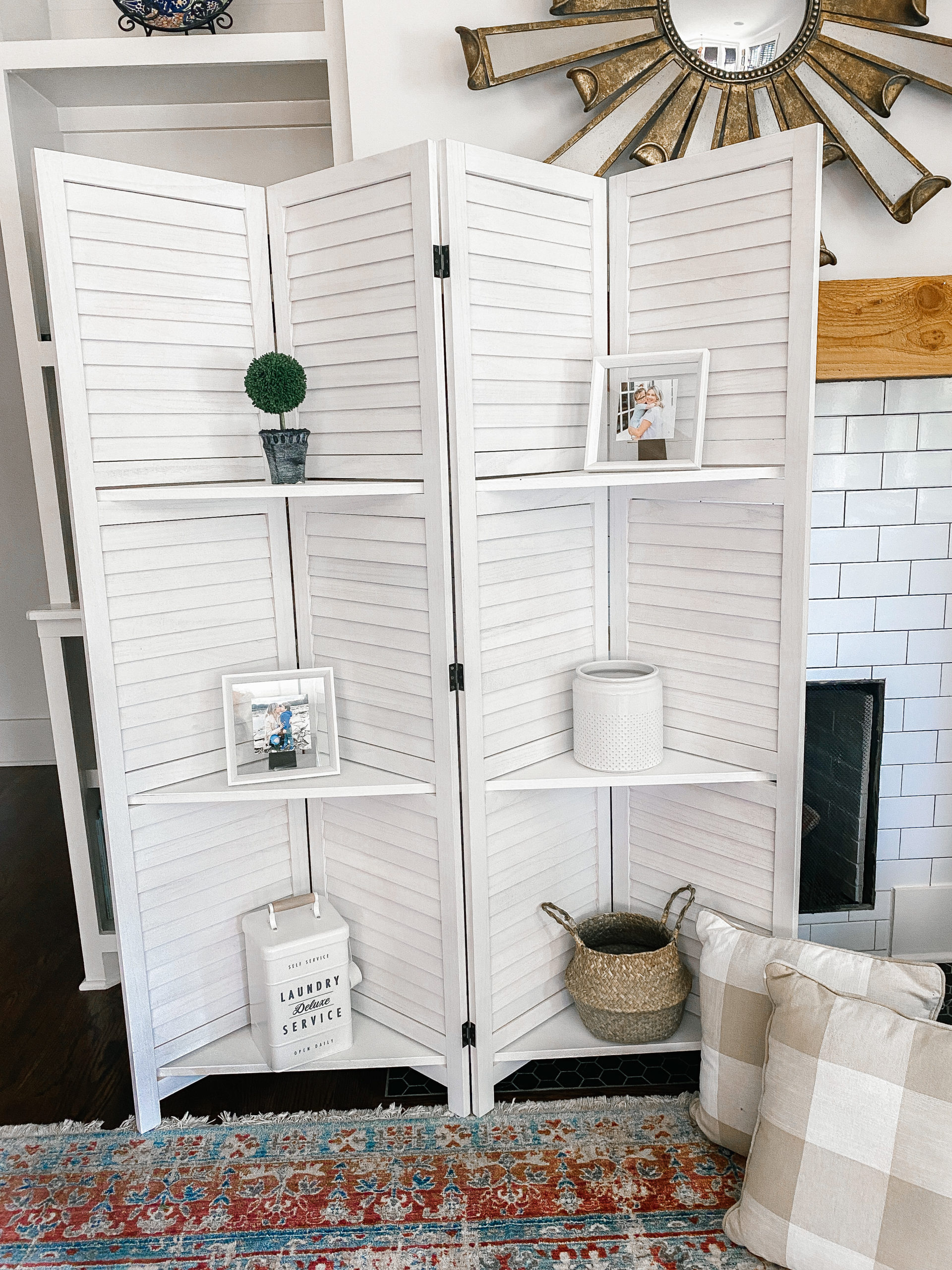 1. ROOM DIVIDER | 2. SEAGRASS BASKET | 3. LAUNDRY BUCKET | 4. TOPIARY | 5. UTENSIL HOLDER | 6. PLAID PILLOWS
I was looking for one for multiple reasons. I for one always feel like when you take photos of your kiddos with a lighter background you can really make them pop, especially when I am using my presets, so I wanted something for a rental house where I could take pictures of them in front of. This might not be a use for everybody, but it definitely was for me. I also wanted to get a decorative piece for a nook in our new house and this really is just perfect.
At first I thought about putting a sitting chair, but who really sits in a random corner of the house! So instead I decided to do this room divider and put little plants and other items I want to display that are important to me like photos or other things because this room divider comes with shelves!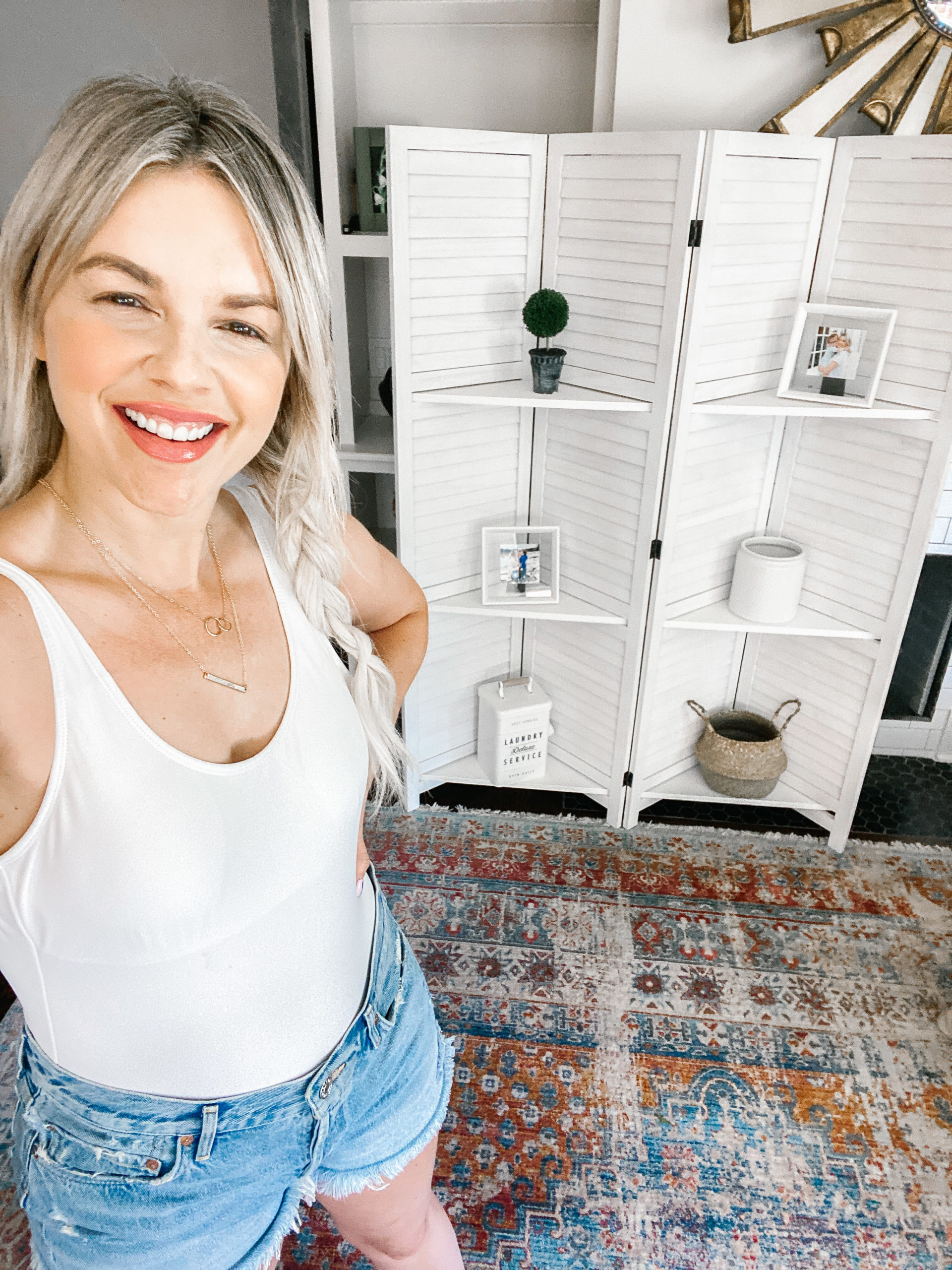 1. ROOM DIVIDER | 2. SEAGRASS BASKET | 3. LAUNDRY BUCKET | 4. TOPIARY | 5. UTENSIL HOLDER | 6. PLAID PILLOWS
Above you will see what I've started to do with it since it's arrival! I am still deciding exactly how I want to style each of the shelves. The little seagrass woven basket is so cute and I absolutely love it! Not to mention that it was only $10! I do want to note that it appears bigger in the photo on the Walmart website and is smaller than it appears. You've seen the laundry service tin in on of my other posts, but when this room divider came in I decided to move it! As a reminder, it's only $9! You've seen the utensil jar in my kitchen, but I decided to try it out on the shelves and turn it around. I am really liking it there! What do you think? I mean for only $10, it's a pretty great piece for either the kitchen or on a shelf like this!
I also added that little topiary up top because I love the height it gives and just think it is so adorable. This isn't the exact one, but this 3-pack is great! One could go on a shelf, one in your bathroom, one in the kitchen! Or you could style them together. I think they are also slightly taller than mine which I really like. Also, you'll see above in the first picture of the divider, that I added some of my plaid pillows, which you have seen before! It looks like stock is low in this exact color, but there are others available! For $5, you just really can't go wrong adding these to your home, or even to put outside one on a little rocking chair or something! So cute!
I've just never seen anything like this room divider and I just think it's really cool. Plus, if you read the reviews so many people say that it's super sturdy and won't fall over like a lot of other room dividers. I also think this could be perfect for people who are still working at home and want a little extra privacy, especially if their work area is in high traffic area of the home.
My Outfit!
Last but not least, of course I'm gonna leave you with info about what I am wearing! Some of you might think this is a bodysuit, but it's actually a swimsuit. You might recognize the swimsuit – I also have one in hot pink because I'm so obsessed with it. I got a size medium in the hot pink and couldn't decide if it was a tiny bit snug, so I decided to get both sizes in the white and see what worked better for me. I almost thought I was gonna stick with the large but ultimately went with the medium because I liked that it's not loose anywhere! It sucks everything in and even gives my booty a little left in the back. The large was a tad bit loose in my bust area just because I don't have big boobs, so if you have bigger boobs then sizing up is probably the way to go!  I'm obsessed with it for only $12.

 1. WHITE SWIMSUIT | 2. PLUS SIZE WHITE SWIMSUIT
Honestly I'd pay $50 for it because I like it so much! You know I love something when I buy it in multiple colors. It also comes in plus sizes, so you can check those out too! But keep in mind this is junior sizing. This brand, No Boundaries, is for young adults so if you're normally a medium, you might wanna get a large this and if you are normally a large, you might want to get a 1X and so on and so forth.
A Little Bonus Item
I also linked this little elephant succulent because it's a great gift to give to anybody who's moving into a dorm room or a new home or apartment! In some cultures, an elephants trunk pointing up is good luck and gives good energy, prosperity and kindness to the space. My friend Mith from Sri Lanka has given me one multiple times when I moved into a new place. This one is just so cute!

And make sure you check out their arts and crafts for end of summer fun for your kiddos! I got Molly this crystal tie-dye set. We are going to do it this weekend. Adding other fun activities we got the kids below.

Thank you!
I can't thank you all enough for you support lately – it truly means so much! Thank you for also being here and reading my blog! I love finding you the best most affordable pieces for these Affordable Fridays, and it always makes me so happy to read how much you love it too! Is there anything you want me to focus on for future Affordable Friday posts? Any certain product types that I can look for for you? Let me know in the comments below!
And thank you Walmart for being a long time sponsor of this blog!