Ah, you know how much I love the NSale (the Nordstrom Anniversary sale!!) every single year. I mean what's not to love when I can get items that I already love or have been wanting for such discounted prices. The sale is open now to cardholders and will be opening to the general public on July 28th! I just wanted to make sure to share this now as I know sometimes items sell out quickly. If you don't have a card come back on July 28th!
I know a lot of you like to shop on your computers, so I wanted to make this really easy by sharing links here too. All you have to do is hover your cursor over the photo of all the items and click on the item you are interested in. It will take you right to that page to shop! For example, below, if I wanted to shop the Barefoot Dreams blanket, just put your mouse over that picture and click on it!
FOR HER

 1. LEOPARD SNEAKERS | 2. JEWELRY ZIP CASE | 3. MOONLIGHT PAJAMAS | 4. JOANNA HAT | 5. PUFF SLEEVE TOP | 6. CHARLOTTE TILBURY LIPGLOSS SET | 7. CHAIN LINK BRACELET | 8. CEDAR BOOTIE | 9. BAREFOOT DREAMS BLANKET | 10. FELLOW KETTLE | 11. FREE PEOPLE SWEATER | 12. PENDANT NECKLACE
Seriously snatch this hat before it's gone! I've had another version of this exact hat. It's basically the same except the band around it is black instead of the pretty taupe color of this one. I love this hat so much and I've had it for years as you can see from all these photos. The photo of me in the flower field was taken when I had short hair, so you know that was years ago! It's on sale for $20 off! I got it in the lighter color, but I'm kind of tempted to get it in the darker color too because I love this hat so much. It's legit only one of two hats I really wear because I love it so much.
By the way, my head is 23 1/2 inches in circumference. I currently own the size medium and that's what I ordered again this time. I do want to say though, it is just on the verge of being too tight. I almost went with a large for the new color, but I like the medium because it sticks on my head better when there's wind and I want to secure to my head! That way it's not flying all over the place. It comes in size extra small to large.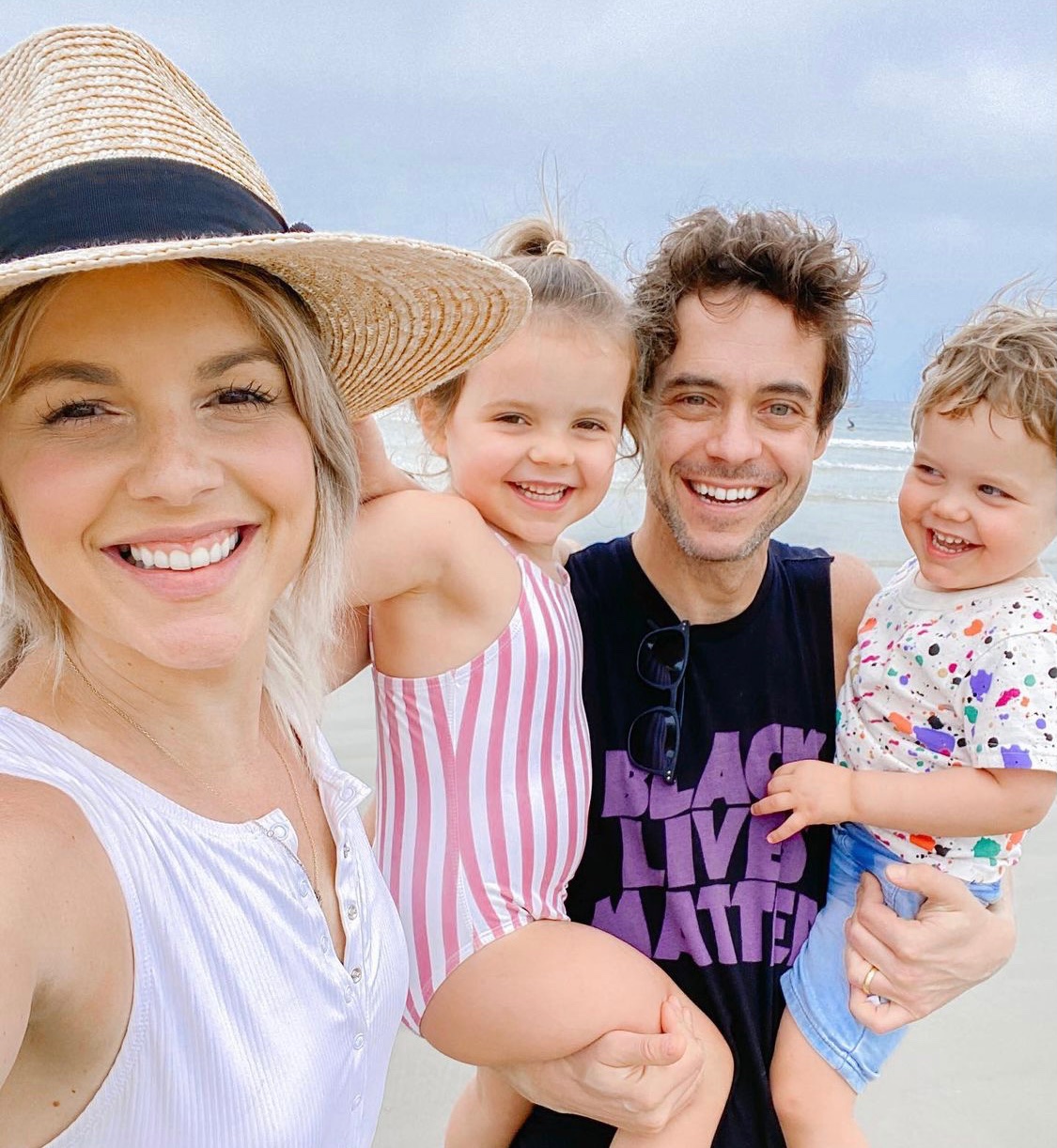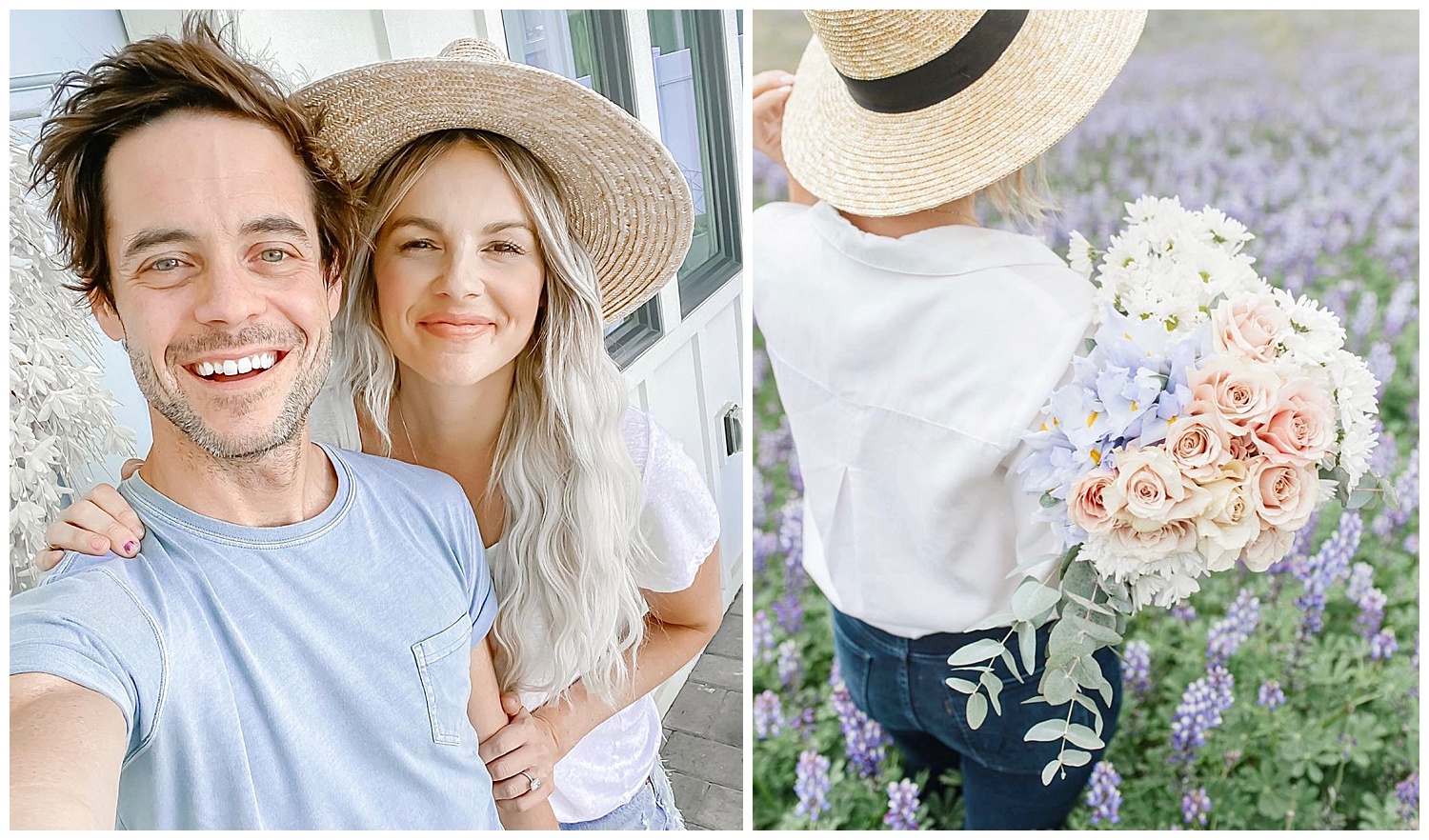 I also think these sneakers are just so fun and I love the neutral colors!

I am always down for a cute comfy pair of PJs. You cannot beat these at only $42.  I'm sure you guys recognize these pajamas because I wear them all the time. In fact here's a picture of me wearing them when I gave birth to Riley in the hospital. That's how silky soft they are! I didn't want anything else touching my body after I gave birth except for these PJs. They're also super stretchy in the best way, so they were really comfortable for me after giving birth. They have a tie string so that I can wear them post birth/baby as well. I still wear them to this day!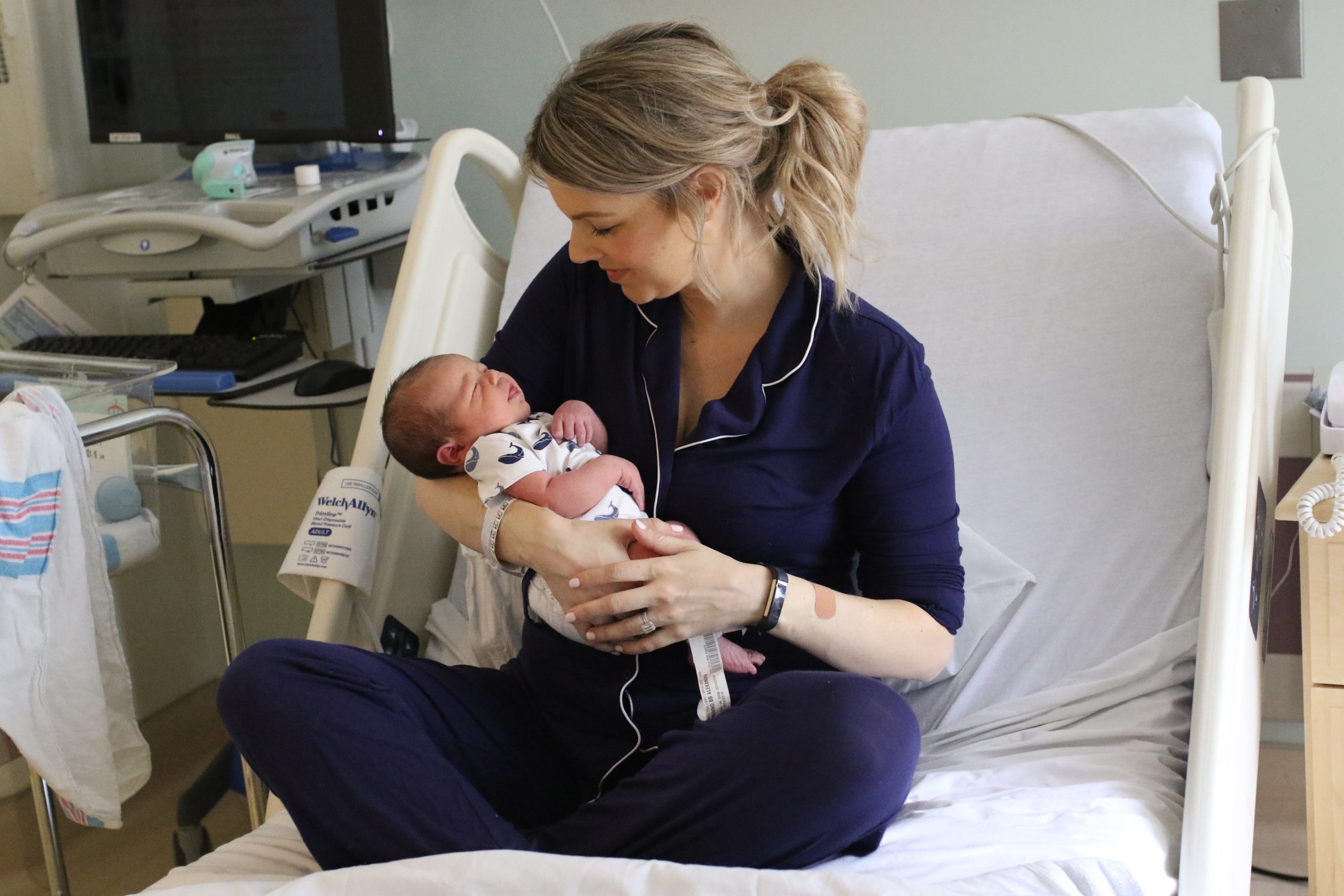 This is me today. These PJ's have held up for THREE YEARS and they are cozy as EVER! Ignore my dirty closet and mirror.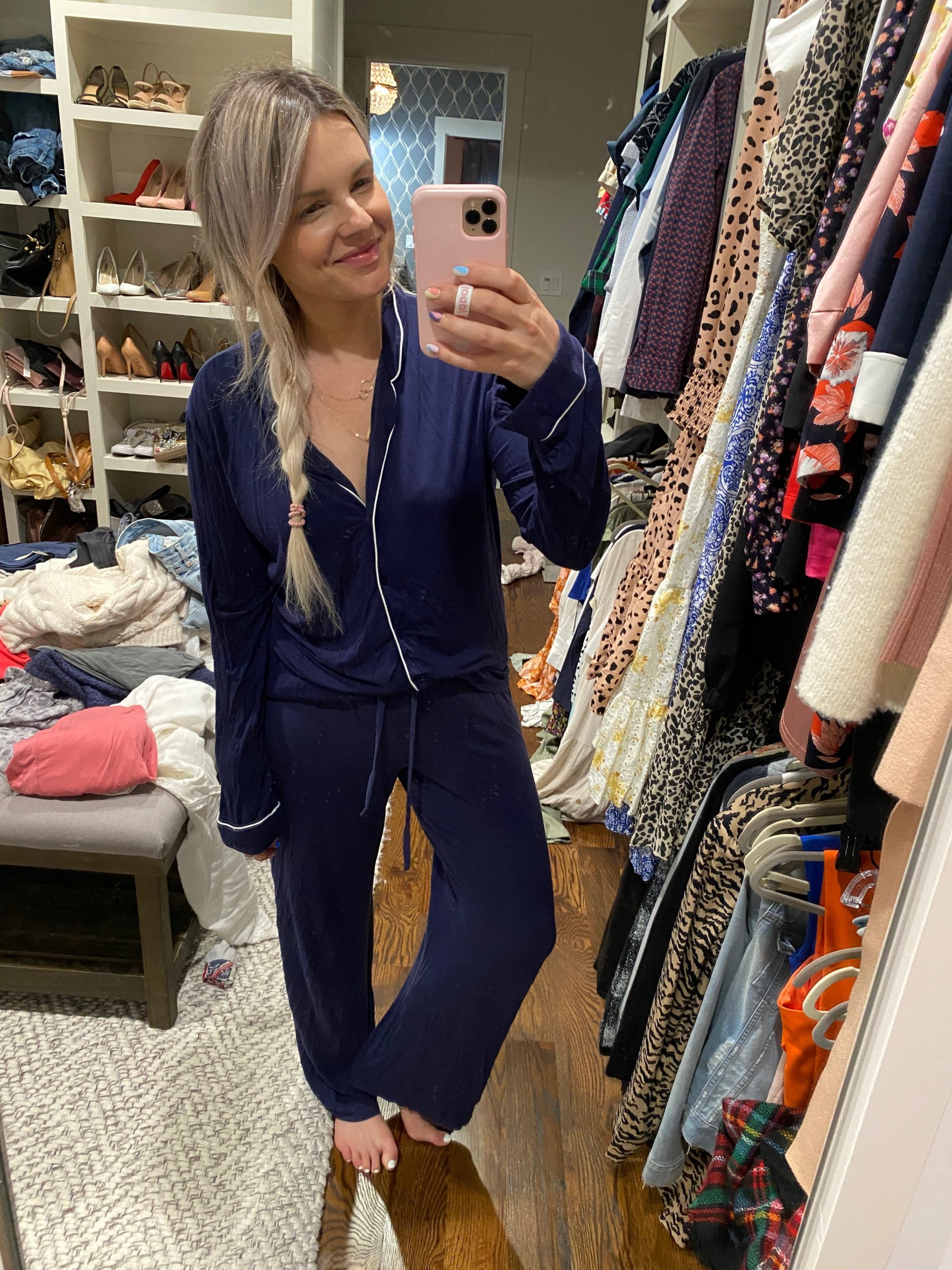 You guys also know I love a good white top. This one just kind of takes that basic white tee and elevates it with the feminine sleeve! I plan on wearing this tucked into high waisted jeans. I don't love it on the model, but I think with a high-waisted pair of jeans and tucked in it would be so so so gorgeous! Or high-waisted black pants with a red lip and pearl earrings for an event.

The last thing that I want to mention from the 'for her' category is this monogram necklace. I swear almost every girl in Nashville has this exact necklace. I first saw it on my hairstylist. Not only was she wearing it but her colleague was and so was another girl in the salon. So I've been wanting to get one, but was waiting to find one on sale and this is such a good price!

FOR HIM

 1. CREWNECK TEE | 2. CONVERTIBLE DUFFLE BAG | 3. JOGGER PANTS | 4. APRON | 5. TOMMY JOHN TRUNKS | 6. BONOBOS SHORTS | 7. NIKE FLYKNIT RUNNING SHOE | 8. KIEHL'S CLEANSING MASK
The perfect time to get your husband a little something or start the holiday shopping. I know that might seem crazy since it's July, but can you start too early? I'm trying to be better about buying gifts ahead of time! I love the simplicity of this crewneck tee and it looks so comfortable! It comes in small through XXXL, and 8 different colors.

Also, you might have seen Kevin on my stories recently showing off his underwear (never thought I'd say that!), but some of the Tommy John styles are included as apart of the NSale! I ordered some to save and add to Kevin's stocking, ha! Told you, trying to get ahead of my shopping this year!

FOR KIDS

 1. GOLD BOOTIE | 2. TROPICAL SHORT SLEEVE | 3. SHARK PAJAMAS | 4. LITTLE GIRAFFE BABY BLANKET | 5. 2-PIECE TIGER OUTFIT | 6. CONVERSE | 7. HEATHERED T-SHIRT | 8. PINK PRINT ROMPER | 9. STROLLER | 10. PINK WINK SWEATER | 11. HIKING BOOT
For the kids category, I had to include this shark jumpsuit! As soon as Riley saw it on my computer screen, he started jumping up and down saying that he had to have the shark outfit! He's obsessed with sharks. Also, oh my gosh I can't get over these little boots for fall. There for ages 4 to 12, so he's a little young for them, but I figure if they don't fit him this fall they will next fall. I also think they are a great unisex boot, especially if you were going on a camping trip or hiking!

I also had to share this lightweight stroller for any expecting mom's, especially those who travel a lot or live in a city. This compact stroller is almost $100 off! And it has some pretty incredible reviews so wanted to share.

Happy Shopping!
There is seriously so much included in the sale this year, but this is just a roundup of some amazing items that I found! I'd love to hear if you get anything or have any other suggestions of items you find that you think I might like!
Also, just a note that this is not sponsored, but I may make a small commission from your purchase. Just want to be transparent!