Happy Affordable Friday! Even though it's not Friday. Ha! Sometimes I just get so excited with these posts that I can't wait until Friday and I just post them early. Also, I just worry that things are gonna sell out since that tends to happen with these items since they're so great and such amazing prices!
Swimsuits
I'm starting the blog with swimsuits today because I am so completely obsessed with this swimsuit! I got this hot pink one because I think it's so fun but it sold out in most sizes. Ugh! But fully in stock in plus sizes! But don't worry it's available and fully in stock in a BUNCH of other colors linked below! I ordered a size medium which is my normal size and it fits great. Maybe a smidge snug, so if you are in between sizes, size up! It's funny when I wrote this blog post yesterday I said that I thought this would sell out fast and when I checked this morning it's already almost out in all sizes. I am so bummed! I'm also going to link it in other colors below because I just think it's so great and I love the other colors too. It also comes in plus sizes so I made sure to link some of those below as well. I mean at $12, how could you not get this?!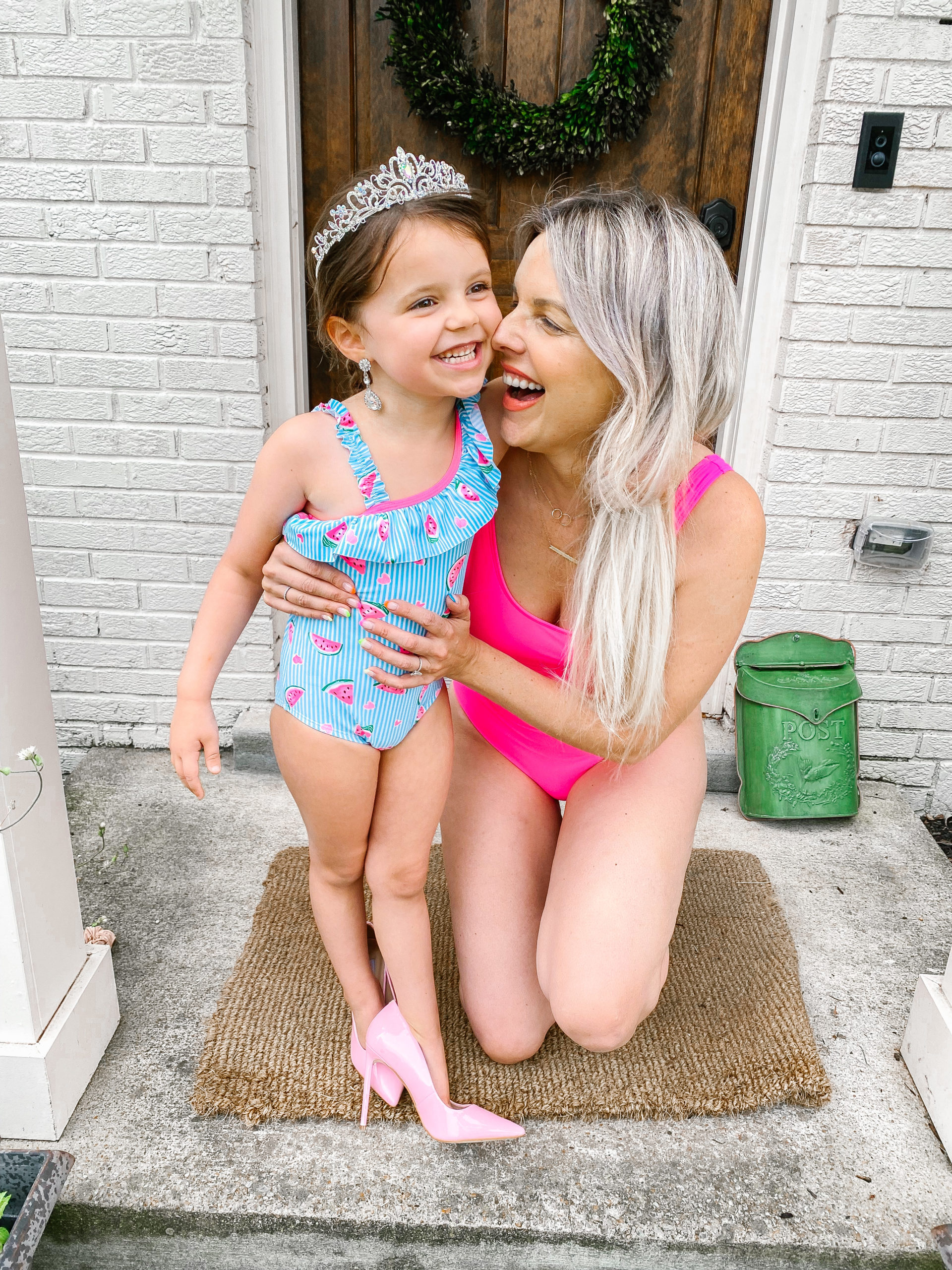 1. PINK SWIMSUIT | 2. PLUS SIZE PINK SWIMSUIT | 3. WATERMELON SWIMSUIT
Even if your desired color isn't available, get the swimsuit in one of the colors that is available in your size. It is insanely flattering. I haven't been feeling super confident lately because I put on some weight, but I feel like 1 million bucks in the suit. I honestly might get it in the white as well just because it's so affordable.

One more thing, I feel like if you get this suit in the red you're going to have major Baywatch vibes and look super hot! I'm gonna say it one last time because I feel so passionately about how amazing the suit is – get it now! Walmart has the absolute bestreturn policy so if for some reason you don't love it, you can easily return it. Sadly it looks like most of the blue, black and pink are very limited in sizes, but the red, white, and neon yellow are all fully in stock and fabulous!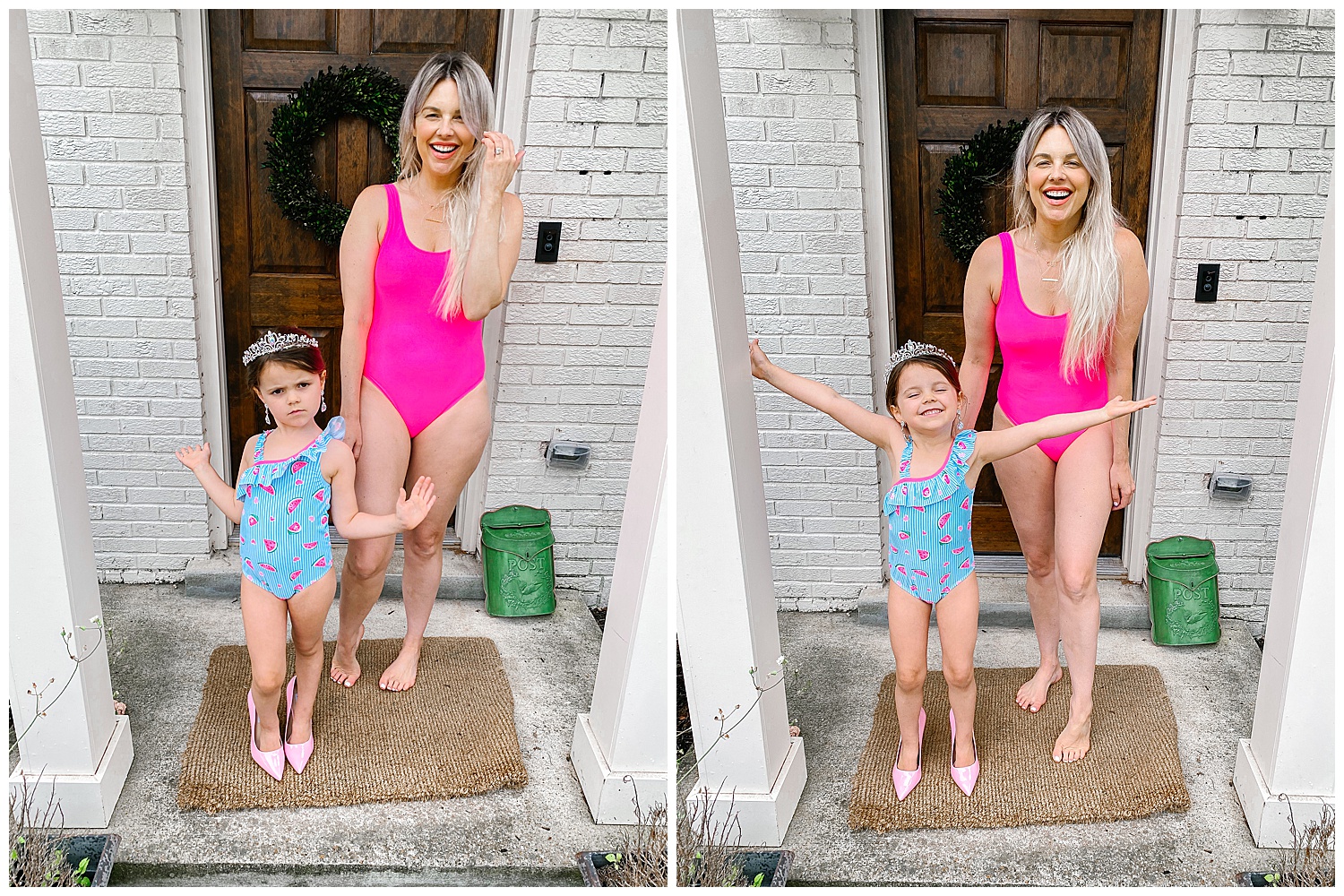 1. PINK SWIMSUIT | 2. PLUS SIZE PINK SWIMSUIT | 3. WATERMELON SWIMSUIT
I also got this other style of white swimsuit that I wanna share because I just think it's so cute with the belt! I feel like the belt makes it looks so expensive, but it's under $25 so win for us! I really really love this suit, but the one caveat I'll give is that if you have a long torso the belt might hit a little lower on your waist instead of mid waist. I actually don't mind it because I feel like it kind of camouflages my little mom pouch.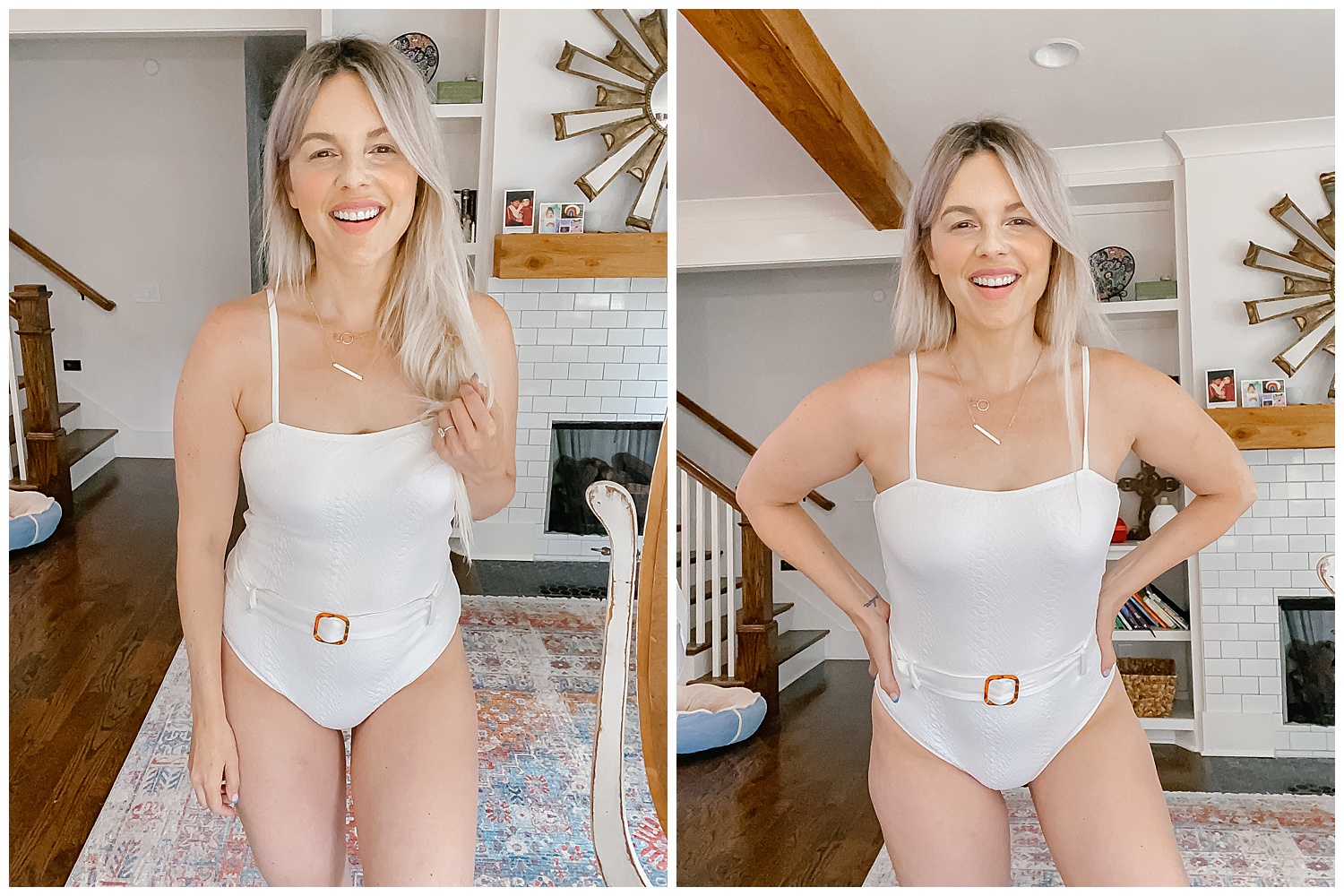 But if you want the belt to hit at the smallest part of your waist, it probably won't if you have a long torso. However if you have a normal length torso, I think it will fit great. I want to share it because I think it's great for someone with a normal or short torso, but if I had to choose between this one and the one above it would be the one above hands-down! Just wanna give you guys options because I know not everybody type is like mine.
Cover Up
I'm also linking this cover up that I found for under $17. I just think it's perfect, classic and a great staple to have packed in your suitcase when you go on vacation. I truly feel like these photos don't even do it justice because it's so great. I absolutely love the gold beads on it and I feel like it makes it look super expensive. I think you'll feel pretty and stylish wearing this on your vacation. It would also be great for any brides out there for a honeymoon cover up!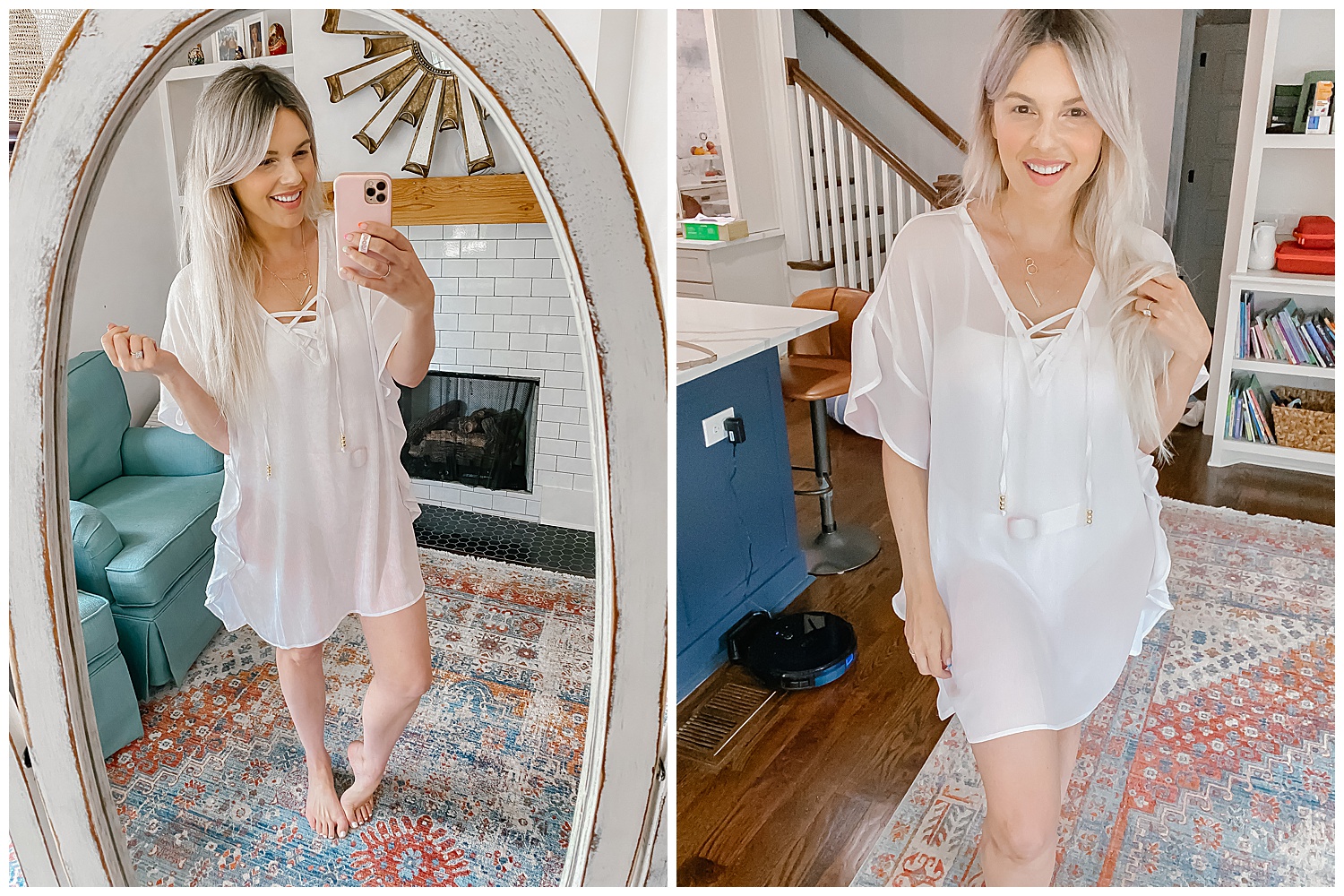 Dresses
Ignore my dirty mirror below, ha! But this dress is ONLY $9.96. Yep, you read that right, this dress is under $10. I got it in both this leopard print and in black because I think both are great. It's a flowy dress so if you don't like anything form fitted, this is perfect for you. However if you do like a little bit more shape I just recommend tying a sweater or chambray shirt around your waist. Which honestly is pretty perfect because in the summer it's always super hot outside, but then it's freezing inside when you go into the air conditioning. I love tying a chambray shirt around my waist with a dress like this. It's functional and cute! I absolutely love that this dress is super size inclusive with sizes ranging from extra small up to XXXL.
Just given the nature of the dress with how flowy it is, I think that almost every person reading this blog could find an option for them! I usually don't make sweeping claims like that just because there are so many different types of bodies. But even if your size is larger than a XXXL I think the dress could possibly work just because of how it flows. So I hope everyone reading this might look at this dress is a great option for them!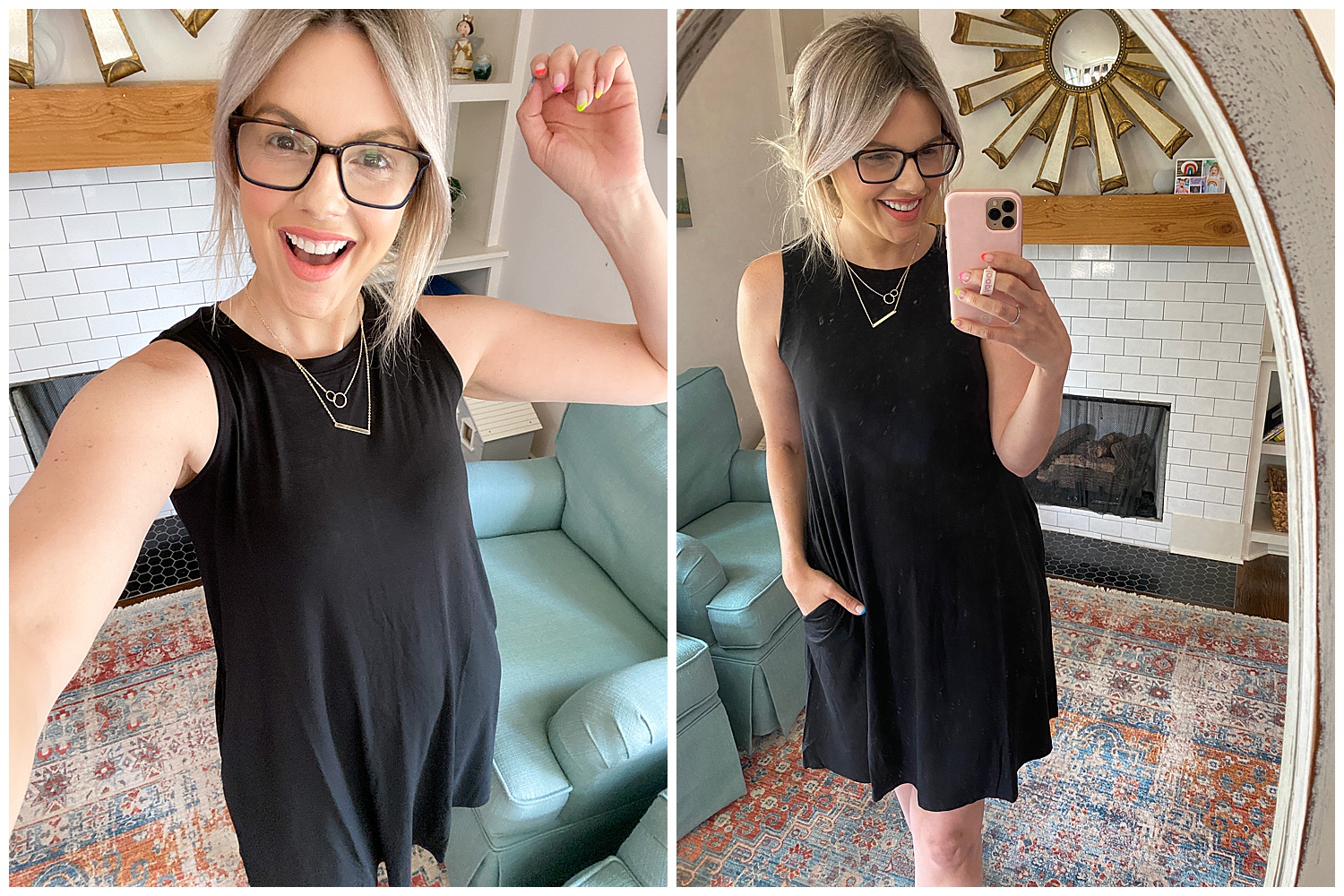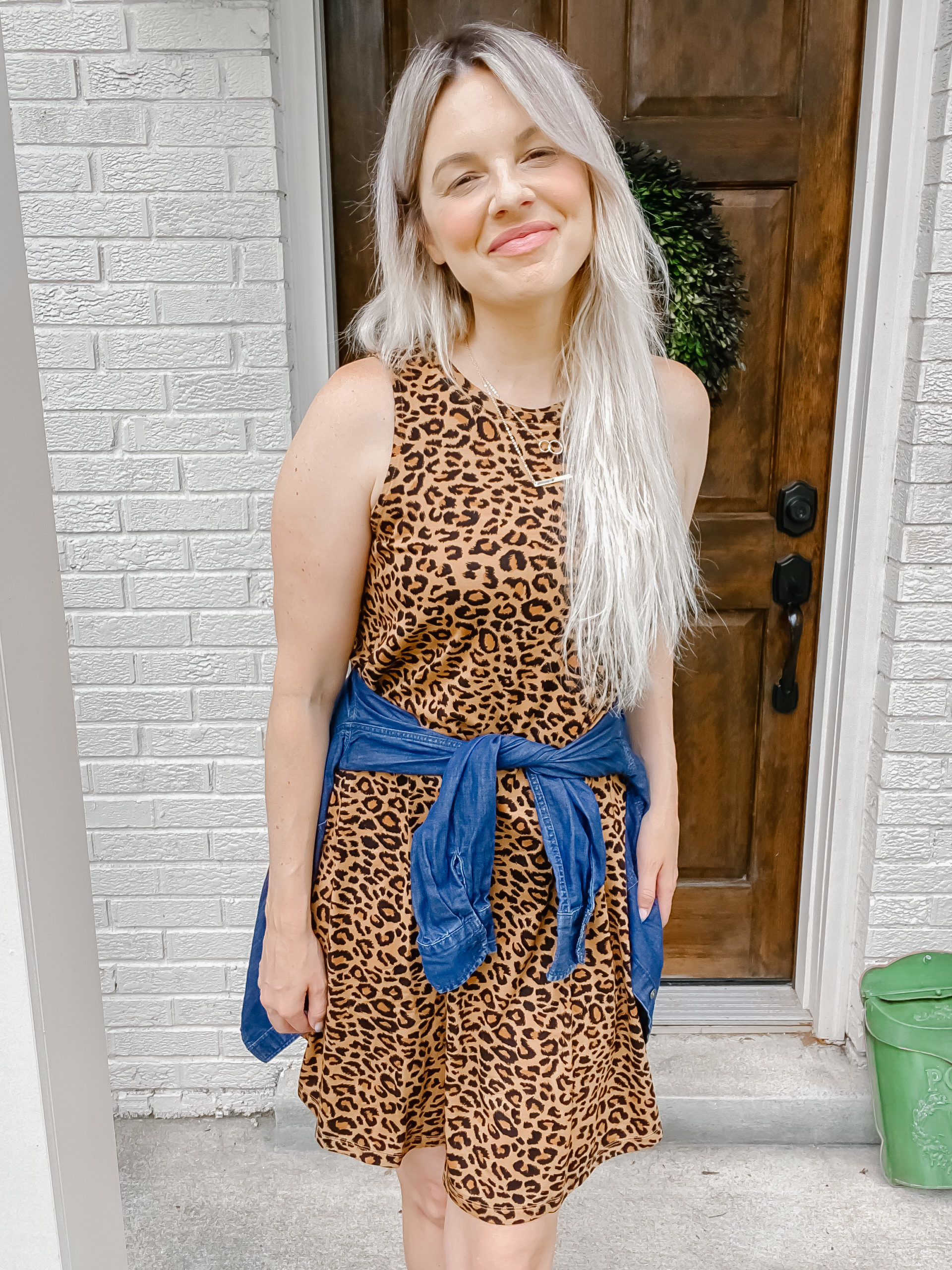 1.  $9 BLACK DRESS | 2. $9 LEOPARD DRESS
To be completely transparent is this my favorite dress ever? No it's not. But for under $10 and for how easy it is to throw on on a hot summer day, I think it's worth every penny. Also just a quick note about the arm holes, they are fitted around the top of your arm. I personally would've preferred if they came a little lower down but I know some people don't like that because your bra shows. That's just my style. That was my one note of this dress, but again for the price you can't beat it.
Size down in the next dress! I bought it in my normal size (medium) in the navy and then in a size small in the black and I am swimming in the navy. But the black is perfectly loose and flowy and the exact shape that I would want from a dress like this. I just love the cute ruffle detail on the dress. Although I will say one thing that's weird about the website is that the black version shows a different dress than the other colors, but just know that if you order the black you will get this version that I'm wearing in the pictures with the ruffle. I just think they have the wrong picture on the website.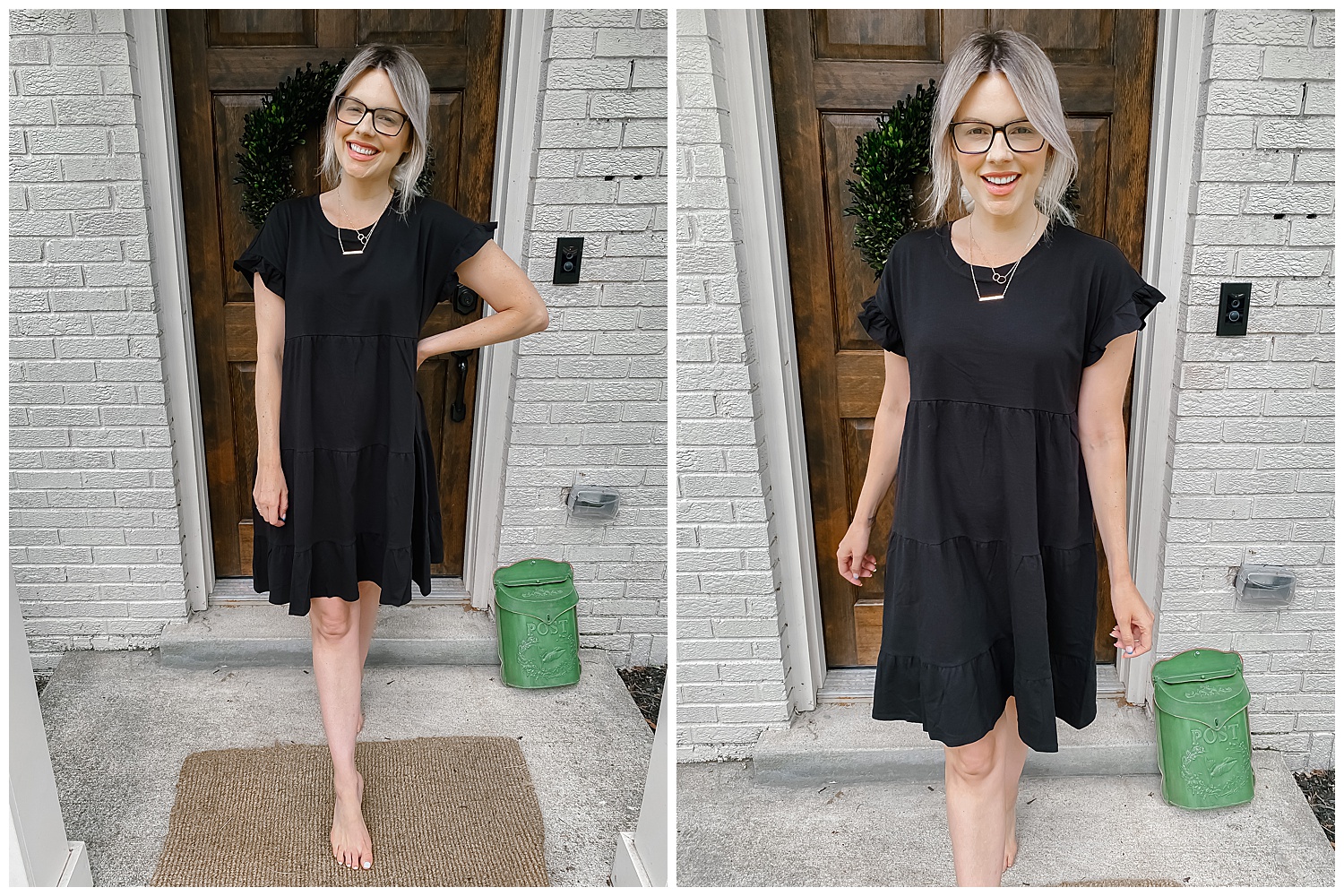 1. FLUTTER SLEEVE BLACK DRESS | 2. FLUTTER SLEEVE NAVY DRESS
If black is not for you, they have it in multiple other colors. I just think it is so pretty and will make so many women of all shapes and sizes feel really comfortable wearing it. The price is just insane at only $13.88, and take a look at the reviews. There are over 330 reviews that are mostly five star. Like most things at Walmart which I love, it's size inclusive and comes in size extra small up to XXXL. I also think it would look so cute and be so comfy for someone that's pregnant!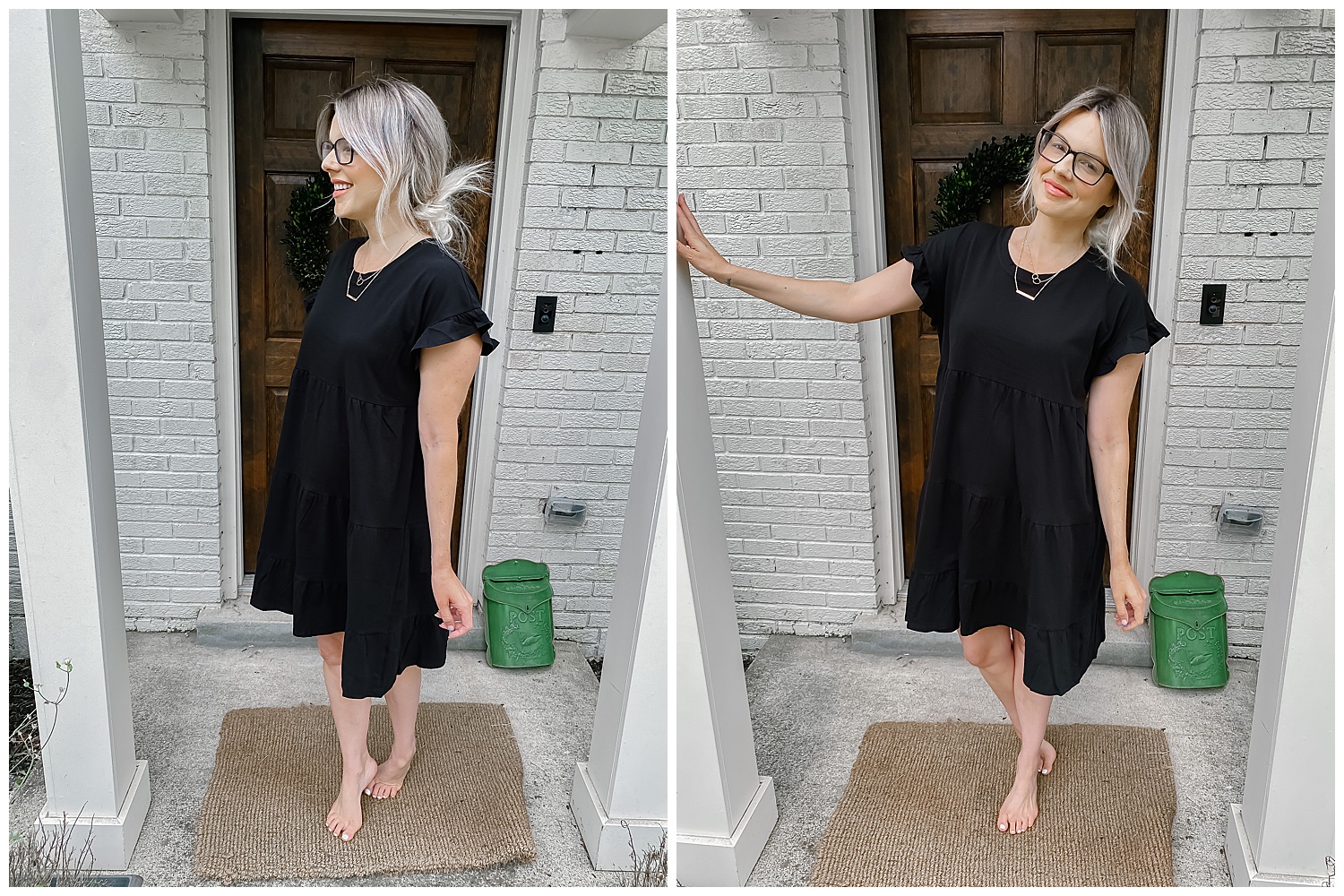 1. FLUTTER SLEEVE BLACK DRESS | 2. FLUTTER SLEEVE NAVY DRESS
Overalls
Next is this overalls and henley tank combo. I'll start by talking about the tank top. You might have noticed yesterday that I was wearing it all day in my Instagram stories! I'm wearing a size medium, which is my normal size. At first I thought I should have sized down, but after washing it, it fits perfectly so definitely get your normal size in this!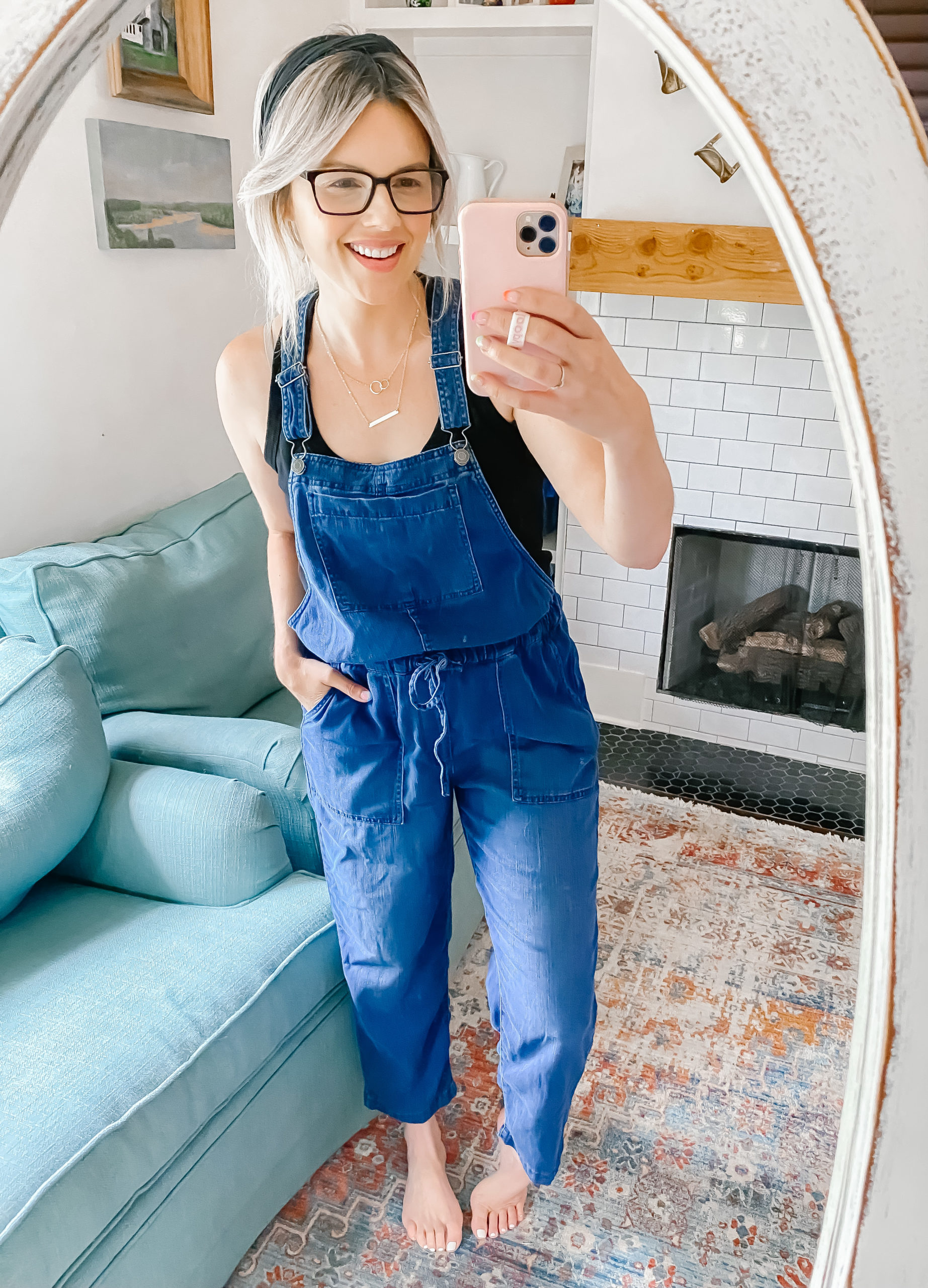 1. HENLEY TANK TOP | 2. OVERALLS
The fit of this tank top is very flowy, so it's great if you like a flowy top around your midsection. It's also really long so it's great if you like to cover your hips and booty with your top it would work great for you. I like to wear it half tucked. I got it in black and white.

In these pics I'm wearing it with these overalls! Oh my gosh, get these overalls now! Ignore that they are a little wrinkled  above. I left them in the dryer for a few hours after it was fished. The material of them is cotton, really soft and not denim. So it makes them super comfy to wear and super flattering. I got a medium which is my normal size and they fit perfectly! They come in a few other washes as well and honestly I love them all so much it was really hard for me to pick just one. Honestly I ended up going with this dark wash denim because it was the only one that was fully in stock and I wanted to make sure that whatever I show you guys had full stock! But honestly, you couldn't go wrong with any of the options so I hope you guys love as much as I do! These overalls were absolutely perfect to wear while we were camping in North Carolina over the holiday weekend.
I see myself wearing them gardening or at the farmers market or just lounging around the house because they're so comfy. Oh my gosh, you cannot beat the price! $29 dollars – these are an absolute steal! They come in size XS to XXXL, so I love that they're size inclusive like most things are at Walmart!
Underwear
Underwear time! I haven't shared underwear in an Affordable Friday post before and I ordered these recently and I love them! You get a three pack for $12 and they are perfect no-show cheeky underwear! Basically every pair of underwear I own are this style and this type of material. They're just the most comfortable and are great because they're no-show. I'm telling you I'm going to order about four more packs of this exact set because they're so great. I feel like underwear is the one thing in our home that we don't replace enough. Ha! So if you have any underwear with holes in them time to throw them out and get new ones. Plus, these prints are so cute!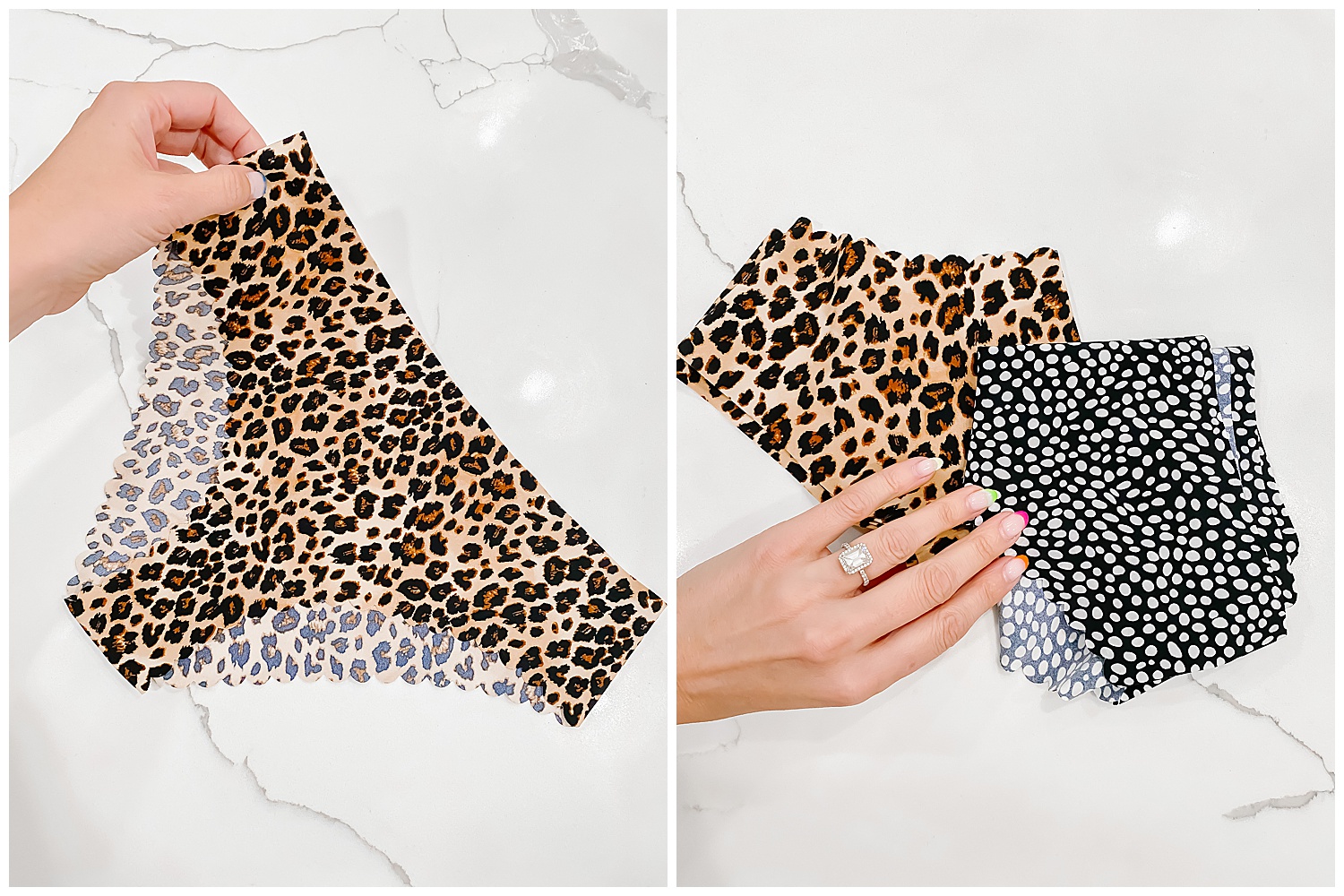 JAWS!
Anyone else a huge fan of Jaws?! Many of you know my friend Stef in San Diego, well she and I basically bonded and fell in love over the movie Jaws. When we were visiting them in San Diego we actually watched Jaws from her swimming pool and it was so much fun! So when I saw this T-shirt for $11 I had to buy it! It's such a classic movie. If I'm out and about and see somebody in a Jaws t-shirt I know they're my kind of people. Ha! I'm wearing it with the Sofia Vergara jean shorts I wrote about my last Affordable Friday post. As of now they're still available and I love them! A couple people DM'd me about them and even posted to my Facebook group saying how much they love them, so definitely get these jean shorts while they're still in shock!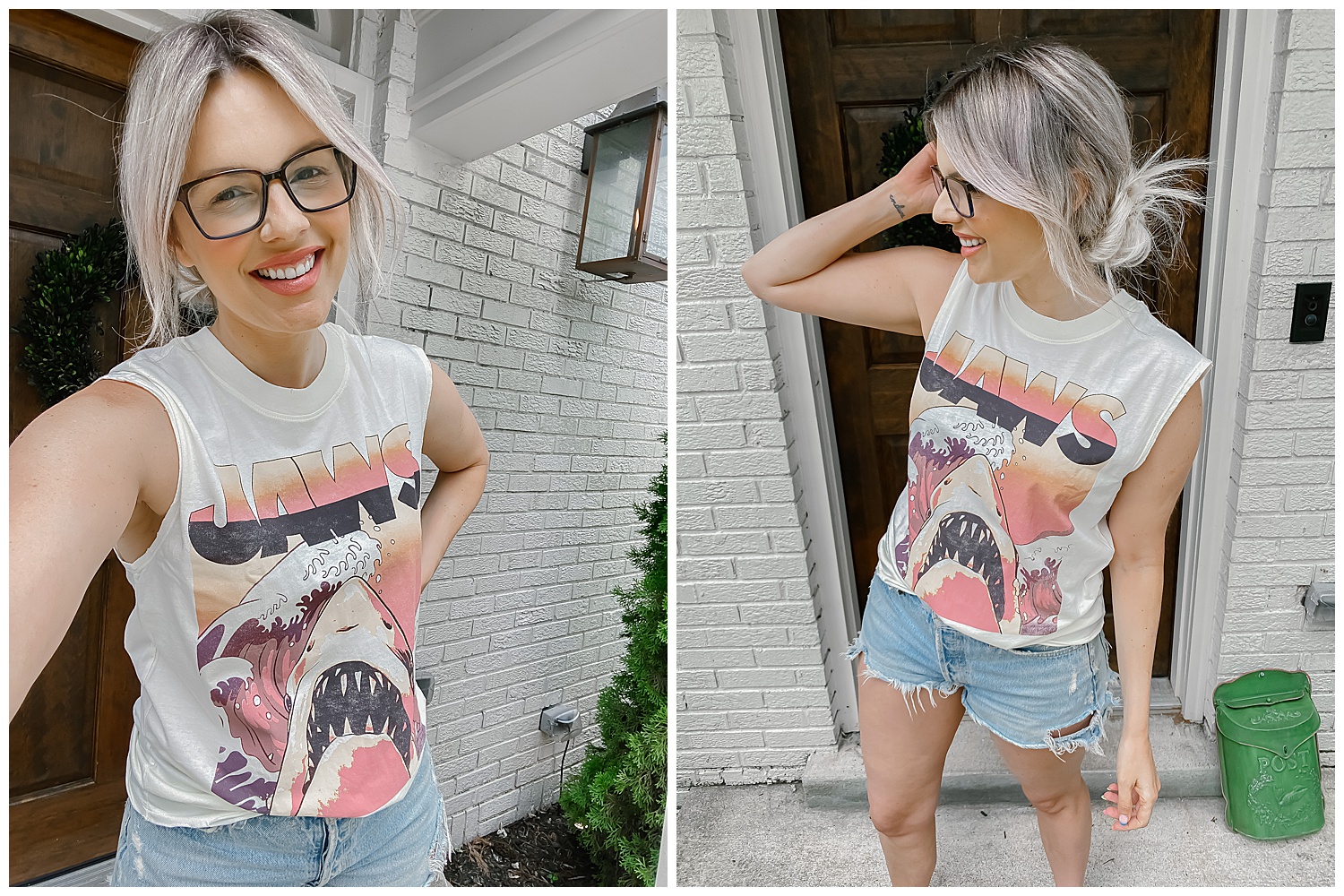 1. JAWS TEE | 2. SOFIA VERGARA JEAN SHORTS
Pajama Time!
Pajamie to the left, pajamie to the right. Everybody's wearing them for dancing tonight! Okay, I'm lame but if you're a parent you know exactly where that's from. Ha! Tell me in the comments below! I wanna make sure you guys don't think I'm crazy and get the reference. But these pajamas just make me so freaking happy because they're amazing and super affordable! How stinking cute are they AND they are under $17!!!!!!! If you look at the ratings there's 224 5 star reviews. They come in a bunch of different colors and prints. I just loved this bright, beautiful blue color and I feel like it's gonna make me happy all summer long.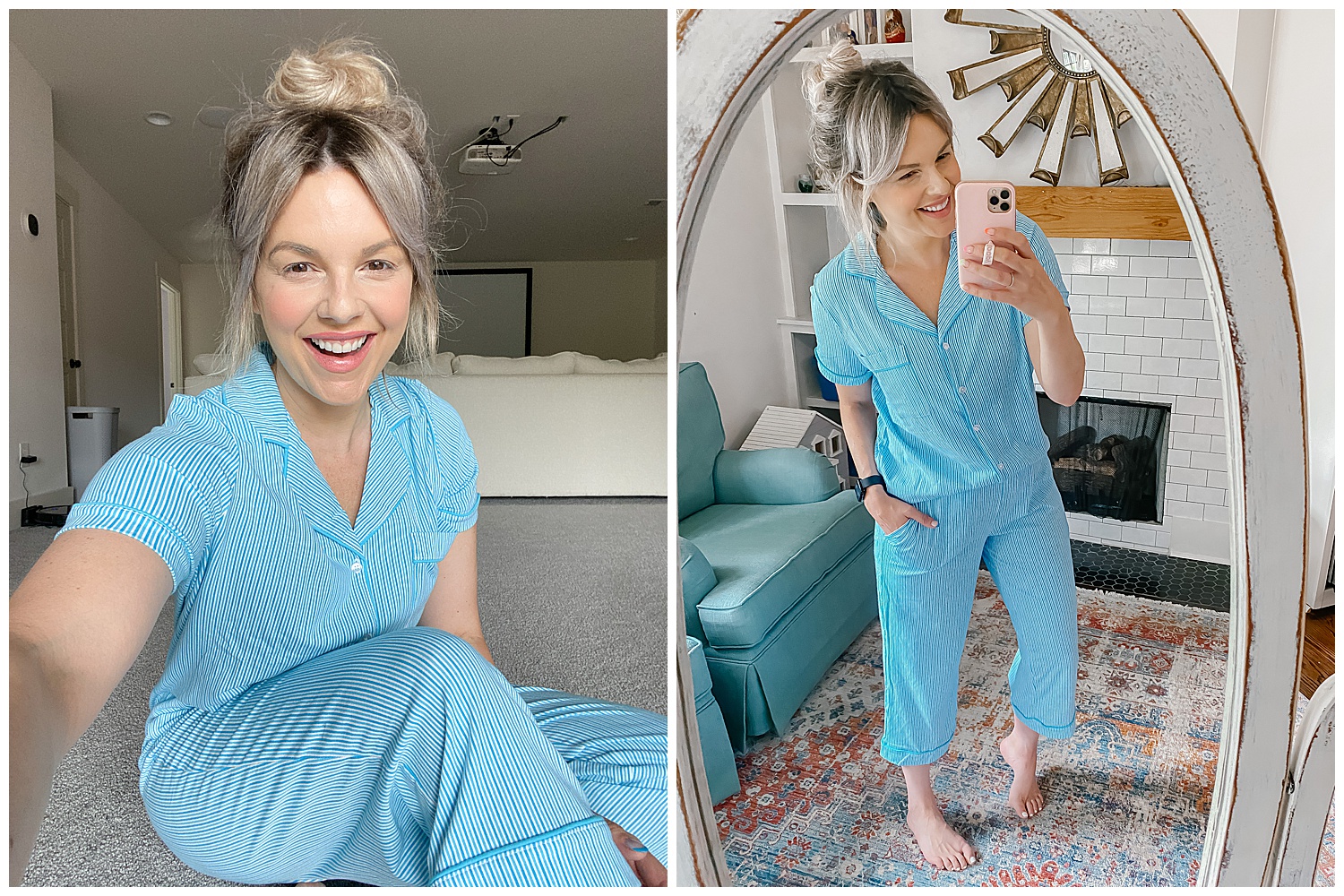 Love These Pieces for Your Home
Last but not least, I have to share a few home decor affordable items! First this utensil holder that I got for $10! Funny thing is I bought it because I loved it and then once it arrived and I was unpacking it I saw that we had the exact same one in the rental house we've been renting! I didn't even realize it until I opened it up. So not only do we have it but the people who owned the house we're renting also have it! How funny is that?!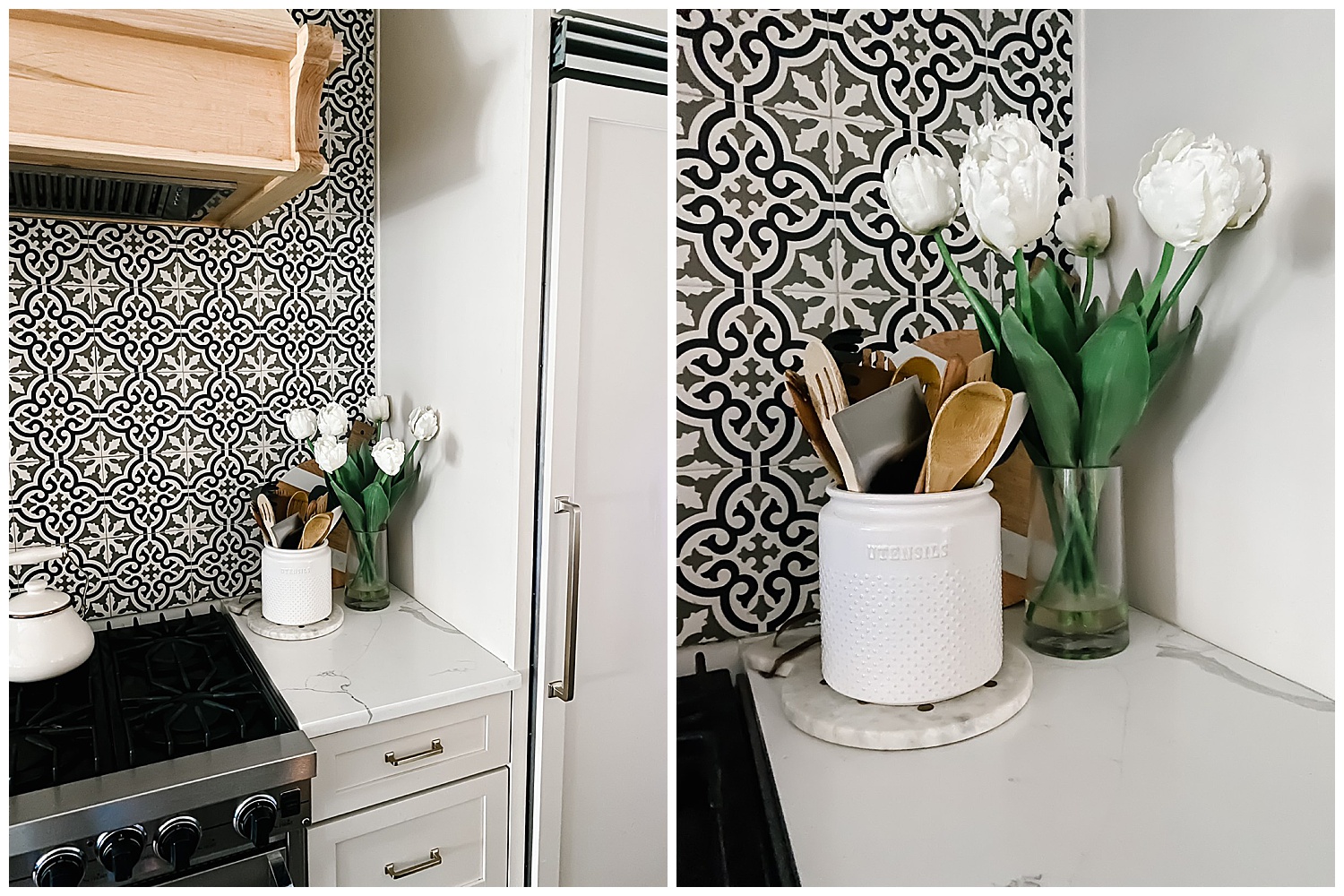 I got this Better Homes & Gardens metal laundry detergent holder. I honestly don't even know if I'll put laundry detergent in it. Maybe those little pods, we use those sometimes. But I just love how it looks and I feel like we could store dryer sheets or something in it in our new house. It's just such a cute little piece for your laundry room! And it's only $12.97! I loooove it. Seriously get one before they sell out.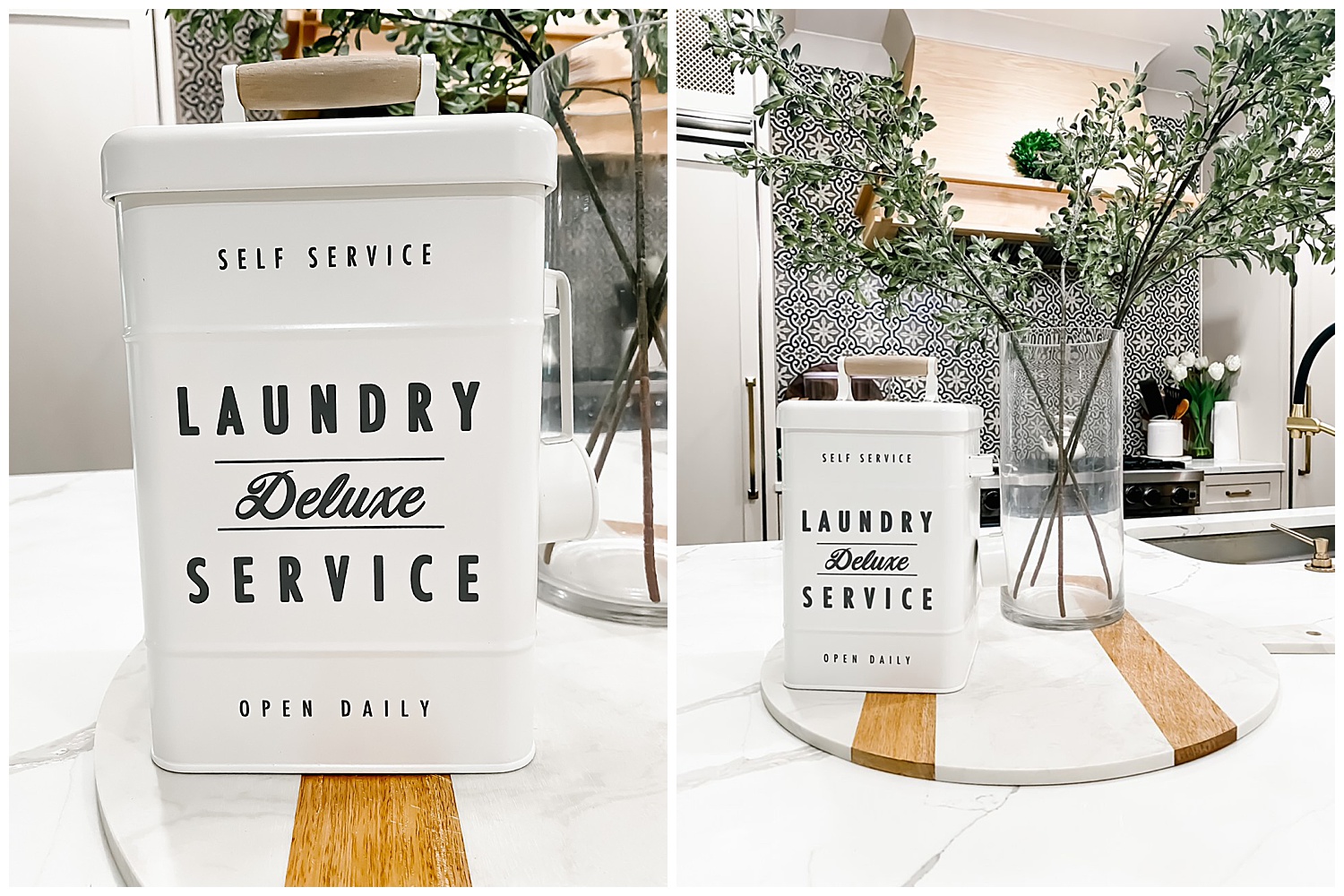 METAL LAUNDRY DETERGENT HOLDER
Happy Affordable Friday (On Thursday)
Thanks so much as always for coming by the blog! I genuinely hope you love Affordable Friday as much as I do! I have such a good time finding the best and most affordable items for all of you and always love hearing feedback from you! Let me know in the comments below if you got anything from the last Affordable Friday that you love or if there's anything you have questions on!