Hey guys! I'm so excited because the Manno family is hitting the road! We're taking our first ever RV road trip to North Carolina to go camping with one of my closest friends, Willa, and her family. I recently saw Willa in Nashville, but only for a few hours because she flew in for one day/night and worked all day and then flew out early the next morning, so really we only had one dinner together. It was lovely and I cherish every moment, but my goodness am I excited for this trip. We planned it before either of us moved away from LA knowing that we wanted to have something to look forward to and to make sure we saw each other again.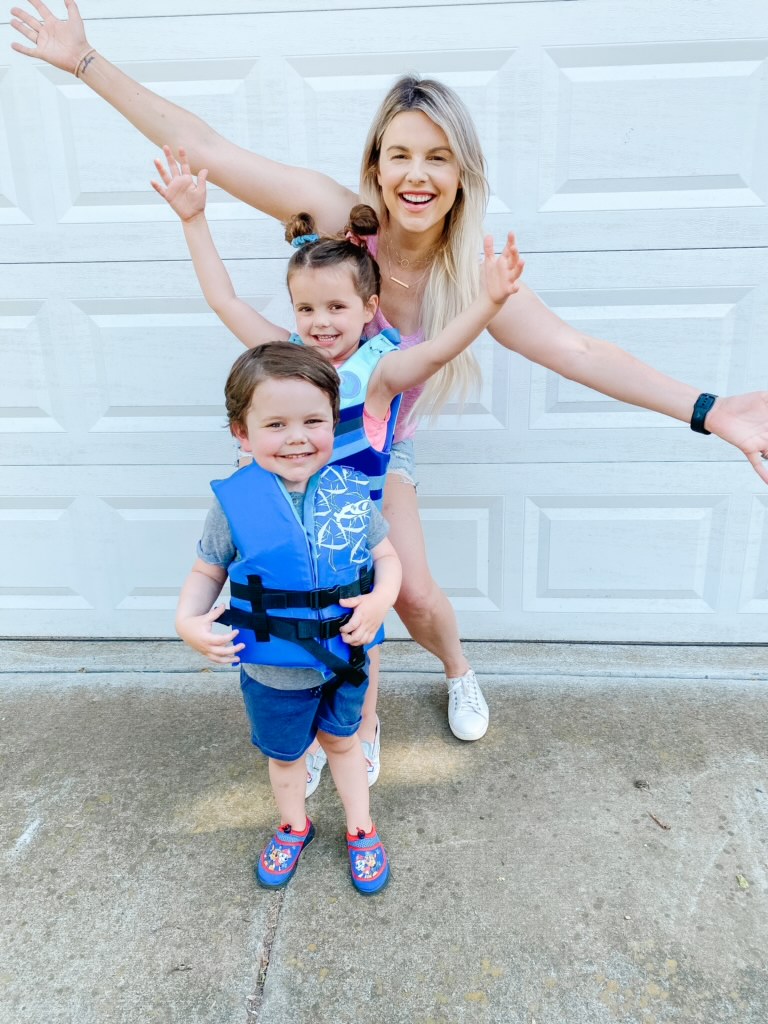 1. RILEY'S LIFE JACKET | 2. RILEY'S WATER SHOES | 3. MOLLY'S LIFE JACKET | 4. PINK TANK TOP | 5. JEAN SHORTS
RV CAMPING IN THE WOODS
Anyway, we're headed up to her cabin in the woods. We wanted to be able to stay on property so that we could still hang around the campfire and play games when the kids went to bed, but her cabin wouldn't fit us all so that's why we decided to get an RV. We will park the RV on property and put the kids to bed and then hang out around the fire with wine and marshmallows! Sounds perfect! Then during the day we plan on playing a lot in the river and doing all kinds of fun things in nature with the kids!
Probably about three weeks before this trip, Willa sent me a text telling me to buy life jackets and water shoes for the kids. I was on top of the life jackets. We actually already had one for Molly (that I also got from Walmart in the past!), so I just needed to snatch one up for Riley and I found this one that has super good reviews and it's only $10. So I bought it and got free shipping because I have a Walmart+ membership. I know I've told you a bunch of examples about how and why I am so obsessed with this membership, but it seriously has come in handy so many times!
FREE SHIPPING FROM WALMART.COM
Normally if I was only buying a $10 life jacket, I'd have to put $25 more of stuff in my cart to reach the $35 minimum to get free shipping. But not with my Walmart+ membership! Therefore, not only do I save on shipping, but I save myself money by not having to put things I didn't necessarily need in my cart just to hit the minimum. I do want to note that the free shipping excludes some freight and marketplace items. I'm telling you the $98 membership fee makes up for itself so much more quickly than you could ever imagine. For me it was in the first two weeks.
But of course because I'm a mom and my brain is always spinning in 1 million different directions, I forgot the water shoes. I didn't realize I forgot until legit two days ago. So I immediately went on Walmart's website to look for some water shoes. There were some that I could have delivered from my local store for free if I hit that $35 minimum.

 1. RILEY'S LIFE JACKET | 2. RILEY'S WATER SHOES | 3. MOLLY'S LIFE JACKET | 4. PINK TANK TOP | 5. JEAN SHORTS
When you order online with Walmart+, everything ships for you for free, but when you order for delivery from your local store it's free if you hit $35. So if you're in a real bind and you need something super super super quick, you can always use that option or just buy your item online for pick up in store. I also love to use this service to get my groceries delivered from my local store, I mean how easy is it to spend $35 on groceries? There are some restrictions, but I haven't run into any of them yet.
MOBILE SCAN & GO IS A LIFESAVER
Since I had a couple days, I just went online and bought the exact pair I wanted and had them here two days later with free shipping – without any minimum required. Of course there's some restrictions, but again a lifesaver! What I also really really love about ordering things from Walmart is that if I need to, I can return things back to the store and speak to a real person for customer service. Plus, when I go into the store I can use the Mobile Scan & Go feature, which I appreciate because it gets me in and out of the store super quickly.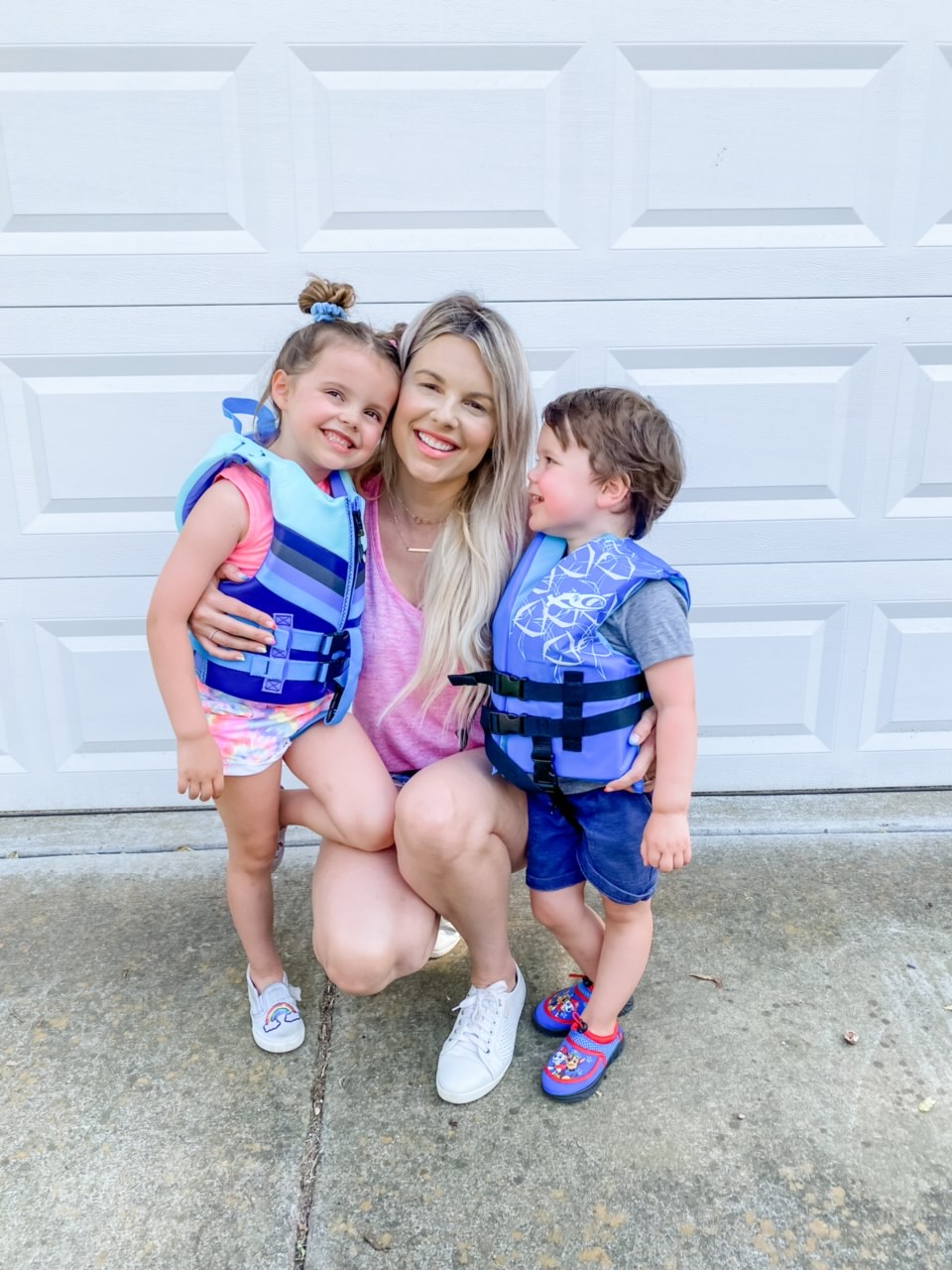 1. RILEY'S LIFE JACKET | 2. RILEY'S WATER SHOES | 3. MOLLY'S LIFE JACKET | 4. PINK TANK TOP | 5. JEAN SHORTS
So a little more about that Mobile Scan & Go feature I just mentioned. It's another incredible benefit when you are a Walmart+ member! This is seriously so perfect for that moment when you need to run in quickly and get out quickly (like when you have a tantruming 3 year old!). You can shop and check out right on your phone in-store. The first time I tried it, I could not believe how simple it was. You scan the barcodes on your item, pay in the app and then can head right out of the store! I could see this really being beneficial if you run out of diapers or need to grab an essential quickly. I have a feeling we will be utilizing this feature up until the very moment we leave for our trip, there's always those last minute things that you think of!
ANYTHING ELSE WE SHOULD GRAB BEFORE OUR TRIP?
Willa told me that there is a river/creek that runs through the back of the property that the kids can play in and bigger rivers that we can take them to, hence the lifejackets. Do any of you guys have any advice for me for a cabin trip like this? I've literally never done anything like this in my entire life and I'm so so so so so excited! Watch my mom or dad read this and say, "yes we did this when you were 10"! Ha! I have a horrible memory. So maybe I'll just say I haven't done anything like this in my adult life. So give me all your tips and suggestions before we go! We're headed out in a few hours!
It is absolutely so exciting that we get to see our friends and go camping, and we cannot wait! Our trip recently to California was everything we could have hoped for and this will be such a fun way to see another one of our friends and let the kids explore nature. Plus, none of us can wait for the smores! Yum!!! Do you have any other recommendations that you think I should grab from Walmart before our trip? Let me know in the comments below!
Thank you so much to Walmart for being a sponsor of Alimanno.com!