We have a pool! Well kind of. Ha. You guys know how much my kids absolutely loved our pool in California and since we don't have one here in Tennessee, we had to improvise. You know what, this inflatable pool works just great! Plus, it's way more affordable than what I was quoted for an actual in-ground pool. If you know, you know.
I bought it on a whim and I'm so glad I did. I was looking at the forecast last week and saw that it was about to start getting really hot here in Nashville. From what everybody has told me, the summers here can be pretty miserable because of the humidity. So I knew we needed something to keep the kids cool and since Riley Birthday was the upcoming weekend, I thought it was the perfect summer purchase! So I jumped on Walmart's site to order from my local store and get this pool, donut float, and my swimsuit and Molly's suit with free delivery from my store. How, you might be wondering? Walmart+! You guys know I work with Walmart, so I talk about Walmart and the benefits of Walmart+ a lot. But I am telling you my Walmart+ membership has been a game changer and a lifesaver again and again.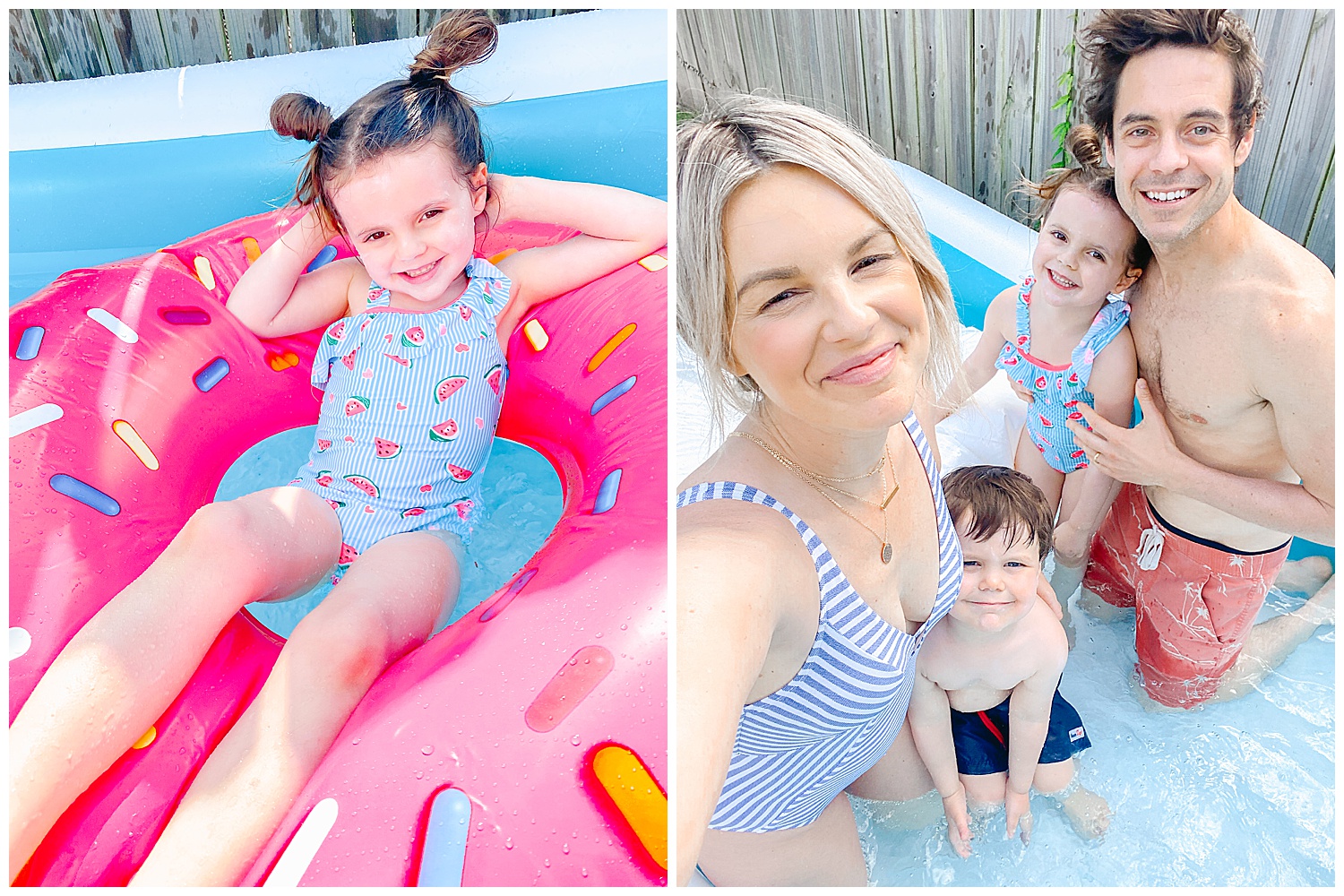 1. WALMART+ | 2. MOLLY'S SUIT | 3. DONUT FLOAT | 4. MY SUIT | 5. POOL
 Here's a thing, not only was I able to get free delivery from my store, but everything came the very next day. I ordered at about 3:30 PM on a Wednesday and got my order at 9 AM the very next day on a Thursday. The convenience of that is so great for many reasons. Not just because I knew it was gonna be a hot weekend and I wanted to get the pool quickly, but there are so many other reasons that I love it too!
I'll order my groceries from Walmart and I'll get free delivery from my store with a $35 minimum purchase. So maybe I realize I need sugar or eggs or whatever it may be. I know I can pop on my Walmart app and easily order. There are some restrictions, but I haven't run into any of them yet.
We used to spend so much money on all those other delivery services. Now we just pay our flat annual membership fee for Walmart+ and get all the amazing benefits. I swear we made up that annual fee within the first month alone. Maybe even the first couple weeks.
Free Shipping from Walmart.com
One of my absolute favorite things about my Walmart+ membership is that members get free shipping from walmart.com with no order minimum required. This excludes some freight and marketplace items. What I absolutely love love love about this, is that if any of you have Walmart+, you are able to shop my affordable Friday post so much more easily!!! For example if you enjoy my Affordable Friday posts and you see one cute $10 top that you really want, but you don't need anything else at the moment. You can buy only that top and still get free shipping as long as it doesn't fall under any of the restrictions. Which I'm pretty sure everything I've recommended in my Affordable Friday posts up until this point have qualified for the Walmart+ free shipping. Like I said, there's just some restrictions, but none I've run in to and I don't wanna steer you guys wrong.
In the past on my Affordable Friday posts I've always told people that if there is one item they want to get and want to get the free shipping for $35 to just add other things to the cart that they need from Walmart since Walmart has pretty much everything. But now, if you're a Walmart+ member, you don't even have to think about that because you get free shipping anyways!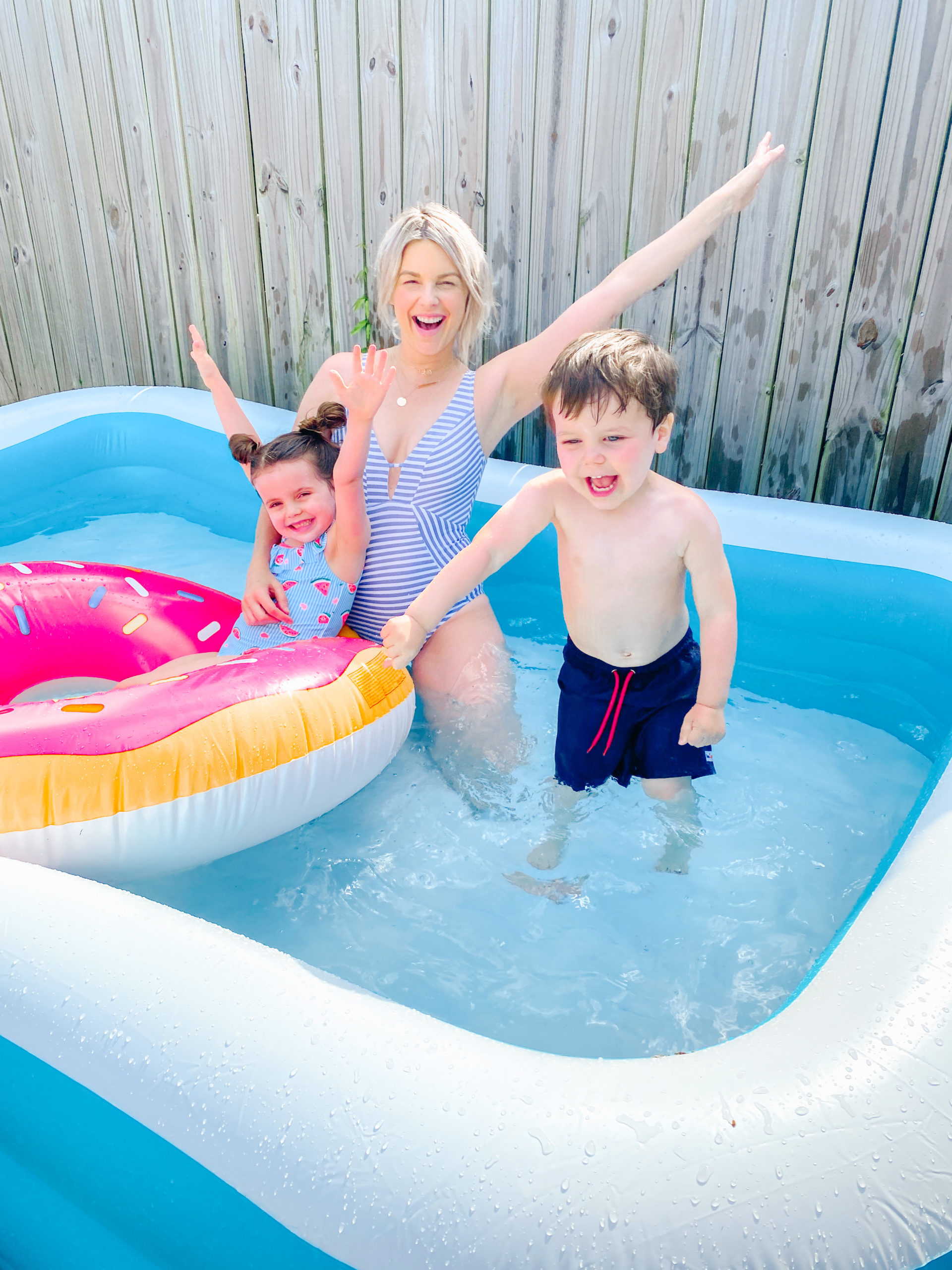 1. WALMART+ | 2. MOLLY'S SUIT | 3. DONUT FLOAT | 4. MY SUIT | 5. POOL
Save Money on Gas? Yes, Please! Plus, More Benefits
I've talked about this before, but I seriously cannot get over how exciting it is to get member prices on gas! Gas has been getting so expensive lately, and saving on each gallon adds up so much – especially if you're filling up your gas tank! You will save 5¢ per gallon at Walmart and Murphy stations. Plus, access member pricing at Sam's Club fuel centers.
Another incredible benefit when you are a Walmart+ member is the Mobile Scan & Go benefit!!! This is seriously so perfect for that moment when you need to run in quickly and get out quickly (like when you have a tantruming 3 year old!). You can shop and check out right on your phone in-store. The first time I tried it, I could not believe how simple it was. You scan the barcodes on your item, pay in the app and then can head right out of the store! I could see this really being beneficial if you run out of diapers or need to grab an essential quickly.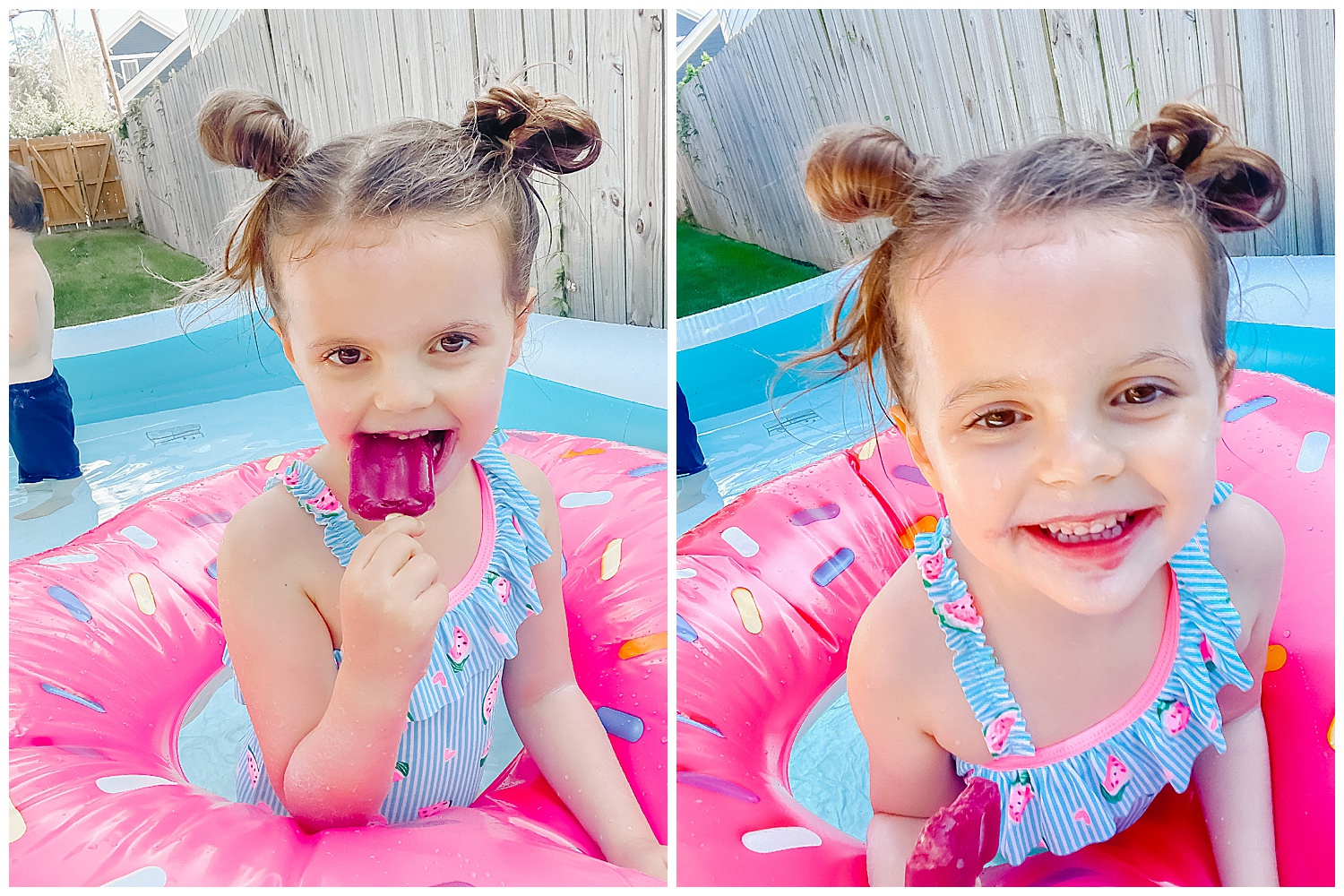 1. WALMART+ | 2. MOLLY'S SUIT | 3. DONUT FLOAT | 4. MY SUIT | 5. POOL
Product Info
Just for anybody curious, Molly's suit is a 5T which is her normal size.  I got a size medium in my swimsuit, which is my normal size.  It fits perfect and I actually have a long torso which means it's sometimes difficult for me to find one piece swimsuits that work great. Plus, it's very flattering!
We've had the pool for over a week now and it's holding up great! It also has amazing reviews on the website if you need to get a last-minute one for your family! I'm telling you though, sign up for Walmart+ first to get free delivery from your local store!
Anyone Else Getting a Pool This Weekend?!
I'm not sure if this has sparked anyone else's desires to get a pool this weekend, but it definitely makes me even more excited to use it throughout this summer. Walmart+ made it is so easy for our family to have a fun weekend at home, outdoors! Do you already have Walmart+? What do you order the most? Since you can get practically anything from Walmart, I always love suggestions and hearing what you all are buying and how to helped you! Tell me in the comments below. I will respond to each one!