UPDATE: Looks like the denim shorts in DARK DENIM are available for shipping in EVERY size! I love the light wash so much that I just ordered in the dark wash. And you can still get the light denim in most store but you have to pick up. WORTH THE DRIVE! Just order online first so they hold them for you!

Another Affordable Friday – I am so so so excited! You guys know how much I love these blog posts and I really think you guys enjoy them too. So I'm so happy you're here! Let's get into it.
LOOK ONE
Shorts
I've been wearing these shorts a lot lately in my stories and even in my live the other day and told you guys to keep an eye out for them in a future Affordable Friday post. Well, here they are! Get them in the DARK DENIM because they are mostly sold out in the other light wash.  I know shorts are really hard to shop for especially affordable ones, so I make it a mission of mine to find great affordable denim shorts. I ordered so many pairs of these before I found a pair that I love and these ones are incredible! Right now they are fully in stock except for one size which is the size that I'm wearing. A size 8. I also got the size 10 when I ordered and they were a little bit too big, but I probably could make them work if I had to.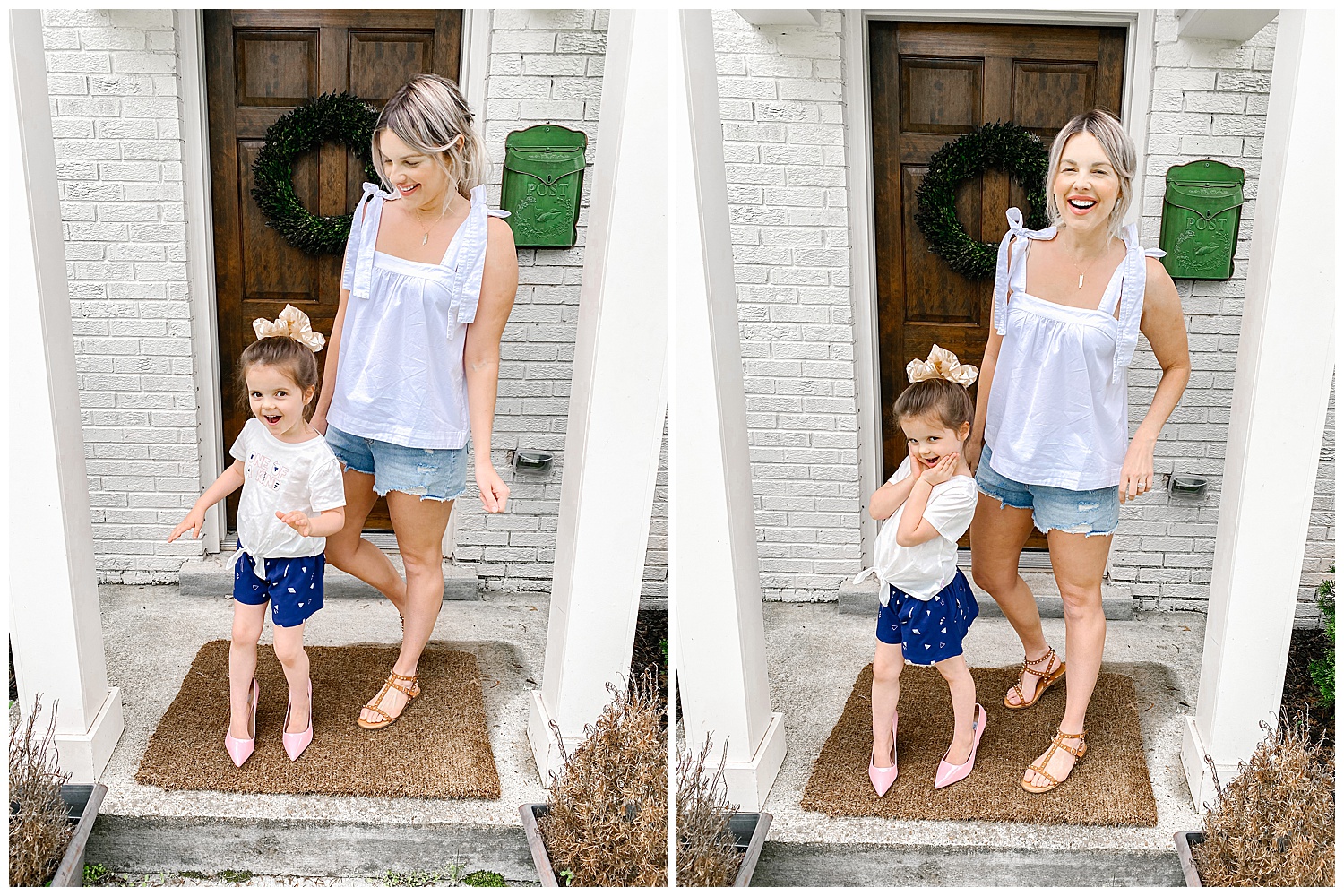 1. DENIM SHORTS | 2. BOW SLEEVE TOP | 3. SANDALS | 4. MOLLY'S OUTFIT
Seriously snatch these up before they sell out in your size. I love that they range in size from 00 up to size 22. Size inclusiveness is important to me. They're fully in stock in the black wash and the darker denim wash.
The key to a great short in my opinion, especially because I have thicker thighs, is that they aren't super tight around your leg. For example if I took my favorite pair of skinny jeans and cut them into shorts I would hate them because they would be glued to my leg. Whereas these taper out a little bit and I love the rip in the denim. It's in the perfect spot and I feel like I finally have the cute pair of ripped denim jeans that I've wanted for so long.
Bow Sleeve Top
I'm wearing a darling white top with bow details on the sleeves with the shorts. The blue color and plaid still have stock and they are SO CUTE!  I just love clothes that have either embellished sleeves or details on the sleeve, as I'm sure you can tell from this post. You tie the bow yourself so you can position the length of the sleeves exactly how you want. I'm wearing a size medium which is my normal size. This top comes in a few super cute prints and also in black and in red. I honestly love all of them and I'm tempted to get a few more. At $20 it's affordable enough that you could buy more than one. Plus, if you look at the ratings other people love this top too!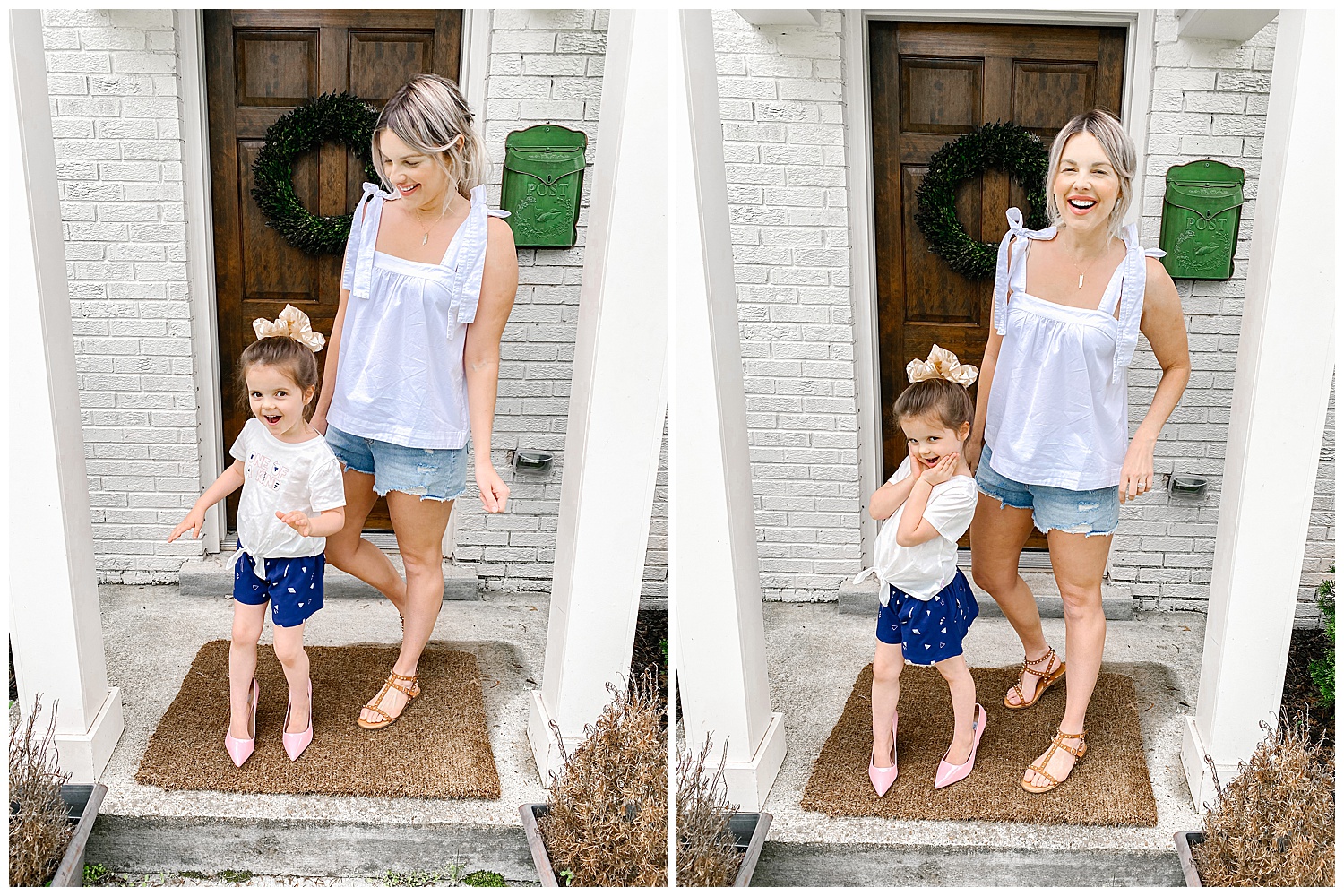 1. DENIM SHORTS | 2. BOW SLEEVE TOP | 3. SANDALS | 4. MOLLY'S OUTFIT
Sandals
Finally with this look are my sandals. The sandals are only $26. They are so comfortable and so cute. Unfortunately the tan color I have is out of stock, but they come in the snake print that is gorgeous! Honestly I almost am upset that I didn't get the snakeskin instead. I don't remember seeing it, so I feel like they might've replaced the tan color with the snakeskin. I might have to get another pair. With over 108 ratings with the majority being five stars you know they're great quality!
Molly's Looks
I can't forget Molly's outfit. She insisted on being part of these photos and she's turning into quite a little model as you can see. She's wearing a darling little outfit from Mila and Emma's Collection at Walmart. I'm friends with their mom on Instagram and she sent me these adorable outfits and they're just so cute! In the above photos Molly is wearing this outfit. It's got a cute little tie in the front and great shorts that are easy to put on her. Then the second outfit also has detail/proofs sleeves, which again you know I love based on this post. What little girl doesn't love a tulle skirt?!

1. NEUTRAL LINEN BLAZER | 2. SHORTS | 3. BOW SLEEVE TOP | 4. SANDALS | 5. MOLLY'S SHORTS OUTFIT | 6. MOLLY'S TULLE SKIRT OUTFIT
LOOK TWO
I'm not even kidding you, because I added this neutral blazer to my outfit, that's why Molly wanted to change into a different outfit for herself. She's so funny. By the way, seriously get this blazer ASAP! I've never been a huge blazer person. Honestly I just don't really have the need for them only because I don't work in an office. But I've always absolutely loved them. So I guess I am a huge blazer person, I just never had a reason to really wear one or didn't have many reasons to wear one. Anyway, I am in love with this one! I got it in the linen color and it's fully available and in stock in all sizes! The sizes range from extra small up to XXXL.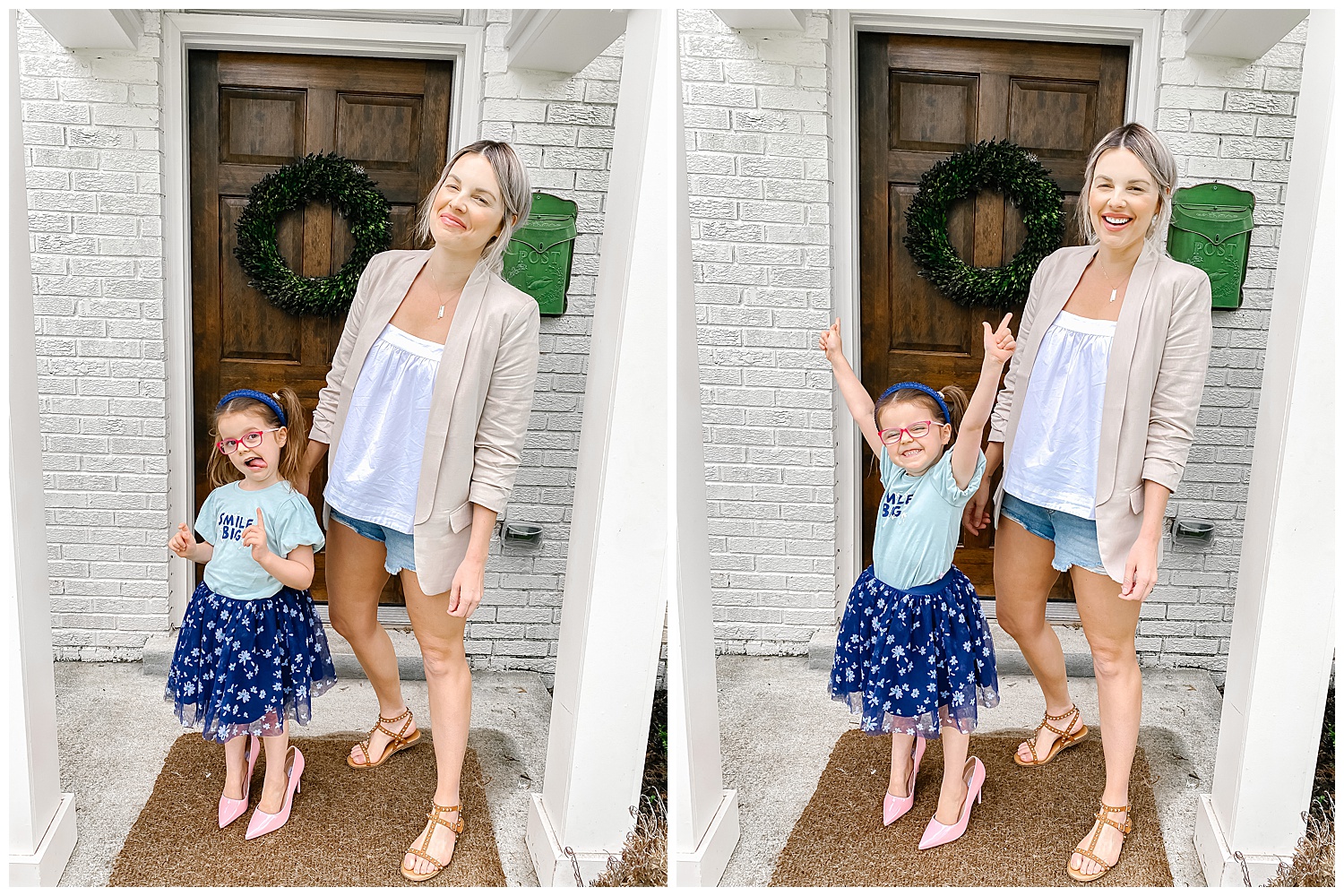 1. NEUTRAL LINEN BLAZER | 2. SHORTS | 3. BOW SLEEVE TOP | 4. SANDALS | 5. MOLLY'S SHORTS OUTFIT | 6. MOLLY'S TULLE SKIRT OUTFIT
I think because it's a linen blazer it's much more casual so can be worn with pretty much anything. I know I'll be wearing this again and again and again and I think it looks super expensive! It's only $40 which I think is an absolute steal for this blazer. Just look at the ratings. There's over 40 ratings that are mostly five stars.
LOOK THREE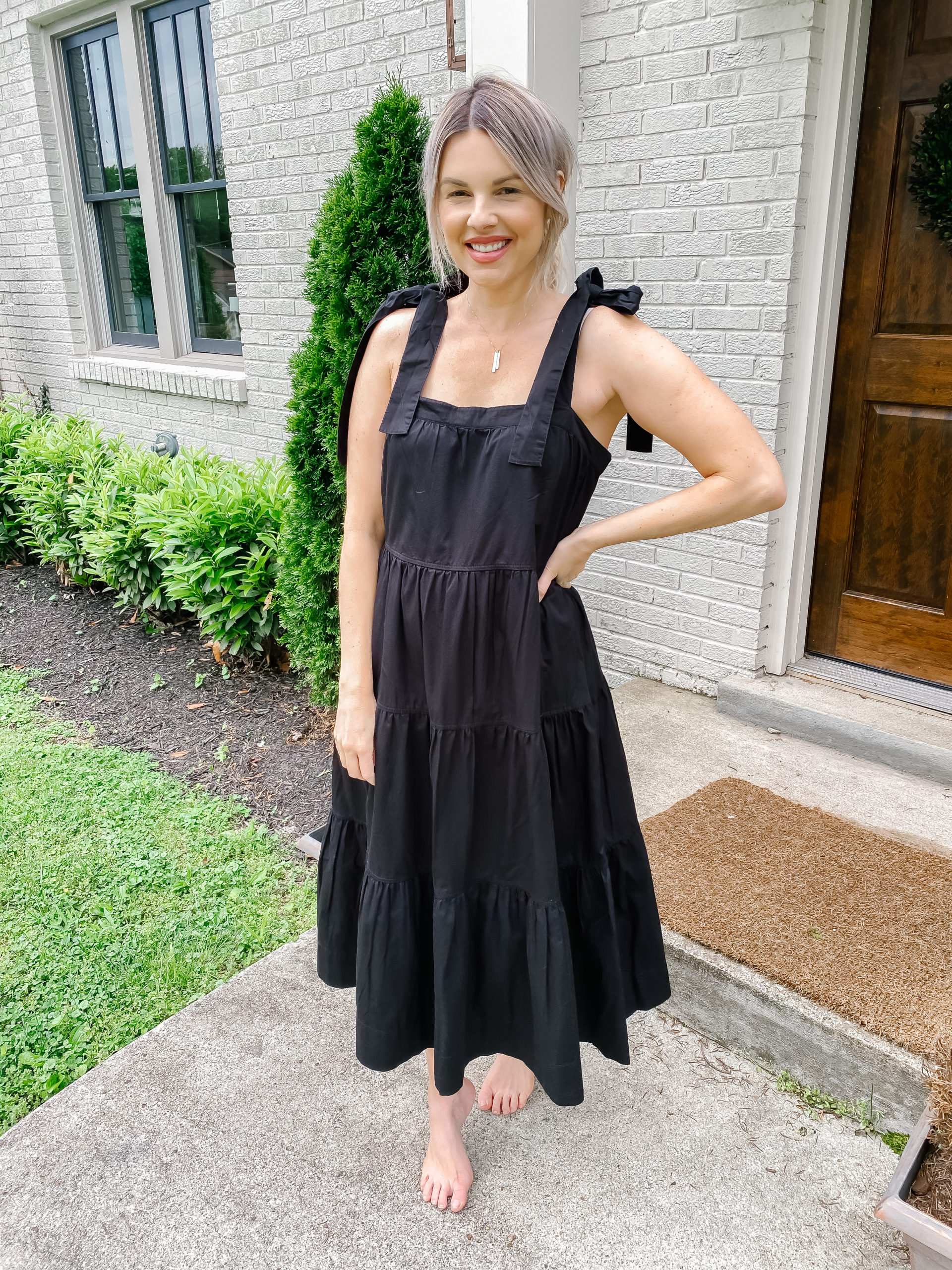 1. BLACK DRESS
I really hope you buy this black dress. I truly believe if you do it will be one of your favorite things you wear all summer long. It's lightweight and beautiful. I love the different tiers of fabric. That detail makes it feel more expensive. Of course you know I love the bow on the sleeve. I'm holding it out in one of the photo so you can see how roomy it is. You could totally wear this if you're pregnant or if you just want something super flowy so you feel comfortable this summer.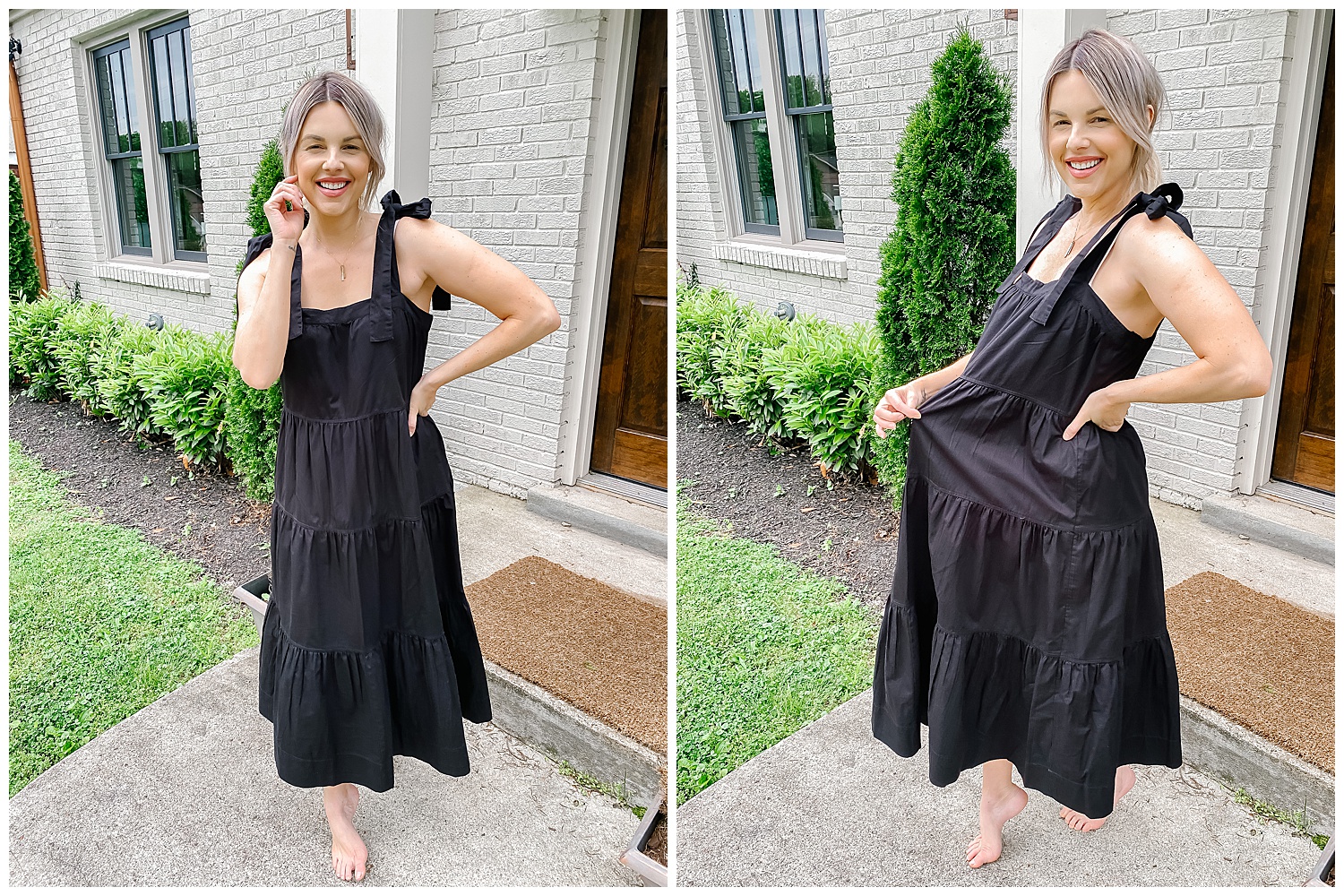 1. BLACK DRESS 
You will see me in this dress all summer long and I'm assuming this is probably going to be the first thing to sell out from this blog post. If you love it as much as I do, I would get it now! Right now it's fully available and all sizes and the sizes range from XS to XXXL. I'm wearing a size medium which is my normal size so I would say it's true to size. Also it comes in a gorgeous straight print. Oh my gosh, I am so sad that it's sold out and medium because I love it so much. But if it's available in your size get it ASAP. And then it also comes in white and in a gorgeous red!
LOOK FOUR
This isn't really a look because it's only a top but on me it kind of looks like a dress so I'm counting it as a look. You guys know I always want my blogs to be size inclusive so that people who come here and read my blog feel like there's something for them. This top is a plus size top, but when I saw it I just thought it was so so so beautiful that I knew I had to get it to review for you guys.
I'm 5'7 and on me a size OX almost fits like a dress. I say almost because it would be a super super super short dress. But on someone who has a bigger chest area than me this would look more like a top. I'm obsessed with the print, the gorgeous bell sleeves, and just the overall quality of this top. I also love the shape of the neckline. I feel like it's super flattering. Because it's long, it will cover your hips and booty which I know for me sometimes makes me feel more comfortable in my clothes.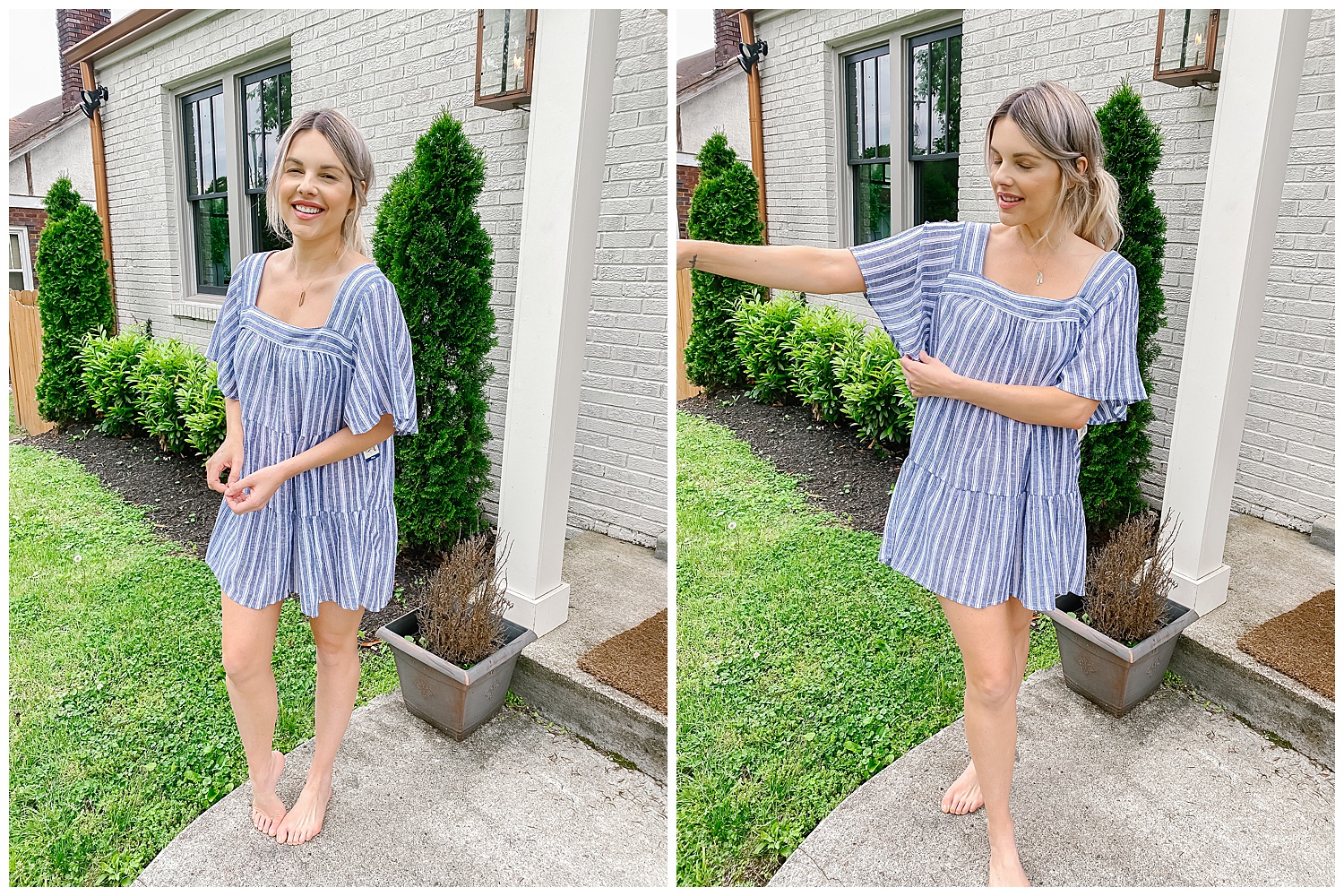 BRALETTES
Before I go I have to mention these bralette's that I get from Walmart. I know they're juniors but I get them at a size medium and they were perfect for money and I am a size large 34B/small 34CE. You guys always asked me what kind of bras I like to wear under spaghetti strap dresses and tanks and these are them! The straps are really thin and when they show it seems more purposeful than a bra strap. I don't really know why. It just does! And you truly cannot beat the price for a two pack! I have them and have had them for months and wash them many many many times and they've held up perfectly.
I'm wearing one in the photo below. You can see it popping through the top of my tank top. This tank top, that I bought years ago, it's super low cut so I always wear a bralette under it. I'm also wearing the denim shorts that I talked about on my first look in this photo as well. I'm telling you they are phenomenal get them now before they sell out!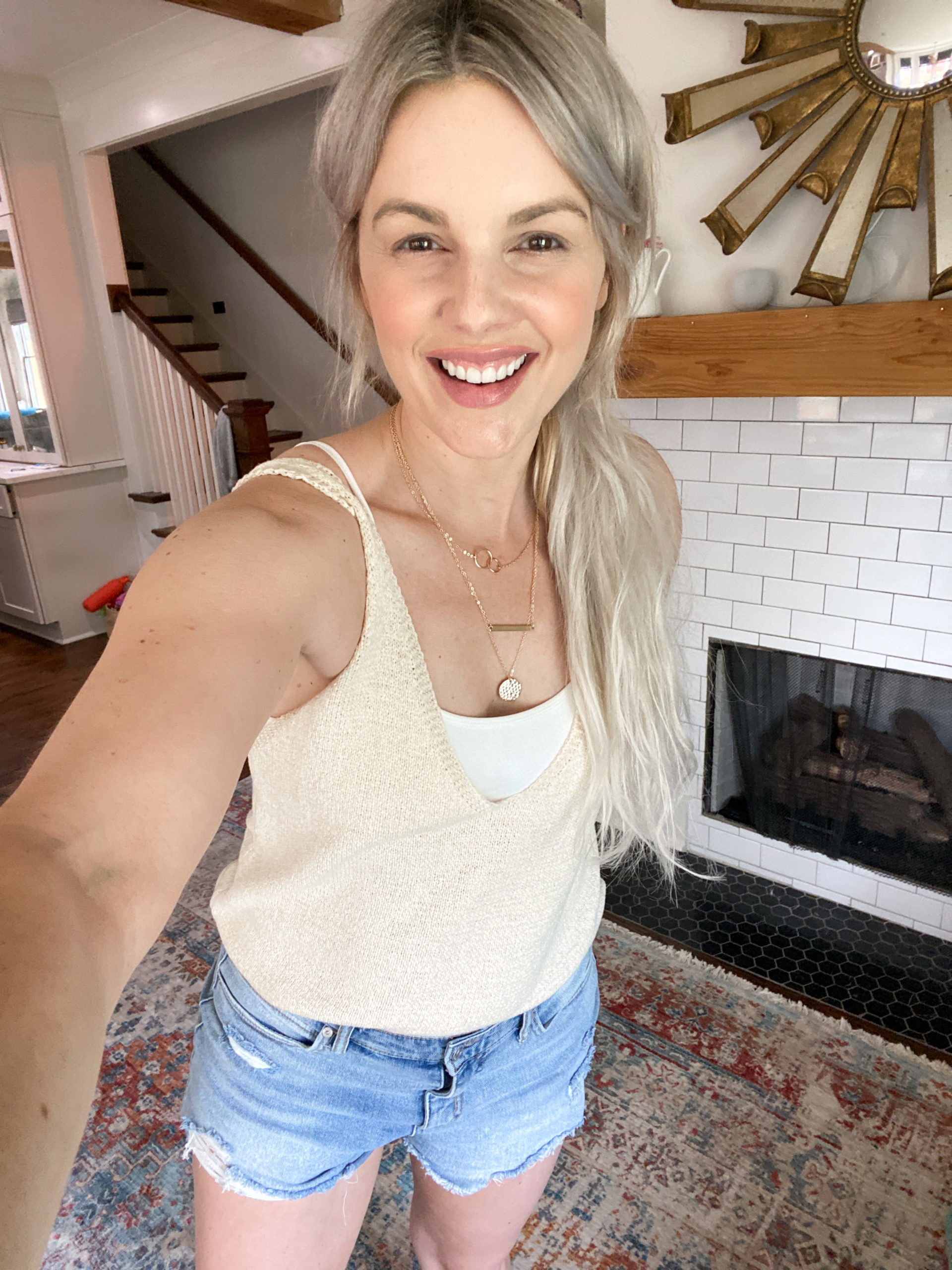 1. BRALETTES | 2. DENIM SHORTS
BONUS ITEM
If you're coming to this blog post because you saw my story about the beautiful item we just bought for our kitchen, here it is! Honestly I had no idea what to expect, but it's beyond gorgeous! Truly I feel like it looks twice as expensive as it was and it looks so beautiful in our kitchen. Sometimes I find myself looking at it and daydreaming about what it will look like in our new house. I'm telling you this is a must-get piece for your kitchen! Right now we keep fruit on it and I plan on using it when entertaining as well.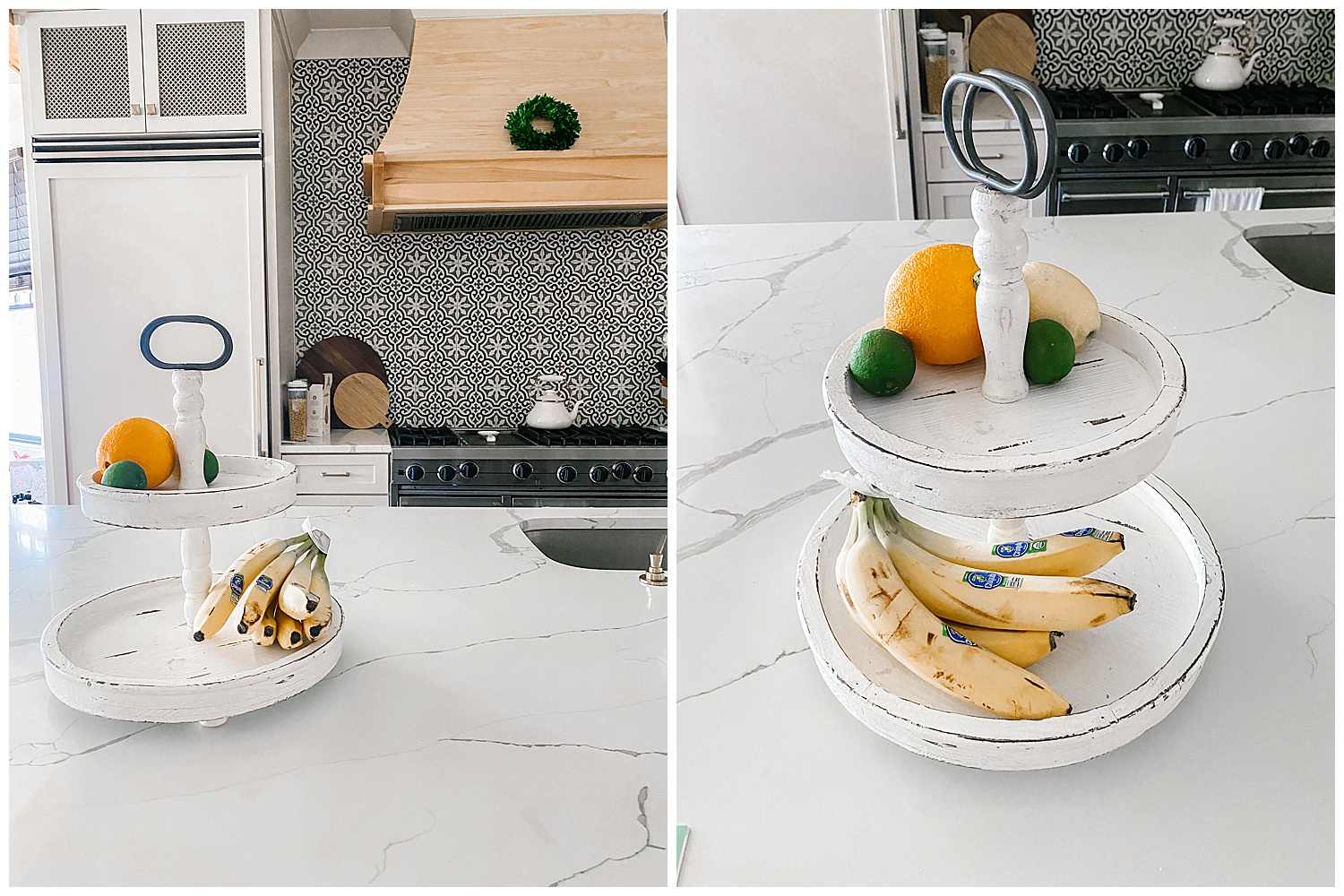 More Looks
Linking a few more of my favorite affordable fines below. Stay tune for me showing you these guys in my Insta stories! That navy striped dress is in ONLY $9 by the way

Thank you!
As always, thank you so much for coming by my blog today and continuing to support me and my little family. It means so much to me that you read my blog, chat with me in the comments, and tell me all your favorite items! Let me know if you get any of these Affordable Friday items, own any of them already, or have any questions! I hope you have an amazing weekend!