Hi guys! I feel like I'm normally so stumped on what to get my mom for Mother's Day and this year I have so many good ideas so I just wanted to get up a blog post so I could share them with you guys! You might've seen me talk about these things on my Instagram stories, but I'm just adding all the codes and links here just in case you were interested and didn't order then. So hopefully this makes it really easy for you guys!
Storyworth
I have to start with Storyworth because I legit cried when I first talked to my mom about it. It truly is one of the most special and beautiful gifts you could possibly give to somebody! Go to their site here to learn more about it. They do such a good job explaining how wonderful it is.
Essentially you gift it to somebody in your life like your mother or your grandmother and you basically buy the book upfront that will end up being the story of their life. Then once a week or once a day depending on how you have it set up, Storyworth will email that person a question. All they have to do is reply to the email and respond to that question. Your loved one can add photos as well. Then at the end of the year Storyworth takes all those stories and puts them into a beautifully bound book!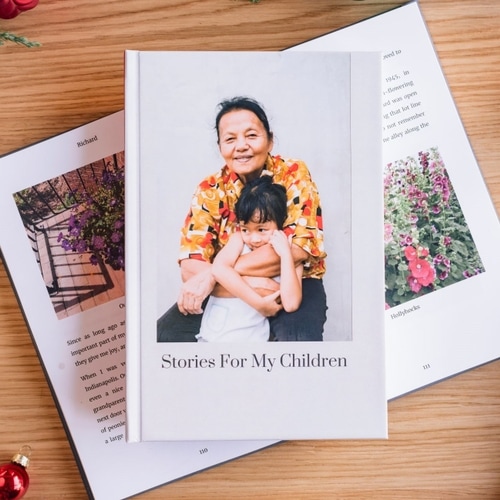 I not only bought this for my mom, but also for my dad and Kevin's parents. I have an account to login to see what stories/questions they've answered and I legit have already found myself in tears reading them because they're so special! Some were questions that I never would've thought to ask. This link will give you $10 off, and to get this beautiful book with all these memories for $90 is a steal. I'd pay twice that to have something so special.
Luxury Bedding
I can't remember the exact statistic, but I'm pretty sure we spend a crazy amount of our lives in bed. Like over a third of our lives or something. I could be way off, but I just know it's a lot. I am a firm believer that you should have the most comfortable and amazing bed you possibly can! I have Boll and Branch bedding on my bed and I don't think I'll ever use anything else! So I really wanted to give some to my mom this year because she's just not the type of person that splurges on stuff like this. I want her to have luxury bedding because she deserves it! The code ALIM15 will get you 15% off, just FYI.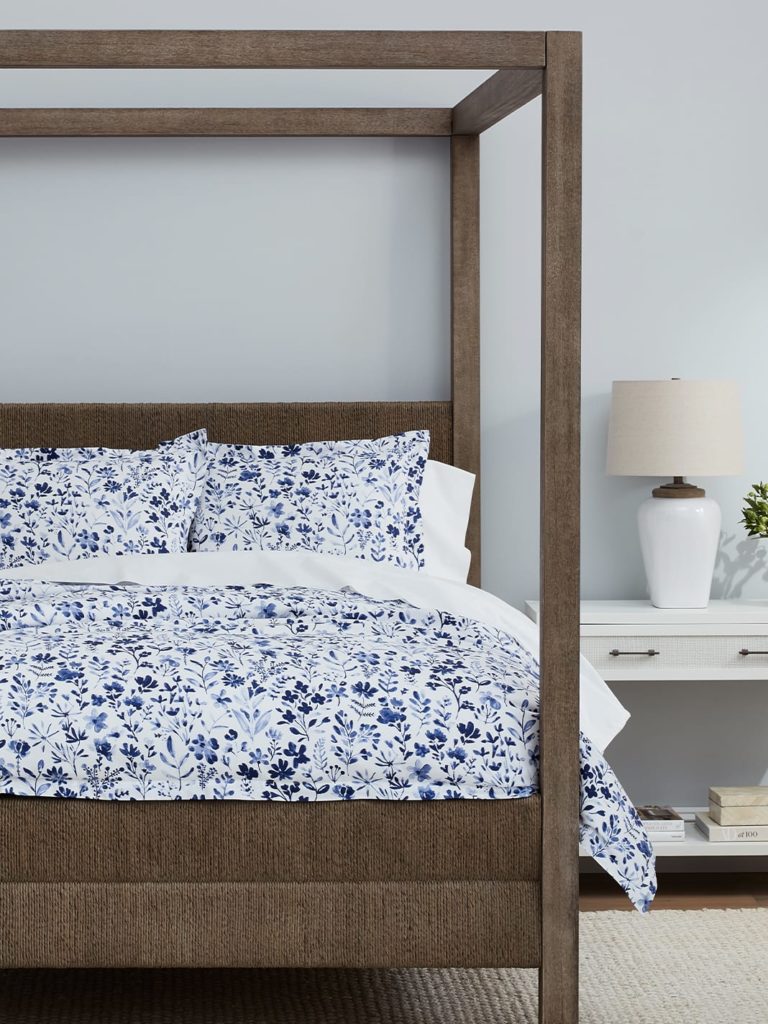 15% OFF BOLL AND BRANCH WITH CODE ALIM15
Even with the 15% off, it's still an investment. Honestly when I ordered it for my mom I paused before checking out because it was a lot of money. But if you are able to afford it, I know not everybody can, I really think it is one of the best gifts you can give. It's the type of thing I know my mom will love so so so so much, but she would never buy for herself. Btw, I got her the blue botanical sheet set and the white quilt set. I'm so excited to see them on her bed it's going to be so beautiful!
My Deodorant Kit!
Code ALIGIFT will get you 30% off the Each and Every website! I just wanna say that right off the bat because it's such a good discount! It's not just on my kit, but on any deodorant on their site!
Believe it or not, you guys seem to love Each and Every deodorant as much as I do! I've been so blown away by all the positive responses in my Facebook group from people who have tried natural deodorant time and time again and nothing ever works, but then discovered Each and Every and love it as much as I do! So when I announced that I did a collaboration with them and designed my very owned box with three of my favorite scents, it's sold out almost immediately! Seriously I'm so grateful for you guys, you're just the best. Each and Every is restocking, so more kits are going to be available – just not until May 21! If you order now you'll secure your spot to get it once the new boxes come in. So definitely order quick because this next round could sell out fast too!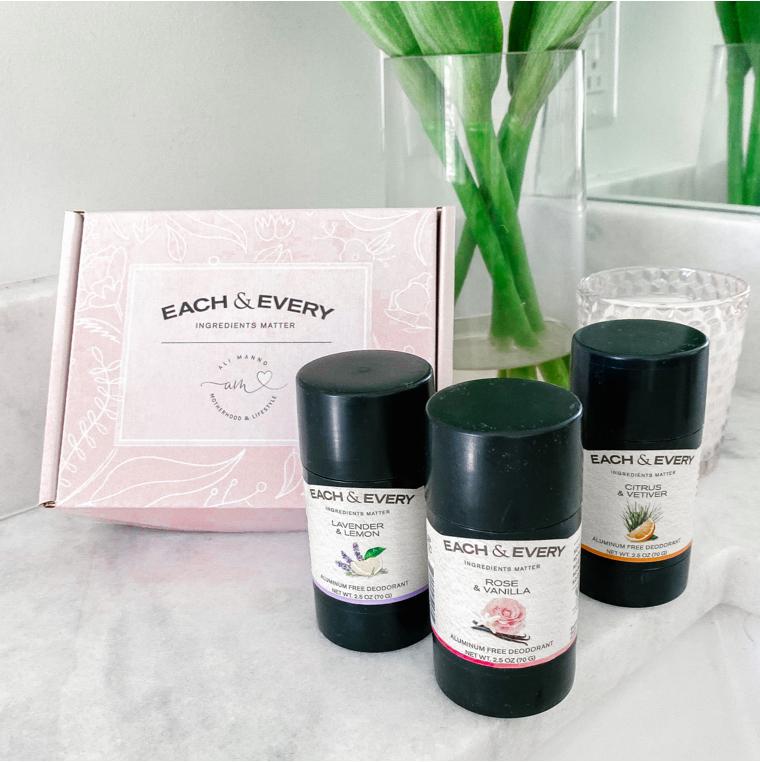 30% OFF EACH AND EVERY USING CODE ALIGIFT
I don't know if you guys know this, but I signed and wrote little notes in the first 500 kits when we launched. I've requested that the brand create 500 more cards for me to sign so I can get more of them out to you guys! I'll try to write as many little notes as I can to thank you guys! Stay tuned for more than that.
Treat Yourself
I'm also a firm believer that Mother's Day is a time to treat yourself. Really we should treat ourselves all year long! But if money is tight and you need a special occasion to get something nice for yourself, use Mother's Day as that day! If I were choosing one day out of the year to treat myself, honestly I think I would do it with two of my favorite natural products which are Tarte Cosmetics and Dime Beauty.
Dime
You guys know that the code SUPER20 will get you 20% off Dime's website. Use it get the eyelash serum and the power patches because they are two of my favorite products of all time! I'm pretty sure I'm adding their whipped exfoliating mask as my third favorite skin care product of all time. It seriously leaves my skin so smooth – it's kind of unbelievable. I just love their stuff, I love that it's natural, I love that it's in glass bottles, and I love that it works. I can't say enough good things!
Look how long my lashes are in the photo below?! I religiously used their eyelash serum for, gosh, definitely over a year. Maybe a year and a half now and I will never be without it because it works so well! I love that it's natural so I don't have to worry about my eyes changing color or anything like that.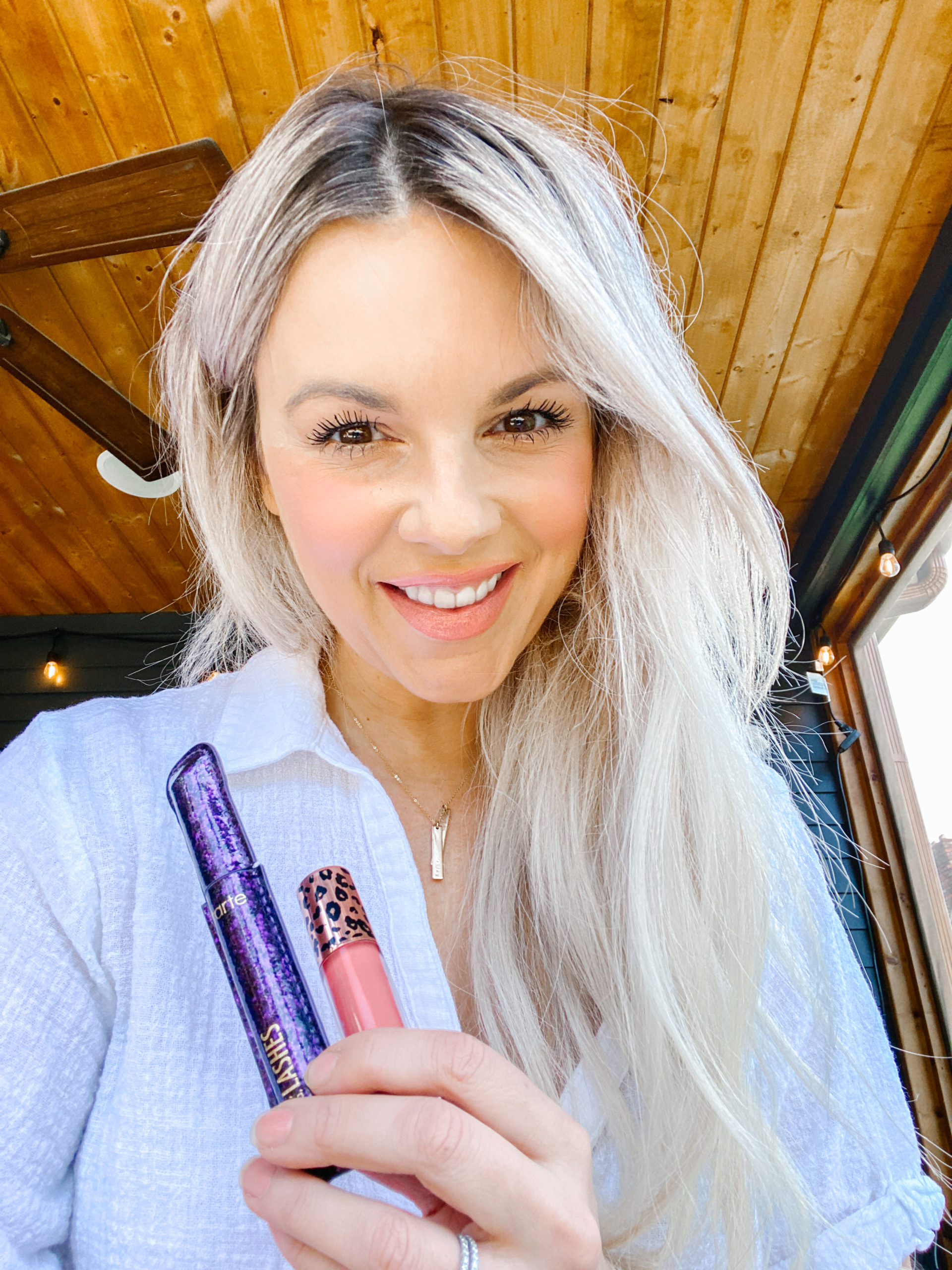 Tarte
In the photo above my eyelashes also look super long because of the amazing mascara I'm using! I want to share Tarte's Lights Camera Lashes mascara with you guys because it's so good! They are having a sale right now where the more you buy, the more you save. So if you buy one item you get 20% off, two items 25% off, and if you get 3+ items you get 30% off!
I not only got more mascara, but I got a bunch of the Amazonian Clay foundations because I just think it's the best foundation ever. Sometimes I mix in some It Cosmetics, but It Cosmetics has a little bit more of a shine to it whereas Tarte is super matte and I just love that so much. I'm weird and like to mix my foundations. I also like to mix my shades, but I tend to usually be a 22N for my shade for anyone who's wondering. If you are worried about trying a new foundation because of your shade, I suggest buying two and mixing them to get it just right.
In the picture above I'm also using shade Peaceful in the Amazonian Clay 12-hour blush, and the Maneater lip plumping gloss. I'm telling you a good Charlotte Tilbury lip pencil and this gloss will make your lips look so full!
Sunless Tanner!
Last but not least, I have to add this sunless tanner just cause it's on sale on QVC right now. Normally one Saint Tropez Tanner is $42. But right now in QVC you can get 2+2 application mitts for $49. It's basically like a 50% off sale. I used to use another brand that I'll link here that I really loved and I can't believe I'm saying this, but St. Tropez is better! It goes on so much easier and I did not have a single streak after using it whereas I usually have some weird spots around my feet and hands with the other stuff. I think the application mount helps so much too.
Happy Mother's Day!!!
Whether you buy yourself a gift on this Mother's Day or you don't, I hope you take some time for yourself to go for a walk or take a nap or whatever it may be that gives you some self-care on this Mother's Day! I love you all! Have a wonderful Mother's Day!