My goodness do I love Affordable Fridays – especially for spring! I hope you guys love them as much as I do! I want you to know that I truly spend a ton of time seeking out the absolute best pieces I can find at super affordable prices! And I absolutely without a doubt have to start with this feminine floral dress.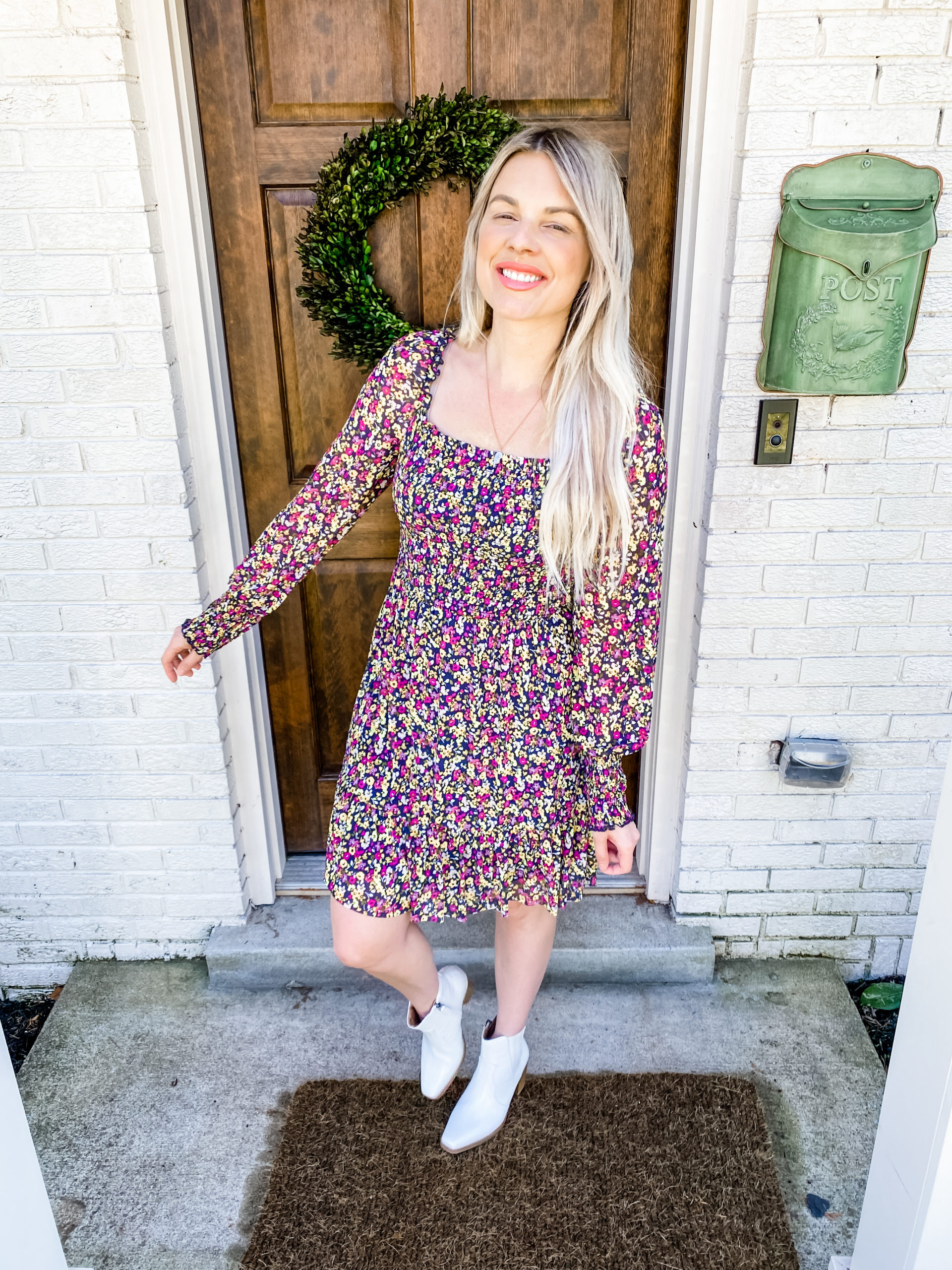 1. $21 DRESS | 2. $35 BOOTIES
But first, everything in this post is from Walmart so it will be easy for you to shop. And if you're a Walmart+ member you can buy one item and still get free shipping. If you're not, I suggest buying multiple items so you can spend at least $35 to get free shipping or if you just get one piece of clothing from this blog, you can always add essentials to your cart to get the free shipping.
Spring Affordable Friday Looks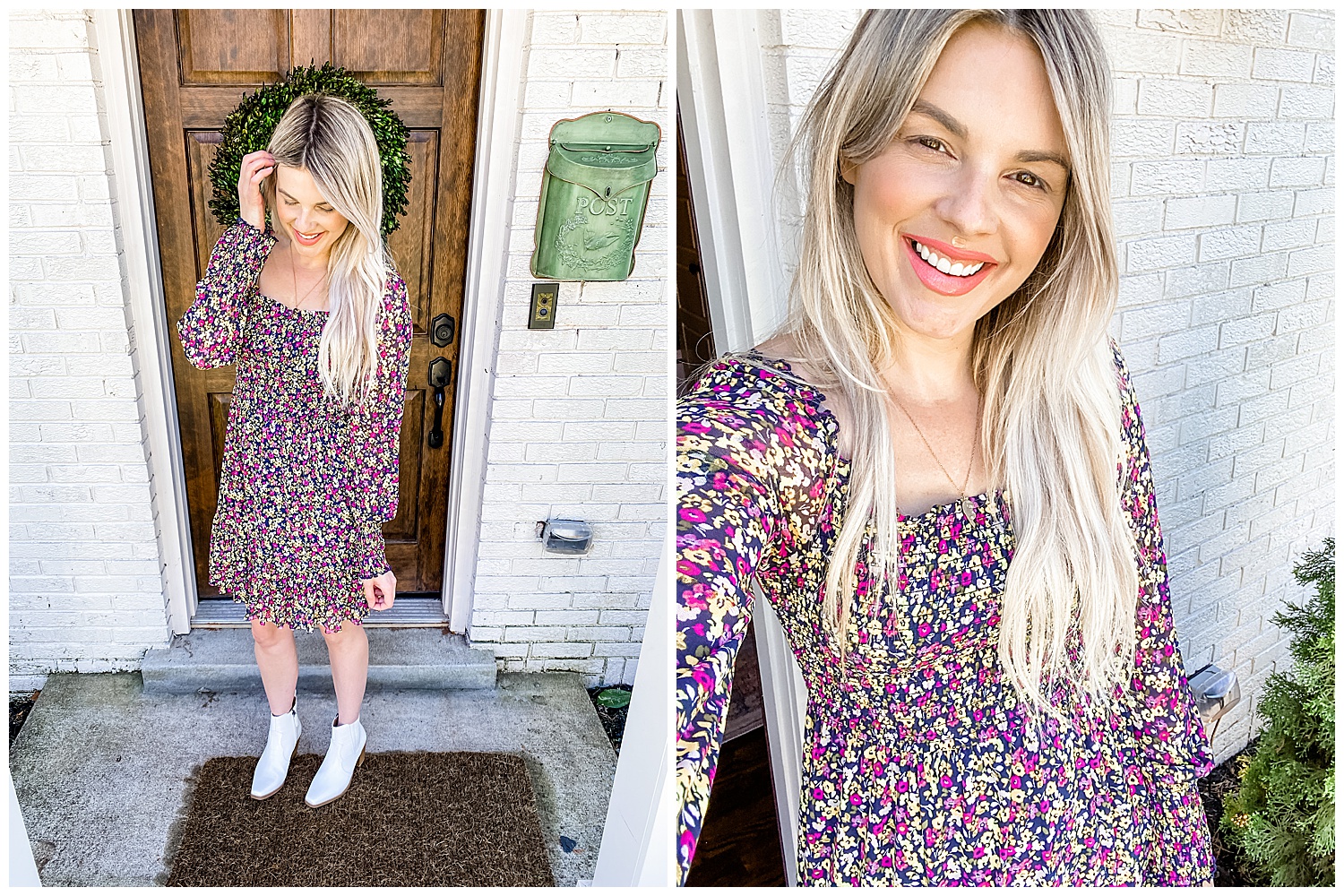 1. $21 DRESS | 2. $35 BOOTIES
Okay, back to this dress, oh my gosh, it's $21! I truly cannot believe the price! The material is so luscious and silky in the fit is just incredible! Go ahead and look at the ratings on the Walmart's site. They're super good and I'm not surprised. I'm wearing a size medium which is my normal size and it fits perfectly. I cannot say enough good things about the dress and you're seriously missing out if you don't snatch it up quickly!
I love that the sizes range from XS to XXXL! It makes me so happy to share fashion that is inclusive of many different beautiful shapes and sizes!
Another Gorgeous Floral Dress

I'm gonna follow that up with another floral dress that's under $20! This dress is so much prettier in person than it is on the picture on the Walmart site. I just wanna let you know right off the bat that I actually sized down in this one because of the reviews and sizing down was definitely the right choice! I'm normally a size medium and I got a size small and it fits perfectly. Also, take a look at the reviews for this one because every single person that got it gave it a 5-star rating!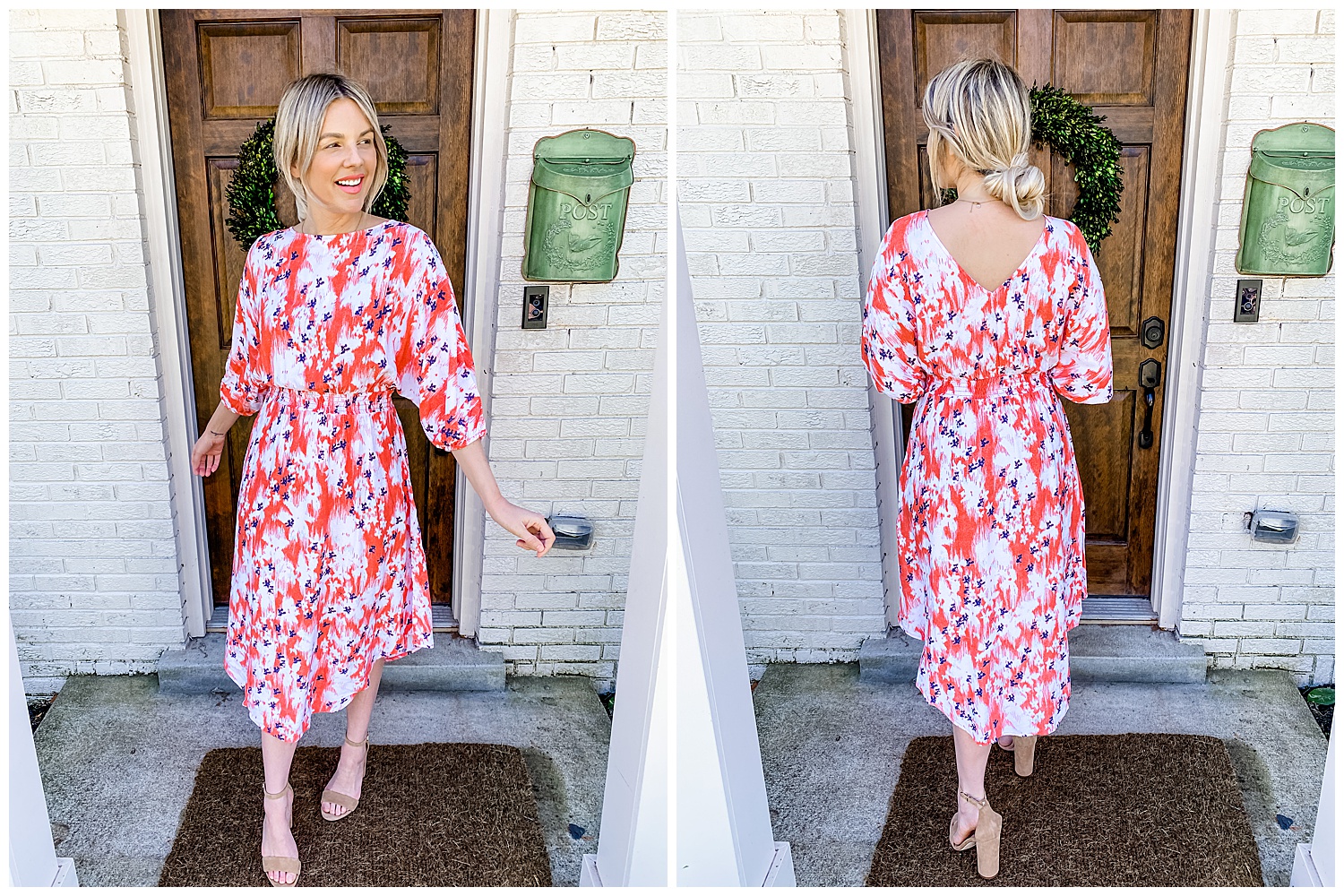 Another thing I love about this dress is you could actually wear it two ways. I love it worn the way it was intended with the v-neck in the front. But I also just think it's so gorgeous flipping it backwards and having a higher neck in the front and then a little bit of a V in the back. To be honest I actually prefer wearing it this way and it works perfectly either way. So perfect for spring! It available in size XS to XXL but since I recommend sizing down it "really" goes up to XXXL in my mind 🙂
White Booties
I decided to wear the first dress with these white booties – they have a little bit of a western feel just because, well, I do live in the south now! Ha! I'm definitely going to be incorporating a little southern flair into my outfits from now on. Not always, but it's fun to every once in a while. I just think white booties like this are just cute and I actually find that I'm wearing them way more than I ever thought. Seriously get yourself a pair of white boots and you'll be shocked how often you wear them. Plus, the ones I'm wearing are super comfortable and you cannot beat the price at $35!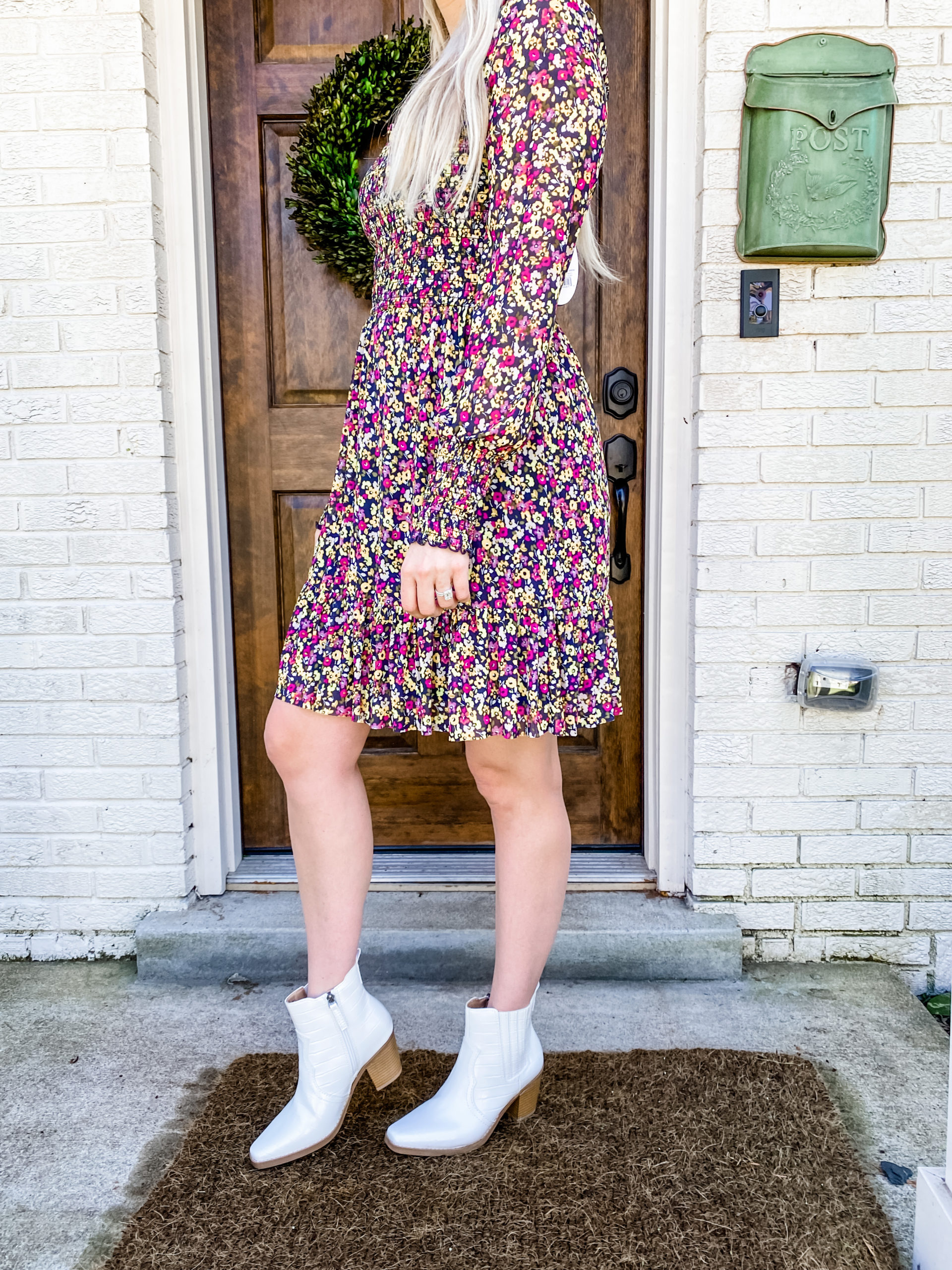 1. $21 DRESS | 2. $35 BOOTIES
Vintage Tee and AMAZING shorts!
I'm gonna come back to dresses in a minute, but I have to move onto this look because I just love it! I'm gonna start with the shorts because I think it's amazing that these shorts are SO flattering for only $24 – I am so happy I found them! I have searched high and low for affordable flattering shorts and I have found it nearly impossible to find a great pair under $100 up until now. I'm a size 6 in dresses, but I always tend to buy my shorts a little larger because I don't want them to be tight. So I got the size 8 in the shorts.
The key to a really great pair of flattering shorts is having them flare out a little bit around the leg and not hug the thigh tight. These do that perfectly and I just love them! I want to head and bought a second pair because I just think they're so affordable and I'm going to live in them this summer.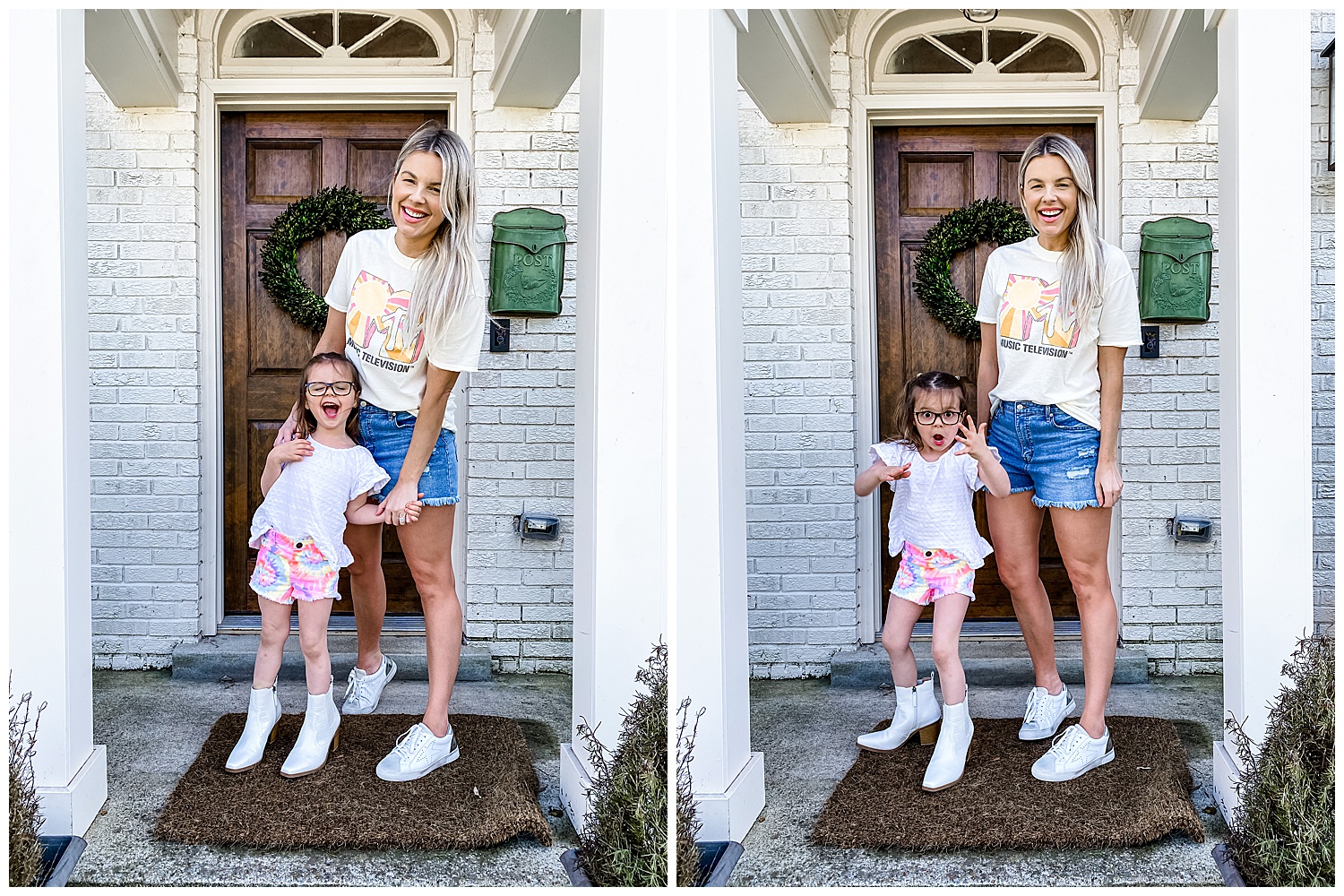 1. MTV TEE | 2. $24 JEAN SHORTS | 3. MOLLY'S SHORTS (3-PACK) | 4. WHITE BOOTIES
And how amazing is this retro MTV t-shirt? I'm wearing my normal size which is a size medium and it fits perfect. At only $15 you really can't go wrong. I love vintage tees. Honestly when I saw this I was kind of shocked that it was going to be considered a vintage tee style just because I grew up with MTV. But MTV is vintage now! Yikes I feel old. Ha! So if you grew up in my generation and spent the day watching MTV this t-shirt will definitely bring me some nostalgia.
As you can see, Molly wanted to join my pictures. She's wearing my white booties – and rocking them I must say. How adorable are her little tie-dye shorts!! I got a three pack of dark wash denim, light wash denim, and this cute tie-dye denim jean shorts for her for $13. Three pairs! That makes them $4.50 a pair. She's wearing a size 5T (her normal size) and they fit perfect.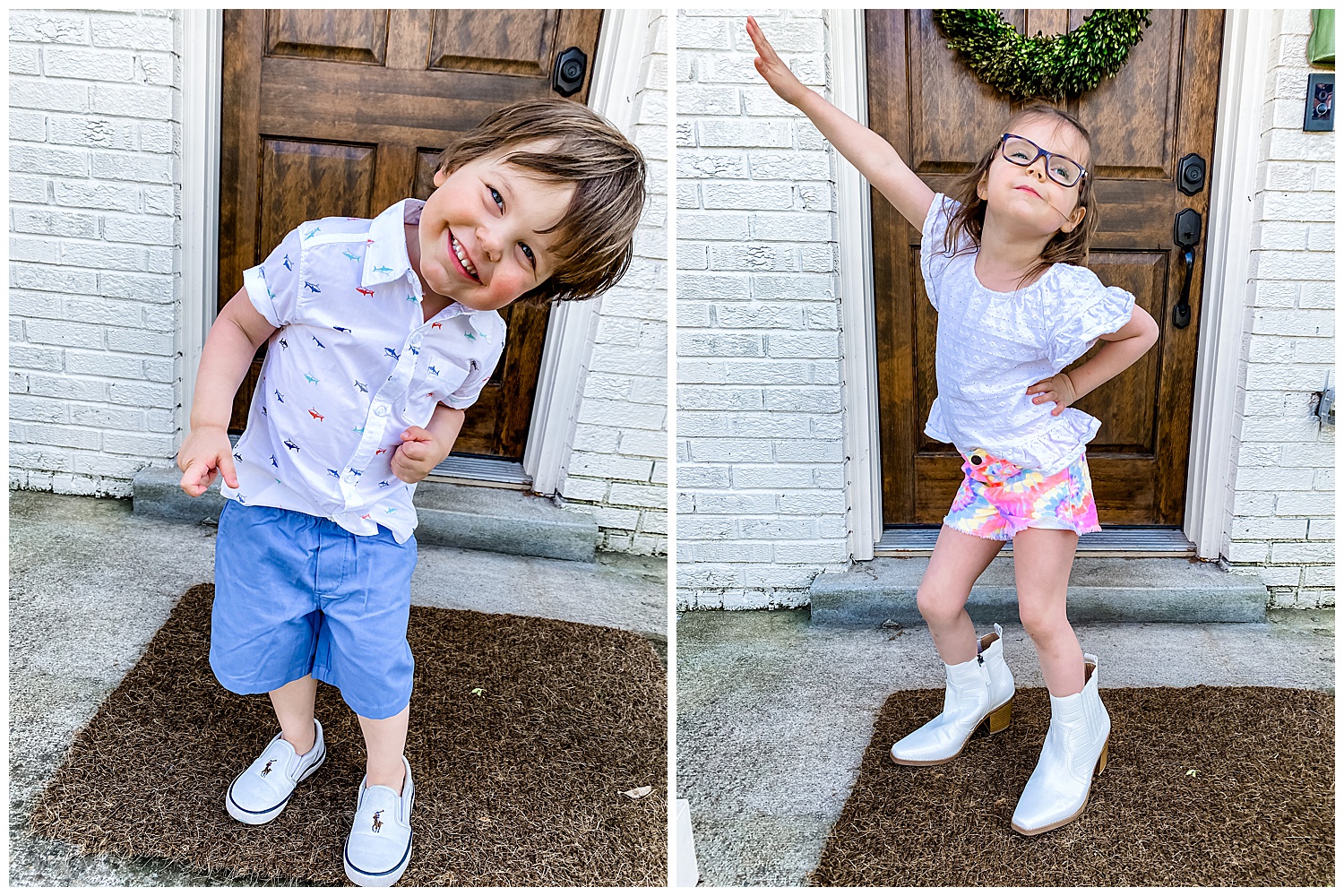 1. MOLLY'S SHORTS (3-PACK) | 2. RILEY'S TWO-PIECE OUTFIT
And since Molly joined the pictures, I had to share Riley's outfit too. This adorable two-piece outfit is only $11 for both the top and the shorts. The perfect little spring/summer outfit! It would even make a pretty cute Easter outfit and there's a chance if you order it today you get it in time. I got it in 2-day delivery. But regardless, it would be cute all spring and summer long. Riley is wearing a size 3T which is his normal size. And look at that cute smile! That's priceless!
Blush Tie Dye
It's kind of blowing my mind that this sweatshirt is $9. I'm pretty sure it was full price when I bought it and now it's even more affordable. I love the colors and I feel like this is the type of sweatshirt you'd see in a boutique that would be 10 times the price. I'm wearing a size medium, which is my normal size. To be honest the reviews are a little mixed on the sweatshirt, which I'm so surprised about.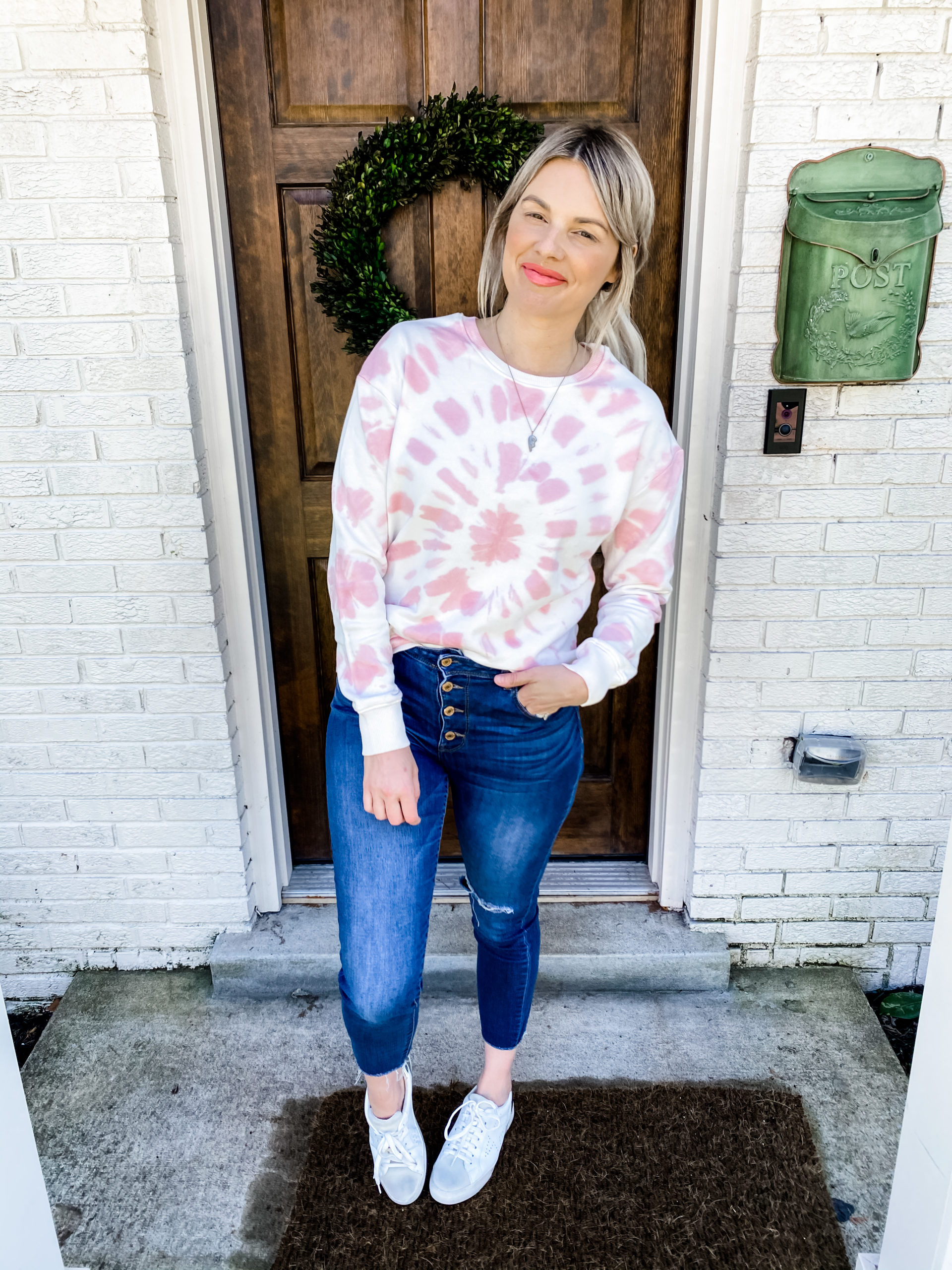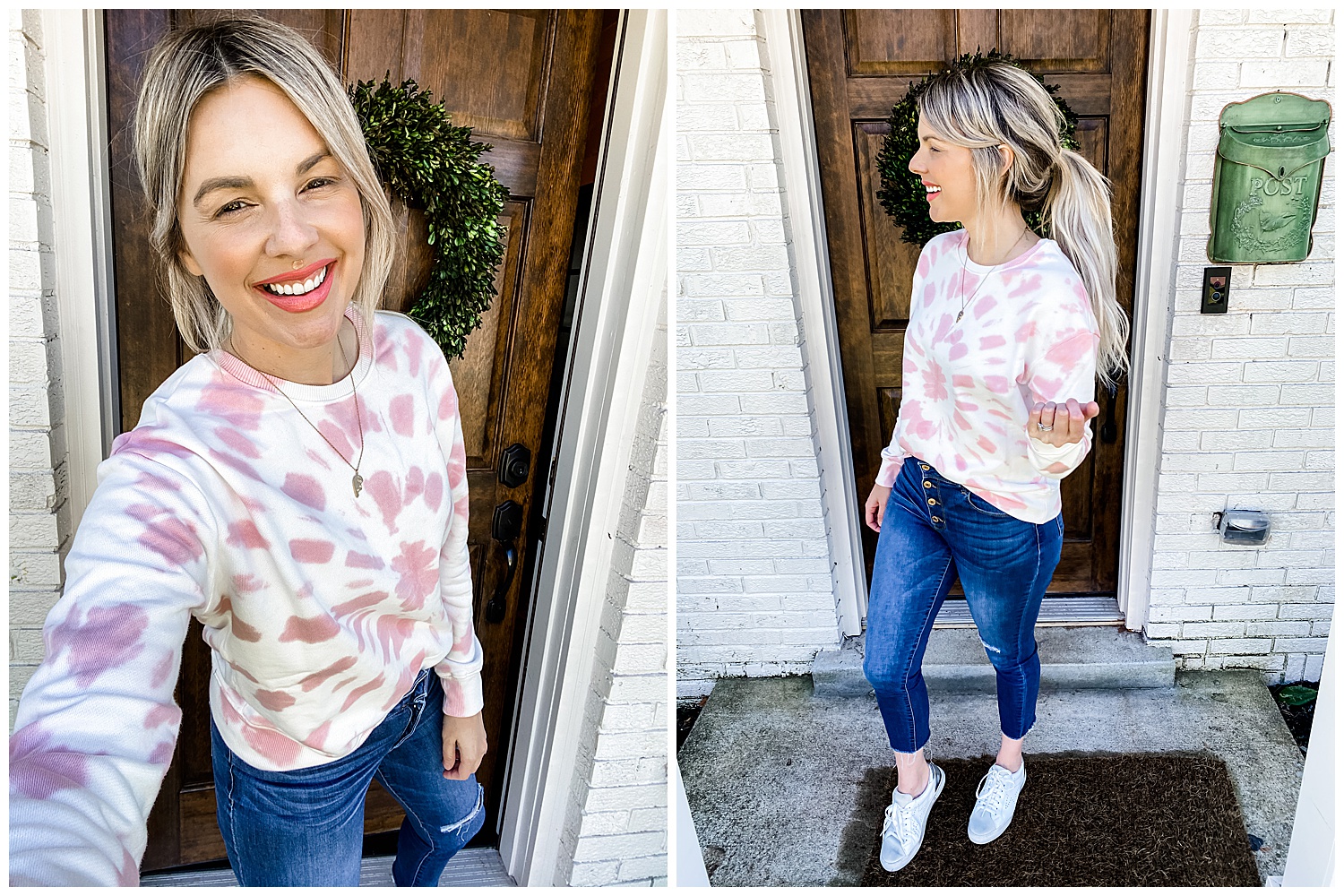 It has a little bit of a boxy fit and is a thicker material, but a boxy fit is so on trend right now. If you go to any higher end store, almost everything has that sort of cut. Plus, I just love how it looks, so I guess it could be a preference thing. But there are over 90 reviews and the majority of them are four stars or more so I think just a few people didn't like it. I love it! I normally let the reviews sway me one way or the other, but I just went for it in this case because it was so affordable and you guys know I love light pink and I'm so glad I did! Can't beat a $9 price tag for a sweatshirt!!
It also comes in a few other colors FYI and it available in size XS to XXL.
Plus Size Top!
I always want my blog to feel inclusive and that doing my best to I'm think of everyone. I'm so happy that so many of the pieces I got for myself range in sizes anywhere from XS up to XXXL!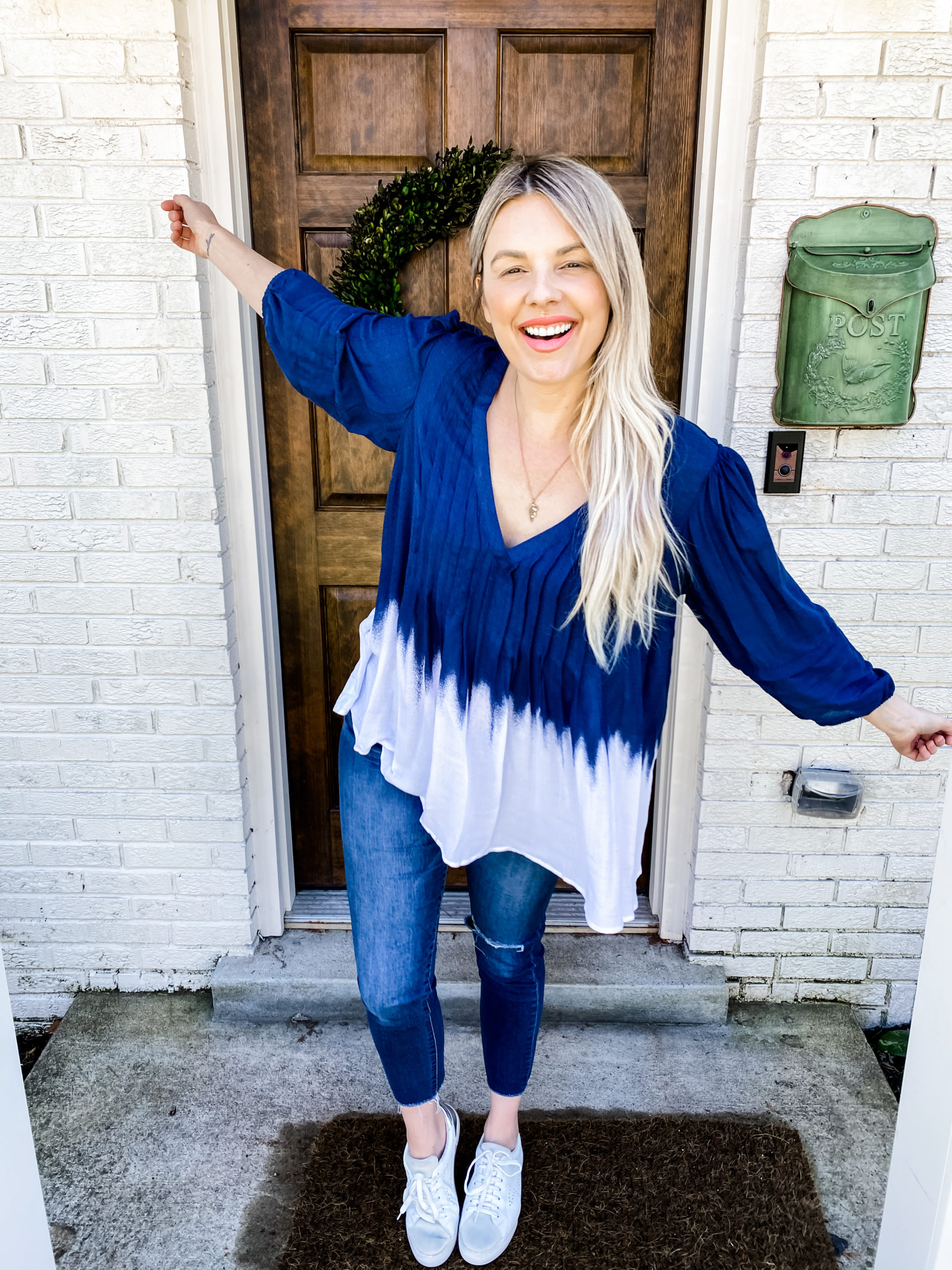 1. BLUE BLOUSE | 2. ORANGE BLOUSE
While I was browsing Walmart, I saw this beautiful flowy top and I was so bummed when they didn't have it in my size. However, I didn't want that to turn me from sharing it with you guys because I know so many of you beautiful ladies would look incredible in a top like this and at $17 I couldn't pass it up! So I ordered it and I love it! I ordered the size 0X. As you can see, it's a little big on me but it's so gorgeous.
Unfortunately this exact color combo is only still available in size 0X. But the exact same print in the orange/coral color is available in all sizes up to size 4X. I think it's so stunning and would be perfect for summer time.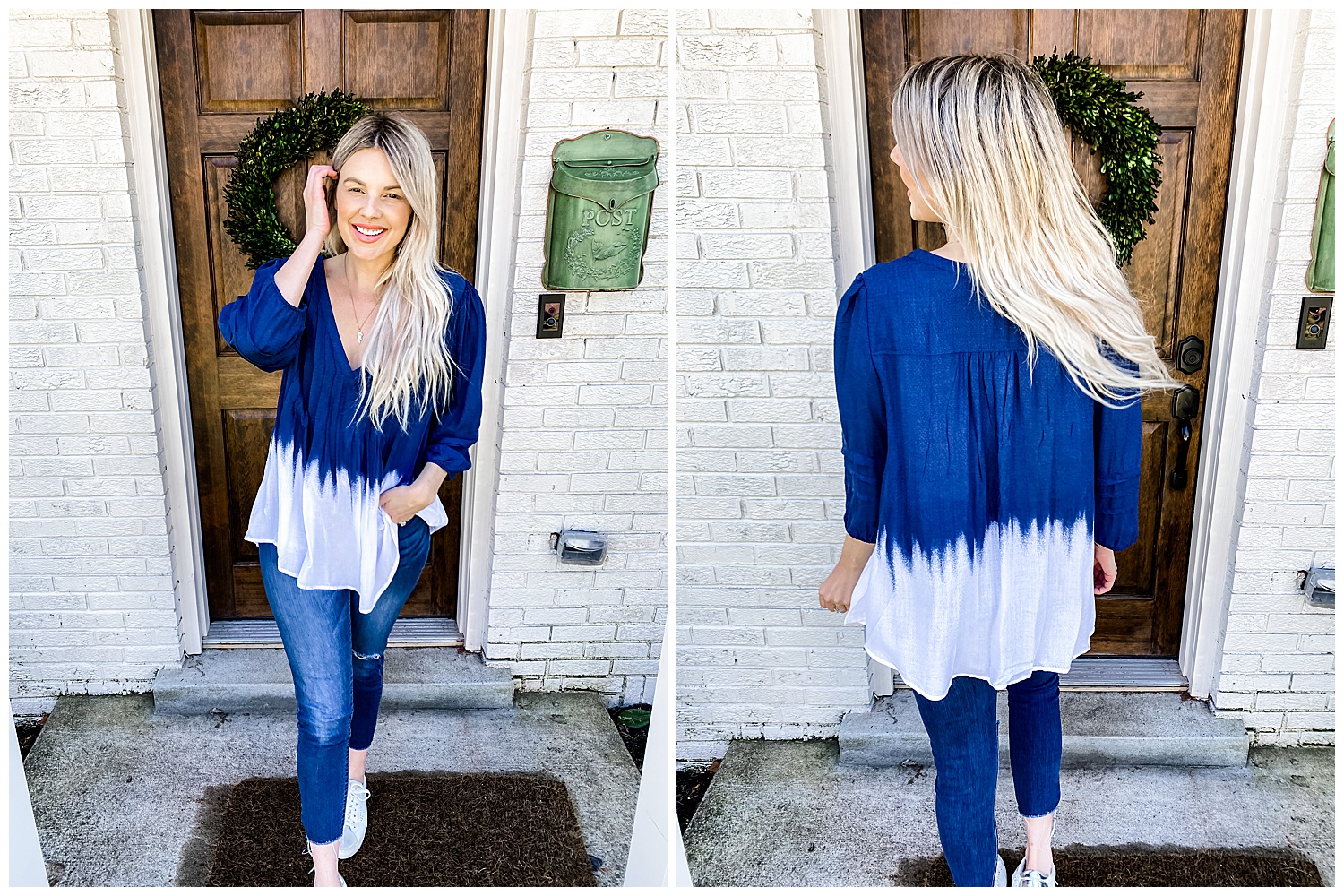 1. BLUE BLOUSE | 2. ORANGE BLOUSE
One thing I want to note is that this shirt is low cut so it's likely the type of shirt that you might want to wear on vacation over a bathing suit or over a tube top or pretty bandeau/bralette that you like. It's also a very thin, lightweight material so that might not be something you love, but I absolutely love it especially if you're going on vacation somewhere hot!
Bonus Item for the Men in Your Life
Also, if you guys haven't checked out Harry's deodorant yet, I highly suggest it. Not for women, but for men. It's the deodorant Kevin's been using lately and I absolutely love that you can still give your guy the anti-perspirant sweat protection they want, but with more simple ingredients.

I Need Your Advice!
One more thing. Ha!  While I have you guys here. I desperately need a chair for my office. I've literally been sitting on my workout bench at my desk and it's killing my back, but I want your help choosing one! Which one should I go with? This pretty light blue one or this cream colored one? I just love them both that I can't choose! I love the cream because it's classic and farmhouse, but I do think the mint is pop of pretty color to add in an office space! What are you guys and comment below?

Strapless Maxi Dress
I also wanted to show you guys this strapless maxi dress that I got! It's a little shorter than a maxi since it hits at the calf. I always think of a maxi is something that hits at the ankle. But I think it's perfect for a dress this summer to wear to the beach or any vacations you might have! And it's just over $30 so it's a great price! I'm wearing a size medium which is my normal size and it fits perfect. Plus, the bust area is super stretchy so it will fit all different body types, and once again I absolutely love that it goes from size XS up to XXXL.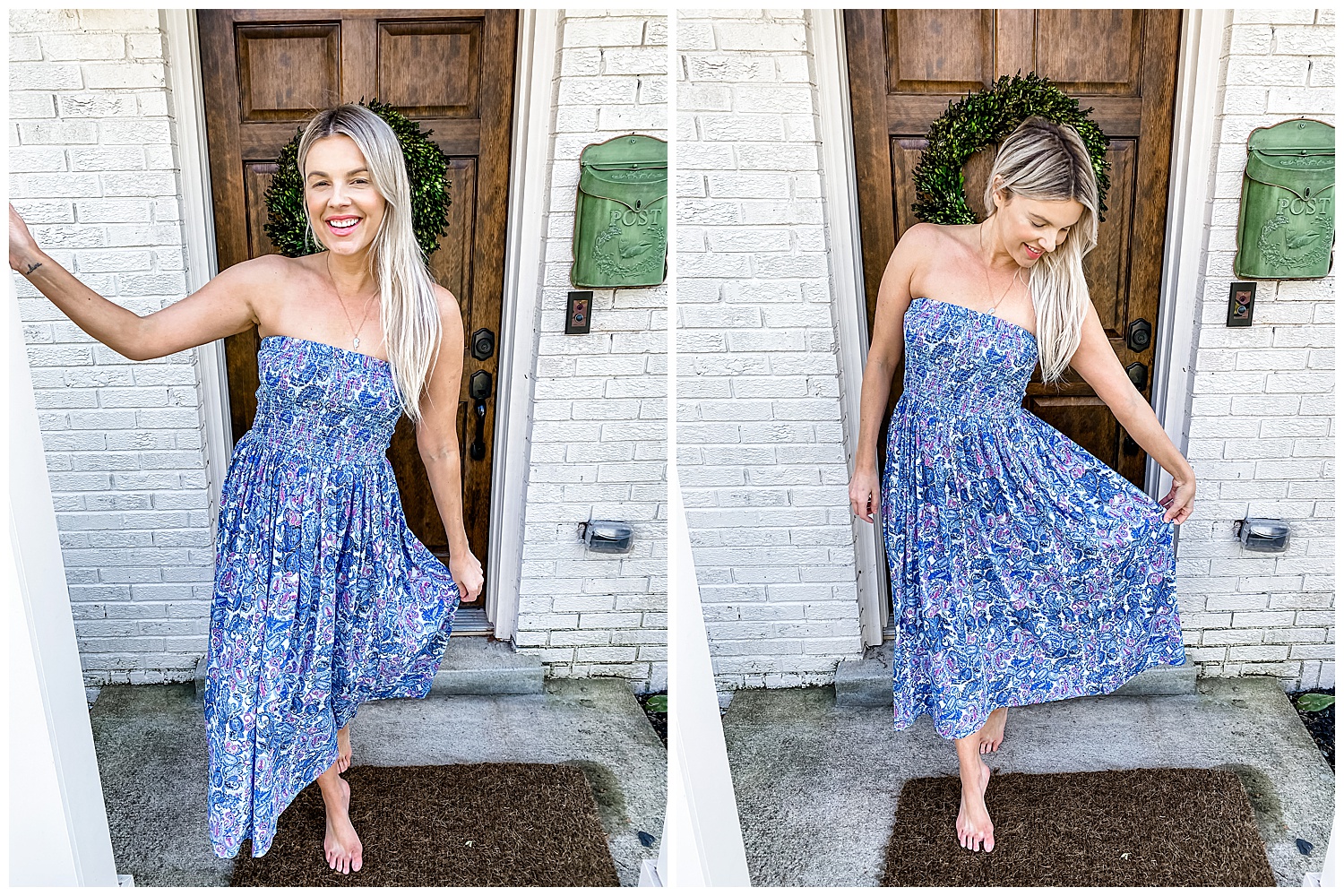 Hope you enjoy today's Spring Affordable Friday Post!
Well I hope you guys thoroughly enjoyed this Affordable Friday post. I can't even tell you how much I love doing them not only because I love a good deal and love sharing it with you guys. But honestly just because I even blow myself away with how much I love some of these outfits and can't believe the price. It's just fun and I love it!
Huge thank you to Walmart for just having the cutest stuff for the best prices and for being a continued supporter and sponsor of my blog!