Oh my gosh, I just realized as I started typing this that this is my very first Affordable Friday from Nashville! Yay! And on top of that, it's my first Affordable Friday spring edition of the year! You guys know how much I love a good t-shirt and this Affordable Friday is heavily focused on the most amazing t-shirts all $12 or less AND from a brand that is committed to sustainability – which I love. I've also picked out a blouse and a dress that I really like too and I couldn't pass up sharing. So let's get into my new favorite tee!
$12 Basic Tee
The first t-shirt I wanna talk about is the more expensive one at $12. Ha! You know this is a true Affordable Friday when the more expensive t-shirt is $12. But I love love love love love this t-shirt! I decided to get a small and a medium in this just to see what I would think about the different sizes.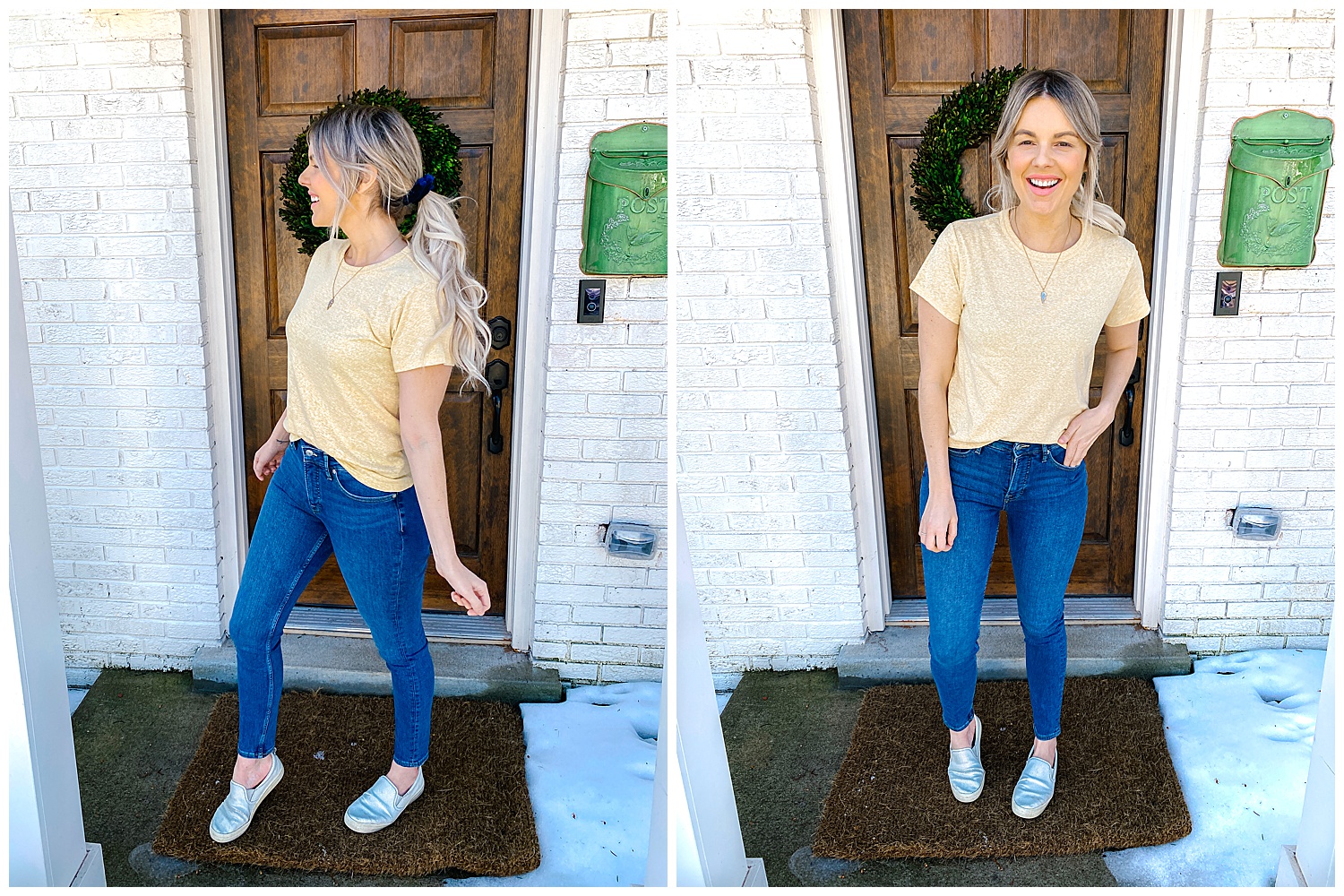 1. PALE YELLOW TEE | 2. LIGHT BLUE TEE | 3. $27 JEANS
The yellow version I'm wearing above is a size small and it's definitely more fitted, but still has a decent amount of room. And then the medium (light blue below) gives me a little bit of a looser look. I personally would say size down in this one, but if you're in between sizes go with your normal size. I absolutely love the muted colors. I got the light blue and pale yellow versions, but they also have a color called rusty brick that I ordered today because I love this t-shirt so much. You guys know me in the warm weather, I wear a t-shirt every single day and these are going to be my new go-tos. I love love love love love love love!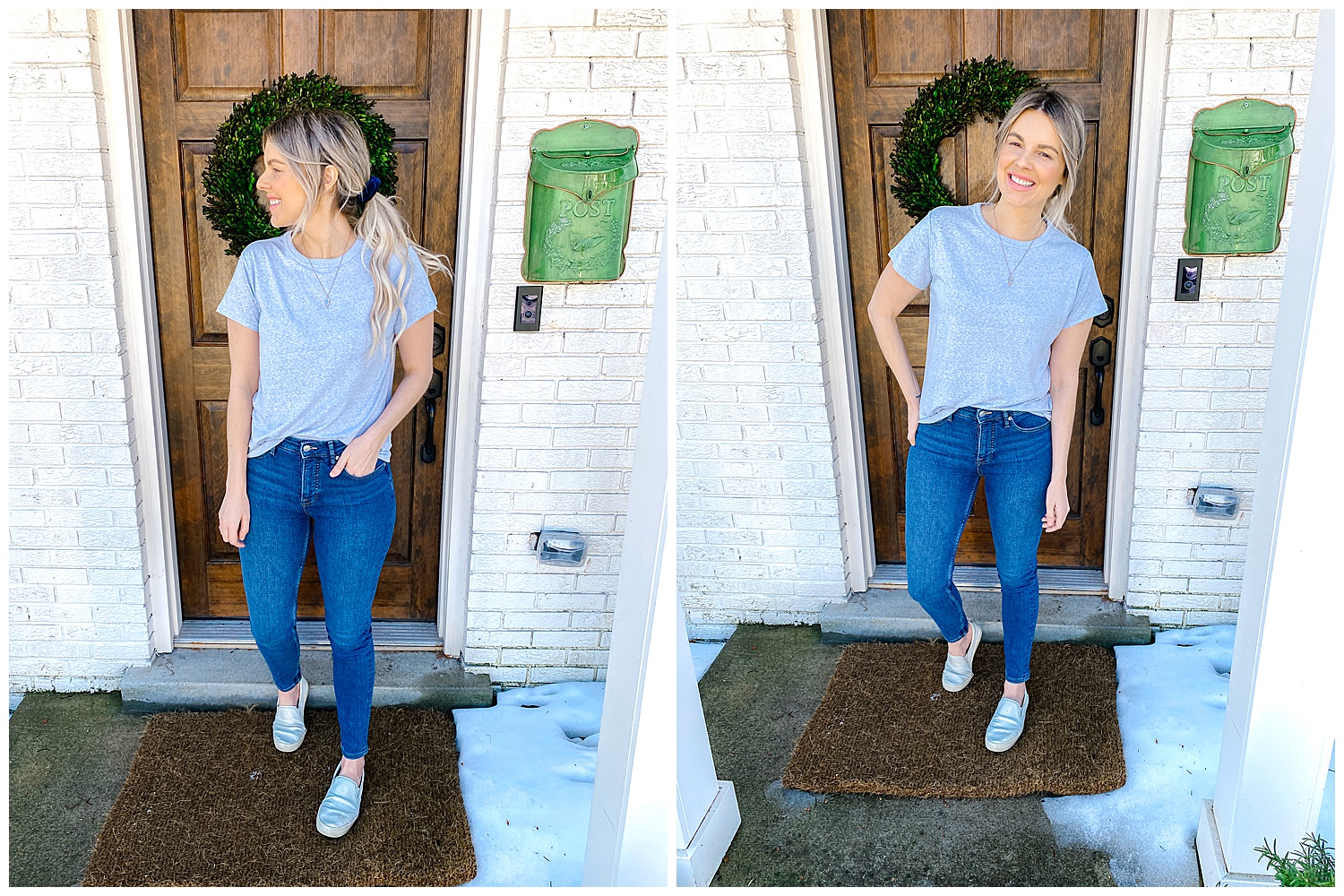 1. PALE YELLOW TEE | 2. LIGHT BLUE TEE | 3. $27 JEANS
Now more about the tee in a size medium in the blue! I wanted to show you photos of it as well so you could see that it has a little bit looser of a fit, but I love it just as much. It just really depends on what kind of style you want. If you want more fitted look but still with some room in it size down. If you like a little bit more of a boxy tee go with your normal size.
$12 V-Neck Version
I know this blog has a lot of t-shirts, but that's just my favorite thing to wear in the spring and summer because they're easy, classic, and comfortable. But I wanted to include a v-neck version since the two I just talked about are both crewneck and I know some people prefer v-necks. Another thing I actually haven't shared yet about any of the shirts is they're not see-through at all! I personally don't mind a little sheerness to my tee, but I know I blogged about a few in the past and some of you really didn't like that, so I'm really happy to share that these are not sheer whatsoever! It's a really nice quality material. In this light blue version of the v-neck, I'm wearing my normal size which is a size medium.

 1. $12 V-NECK TEE | 2. $27 JEANS
Super Flattering $27 Denim
I had to turn around in these photos and show you my backside just to stress how ridiculously flattering these jeans are. I am continually blown away by the amazing denim you can get at Walmart for awesome prices. I got these jeans because the reviews were pretty incredible and I honestly needed a new pair that doesn't have rips in them. Don't get me wrong I love jeans with a rip in them, but I realize I needed a few more high-rise pairs that looked a little more polished.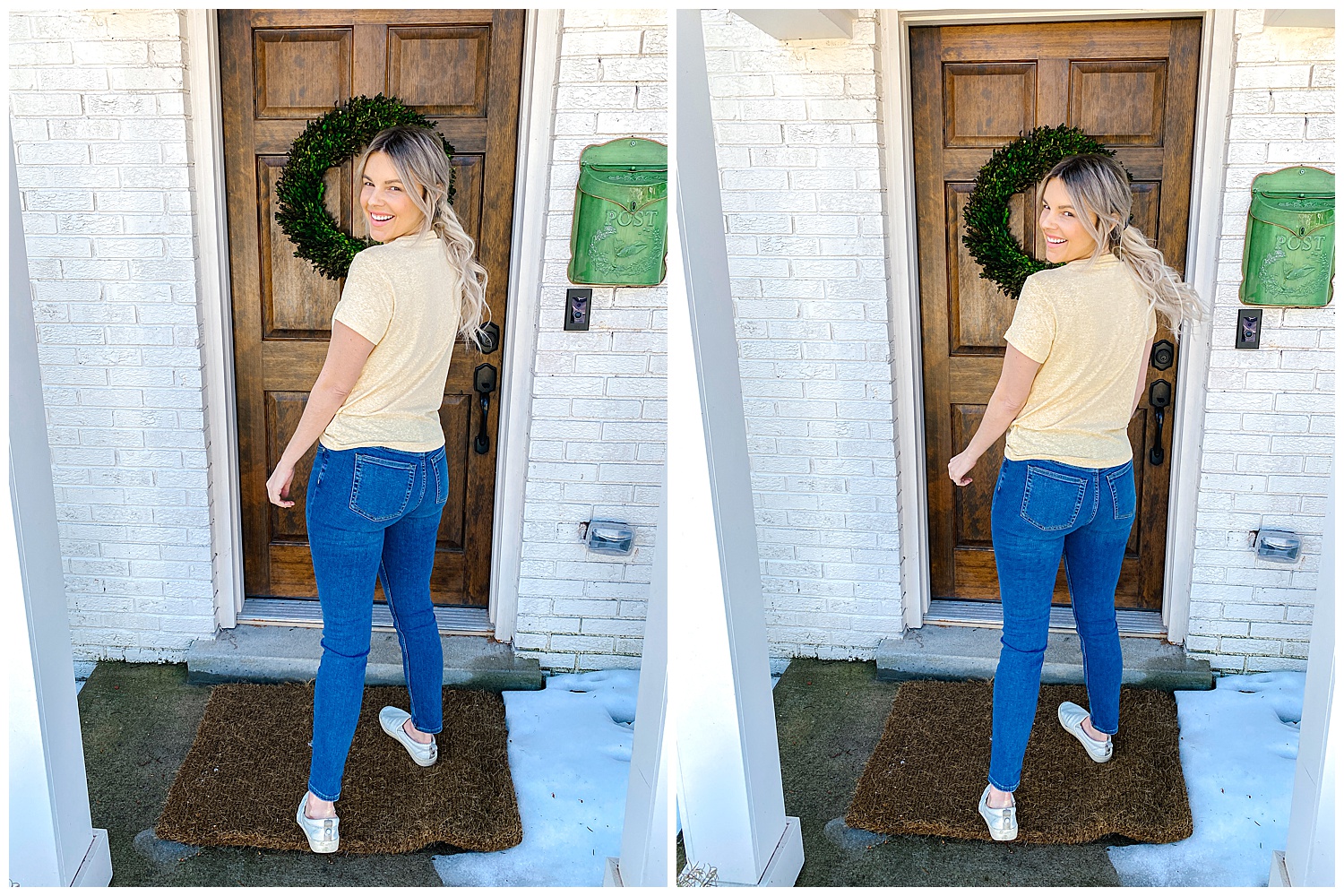 1. PALE YELLOW TEE | 2. LIGHT BLUE TEE | 3. $27 JEANS
I got them in a size 6 just because I'm a size 6 in dresses and wasn't thinking. But my fit predictor on Walmart's site (I LOVE that they have this – it's based things I bought in the past) recommended a size 8 for me. I will say the 6 is a little snug, but my butt look so good in them so I couldn't take them off! (seriously, I look like a have a bubble butt!!! I don't!). But I would say go with your normal size. I might order another in size 8.
Each wash in the jeans has a decent amount of the sizes left, but the black are available in all sizes!!! These look like they are selling amazingly and I highly recommend grabbing them in whatever color/wash you can get! Also, if you don't like a high-rise jean, here is the mid-rise version with a bootcut they have the same pockets, so I bet they're just as flattering on the backside!

You just really can't go wrong at $27. If you don't wanna take my word for it, just read the reviews. People are saying they are fabulous, have a lot of stretch, and super comfy!
$10 Basic Tee
This next t-shirt that I'm gonna talk about is only $10! You really can't beat that deal and it starts in size XS and goes to XXXL. So I love that there's a range of sizes for people! They call it a cropped box t-shirt. But I don't think this a crop tee at all. Yes it has more of a box fit, which I absolutely love especially tucked in. I think part of the reason I love that so much is because quite honestly because I've gained some weight since we moved out of California. The cold weather definitely has me reaching for warm comfort foods over salads, but you know what I'm all good with that. I'm just more comfortable in a more of a box shape t-shirt than a fitted one. This kind of has a boyfriend t-shirt feel. I got it in both the white and this really really pretty rose pink striped pattern. Also, I got my normal size which is medium. I definitely say go with your normal size for this one.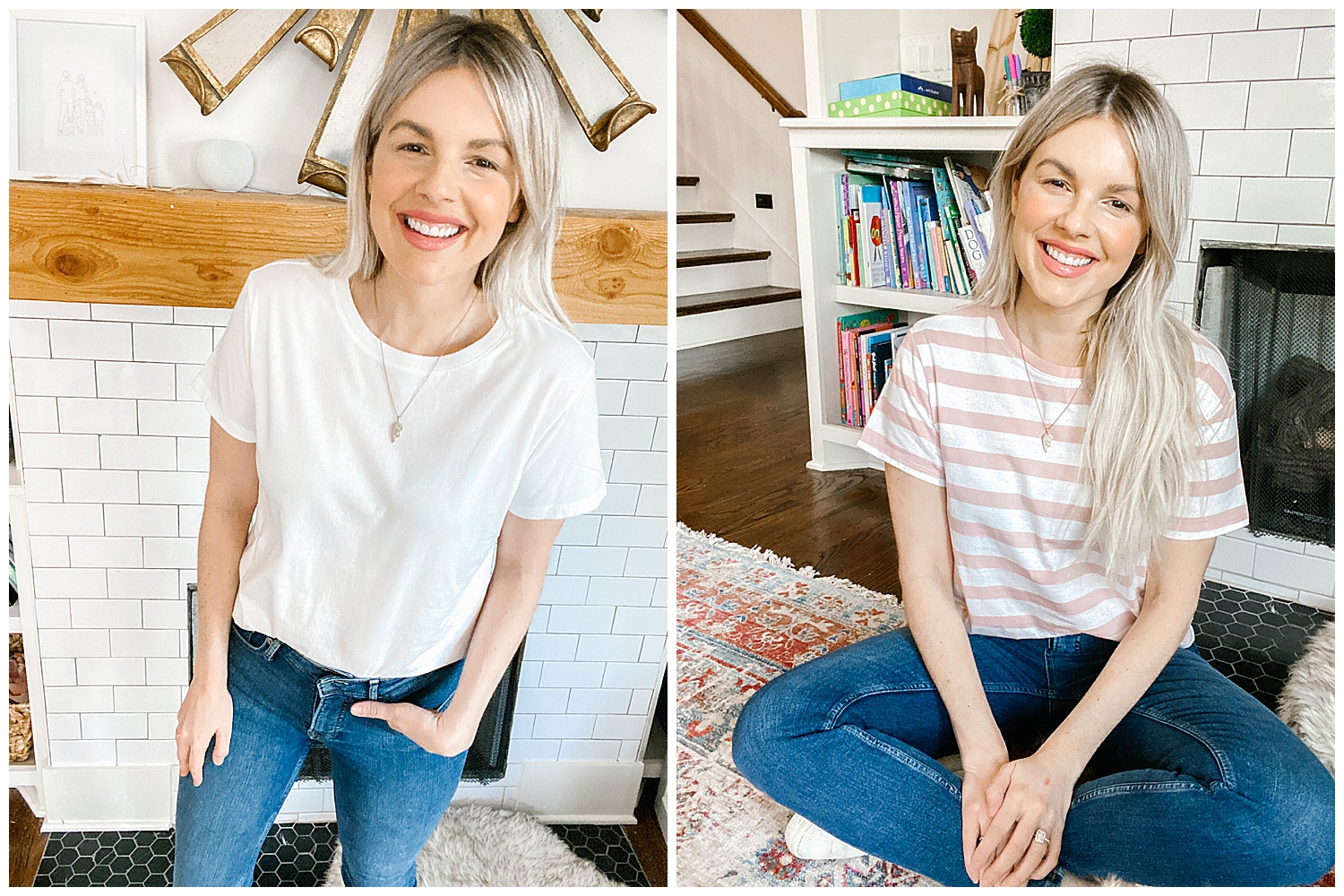 1. WHITE $10 TEE | 2. STRIPED PINK $10 TEE
White Blouse
I also want to mention this white blouse. It's $24 and I think it looks super expensive. When I wear it tucked into high rise jeans with an shoe and jewelry. I feel ready and cute to go to just about anything! It's the type of shirt that you'd find in a really expensive boutique. I actually just bought these really cute high-rise corduroy pants that I can't wait to wear it with.

1. WHITE BLOUSE | 2. $27 JEANS
Dress – To Be Worn Out or at Home
I bought this dress because oh my gosh, it's seriously been about a year since I bought a dress from Walmart! I'm just so excited about spring and potentially being safe to go out again soon that I wanted to get a cute dress that not only is perfect to go out in, but also really cute wearing it at home with sneakers or sandals. I love this dress because it will work with so many different body types. It's so roomy and comfy. I got the green, but when you go on the site click on the baked apple/red color and you can see how much room this dress has. Plus, it goes from size XS up to XXXL. So I really feel like this is not only an affordable dress at only $39 (which is an insane price!), but also one that could work for all body types!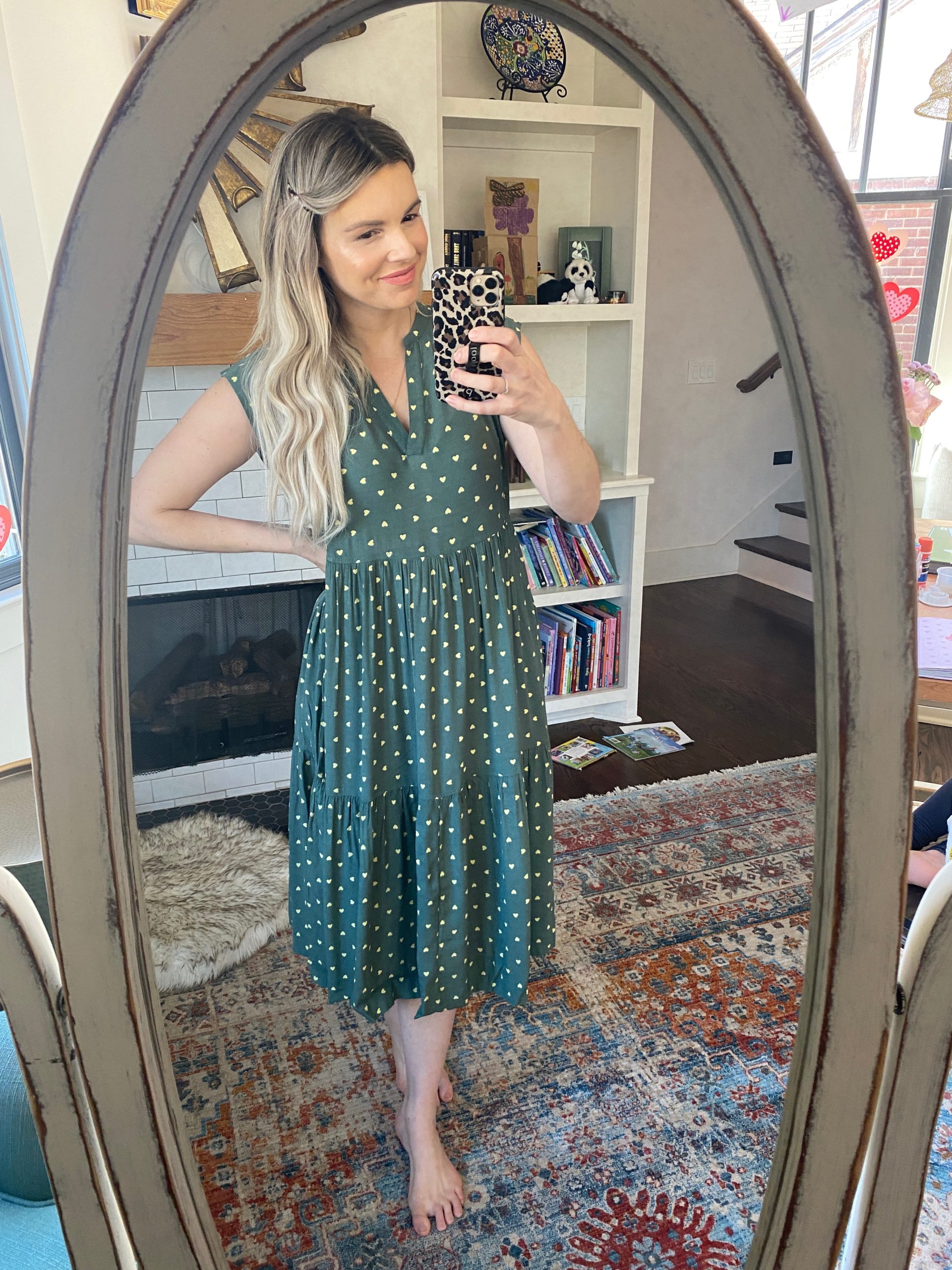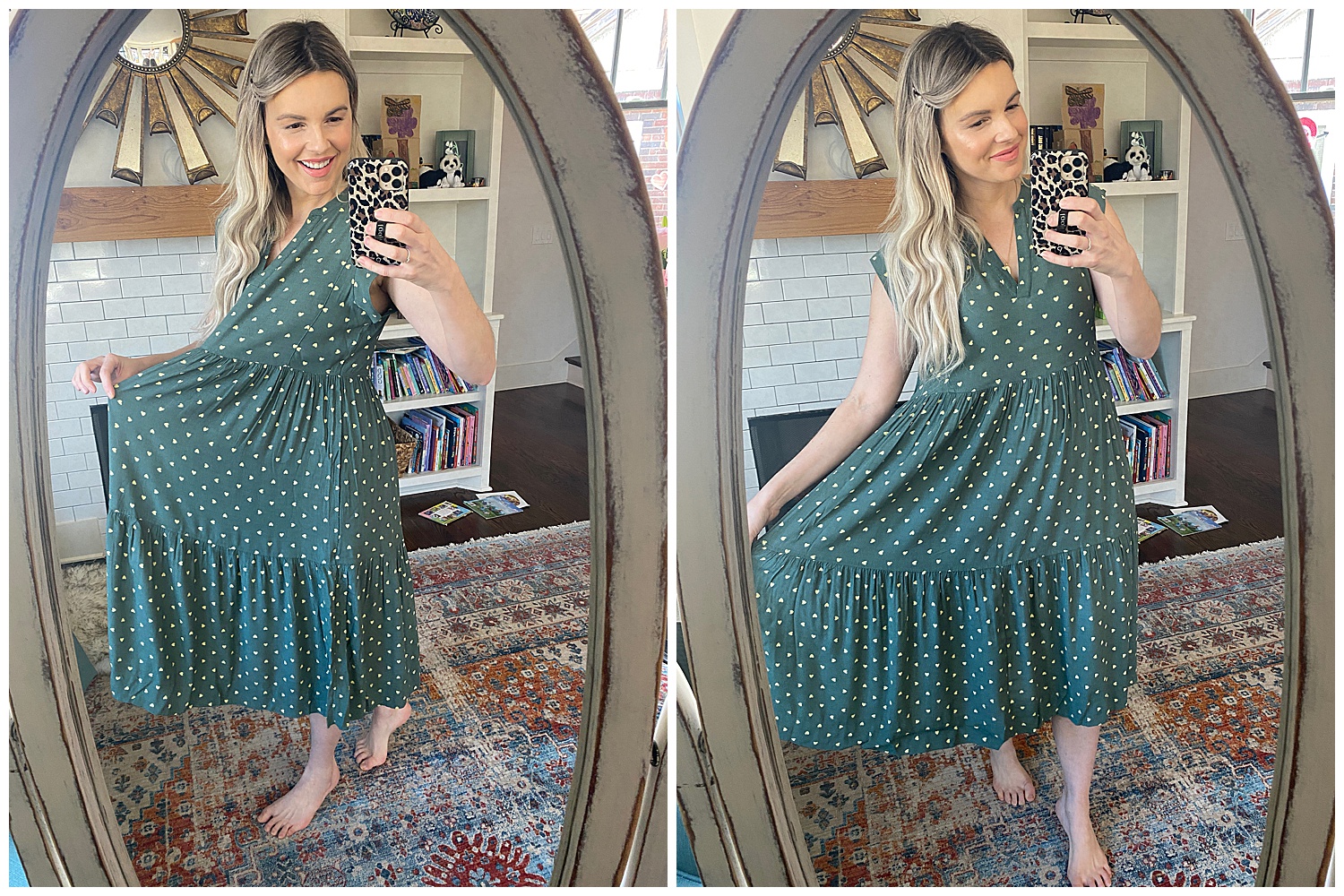 Bump Friendly
I also want to mention this black fitted ribbed dress. As black dresses go, this one's pretty flattering because of the ribbing. But I'm still not super super comfortable in a fitted dress. So I actually just snapped this pic super quick in my mirror so you guys could see it. But as I was trying it on, I thought that it would be absolute perfect dress for somebody who loves a fitted dress or for somebody expecting! When I was pregnant with both my kiddos I pretty much only wore fitted clothes because anything else just looked like a mumu on me. Ha! So I figured I'd link the stress because it's only $28 and the perfect dress to show off your bump!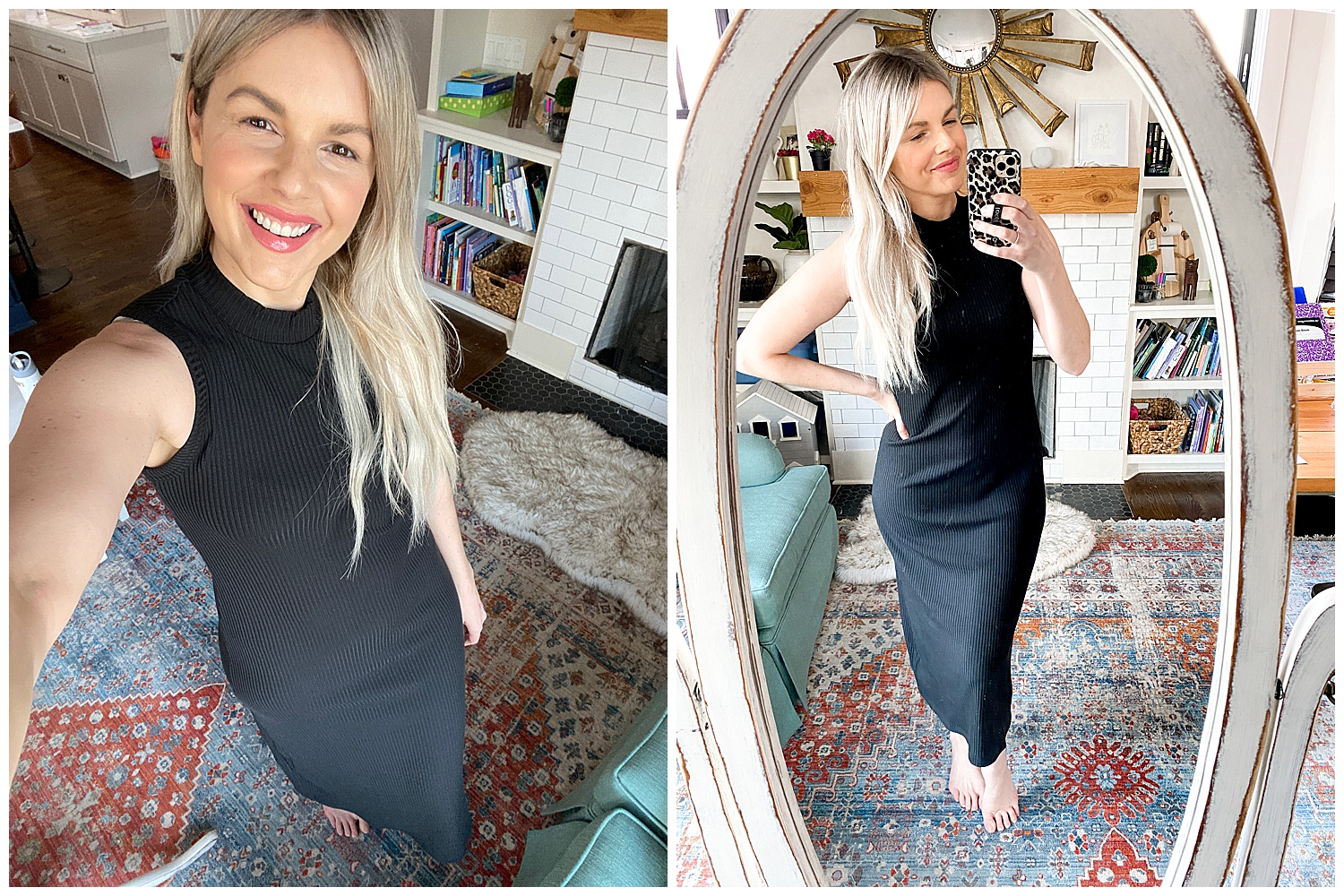 Happy Affordable Friday!
I hope you guys love all these pics! The great thing about Walmart is that if you spend $35, you get free shipping so hopefully you can pick up a few things and get it shipped for free! You might've noticed that everything from this post is from Walmart's Free Assembly clothing line, which is one of my absolute favorite lines that they carry! Everything is just classic, really well-made and liek I mention above Free Assembly is committed to sustainability – which makes me want to support them even more. If I could only buy one outfit from this entire post, it would have to be the white blouse with the jeans. The jeans are so stinking flattering and the white blouse is just the cutest thing ever and I think it looks super expensive. Or the white crew neck tee! My goodness I just can't choose! Anyway, thanks so much for coming by the blog for today's Affordable Friday post about my new favorite tees!