Hi guys. Thanks for coming over to the blog today about Matt and the final 4! I apologize for not getting a blog up last week. Quite honestly I just had too much going on in my own life to give the blog the proper attention that it deserved after last week's events. To let you guys in on how I normally do these blogs,  I watch them in maybe 30 minute increments and quickly talk to text this blog on my phone in between being a mom and just trying to juggle life. So if they are scatterbrained it's most likely because that's how I write them. Then my girl Madi edits them for me so them seem somewhat coherent.
And last week with everything going on with Chris Harrison and how he handled the interview he did on Extra! with Rachel Lindsay, I really just felt like a scatterbrain blog post was not appropriate. And beyond that I didn't even have time to watch the whole episode. I had to text Madi to find out who was even in the final four because I didn't make it to the end. So those are a few of the reasons I didn't blog last week.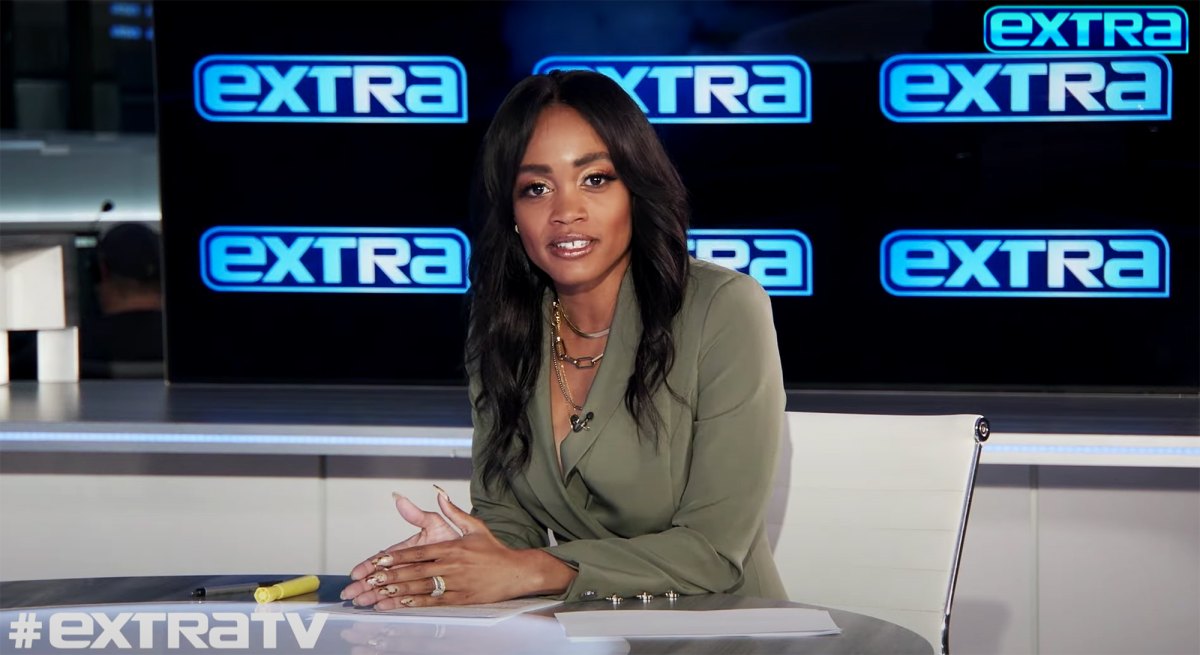 And to be completely honest,  I still don't feel like I can give this topic the justice it deserves. But I put my stake in the ground and said very publicly on my Instagram and now here that I do not condone any form of racism. My mother raised me to love everyone as they are. What Chris said was uneducated, ignorant, and insensitive. He knows it. He apologized for it, but I know it is not my apology to accept. Of course he has a lot of learning to do, as so I. That's said, I do not believe in cancel culture. I believe in giving people a chance to learn, grow, mess up, learn some more and ultimately be better. If you want to learn more about what happened, I strongly suggest watching this video from @theblckchelorettes.
Please know that any racist comments on my blog will be deleted. Like I said, I will not tolerate racism in my life. So let's keep this a positive and safe space for all!
Let's Talk About Tonight's Episode | Final 4
Now I am going to continue my Bachelor blog because it's something I enjoy doing and honestly I want to support Matt. Plus, I think it's pretty awesome that out of the five cast members left, Matt and the four girls, four of them are black. I want to talk about that! I want to support the season, so I will watch and blog and I hope you all watch too. I'm guessing you do if you're reading this 🙂
I didn't even think about the fact that for hometowns they wouldn't be traveling. It just feels like such a fantasy land that I didn't really think about how it's real life and there is COVID! I know that probably seems weird for somebody to say that was on the show. But it was just so long ago, that I feel like sometimes I forget, and I also didn't go through it during pandemic! So let's talk about these dates.
Michelle's Hometown
To be honest with you, I thought the classroom thing with her students was kind of awkward. I'm not quite sure what grade they were in maybe second grade? Maybe she told us this information, but I just can't remember. I pretty much have the worst memory of all time. Although I do think Matt did a good job of answering the questions because the real answers to those questions were highly inappropriate for children.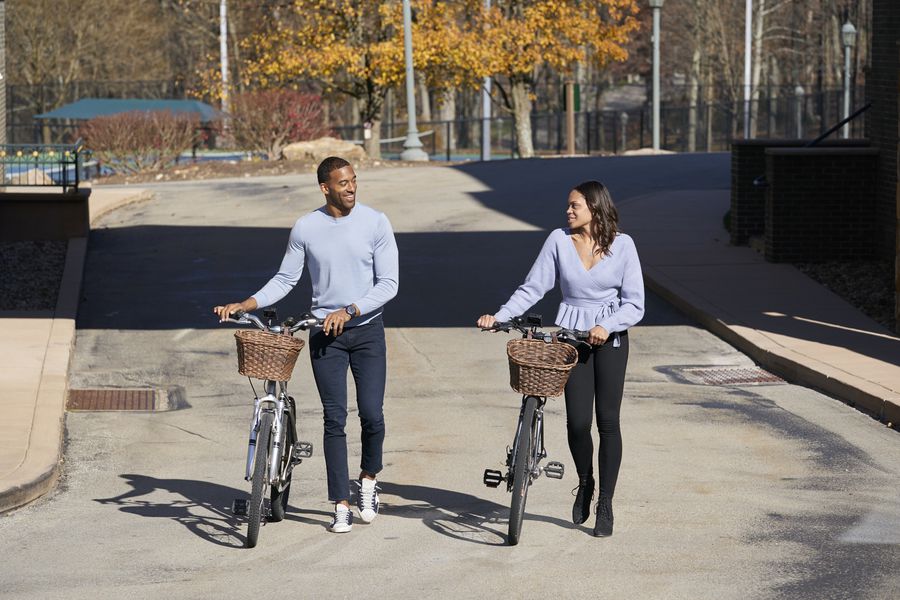 I know I really enjoyed their visit with her parents. Her mom and dad are so cute and I just loved how nervous her dad was talking to Matt. He was so awkwardly adorable. And then Michelle's conversation with her mom had me crying! I loved Matt's first 1-on-1 date with Michelle, but something since then doesn't seem as strong. I can't put my finger on it but he just doesn't seem as into her as he once was. Also, the fact that he told Rachael that he was falling in love with her and said told Michelle's dad he was falling in love with her, but didn't say it to Michelle when she told him at the end of the night, at this point I think says a lot.
Rachael's Hometown
I'm pretty shocked that Rachael suggested the skydiving date. I never really got the feeling from her that she was super adventurous or a thrill seeker. Which is fine, I'm not at all! I just never really saw that in her, but it's pretty obvious that Matt is, I mean he told us he is, so I think it's pretty awesome that they have that in common. And oh my gosh, that's all so terrifying! I can't believe she didn't get more hurt than she did. She could have broken her nose or worse, her back. I'm just so thankful she's okay!
One thing that I found a little disappointing was how different Rachel seemed with her parents than she is with Matt or even in the house. But the more I sat back and thought about it, maybe she's just not super close with her parents and doesn't have the best relationship with them. Honestly that's how it seemed to me. And when I was her age, that's kind of how my conversations were with my parents. So I definitely don't think any of us can blame her for that.
Bri's Hometown
I don't know what it is about Bri but I just have so much respect for her. She just seems so smart in badass, but in such a subtle way, that it's even more badass. I can't really describe it, but I think she's awesome. But I do not see her with Matt. It just seems so obvious that the connection wasn't there even though I so badly wanted it to be.
I think because she had the first 1-on-1, I've been pulling for her all along, but also so confused why she hadn't gotten any air time. I just kind of figured all along it's because she ended up with Matt and they didn't want to include her in any of the drama but, I'm also realizing now that we got to know her a little better that's probably because she it's too smart to play the Bachelor game. And what that means essentially is she probably didn't give good material during her interviews because she's too smart to be manipulated. A similar thing happened on Peter's season with Kelley Flanagan. She was the lawyer that Peter ended up dating for a while after the show (maybe they are possibly even dating again? I'm not sure). She didn't get very much air time, but I think that's because she's a lawyer and too smart to give them what they want from contestants. So that's kind of what I think happened with the Bri situation.
And oh my gosh, can I just say how much I love her mom. She's so wise and smart and drop dead gorgeous! I need to know what her skin care routine is stat!
Anyway, as much as I like Bri I don't think she's ending up with Matt and I would love to see her as a Bachelorette! Although I don't think there's anyway that's gonna happen because if she wasn't giving the producers what they wanted on camera on this season, they're not gonna cast her as a lead. Hopefully at very minimum we will see her on BIP!
Serena's Hometown
Her date was super cute! I love how playful they are together and how much they laugh. But the thing I was most focused on during their date was what kind of ice skates she had on. He clearly had hockey skates on, but hers looked like black figure skates. I have to give that a little bit of slack because I can say from experience, because I skated in hockey skates last month, they are so much harder than figure skates! That toe-pick is essential for stopping yourself and getting going if you're not good on skates. By the way I realize how ridiculous it is that this is what I focused on during the beginning of their date. But I'm traumatized from trying to ice skate in hockey states. Ha!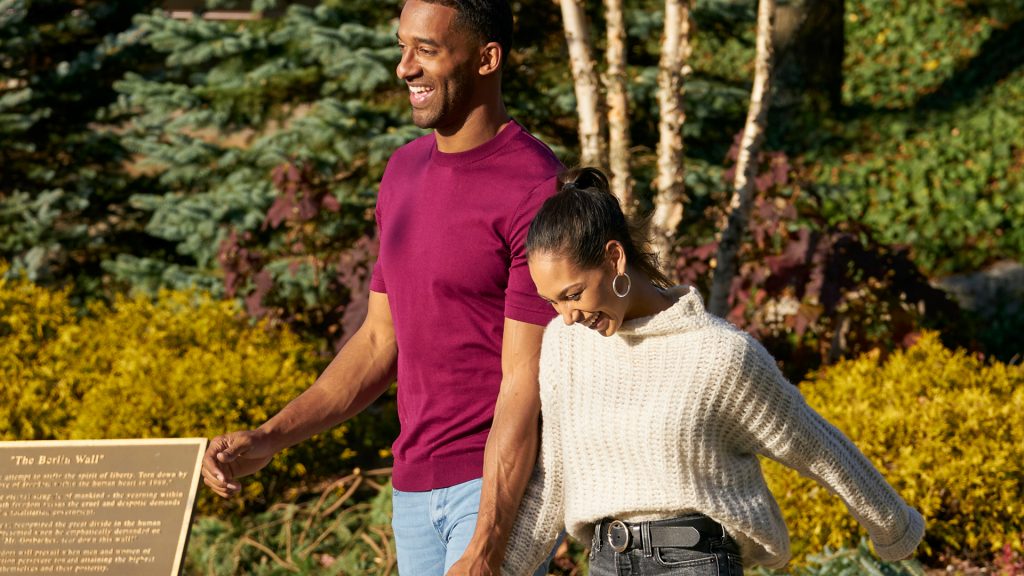 So I know Serena is from Canada, but do they still live there? I must've completely missed that because I'm pretty sure the borders have been closed to any nonessential travel. Anybody have any insight into this? Or are the Bachelor producers in the franchise that powerful that they can bring people across the border is during this pandemic?
I'm curious how long ago Serena's last relationship was. Because it feels very recent to me. Like recent enough that I wouldn't be surprised if they got back together after this. She keeps saying she doesn't know what it is because Matt checks all the boxes. It's the spark. The spark that nobody can describe that makes you feel attracted to someone. Makes you feel like you could fall madly in love with them. It's either there or it's not and clearly it was not in this scenario. She made the right choice to leave.
The Final Three
The last thing I wanna comment on regarding tonight's episode is Bri's concern with getting the last rose. I really wish I could let her know that she shouldn't be concerned about that whatsoever because the producers 1000% choose the order in which you hand out the roses. I remember one rose ceremony that was particularly emotional for me, I was adamant about giving it to my top pick first. But other than that, I just handed them out in the order they told me too.
And wow the next few weeks look good. I'm surprised to see Chris Harrison hosting the Women Tell All, but my guess is they recorded it before his Extra interview. I'll be curious to see who fills in for him at the After the Final Rose. I hope it's Rachel Lindsay, if she chooses to do it. I think she'll be able to ask some hard, honest, and raw questions to Matt and to Rachael since they will both be there regardless of whether or not they end up together at the end.
Thank you so much for coming by the blog today and let me know what you think about the final 4!