Hi guys! Thanks for coming over to the blog to see some of my favorite makeup products for the winter time to help with dry and cracked skin! I did an Instagram story the other day asking you guys if you'd be interested in a post like this and the majority of you said you were!
I've used the same make up for years and just probably in the last six months I've really started to experiment with makeup more. I'm so glad I have because moving from California to the Midwest and now the south in Nashville has done a number on my skin. It's crazy how differently your skin reacts to product and makeup when it's cold and dry outside. So I started researching some products that could help and I found two that I'm completely obsessed with that I really wanna share in this blog post. I'm also going to share the other products I use to complete the look, like my lip color, because it's limited edition and if you don't get one now, it will sell out and you'll never be able to get it. So I thought I'd share now because I'm obsessed with that. Okay, first let's talk about my must-have products for makeup in the winter/cold weather.
FLAWLESS SKIN
I have to start with this Charlotte Tilbury Hollywood Flawless Filter. I saw a beauty blogger I follow post about this to Instagram maybe two weeks ago and I was so intrigued! I've never been the type of person that likes that glowy/dewy look on my skin, but I think that's because I lived in California and I was always hot and sweating so I just looked well, sweaty. But now that I'm in the cold weather, I'm realizing that I my makeup can look a little cracked and dry on my skin, whereas I didn't think it looked that way when I was in California. So I decided to give this a go thinking I'd probably just look super shiny wearing it, but oh my gosh was I wrong!

1. CT FLAWLESS FILTER | 2. MAC LIP PRIMER | 3. MAC PLAYING KOI LIP | 4. LANCOME MASCARA | 5. MAC BLUSH IN MELBA
When I say this product is amazing it is an understatement. There are not enough adjectives for me to describe how much I love this product. It could be used as a primer (used under foundation) or a foundation depending on what look you're going for. If you want crazy J Lo glow, use it as your main foundation and your skin will be glowing like you've never seen before! I like to use it as a primer underneath my foundation because it gives me that glow but it's not super in your face. I am using shade 3 (light/medium) btw.
It's called the Flawless Filter and that's pretty much exactly what it does. Create this beautiful filter on your face like the ones you see on Instagram. I mean just look at the before and after photos above. It's CRAZY the difference. You know when you use one of those Instagram filters that basically make your skin look perfect, well you might notice the filter always has a little glow with highlights. That's exactly what this product does in real life! I could not love it more and I'm certain if you get it you'll be just as obsessed as I am. It's worth every penny.
LUSH LIPS
Both of these first two lip products are available at Nordstrom, so you can just throw them both in your cart and get free shipping! I get so many beauty products at Nordstrom because they just have the best quality products! So let's chat about those chapped lips! Oh my gosh dried, cracked lips are awful. I haven't really had chapped lips in years because I never got them in California. Sure if I traveled to Massachusetts or Indiana to visit grandparents I get them, but never at home. Ever since we moved in Indiana, and now Nashville, my lips gets so dry. I tried all the chapsticks and lip balms and they definitely help, but I felt like it made it hard for me to keep my lipstick on. I love lipstick and I wear it every single day even when I have a mask on. Ha!
So I did a little research and I decided I need a lip primer! Not only to moisturize my lips because they were getting so dry and cracked, but also to help my lipstick stay on. I found this one by MAC and I love it so much! Not only do I feel like my lips are more hydrated all the time, but it helps my lipstick stay on so well! It's like the perfect blend of a lip balm and lip primer all in one. I love it and it's in my top two products that you need this winter for dry skin whether it's on your face or your lips.
POP OF COLOR
I have to also talk about this lip color I'm wearing. It's a limited edition lip color called Playing Koi by MAC. It looks super intimidating in the tube – it looks like it's going to go neon on your lips but it doesn't at all and it is so so so so so pretty! I actually recommended a Giorgio Armani lipstick to you guys a couple months ago in this color palette and it's sold out almost immediately (and still isn't back)  and I've been so bummed ever since cause I can't find it anywhere. So that's when I went looking for a similar color and found this Playing Koi color by MAC. It's a limited edition so I went ahead and bought a 6 of them because I never want to run out like last time. And once limited edition colors sell out, they don't come back. So get one now!!! You will love!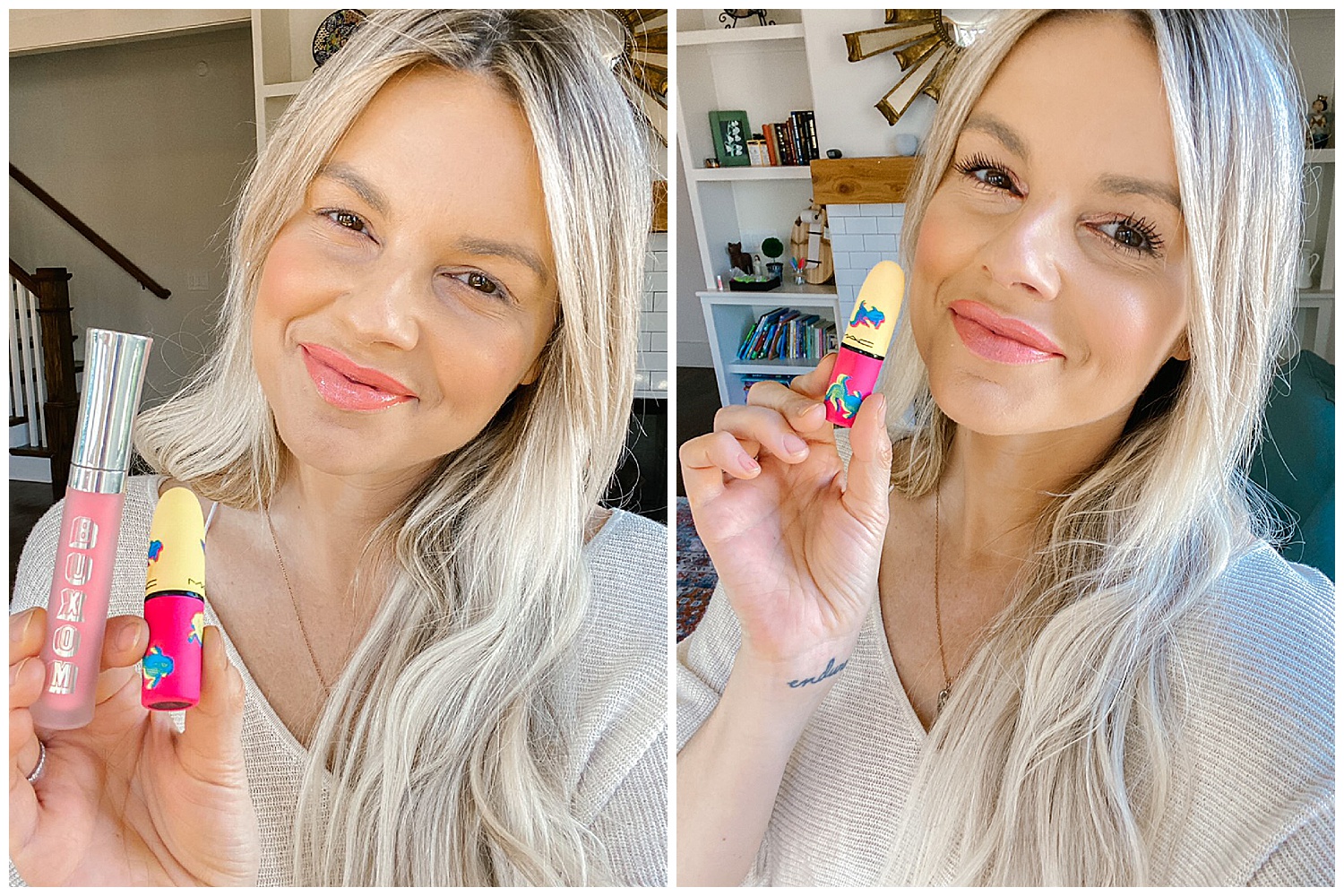 1. PLAYING KOI LIPSTICK BY MAC | 2. PINK CHAMPAGNE BUXOM LIP PLUMPER
In the pictures above the photo of me on the left is showing the lipstick with the buck some lip plumper over it so you can see what it looks like glossy. So pretty and if you read my last blog post about makeup, then you know how obsessed I am with these Buxom lip plumpers. They plump your lips so beautifully but don't have a super harsh tingly feeling like other lip plumpers. The Pink Champagne color is so pretty! And then the photo of me on the right where I have mascara on is where I could sort of blotted off the gloss so you can see the matte color alone without any gloss over it. This is also what the color looks like when I put foundation on my lips first. So if you don't put foundation of your lips the color will probably be more bright and intense. I just always have put foundation on my lips after putting it on and put my lipstick over that and I am obsessed with the color. If I want it to be more pigmented, I wipe off the foundation before applying it.
Oh, and just so you can see it in another photo. Here's the Playing Koi! My lighting was a little harsh in the photos above, so this is a better idea of what it looks like when it isn't over foundation!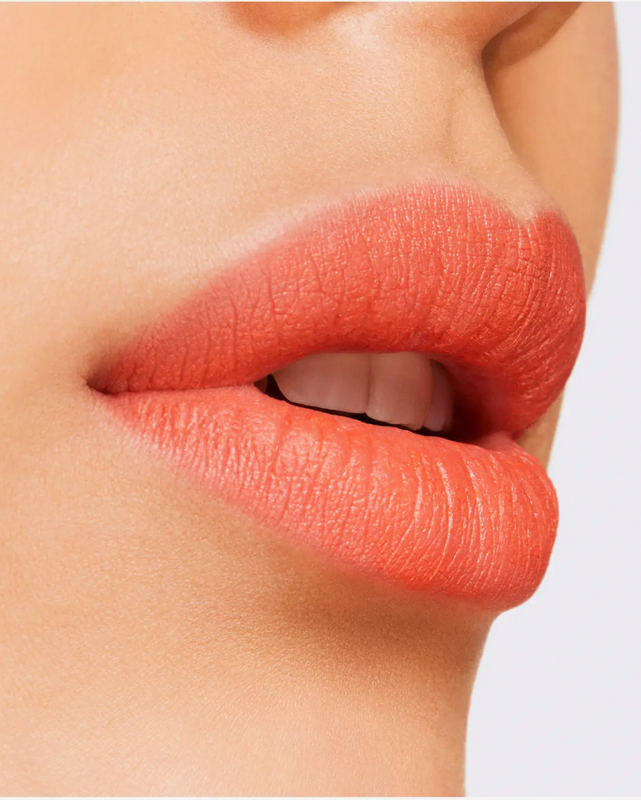 OTHER POPS OF GLOW
The bush color I'm wearing is the same one I wore in my last blog post about makeup and it's just one of my absolute favorites right now. The color is Melba by MAC. It's this gorgeous peachy/coral color that works so well with this color lipstick. The mascara I used is the Lancome Lash Idole. I've been using this for a while and I'm just really loving it. I feel like a lot of mascaras either give you a ton of volume or are really wispy and give you length. This one kind of does both. It's one of the best mascaras I've ever used. If I could change one thing about it, I would make the brush head more curled to grip the lashes a little stronger but overall it's just amazing.

Another little touch I did is I used the Giorgio Armani liquid eyeshadow in color rose gold to do a highlight on the inner corner of my eyes and eyeshadow on top. As you can see it is a really pretty dewey and golden eye color. All you do is wipe it over your lid with the applicator. It could not be easier and you don't need to know anything about blending or eyeshadow to be able to use it. Trust me, I know nothing about that. I have to have my eyeshadow be the easiest thing ever or I don't wear it at all.
MY OUTFIT
Before I go, I have to mention this sweater really quick. I'll show you guys what it looks like on Instagram stories can you so you can see better (I feel like the pic below doesn't do it justice) but I love it so much and it's under $30. It is so cute with a pretty bralette underneath. I wouldn't wear it with a normal bra. I feel like wearing it with the Bralette is what makes it look really chic and expensive. And seriously invest in this Free People bralette. I wear it ALL THE TIME!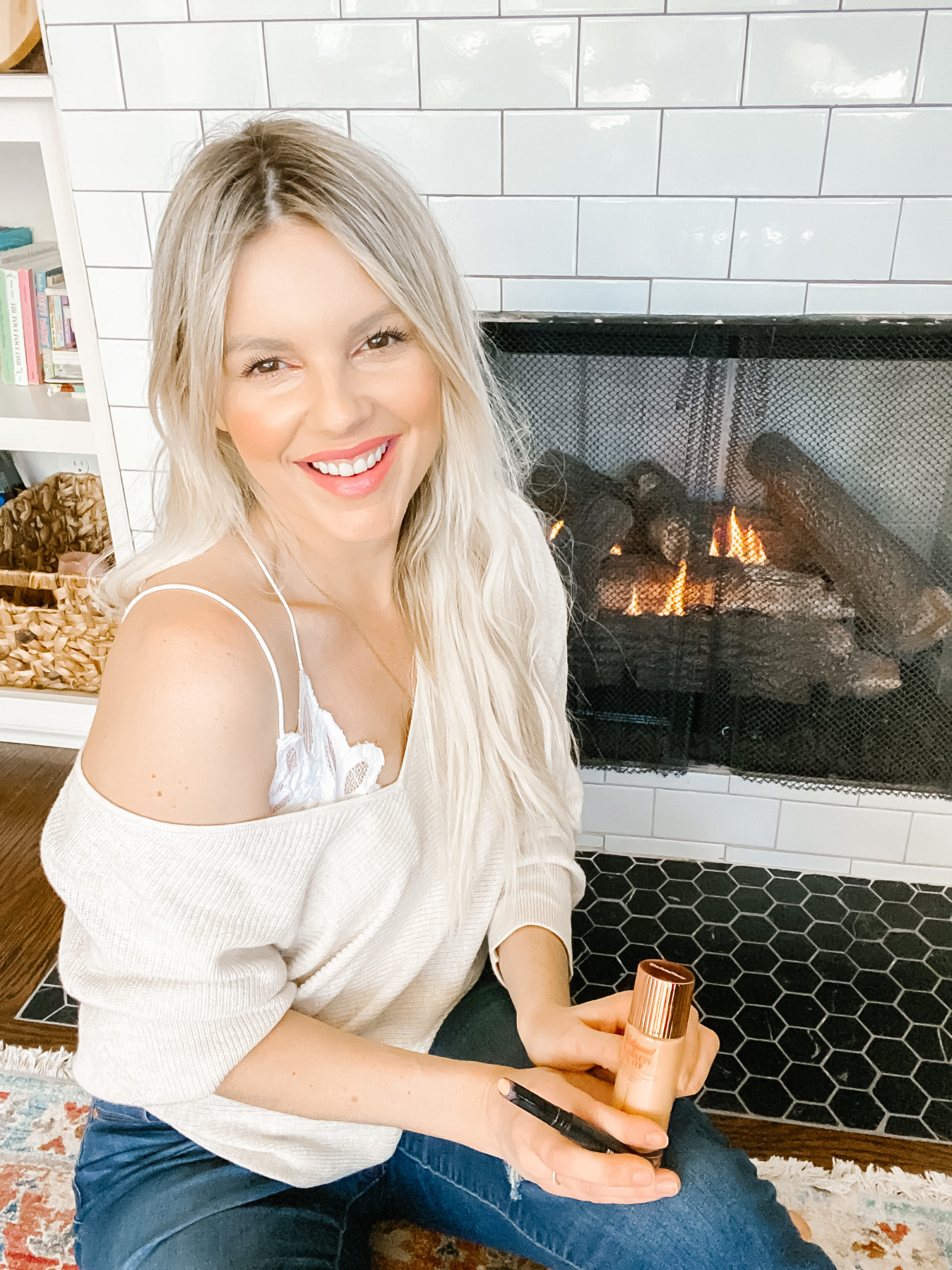 1. SLOUCHY SWEATER | 2. FREE PEOPLE BRALETTE
THAT'S IT!
Anyway that's it. I know I've done a few little makeup blogs here and there but this honestly might be one of my favorite ones ever. I just am so obsessed with this look and I feel like it gives me that California glow even in the cold Indiana and Tennessee weather! Let me know if you have any questions whatsoever I'd be happy to answer them in the comments below!