Update: The three pack scrunchie with the bow is already sold out online! You might still be able to find it in store but it's officially sold out online. This collection is limited edition so nothing is going to be restocked so if you want to get a piece make sure you snag one now before they sell out online!
Update #2: The Walgreen's site has the most accurate inventory for each store! If you are looking to get some in-store, I highly recommend checking there! The list of stores I provided is correct in the sense that every one of the stores on the list will receive them, but some might not have received the displays yet due to shipping. So if your store hasn't shown availability yet, hang tight!
Oh my gosh you guys, I am legit in tears right now as I write this. Happy tears!  So excited to announce that I have my own hair accessory line with Scunci!!!! Did you guess right yesterday when I was teasing it on Instagram? Eeepppp! My goodness, I am so unbelievably, over the moon, happy as can be, ecstatic tears right now! I am so proud to announce that my Scunci line is now available to the public at over 5,000 Walgreens nationwide!!!! Every time I say that out loud or read it, I'm just in utter disbelief.
What makes this so emotional and special for me is not only the fact that having my own line has been a dream of mine for years, but also because I used to work in a drugstore and I remember looking at Scunci while I was restocking the shelves and being so excited to get my paycheck at the end of the week so I could buy a beautiful hair clip because I loved the brand so much. I remember my mom getting them for me when she would visit me in the store. So the fact that now here I am, so many years later, with my name on the packaging of my very own line just is so emotional and overwhelming – in the very best way!!!
I have legitimately been working on this collection for a year and was involved in every little design aspect from the fabric, to the metals, to how easily the elastic stretched or the barrette metal opened. Every little detail was important to me to make this collection absolutely perfect! I'm so grateful and excited to be sharing it with all of you.
I want to talk about every single little item in the collection, but I feel like this blog post would be an hour read if I did that. Ha! So instead I'm just gonna focus on a few in this post and I'll do another one later with more of the others. I would probably normally use this blog to share a few of my favorites, but honestly I don't really have a favorite. They're all amazing and I love them all equally! I figured with all the zoom meetings we are all doing, you might as well up your hair accessory game since your shoes and pants don't matter anymore. Ha!
Sweater Material
I'm gonna start with the accessories made out of sweater material! When I first got together with Scunci to talk about this, I told them that I've never seen a sweater material scrunchie, but it's always been something I'd love to have. That's why we decided to create this beautiful, oversized sweater scrunchie that will be so fun and give you that cozy feel all winter long! I thought about making it a normal size, but I just thought the oversized look kind of feels the same way a cozy oversized sweater feels during the winter. It just will make you feel good inside.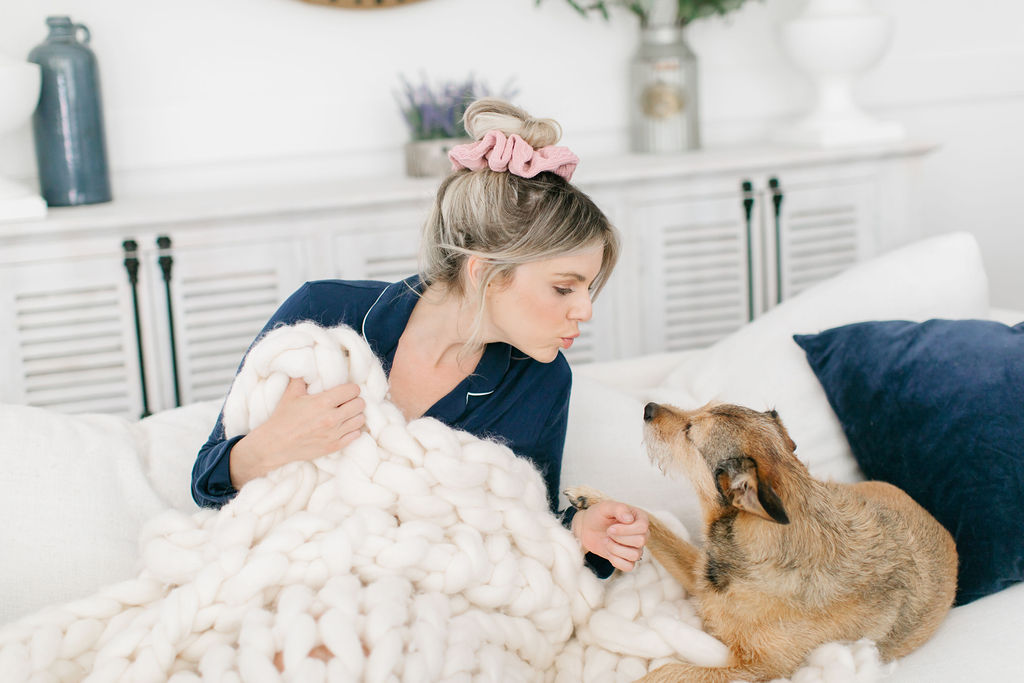 When designing the scrunchie, it was super important to me that the sweater material have beautiful texture, but also be soft. We tested out a few different sized elastics in the center. At first I thought the elastic was just way too big and that you'd have to wrap it around your hair twice no matter how thin or thick your hair was. I really wanted something that you could put your hair in a bun and then wrap the elastic around once to get a really full scrunchy look and not have to double up. So we made the elastic on the inside smaller so that you could do that! It's also just fun to wear on your wrist!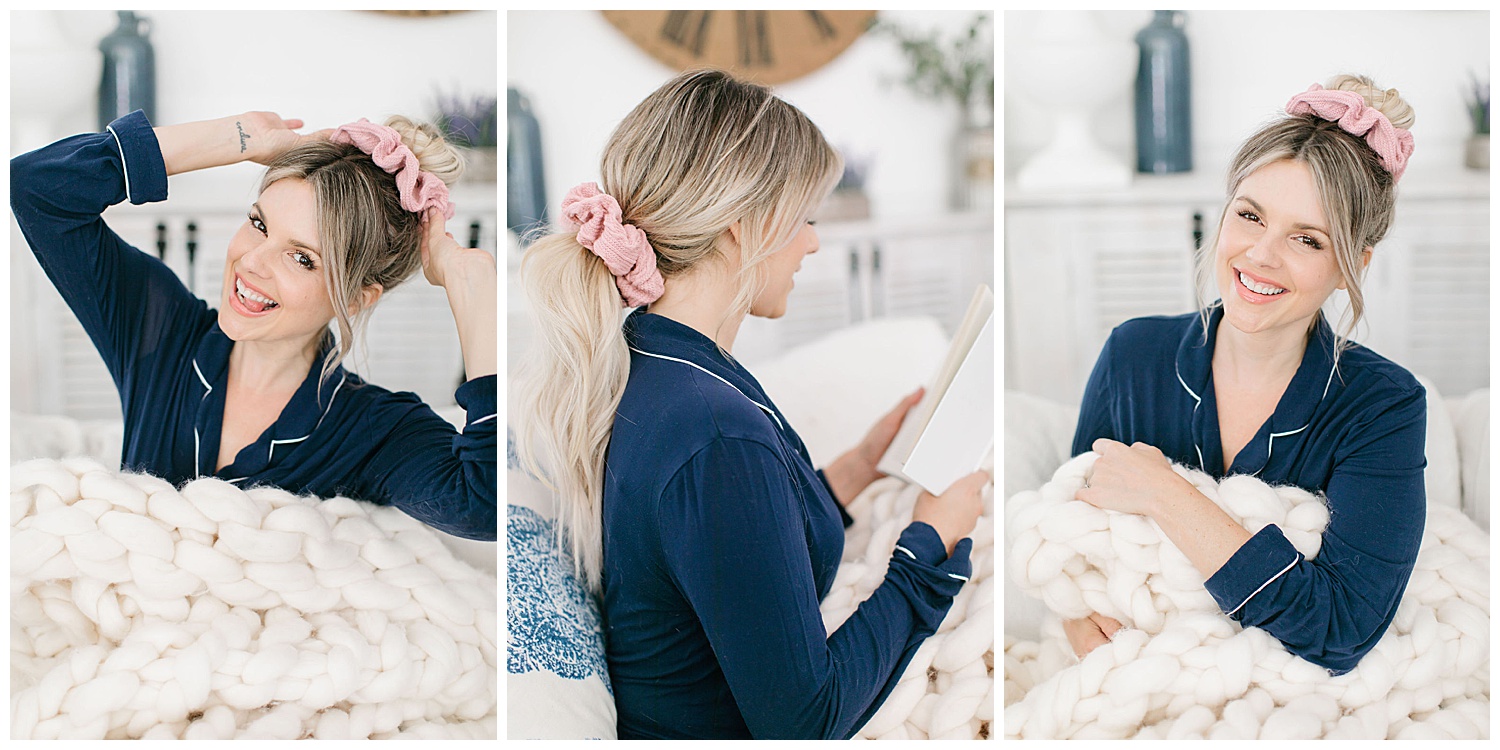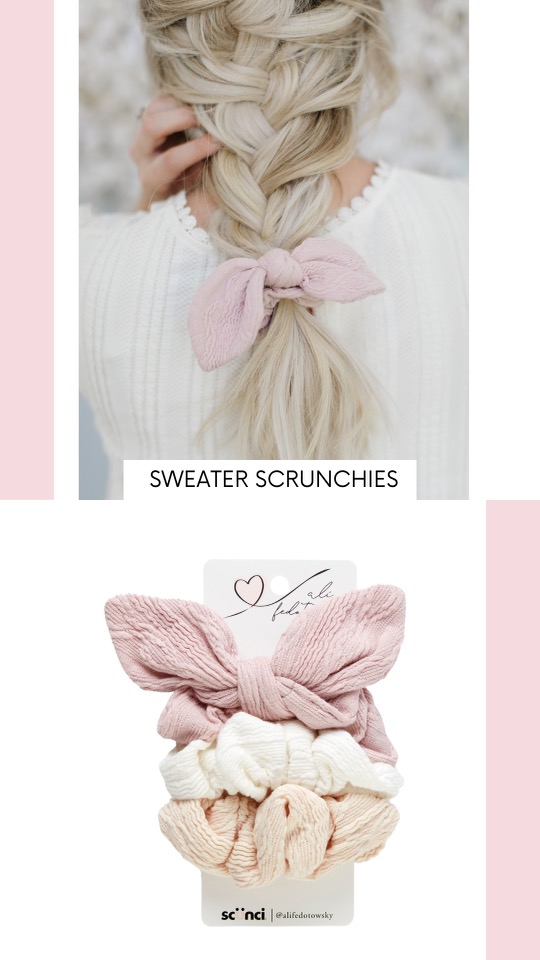 We also did the 3 pack above. I was wearing the bow one in my stories yesterday!
I love the material so much that I have decided to transfer it over to a top knot headband too. I also love the color of the headband. You guys know I love a nice light blush color. But because it's winter I wanted something with a little bit warmer ever feel, so we settled on this beautiful deeper toned blush. You guys are gonna love it and it's gonna look beautiful no matter what your hair color!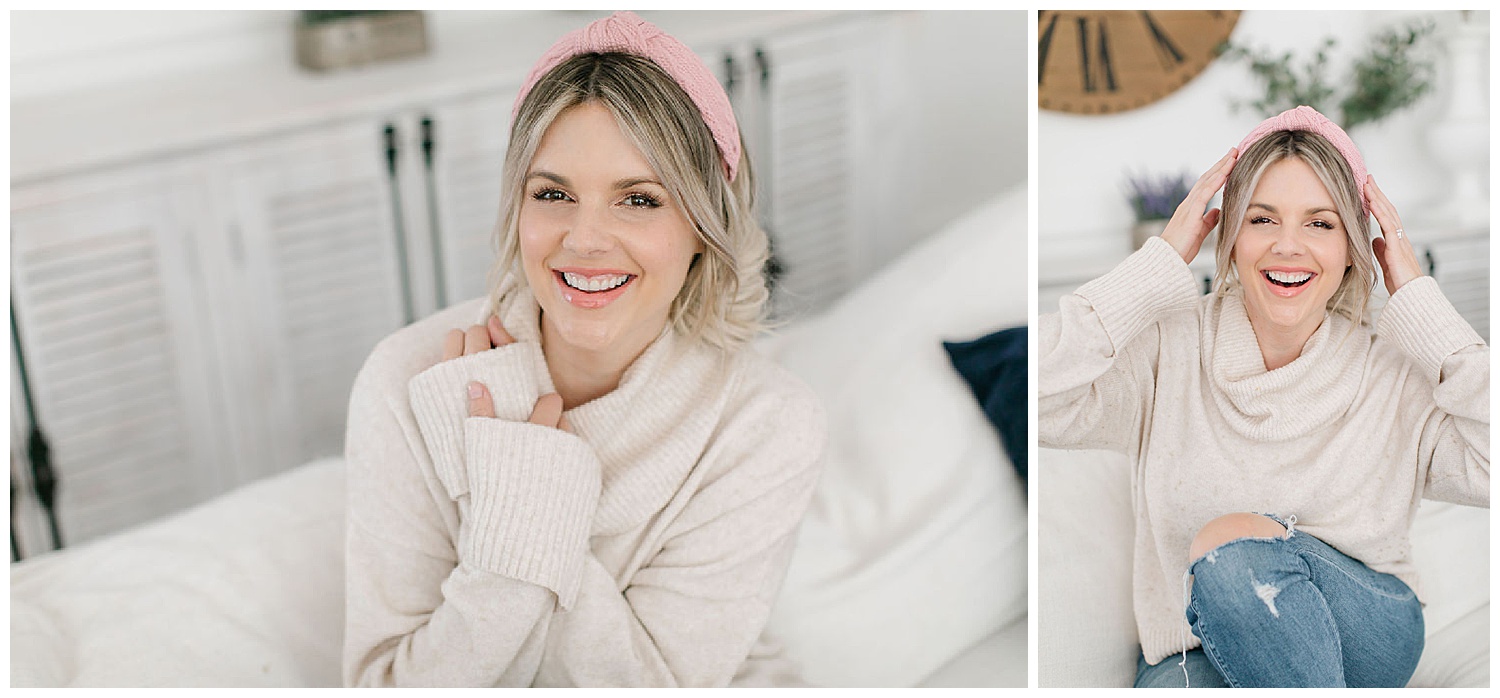 Hair Clips!
Next, I want to share some hair clips for any short haired girls out there reading this! These hair clips are unlike anything I've ever seen before and that's why I'm so excited about them! I found this fabric that I really love that you'll see in a few different pieces throughout the collection that's an animal print with kind of a pinkish undertone but so subtle! It just gives the fabric a really expensive look in my opinion and I decided to wrap it around these jumbo clips and medium-size clips. I love that you can wear these as a giant clip to hold back your hair in the front, or as a statement piece in the back with either a half ponytail or full ponytail depending on the thickness of your hair.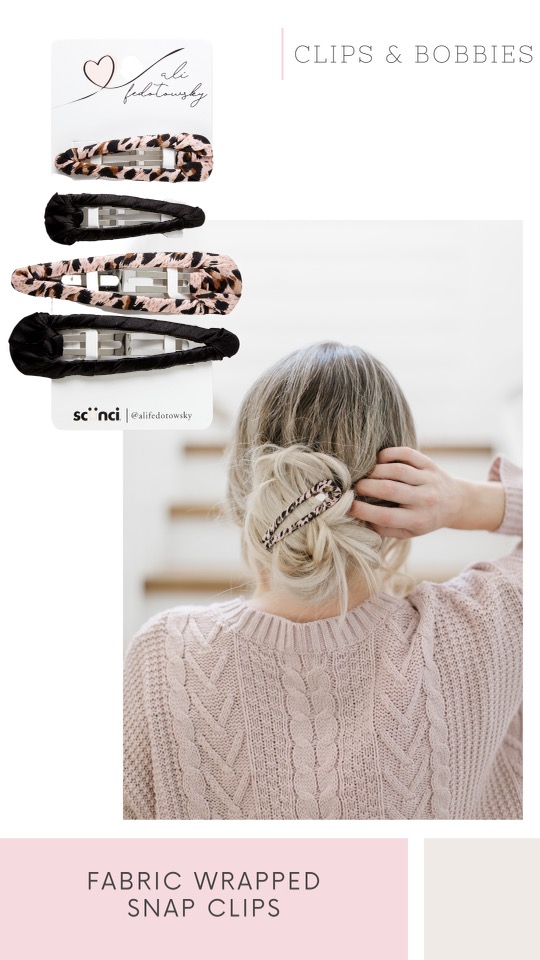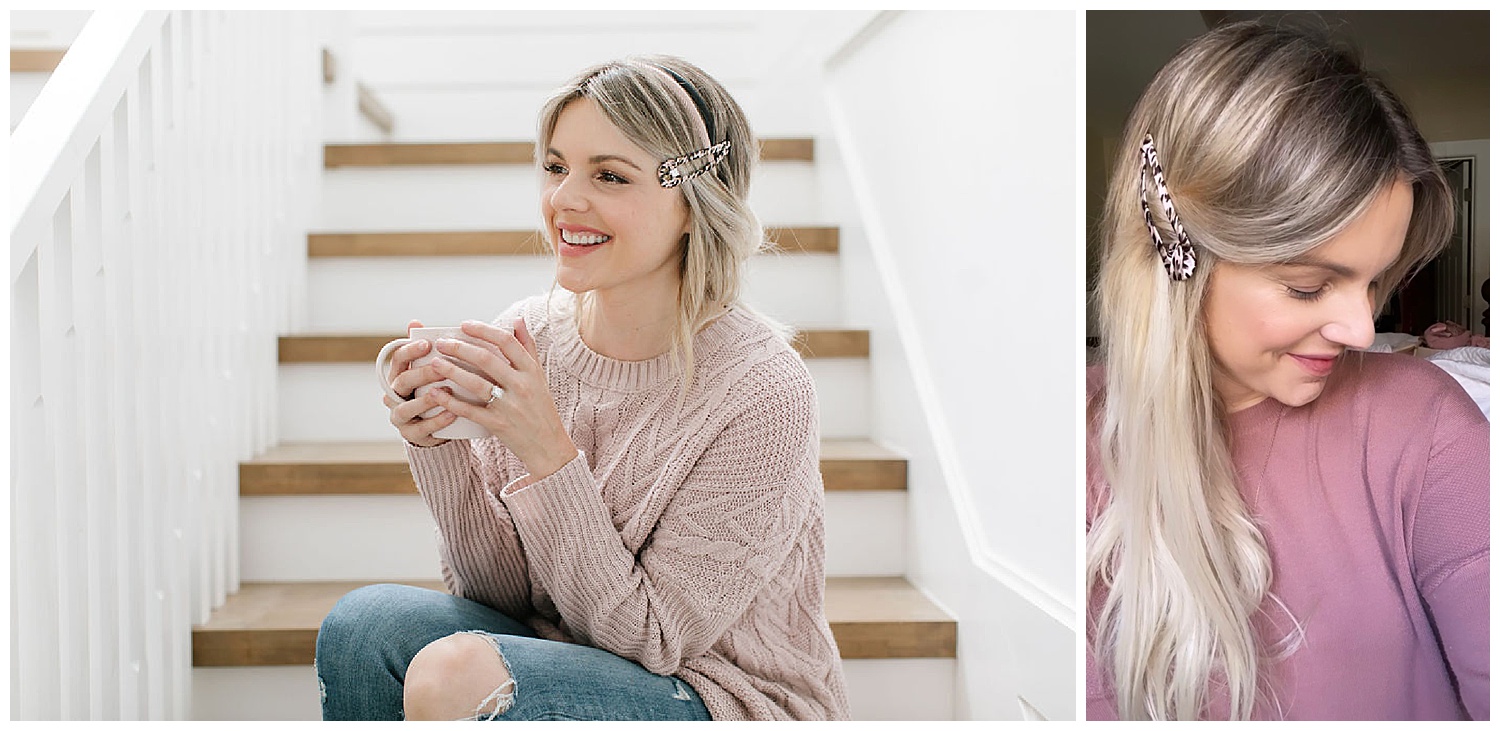 Also, see how in the pics above you can see a little bit of the metal clip at the base of the clip. This was our first sample!!! I really wanted to make sure that WOULDN'T happen to people who buy these, so we made sure to wrap fabric around that part – as you can see the the picture of the clips on the package above. We REALLY thought out every little detail. Oh, and that second photo is a picture of me wearing the larger clip in my insta stories yesterday when I was teasing this collection! I loved hearing all your guesses!
I also love that these can create a really cute mommy and me matching moment. Sometimes I put the big clip of my hair and then the smaller clip in Molly's hair and people always notice it when we're out and about and give compliments. It's a really cute, subtle way to do mommy and me matching if a matching outfit isn't your thing. Which I think for most parents it's not really a thing unless it's for an Instagram picture. Ha!
Mommy and Me Matching Bows
Speaking of mommy and me matching, oh my goodness I could not resist and had to do the most adorable mommy and me matching bows for this collection! These pieces in the collection were inspired by Molly for sure! She absolutely loves when we wear them together and I've had to keep them hidden from you guys in my stories when we're wearing them up until now so I could share for the big reveal of the launch! But trust me when I say we wear these things all the time and will continue to. They make such a great gift for any mom and her daughter. So if you're a grandma reading this or mom reading this, I highly recommend stopping by your local Walgreens and getting them.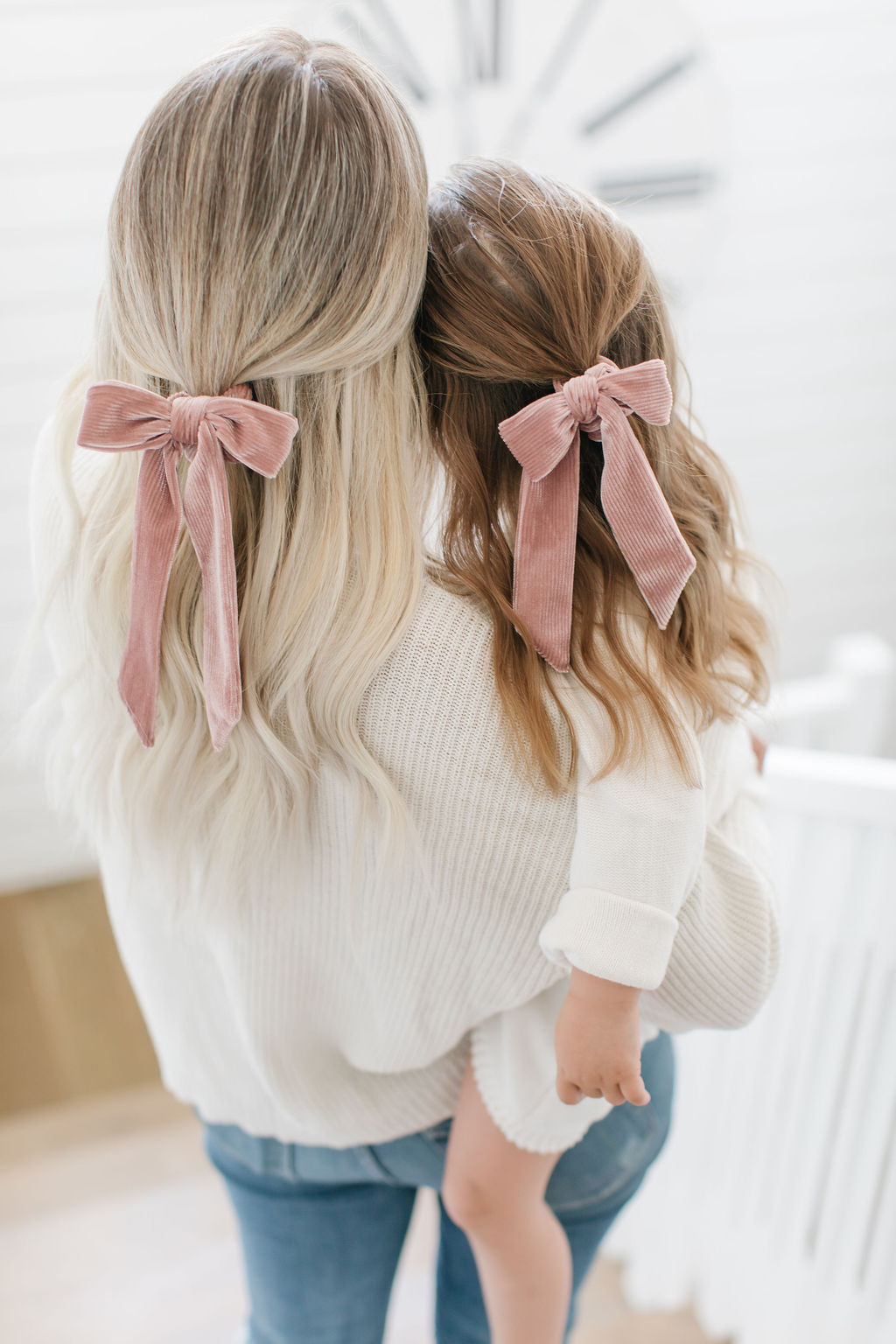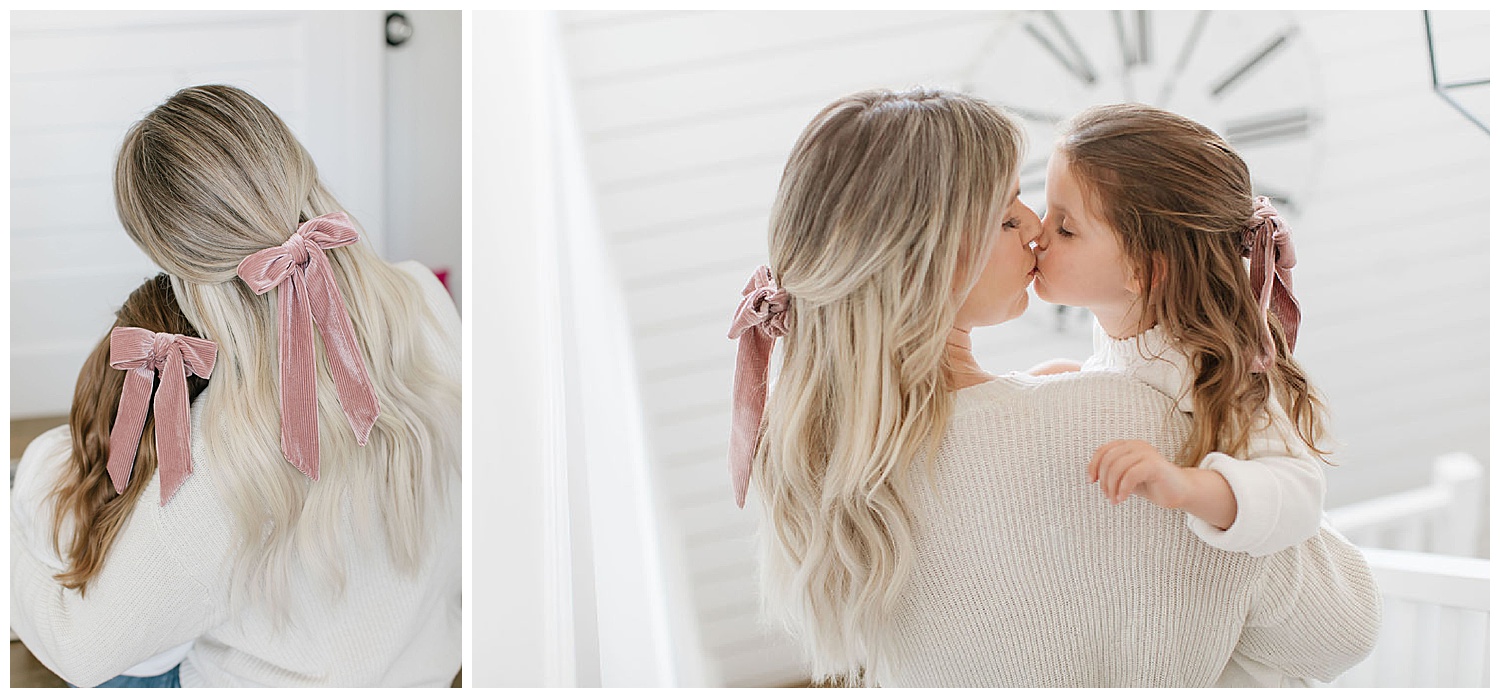 Velvet Head Wrap
The velvet on this head wrap is seriously the most beautiful crushed velvet that I have ever seen! I don't even wanna call it crushed velvet because it's just prettier than that in my opinion. And it's one of those hair accessories that you can just easily throw on any time to instantly make your hair look more put together. I see myself wearing this is many upcoming zooms!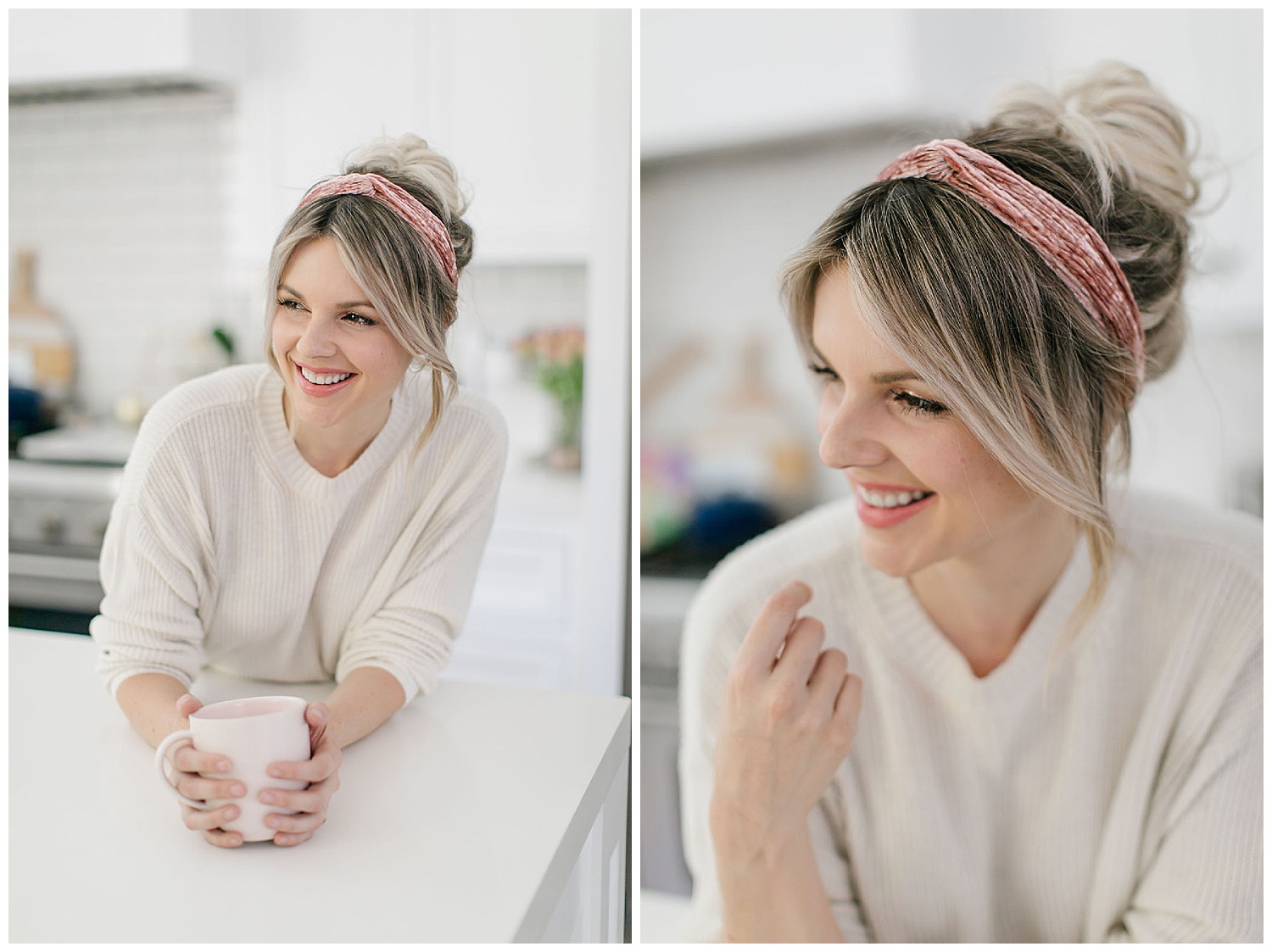 Headband Set
The last thing I want to share because it can work for people of any hair length are these headbands! I LOVE that you can double them up like in these photos and when they are worn on their own they are just unbelievably beautiful! I really feel like these pictures don't do the textured one justice – it's so stunning in person. I feel like a bride could wear the cream texture one to her bridal shower with beautiful flowers up in her hair and it would just look really ethereal. The fact that you get all three of these headbands for $6.49, it's just such an incredible deal.  I'm telling you, you will come back to the thin black headband again and again and again. It's so pretty, simple and classic. It's been so long since I've seen one with this quality at my local drugstore that I had to make one!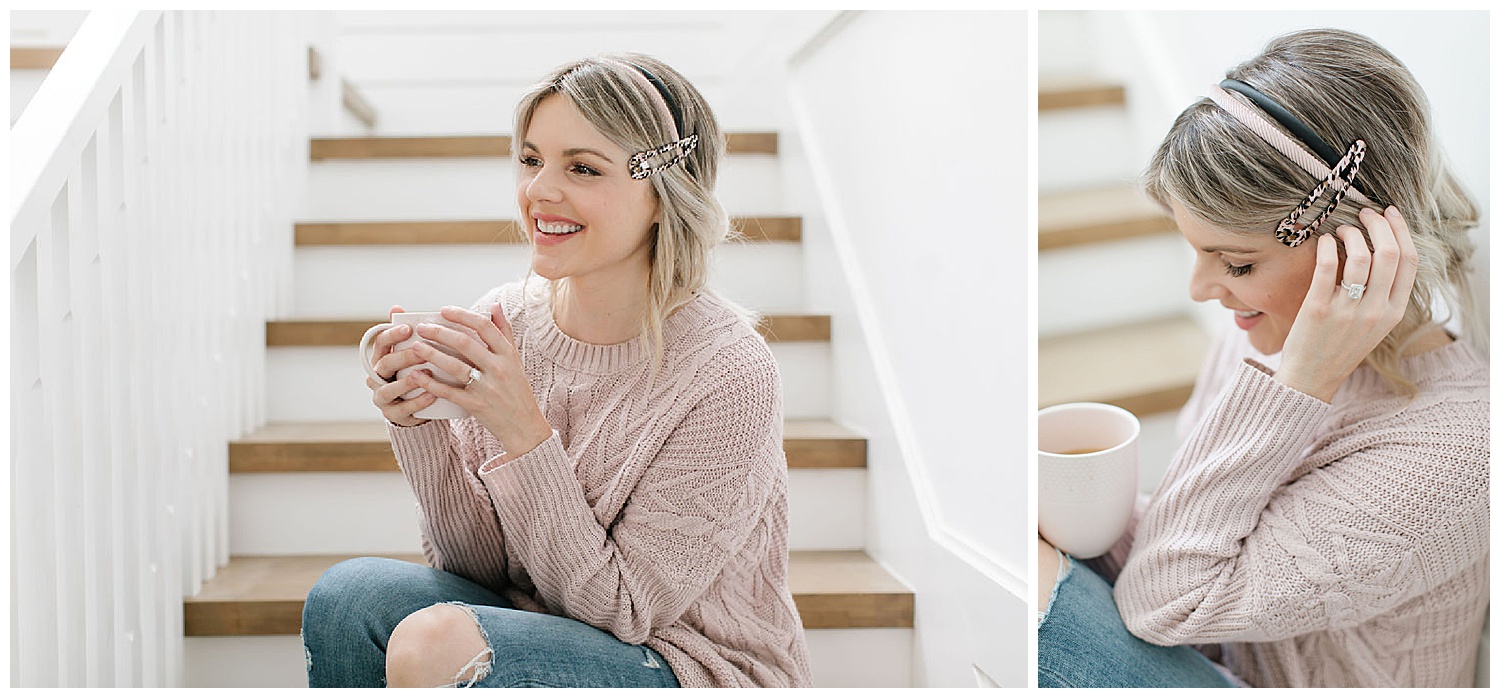 Thank you so much for your support!
Okay, that's it for now but I'll be posting about more of them in a few days! Wait until you see the black bow on!!!!! I want to end this by saying thank you guys so much for all your incredible love and support over the years. I'm so grateful for each and everyone of you. Sometimes of you ask me what you could do to support me back, I always kind of chuckle when I get questions like that because you guys just following me and engaging with me on my blog and social media is more than enough to give back to me. Because of all of you, I'm able to create amazing things like this line with Scunci and I'm so grateful. However, I am gonna use this opportunity to beg a little bit. Ha! I'm so excited about this launch, but I'm also sick to my stomach about it because I don't want it to fail. So it would mean more to me than I could possibly explain if you guys would head out to your local Walgreens and pick up an item or two. Everything in the collection is under $10 – so it's so affordable and truly the quality is just amazing!
I know the holidays just ended, but consider getting a little gift for yourself or someone you know and please please please make sure to post to Instagram and tag me so I can repost all of your pictures to my stories! I'm legit gonna be reposting every single one because I'm so excited about it! And if you see my display in a Walgreens please do a story and tag me so I can repost that too! AT the end of January, I will randomly select 10 of you that posts wearing my line to Facetime with to say Thank you!!!!!! The first person to post automatically gets a Facetime! I;m just so excited! I feel like I'm gonna be living in Walgreens over the next few months just waiting for people to come and see my collection just so I can tell them how much I love it.
If you want to know if it's in a Walgreens near you, I created this Google doc that you can click here to see all of the Walgreens stores that are going to carry at nationwide. There's one just 15 minutes from my in-laws house in Indiana that I'm going to today just so I can see it with my own eyes! Here are all the products, it would mean so much to me if you stopped by Walgreens to check them out!
I love you guys so much and truly I appreciate all the love and support and thank you in advance for supporting me in this endeavor. It's the biggest most exciting and scary thing I've ever done and I just can't believe it. Truly a dream come true!