We have absolutely loved being in Indiana with family, especially during the holidays, but I have to say I do miss decorating our house! Especially my bright, white kitchen! Looking at these photos definitely has me dreaming of a white Christmas kitchen in Nashville next year! Seriously, looking at these photos from our old home in California makes me SOOOO excited to decorate our Nashville home! So much so that I ordered some new Christmas decorations that I plan to use in the house next year, and I know exactly where in the house they're going to go! So I thought I'd write a little blog post today to share some of my absolute favorite holiday decorations and really just home items that I know you guys are gonna love as much as I do!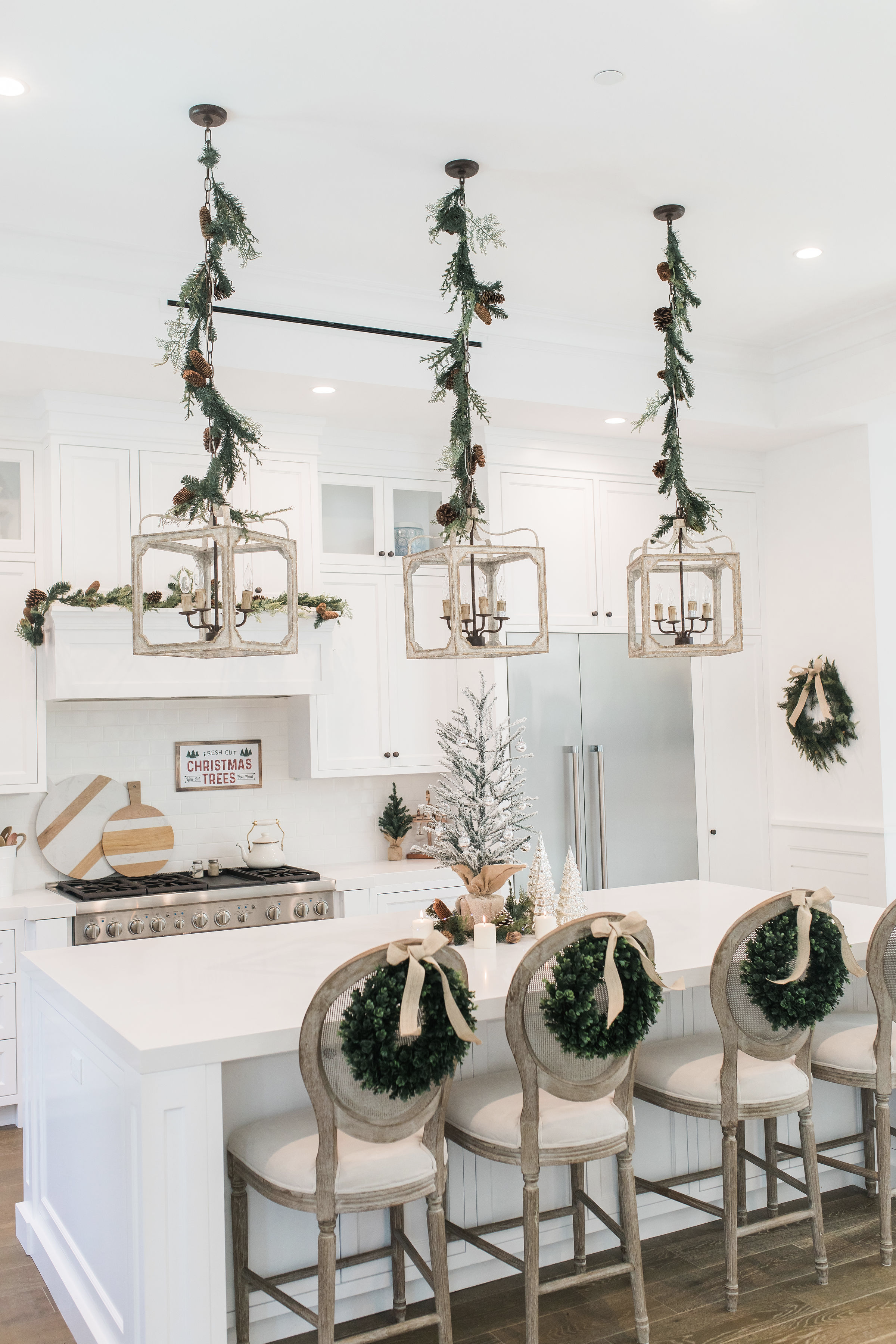 1. SMALL WREATHS | 2. BURLAP RIBBON | 3. CHRISTMAS TREE SIGN | 4. TREE | 5. BIG WREATH
I will get to all the decorations in our last kitchen, but I want to start with this clock because I seriously cannot believe that I got it for $24! I'm not sure I really even checked the dimensions when I ordered it, I just really loved it and knew exactly where I want to put it in our new house! And then when we got it and I saw the size, I was so happy because it's actually bigger than I thought and even more perfect for the space I want to put it in! That's why it's still in the box, by the way, we are putting it right into storage for our new home in Nashville!!! It definitely has that farmhouse vibe and I just think it's beautiful. So if you need a gorgeous clock for your home I highly recommend this one.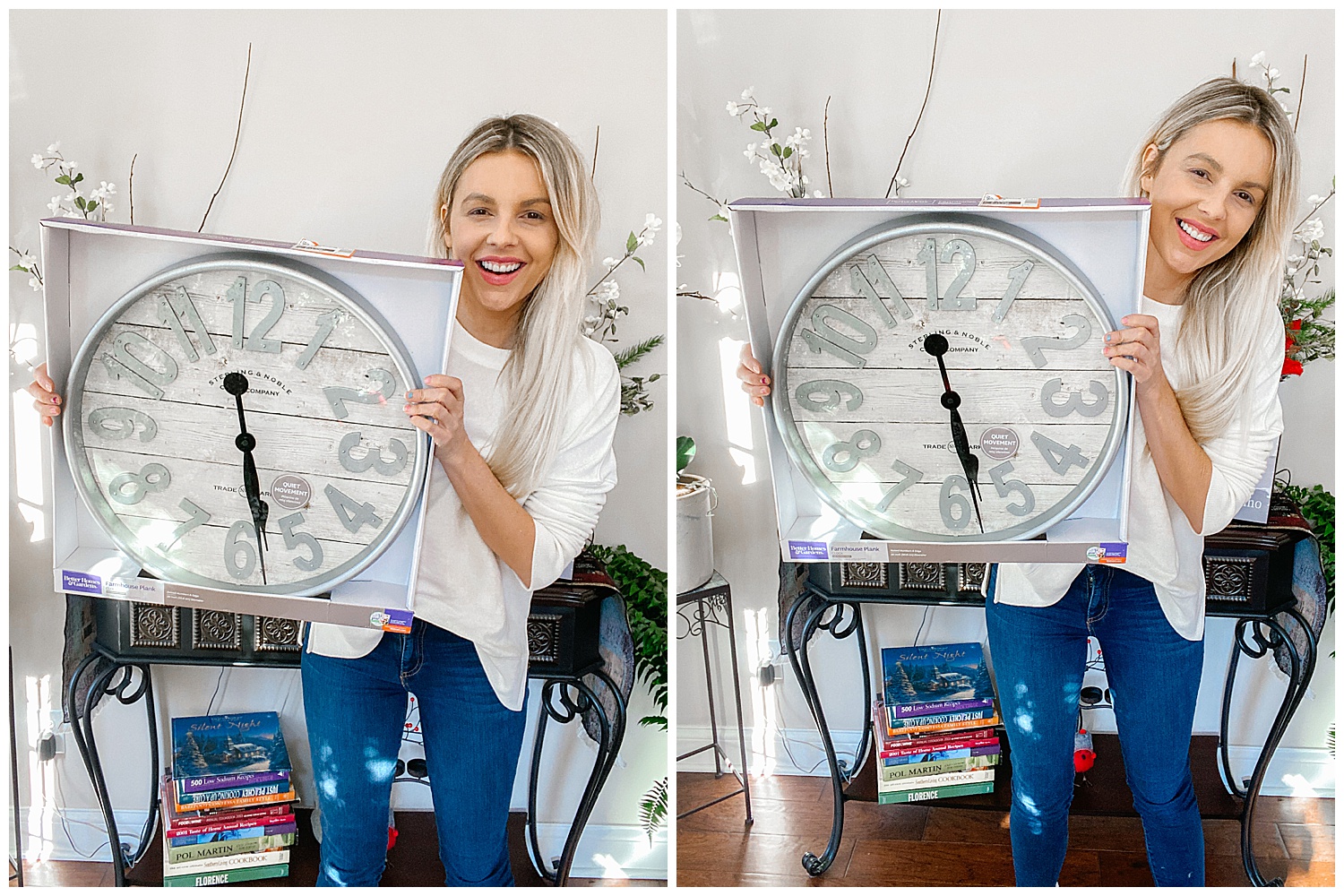 And the craziest thing happened. I ordered this late-morning on Tuesday and when I ordered it it said it would be shipped to me and it would arrive in a couple days. But it showed up at our doorstep at 6 PM later that day! Same day delivery! I don't know if it's because I'm a Walmart+ member or what but that was a very happy surprise! Heck yes Walmart for stepping up their delivery game! It's always been amazing and I've always gotten things so fast but this so incredible!
Okay, now I have to talk about how we decorated our home for the holidays last year. What I love so much about all these decorations is that they're not just Christmas decorations. We kept them up well after Christmas because really, they're just winter themed decorations. So you can get them now and get them shipped to your house quickly, because Walmart has the quickest shipping ever, and then have them up for a few weeks during the holidays and then a few months afterwards for winter! I especially loved this when we lived in California because we just didn't get a traditional winter, so the winter feel in my kitchen just made me so happy!

1. SMALL WREATHS | 2. BURLAP RIBBON | 3. CHRISTMAS TREE SIGN | 4. TREE | 5. BIG WREATH
The wreaths are really the star of the show, so I have to share them! I've had these wreaths for two years now and they're just as beautiful now as the day I got them. They're not only super cute to attach to the back of barstools like this, but they are adorable to hang on the doors in your home. They come as just the greenery, so you can add any ribbon you'd like to them. I really loved the look of a burlap ribbon so I just bought some burlap ribbon with a little bit of wire in it so it holds its shape, tied the bow and then fastened the bow to the garland using garbage bag ties. Not even kidding. I use the same garbage bag ties to attach them to the chairs. It's so simple and such a fun little hack!
I also love the wreaths because they're not overly Christmasy, so they definitely work to keep on the back of your chairs through the winter. They're even kind of a nice springtime wreath. If you wanted to add a little fake egg in the middle of each one to make them Easter wreaths that would be super adorable. Maybe even with pastel bows! Oh my gosh, the options are endless – I just love them so much! It's always awesome when you can get holiday decor for your home that works for multiple holidays!
And because our wreaths are packed up in our shipping container that's in Nashville, I really want the kids to have some wreaths here in Indiana, so I bought a bunch of these 10 inch wreaths. I know the kids will love them to put on their doors or in the rooms at the new house and I even thought they'd be really cute on the cabinets at the new house! How cute would these be on each cabinet door in your kitchen? Plus, these are more affordable than the other wreaths we have, so I was able to buy a lot more of them! They're only $12 a piece!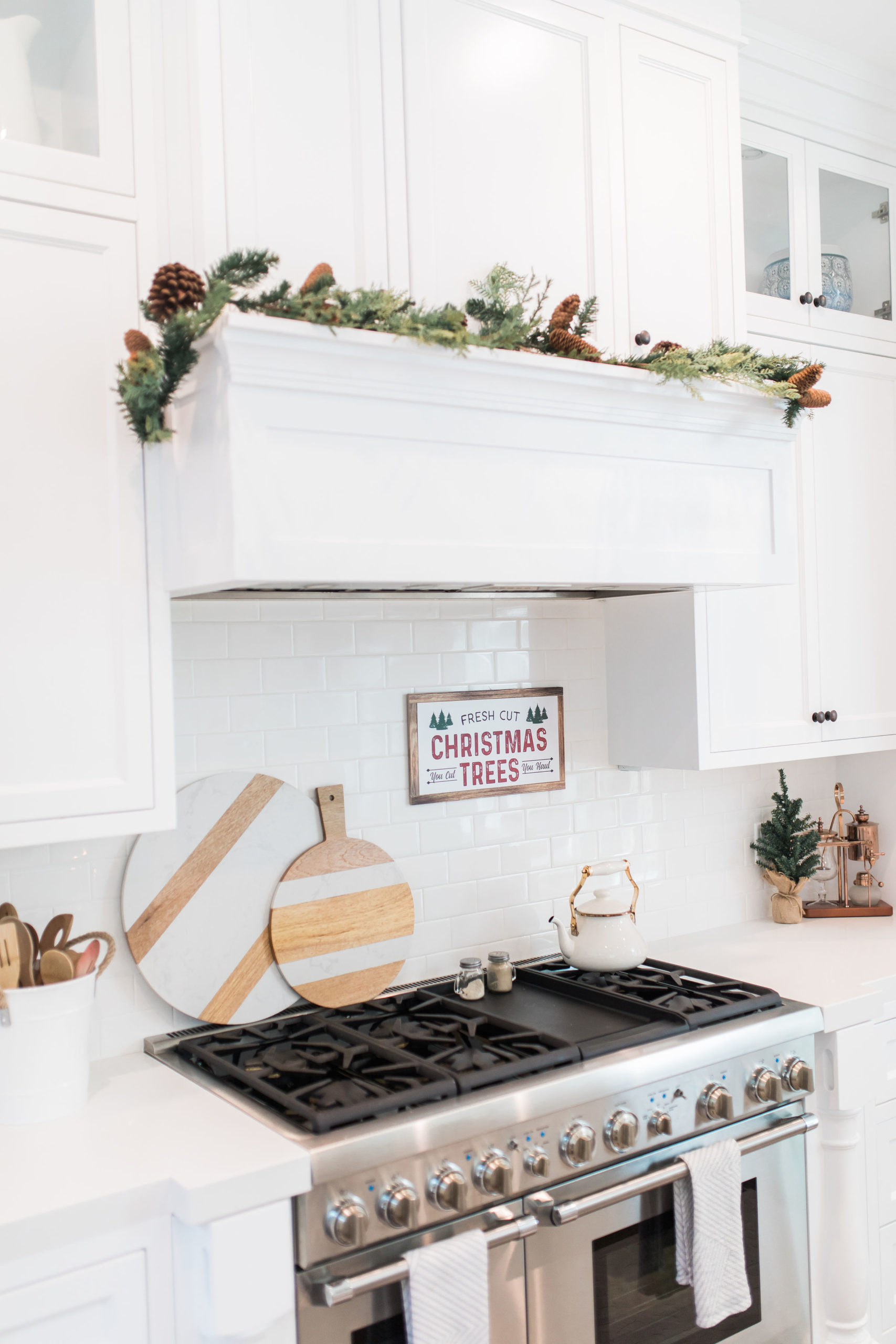 1. A TREE SIGN | 2. TREE WITH BURLAP | 3. BELGIUM COFFEE MAKER
The "Fresh Cut Christmas Tree" sign in the back above our stove range is no longer available. But Walmart has so many other signs almost exactly like this that are super affordable! All I did was use a little 3M tape to attach it to the tile and I love it over our range. I love it so much that I actually hate taking it down when Christmas is over because I feel like the area above the stove feels so empty. Here are a few different cute signs that would work in place of this one that are all very affordable! Kevin's favorite is the reindeer with the plaid jacket 😉

Also if you have pendant lights in your kitchen, it's so cute to hang garland down and around them! Again this is a decoration that I'm so sad when I have to take them down at the end of the season. And by season I mean end of the winter. We keep our winter decorations up well into March!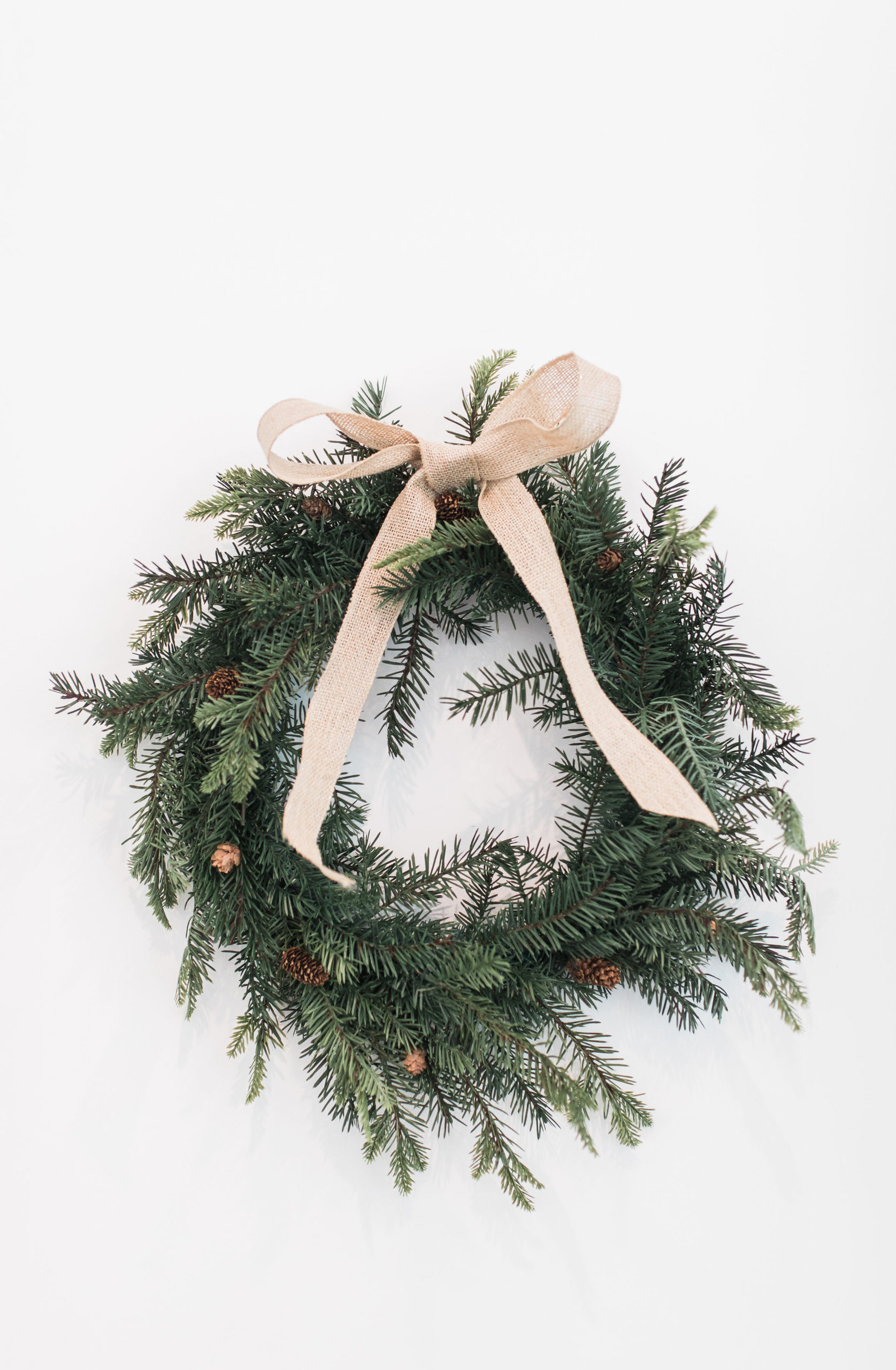 1. BURLAP RIBBON | 2 BIG WREATH
And if big ornate wreaths aren't your thing, this wreath pictured above is perfect! I searched so long for this wreath when I bought it two years ago and I'm so glad I got it. It's beautifully simplistic and again not overly holiday so you can leave it up throughout the winter. I love adding the burlap ribbon to match the ribbon on the back of the chairs to this one.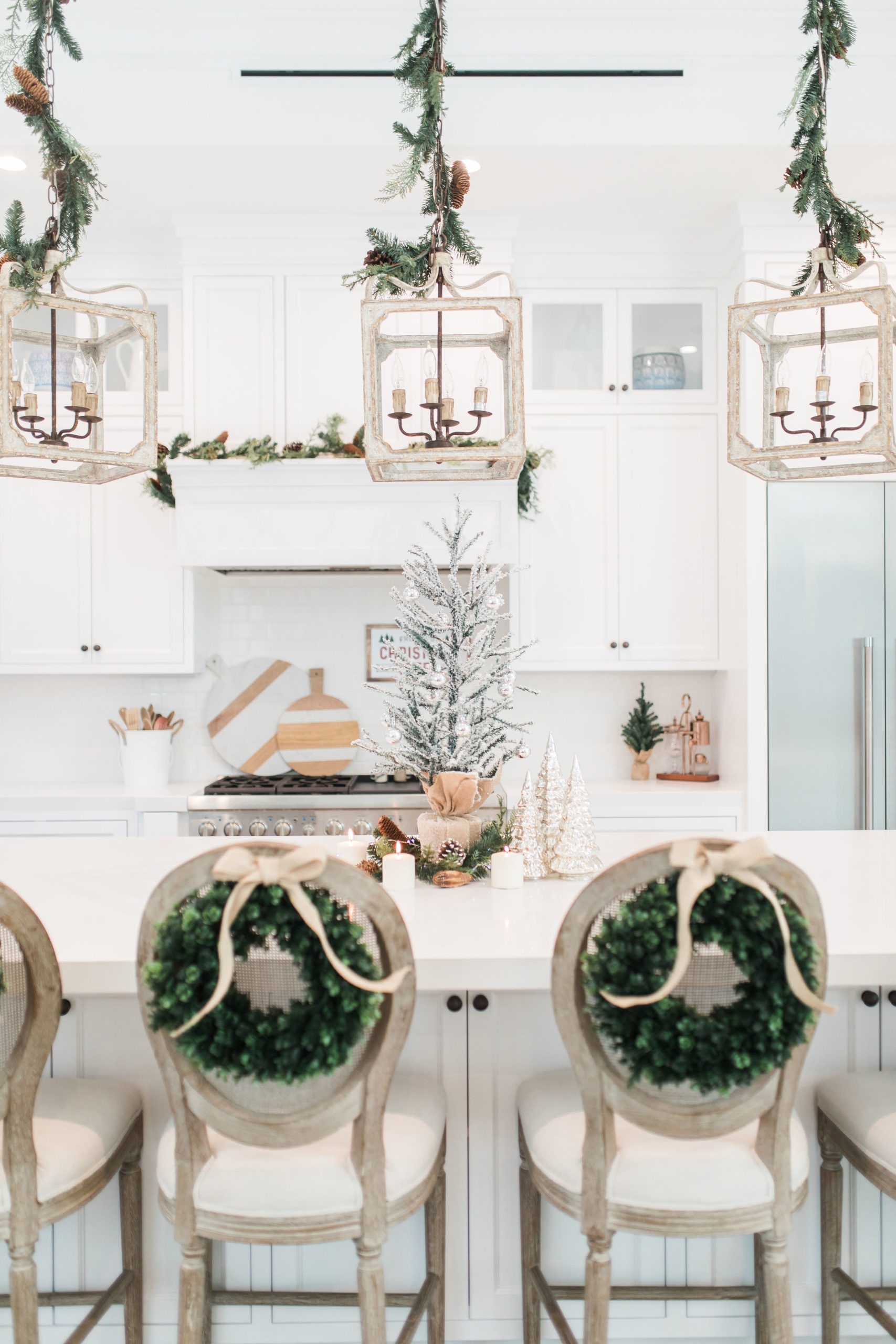 1. SMALL WREATHS | 2. BURLAP RIBBON | 3. CHRISTMAS TREE SIGN | 4. TREE | 5. BIG WREATH
I also have to talk about the Christmas tree on the table. Right now you can buy the green version and just flock it for only $16 and have it shipped to you. However if you want the pre-flocked version I would add it to your cart right now and buy it online to go pick it up in the store. Just to make sure it doesn't sell out before you get there! We love this tree so much that we actually brought it with us to Indiana to put in our room for a little holiday decoration in our room. It's just beautiful!
Speaking of things here in Indiana, I already told you I ordered a bunch of the 10 inch cedar wreaths, and of course the clock that I plan on bringing with us to Nashville. But I also got this adorable, little Be Merry sign. It's only $17 and I just think it's so cute and I actually plan on putting it in our pantry during the holidays in our new home! It looks cute online, but trust me it is even cuter in person and the quality is just amazing!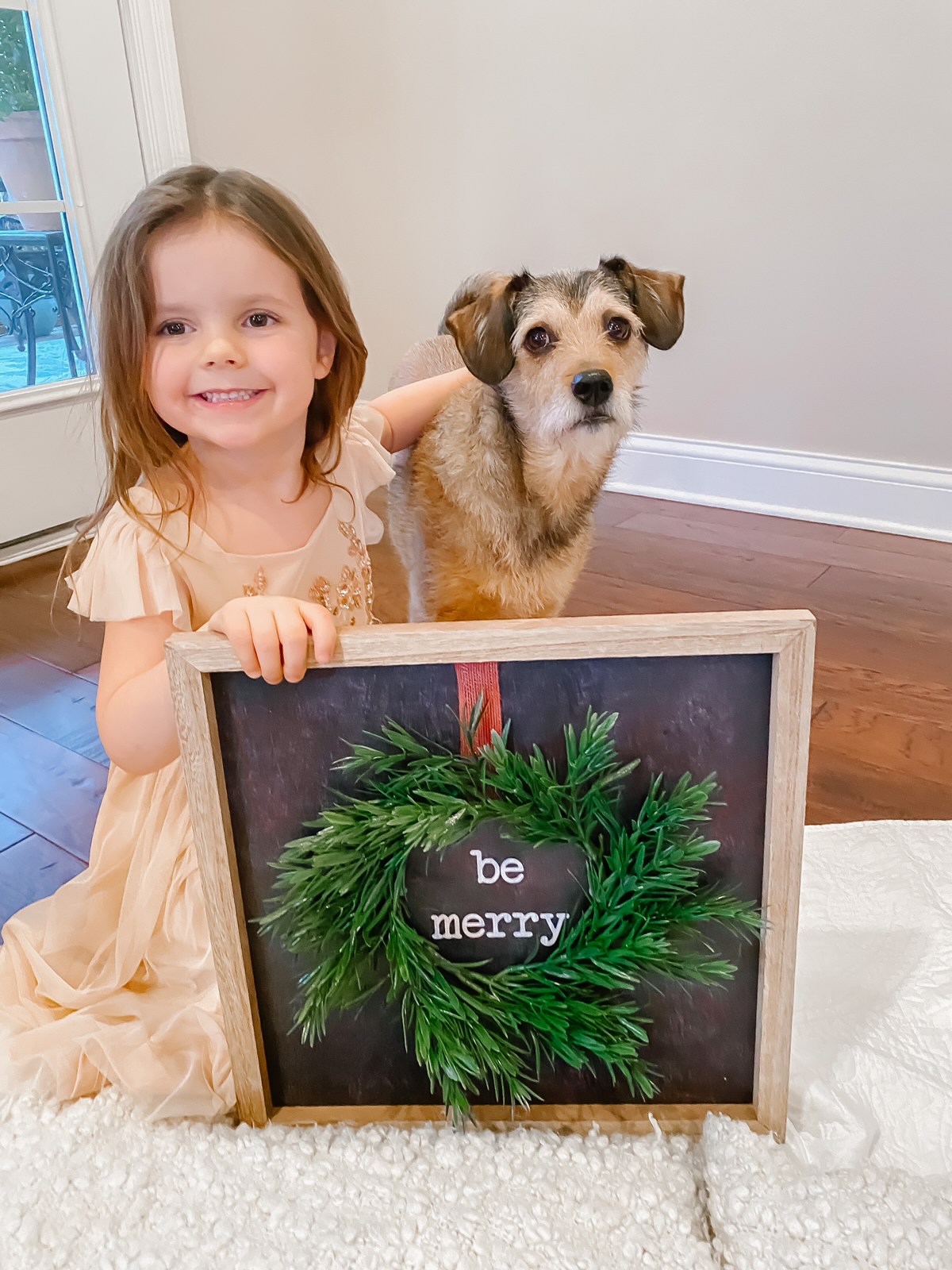 And of course, while I was on Walmart's site looking for holiday decor I totally got sucked into buying stuff for the new house! I just know we're gonna need so much so I want to try to order stuff a little at a time. And oh my gosh, how cute is this bathroom set. It's the Better Homes & Gardens modern farmhouse set. I love the detail, I love the texture and it is so adorably farmhouse! I ordered that and a few glass jars for our guest bath in the new house! So I just thought I'd share!

Home Decor Gifts
Just in case you're already fully decorated for the holidays (even though I always think it's fun to add a few things each year), I also wanted to share some really great last minute gift ideas that you can get quickly! In fact, with Walmart's quick shipping you should for sure have before the holidays but just make sure to check before you order! Yes I really love gifting serving dishes or pictures for the holidays because of things that everyone can use. Even if you have 10 serving juices I feel like you would appreciate one more. And if you don't have 10, you definitely would appreciate getting one. These are all so beautiful and all $16 and under. I went ahead and ordered the first one because I think it's really cute and farmhouse and I can't wait to use it in our new home! I also linked a Santa cookie plate and milk jug that I think would be really cute!

Oh and last but not least, I have to share with you this throw blanket that I just ordered, it is only $8!!! It was delivered super fast FYI. I ordered at night and it was delivered by noon the next morning! Crazy! It's so soft and cute and comes wrapped up with this little bow around it, so it's ready to gift! This would be such a great gift for employees or friends or coworkers because it's so inexpensive, but looks so substantial because it's a bigger gift. This would be great to bring along for each family member in the car to look at lights too – and it comes in a bunch of colors!! So cute!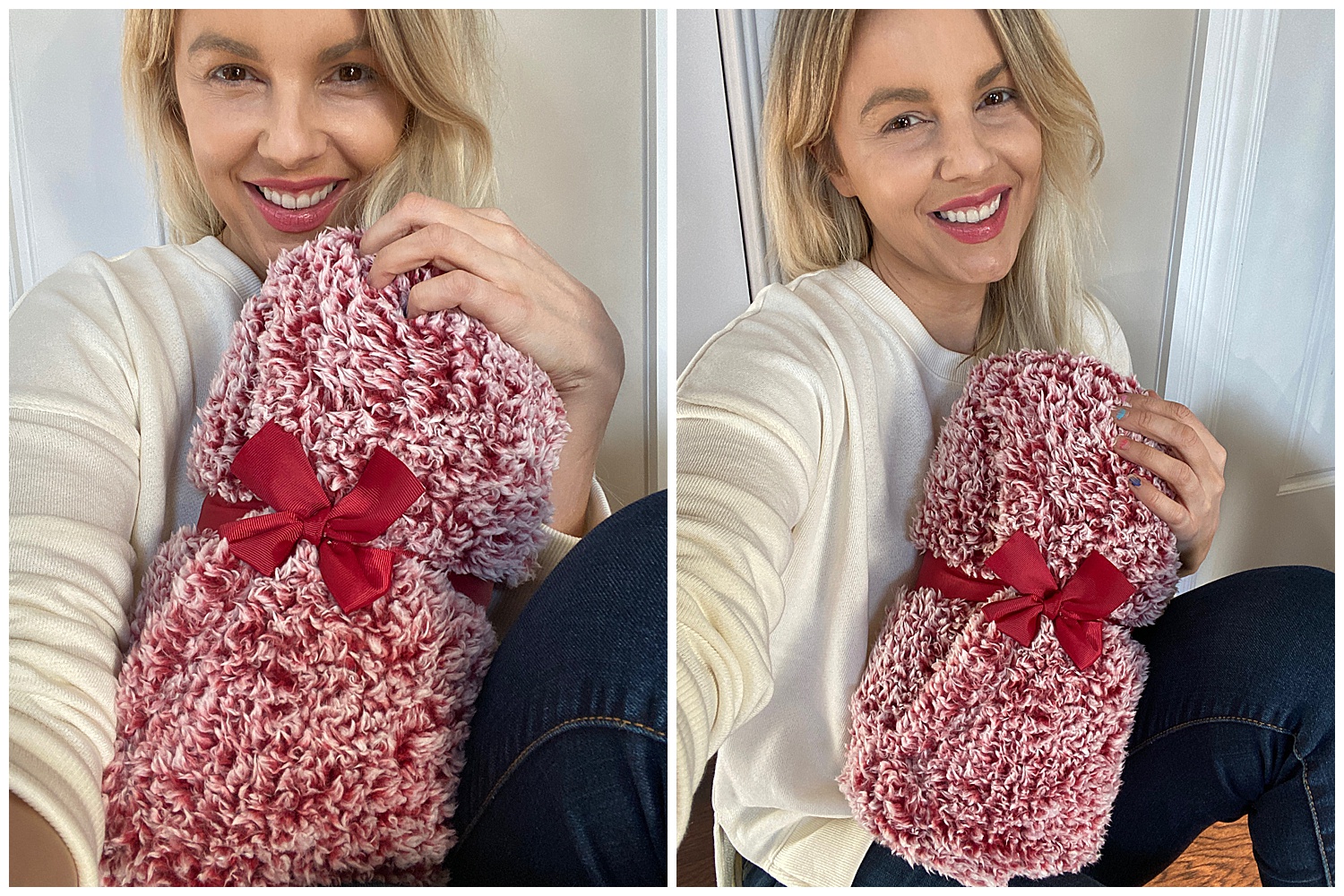 1. $8 BLANKET
And really I think a blanket of any kind it's just a great gift. So I'm looking a few more below. If you want something with more of a holiday print, this one is only $12, has amazing reviews, and comes in a bunch of different holiday prints. And who can't resist a good wearable hoodie blanket as a holiday gift! I've definitely gotten and given a few of these in my time! They always put a smile on peoples faces! And less but not least I wanted to link this weighted blanket. It's a really good price and giving people the gift of good sleep is always a gift in my opinion. I actually don't have a weighted blanket so maybe I should give this to myself. Ha!

And don't forget a cute pillow gift idea! I went ahead and gifted these to myself! I can't believe I got them for $9 a piece!!!! A plaid pillow is great for a farmhouse vibe and I can't wait to see these in our new home!
Happy Holidays!
Anyway, that's it for me. I just love this decor so much and I think now more than ever we should be decorating our homes with as much happiness as possible. And for me, looking around my home and seeing holiday decorations just makes my soul so happy! So I hope this gives you guys some ideas and seriously, if you get one thing from this entire post, make it be the small wreaths that I have on the back of the barstools. They are so versatile and you could put them almost anywhere in your home! I just love them! And don't forget to add the burlap ribbon! Happy holidays, everybody!