HUGE thank you to Walmart for being so helpful and for being an amazing sponsor of my site!
Meet our new family member, SNOWBALL!!!!! No Snowball is not my holiday helper…you'll quickly find out what/who he is. Molly and Riley named our snowman Snowball after we put him up in the front yard yesterday. Because we were in the middle of moving during Halloween, we didn't get to put up any Halloween decorations on the outside of our house, so it's been really important to me that we go all out for the kids with Christmas decorations here at Mimi and Papa's house! Mimi and Papa already had some really great decorations that we put up, but I knew the kids would love some little extra details that we could add.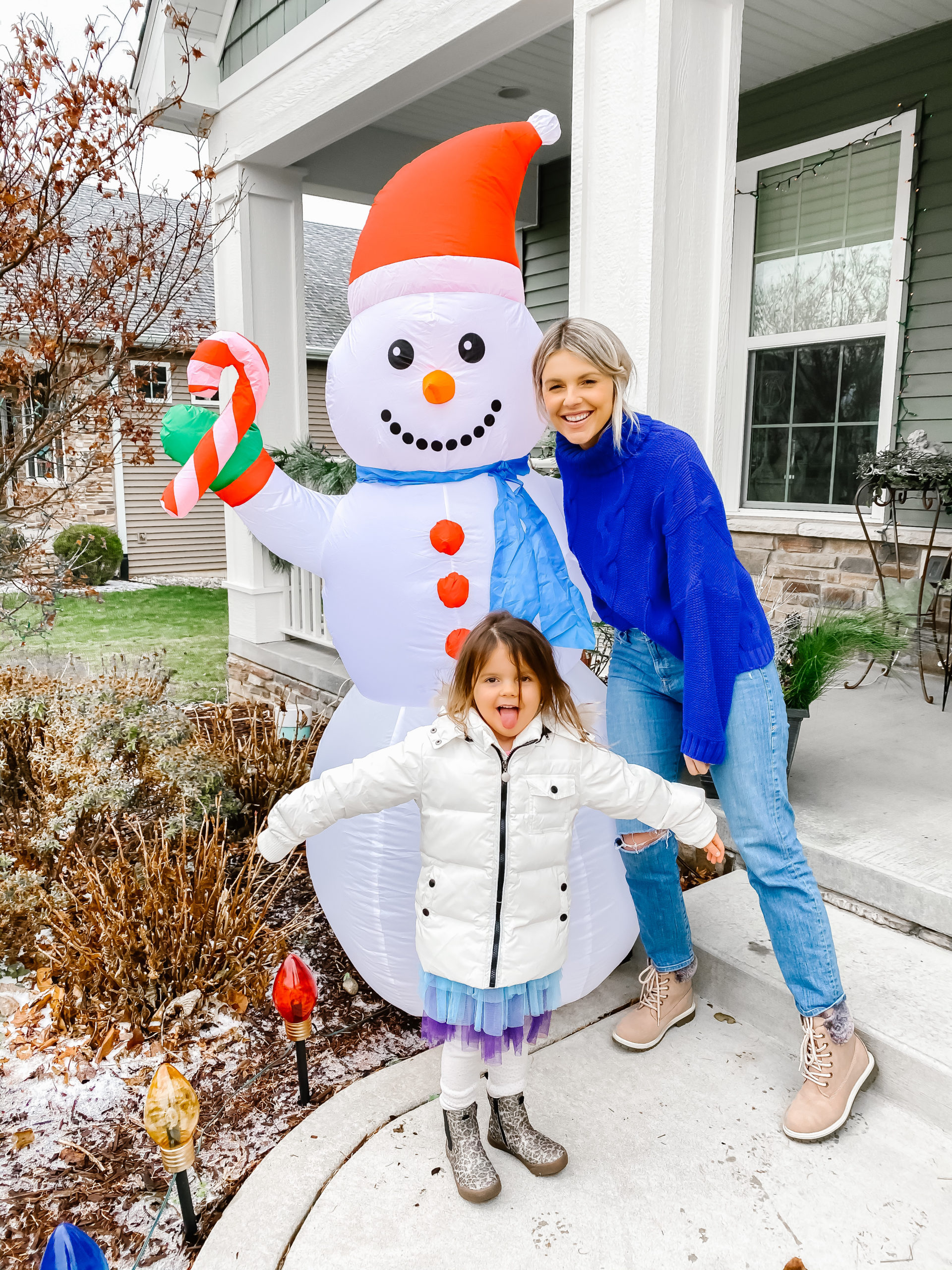 So I decided to have our elf on the shelf, Cocoa, leave a little note in their advent calendar saying that she had something special on the way for them to decorate for Christmas (also she had been leaving WAY too much candy, so I wanted to switch things up). BTW, I literally thought about doing this the day before, so I knew I had to get some stuff for decorating quickly. So I jumped on Walmart.com and used my Walmart+ membership to have the items delivered the NEXT DAY! Yup, Walmart+ is my highly reliable and sanity saving holiday helper!
W+ free shipping means free next-day & two-day shipping on items from Walmart.com, no order minimum required (excludes oversized, freight, & Marketplace items) and it's actually a brand new benefit that JUST launched! Before you would have to spend at least $35 to get free shipping and now Walmart+ members get W+ free shipping, no minimum! I know some restrictions do apply, but I've used this feature a ton and haven't run into any of those restrictions yet since the items I've needed have been shipped & sold by Walmart! And I know it excludes oversized and freight items which always take a little bit more time, but overall it's been a lifesaver! So if you need any last minute items for your holiday festivities consider yourself covered with Walmart+!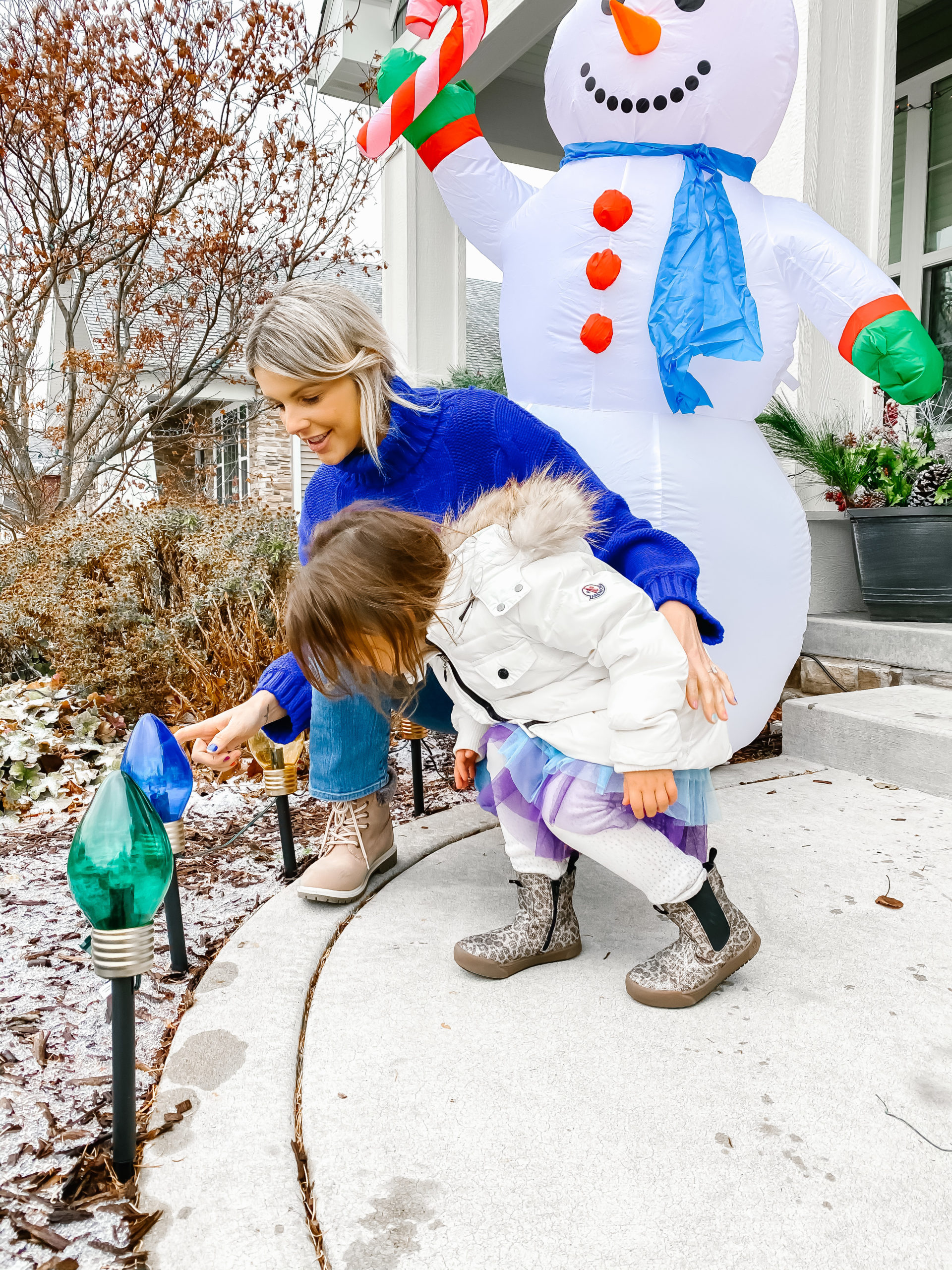 We not only ordered our giant snowman (this is another version in stock that is cuter and only $15!), but also these oversized bulk Christmas lights pictured above to put along our walkway. Or I should say Cocoa the elf ordered those things! I LOVE them and am ordering more because you can attach them and make one long row!
I also used my free delivery from your store ($35 minimum, restrictions apply) benefit to get some groceries we really needed and Puffs tissues (this new cold weather is giving me a runny nose). We've been trying to reduce our time in grocery so I LOVE this benefit.
Another really cool benefit is that you save five cents per gallon at Walmart & Murphy stations. Plus, access member pricing at Sam's Club fuel centers! I wasn't able to use this benefit where we lived in California, but it's been great because here in Indiana there's a nearby Murphy USA gas station so I love that I'm able to save money with member prices on fuel/gas every time I fuel up!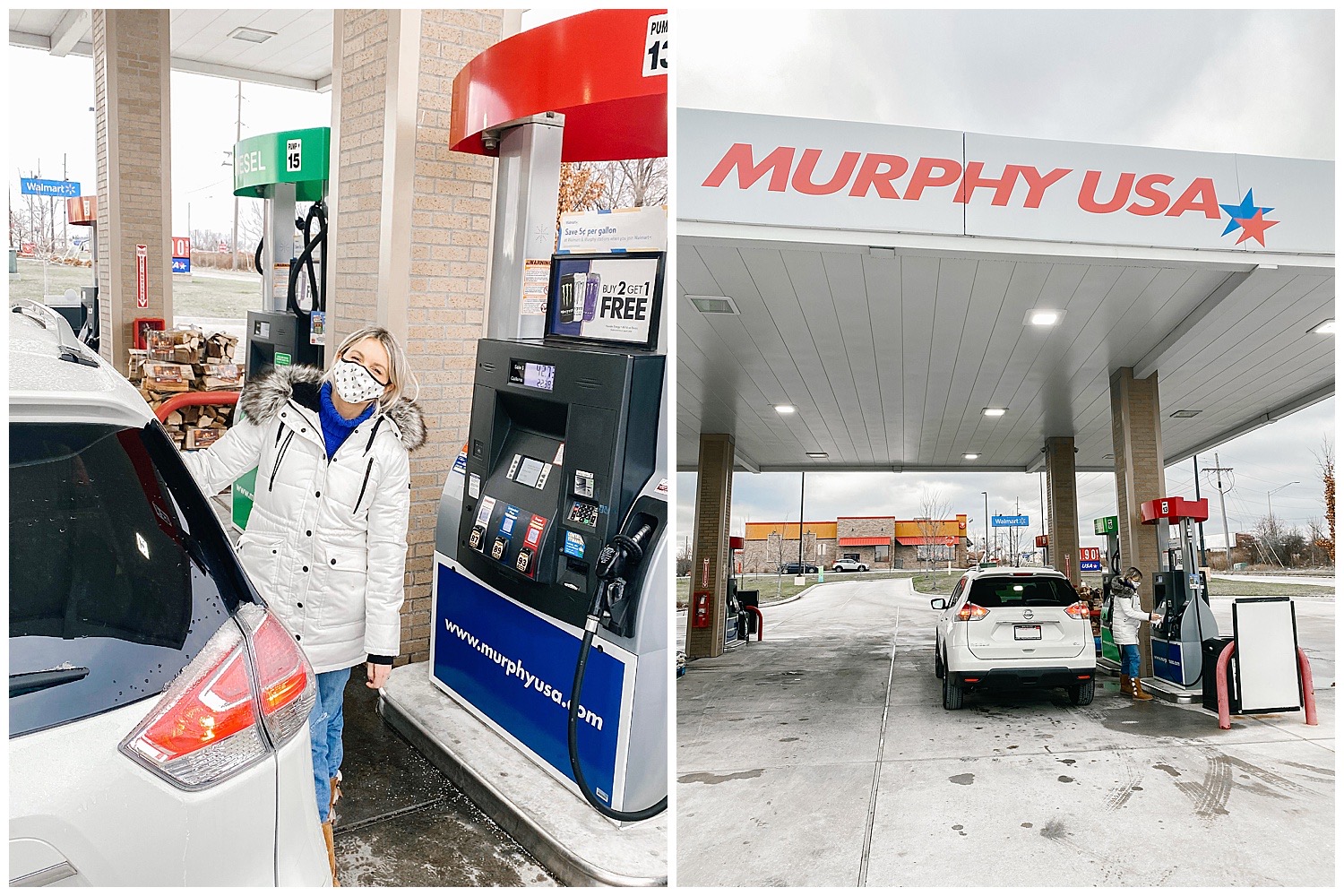 And if I do go in the store, with a Walmart+ membership you can check out on your phone using the mobile scan & go feature in your Walmart app to make in-store shopping fast, easy, and contact free. I'm all about doing things socially distant whenever possible! Which is why I use the delivery and shipping benefits more often than not. But it's nice that I have this option when I go into the store.
I actually bought this Easy Bake Oven a couple weeks ago and was planning on sending it to my niece, but ended up keeping it. Ha! I ordered her a separate one and had it sent to her! But seeing this picture on my phone reminded me that this is another item you can get with W+ free delivery from your store ($35 minimum, restrictions apply)! There are so many different toys and other last-minute gifts that you could order with a Walmart+ membership whether you need them delivered or shipped. So if you tend to be a procrastinator like me, or at the last minute realize you forgot to buy a gift for your great uncle Joe, Walmart+ will come in clutch for you this holiday season!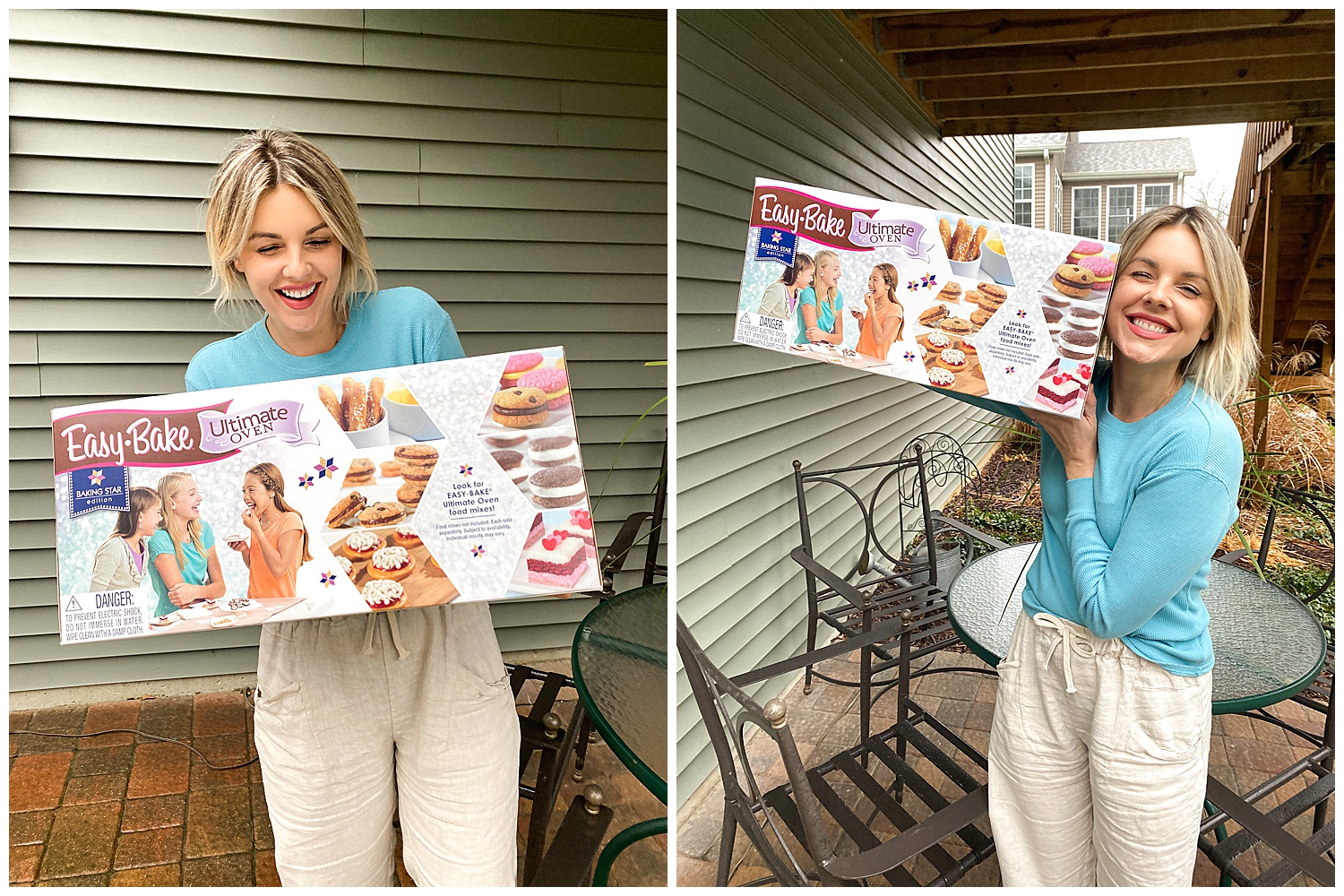 Just to give an example of some of the other gift ideas you can get using your Walmart+ membership with W+ free shipping, no order minimum (restrictions apply), here in Indiana I am able to order Play-dough, Monopoly, a basketball, and even a Roku TLC TV (this is the TV Kevin and I have in our bedroom FYI – SO cool you can get it shipped to SO fast)! Again these are just a few of the items just to give you an idea of how useful Walmart+ can be for last minute gifts. I got my Walmart+ membership back when it launched and I have used it so much for last-minute gifts!
But I also think what sets it apart from other memberships, and makes it a different kind of membership, is that most towns across our country have a Walmart within driving distance. So it's so much easier to get the things you need as quickly as possible, mostly without leaving your house! I also really love that I can tip the driver who delivers my Walmart orders in order to support the people in my local community. You can do the tip online so that the delivery can be contactless. So important!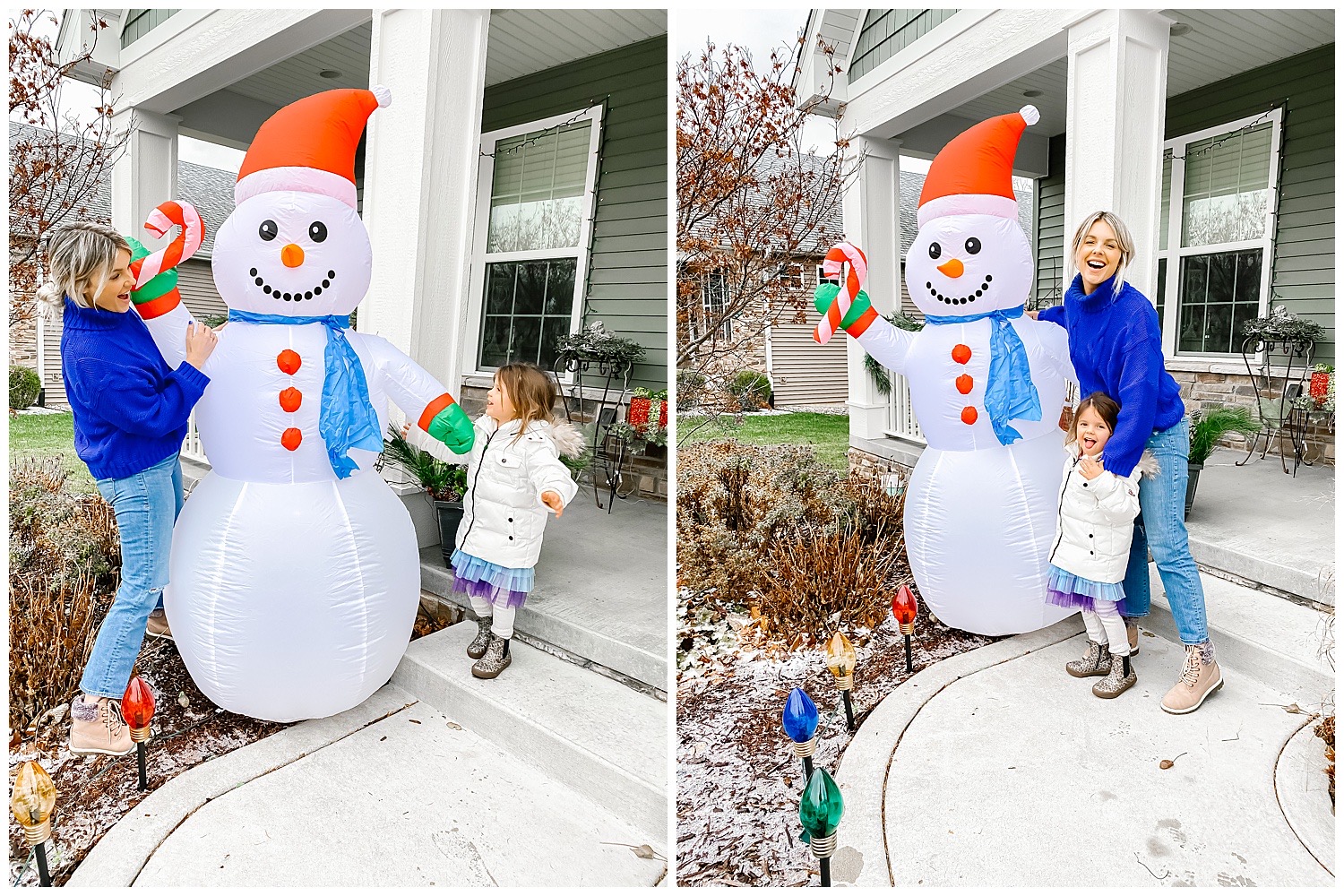 The membership is $12.95 a month or $98 a year. I paid for the annual membership because that makes it only $2 per week ($98 divided by 52 weeks), and really that means it pays for itself in just two deliveries a month (based on the $7.95 delivery fee). So it really is super affordable when you break it down that way and I use it all the time! It really helps me stay socially distant and helps keep my family safe.
Anyway you guys, I've been a long time partner of Walmart and I've truly enjoyed my Walmart+ membership and I think it could be helpful this holiday season and beyond! Especially with everyone trying to stay healthy and socially distant! So check them out and sign up, you will be so glad you did!