Hi friends! Oh my gosh, what a day today! Last week Mimi and Papa took the kids to a bison farm here in Indiana and Kevin and I hadn't been so the kids wanted to show it to us a couple days ago! It was such a fun little socially distant activity to get out of the house so we decided to go back today! So we hopped in the car and drove 20 minutes to a Bison farm in the middle of Indiana!

1. JACKET | 2. PLUS SIZE JACKET | 3. JEANS | 4. SOCKS | 5. BOOTS
It was really cool! It just blows my mind that so many people live within just a block or two from hundreds of bison roaming in a field! Can you imagine waking up one morning walking to your window with your coffee cup, and seeing a huge bison outside your front window because it got loose. Ha! They are wild creatures! I feel like they look like dinosaurs or something.
Puffer Jacket
Anyway, while we were there we are all bundled up in our jackets and I got quite a few DMs about the jacket I'm wearing so I thought I'd throw up a quick blog post! I was actually planning on posting this blog post next Friday for an Affordable Friday post (which is why most of it was already written), but what the heck I'll share it now since I had so many inquiries about my jacket.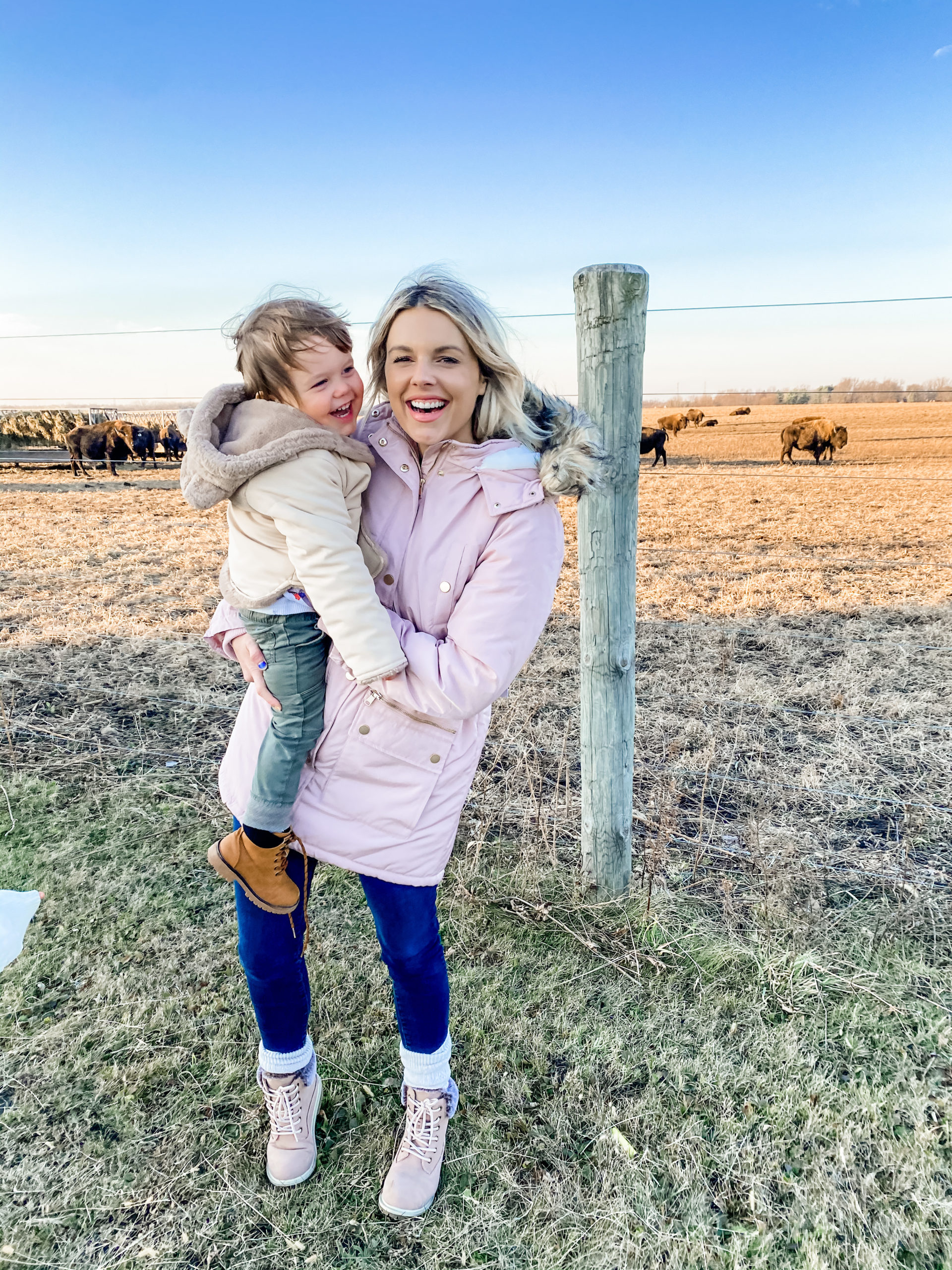 1. JACKET | 2. PLUS SIZE JACKET | 3. JEANS | 4. SOCKS | 5. BOOTS
Well, I am super pumped to share that this adorable jacket is under $45! I'm wearing a size medium FYI. This jacket is super warm and really cozy and in a medium I definitely have room to wear a big sweater underneath. It's also available in black (which would be classic) and an olive color. And I actually think those colors are under $40 which is amazing! If you're looking for a warm cute fur jacket for winter this is my top recommendation! A lot of you have actually asked about my white jacket was from, but unfortunately that's a few years old so it's not available anymore. But this is a great option if you like that one to get the exact same look !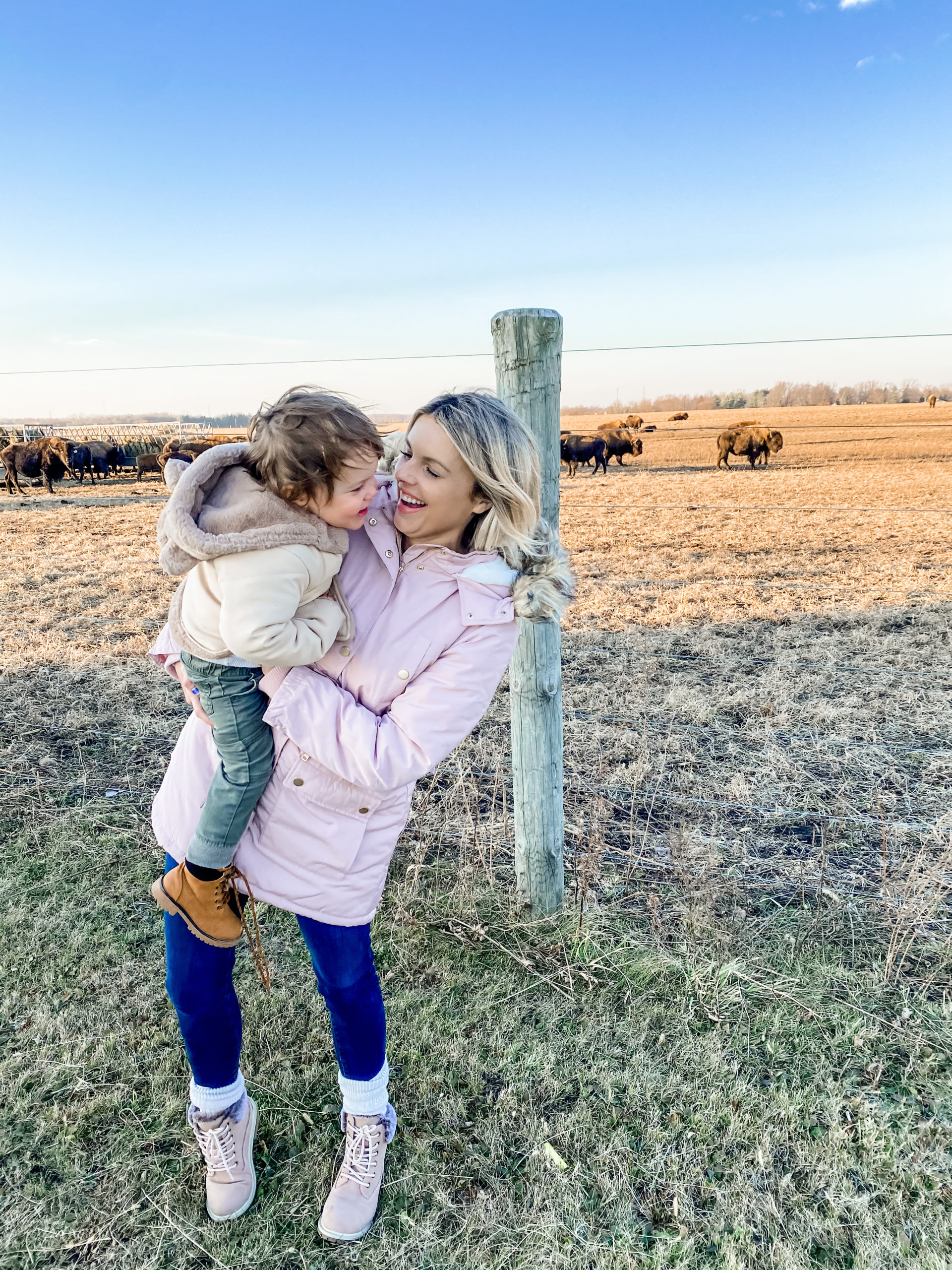 1. JACKET | 2. PLUS SIZE JACKET | 3. JEANS | 4. SOCKS | 5. BOOTS
I will also link it here where it's available and plus sizes. And my boots are also from Walmart – they are on sale for $24. I've had them for about a month now and I LOVE them!!!! And I've realized the key to wearing them and making them super flattering on your legs is to get a knee high sock and bunch it up at your ankle! Little styling tip!
Active Puffer Jacket
Speaking of puffer jacket, I also recently ordered this thinner puffer jacket because I realized I needed something that was warm to wear outside that I could be more agile in. I love my big puffer coat but when I'm trying to help Molly ride her bike outside, I can't really move as fast in them so I needed something more athletic to do stuff like that with Molly.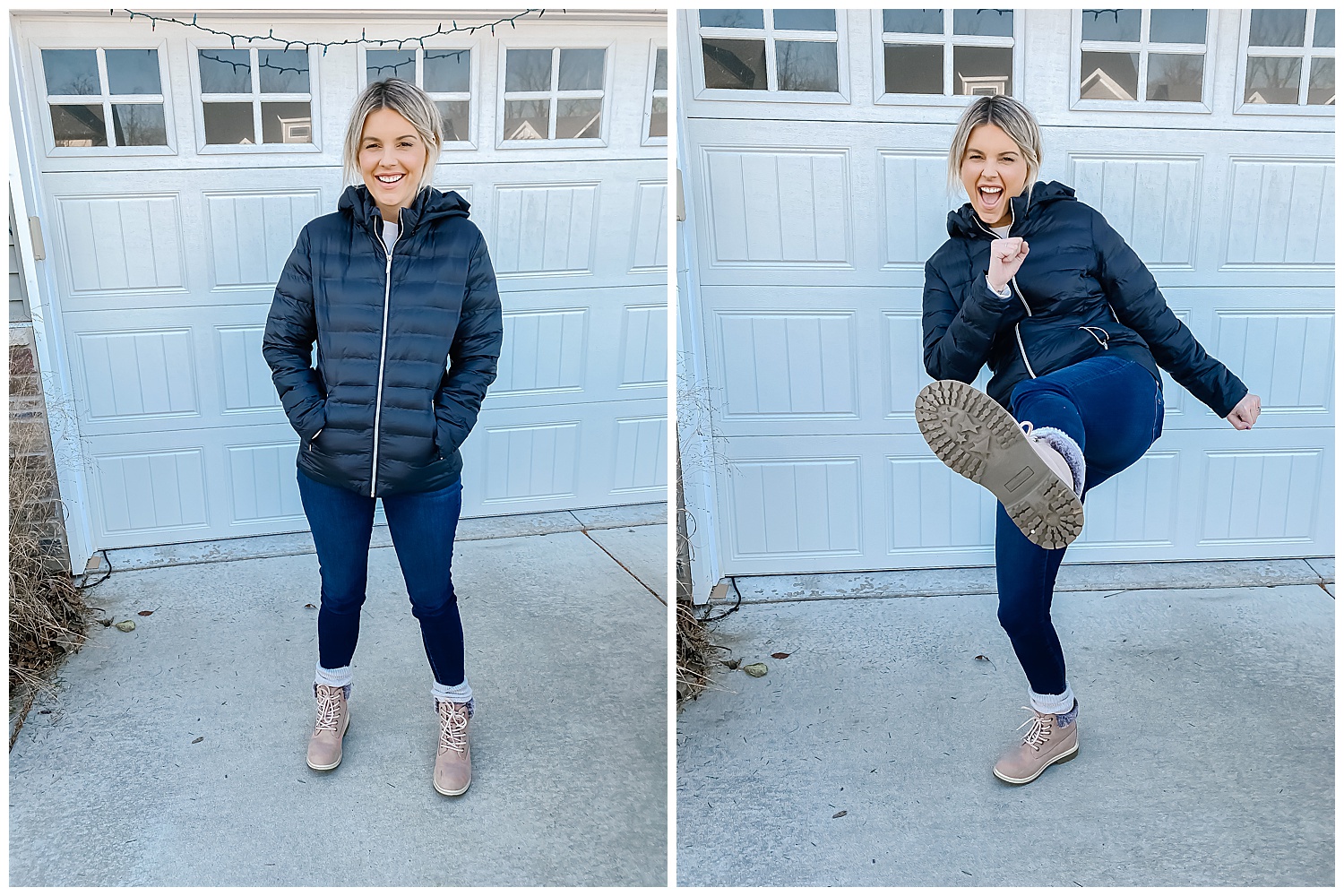 1. BLACK PUFFER JACKET | 2. PLUS SIZE BLACK PUFFER JACKET | 3. JEANS | 4. BOOTS
I got this one in black just cause I knew I'd be wearing it to get really active with the kids! But I'm obsessed with the white color and I love the black so much that I went ahead and ordered it in the white so you'll be seeing me wearing that out and about. And unbelievably, it's under $20! You will not get a better coat under $20 than this one. Did I mention it has fleece-lined pockets? Perfect to keep your hands warm!!!
This one also comes in plus size so I wanna make sure to link that as well! I'm really trying to be more size inclusive in my blog posts to make sure that I am making everyone feel included and seen.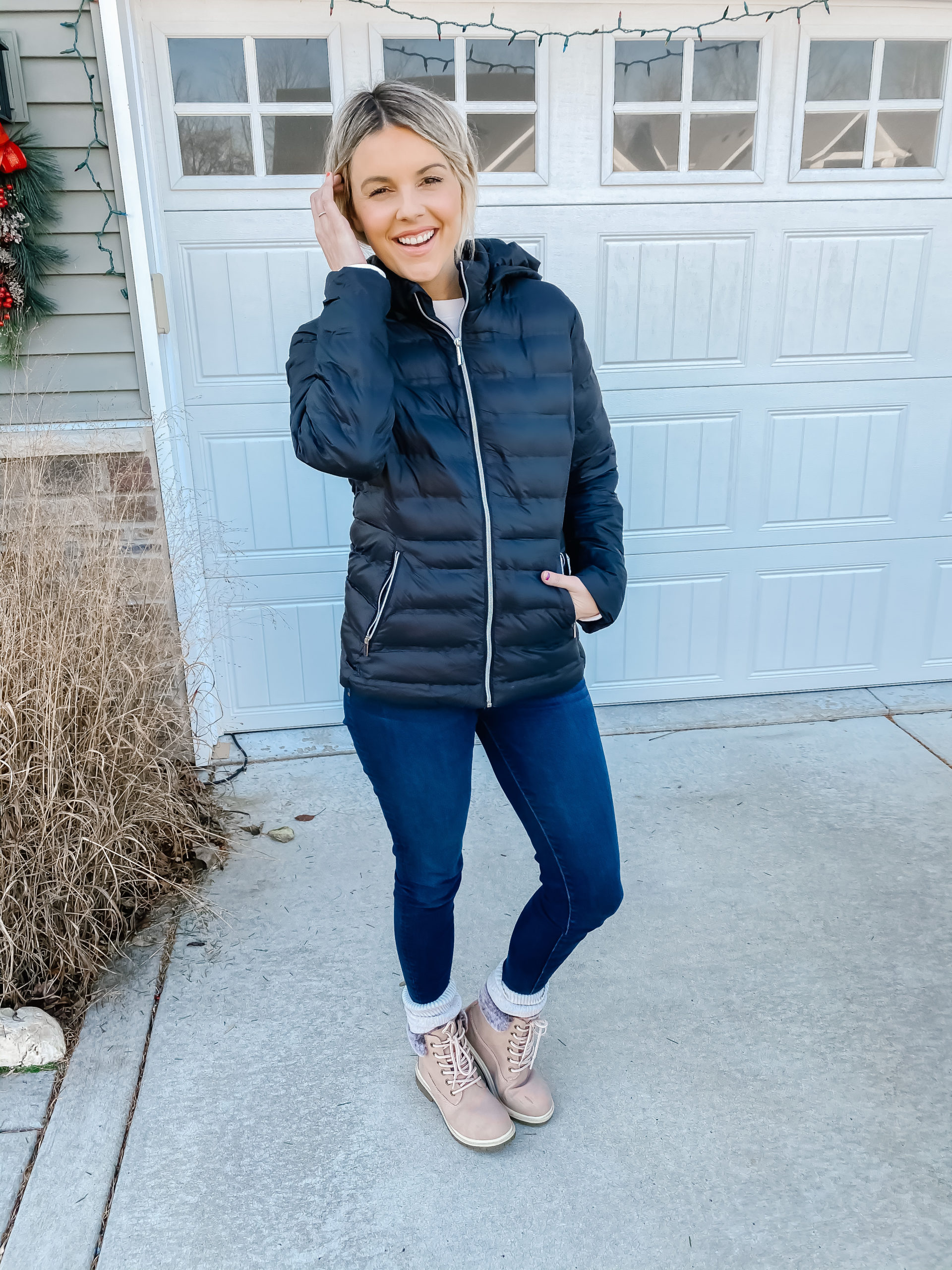 1. BLACK PUFFER JACKET | 2. PLUS SIZE BLACK PUFFER JACKET | 3. JEANS | 4. BOOTS
Balloon Sleeves
This balloon sleeve sweater may look familiar to you because I got it in a burnt orange color that I absolutely love, but it's sold out so I wanted to just briefly show you it in the red because it's $19 and still available in a few sizes. It's a really cute, comfy cozy holiday sweater. I just love the balloons sleeve! I'm wearing a medium.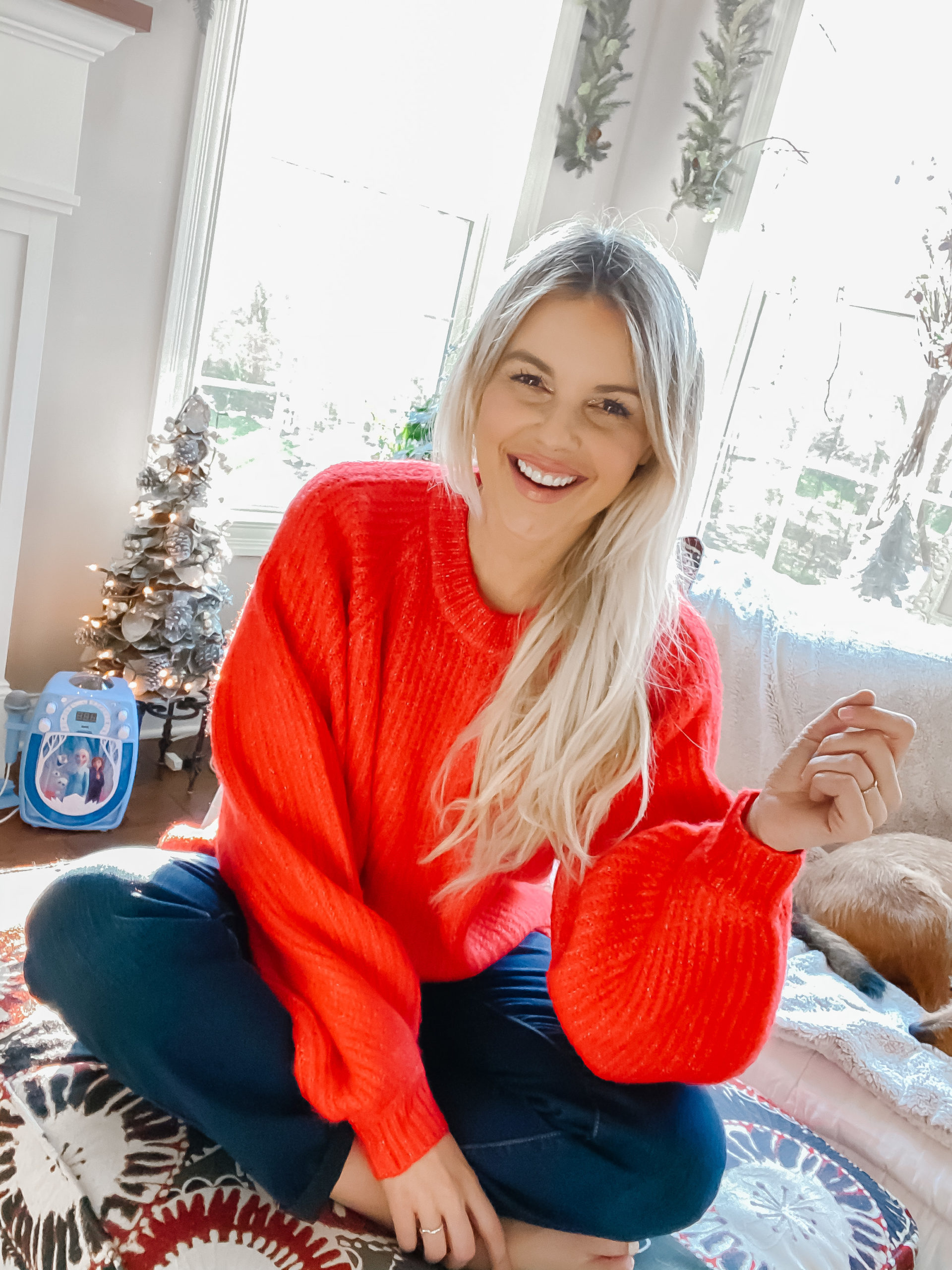 1. BALLOON SLEEVE SWEATER | 2. JEANS
Lightweight Sweatshirt (More like long sleeve t!)
I am so excited to share this lightweight sweatshirt with you. Maybe it's more like a warm longsleeve T-shirt. It's definitely not sweatshirt material, but not t-shirt material – it's in between. So this is perfect for anybody who lives in the warmer climates. I'm realizing that I've been doing a lot of fashion post about sweaters and super warm things because we're living in Indiana. But I remember when I lived in California that I never really got to wear any of this warm cozy clothing because I needed more lightweight stuff. So I really wanted to include this top because I just love it. I'm wearing a size medium which is my normal size and it definitely has a oversized fit. If you want something that's not an oversize fit I would size down on this one. It's super comfy and I just love it.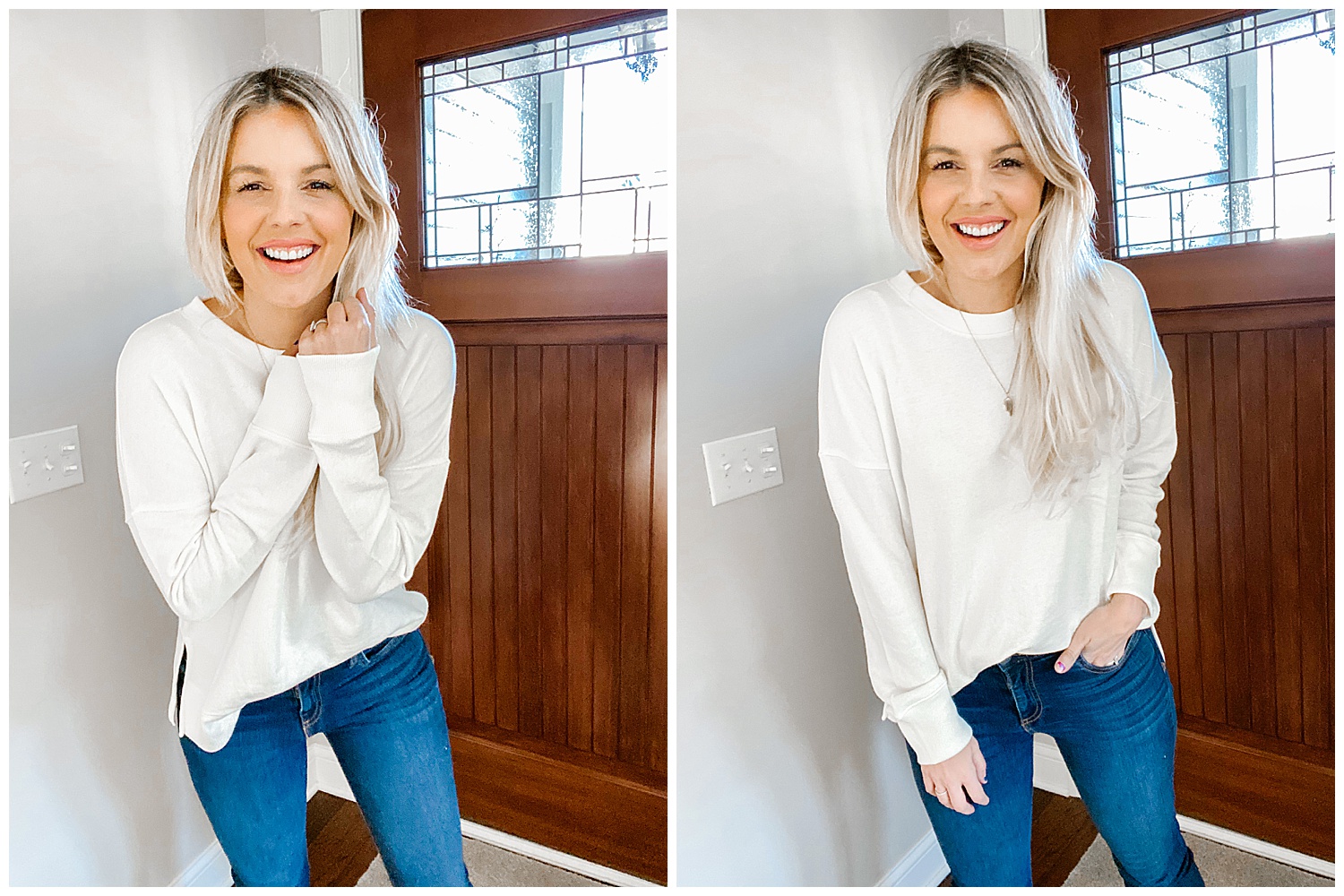 1. LIGHTWEIGHT SWEATSHIRT | 2. JEANS
You guys know how much I love my white t-shirts and I wear them pretty much all summer long. I feel like this is kind of a wintery version of that white t-shirt. This isn't warm enough for me to wear outside in the cold Indiana weather but definitely great for lunch and around the house and perfect for outside if you live in California, Texas, Florida, or another warm state! And you can't beat the price it's on sale for $7!!!
Cozy Expensive Looking Cardigan
Last but not least, I had to include this $14 cardigan. This might be one of my favorite items from this post. I think it's because not only is it great to get yourself, but it's such a great gift to give! It's a simple cardigan that anyone and everyone would love. And it's so much easier to guess somebody's size with a cardigan because really you can go up or down a size and it would still fit well. Do you know what I mean? Like I'm a size medium and I got a medium. But I could squeeze into a small for sure because it has a little stretch and give. And a large would just look cute and oversized.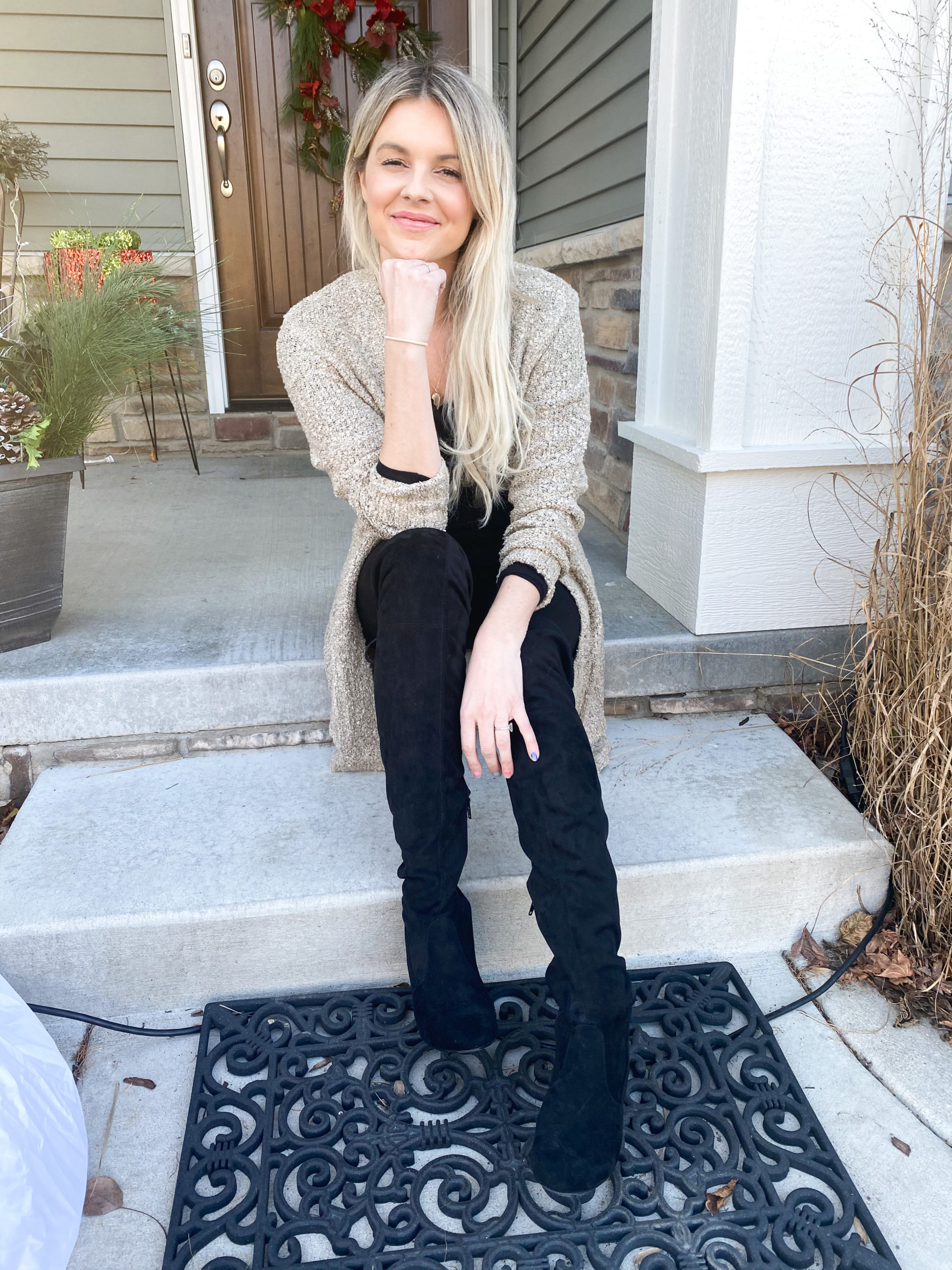 1. $14 CARDIGAN | 2. OTK BOOTS
I love giving cardigans as a gift. And I love getting them (In fact I am just modeling this one and plan to give it to my MIL for Christmas. Don't tell her ;). Who doesn't want a nice new cardigan – and this one's on sale for $14. But I will say, if you look at the detail in the photo below it looks so expensive. If I saw this hanging in a boutique store and it was $150 I wouldn't think twice about it. I mean, I wouldn't buy it because I don't buy expensive clothes. Ha! But it would make sense to me that it was in that store and cost that much because it just looks so expensive and nice. And it's really soft.
I'm wearing it with these OTK boots. Although I just say this pair on Walmart's site for $5?!?! That has to be a mistake but might as well snag some at that price!!!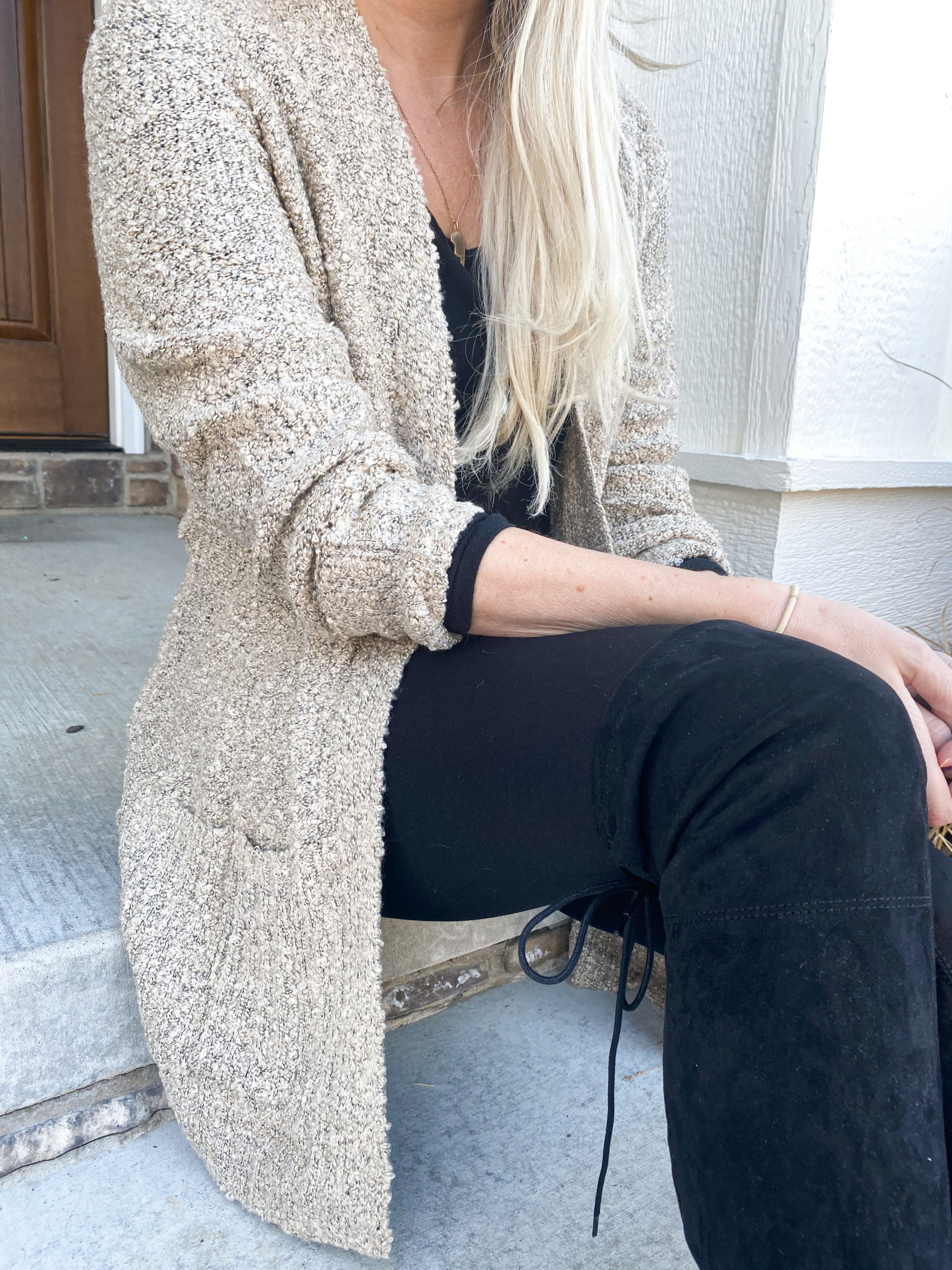 1. $14 CARDIGAN | 2. OTK BOOTS
My Sweater from the Other Day
If you want to get the sweater I wore the other day I am linking it below. I'll add a photo her later! It's awesome! Especially for this price!!!! Only $17!!!! The detail is soooo pretty. I am wearing a size medium FYI. I am also liking this super pretty and SUPER soft light blue sweater I have cause I will likely wear it tomorrow and I want you just to have the links!

Denim
Before I go, I just want to quickly talk about the denim I'm wearing in many of these photos. I've gotten quite a few pairs of jeans from Walmart over the years and I've always been super impressed with every pair! And this pair is no different. They're just under $17, the fit is amazing, and they've held up really well and I've already washed them a handful of times. In fact all of my jeans from Walmart have held up really well. And some of them are my go to's. In fact all of my jeans are either Walmart or one other brand that I really love that's more expensive. But the Walmart ones are just great! I'm wearing a size 8 (I am typically an 28/29).

Happy Holidays!
Well that's it for me. I just love these items so much that I want to give you guys details on everything! Hope you are all having a wonderful weekend! And let me know what you think of the post or any other blog post that you'd like to see for me in the future in the comments below. I always love getting ideas from you guys!