Hi everyone! Madi here! Hope you're all recouping from this holiday weekend and hopefully your bank accounts are in better shape than mine hahaa. I went a little crazy! Speaking of crazy… this episode had me wanting to pull my hair out a few times with the drama. And who would have thought that we would have seen a wedding ceremony during the 4th episode of the season. Let's get right into it because we have hash out today.
Tayshia and Jojo
I don't blame Tayshia at all for waking up anxious and I am so glad that Jojo was there to play Chris Harrison for the week and able to talk to her. She mentioned that is is falling for multiple people and how she doesn't really know how to juggle that, and I really want to know how those people are. The cast of guys she has left, 12 of them!, has so much potential and I can picture her with a few of them! Last week I asked you guys if you could pick her top 4 or 6 yet and a lot of you had similar answers. I'd love to know your thoughts after this episode! Did your mind change at all? Anyways I am getting ahead of myself here. I'll get back to that!
Love that they are having Jojo take over for Chris Harrison while he takes his son to college. She is so loved in Bachelor Nation and I think with her personality she will be able to wrangle the guys if needed! It will be interesting to watch her do the rose ceremony since we haven't had a chance to see that yet.
1-on-1 with Zac
Fantasy Wedding Shoot
We have seen a few wedding styled dates over the years (remember Nick's season?), but I feel like this is the first that is on a 1-on-1 and not a group date. Correct me if I am wrong! Being that Tayshia has been engaged, this is a very interesting date because you could tell it brought out feelings she probably wasn't expecting to have on this date. When she said it made her anxious, I am so glad she had someone like Zac on this date since we had seen them have more intimate moments previously. This date was also likely planned while Clare was the Bachelorette, and I could see that date going a lot differently! Couldn't you?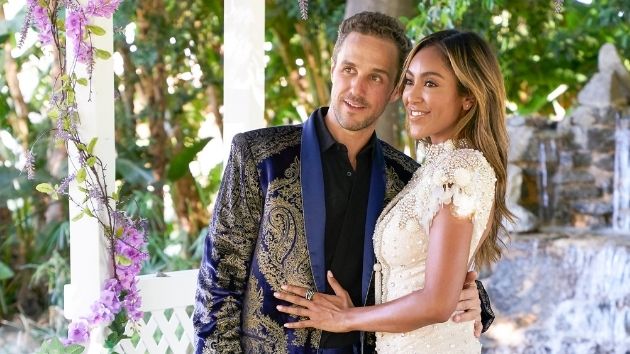 During the Fantasy Wedding Shoot portion of the date, I felt that their chemistry was so great! I truly love seeing them together. They both were so happy and giddy as she walked up – I mean they both looked absolutely incredible in their outfits! Zac's cream suite complimented him so well. The entire time watching, I kept thinking that all their outfit changes and scenes for the shoot were so fun! Who wouldn't love to jump on a trampoline in a big poofy dress?
Dinner
Right off the bat, it was surprising to me that Zac was also married before. I guess that makes sense since the cast is slightly older than normal (many are still in mid-late 20's). The reaction on her fact made me think that she thought of Brendan in that moment and had a "hmm" moment. Almost as if she was quickly comparing them. That could be totally off-base, but I really thought that, or maybe instead of Brendan she was thinking "oh that's why we get along". But there was definitely written on her face!
The more this date continued, the more I can see them together. When she said he has a lot of characteristics of someone she's always been looking for, it was clear to me that he is going to be in her top. I think I might have said that last week, but now it is solidified for me! Especially with her saying she is falling for him during the ferris wheel portion of the date. Anyone else? I'm thinking top 2.
It was so interesting hearing about his past and how much he has grown as a person in 10 years. He has been through so much that has shaped who he is as a person. Out of the men from this season, it feels like he's the one that lives his life most intentionally and his actions are thought out. Tayshia has said over and over how all she wants is someone that is open and honest with her, and I think he gave her that and then some. He didn't hold back even though you could tell it was difficult for him to talk about.
What are your thoughts on this date? I really enjoyed learning more about each of them!
Group Date
This date was so interesting because we were able to see all of the guys in a more vulnerable setting through the art exercises.
Each week I go back and forth on my feelings for Bennett, but this group date just rubbed me the wrong way. It definitely seems more like a game to him now and less about Tayshia as a person and getting to know her.
While many of the art pieces stuck out to me (Brendan's frame, Ivan's puzzle, Riley talking about the wedge in his family), Ben topped of this date. And not because he was naked, but because he was open and vulnerable and that's all she wants to see from them. I'm not sure that she would have left and gotten upset without this moment triggering that. Of course she was thinking about how open all the men were before this moment, but I really think it was the final straw, so to speak. I'd also love to know what he did for his actual art piece since he said something was missing. It seems like this was on the fly since he also ripped his mic off haha!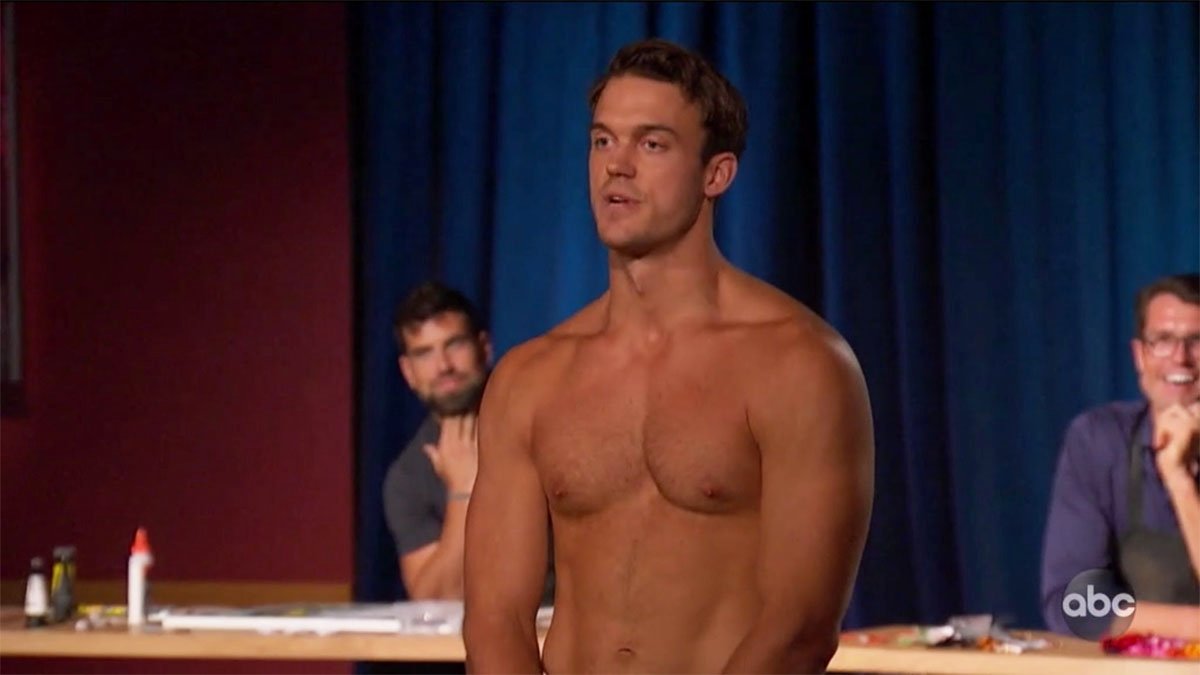 Ben continuing to open up on the date was exactly what we all needed to see. It's pretty clear that he is somewhat shy and reserved, and I think opening up on a personal level (more so than just telling her his feelings) is so huge. Him getting naked makes even more sense now because that is what he is most vulnerable about, his eating disorder. Honestly good for him feeling confident enough to do that!
1-on-1 with Eazy
What a fun change of pace for the dates this season! Anyone else jot down the name of the guy that owned the property (William Morgan) to see if it was real? Sad to report, I think the story is false and that he doesn't exist, BUT that doesn't mean it didn't make for a great date.
They had such fun energy together the entire date, even though it felt more like best friends. At one point at the tennis courts when she got scared, she said "love you but gotta go" and ran away. This made me think that she either had some feelings for him or that he was entirely friendzoned.  From the little that we have seen of them this season, there was definitely chemistry, but because we haven't seen a ton of him I had a feeling he is either a front runner or going home.
Dinner Goodbyes
It was so sad to see Eazy tell her that he felt like he was falling in love with her after such a fun date and then for her to send him home. Given that the other guys were talking about how much "natural chemistry" they saw between Tayshia, I am a little shocked she sent him home this easily – even the guys didn't see it coming, they probably thought something crazy happened on the date. I mean Noah and Bennett are still there for goodness sakes! My thoughts are that they had a great friendship and she didn't want to lead him on. Someone mentioned it in an early blog post that on the Bachelor Happy Hour podcast that he said he is now living in Newport Beach, which is where Tayshia is.. so that is interesting? Just a thought.
I also know there are sexual assault allegations against him and there have been since the beginning of the season, but I am not going to get into that. ABC found it inconclusive, and I don't know enough to speak on it. However I do not think it had anything to do with him going home since this all didn't come up until July.
Noah/Bennett
No wonder Tayshia is so over this drama and banter! With only 11 guys left now that Eazy was sent home, it is crazy that this sort of childish drama is happening. People can have differing opinions, and yes there is a massive age difference, but this isn't happening between Noah and any of the other older guys (Zac??). I honestly hope they both just go home so we can move on and focus on her real relationships.
It was frustrating that they cut the episode where they did, I miss rose ceremonies being at the end. I am a firm believer that they should just extend the episode an extra 30 minutes of they can't fit it all in! Ha! Especially since we started her season so late in the year. Truly wondering how they are going to fit this rest of this in before the supposed finale/ATFR date of December 22nd! That leaves us only 2 more episodes before the finale.
Thanks for coming by!
Thank you so much for coming by week after week to chat with me and read the blog! Let me know all your thoughts on Zac's date, the drama with Noah/Bennett, and how you think the rest of the season is going to play out!
Before you go, a few things I wanted to mention to you!
First of all, thank you so much for all your support of Ali's Presets this last week! It has been truly incredible. For Giving Tuesday, we were able to donate $3700 to No Kid Hungry, which is so amazing!
Today is the last day of the Dime sale for 35% off!!!! So if you were overwhelmed on Cyber Monday and this past cyber weekend and didn't end up shipping, you can still shop the sale today! Ali truly swears by the power patches (I just ordered some!), and both her and I loveeee the eyelash serum! The code is SUPER35 or you should be able to click this link too!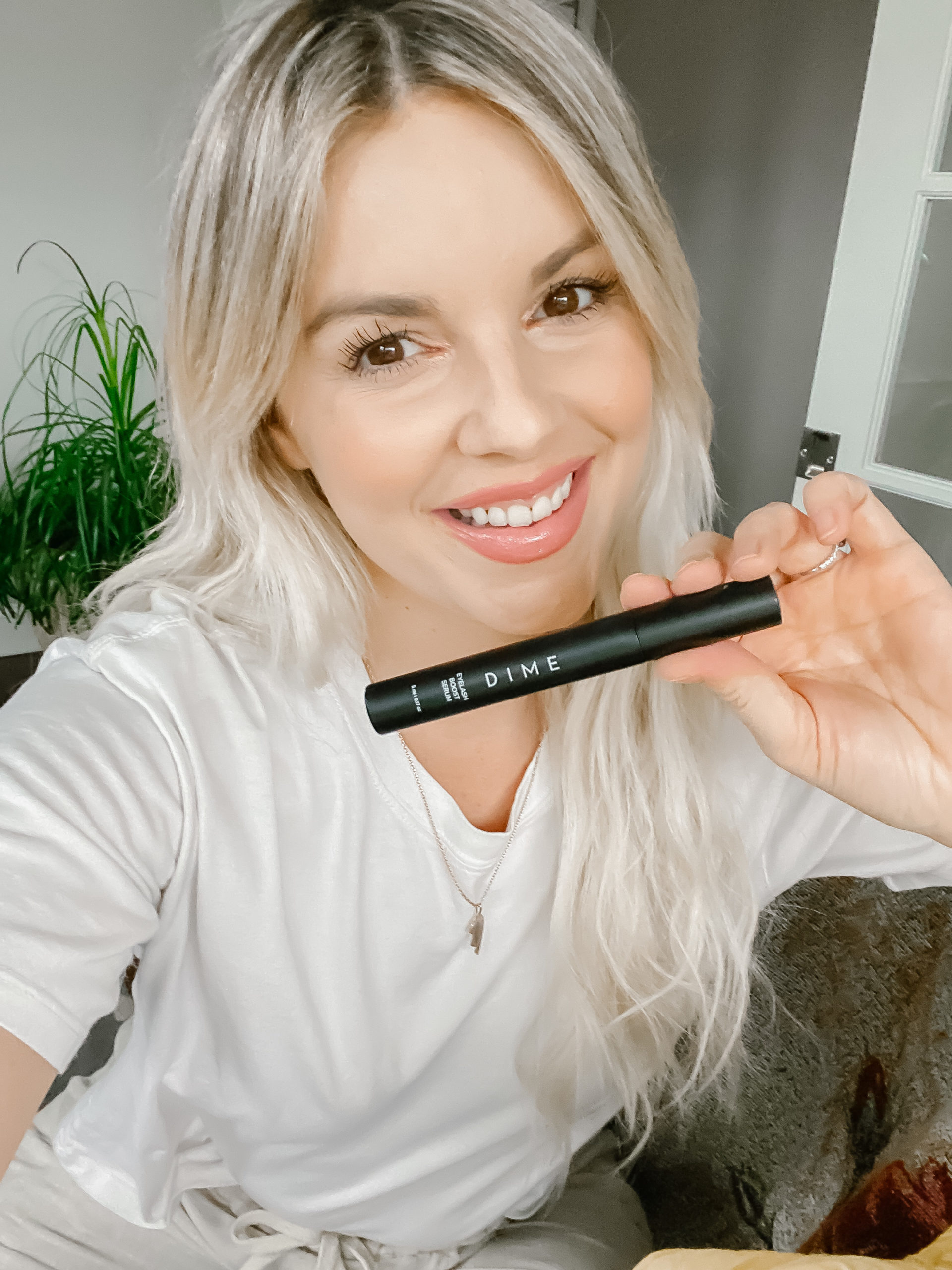 Finally, don't forget to check out Ali's blog about all the best toys that her kiddos have or that she is getting Molly and Riley this year! I don't have kids yet, but I used her list to shop for my cousin's and a few of my friends kids! Like these magnetic tiles, SO awesome. Not to mention Molly and her play kitchen is the cutest thing I've ever seen. I'll add a little snippet from that blog below!
PLAY KITCHEN
Mimi was sooooo excited about getting Molly and Riley a new play kitchen! If you remember, they use to have one but it was pretty unsafe because it could tip over if you pulled too hard. It was cute just wasn't very durable or high quality(which I didn't realize until owning it a while). Since Riley was still in the phase of pulling himself up, it wasn't worth it for us to worry about so we got rid of it. The two options I found are for corners of the room and it seems so much safer since it can be anchored from two sides! Plus, there are so few furniture pieces or toys that fit into corners, that this amazing for a playroom or the corner of a bedroom. How cute is it the Molly is washing her hands and washing the dishes in the photos below. She's her daddy's daughter alright. Washing the dishes in the sink even though her kitchen has a dishwasher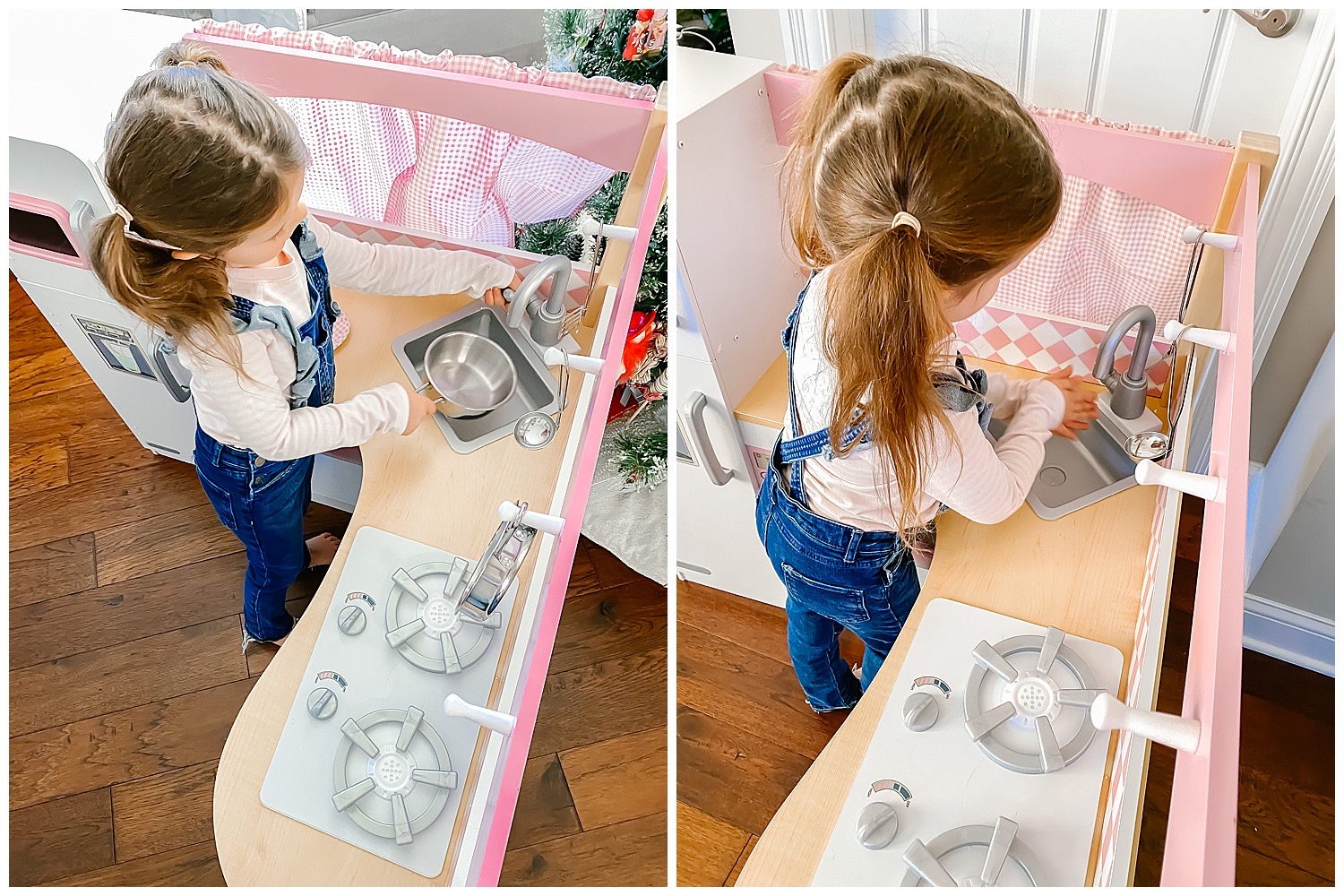 This first option is the one that Molly and Riley picked out when I scrolled through the website for them. It is so darling with the cutest details, like the fabric curtains in the windows! It has so many little features that are truly going to make this so fun. We just got ours in the mail yesterday at Mimi and Papa's, so here are some photos of when Molly played with it for the first time today! And she is so excited to play in it today and "help" us with dinner!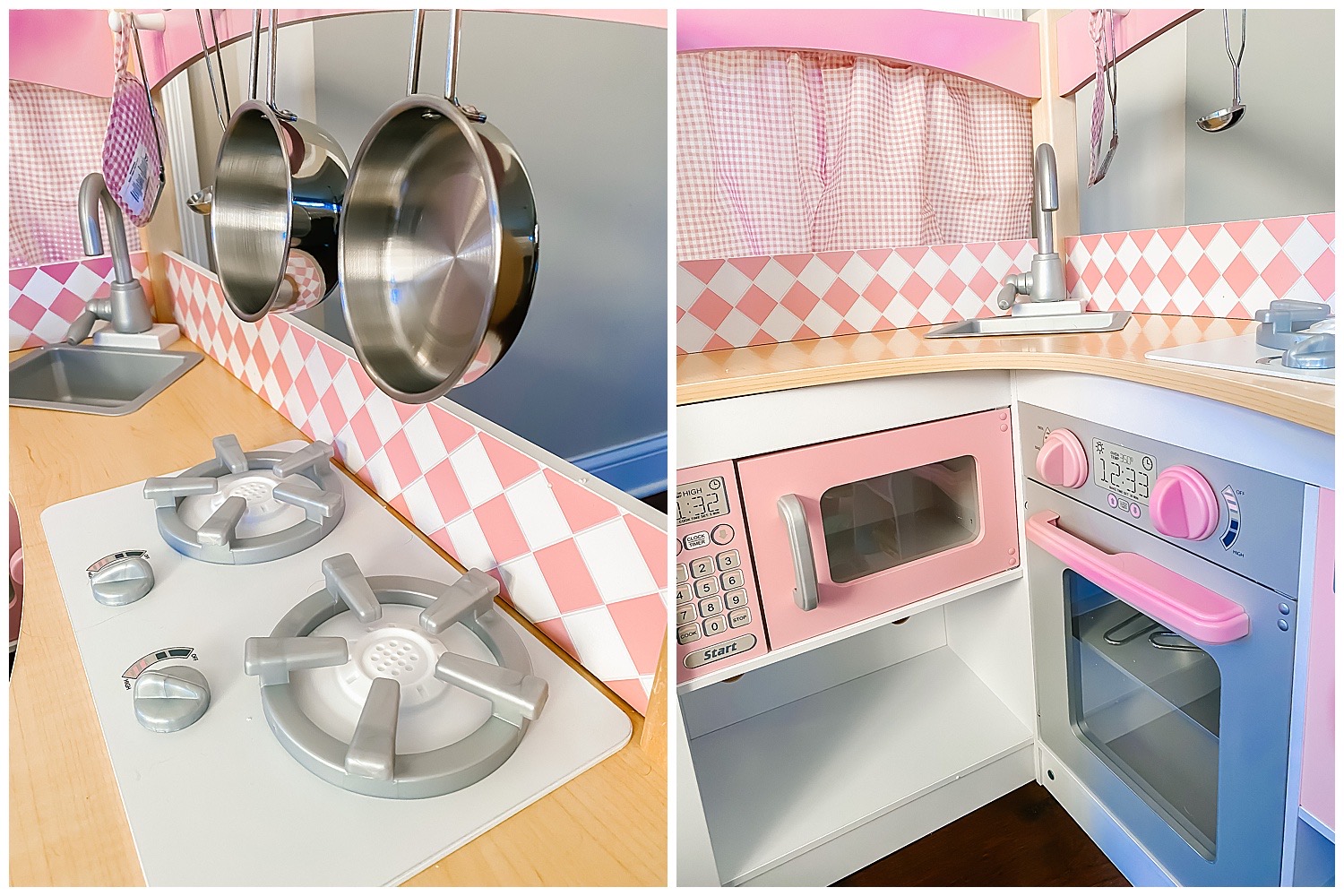 MAGNETIC TILES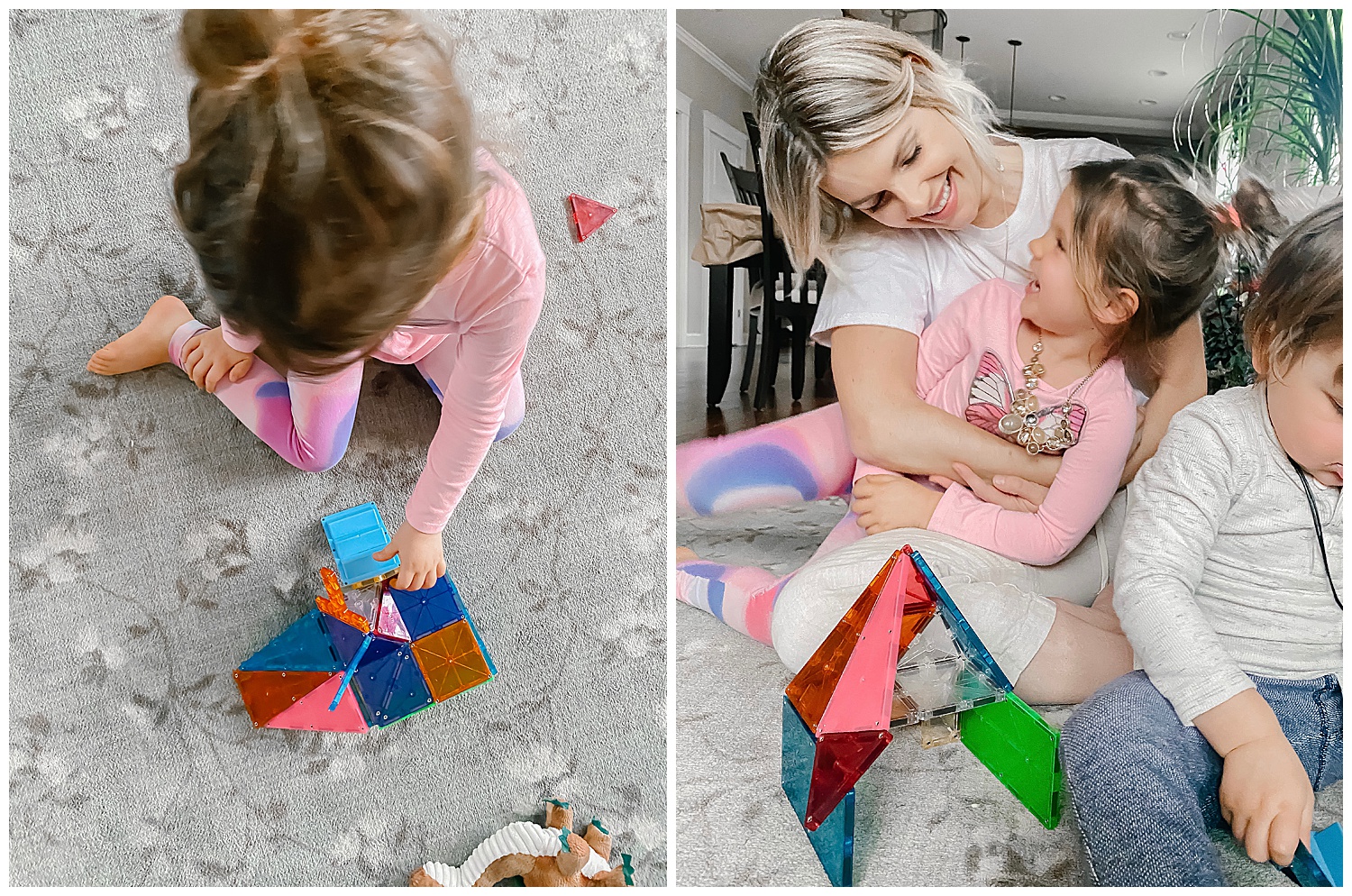 Wow I cannot believe how affordable these magnetic tiles are for the sale!! Normally when I have seen these sold elsewhere they are about $110 for 100 tiles and it doesn't come with anything else. Even if these were full price they would be absolutely worth it over all the other kits because it also comes 100 pieces including a carrying case to clean them up in, a car base, a wheel and 100 tiles! I couldn't be more excited to find this deal – they are only $49 right now! That's 50% off the normal price and closer to 60+% off from all the other sites I've seen. This is why I purchase Walmart toys! It has saved me so much money."
Thanks for stopping by! Can't wait to chat! xo, Madi