Hi guys! Thank you so much for coming over to the blog today. I'm no beauty blogger, but I've definitely been getting way more into makeup lately and I just feel like it's so fun to share some of the products that I've discovered and love! Heck if I can use these products and get a great makeup look – so can you!!! Plus I probably get at least a dozen DM's a day asking about my lip color, and the blush pink lip color I'm gonna show you guys in this post is one that I wear probably 50% of the time. I'm going to focus my makeup posts on individual brands and tell you my favorite products from those brands. And today's post is all about Giorgio Armani! And I think this is just the perfect Holiday makeup look!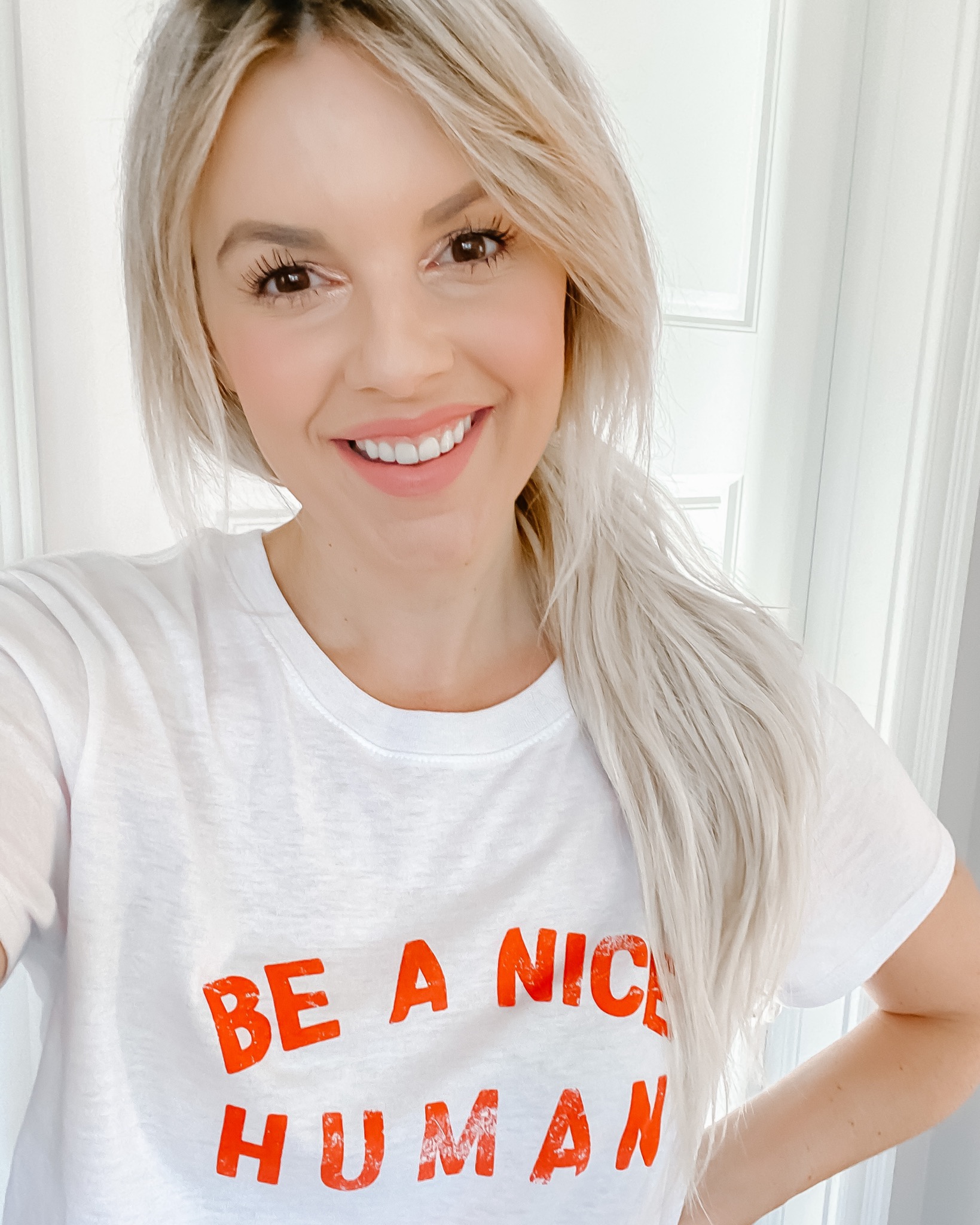 My Holiday Makeup Look
I always buy my makeup products from a trusted reseller. So every Giorgio Armani product that I have I bought from Nordstrom. You know you can't go wrong with Nordstrom. Okay, let's start with foundation!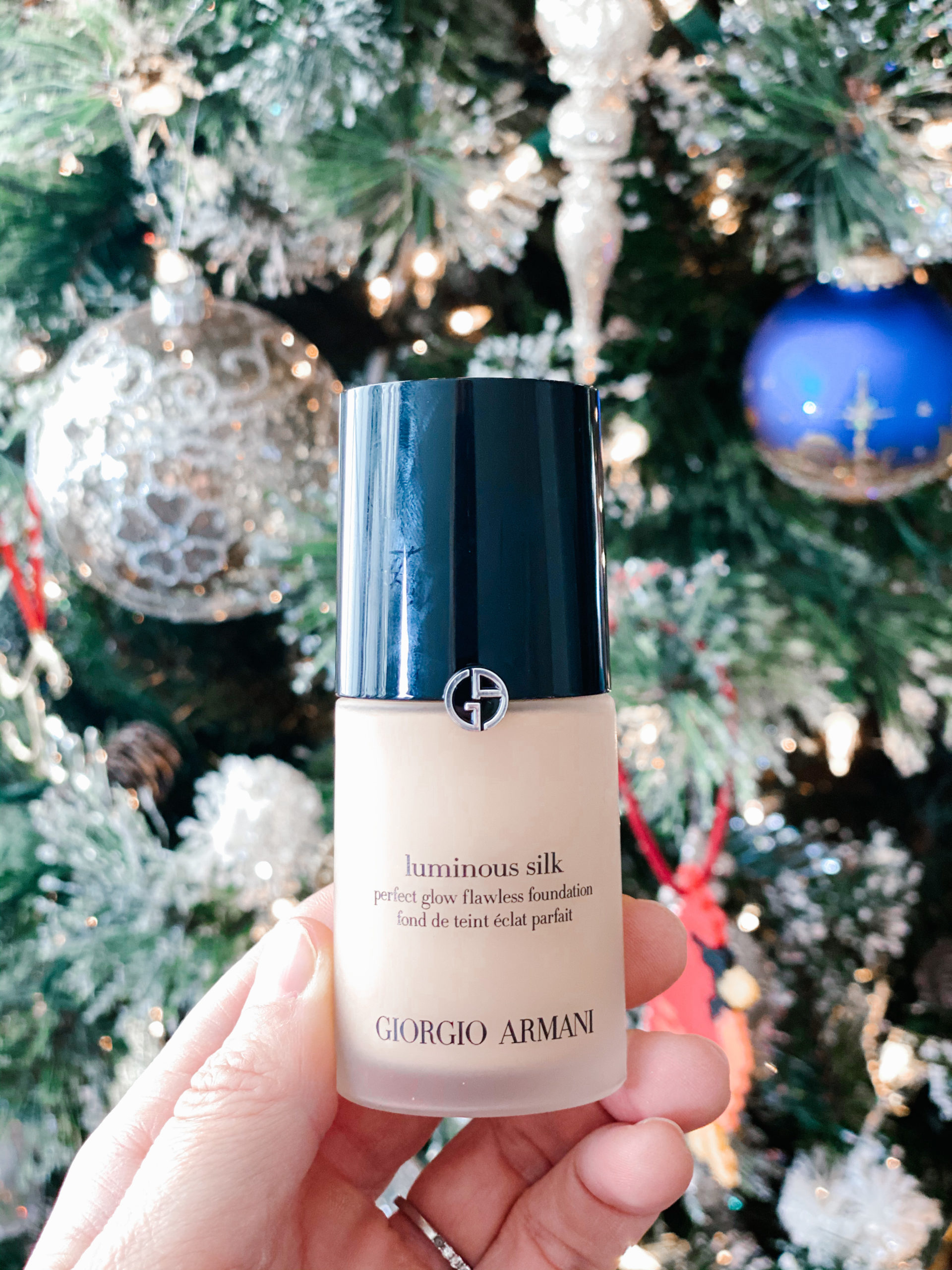 Luminous Silk Foundation
I go back-and-forth between using a medium coverage foundation and a full coverage foundation. I like full coverage because it hides every little tiny thing and basically makes your face look like a filter, but it can also clog your pores. That's why I really like this Luminous Silk foundation by Giorgio Armani. It's medium coverage so it definitely covers really well. As you can see in the photo after I put it on, you can't see any of my acne scarring at all. I have a ton of acne scars around my mouth and chin. But it's so light weight that I feel like it doesn't clog your pores at all! I am wearing the medium neutral undertone shade, it's number 05.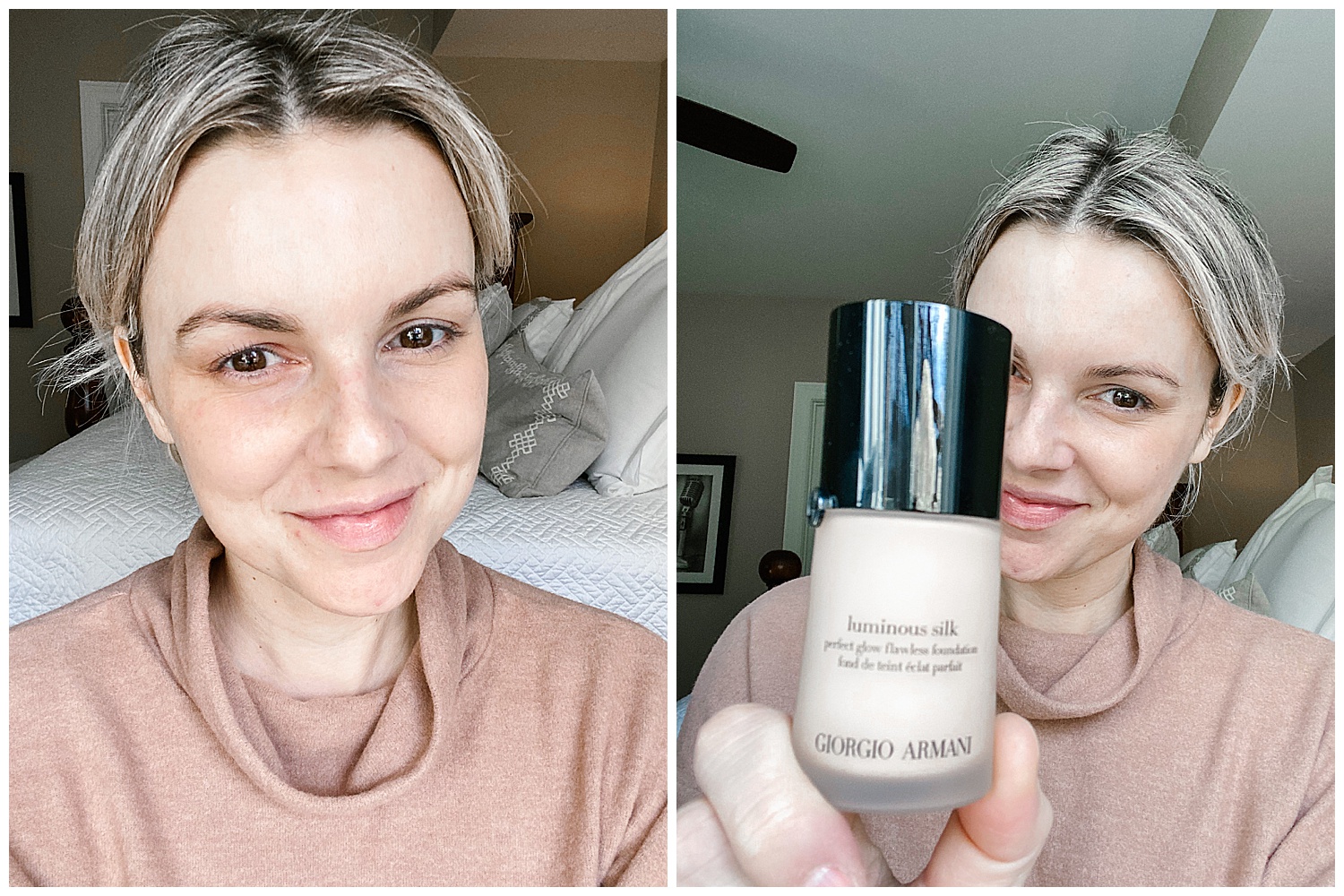 1. TURTLENECK | 2. FOUNDATION | 3. EYEBROW PENCIL | 4. EYE SHADOW | 5. LIP COLOR
You're gonna pay a little bit more for a really good quality foundation. But I think it's worth it. The first time I bought this was because I read the reviews about it and every person who's ever gotten it basically said it was the best foundation ever. Ha! Seriously, there are almost 2000 reviews on Nordstrom's site for this foundation and people love it. And so do I!
Smooth Silk Eyebrow Pencil
Okay, next I have to talk about this eyebrow pencil! I kind of consider myself a connoisseur of eyebrow pencils. I'm not even kidding! I'm obsessed with finding the perfect eyebrow pencil shades! And this one is so so so so so good! I got the shade "sand blonde" and I love it, not only for blondes, but even for people who have light brown hair! It's hard to go a shade lighter when you're blonde but I usually recommend people go a shade lighter than their hair color with an eyebrow pencil. Otherwise your eyebrows will end up looking super dark and you don't want that! So if you have medium to light brown hair, I actually recommend the sand blonde for you as well! Because you can see my eyebrows are much darker than my hair color! I'm not exactly a natural blonde. Ha!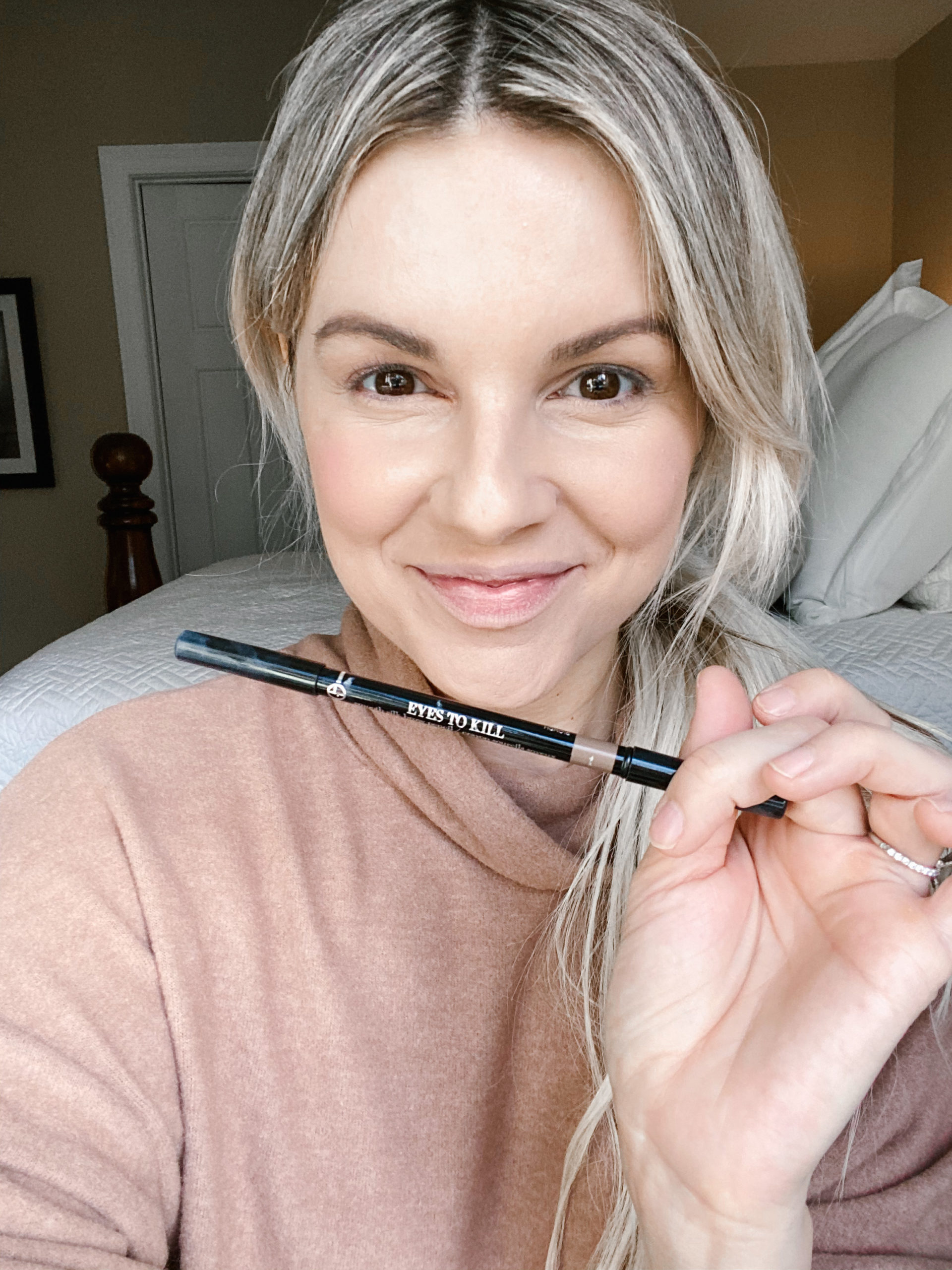 I had to include a video for these next two because I really wanted you guys to see how fun they are! I feel like you have to see them in a video to really get the full affect. First a quick 15 second video so you can see.
Here is the longer demo…
Rouge d'Armani Matte Lipstick
Let's talk about my lip! I love a good matte lipstick! And Giorgio Armani makes one of the best matte lipsticks out there! Again, I encourage you to read the reviews on Nordstrom's site. There are almost 500 great reviews! What I love about this matte lipstick is it doesn't dry out your lips like a lot of matte lipsticks do. It gives it a really creamy finish that looks matte. I always use a matte lipstick because I find it stays on longer but I actually usually add a gloss over it. I am wearing the fatale/blush pink color. Number 500. I love it so much and now that I told you about it, you'll probably notice me wearing it in my Instagram stories almost every day.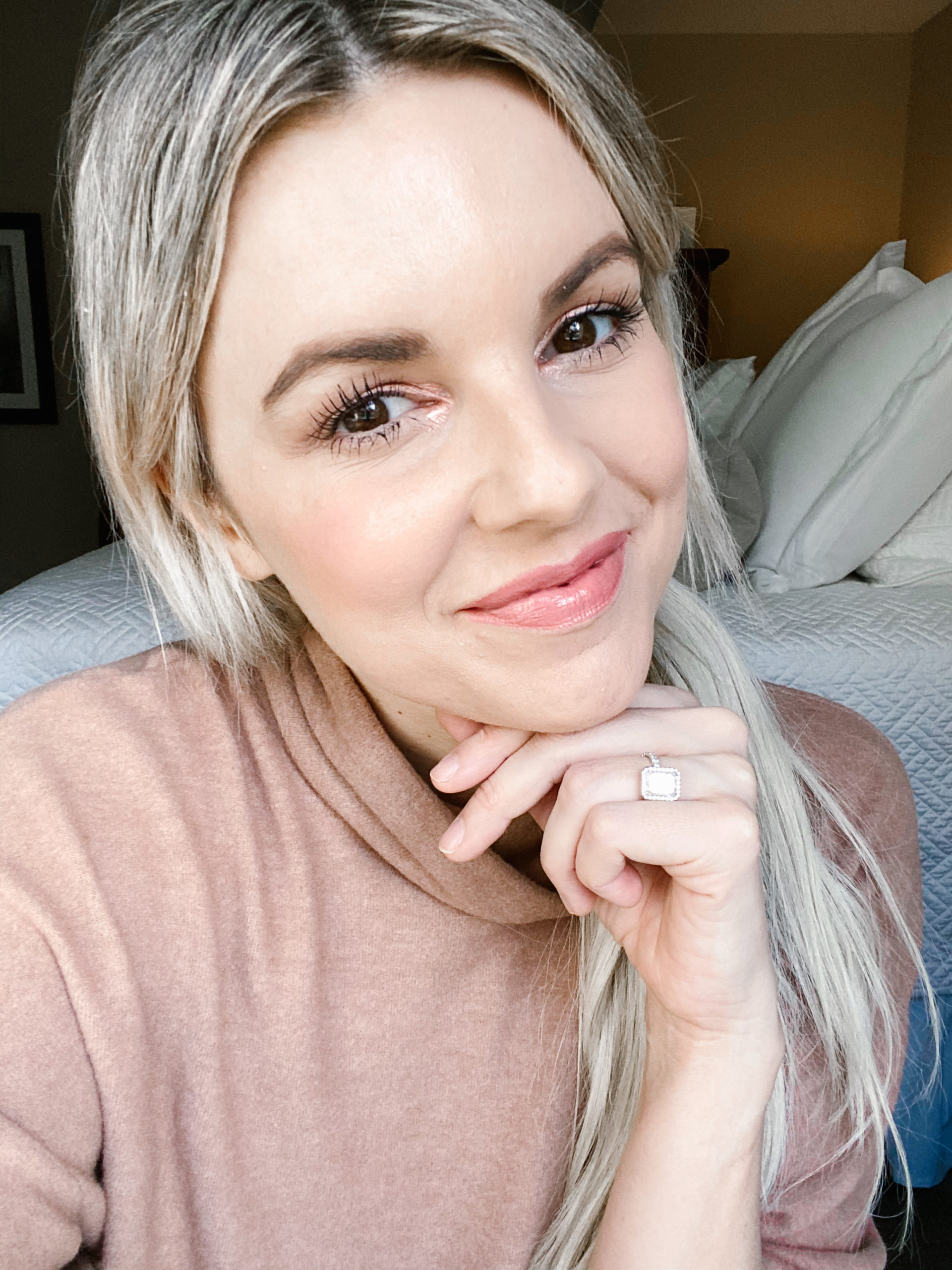 I also LOOOOOOVE this lip in the red/orange color. I can't stand a red lip on me, but I LOVE a red/ORANGE lip. There is such a big difference and this red/orange is one of the bests!!! It's number 401 FYI.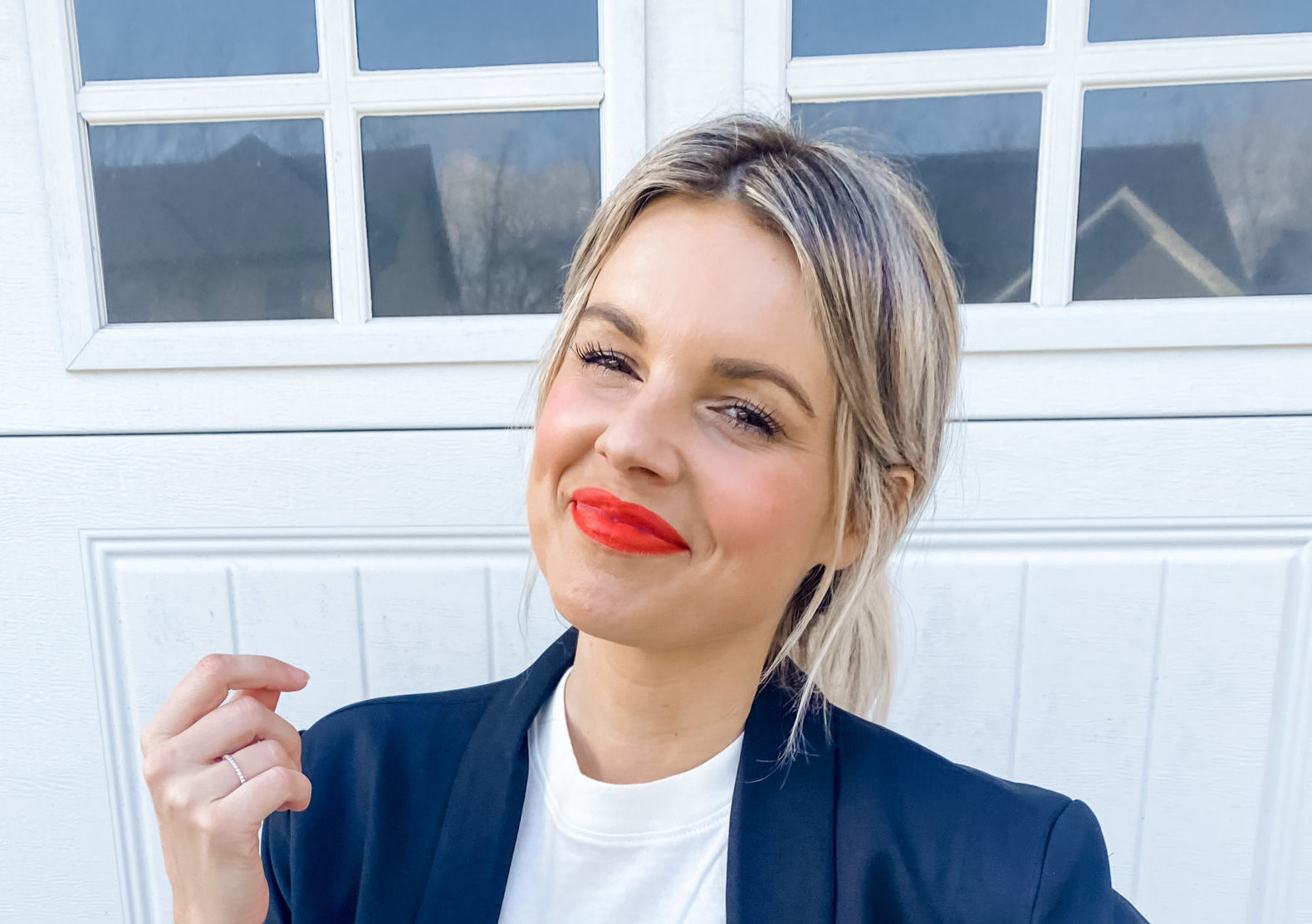 Eye Tint Liquid Eyeshadow
And last but not least on the makeup front are these insanely gorgeous liquid eyeshadow eye tints. My makeup artist in LA is the one that told me about these. Well really she put them on my eye and I fell in love and got them right away. They give you this gorgeous shimmery metallic look on your eye that's not overbearing and just really beautiful. I also love to put it on the inner corner of my eyes to give a little sparkle and pop. Even when I don't fully use it as eye shadow I always add a little dab in the inner corners of my eyes when I want my makeup to look a little extra special.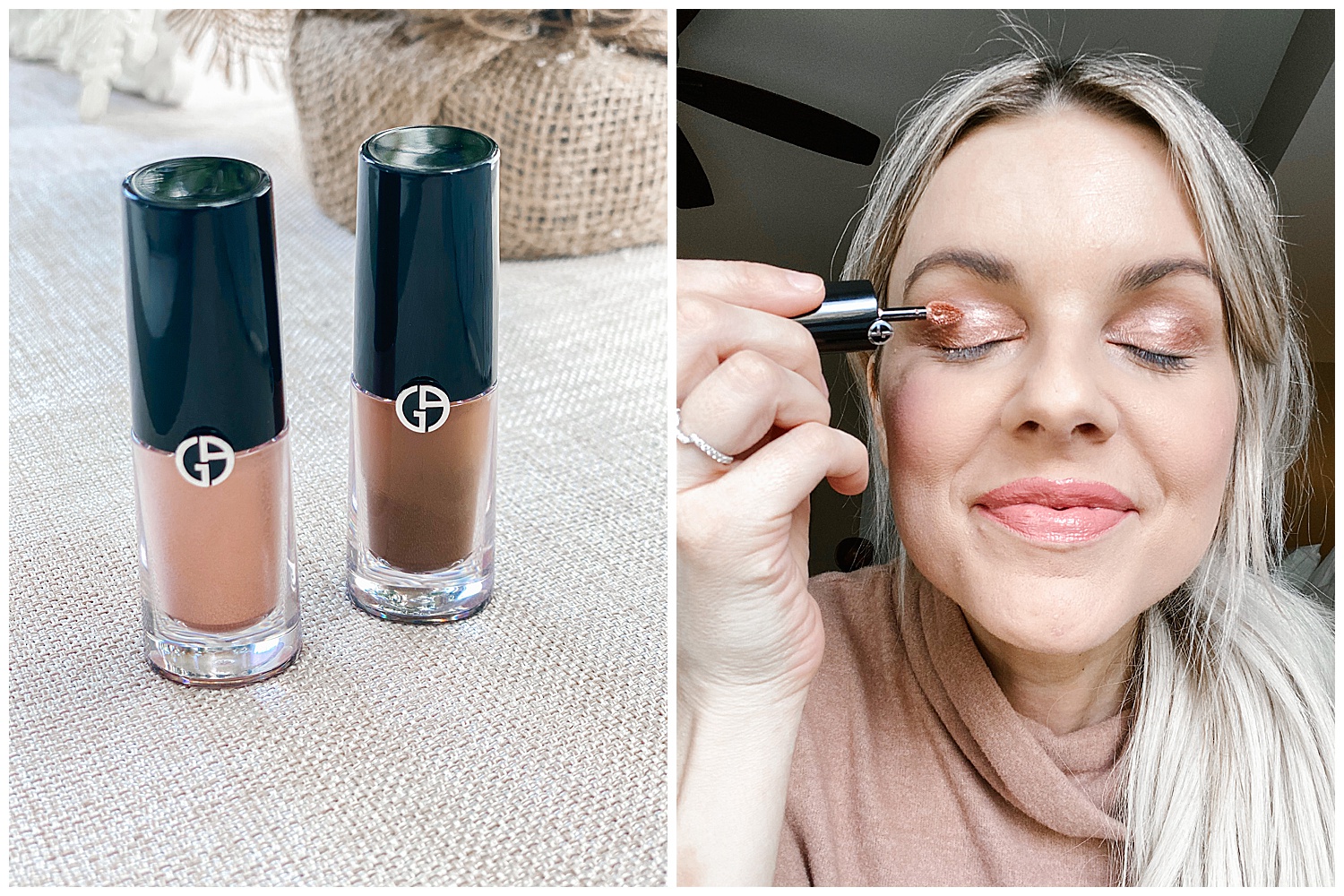 1. TURTLENECK | 2. FOUNDATION | 3. EYEBROW PENCIL | 4. EYE SHADOW | 5. LIP COLOR
I have quite a few of these and some of them are super subtle. In fact get the gold ashes shimmer if you're looking for something super super super subtle. I like something with a little bit more pop so I use the rose gold metallic number 44 on my lid and inner corner and then I just take the absolute tiniest amount of the brown vulcano shimmer and put it in the corners of my eye and blend it out with a brush. But I use the applicator in the bottle to apply the rose gold on my lid – no brush needed there. And seriously 1 tube of the brown volcano could last years! That's how little you'll need of it to achieve this look. If blending isn't your thing. Just get the rose gold and call it a day. Easy peasy. And ignore my weird face in the photo below. Ha! I just wanted to give you a better look of how prettyyyyyy the eyeshadow is.
My Way Perfume
And last but not least while I'm talking about Giorgio Armani products, I have to mention their My Way perfume. Oh my goodness this is one of the best smelling perfumes I have ever smelled! This was actually given to me a as a gift and I thought it was kind of bold to give somebody a perfume scent because perfume can be such a personal preference. Oh my gosh did my girlfriend know me well because it's amazing! I truly believe this is the type of scent that you don't even need to try in the store and just buy and you will love it. I actually used to own Giorgio Armani's Si perfume and love that as well I just think they do such a good job with their scents.

Final look below. What do ya think? I LOVE it! I feel really pretty.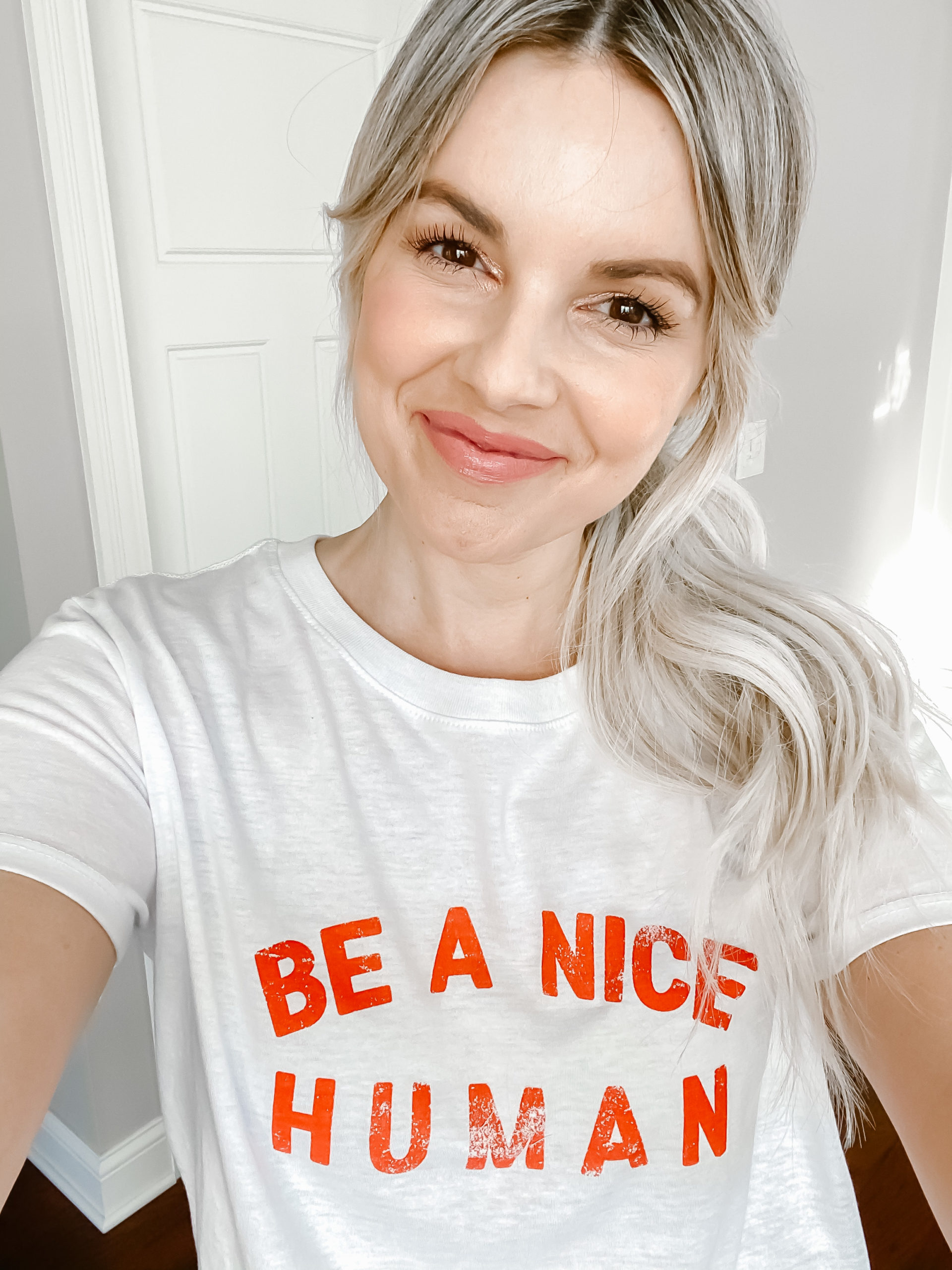 And I know I'm obviously not wearing holiday outfits in these photos. I mean don't get me wrong I love my "be a kind human" shirt and the socialite Turtleneck has the most flattering drape. It is one of the softest things I've ever worn! Plus it's only $45. But I think this makeup with a cute holiday dress would just look so beautiful and maybe if I put some effort into my hair. Ha!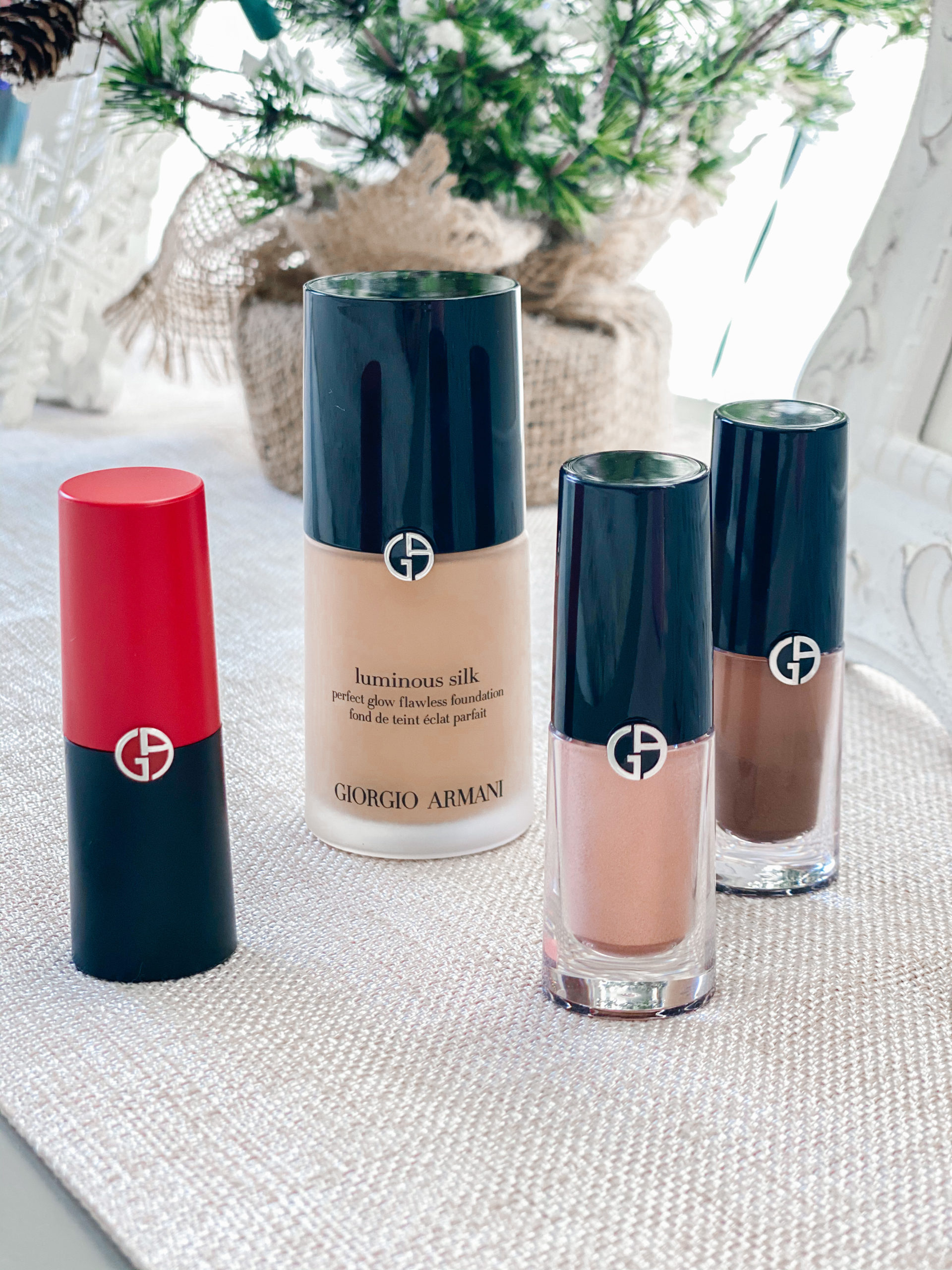 1. TURTLENECK | 2. FOUNDATION | 3. EYEBROW PENCIL | 4. EYE SHADOW | 5. LIP COLOR
Anyway, that's all I've got for today! I'll do some videos in my Instagram stories today to show you guys these products even better. I just wanted to do a post because I'm obsessed with them and I think you guys will be too for your holiday looks this year!
And big thank to Nordstrom for being a consist partner/sponsor of AliManno.com !!!