Hi guys! Thanks so much for coming to the blog today! I meant to get this Affordable Friday post up yesterday, but you know life happened and I wasn't able to finish writing it. So I figured better late than never! Welcome to Affordable Saturday! Ha! This post is actually  kind of a SUPER affordable Friday post because right now Walmart is having their Black Friday Deals for Days sale!
For the past couple weeks, these items have been on a major sale and I made sure to snatch some up! I wanted to share them with you as soon as I could, I seriously just took some of these photos right before it got dark out, because they are selling out SO fast. I just got ordered this camel colored balloon-sleeve sweater two days ago and it already sold out! Thankfully, it's still available in other colors but I have a feeling they're going to sell out instantly because it's only $19 and it's amazing! I highly recommend snatching it up while you can!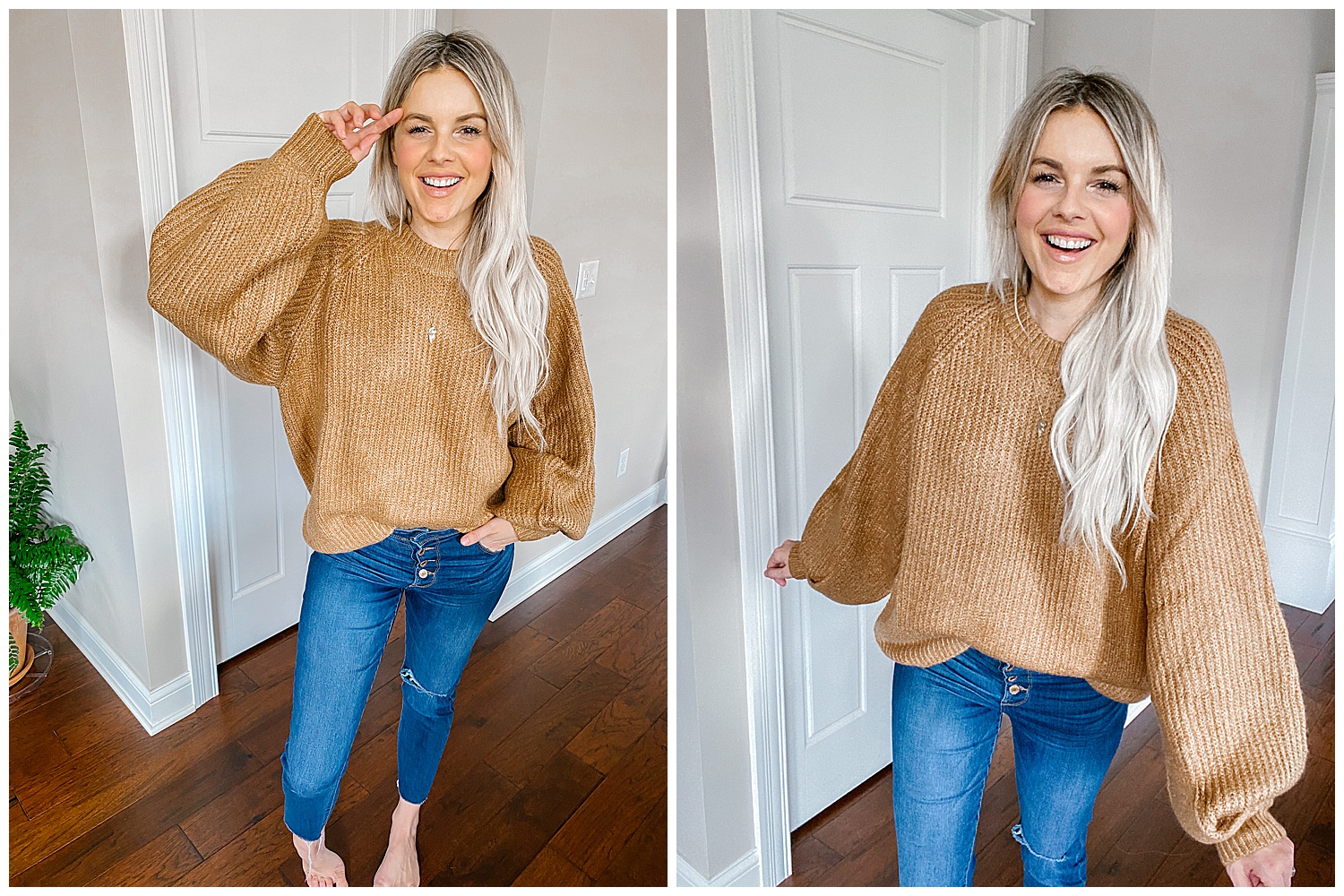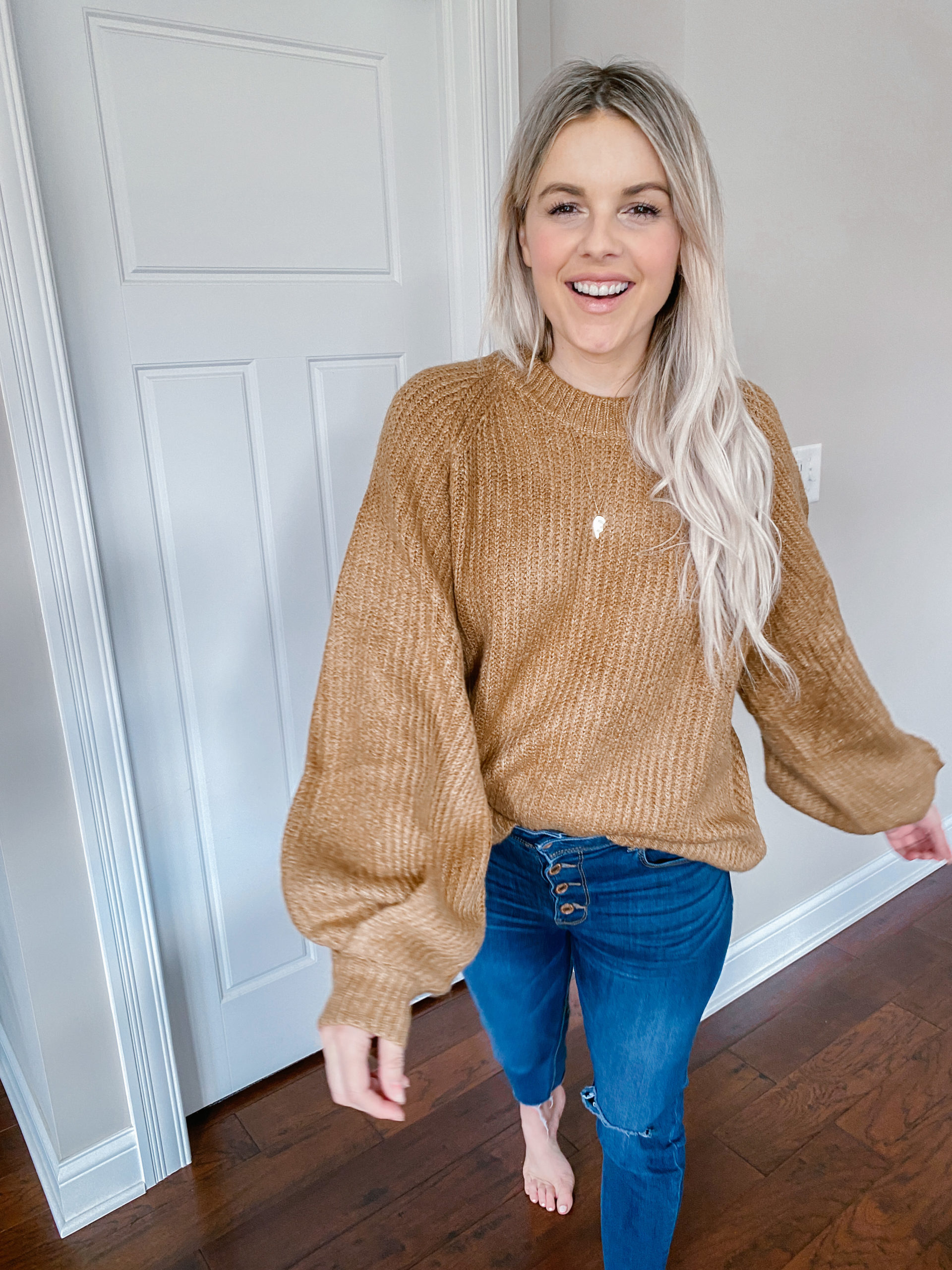 Deals for Days!
The Best Winter Outfit
$10 Leggings
I have to start with these leggings because, oh my gosh are they amazing! You buy them as a two pack and normally it's around $25 but they're on sale for under $20 right now! That makes them $10 a pair. I got the pack with one gray pair and one black pair. There is a pack with two black pairs if you'd rather that too.
I got them because I needed a good warm pair of leggings now that we are in Indiana and this pair has 52 amazing reviews on Walmart's website. Everybody says the same thing and I agree with them. These leggings are so amazing because they are really warm and a great thickness. Not too thick where they'd be uncomfortable, but just the perfect thickness that they keep you really warm and are not see-through at all whatsoever!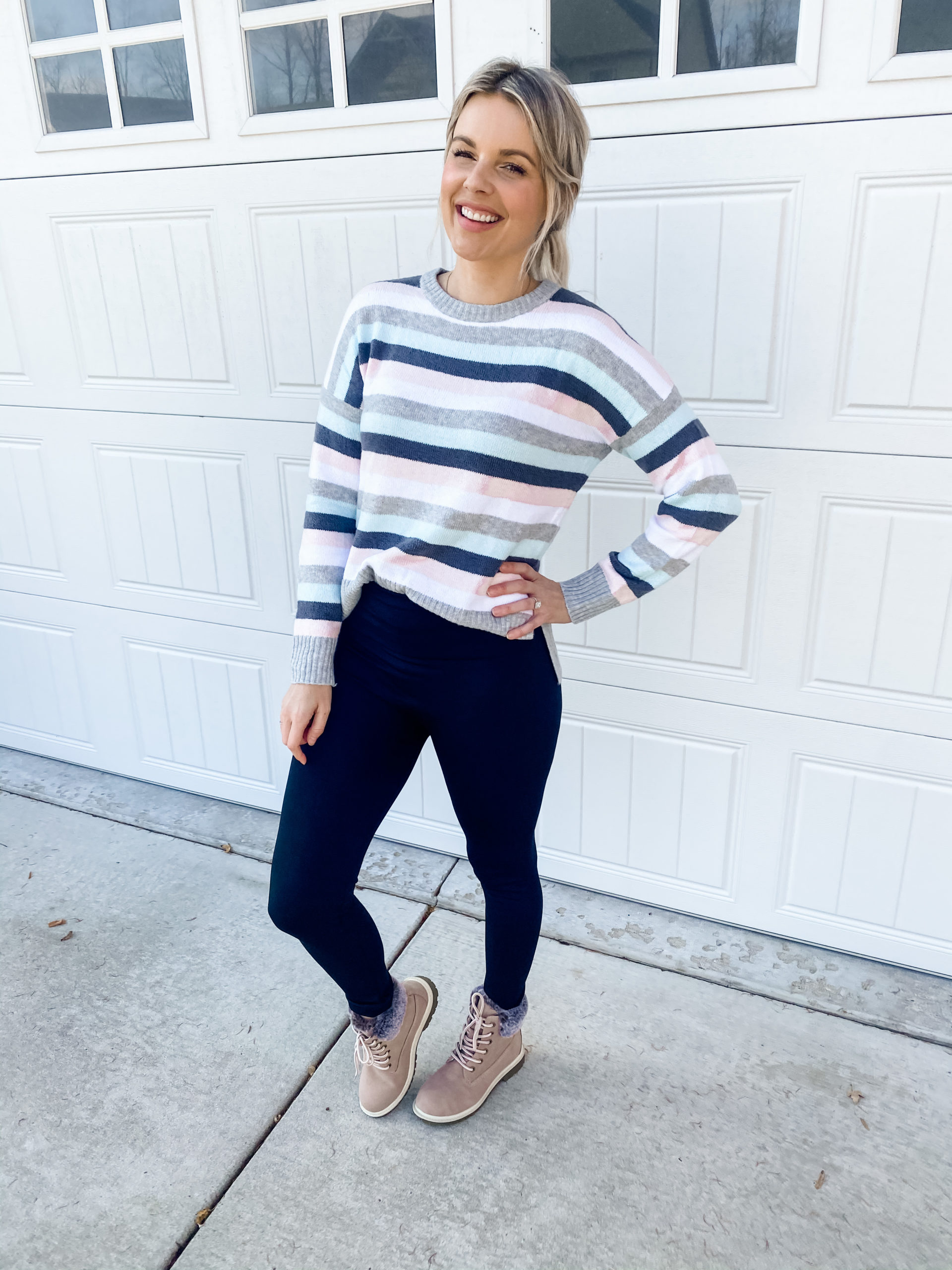 1. STRIPED SWEATER | 2. 2-PACK LEGGINGS | 3. BOOTS
The one thing that I do want to mention so you take into consideration when ordering is that they run small. I ordered the M/L size and I'm normally a size 6 or 29 in jeans. If I were any bigger in jeans I think they wouldn't fit right. They fit perfectly. So I would say if you were a size 30 in jeans or higher these might not be the right leggings for you. But I wanted to include that because I just love them so much! They also have a high waist which I love.
Beautiful Boots
Next I have to talk about these boots! They're on sale for $27 right now from $50. Honestly even at $50 I would've bought them and thought they were an absolute steal! I needed good winter boots and I thought I'd give these a go and I'm just obsessed with them! They are even more beautiful than they look in these photos and the color is just so creamy and gorgeous! They also come in a gray color and wheat. I got the color called blush but I really wouldn't call it a blush, it just looks more like a taupe and I love it! Seriously if you need a pair of boots get these! The sale is just so good!!!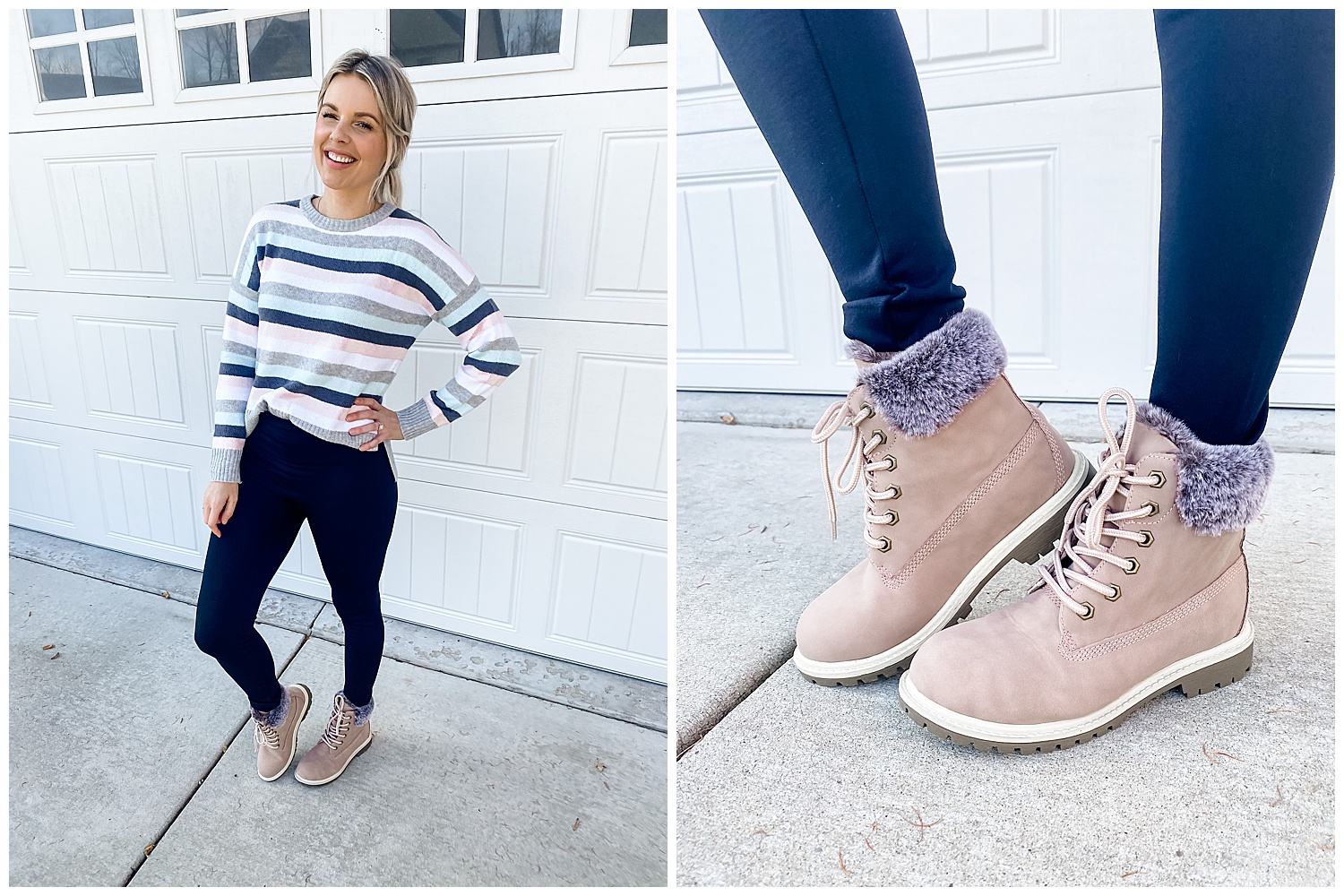 1. STRIPED SWEATER | 2. 2-PACK LEGGINGS | 3. BOOTS
Cozy Sweater
With the leggings and boots, I am wearing this incredible cozy sweater! It comes in the striped print like I'm wearing, but it also comes in solid colors and get this, it's under $12!!! Seriously this is another one of those sweaters where you have to read the reviews. The reviews are so so so good and I'm telling you this will be one of the softest sweaters you own. I'm wearing a size medium which is my normal size. If the striped option sells out, make sure to check out the solid version which I think is may be even prettier! I'm actually gonna go ahead and order one of those for myself right now!

1. STRIPED SWEATER | 2. 2-PACK LEGGINGS | 3. BOOTS | 4. HEATED VEST | 5. MOLLY'S ACTIVEWEAR OUTFIT | 5. RILEY's PAJAMAS
Vest
That brings me to the vest I'm wearing above. I got this vest immediately when I read that it came with heaters! You read that right, a vest that literally comes with its own little heating system. Ha! I was so so so intrigued when I saw that it was on sale for Walmarts Deal for Days sale from $170 to $120! It goes without saying this Cali girl is a little bit worried about the cold winter here in Indiana, so I knew I had to have this as soon as I saw it! I keep thinking about Molly or Riley having soccer games late into the season and me being able to wear this while sitting in the bleachers cheering them on! I just think this vest amazing for anybody who plans on spending any sort of extended time outside in the cold this winter. And it's on sale so I had to share!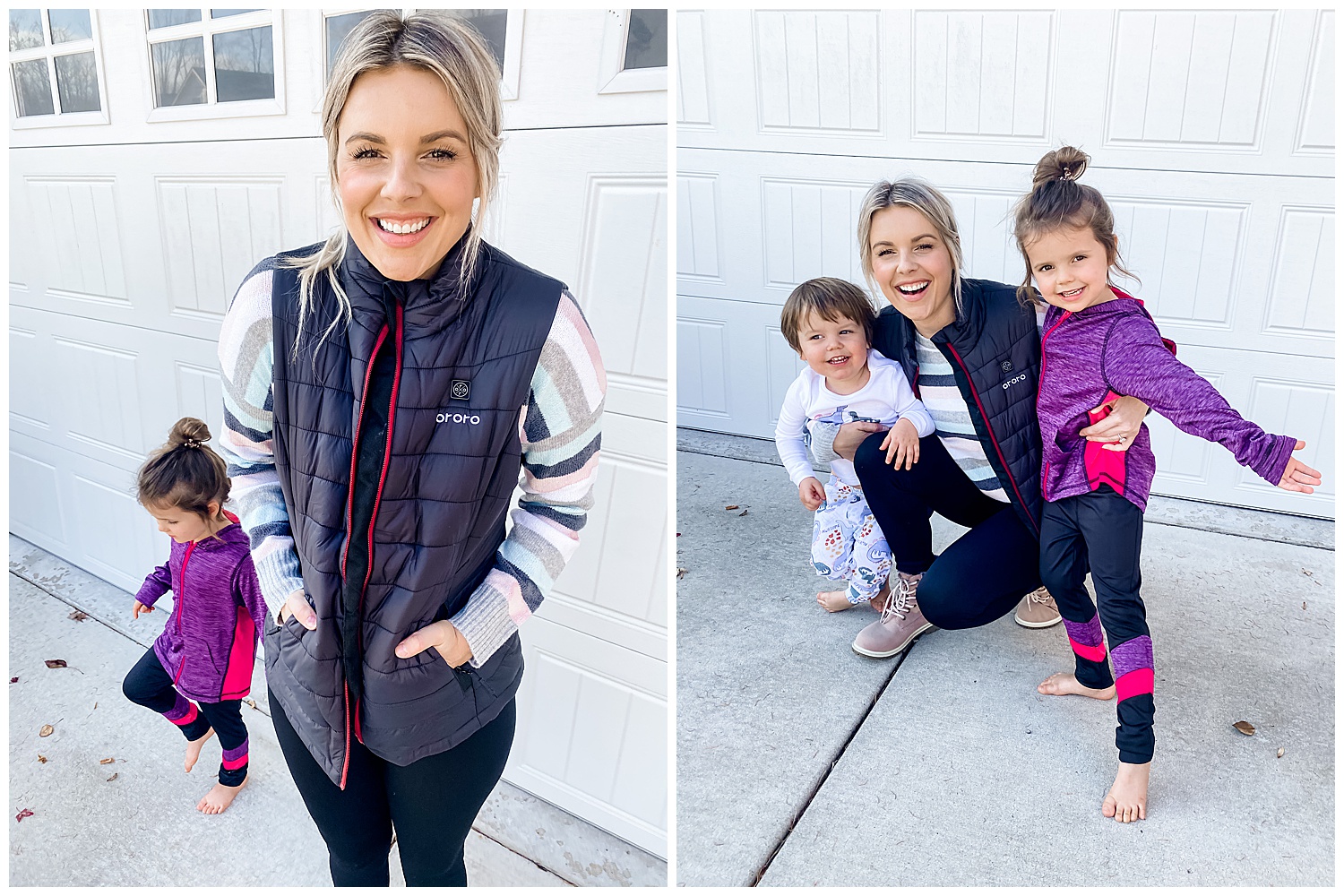 1. STRIPED SWEATER | 2. 2-PACK LEGGINGS | 3. BOOTS | 4. HEATED VEST | 5. MOLLY'S ACTIVEWEAR OUTFIT | 5. RILEY's PAJAMAS
The Kiddos!
I also have to mention the kids clothes cause I also got them as part of Walmart's Deals for Days sale too! Molly has been watching me work out every morning for months now and the other day she asked me if she could have her own workout outfit and I just thought that was the cutest thing ever! So when I saw that this two piece activewear set was on sale for $13 I decided to grab one! I got her the extra small size and it's definitely a little bit big on her. But I don't mind because I always buy my kids clothes in the size up because I want them to be able to wear them for longer. The quality is really amazing on this set, I know it will last for a really long time! And then we can pass it on as a hand me down.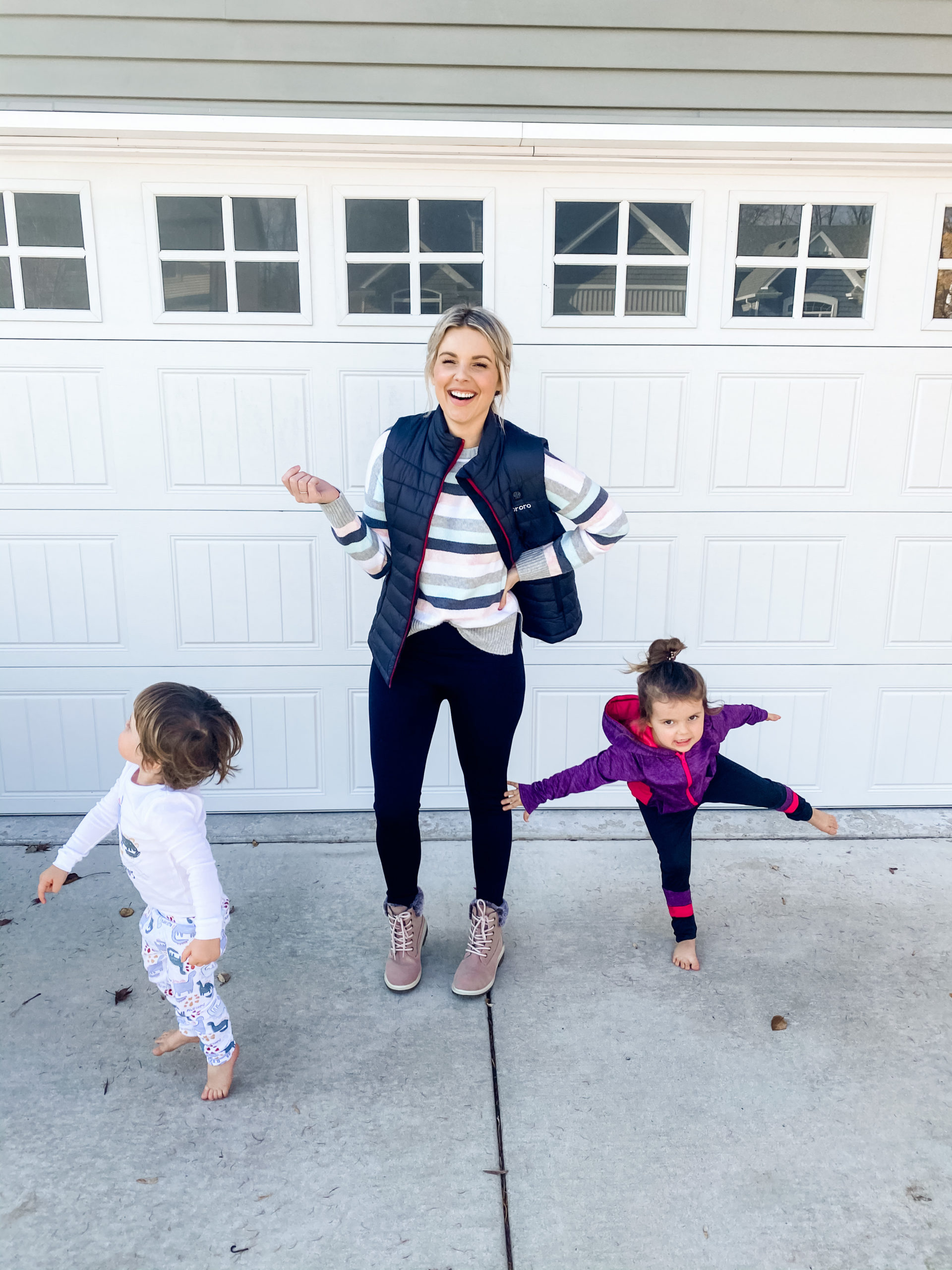 1. STRIPED SWEATER | 2. 2-PACK LEGGINGS | 3. BOOTS | 4. HEATED VEST | 5. MOLLY'S ACTIVEWEAR OUTFIT | 5. RILEY's PAJAMAS
Riley's PJs were also part of the sale and I got a four-piece set of cotton pajamas for only $10! They are mix and max pajamas and so cute and I love them! I got him size 3T which is the normal size I get him right now.
Elevated Basics
This next look is a perfect basic with a cute scarf for anybody to wear! I'm wearing the same leggings as in the photos above, but I paired it with this cowl neck sweater that's under $17! What I love about the sweater is not only how soft it is and how flattering it fits, but how long it is! It's the absolute perfect sweater to wear with leggings and it comes in nine colors! So if black isn't your thing, there's a bunch of other colors to choose from!  Don't take my word for it check out the ratings on Walmart's website. I'm not the only one who loves the sweater – the reviews are so good! This is probably my favorite look from today's post because I just love a basic black look! It's so flattering and so versatile, plus, it's cute to wear on it's own or you can switch out different scarves with it. I paired it with this really cute leopard print scarf that I got for only $15! And once again I'm wearing the super cute boots that I got for $27! I just love them and I plan on wearing them all winter long!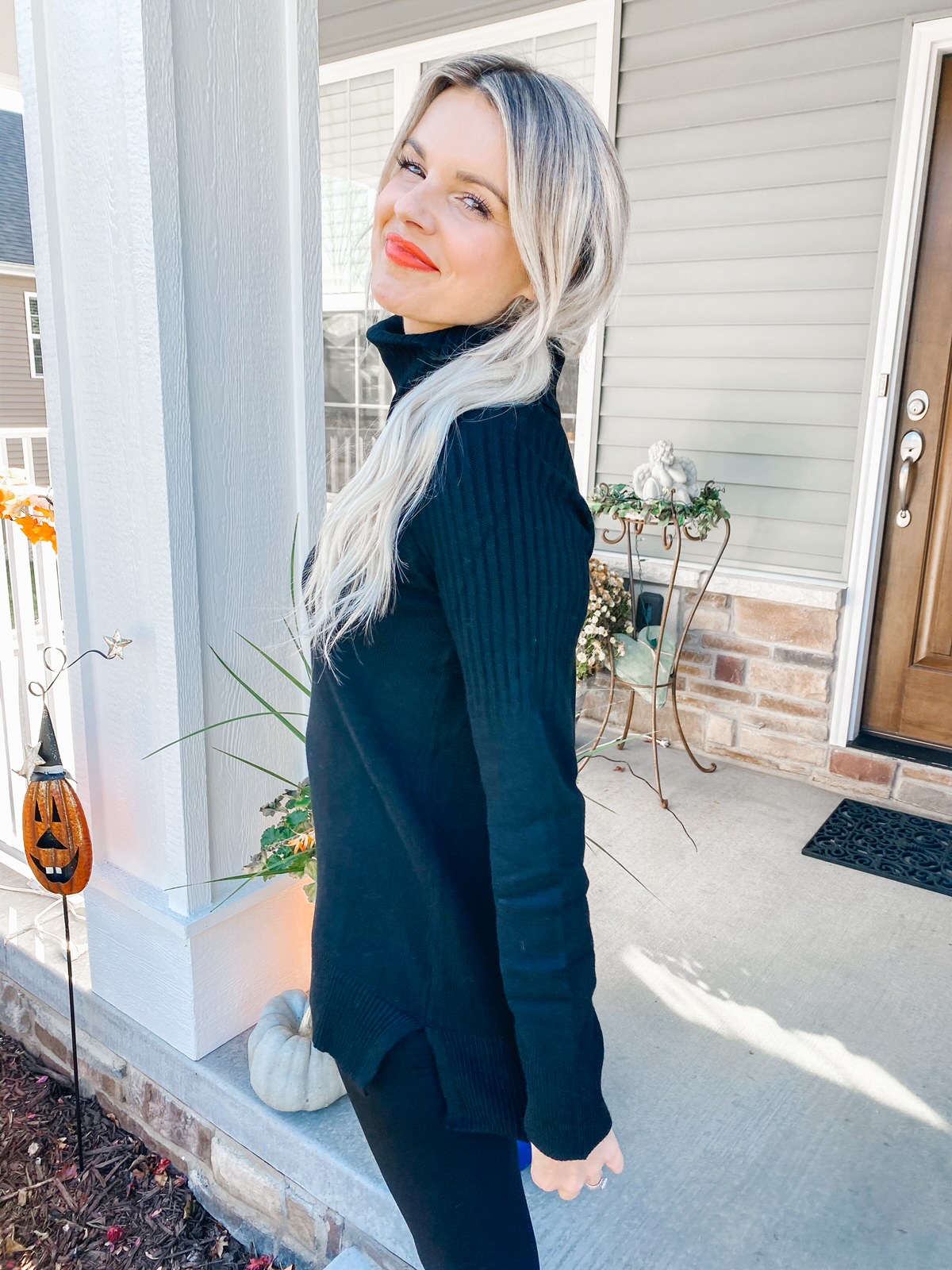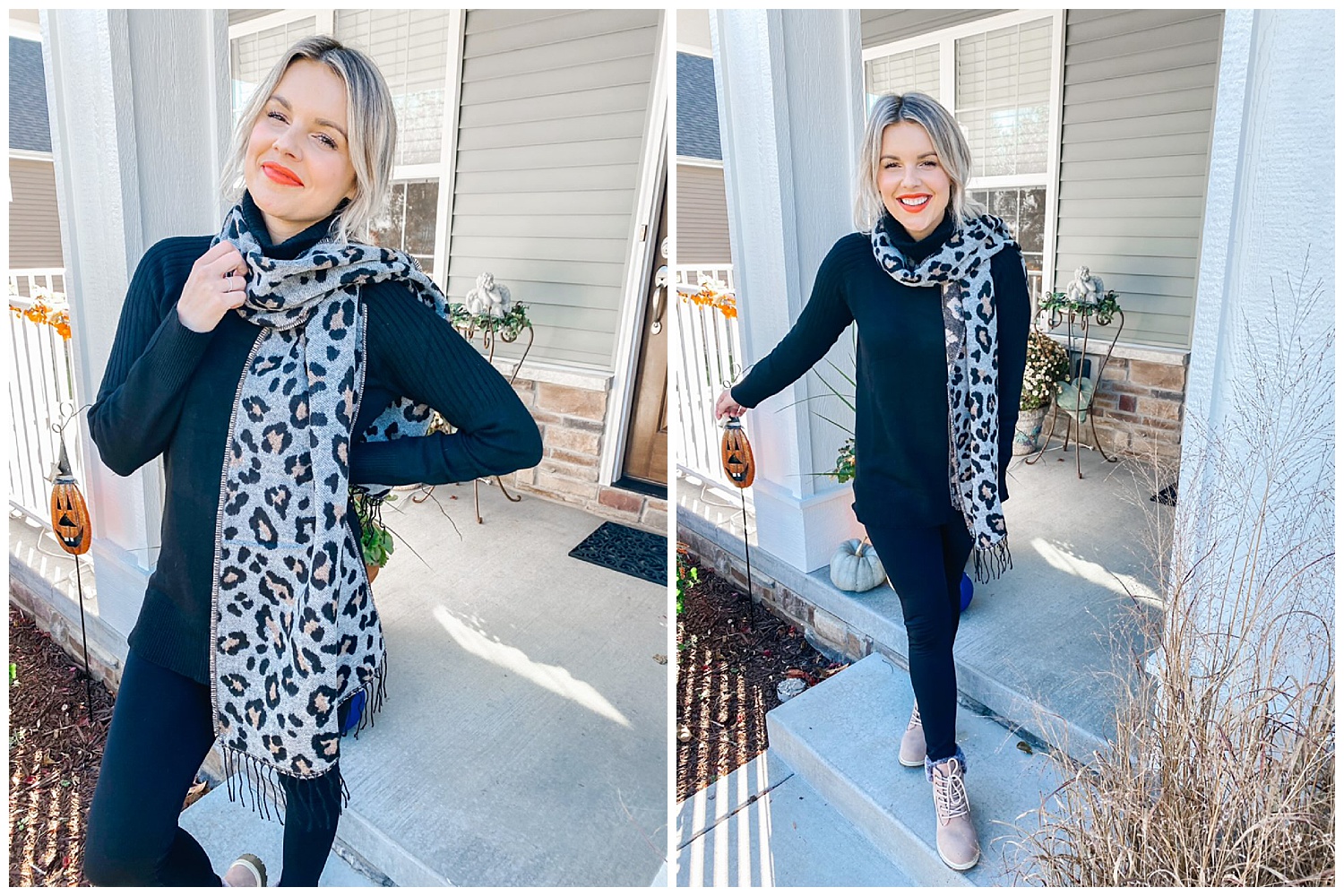 1. COWL NECK SWEATER | 2. LEOPARD SCARF | 3. BOOTS | 4. LEGGINGS
Chic Band Tee Look
Okay, next I have to talk about this super cute blazer and graphic tee! When I saw the Beatles graphic tee, I knew I wanted it right away and it's only $15! It's such a deal! I would size down in this one. I'm normally a size medium and I decided to get a size small because I wanted it to be a little bit more fitted to wear under a blazer. But honestly the small fits me just like a normal medium would. So I actually think you could size down in this one!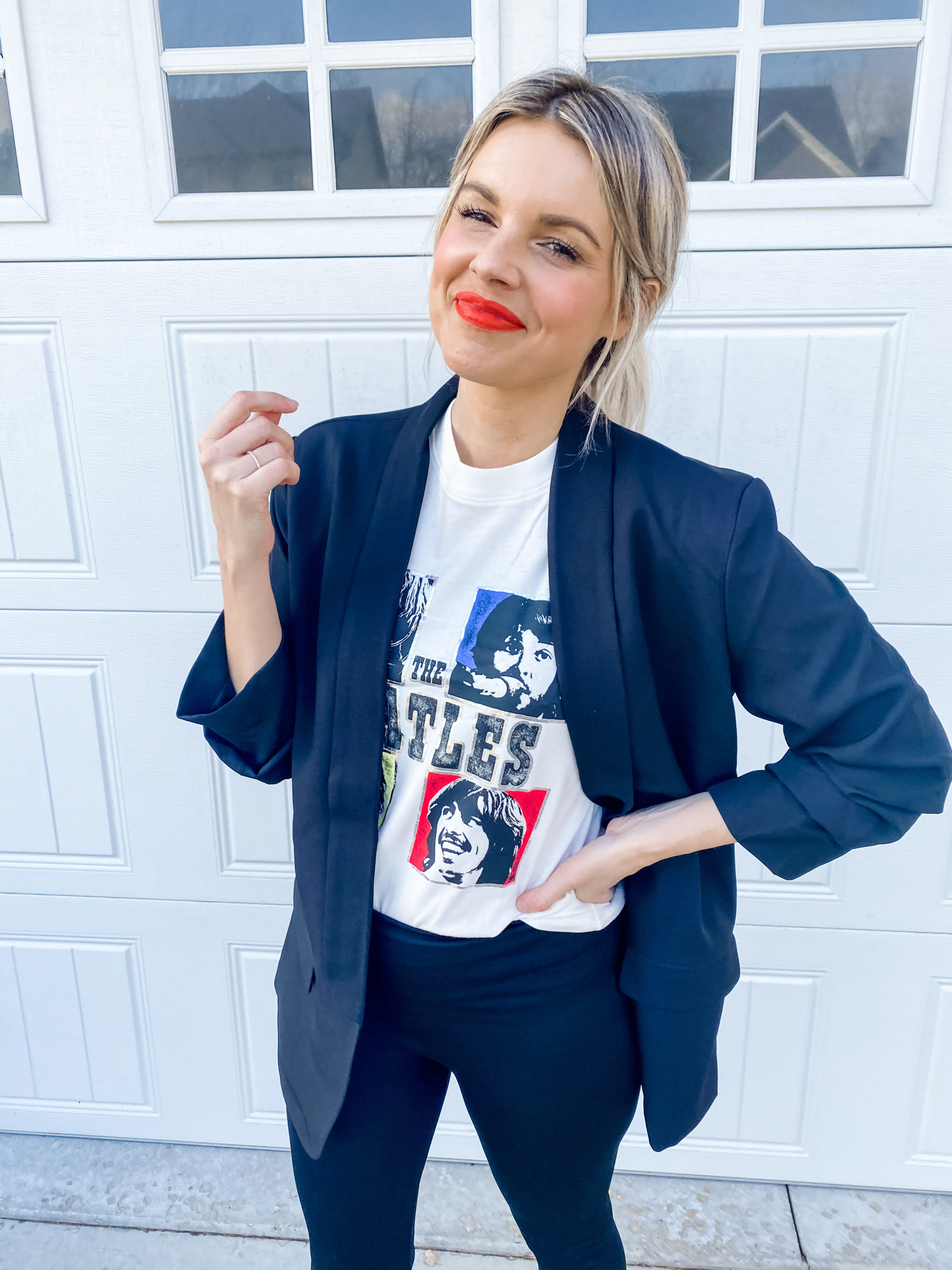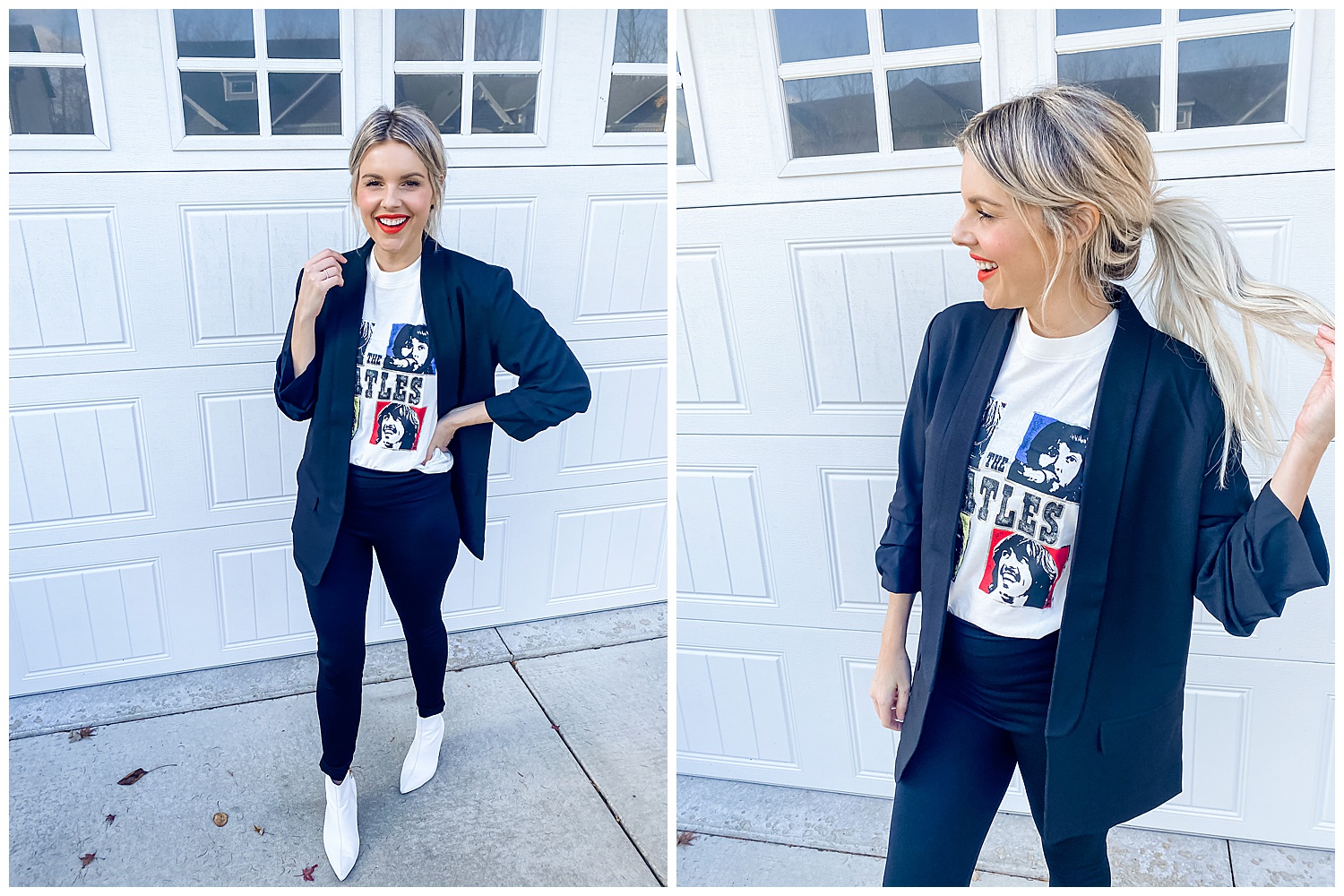 1. BEATLES GRAPHIC TEE | 2. BLAZER | 3. LEGGINGS
I would do the same with the boyfriend blazer. I got my normal size which is a size medium but I honestly think I probably could've gotten a small. Maybe I'm wrong and a small would be too tight in the arms. But it definitely has a little bit of an oversized feel which I honestly like. And at $40 it's such a great price.
Once again I paired it with the leggings I talked about above and a pair of white boots.
Deals for Days Sofia Vergara Sweater
Last but not least, I want to show you guys this sweater by Sofia Vergara's line that I got. It's normally $29, but I got it on sale for just under $18. The sweater is definitely on the thin side. So if you get the white it's got a little bit of sheerness to it, but I don't think that would be an issue if you got any of the other colors. It comes in seven colors total. I got my normal size medium and it's definitely a more fitted sweater. Which I like, but if that's not your thing I would size up.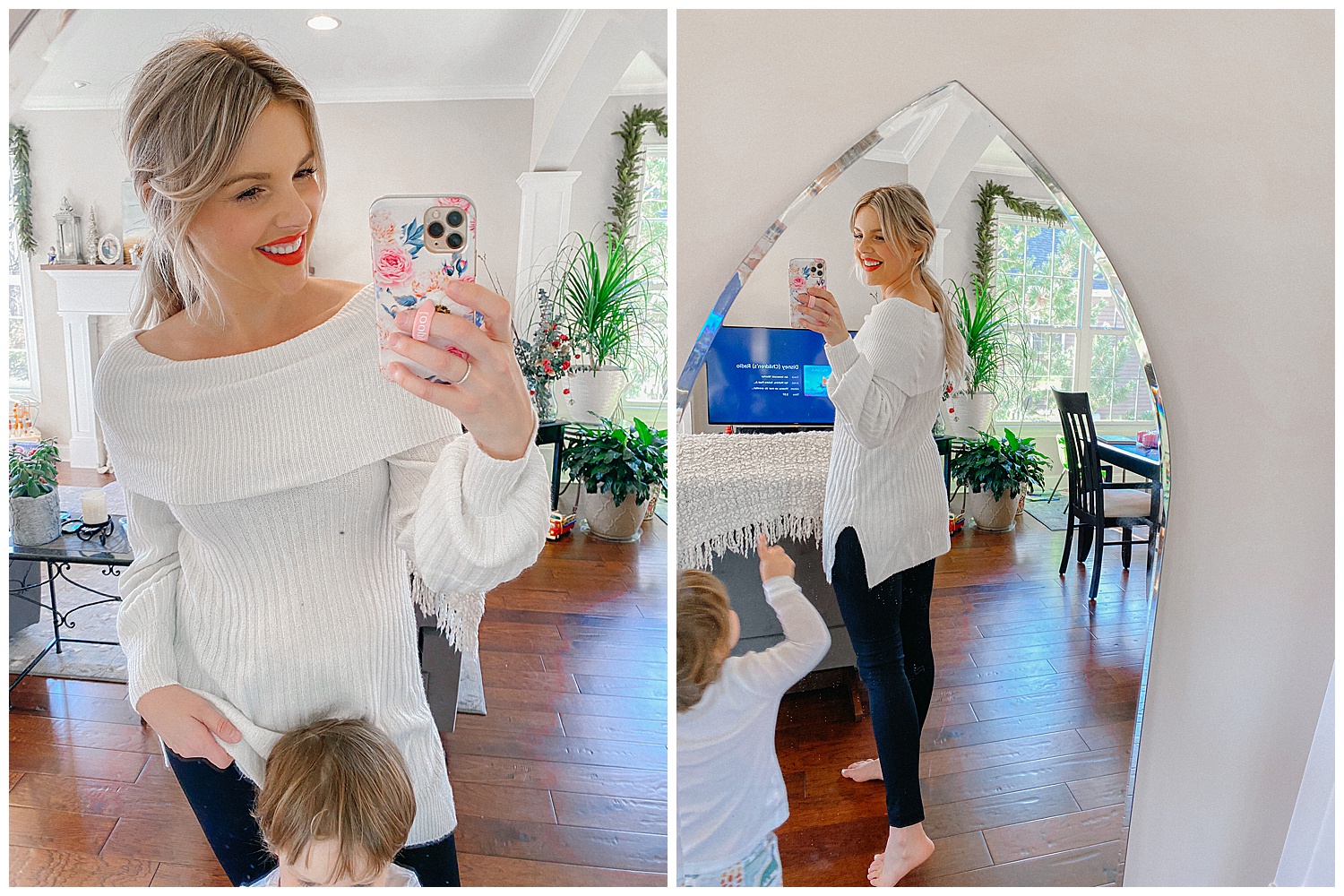 1. SOFIA VERGARA SWEATER | 2. LEGGINGS
Not only can you wear this sweater off the shoulder, but you can also wear up on top of your shoulders as you can see in this next pic.  It's just more of a scoop neck when you wear it that way. I think the balloon sleeve is my favorite part of the sweater. I also love the length of the sweater. This is another one that you can absolutely wear with leggings because it's super long and will cover your backside if that's important to you. It is to me!
Last Minute add!!!!
This coat is on sale for $39 and I HAD to share because it is so cute! It is fitted really nice and gives a super flattering shape. Warmness wise I would say it's a 7.5. Not SUPER warm for zero degree wether but perfect for Nashville winters!!!! I got my normal size, a medium, and it fits great!

Thanks for coming by!
Okay, I think that's all I've got for now! Let me know what you guys think about this Affordable Friday/Saturday post or if you found something from the Deals for Days sale that you think I need to get! Tell me in the comments below and let me know if you have absolutely any questions and I will make sure to answer every single one! Have a great weekend everyone! Stay warm out there!
And thank you to Walmart for sponsoring this post!!!