Hello everyone! Madi here – Happy Thursday! I hope you've all had a good week and made sure to get in some self-care. Heading into the end of our week, we have a new Bachelorette, Tayshia, and a new Bachelorette engagement with Clare and Dale! Can't wait to get into it.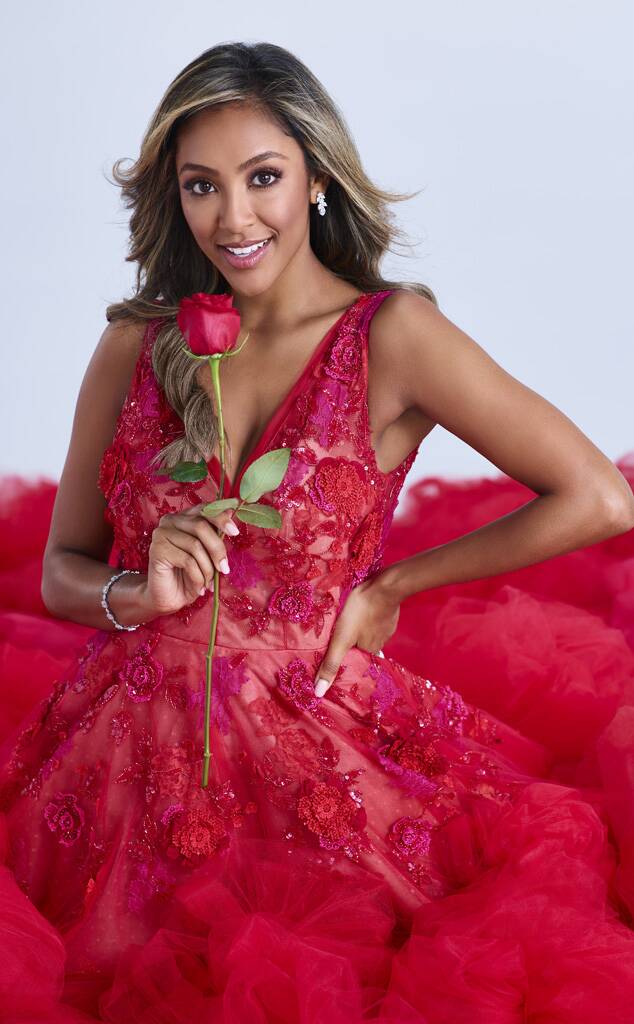 Clare and Chris Talk Honestly
Watching this episode, I felt like we finally saw some genuine honest conversations and I felt that starting off with Clare and Chris chatting really set the tone. I thought it was great that he told her that the guys aren't happy and that it can't be continued like that. In my opinion, that is absolutely true and it had been unfair to them. Even if it was a very short amount of time (which I think maybe this was over about 2ish weeks in real time), for them to already be feeling like that was not ideal for the remainder of the season to end successfully.
It was pretty obvious to me that Clare had definitely looked up the guys during her time in COVID (I'm pretty sure I would have too if it was me), but I was surprised she admitted that regarding looking up Dale's Instagram on Mother's Day. She did seem a little awkward when she said it, but that might be because they are not really supposed to look it up. I do believe her when she says they didn't talk beforehand.
I did feel that the energy I felt from Chris was that he was slightly frustrated and annoyed but trying to support her at the same time. Did anyone else feel this way?
Telling the Guys
You could tell that the guys were absolutely surprised to see Chris walk in – and even more surprised when he said that there would be no rose ceremony or cocktail party. I can't imagine being in their shoes, as with any year, the contestants give up so much to be there and even in such a short amount of time, so much had already been cancelled or changed.  They were left in the dark a lot and left sitting around. It is no wonder that they are so frustrated.
When Chris called Dale out to come chat, it didn't go quite how I anticipated. My guess was that he was going to tell Dale that Clare wanted to just talk with him to see if he felt the same. I didn't realize that they were going to have a 1 on 1, that basically turned into a fantasy suite! Is this what you thought was going to happen? It was clear from the clips of them in bed that we would eventually see that, but I thought this was going to be post engagement and thought maybe they were going to stay at the hotel longer. Although Chris Harrison said they left, there is a large chance they were still there somewhere. I am sure Dale's roommate would have noticed if his bag disappeared.
Dinner Date 1 on 1 Dale
Okay, sorry going a little backwards here. Back to the dinner date! Clare mentioned she has been doing the show her way, no kidding – haha! I'm not sure that the viewers loved "her way" but I am so glad that she's found love with Dale. It was interesting that she said her friends and family often say that she wanting and expecting too much from men – I don't feel like what she was asking for was that huge but maybe there was more that we didn't know about. Although she seemed to just be nodding her head in awe at a lot of what he was saying, the conversation at dinner seemed so genuine. I mean he got tears in his eyes when she said she was falling for him!! I'm glad that they got to spend more time together to figure it out and be sure that their feelings were mutual.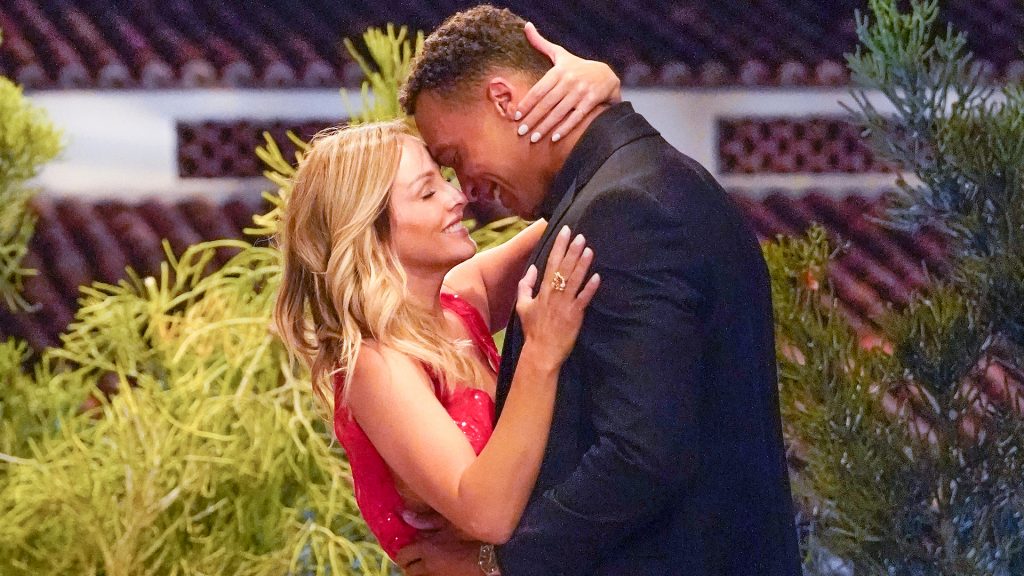 The Next Morning… Chris and Clare
It's not surprising to me that Chris popped over again to see Clare the next morning to check in on her feelings – you can tell that they are wanting to wrap this up for the guys! When Chris asked her if Dale loves her, I giggled because come on, Chris!! We know your guys told you that haha, don't act so shocked! It almost seemed slightly like he was trying to wrap it up with a bow and kick her out: "You might be engaged tonight". It all just happened so fast, I mean normally the Bachelor world is fast, but to go from their first spontaneous 1 on 1 date to engaged less than 24 hours later, woah!
I did appreciate her going and talking to the guys. It was interesting to see how different they all reacted. Some where in shock, some were sad and some were pissed.
Clare and Dale Engagement
Neil Lane seemed genuinely surprised in the Facetime video that the proposal was happening so fast. Haha! I wonder if someone from his team went there and just dropped off a case of gems for Dale to choose from.
It was actually pretty interesting that they didn't even mention the idea of a proposal to Dale before calling Neil, but hey this also could have been due to editing. Also, I am not sure if Dale called his family at all, but I am a little surprised there was no parental or family involvement. I know parents might not have been a possibility, but they both have siblings from what I remember (Dale has sisters). Again, maybe they didn't show this part. Just mentioning this as they both spoke about their families a lot and Facetime could have been possible.
The Proposal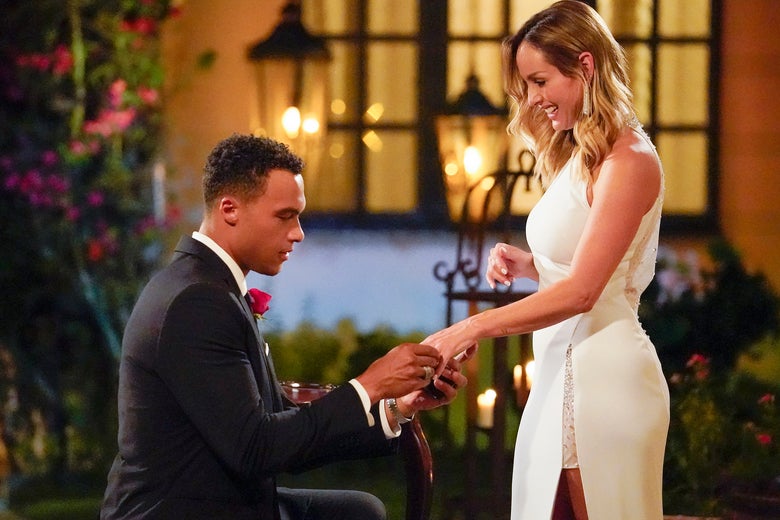 Because they had shown the clip of Clare getting upset when Chris came up to her before the proposal quite a few times, I had a feeling that was Chris tricking her for a reaction. With tensions being high and without much footage from the season, they needed little teasers and this one seemed like the perfect opportunity. But enough about that, back to Clare and Dale. She did come on this show to find love and I am truly happy for her that it worked out. I hope they are still happy today after such a whirlwind of a time. It is pretty ironic that her parents only knew each other for 3 weeks before getting engaged, and 3 months before getting married. For all we know, they could be married haha! Maybe we will find out at Tayshia's After the Final Rose. Wishing them nothing but love and happiness 🙂
Tayshia is the Bachelorette!
We love Tayshia over at my house – even my husband, and we are so excited to watch her on this journey!!! He started watching with me during Colton's season, and we've always thought she is so poised, sweet and stunning!
Although some of the guys were having difficult reactions (anger, sadness, disbelief) to finding out that Clare left and was engaged to Dale, I think they will be super excited about meeting Tayshia and having a real shot at finding their wife. It will be interesting to see how Jason does, because he was the only one that had a one on one with Clare (that remained) and their date was very intense. Only time will tell! It was so sweet seeing how excited all the guys are that their new Bachelorette was about to enter. And I personally LOVED that it was done backward where all the guys were waiting for her as she got out of the limo, instead of the other way around.
By the way have you seen all her promos so far? How clever of them to cover her dress in all the rumors of her becoming the Bachelorette!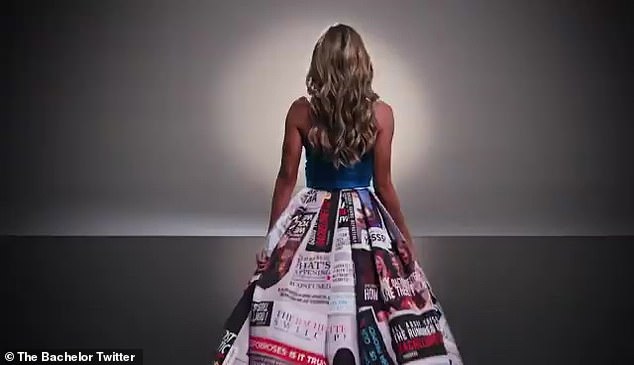 Thanks for coming by!
This one was truly one for the books. I saw in the FB comments that some of you were bored or turned it off, so I hope this either inspires you to go back and watch it or invigorates you for next week! I have a feeling this is going to be a truly great season! Will she get another 10 weeks? I would be shocked to see them do this in 6! What are your thoughts?! Let's chat below.
Also before you go, I don't know how many of you guys have heard about Amazon Lives, but Ali is going to start doing them!!! They're really cool because she'll essentially just share all of the products that she is using in her daily life that she gets on Amazon.  Then we all will be able to shop them right there from the Live. Check out this live she did last month with some of her beauty faves. I personally also swear by the foundation and eyebrow pencil she mentions!
She also just told me that she's going to be doing giveaways for people who follow her specifically on Amazon Live so make sure to follow her! All you have to do is click the little yellow follow button and every time she's live on Amazon you'll get an alert on your phone if you have the Amazon app! I can't wait to start shopping with her, because if any of you have ever purchased something that she has recommended before, you know that she only talks about items she truly cares about and loves. I think all my jeans were recommendations from her. Haha!