Oh my gosh, I could not be more excited for this Affordable Friday post! I think it's been a little over a month since my last one. I just wanna make sure that when I do them they are clothes that I truly love and are amazing prices! Everything in today's Affordable Friday is from Walmart (Thank you Walmart for sponsoring this post!) If you spend over $35, you get free shipping so I highly recommend grabbing a few different pieces because you'll literally have to buy a few to get over $35 depending on what you pick. That's how good these deals are, which I love! But if you only want one item, you could always add essentials (like toilet paper or diapers) to your cart from Walmart to get it up over the $35 mark. Just a little tip I always do when I order if I'm not spending the $35 on clothes.
I'm wearing some of my very favorite jeans in all 3 of these looks – and the best part is that they are only $19!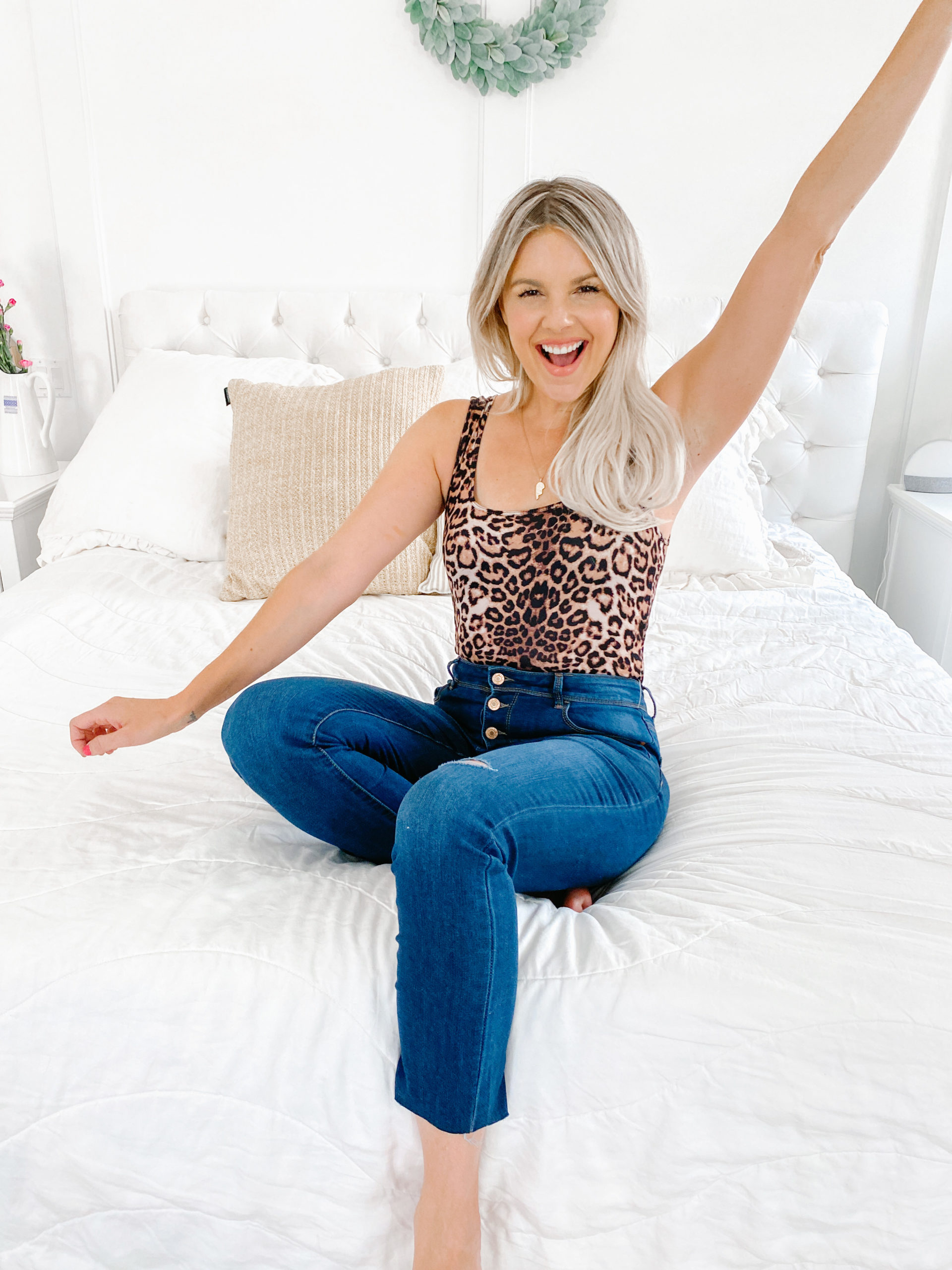 1. LEOPARD BODYSUIT | 2. $19 JEANS
Bodysuit + Jeans
Okay, we have to start with this 1st look because I honestly don't think that I've ever felt better than I do in this outfit. I'm sure some of it has to do with the fact that I've been working out so much and I feel really comfortable in my skin right now. But I know a lot of it has to do with the fact that this is a really flattering outfit! The leopard bodysuit I'm wearing is by Sofia Vergara and it's only $18! I don't know what it is but there's something about her line that just really suits a woman's curves! I guess that makes sense – Sophia has killer curves! I'm wearing a size medium (my normal size) but I probably should have sized down to a small because it's so stretchy.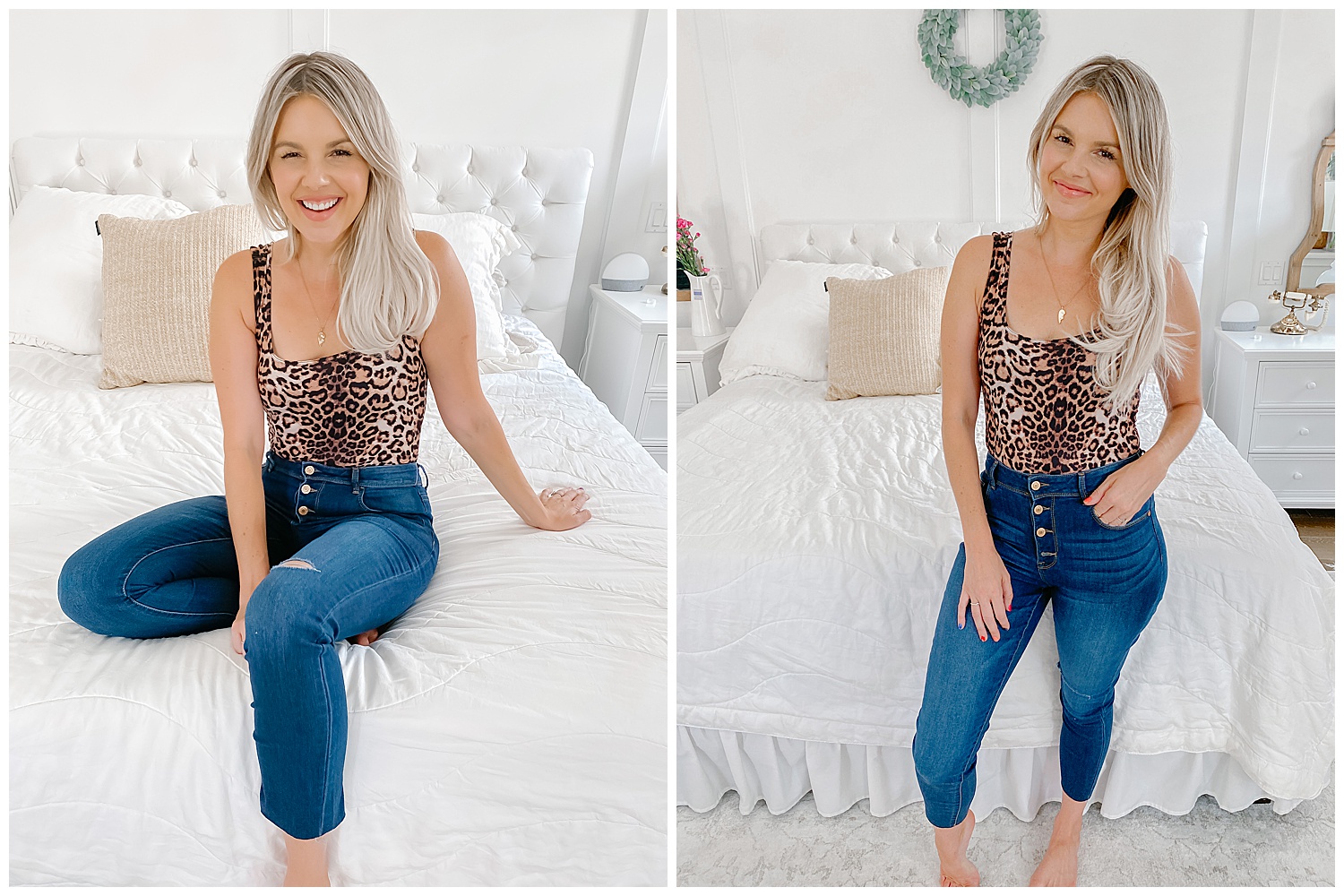 1. LEOPARD BODYSUIT | 2. $19 JEANS
These high-rise button-up skinny jeans are only $19. I know I've recommended a few pairs of jeans from Walmart in the past, but these are definitely the best of the best! I could not recommend them more! I'm wearing a size medium in the bodysuit and I'm wearing a size 8 in the jeans.
Cozy Thermals
I also have to share this long sleeve thermal shirt. This is my favorite basic everyday piece in this Affordable Friday! I bought this shirt in the pink color seen here and fell in love with it. You guys know how much I love a good basic. So much so that  I ended up buying it and every single other color. Why? Because it's just such a great basic to wear all fall/winter and it's only $8!! No, that's not a typo it's an $8 shirt and it's amazing. You'll never think it was $8 when you put it on.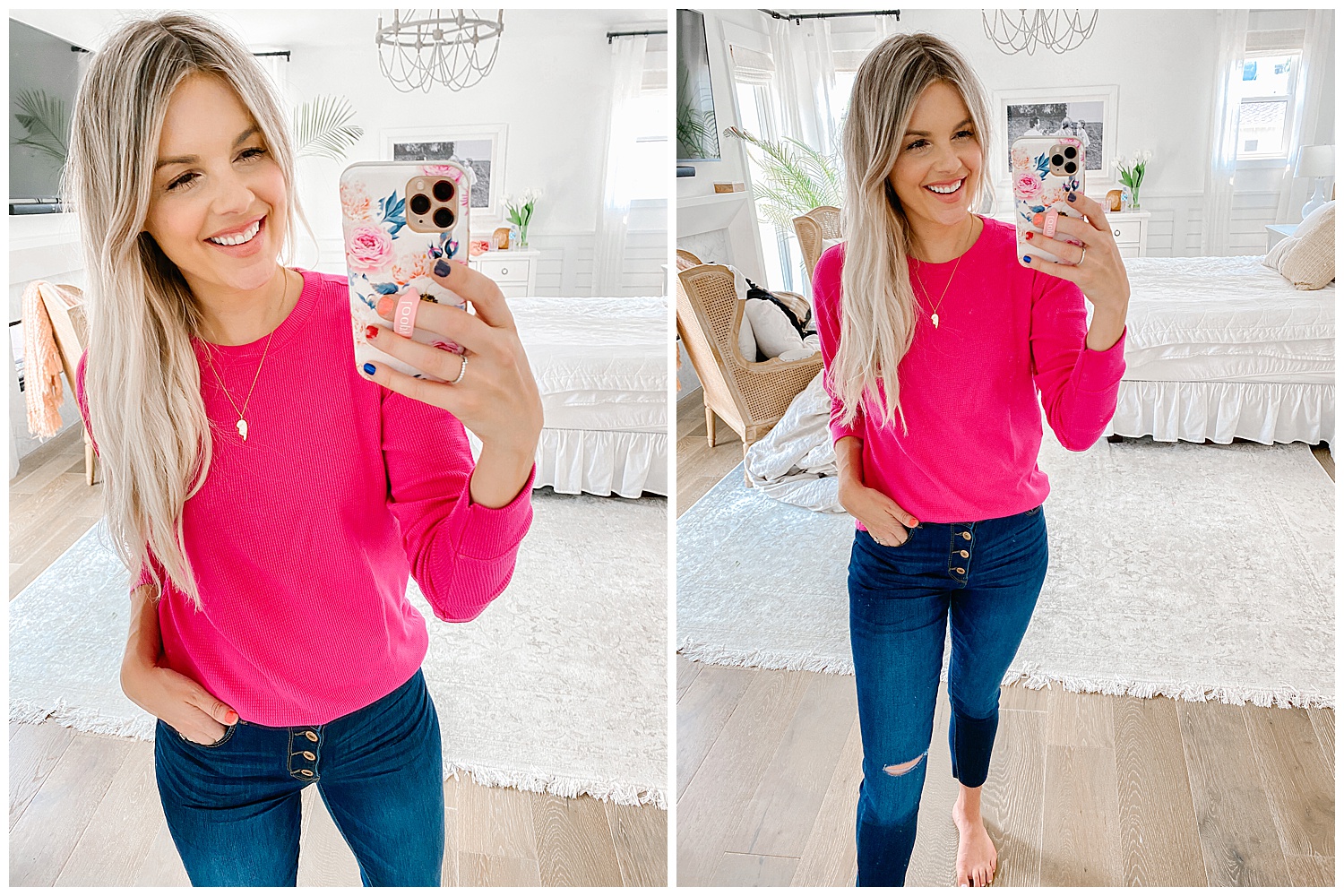 1. $8 THERMAL LONG SLEEVE | 2. $19 JEANS
I'm also wearing the $19 Time and True high-rise button skinny jeans in this photo. I'm telling you they're just so flattering. Get a pair for $19 and then come back to this blog post and tell me how much you love them later!
Crewneck Sweater
Last but not least for today's AF, is this gorgeous crewneck pullover sweater. I just think it's so stunningly beautiful and I cannot believe it's only $23. Usually a sweater with this much detail is so much more expensive. I'm just wearing a nude bra underneath it, but because it does have tiny little holes, you might want to wear a camisole. I think wearing a nude bra underneath is fine. This is definitely more a sweater for people who live in warmer climates because of the tiny little holes to make up the detail of the sweater. It's actually perfect for me at the beach this fall/winter. And really for anybody in the southern states or other warmer climates.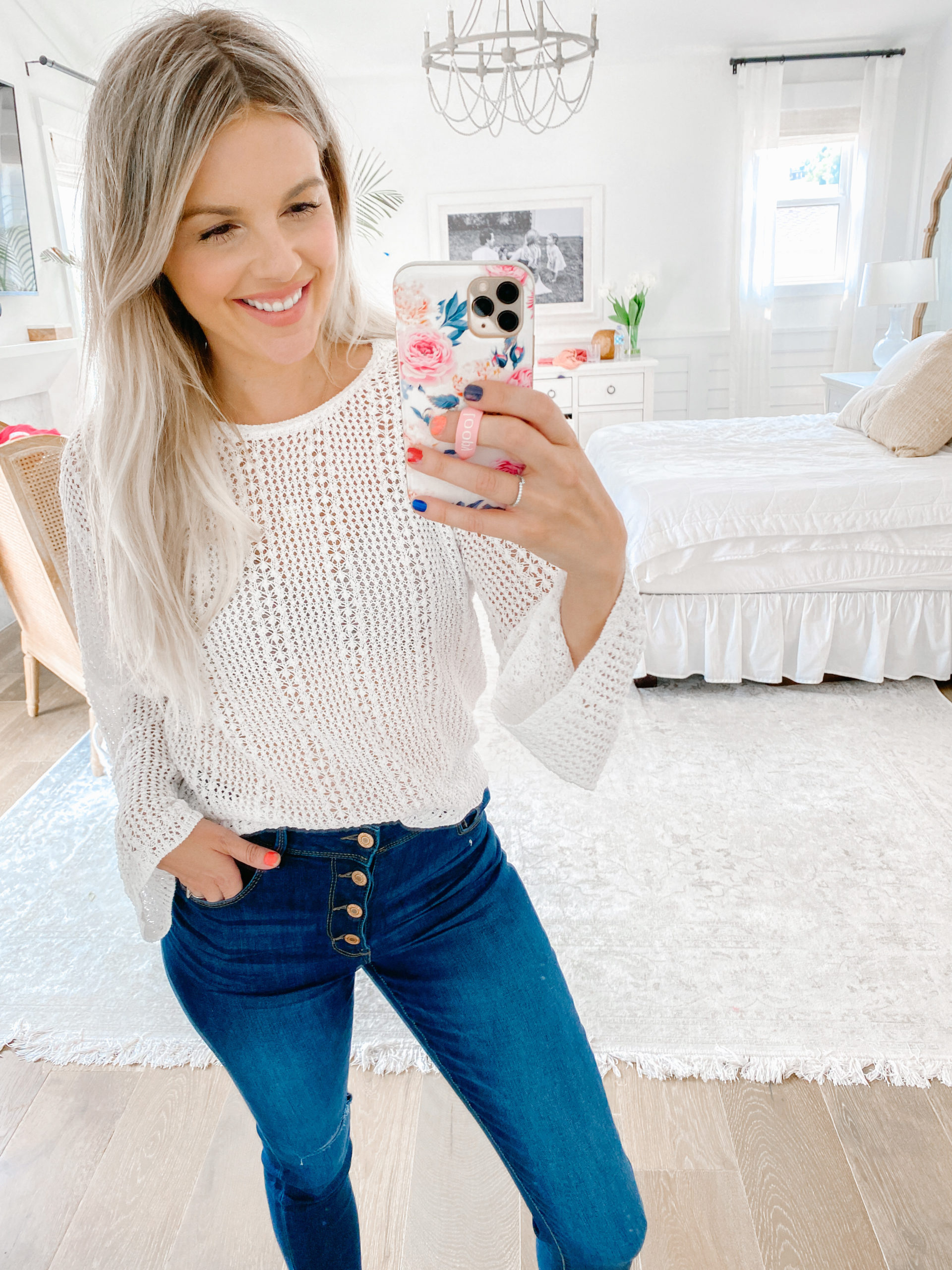 1. LIGHTWEIGHT CREWNECK SWEATER | 2. JEANS
Thanks for Stopping By!
Okay, that's it for me. I hope you guys love this Affordable Friday post as much as I do! Let me know what you think of the comments below and if you have any questions whatsoever just ask! I'm wearing a size medium in pretty much everything! Happy Friday and have a great weekend guys!