Hey guys! Happy Nsale! I am am running around shopping the sale today (it's my favorite day of the year!), but I wanted to get some of my favorite finds up for you guys ASAP because they will sell out fast! You're able to shop the sale starting today if you have a Nordstrom credit card, but if you don't you'll be able to shop the sale starting August 18th! I've noticed every year that sometimes things sell out before public access or are restocked once the sale goes public so keep coming back and checking certain items if something you love sells out. Yay!! I am so happy that the Nordstrom Anniversary Sale is back!
BEST WHITE TEE
First I have to tell you about this white tee, is also comes in a bunch of other colors, because it's on sale for $12 and I'm actually wearing it today! I'm so glad it's part of the sale because the one I'm wearing today I spilled my foundation on and ruined it. So I'm gonna stock up on a bunch more! I would say I'm between a size small and medium. The one I'm wearing in these photos is a size medium. It's seriously such a cute and great basic tee that I plan on ordering multiple and white and every other color. I have gotten so many comments in the past asking me for my favorite scoop neck white tee and I didn't have one at the time, now I do and it is this one!!! It's actually a "hybrid" rounded v-neck which is just look a scoop and I love it!

 1. WHITE TEE | 2. JEANS | 3. CONVERSE
MY FAVE SWEATER EVER!
You may have seen me talk about this sweater on Instagram stories in the past. I cannot be more obsessed with this entire look, so I'm really excited to share it with you guys. And please let me know what you guys think in the comments below. I love to hear from you!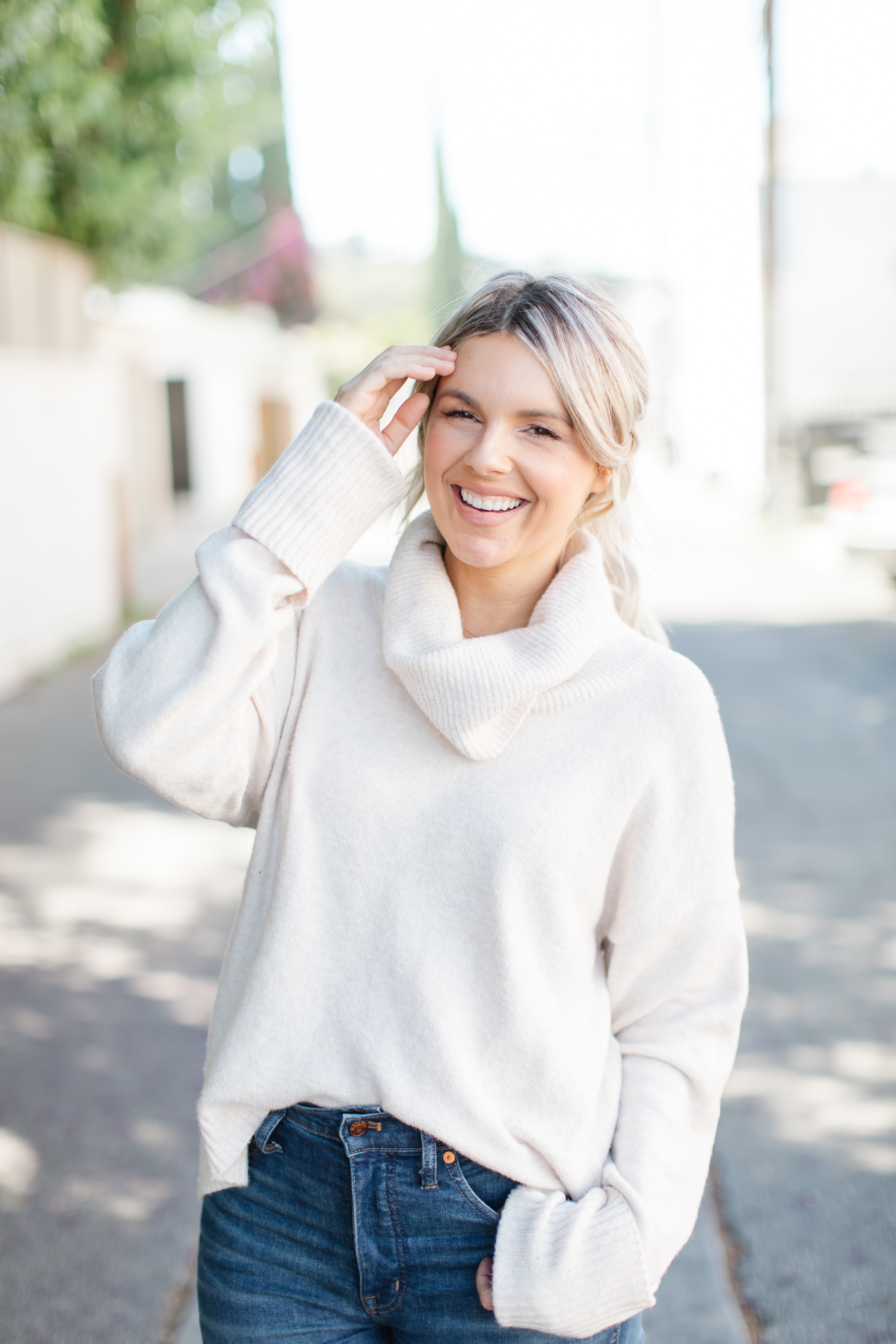 1. SUNNIES | 2. SWEATER | 3. JEANS | 4. LEOPARD LOAFERS | 5. SUNLESS TANNER
I originally bought the sweater in a rust color when it was on sale during the Nordstrom anniversary sale. But honestly it sold out almost immediately! I cannot even begin to tell you how much I love this sweater. It's not only ridiculously soft, but it has so much stretch to it and that makes it extra comfy. It's oversized and I'm wearing a size medium which is my normal size. So I would say it's true to size. But if you don't love the oversized look, you might want to size down. I love how it has a really long cuff on the sleeve, which makes it extra cozy for the cooler months. Right now it's available in the color I'm wearing (oatmeal heather!) and black, light blue and a cool orange color! I might order a few of those too because honestly I've never liked a sweater as much as I love this one! See the below pic for how I styled it with a winter coat.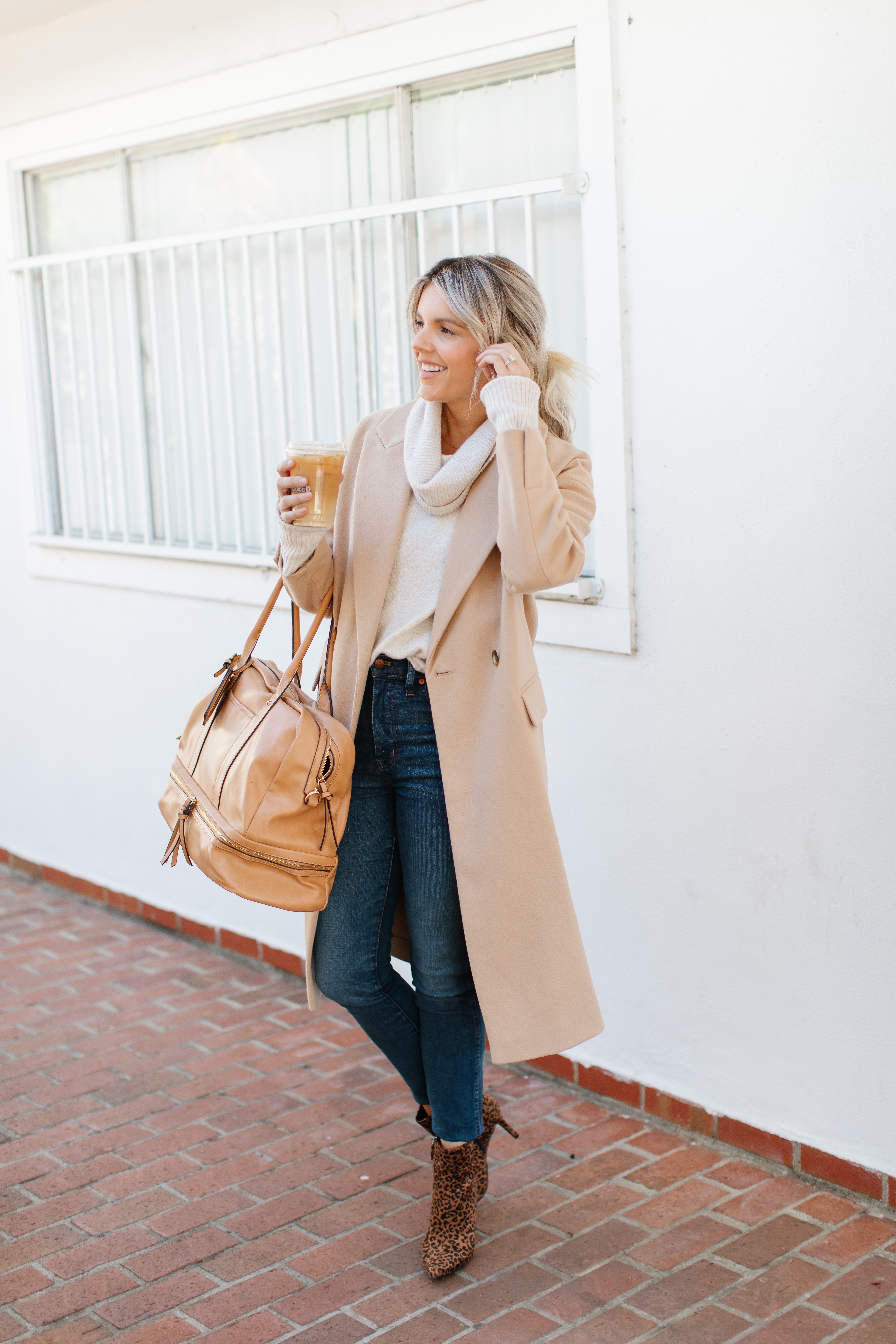 1. OVERSIZED COAT | 2. SWEATER | 3. JEANS 
Here's are some coat options that I love that are on sale now!

I also absolutely love the look of the cowl neck sweater with a pair of black joggers. These black joggers are on sale for $38 and are so cute!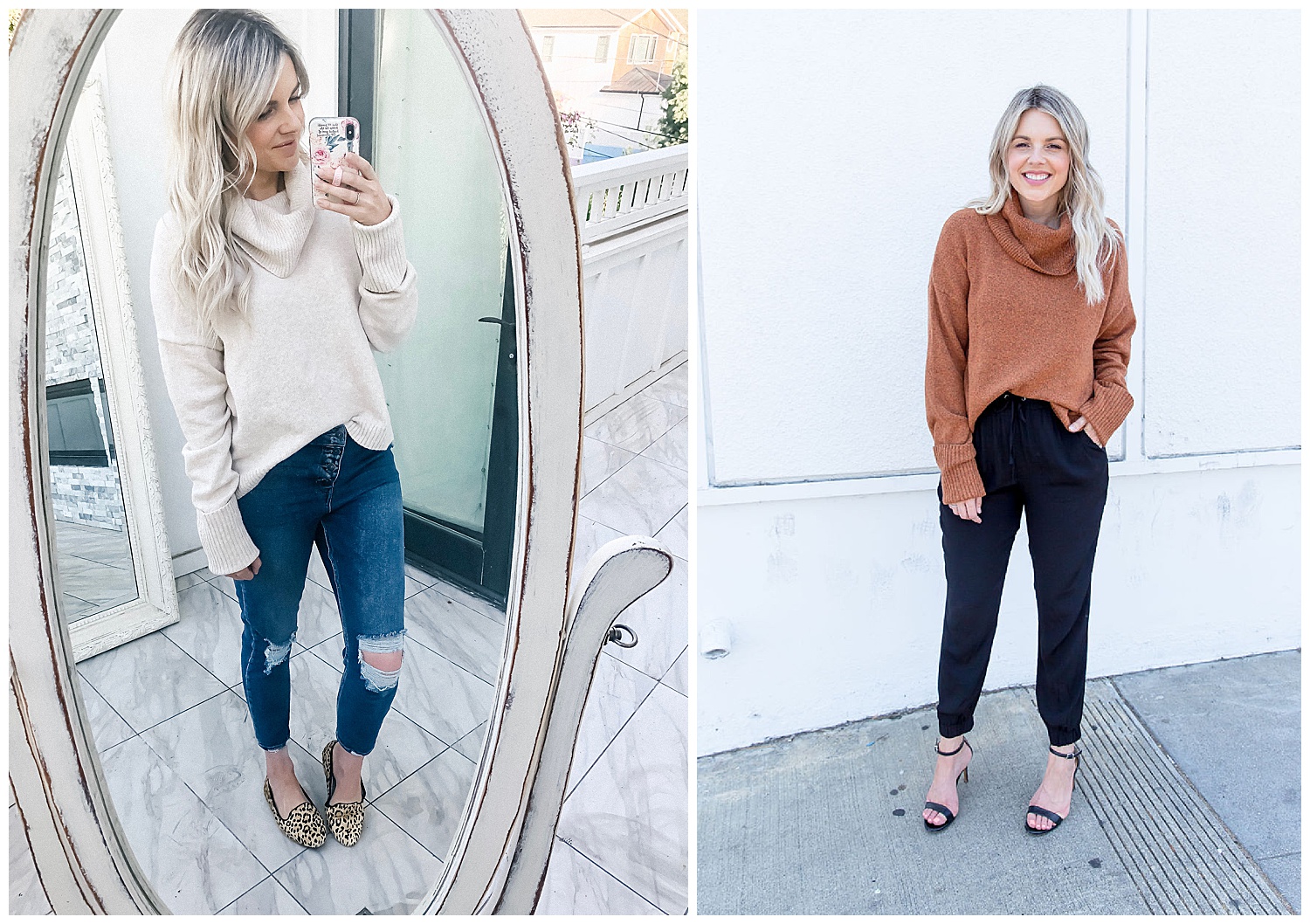 SPANX LEGGINGS
Ok now let me talk a little bit about these faux leather leggings. They are 40% off for the Nordstrom Anniversary Sale and I originally bought them about 3 years ago! They totally held up over the years and they are super faltering well, because they're by Spanx! I got a size medium, which is my normal size, but I almost wish I got a small so they would've sucked me in a little bit more. So I would actually recommend sizing down in these. Just to get that extra bit of Spanx action going on. Ha!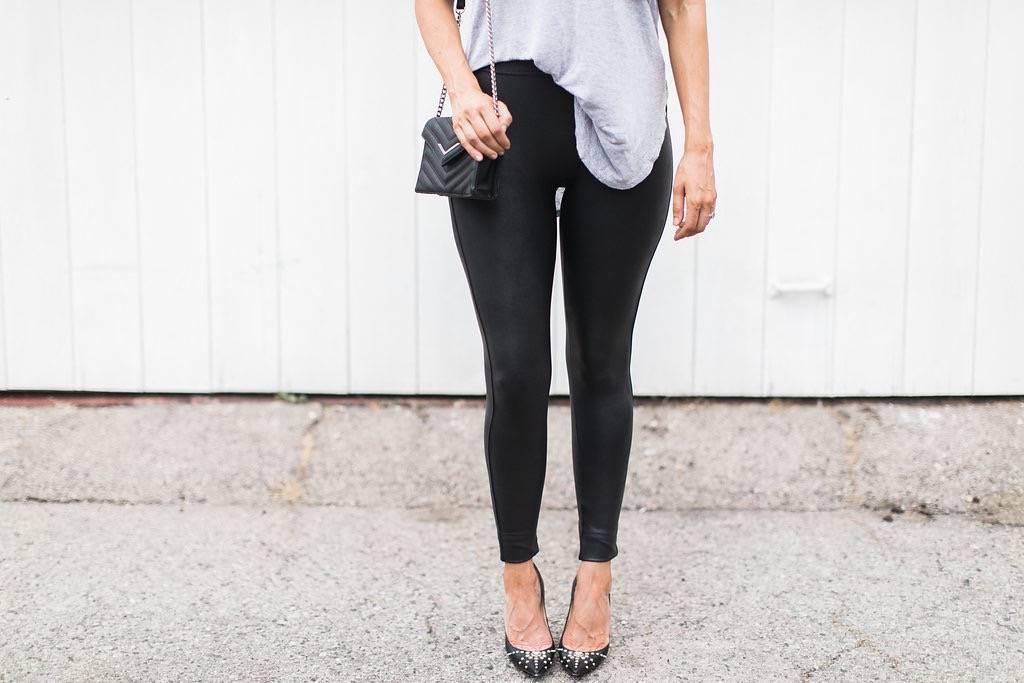 1. BLAZER | 2. GRAY TEE | 3. SPANX FAUX LEATHER LEGGINGS
I also wanted to show you another way to style them. It's easy to style them with a plain tee like I did above.  This next look is perfect for the office (whenever we go back to an office!) and then really cute and sassy to wear out for drinks after work! I paired it with a white tee and then added a simple black blazer over it. Many of you may already have a black blazer and a white tee in your closet. The blazer and the tee are both on sale! This blazer in navy is actually 60% off and they are going fast since they are only about $50!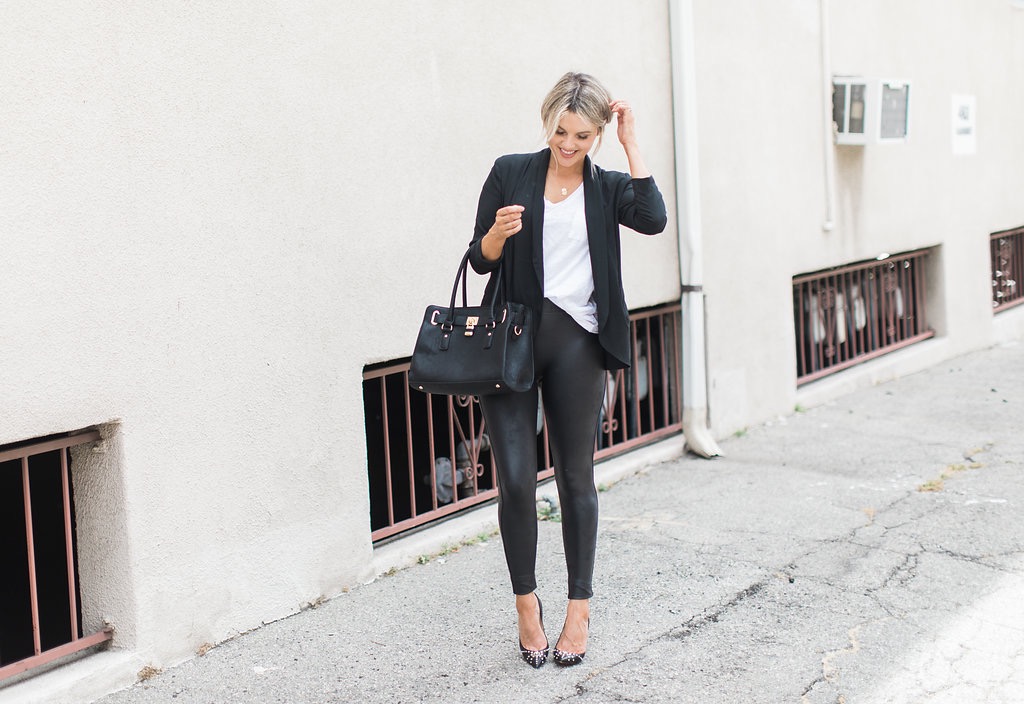 Pajamas!
I also wanted to share these PJs with you because they're on sale and separates for under $25. And they are so so so so so cozy! I'm wearing a size medium in both. The pink with the stars isn't available anymore but they have a light baby blue with stars that I absolutely love! I might like the blue color better than the pink.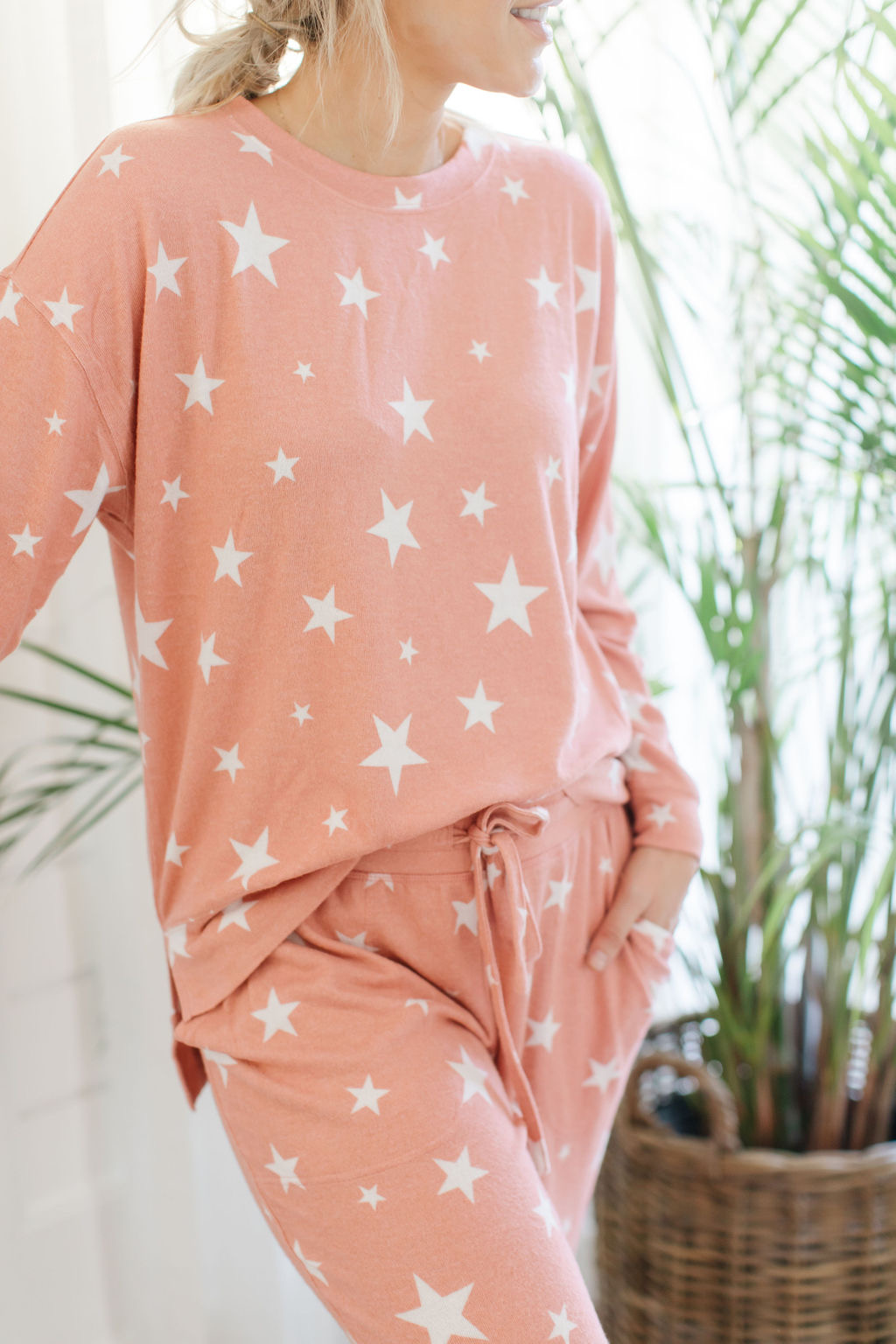 1. STAR PJ TOP | 2. STAR PJ PANTS
And if you don't own a pair of these Nordstrom moonlight dream pajamas, do you self a huge favor and order them right now! I first ordered these PJs when I was pregnant with Riley to wear after he was born and they couldn't have been more comfortable. Anyone who's had children knows that you need the most comfortable clothes ever to wear afterwards. So if you're pregnant right now I highly recommend these for PJs to wear after your baby is born. Perfect for breast-feeding and so soft. Believe it if you're pregnant these are just probably my favorite pajamas ever. Definitely get some while they're on sale!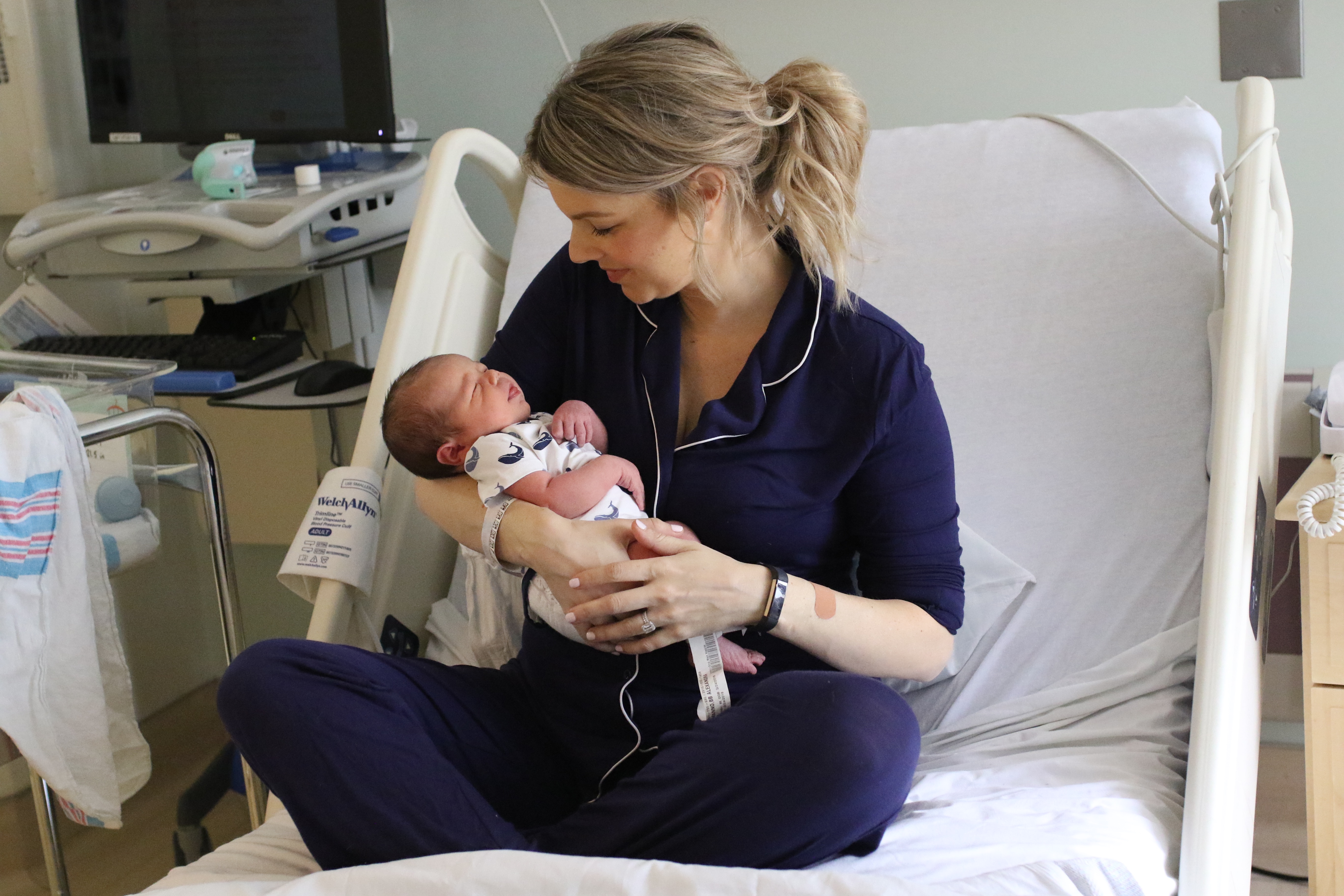 1. BUTTON UP MOONLIGHT DREAM PJS
Floral Dress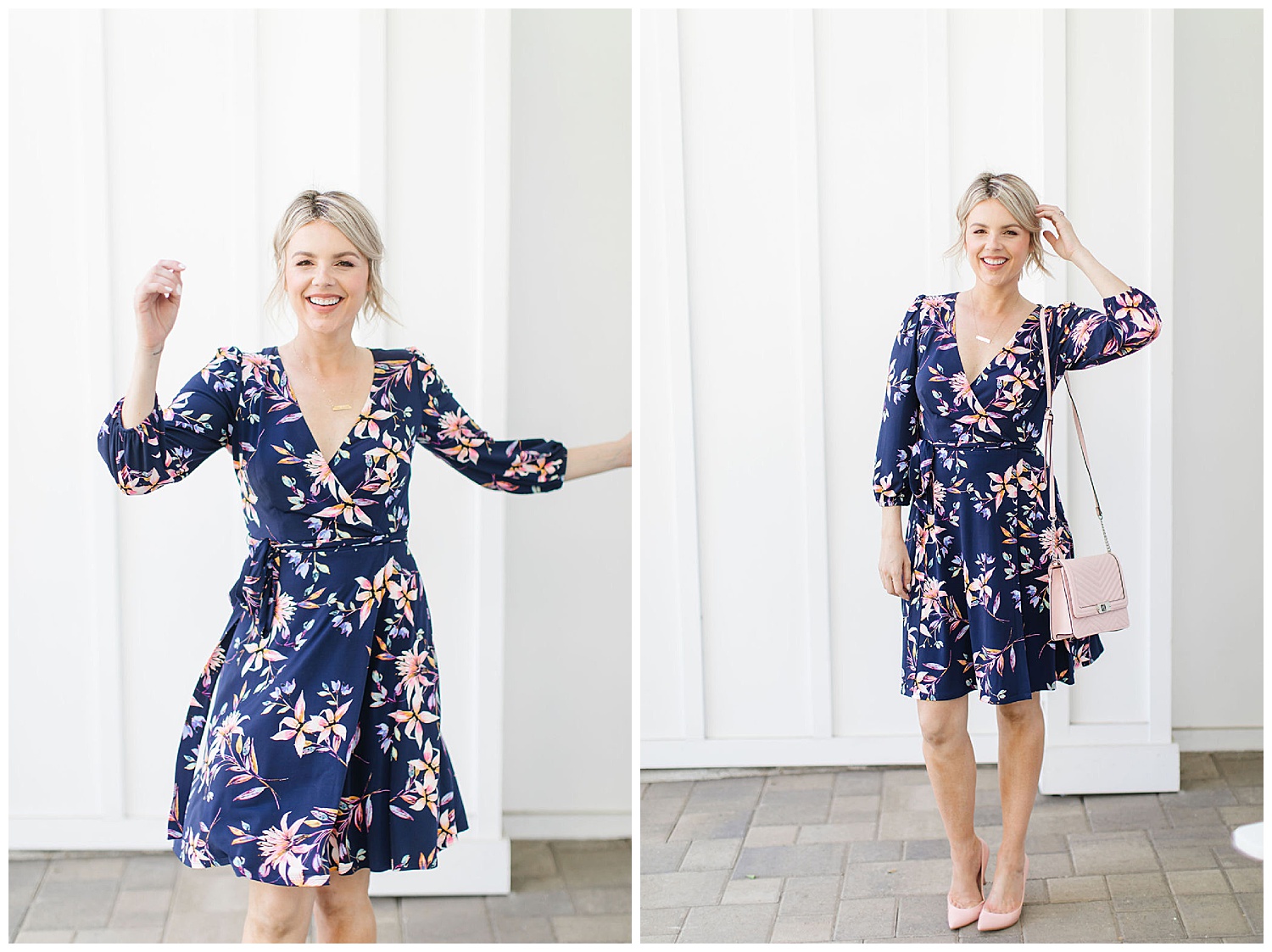 I cannot believe that Eliza J brought this dress back and that it's on sale for under $65! When I bought it, it was almost $130 and I thought worth every penny! This dress is ridiculously flattering! In fact I love it so much that I wore to Rachel Lindsay's bridal shower. Her bridal shower was filmed and aired on one of the Bachelor specials. And trust me I only wear outfits that I feel my absolute best in when I do these types of things. So definitely get this dress if you have absolutely anything coming up. Even if you don't have anything coming up that you could wear it to because of COVID, get it anyway and wear it in the future! Maybe even plan a little "date brunch" at home with your loved one and dress up for fun!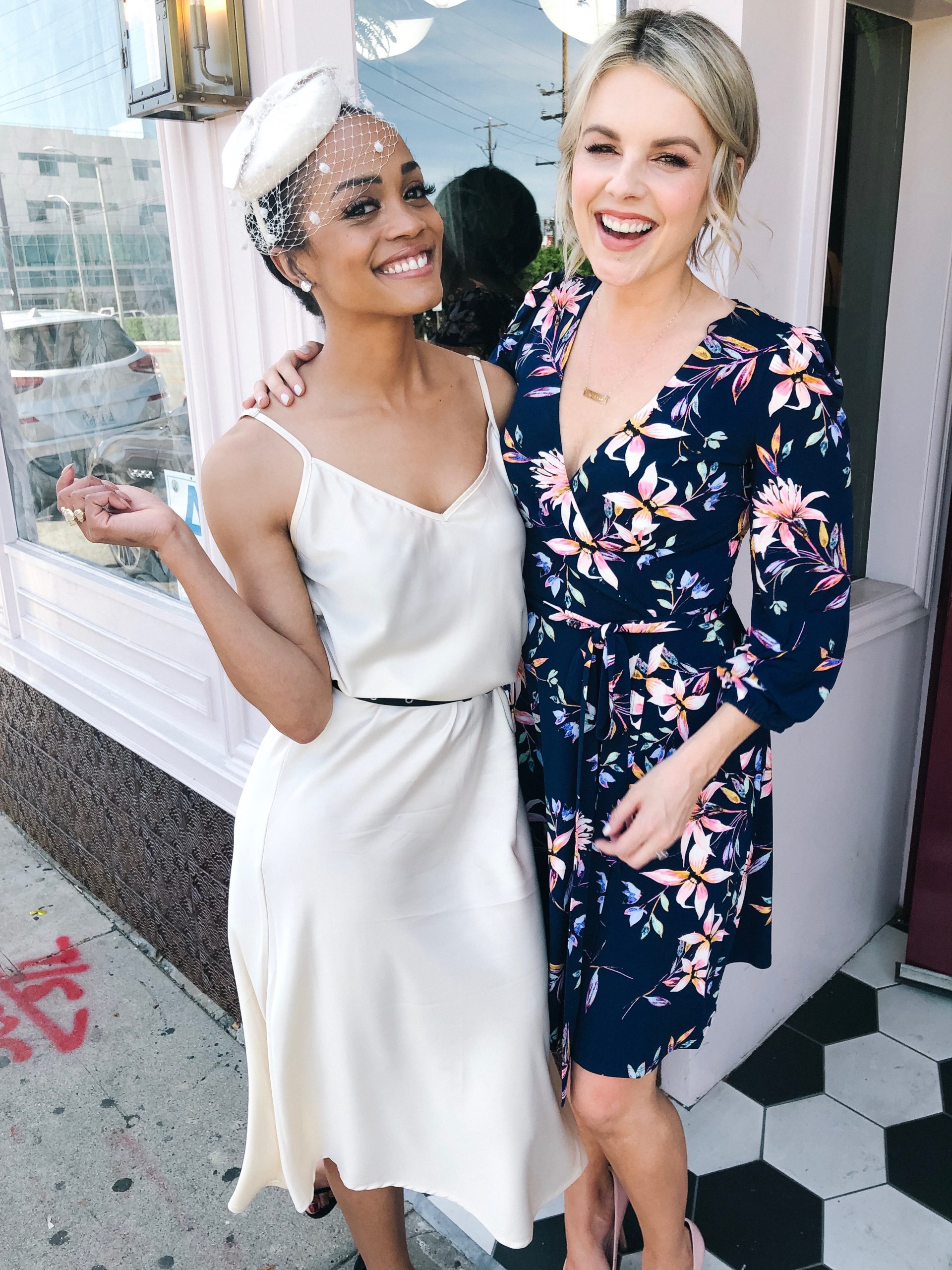 Okay, I sincerely apologize for any typos in this I wrote it so fast this morning but I wanted to get it up quickly for you guys so you could shop these items because they're my absolute favorite from the sale! I'll have an updated post later today with everything I find while out shopping today! Socially distanced of course! Have a great Monday guys!