I don't know about all of you, but I have been on a serious organization kick since the Safer at Home mandate began. That's probably because of all the time spent at home, but I couldn't be happier to get a little more organized within the chaos. You might have seen my post about the kids play area, and that really was a starting point for a series of posts that I will be doing about how I am organizing areas in my home and utilizing the space that we have. Today will be all about the junk drawers, utensil drawers, and the kiddos craft items. With some virtual consultation help from Elsa of Composed Living, I am excited to show you my progress so far and give you some tips on how to organize these areas too!
We had initially planned to have Elsa organize these spaces for us, but with the the Safer at Home mandates in place, we decided to utilize her virtual services so we could get a head start on our organizing – and I am so glad we did!!!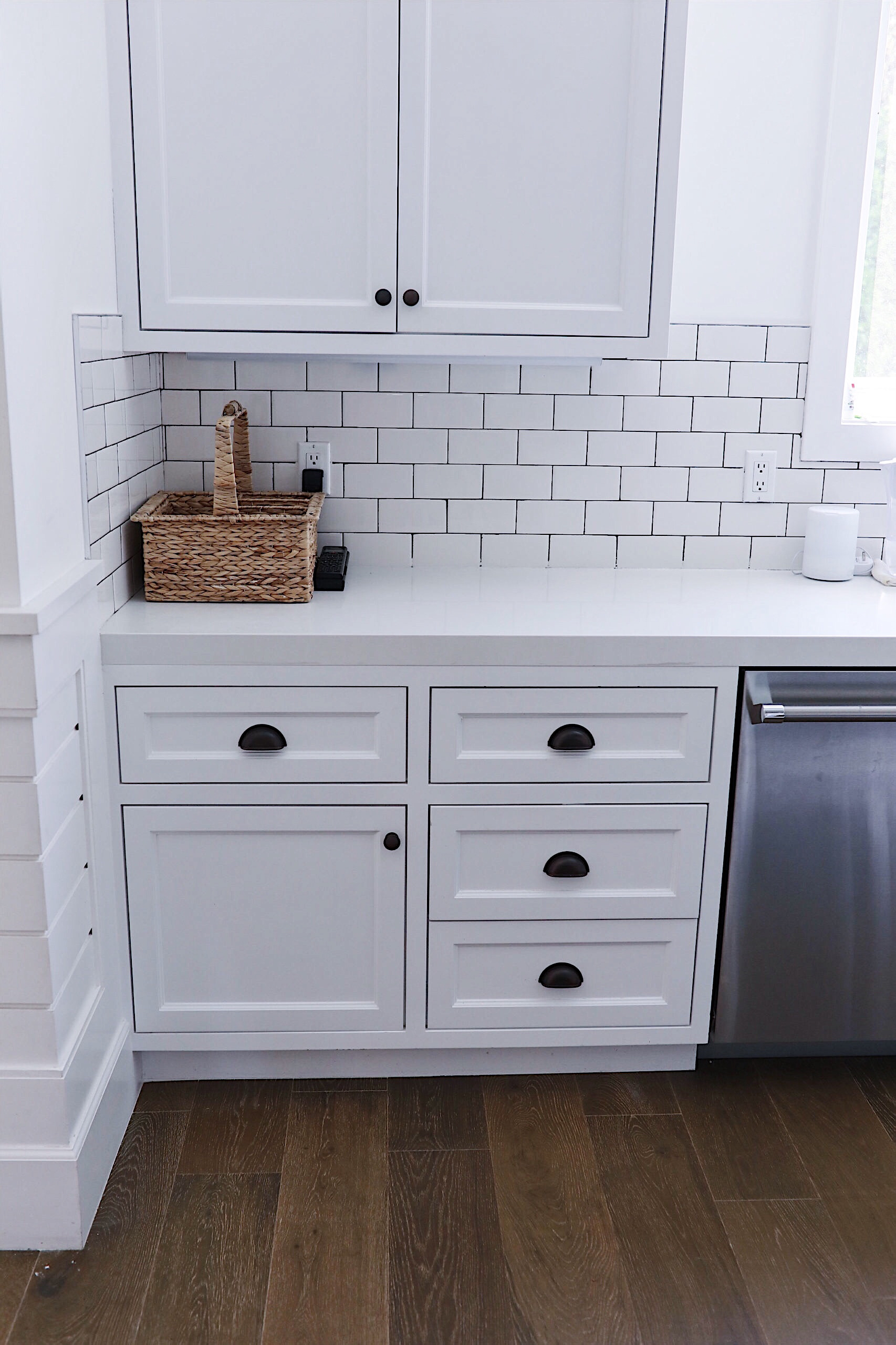 Organizing These Areas Was Easier Than It Looked!
When I began this process, I truly didn't know how I was going to be able to organize everything that I already had within the drawers and thought that I would definitely have to remove some items. As it turns out, not only was nothing removed from the drawers except some trash and I was able to organize it so much and make it look like there was a lot less clutter inside. I was also able to move stuff that was on my counter into the drawers below too! As you can see in the before and after photo below, I had quite a bit of items on the counter that are now hidden within the drawers.

You can't even see it in these pictures, but the counter near Molly and Riley's towers is also usually messy with a stack of drawings, crayons, markers in a bin, and really whatever they wanted to play with that didn't have an easy home to return to. With the organization of these drawers, there is now nothing on the counter by their towers and that makes me sooo happy! All I have wanted for so long was a clean kitchen counter.
Junk Drawers
Let's start with my two junk drawers, or as Elsa likes to call them, household drawers. I truly never even realized that we could fit more in the drawers until she opened my eyes by explaining the importance of using dividers: "When you create compartments within a drawer, and each type of item has its own space, the drawer is more likely to remain organized and you can easily see what you have (and don't have). Another added benefit of seeing things organized this way is that it discourages you from tossing something in the drawer that doesn't belong there!" I couldn't have found this to be more true as I organized my drawers into the bamboo dividers that I purchased. I know they don't look as perfect as if Elsa did them, but I think that I definitely moved in the right direction, don't you think??
I started by getting rid of any trash and wrappers that were in the drawer, and made a stack of important papers or bills that shouldn't have been in those drawers – I later moved those into a different drawer, which you will see below.


 1. LONG BAMBOO DRAWER ORGANIZERS
My right junk drawer is for household supplies like tape, felt feet for the bottom of chair legs, a variety of different sizes of Command strips etc. I seriously am in disbelief at the amount of room I ended up having in this drawer once I through out a few papers that didn't belong and put the kids stuff into their drawers! As you can see, I used two long bamboo drawer organizers. There was previously no organizational pieces in the drawer.
Then for my left junk drawer, it is more household supplies and office supplies, like labels, white-out, Sharpies, batteries, gum, lint rollers etc. For this drawer because of the many items types that needed spaces, I used this expandable bamboo divider.


Both of these drawers are going to be looking different again very soon, because after I organized it, I got some tips from Elsa. Such as storing some of the packing tape, batteries and other items that I have a lot of in the garage, or in another place for backstock. That way my drawers can be less cluttered. I am super excited to try out the way that she recommended (and even more excited for when she is able to come to my home and do little touch-ups for me! Haha!). She also recommended to remove items from packaging to reduce visual clutter, like the tape and filler sticks!
Important Papers
So as you can see, this bottom pull out drawer was not being utilized at all beforehand. I was able to easily move items from my above junk drawers and countertop to this space with the addition of these filing bins. I moved anything that was important into this area, such as bills we need to pay, warranties for things that we own, and the kid's notes from physicians.  I could not believe how much this decluttered my counter space!!!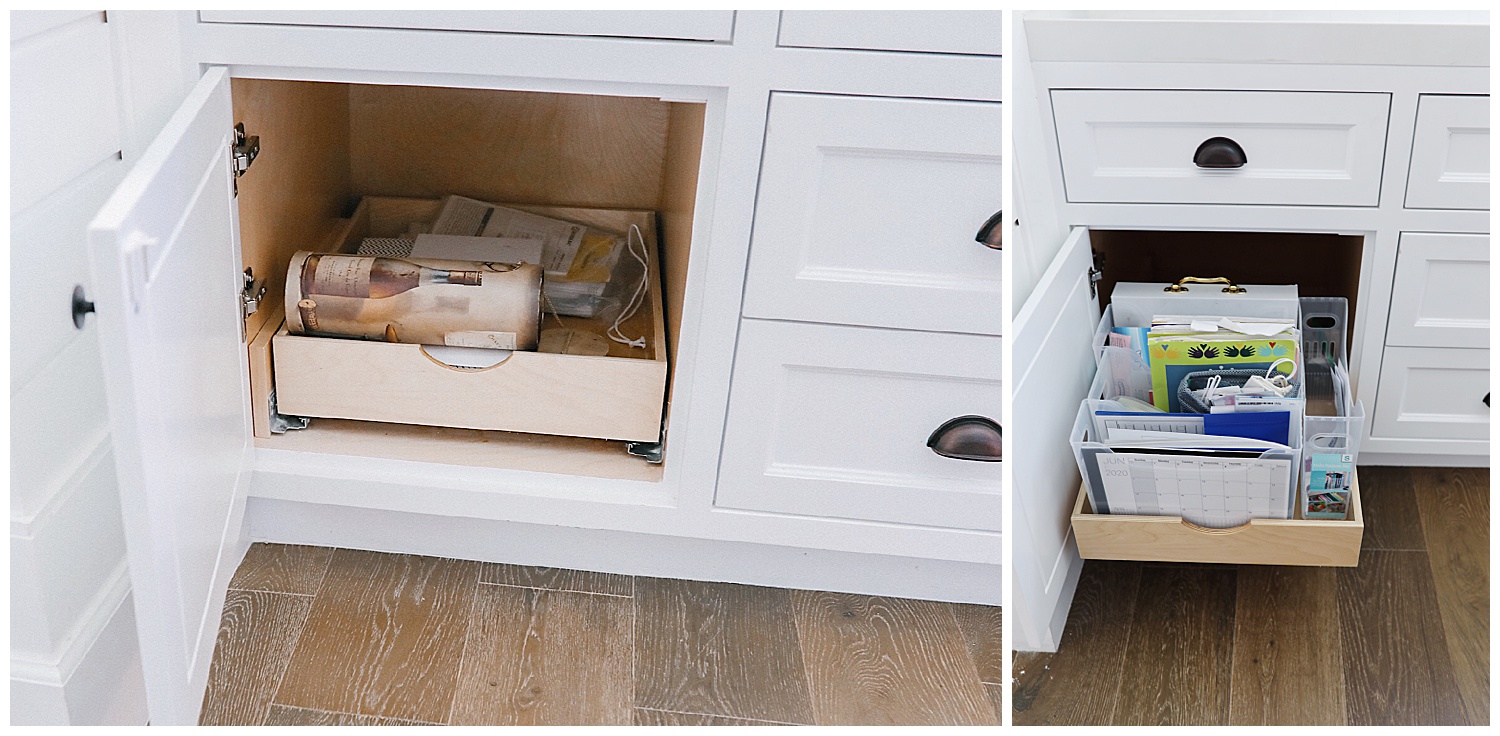 1. SMALL BINS | 2. MEDIUM BINS | 3. LARGE BINS
I love these bins because they come in a few different sizes and you can easily mix and match to fit under your cabinet space. For example, we have two smalls, medium and a large. This is very useful for dividing different items and making sure that everything has its own space. I also love that these bins are all separate because it allows me to remove just the bin that I need from under the counter, and leave all the items behind that I don't need. Not the mention that the small bin is currently on sale for $2.99 and the medium bins are on sale for $3.75!
Another tip that I received from Elsa once I sent her these photos is that we want to remove all labels and stickers from bins. So I have done that now. I think I will post more photos of this area once it is entirely complete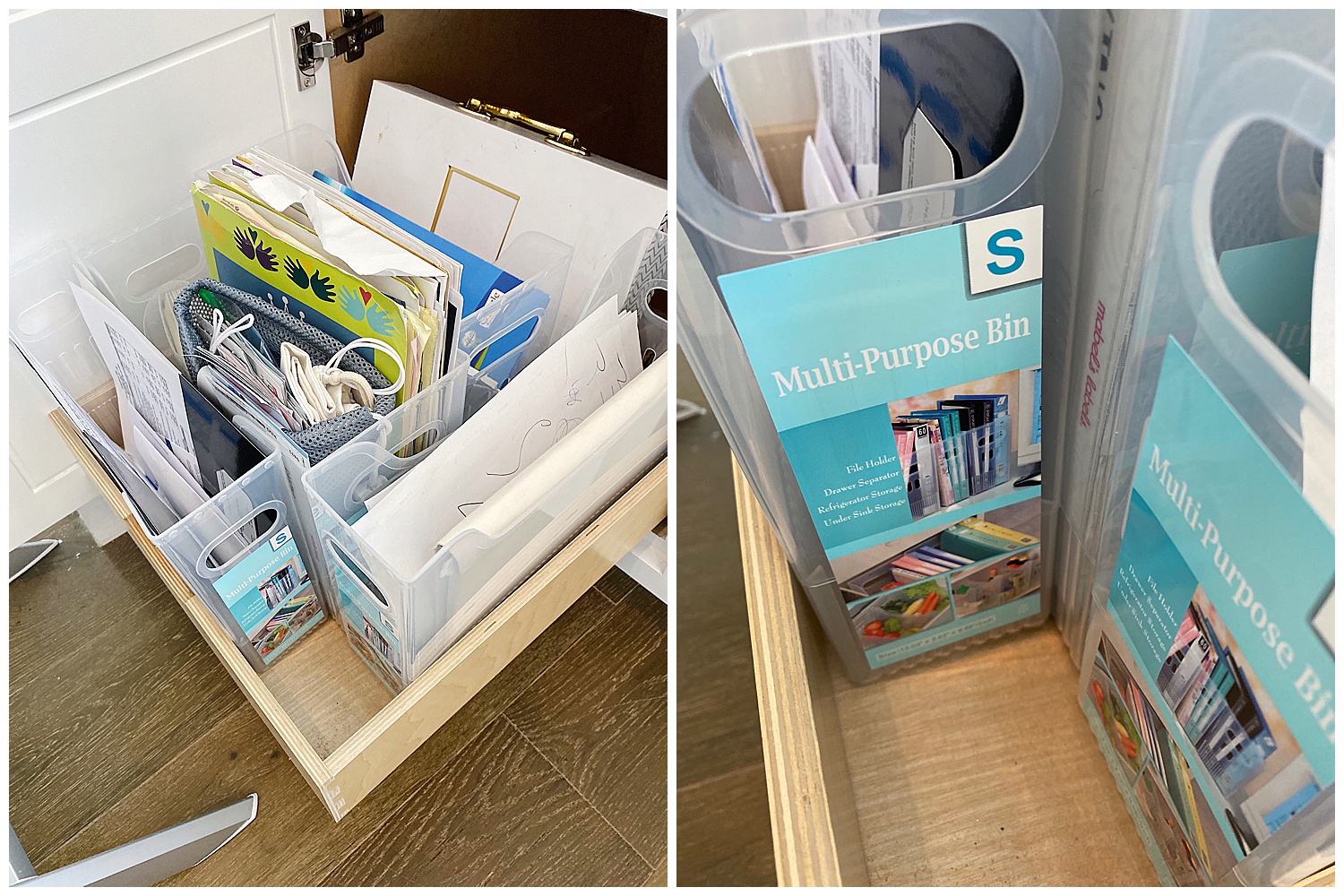 1. SMALL BINS | 2. MEDIUM BINS | 3. LARGE BINS
Kids Drawers
When I tell you we have tried SO many solutions for the kid's drawers before getting to this point, I mean we have tried SO many. We tried separating all the like belongings into zip locks, but they would rip. We tried using some reusable bags too, but they were never the right size. I knew it was time for another solution, and we've got it!!! I am so happy with the end result of the kiddos drawers.
We ordered a few long, skinny plastic containers to organize the different types of toys and craft supplies in. This area is treated differently from our playroom because virtually anything in these drawers is done from their towers. It's the messier toys, things like Play-Doh, and art supplies. For the drawer bins, we purchased a small, medium and large. We actually initially purchased a few extras in each size so we could see what worked the best with the supplies we have, and that's what we ended up keeping.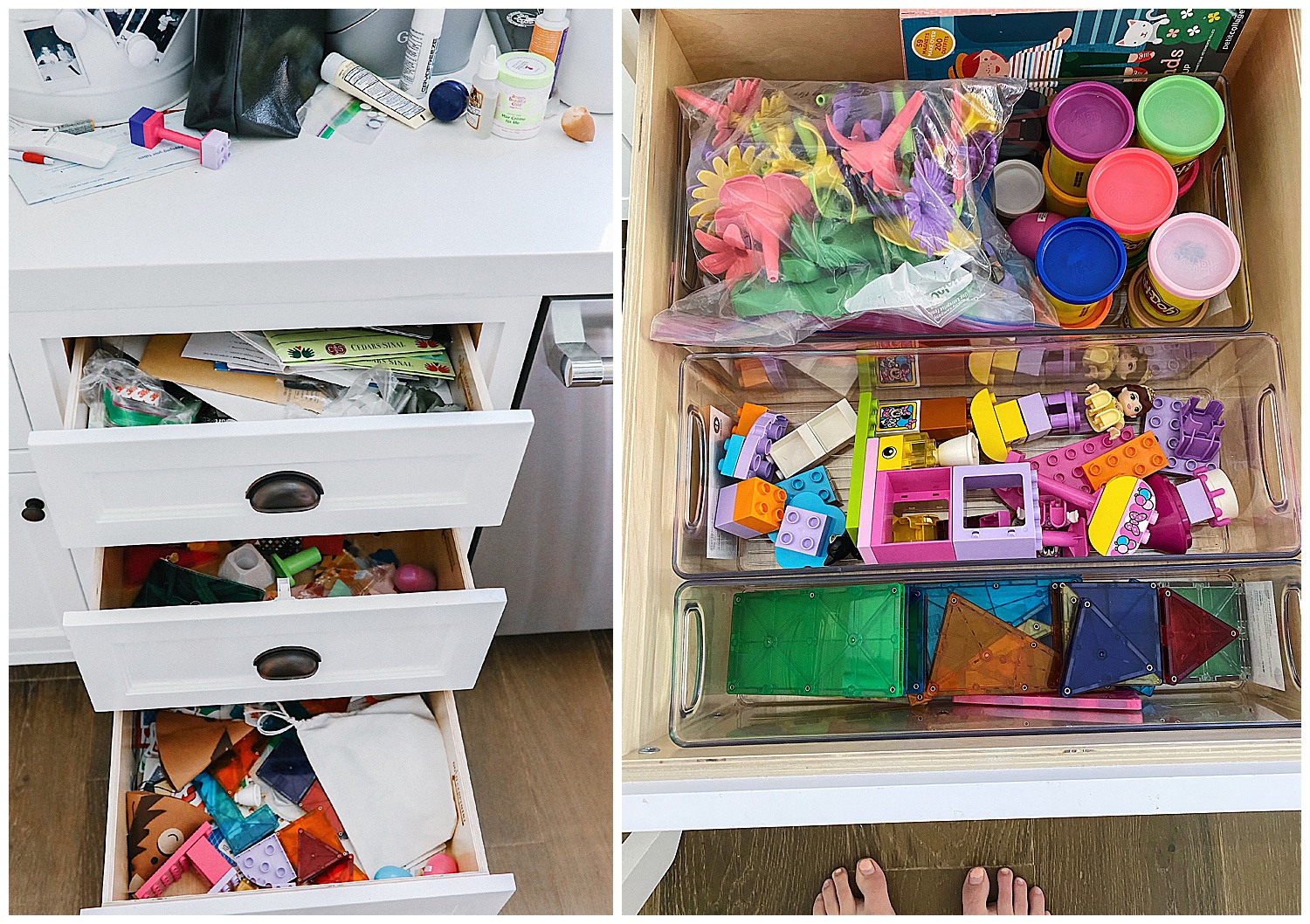 We were able to get these bins that have handles on the sides so they are very easy to pull in and out depending on what the kids are wanting to play with. Not only that, but it helps us take just one toy or craft out at a time instead of a bunch that causes mess. If Molly wants to play with her Legos or Magnetix, then we can easily remove that exact bin and sit it on the counter, as seen below!
Additionally, by separating items into their own individual bins, it makes it much easier for the kids to put away their toys when they are done playing. They both know that they should put the items back into the bins – and in fact they actually have a lot of fun doing this!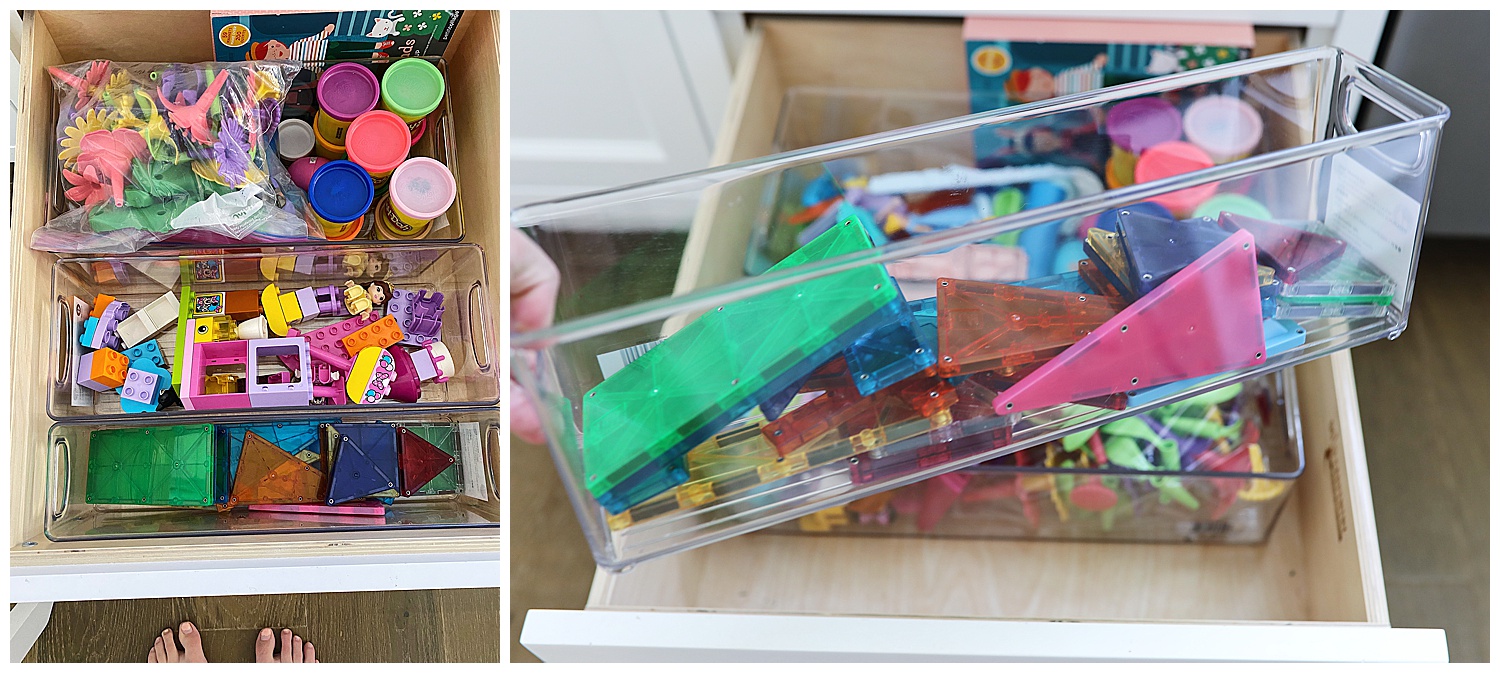 Another great item that we purchased for the craft drawer was these bins with dividers and handles. Unlike the lego/magnets, a lot of items in these drawers are much smaller, like the colored pencils/crayons. As shown below, I can easily pick this up and had it to the kiddos so that they can color – which also means that the colored pencils and crayons get mixed up easily. Ha! But when you have kiddos under the age of 4 playing with them, I feel like we can't expect much else! If you can see the bin on the right holds glue sticks and also pieces to make Forky haha. I like to keep everything like this in a single bin because it is items that we don't use as often or are usually used together. Additionally, if Molly is making a craft with her colored pencils, I can easily grab out one glue stick if she wants to glue some of her papers together.

What else would you do if these were your kiddos craft drawers? It has seriously been such a game changer for us!
BONUS Kitchen Drawer
So you might remember this photo of my kitchen utensil drawer that I shared a while back with you, keeping the honesty with what my house looks like! With the help of this super amazing bamboo expandable divider, I was able to organize all of my items so that I am able to see everything! With the exception of the cheese grater, everything that's in this drawer remained. Can you believe that? I'm still so blown away with what a little organization can do to your space.


Next Up: Pantry
I hope you liked this post, because I am just getting started with my home organization series! Next up will be the pantry, followed closely by the garage! If you missed it, don't forget my organization post I did toward the beginning of quarantine in the kiddos play area – the Best Toy Storage Solution, which I did on my own! I am so excited to now be working with Elsa of Composed Living to help me think of more sustainable solutions for other highly used spaces in our home!