I want to start by saying thank you so much for coming to the blog today. It really means a lot to me when you guys take the time to read something I wrote or check out photos that I worked hard to create! So thank you for being here. This is actually a really cool story of how this blog post about walnuts came about.
Using Walnuts in My Cooking
You guys know how I love to make that broccoli/hummus/walnut mixture to snack on a lot? Well, California Walnuts saw me post about it in my stories and reached out asking if I would want to work with them! True story! I love it when partnerships like this come together in such an organic way. I'm legit obsessed with walnuts and they asked if I wanted to share my little walnuts obsession with all of you! It's a win-win! So that's what today's blog post is all about – California walnuts! And the parmesan walnut crema in my savory recipe is seriously one of the BEST SPREADS I have ever eaten!!!!  You guys are going to LOVE it! You can put it on so many things.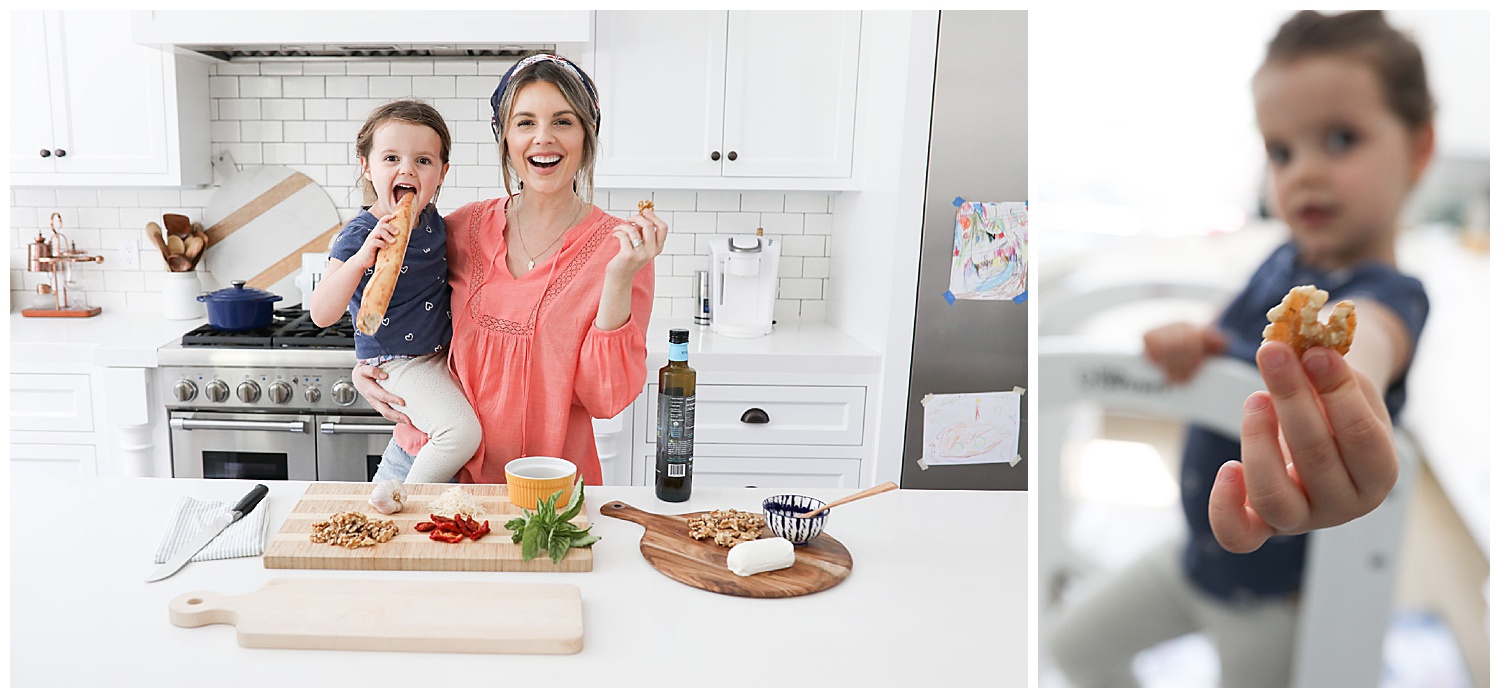 Truthfully, I use walnuts in my cooking all the time. Sometimes when I make dinner I will just crush some in my hand and sprinkle it on top of the dish I made for a little added crunch and nutrition.
I also think they're so great for snacks! Lately I've started grabbing a handful of walnuts because it totally helps me feel full longer between meals. Also, it's an easy way to get a plant-based protein (4 grams per oz) in a snack rather than grabbing for something that's super unhealthy.
And did you know walnuts are packed with 2.5 g of Omega-3 ALA (an essential good fat) and 2g of fiber per 1 oz serving? And they have 2 grams of fiber per ounce. Walnuts are the only nut that are an excellent source of ALA.
Are You a Savory or Sweet Person?
An interesting thing I read recently is that your DNA actually makes you predisposed to being either a savory person or a sweet person. Which got me thinking about how walnuts can be savory or sweet. Sometimes I'll throw some hot sauce on them or even some Tajin seasoning! But if you prefer sweet, you might want to drizzle some honey and cinnamon on top!
Anyway, the idea that someone is literally genetically predisposed to being savory or sweet gave me the idea to do a blog post about 2 crostini recipes that I love, and depending on if you prefer savory or sweet more you can choose which one to make!!!  So I'm going to share those today and also  share tips on how I like to switch them up if I want to ditch the bread. So here it goes!
Savory
You guys I am telling you this walnut parmesan cream is out of this world! It has important nutrients and it's garlicky, creamy and addictive! As you'll see at the end of this recipe, I put it on so many things! Sometimes I'll just grab a jar of it out of the fridge, it keeps for about a week in the fridge after you make it, and I'll dip veggies in it. I never used to just eat things like raw carrots and celery as a snack in the middle of the day. But now I do because I dip it in the walnut parmesan cream and it's delicious! I'm telling you even if crostinis aren't your thing and you don't want to make these, make this walnut/parmesan cream! And thank me later. If you make it tag me on Instagram stories so I can see what you think!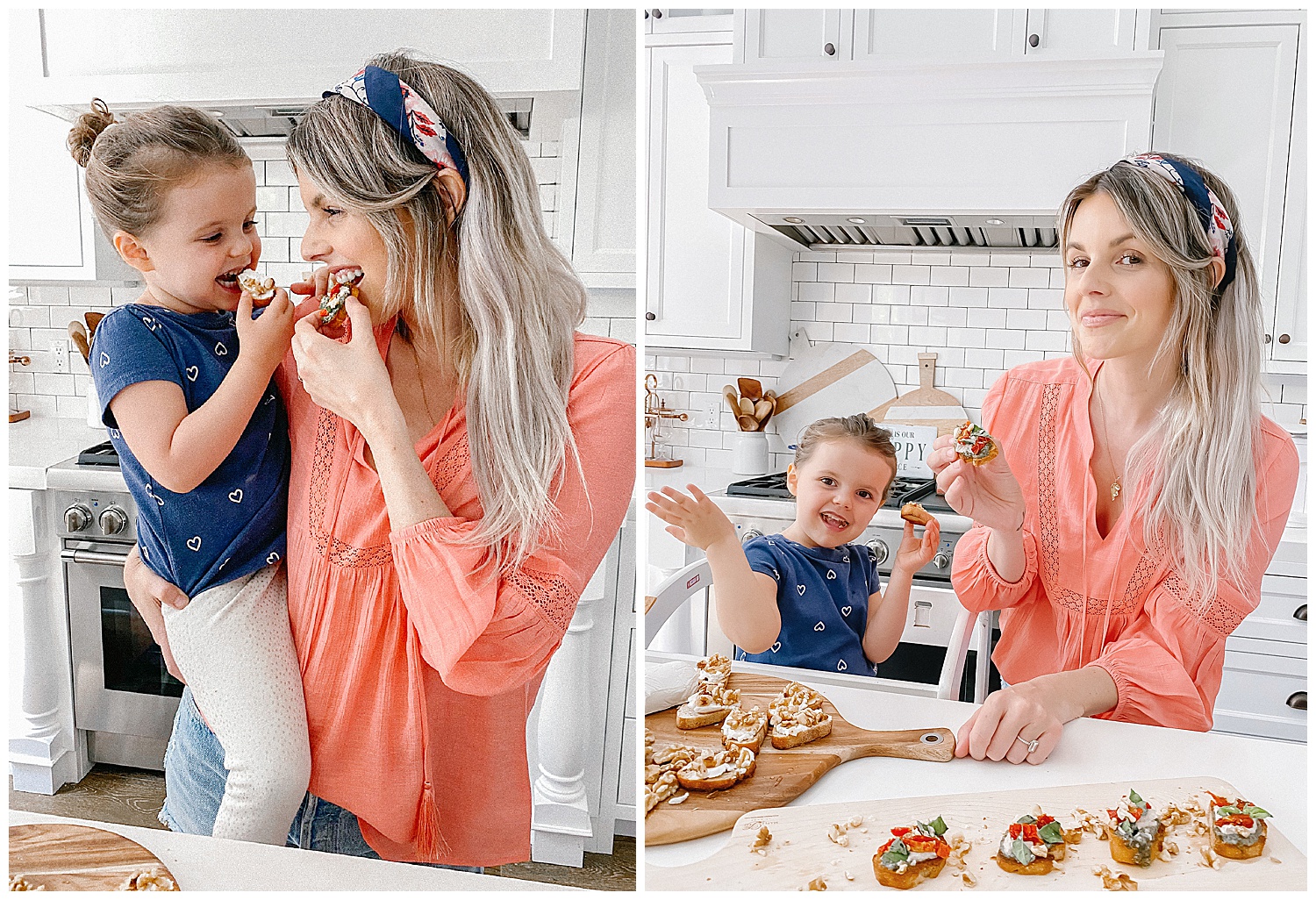 And while I rave about the walnut parmesan cream, these crostinis are also insanely good! The walnut parmesan cream with the pesto and sun-dried tomatoes just works perfectly. And I'm not even a fan of sun-dried tomatoes to be honest. When I got the sun-dried tomatoes for this recipe I thought maybe I wouldn't use them on mine and only use them on the ones for my mom and Kevin. But I ended up loving them with the other ingredients. And to my surprise, Molly was obsessed with these! I ended up doubling up the garlic in the cream so I thought it would be too garlicky for her, but she could not get enough of them, which made me so happy because they are so nutritious. Okay, now that I raved about how much I love them, let me tell you how to make them! Can you tell I am a savory girl (don't get me wrong I love my chocolate)?! Ha!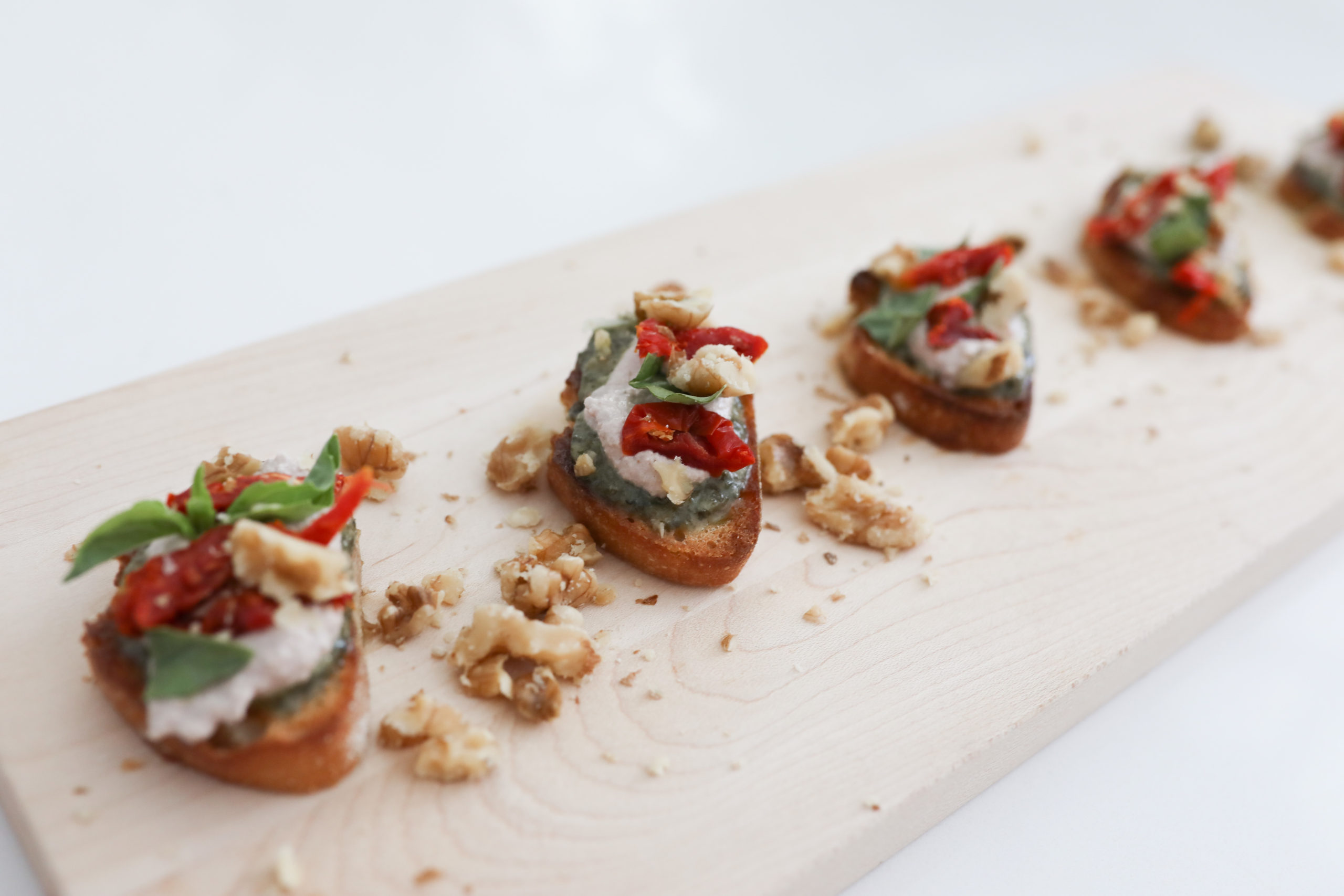 What you will need for this recipe:
Walnut Parmesan Cream
3/4 cup California walnuts
2/3 cup water
1 clove garlic (I put 2 in mine!)
3/4 cup grated Parmesan cheese (1 1/2 oz.) – For this you can also use vegan parmesan!
Sea salt to taste
Crostini + Toppings
24, approximately 1/2″ thick, baguette slices
1/8 cup olive oil
1/4 cup basil pesto (homemade or store bought)
1/4 cup course chopped sun dried tomatoes (either dried or from a jar)
1/4 cup California walnuts, chopped (optional: toasted)
Optional garnish: fresh basil, chiffonade or microgreens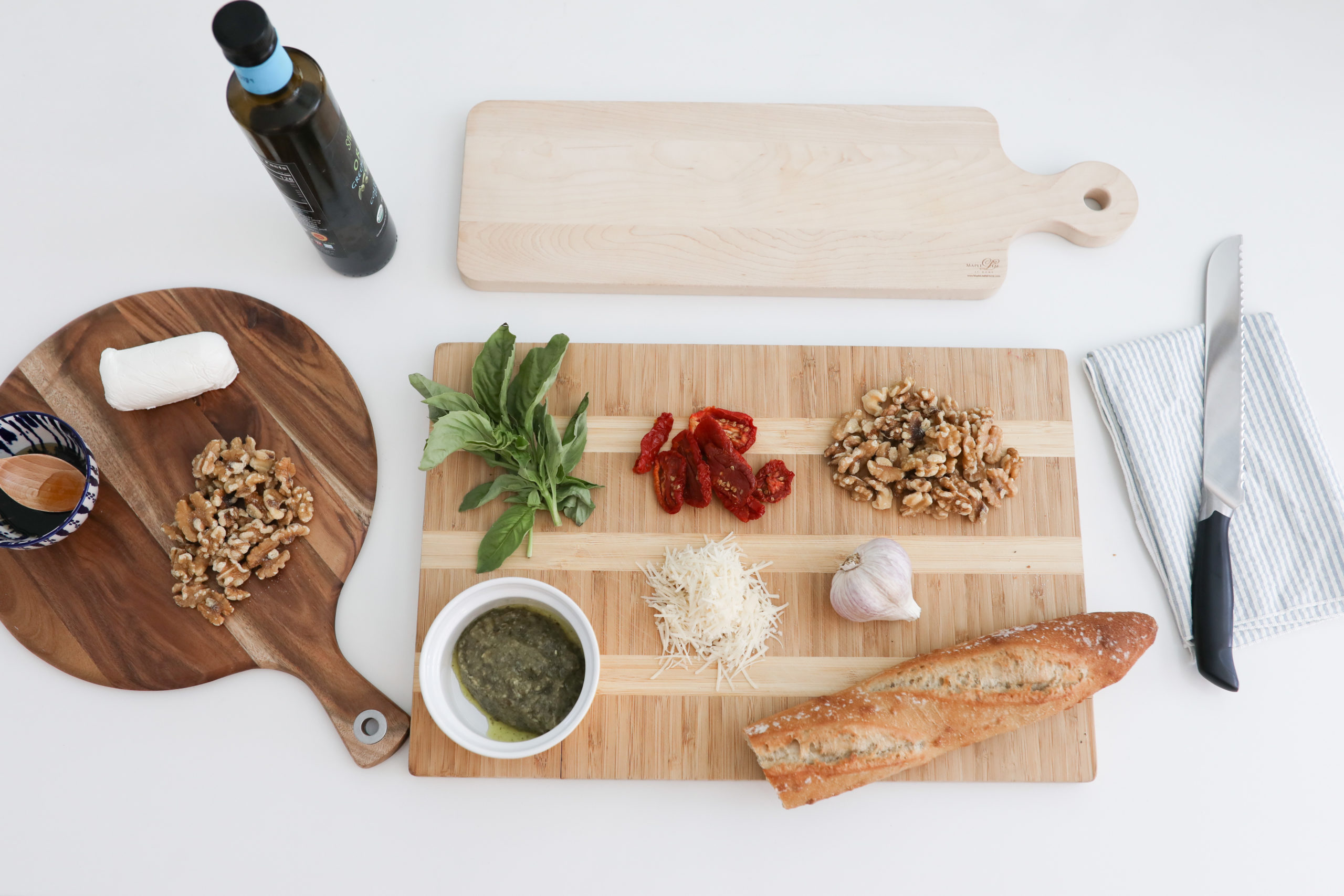 First step is to preheat your oven to 350 degrees, that way it is ready to go once your ingredients are prepped!
You will then start this off by making the walnut parmesan cream. I actually like to double the recipe for this part because I will keep the extra in my fridge and use to it throughout the week on some veggies for a refreshing and delicious snack!!
If you have a food processor, that is the easiest way to make the cream, but a blender should work just as well! Start by adding in the 3/4 cup of California walnuts, water, and a clove of garlic. If you really like garlic like we do, add an extra clove or two! That's what we tried this past time and it was delicious. Blend it until your ingredients are mixed and are looking light and fluffy. You might need to stop the food processor or blender at times to scrape the sides as well.
Then, add the parmesan cheese and blend until well combined and fairly smooth. I mentioned it above in the ingredient list, but the parmesan can easily be substituted for vegan parmesan! When I make this, I do half regular parmesan and half vegan parmesan for Kevin. Both ways are sooo good.
Next, take your thinly sliced pieces of baguette and brush each side lightly with olive oil. Place on a baking sheet and put in the oven for about 8-10 minutes, or until golden crisp. All ovens are slightly different, so make sure to watch your crostinis closely the first time you make them. If you are choosing to do this recipe sans bread, you will not need to heat your oven!
If you are choosing to toast your walnuts for the topping, throw them in a skillet on the stove. Stir until they are a slightly darker color than they were originally and fragrant. Usually takes about 2 minutes.
Once the bread is toasted, top each slice with 1 teaspoon of your pesto sauce and 1 1/2 teaspoons of the walnut parmesan cream!
Top your crostini with walnuts and sun dried tomato. Add microgreens or some basil if you want a little garnish!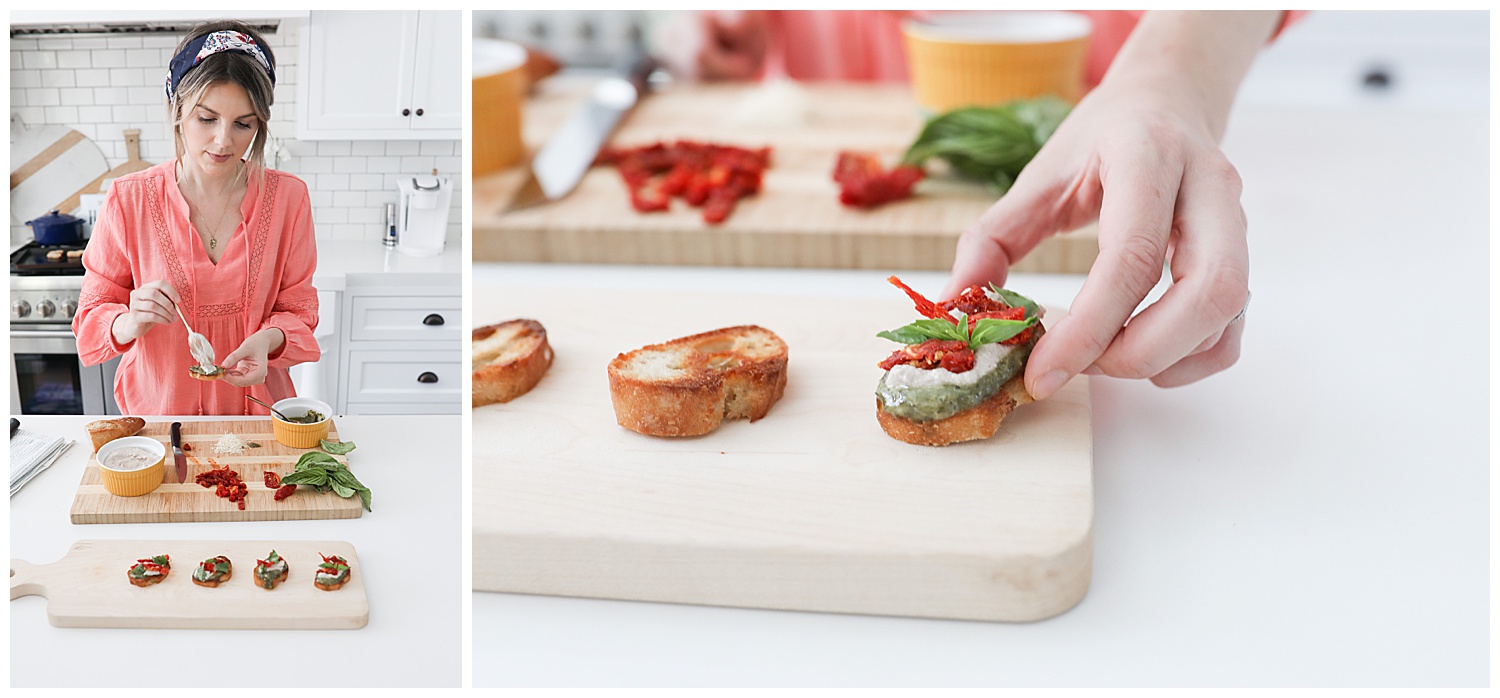 When I tell you these are delicious, they are truly SOOO good. I want them now while I write this ha! Your kiddos will probably like them too and they are definitely a good way to add some nutrients into their meal. Molly loves them! She loves both the savory and sweet recipes that I am sharing with you and I think that is because her palette is slightly more developed, where as Riley only likes the sweet ones! Who knows, this could also be the genetic DNA predisposition coming into play.
Also, I mentioned above that I like to double the recipe for the walnut parmesan cream for snacking purposes later in the week with veggies. You can also make this entire recipe using the cucumber, jicama or sweet potato in place of the crostini and it is still so delicious. So if you're someone who can't eat gluten or are looking for an alternative, I highly recommend all three of those options! It is good for 5 days after you make it if you store it covered in the refrigerator.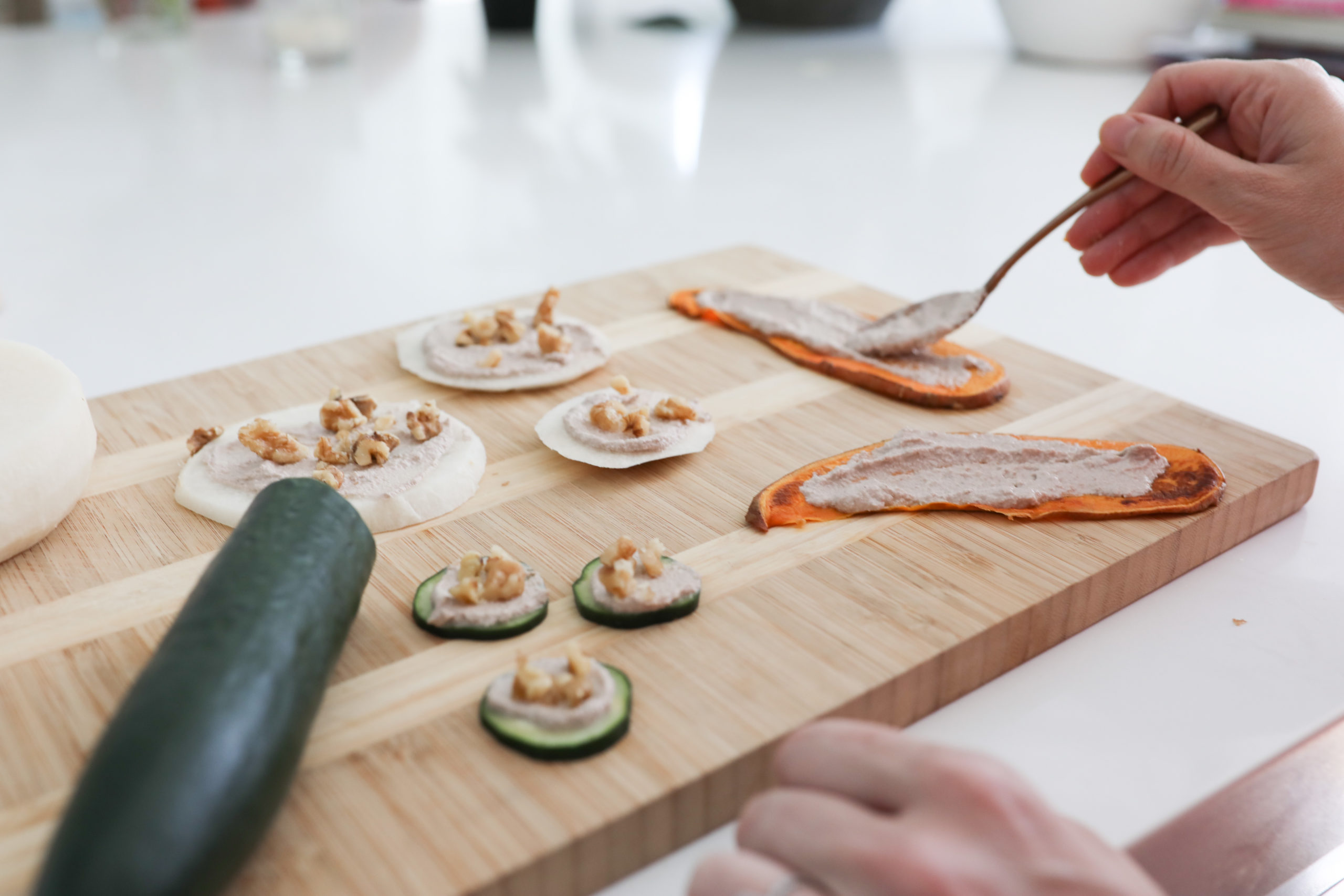 Sweet
Now for the sweet recipe, which is a Honey Walnut and Goat Cheese Crostini!!! Doesn't that just sound so yummy? You can also substitute the bread in this one for sweet potatoes which is beyond delicious! You still get a good crunch from the walnuts with the added benefits of sweet potato! Again, both ways for this recipe are delightful. I probably make the sweet potato version 50% of the time! Molly and Riley both love this one!
Ingredients
1 (1 lb) crusty baguette (or a few sweet potatoes)
3 tablespoons extra virgin olive oil
1 cup raw California walnut pieces
5 ounces goat cheese, softened to room temperature
A few tablespoons of honey for drizzling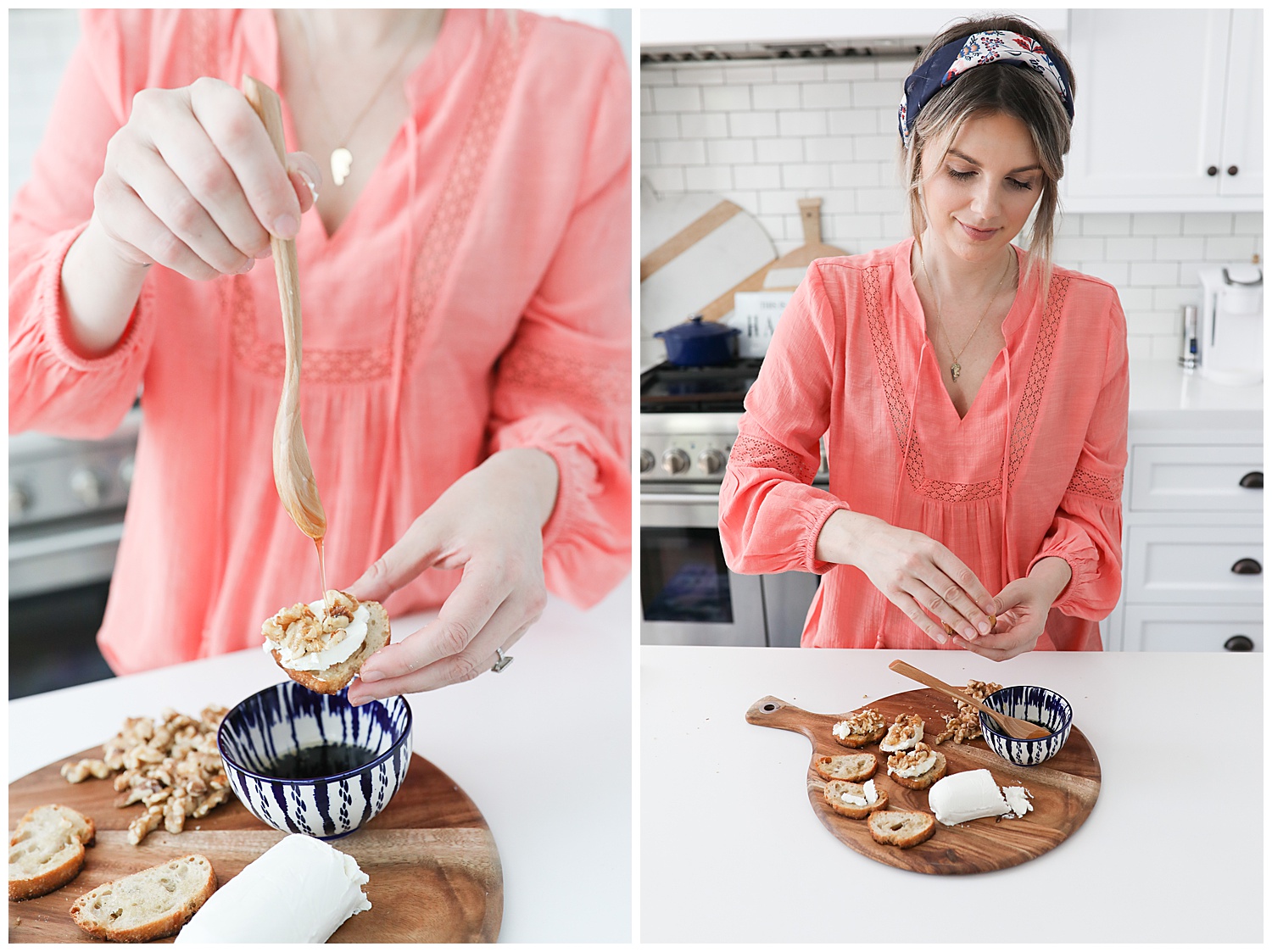 Honey Walnut and Goat Cheese Crostini Recipe
First, preheat your oven to 350 degrees.
Next, take your thinly sliced pieces of baguette and brush each side lightly with olive oil. Sprinkle the top of each piece with a little salt.
Arrange the walnuts in a single layer on a second baking sheet.
Once the oven is preheated, place the baguette slices and walnuts in the oven on separate racks.
Allow the walnuts to toast for 5-7 minutes. You will need to check them every minute or so, until golden brown and fragrant. After about 3 minutes, you can also shake the pan slightly so that they turn a little bit. Be careful not to burn them!
Remove the baguette slices after about 10-12 minutes, or until golden crisp. All ovens are slightly different, so make sure to watch your crostinis closely the first time you make them.
Allow the crostinis to rest until cool to the touch. Spread a thin layer of goat cheese over the top of each crostini, then top with walnuts and a drizzle of honey. This one is best served warm!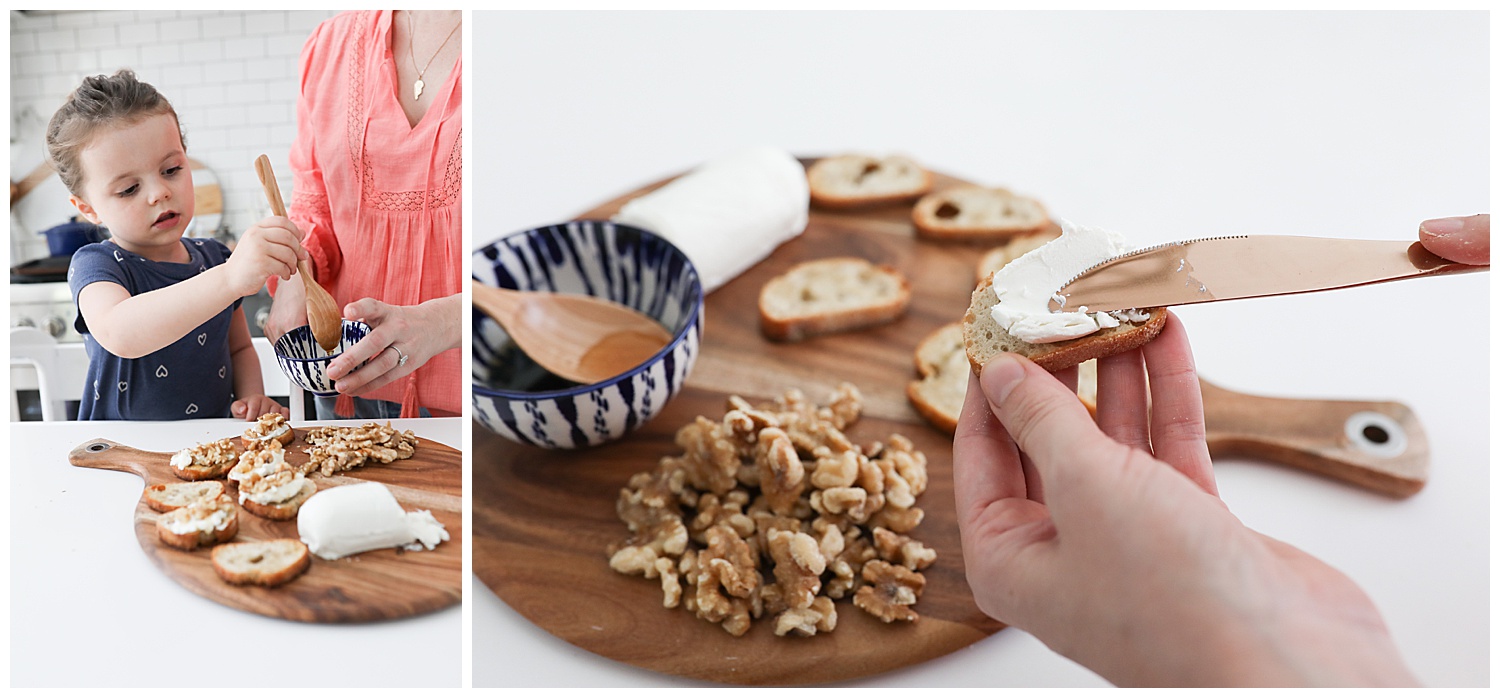 This is another family favorite of ours! Riley absolutely devours these whenever we make them, although I really only give it to him when we make the sweet potato version. The crostini is still a little hard for him to bite into. Molly loves these ones too!!!
Which Will You Try First?
I cannot recommend either of these recipes enough as quick and nutritious snacks. They both take less than 20 minutes in total and are loved by both the adults and kiddos in our household. Which one do you think you will try first? Are your family members more savory or sweet when it comes to foods you make? If for whatever reason either of these aren't your speed, you can still add California walnuts to so many different recipes that you eat or even a handful when you are feeling a little hungry! Try crumbling some over a salad or on pancakes to add a little crunch. They can be used with so many meals. Do you have a recipe with walnuts that you love? Share it in the comments below, I'd love to try it!