Hey guys! I know a lot of you who follow along with me and my little family are parents yourselves, so I wanted to do a post today about arts and crafts that you can do at home with your kids with things you may already have in your house – and the things you don't have can easily be ordered online!
Cardboard Boxes (2 Ways!)
One of my absolute favorite and easiest crafts to do with a cardboard box is to simply put it on the floor throw some Crayons in it and let my kids draw all over the walls. It honestly will keep them occupied for a good hour to two hours! I think it must be something about the feeling like they're actually getting permission to draw on the walls of something. Satisfy the urge of drawing on the actual walls. Ha!
But since we've been cooped up I wanted to take the cardboard box crafts to the next level! So cardboard airplane it is! You can literally just google cardboard airplane and 1 million different things pop up, but I followed this video. I'll recap the instructions below in case you don't want to watch the whole thing.
You will need: a box, scissors, and packing tape.

Take the biggest sides of the box at the top and fold them in.
Then take the front flap (this will be the front of your plane), and fold it back.
Trace the front flap onto the two flaps underneath using a pencil.
Cut down the pencil line and remove the back half of the cardboard from the bottom flaps. Keep the pieces that you cut off – do not throw away.
Cut off the back flap and save it.
Tape the front flap of the box and the remaining two larger half flaps that are remaining together.
Cut off all the flaps on the bottom of the box.
You can cut windows in your plane now, but I skipped that step.
Use the long flaps from the bottom of your box (that you already cut off), and use those to make the wings. Cut out a small rectangle on notches on one side of your wing, so that way you can stick it into the plane. Do this for both wings.
Hold up the notched side of the wing to the side of the box and trace it so you know how big of a hole to cut.
Cut along that hole, and then insert the wing notch. Bend it and tape it down on the inside
Grab the leftover pieces that you cut from the top of the box flaps, and cut off two corners on the same side. These are the propellers.
Tape propellers together!
With a remaining piece of extra cardboard, cut a circle for the front of the propeller. You can use a plate or bowl as a stencil.
Then tape it to the front of your propellers in the middle.
Finally, either tape the propeller to the front or use a brad to secure.
And you have your airplane! The easiest cardboard crafts!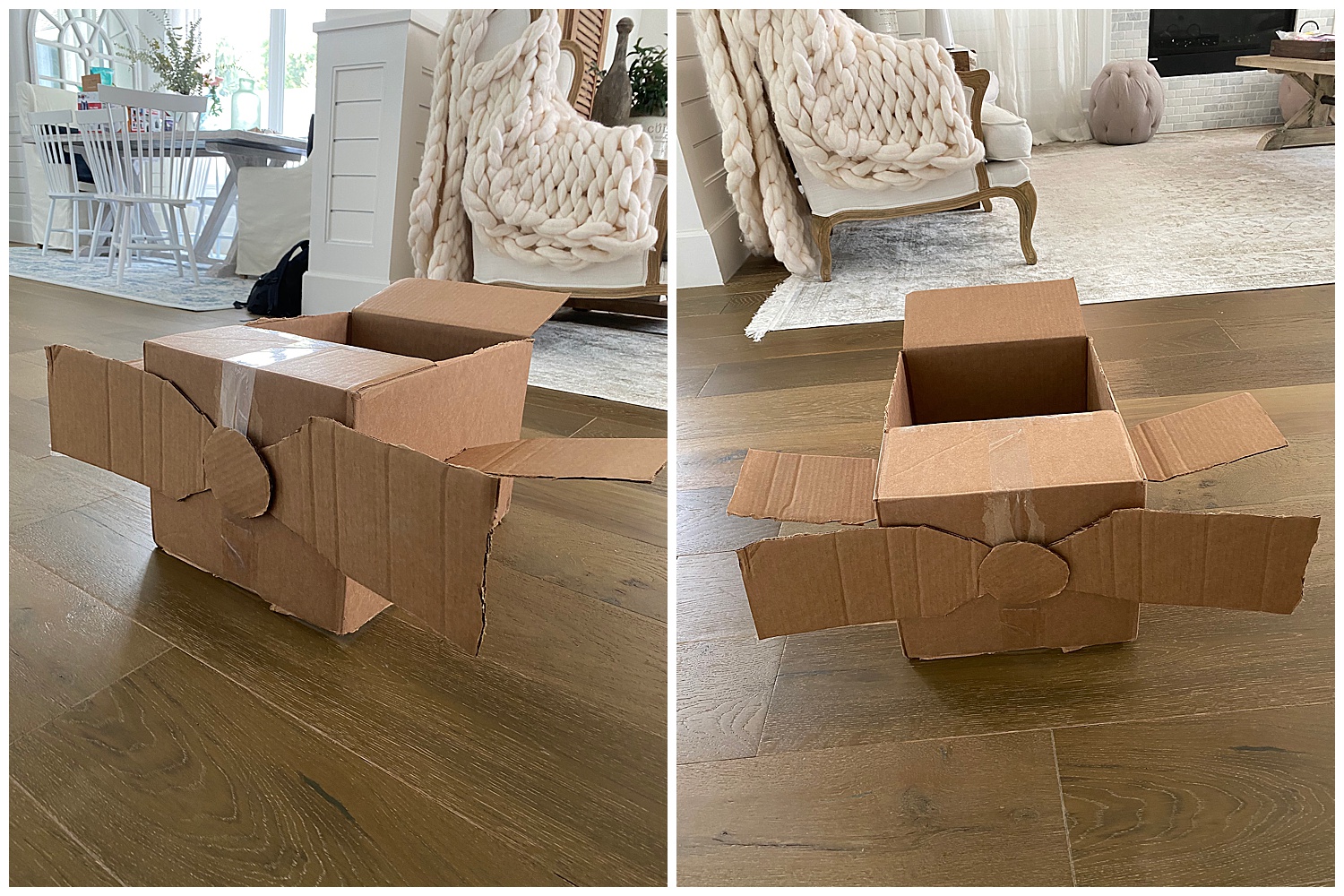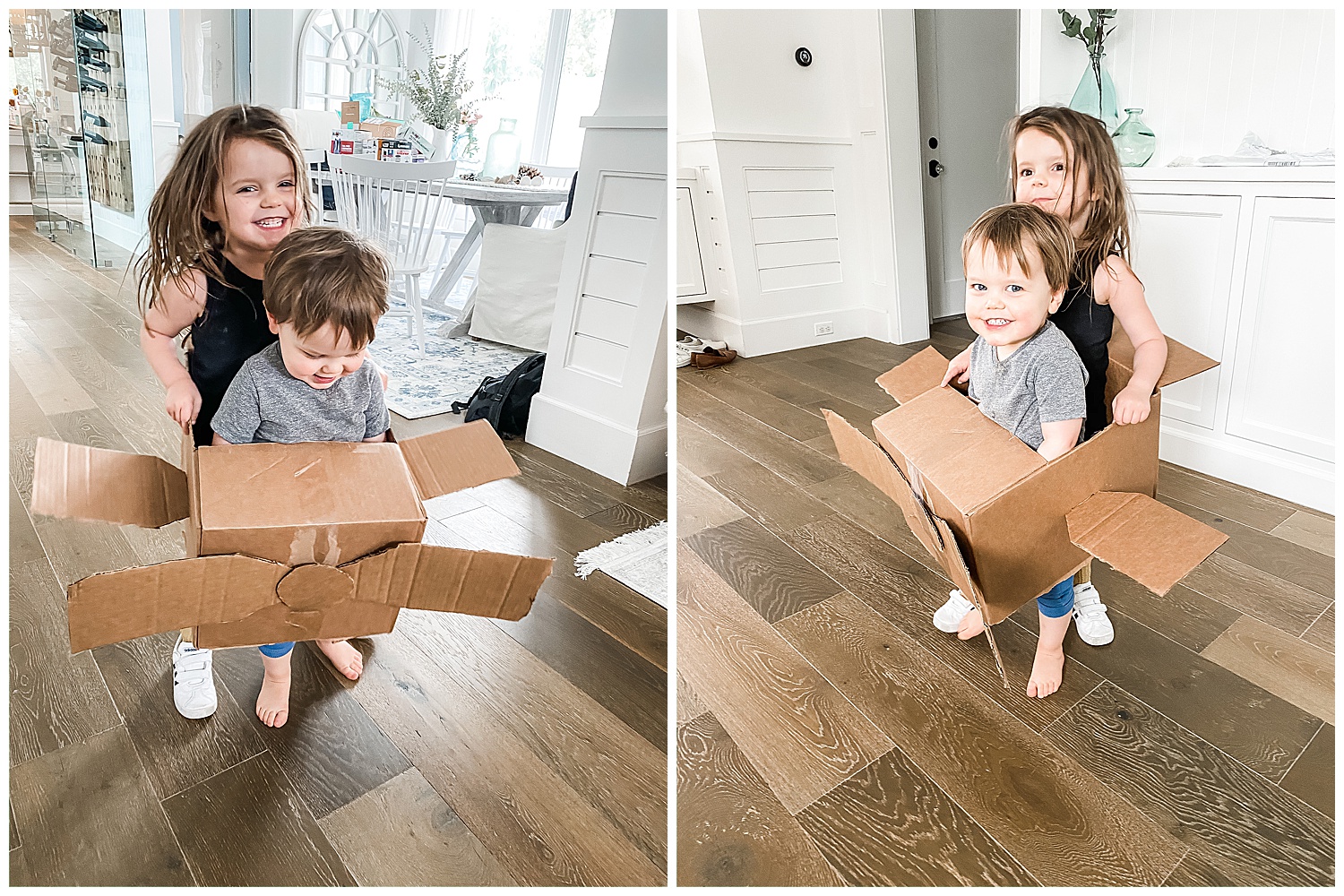 1. SCISSORS | 2. PACKING TAPE
Forky From Toy Story
My kids absolutely love the Toy Story. And while we were playing with some pipe cleaners the other day and making little stick figures out of them, it dawned on me that we could make Forky! We've been ordering a little bit of take out here and there, as much as we feel comfortable doing, just because we want to help support small businesses. So we have a ton of take out cutlery right now! I grabbed a plastic fork and some self-adhesive googly eyes and we we made Forky!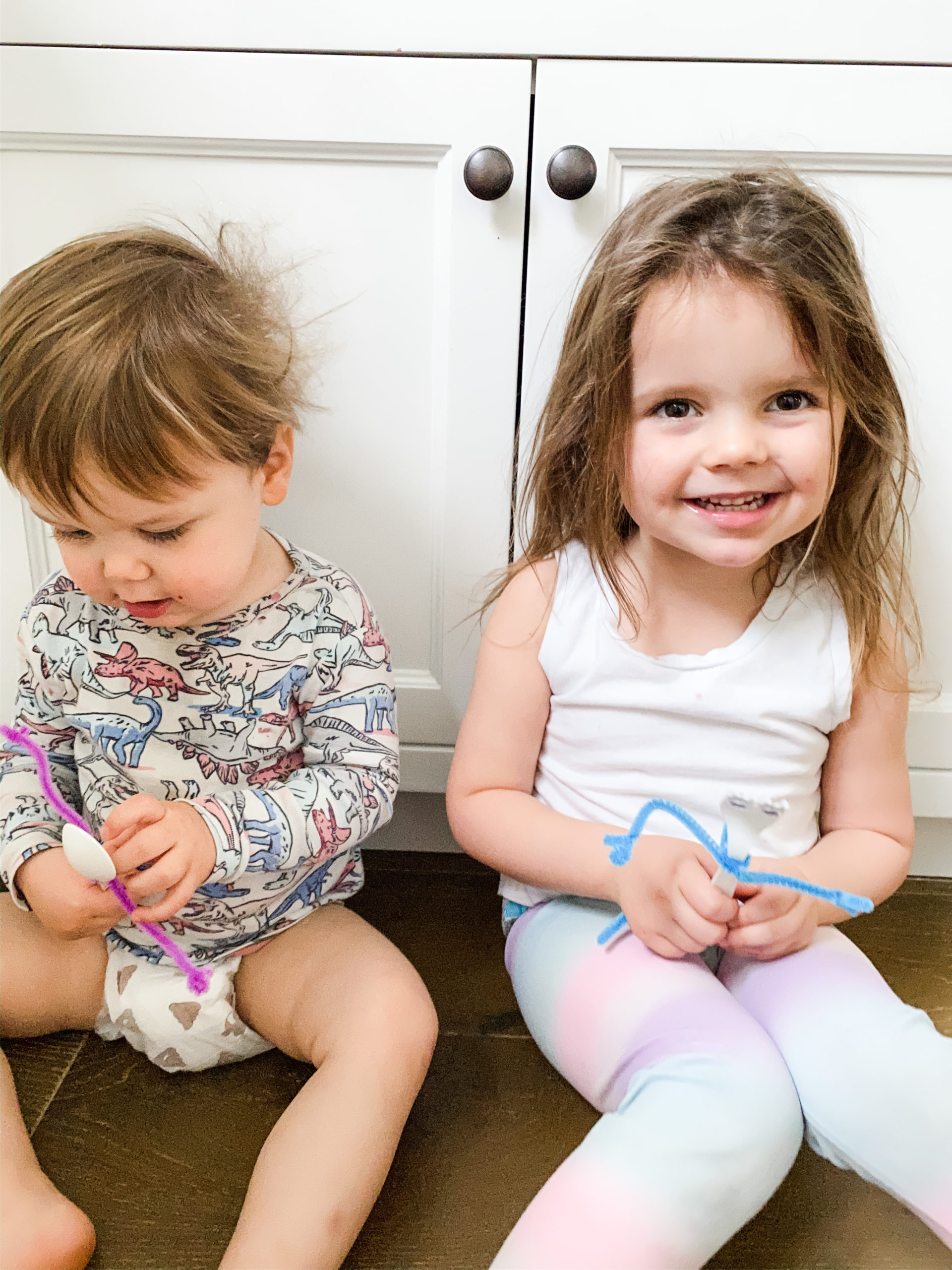 1. SELF-ADHESIVE GOOGLY EYES | 2. UTENSILS | 3. PIPE CLEANERS 
I have googly eyes that need to be glued on and the self-adhesive ones. I highly recommend the self-adhesive ones. There's just so much easier to attach to a plastic fork and also easier for your kids to use. That way they can actually make Forky and the crafts I'm about to talk about below by themselves. Maybe give you a little break, cause I know we all need a moment to ourselves!
Then we just used a pipe cleaner to make Forky's arms and his feet, for now. We actually have some Popsicles in the freezer so once they have a couple of those we will actually be able to use the sticks to make Forky's feet. So you guys can even make a better version of the ones we did if you have Popsicles at home too!
I didn't feel comfortable giving Riley a fork so we made him a Spoony. Ha!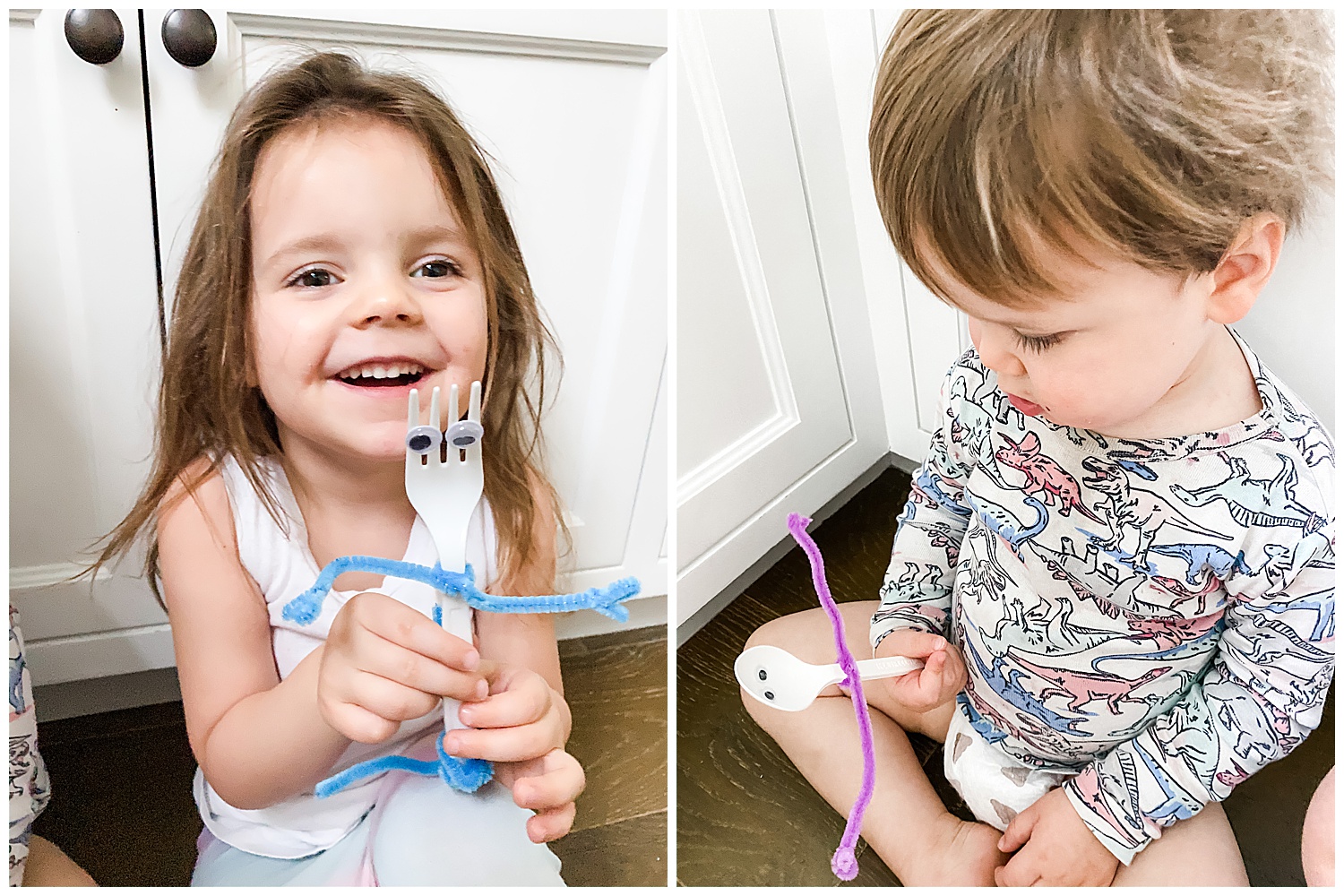 1. SELF-ADHESIVE GOOGLY EYES | 2. UTENSILS | 3. PIPE CLEANERS 
Roll of Paper
Over on my stories I posted about how I purchased a giant roll of paper for the kiddos to color on! It is a pretty large roll and will likely last us a year, so I feel like it is the best $25 I've spent yet. Molly and Riley both have spent a few hours color on it every time we have brought it out. Also another great thing about it being blank paper is that they can use pretty much anything on it. So far we have given them crayons and a few colored pencils, but you could also give an older kid something like gel pens, markers, or even paint — again I would probably only do this with older kids to try to avoid any getting on your floor.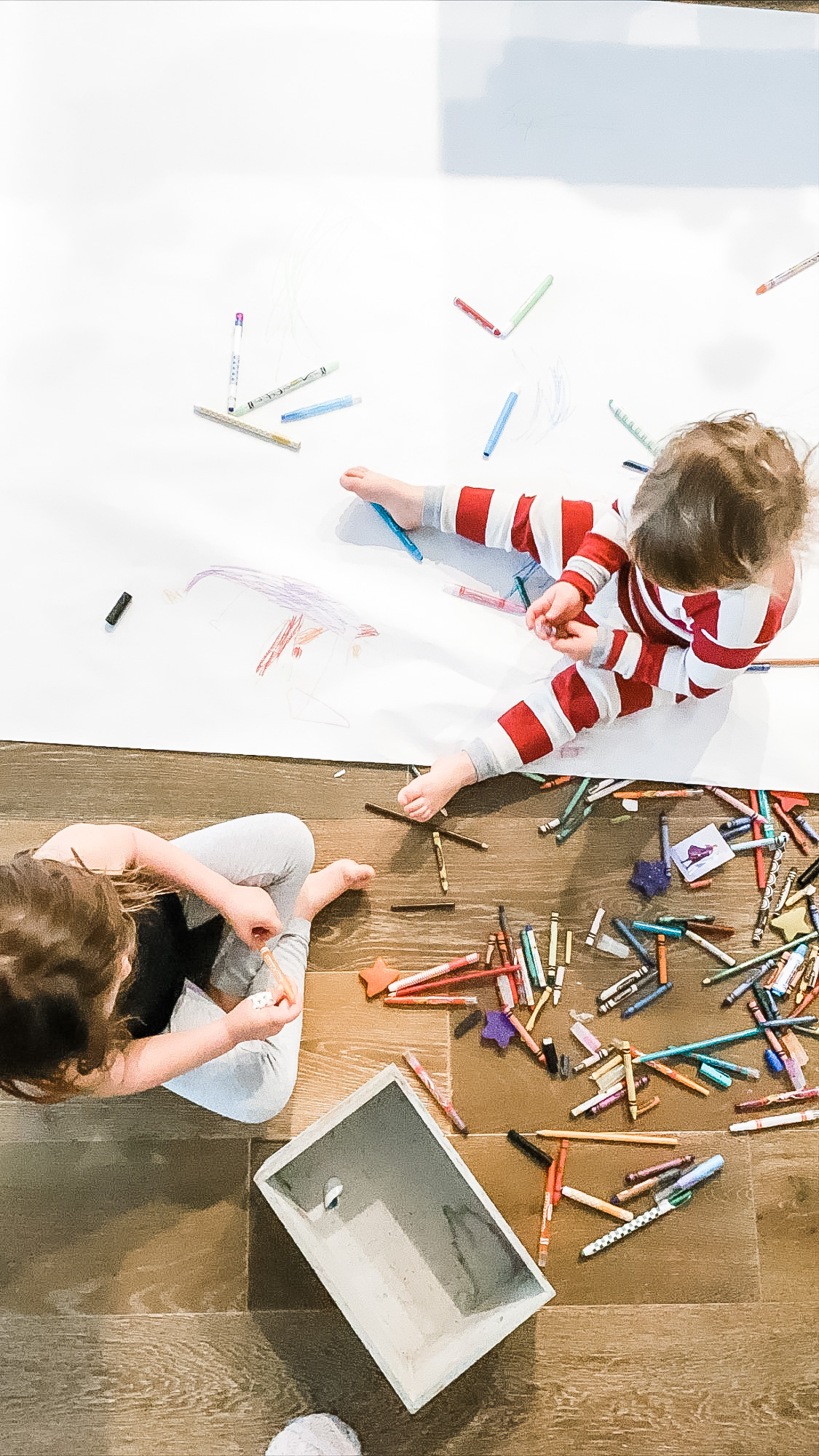 1. BIG ROLL OF PAPER | 2. EASEL ROLL OF PAPER (SMALLER) | 3. CRAYONS | 4. WATERCOLOR PAINT
You can use the roll in the house, or even on a patio or back porch if you were giving them a messier supply, like glue, glitter or beads! I just think that the possibilities are endless with this!! And it truly has occupied my kids for such a good amount of time – which is a nice break for us parents!
If you don't have the space for a giant roll or are trying to save money right now, I know that the $25 roll above might not be the best for you. I found this super affordable easel roll as well and think it would work just as great in a small space!
Bunny Hats
Found this fun spring activity online and thought it would be fun to share, and even one that you might be able to save until it is a bit closer to Easter. For this craft, all you will need is 2
paper plates
, tape and some items to decorate with, such as markers, paint or crayons.
On your dinner sized paper plate, draw a circle just about 1 and 3/4  inches to 2 inches in from the edge.
Then cut along the line to create the head-hole.
Try the hat on your child to see if you need to widen the hole
Cut ears out of the second paper plate, because that way it is sturdier than paper.
Tape them on underneath so that you can't see the tape.
Let them decorate the hat with any supplies you have: markers, glitter, pipe cleaners, jewels, etc.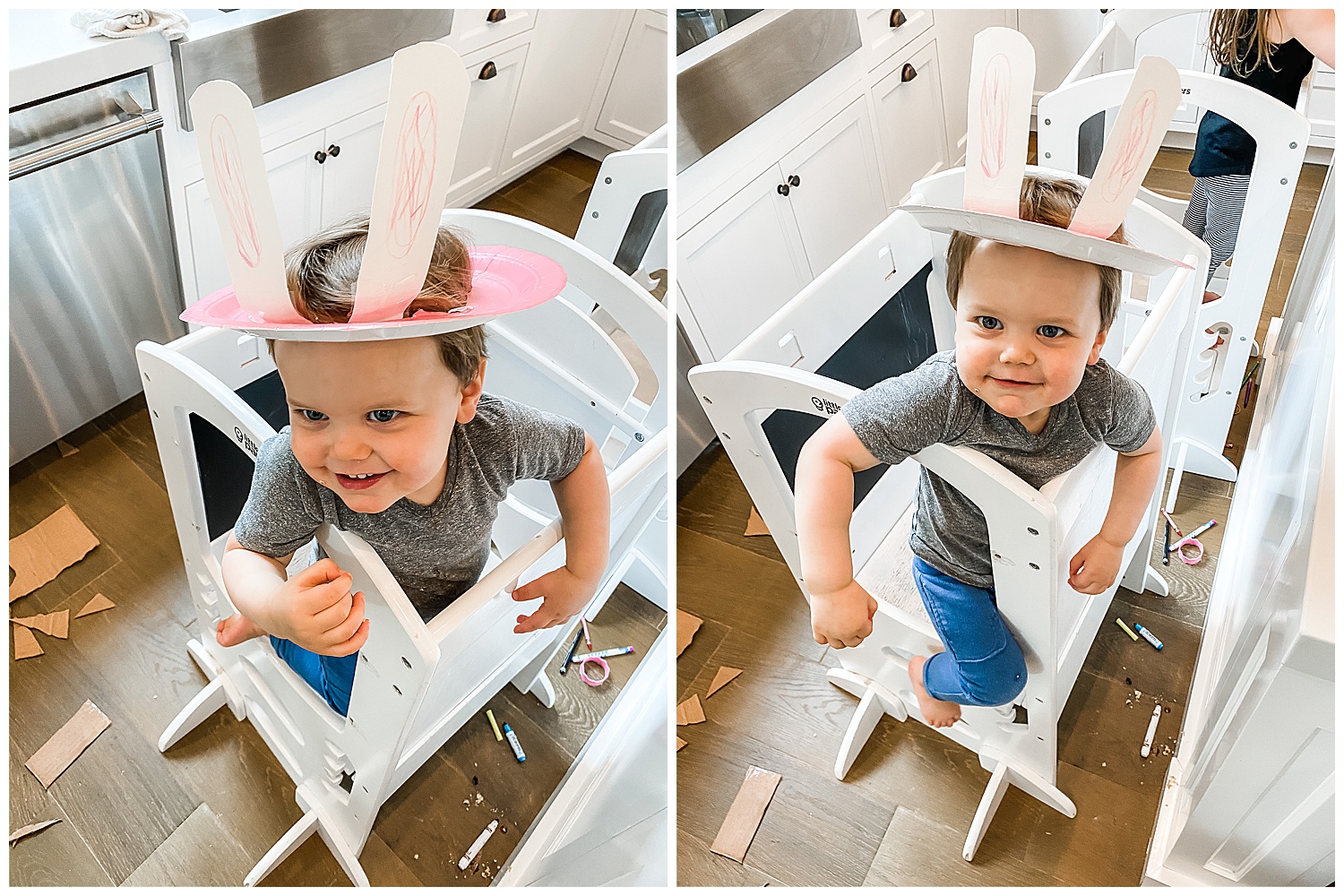 The version I found online turned out to be almost impossible for me to do. They had you cut the shape of the ears right into the hat and fold them up, but because my paper plates were so sturdy, I wasn't able to do that and would have needed an Exact-O knife. So you can try either way, but I think this mom-hack was much easier!
Sometimes you just need to utilize two crafts at one time. Here's Riley inside his plane with his bunny hat on!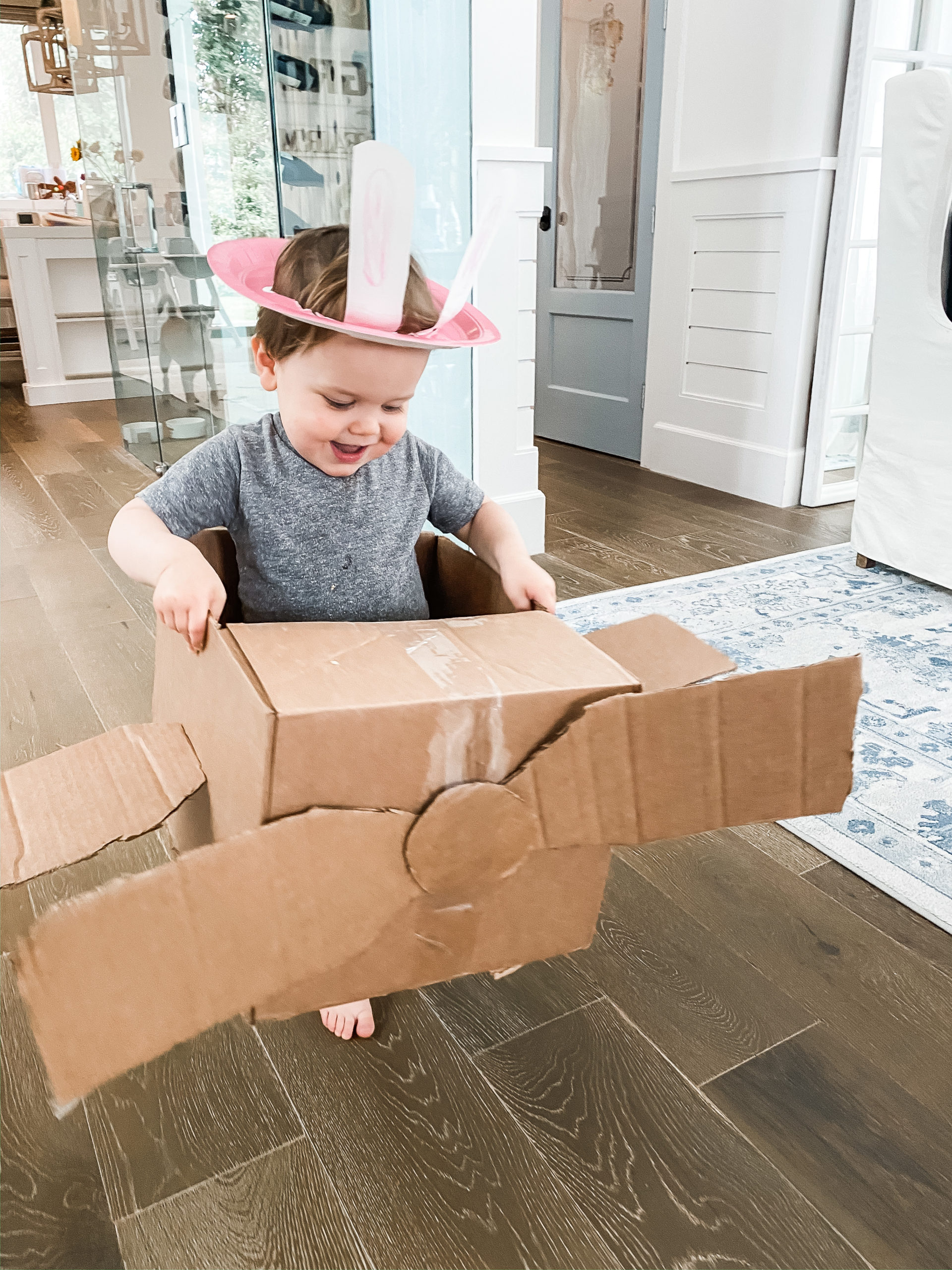 1. PAPER PLATES | 2. SCISSORS | 3. PACKING TAPE
Bounce House
I'm sure you will see really soon on my stories, but I just ordered Molly and Riley a bounce house! I did a lot of research and this one is by far one of the most affordable ones out there that comes with the motor. So many look like they're more affordable but then you read the fine detail and realize you have to buy $100 motor to go with it. We are going to set it up in our house. We will just move the furniture around so it will fit. But we plan on bringing it outside to. So if any parents out there are crafted out or tired of doing at home lessons and just want a break. I highly recommend this bounce house!

I know $140 is an investment even though this is an affordable one. But I figured this quarantine could go on for months and they're saying they're for California they're not gonna send the kids back to school until fall for the new year. So I feel like this will totally be worth the money tenfold! And if we're lucky enough that Molly goes back to school earlier than that, then I think having this during the summer is just super fun and will still get a ton of use.
I was also noticing that Riley was having a hard time going down for his nap and I'm thinking it's because he wasn't getting as much physical exercise being cooped up in the house. I'm hoping that as soon as we get this bounce house, he will bounce so much that he will go out like a champ! So when all else fails, just bounce!
Stay Tuned
Start saving all your toilet paper rolls after they are empty because I am going to be doing crafts with those soon too! Expect that post next week 🙂
We're In This Together!
I've seen so many comments on my FB group about how you need ideas for your kiddos, and so not only did I think giving you a few of my ideas would be helpful, but that we could also open the comments section to a place where you could all share what you've been doing! Do you have some fun crafts? Being that we will be quarantined at our home for the foreseeable future, I could really use all the ideas too. Thank you so much and stay safe everyone!