You guys might have already seen some of my Instagram stories but wow! I cannot believe how the end of this went down in regards to Peter's mom, Barb. We need to get right into it!!
Peters Proposal
I don't know if it's because I knew what the outcome was going to be when I watched the proposal, but I felt zero emotion watching it. I watched it on the West Coast and I had already heard all the spoilers from the East Coast, but man that just seemed like the least emotional proposal from the show that I've ever seen. Even Chris Harrison said it, Hannah Ann seemed completely shocked! As all of us were! And it almost seemed like she was more into the ring then emotionally into the moment of getting engaged. Nothing against her, I just think it just goes to show that they're not ready to get engaged. And the fact that Peter even said Madison's name in their proposal it's insane to me.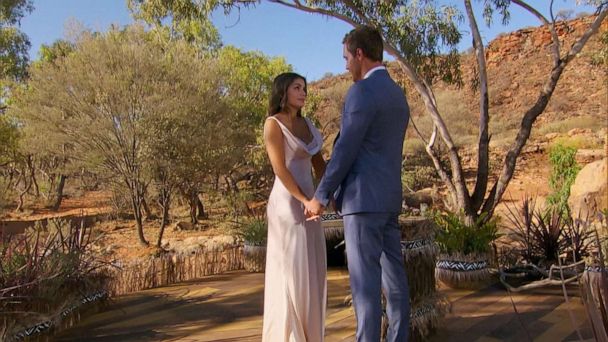 Yes it was important for him to let her know she was the only one left, but that's the only thing he needed to say. In fact when I was the Bachelorette and I asked my runner-up to leave before the final rose ceremony, I let Roberto know before he proposed that he was the only one left. But I didn't bring up Chris's name! What kind of proposal is that?!
Peter Tells his Parents He's Engaged
It honestly made me physically ill watching Peter tell his parents he was engaged to Hannah Ann. Only because when he started to tell them the look of worry on their faces was disgusting. What if he had proposed to Madison? What would the reaction have been? Would Barb have sobbed tears of pain because she was so unhappy with his decision? It just made me cringe and seriously made me feel sick to my stomach.
Peter Says Goodbye to Hannah Ann
Moving forward with the show, the producers need to sit the Bachelor's down before the final rose ceremony and make sure they know what the F they're doing before they propose! How many of these break-ups are we going to see post-show?!
I even found myself not feeling very emotional watching the break up. It just felt like when Hannah Ann was talking about the relationship, she was talking about a fictional relationship that was never even there. And I hate saying that because I think Peter and Hannah Ann are both great people, what we watched unfold on TV is just so bizarre.
But I will say, Hannah Ann hit the nail on the head when she said that Peter took the engagement away from her selfishly because he didn't want to watch her walk away. I will give Peter this, when someone leaves you on the show, because it happened to me on my season, you do everything in your power to convince yourself that the person who's left wasn't the person you would've chose all along. I did it honestly. And while I don't know who I would've chose if a guy I really cared about didn't leave me in the top three, I can say confidently that I can't say with positivity that my outcome would've been the same. So I get it. I understand why Peter did what he did. He wanted it to work so badly that he convinced himself that  Hannah Ann was the love of his life.
I'll finish talking about their goodbye by saying that I'm proud of Hannah and how she handled herself. Honestly I love seeing that back bone from her. This whole season I looked at her like she was a 13-year-old girl because I can't get past how young she looks. But during their break up we saw a strong woman and I'm proud of her!
Peter and Hannah on ATFR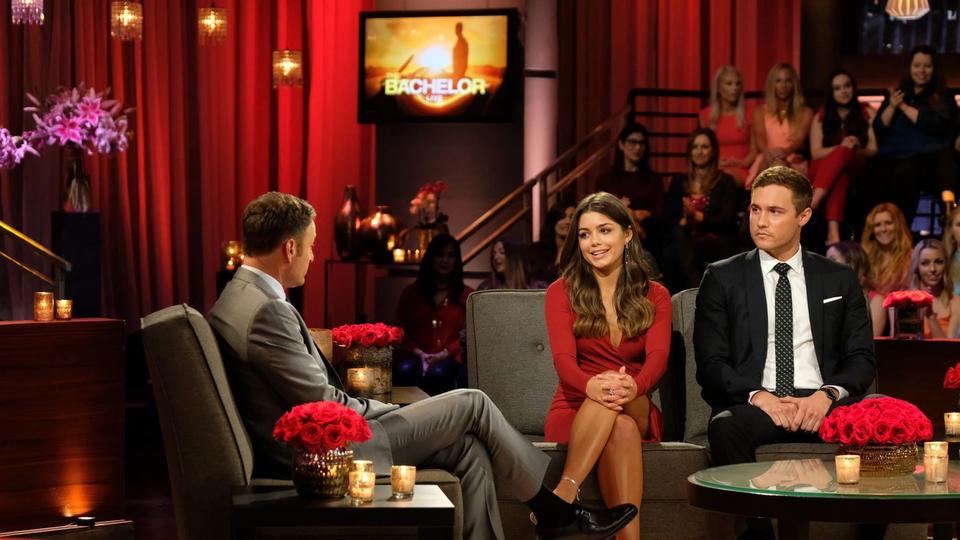 Speaking of Hannah in growing from a girl to a woman, my goodness did she hold her ground during the live taping. She spoke intelligently and with class. And I got to say, I love her extensions! Ha!
Barb
Where do we even begin with Peter's mom. As a mother myself, I am appalled by her behavior last night. Actually let me backtrack for a second. For those of you who have read my blog consistently over the past few years or five years or even from the very beginning, know that I am very careful with my words. And I always give people the benefit of the doubt. I rarely say something negative about someone without following it up with a line about how they're young and how they're growing and learning about themselves. But I don't even know how to defend Barb at this point. Yesterday I defended her by saying that I get that she was emotional about her son getting engaged. And I understood her concerns because frankly I am concerned for them, but her behavior on the live taping is inexcusable.
I can't say she's young and learning because she's an adult and a mature woman and she should know better. What I saw last night is not a woman or a mother that unconditionally loves her son and wants the best for him. What I saw is a woman who made her son's journey to find love all about herself. Someone that didn't care about her sons feelings and only cared about her own. If she truly wanted what was best for Peter then she would've smiled and wished them well on the ATFR portion of the taping. And then expressed her concerns to him privately and not a national television. She embarrassed herself and she embarrassed her family. Can you imagine how Peter felt sitting up there listening to his mom talk to the woman he loves that way? That's not loving your son that's hurting him.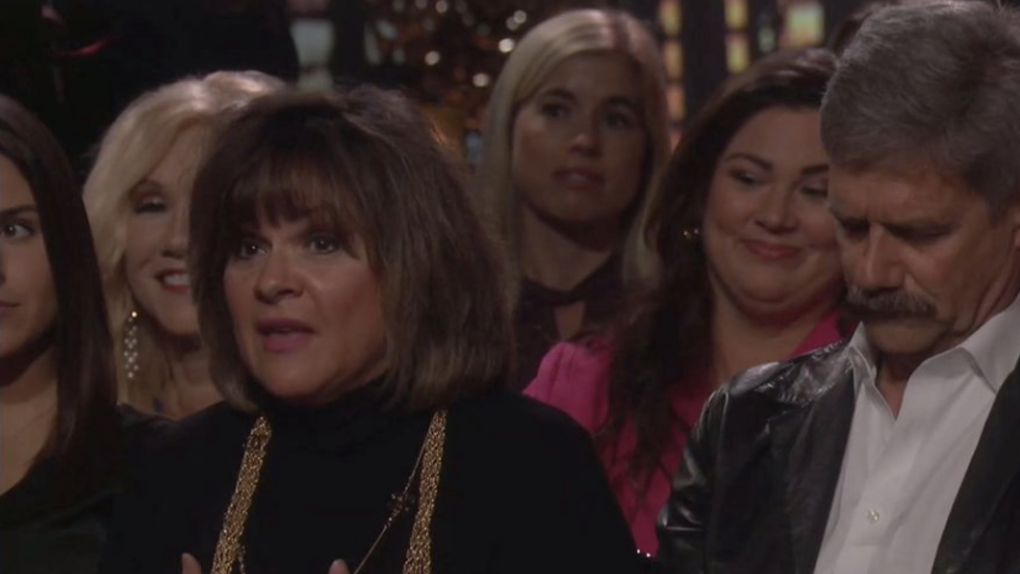 And quite frankly shame on Peter for not putting his mom in her place. I so badly wanted him to stand up and tell his mom to stop. Instead he left Madison to do it. And Madison, my goodness, Madison has class! Her parents should be so proud! They raised an incredibly respectful and well spoken young woman.
I know a few people out there are going to think that Madison shouldn't of left Peter's family waiting for three hours in Australia. You guys have to understand that when you do anything on the show it takes hours! You don't see the behind-the-scenes when you're watching it. Because Peter and Mathison had that conversation outside, I'm sure they had to set up lighting and do interviews with them, then to everything down and reset up lighting in the house. It takes forever! And I don't think it's because she didn't want to meet his family, I think she just wanted to talk things out with him. Barb is taking things way too personally when this journey is not about her! I saw someone online say that they thought that Madison should've apologized to Barb. Eff that! After how much Barb has disrespected her both in Australia and at the entire live taping and ATFR, Madison owes her nothing. Madison was nothing but honest with them in Australia about her feelings and what would Barb rather of her done. Say she was madly in love with Peter when she wasn't?
Will They Make It?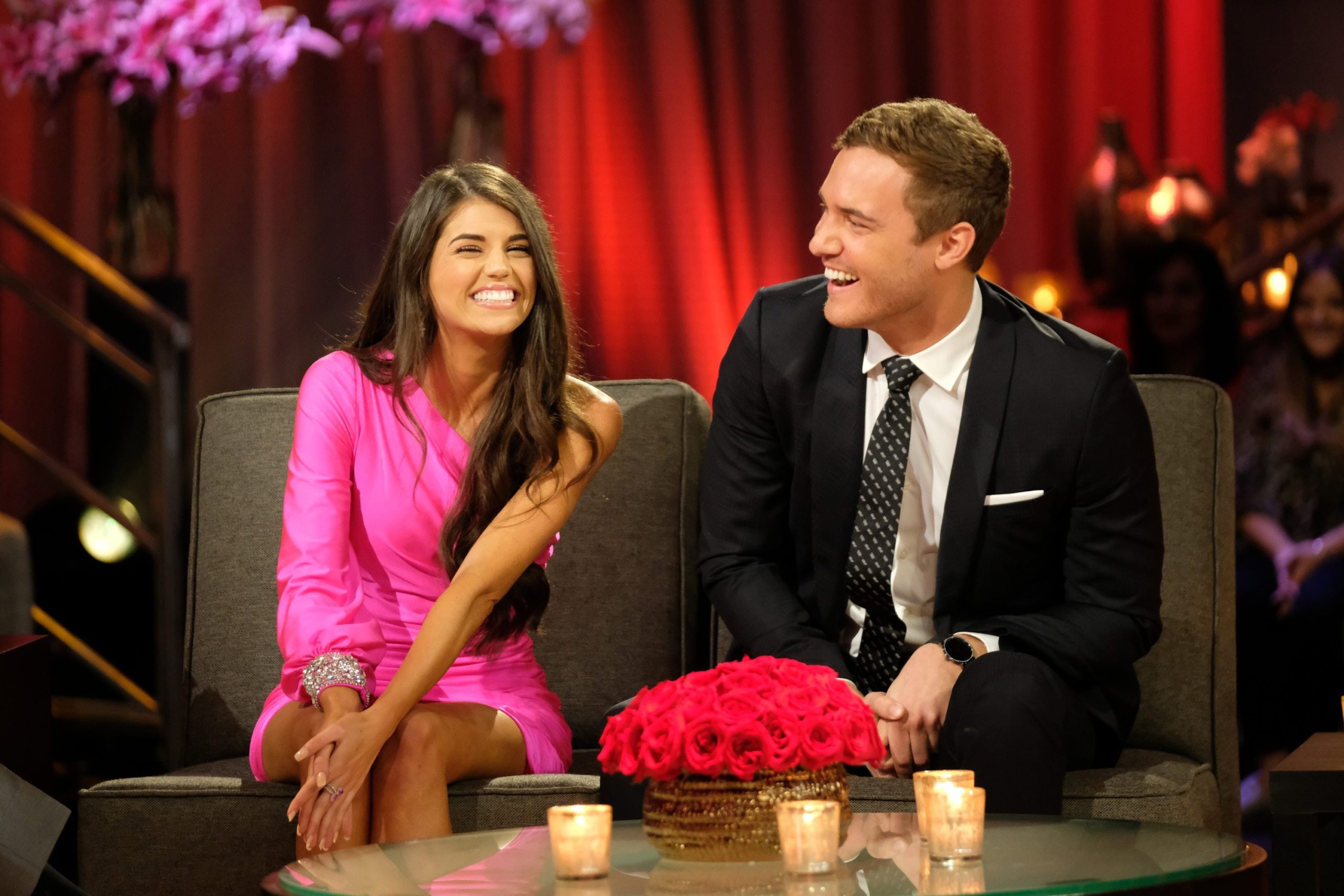 I have never said this on any season of the show that I've spoken about or blogged about over the last 10 years, but I can say for certainty they are not gonna make it. And I hate saying that. And it's not even because of their differences in faith. All season I've been saying that they have a very small chance of making it because their beliefs are so different. But now they can't make it because they don't have the family support on top of that. Can you imagine being Madison's parents watching this live taping? If I were Madison's parents I would never want to be in the same room as Peter's parents. If I were Madison's mom I might want to tackle Peter's mom if I saw her in person.
My gosh, even the way she would roll her eyes at Madison when Peter and Madison met for the first time by the pool and we're telling each other how they felt. What did Madison ever do to Peter's mom to warrant that kind of reaction? Anyway, I'm getting sidetracked. I'm just beside myself tonight and I hope Barb learns a major life lesson from this.
When we first met Peter's family I thought he came from the absolute perfect family! I thought he was perfect because he grew up with two parents that love each other and we're married for 30+ years and had it all together. My goodness was I wrong. So when you look at peoples lives on Instagram or on TV or wherever, know you never really know what's going on with a person or with the family. Peter's family is far from perfect and we saw that last night.
I'll end with this. During the live taping Peters mom whispered this in Spanish to his dad "Di algo mal también, ayúdame" It means "Say something bad, too. Help me." I have no words.
Now we must discuss! What did you guys think about last night's finale part 2? Are you as upset with Barb as I am? Do you think they can make it?
And for those asking, I ink the details of my outfit last night below the pic. Including my $25 bodysuit that is soooo cute for spring!!!!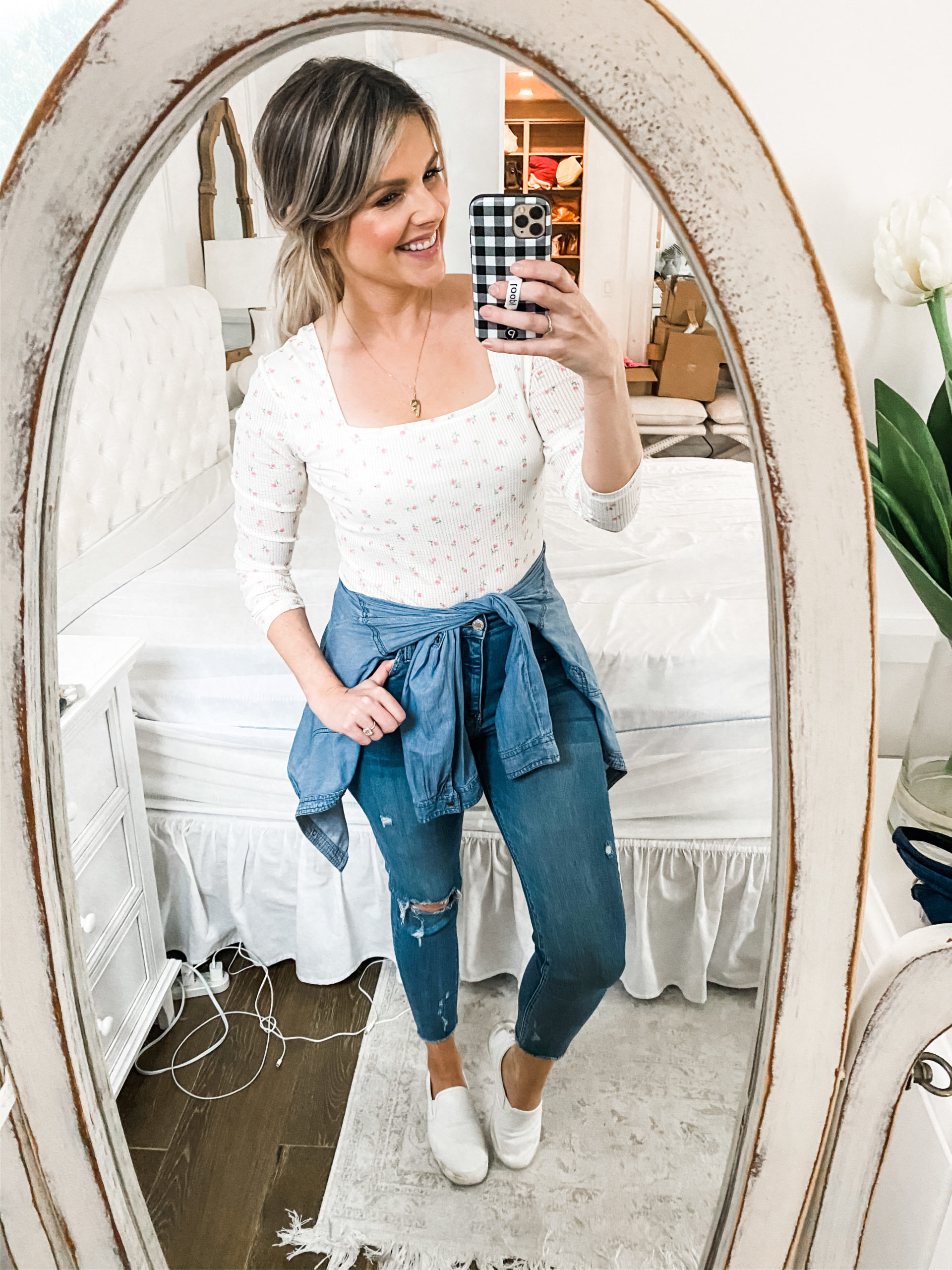 1. $25 BODY SUIT | 2. HIGH WAIST JEANS | 3. SNEAKERS
KEVIN'S $13 SHIRT!!!!
Adding this outfit real quick that Kevin's wearing today because I got it for him recently and he is blown away by how much she loves it! The top is only $13! So just wanted to share for any moms looking for kids for their sons or wives may be looking for outfits for their husbands! I love buying clothes for Kevin! Or maybe you guys here reading my blog and he just likes it! Ha! But no joke we bought 4 different versions (all below) of this shirt because he loves it so much. He is wearing a size small FYI (his normal size) It's TTS.


This is him wearing another print in the same shirt and a pair of $16 jeans that are AMAZING and true to size!