Hi everyone!!! Happy Tuesday. Today is just a quick post, because I'm hanging out with my kiddos today! But I thought that this was the perfect time to share this outfit with you because I really do think it's a great "mom-outfit". Even if you aren't a mom, it's a great outfit to get things done in! So let's get right into it!
The "Mom-Outfit"
Floral Scoop Neck Tee
I'm going to start with this super adorable floral tee! I love it because it isn't super fitted like a lot of rounded neck tees are. This one is almost a little slouchy, which I love about it. The fit honestly reminds me of the Madewell white v-necks! The fabric is a soft cotton and it really allows you to move in it. That's why it's such a great shirt for errands or chasing after your kiddo! You could wear this to the park, and even if you're running around from the top of the slide to the bottom and back and forth, (ha!), it gives you a slight breeze so you don't get too hot!
Before I continue talking about this look, can we stop for a moment and talk about how stinkin' cute Riley is?! I was taking these photos and he wanted to get into them and I am so glad he did. Truly, I hold these photos so near and dear to my heart and am so happy that I get to savor this moment forever.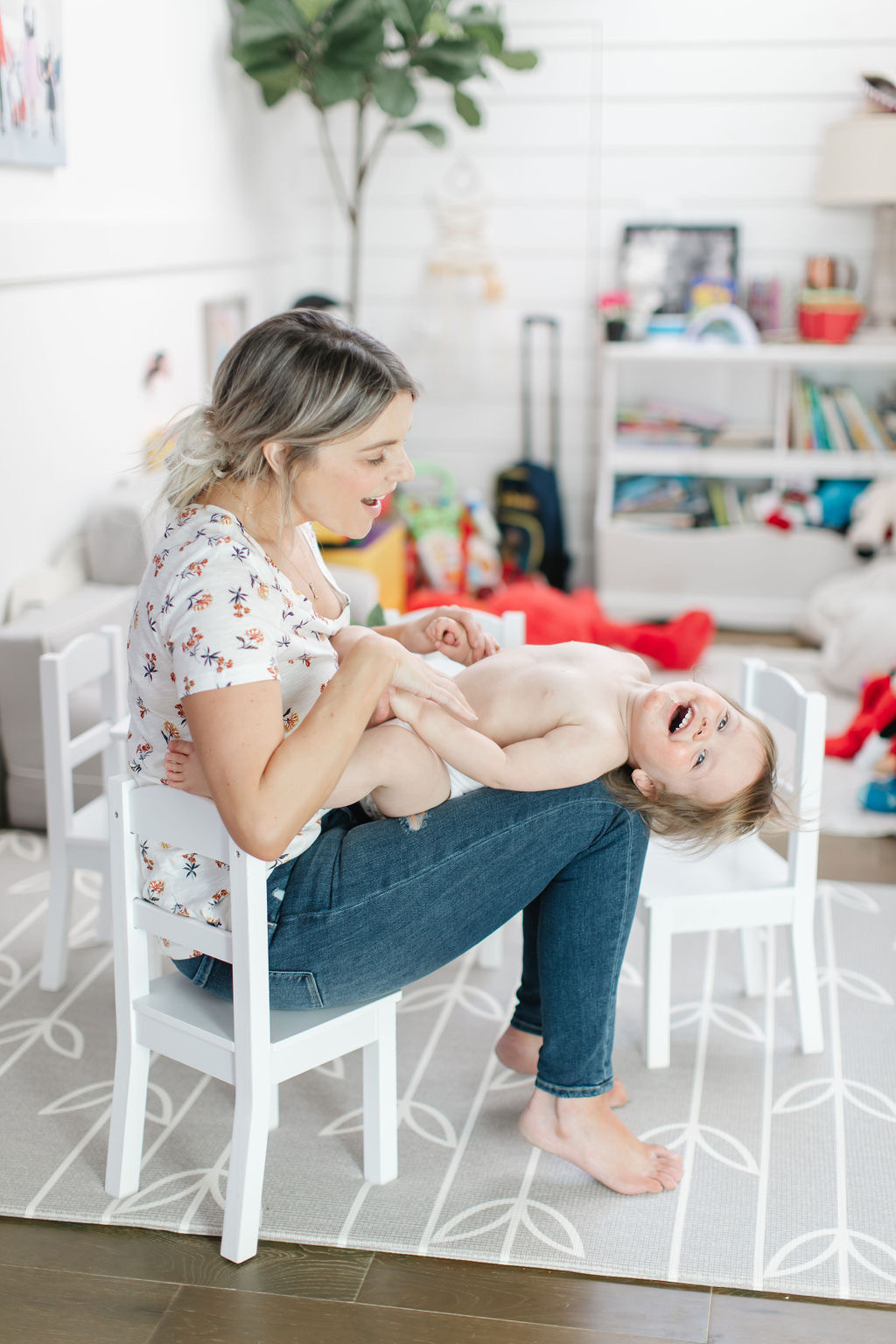 1. FLORAL TEE | 2. HIGH-WAISTED JEANS
Another thing that I love about it is that the fabric isn't too thin. You guys know how much I always used to rant and rave about the Madewell tees, and I still do like them, but I don't LOVE them like I used to. Something changed with their fabrics and they are a lot thinner now. These tees are actually slightly cheaper, they are only $25,  have a thicker fabric and still have the cute pocket detail over the left chest. I definitely recommend it if you've been looking for some new tees! And like I mentioned, it comes in a handful of colors, I'll link a few of the others below for you.

Don't you think that this is the perfect tee for getting things done? I learned about fashion feng shui a while back, and I learned that when you dress for success on a busy day, that you should be channeling the wood element – meaning stuff you can move around in, more comfortable, but still chic. This is definitely a wood outfit!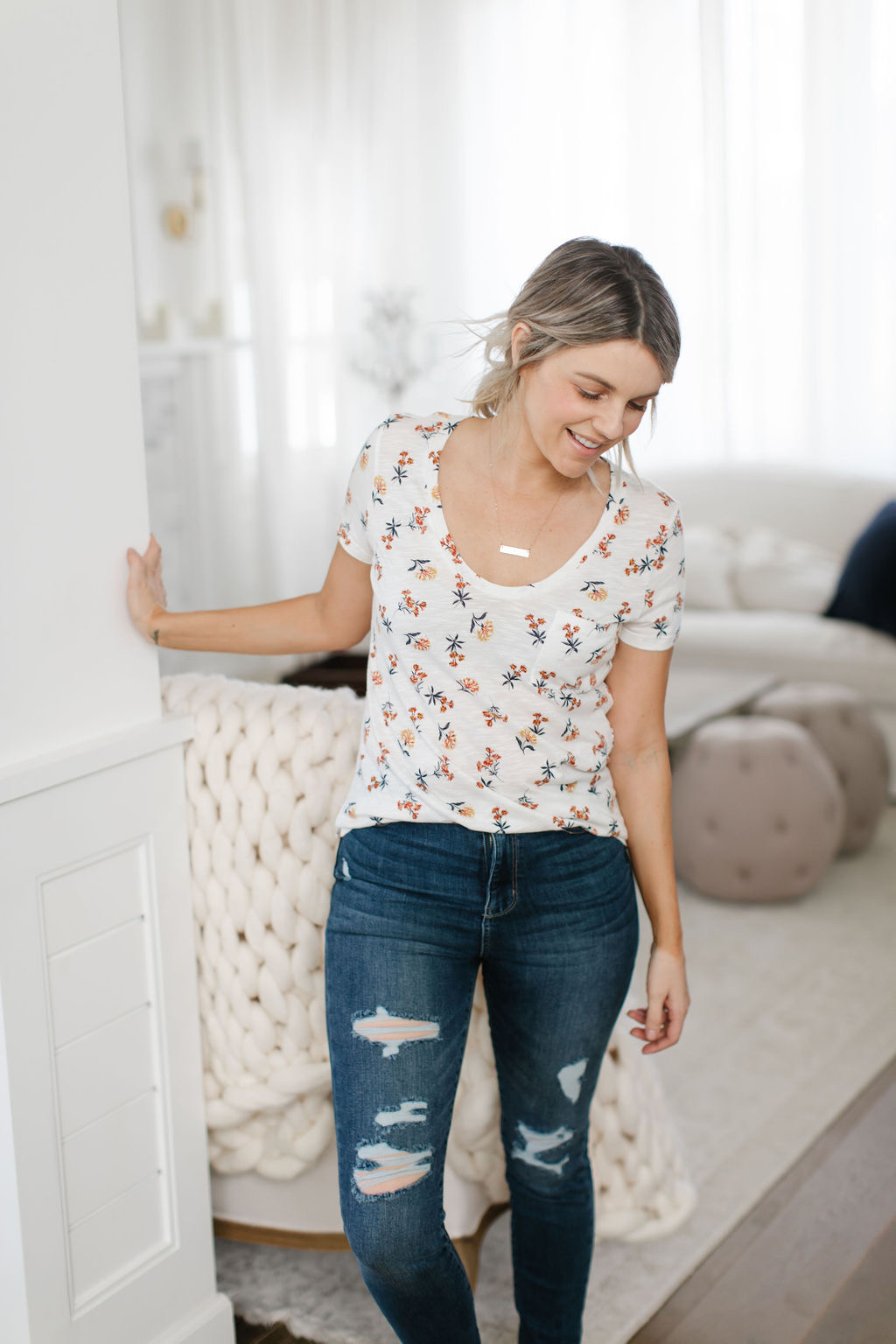 1. FLORAL TEE | 2. HIGH-WAISTED JEANS
Dark Wash Curvy High-Waisted Jeans
You guys know how much I love my high-waisted pants, and these jeans are so good! I mean for starters, they are under $50, which is so incredible for a great pair of jeans. The wash on them is seriously such a good color. I love that it is a little darker than my other pairs of distressed jeans, because even though jean looks good with basically any top, sometimes you want the contrast of a lighter top and a darker jean! I love where the rips are placed, it seems really intentional that the rips aren't right on the knee. Most ripped jeans have them on the knees, or at least one of the knees, and although it looks super cute, I feel like sometimes the knee wears out a little fast just because you are always bending it.
These fit pretty true to size, I am a 28 and that's what I got in these. Because of the fact that they are high-waisted, they are also super slimming. I feel like the reason that I always buy high-waisted pants now is because after having kiddos, things just aren't the same in my belly region! As I have showed you, I have a bit of extra skin now, and high-waisted jeans like this are so flattering! They hold it all in, ha!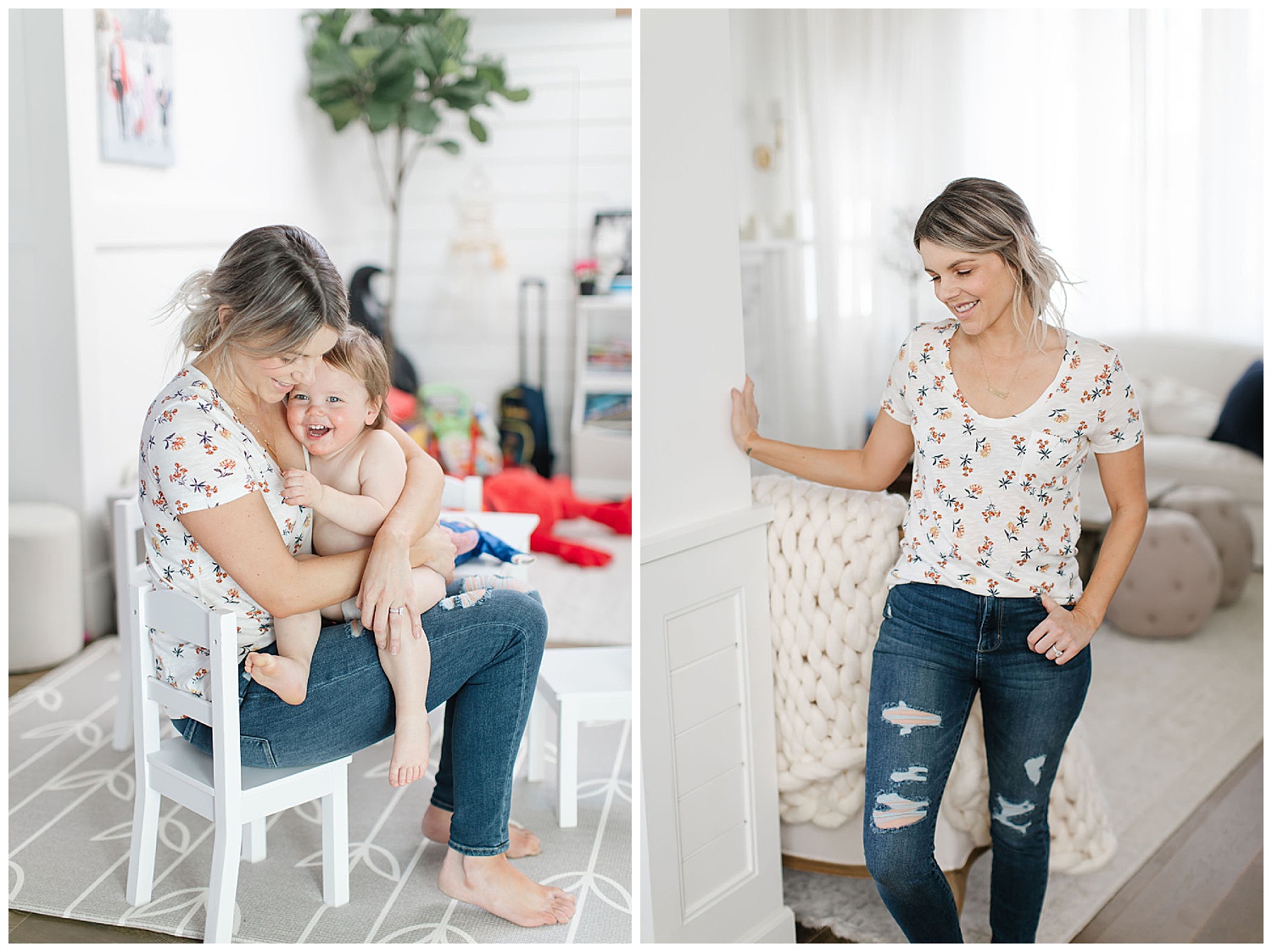 1. FLORAL TEE | 2. HIGH-WAISTED JEANS
Also, I don't often talk about my back side looking good in pants, because I feel like a good amount of pants aren't all that flattering back there, but these jeans are!The cut and pockets are placed perfectly, and the faded-wash look definitely helps too! So if you're one of those people that don't always love your booty in jeans, you might just love these.
One thing that I wanted to point out is that online they almost look like capri pants, but as you can see on me in both the photos above and below this, they go all the way to my ankle, and I am 5'9. I would say that if you are thinking about them but aren't sure because of the length, it would be worth trying them out! If they end up not being as long as you wanted due to your bodystyle, the great thing is that returns to Nordstrom are SO easy.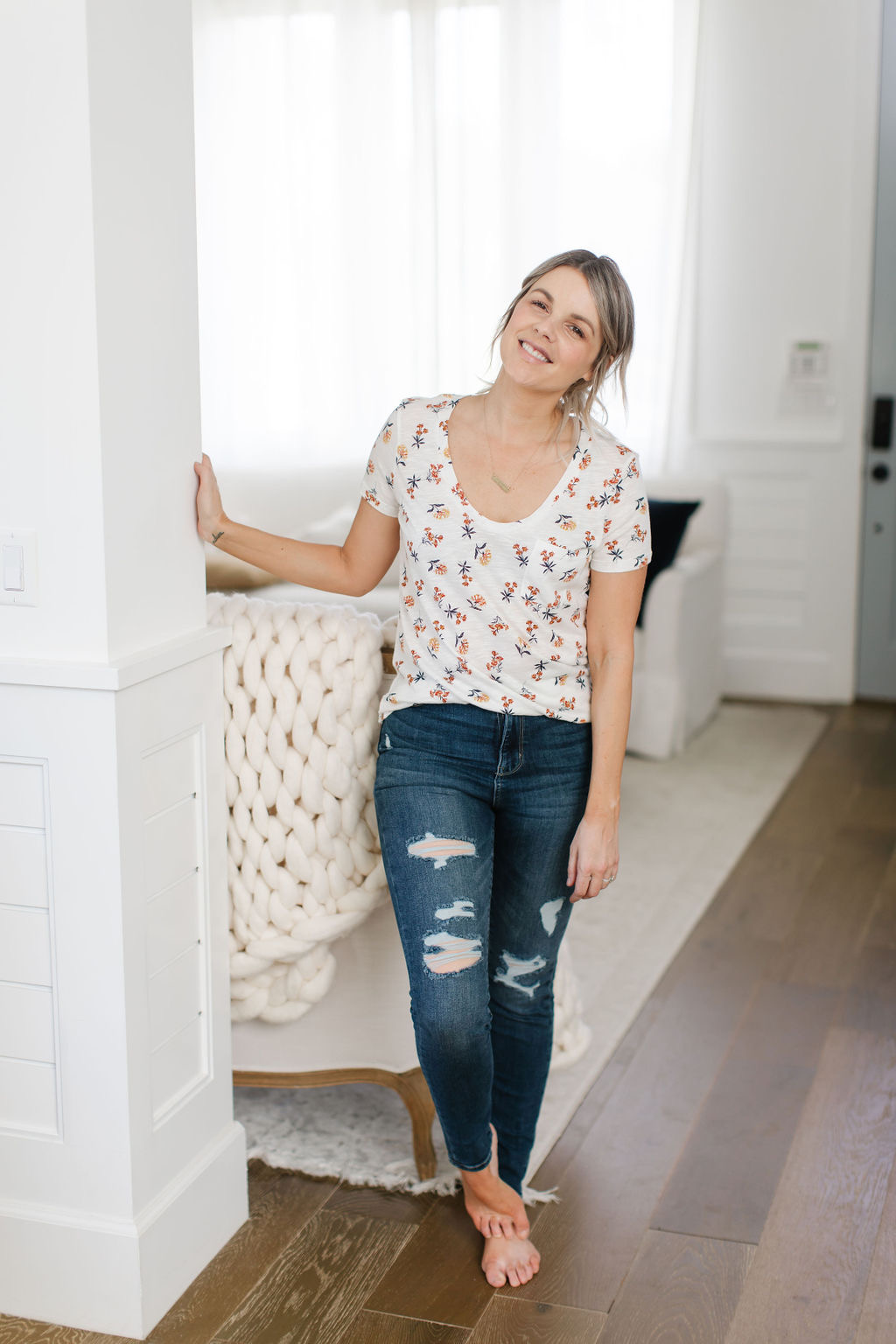 1. FLORAL TEE | 2. HIGH-WAISTED JEANS
Let me know what you think of this "mom-outfit" in the comments below. Is this similar to what you wear when you're busy being a mama? Do you already have this tee in another color or cut? I'd love to chat! Also, if you have any clothing pieces that you swear by for when you are trying to be productive and out with the kids, please share with me in the comments below!