Happy Monday, everyone! I'm headed over to work today at Home & Family, but wanted to jump on here quick and show you the dress that I am going to wear today! It is still pretty cool over here in Southern California, but on slightly warmer days, this sweater dress is perfect! And I even show you the perfect jacket to add over top if you need a bit more warmth.
The Sweater Dress
Not only is this sweater dress super cute, but it's always super warm and cozy! The material is so so soft and is basically a mix between a sweater and a sweatshirt, which I feel like helps to hold in some heat to your body. It has a beautiful mock neck that goes up just high enough without being a full on turtleneck. You guys know I love a good neckline! This one is so stunning and I just feel like something about them is so slimming!
I feel like sweater dresses can be either flattering or very unflattering, and there isn't usually any middleground. But I will say that this is one of the most flattering sweater dresses I've ever worn. Normally when I get a sweater dress, if they're even remotely fitted I feel like it shows off every flaw I have! But I feel like this one would be flattering on many different body types. It's true to size. I'm wearing a medium and that's my normal size.

 1. GRAY SWEATER DRESS | 2. BLACK OTK BOOTS | 3. SHORT HEELED BLACK OTK BOOT
I also can't forget to talk about these beautiful puff sleeves. Aren't they so pretty? I feel like they give the shoulders of the sweater dress the perfect amount of volume. You can either wear the dress with the sleeves full-length if it is colder outside, or you can scrunch them up a bit so that they are 3/4 length. I think both look incredible on this dress!
This sweater dress also comes in a handful of different colors from the same brand. The link for the other colors can be found here! They are by the same brand, the only thing that I think might be slightly different is that they are slightly more of a bishop sleeve, which has a bit more drastic cuff around the sleeve, and the neck of the dress doesn't go up quite so high. I think I am going to be ordering either the charcoal or cream today because they both look so beautiful. Which do you think I should get?
Black Over the Knee Boots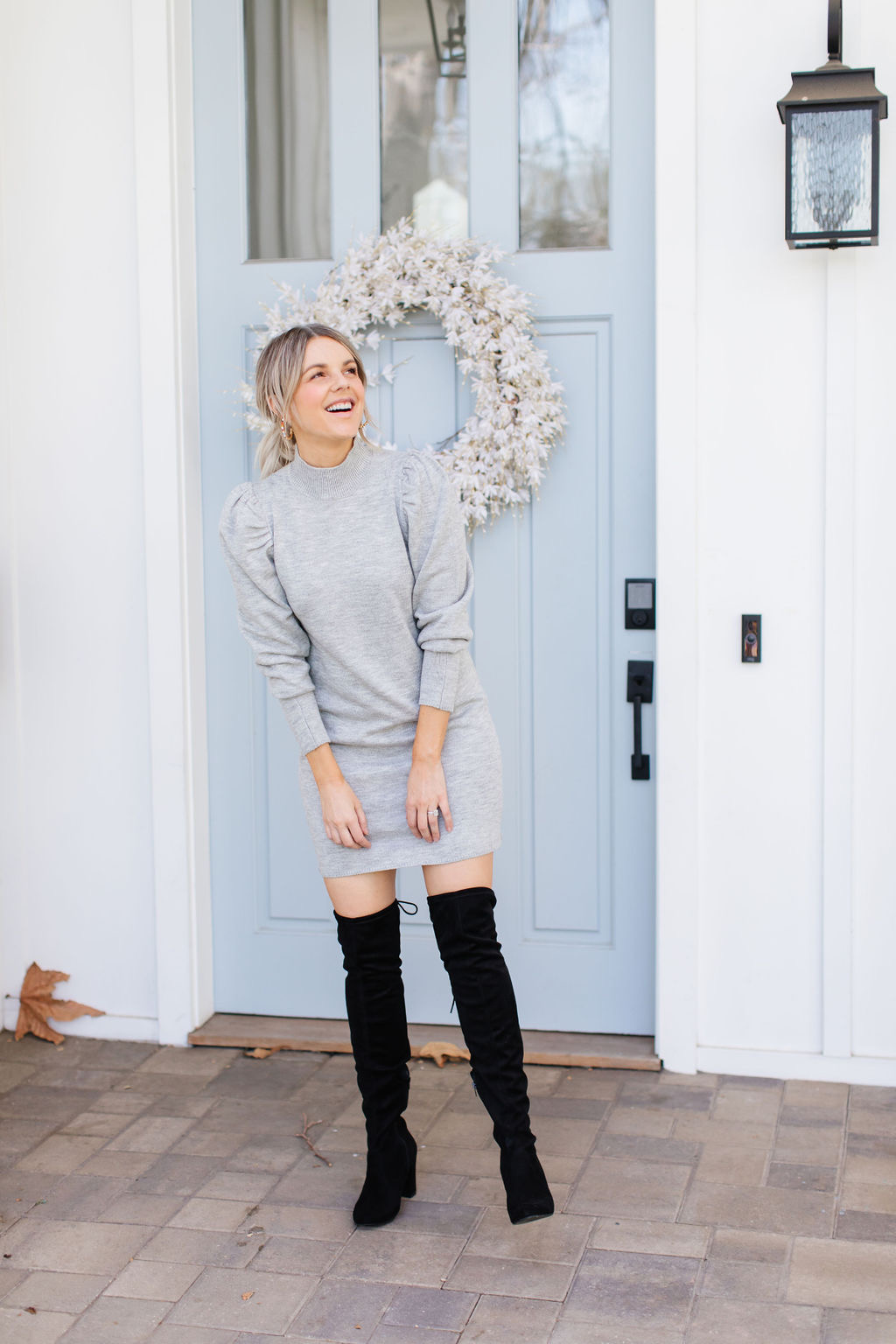 1. GRAY SWEATER DRESS | 2. BLACK OTK BOOTS | 3. SHORT HEELED BLACK OTK BOOT
This look can be completed by adding a pair of over the knee boots! I think black is probably the best color to wear with this dress, but since the dress comes in other colors, you could also wear cognac ones or really any color that looks good!
I love that these boots have a nice little heel that is not too tall, so that the boots are still very comfortable if you wear them to work or out to a brunch or something! The tie detail on the back is a really nice touch, because it gives you the ability to make the boots as tight as you need to, but it still looks really intentional and chic. I've had these boots for a while and can't remember what size they are, but I want to say they are pretty true to size.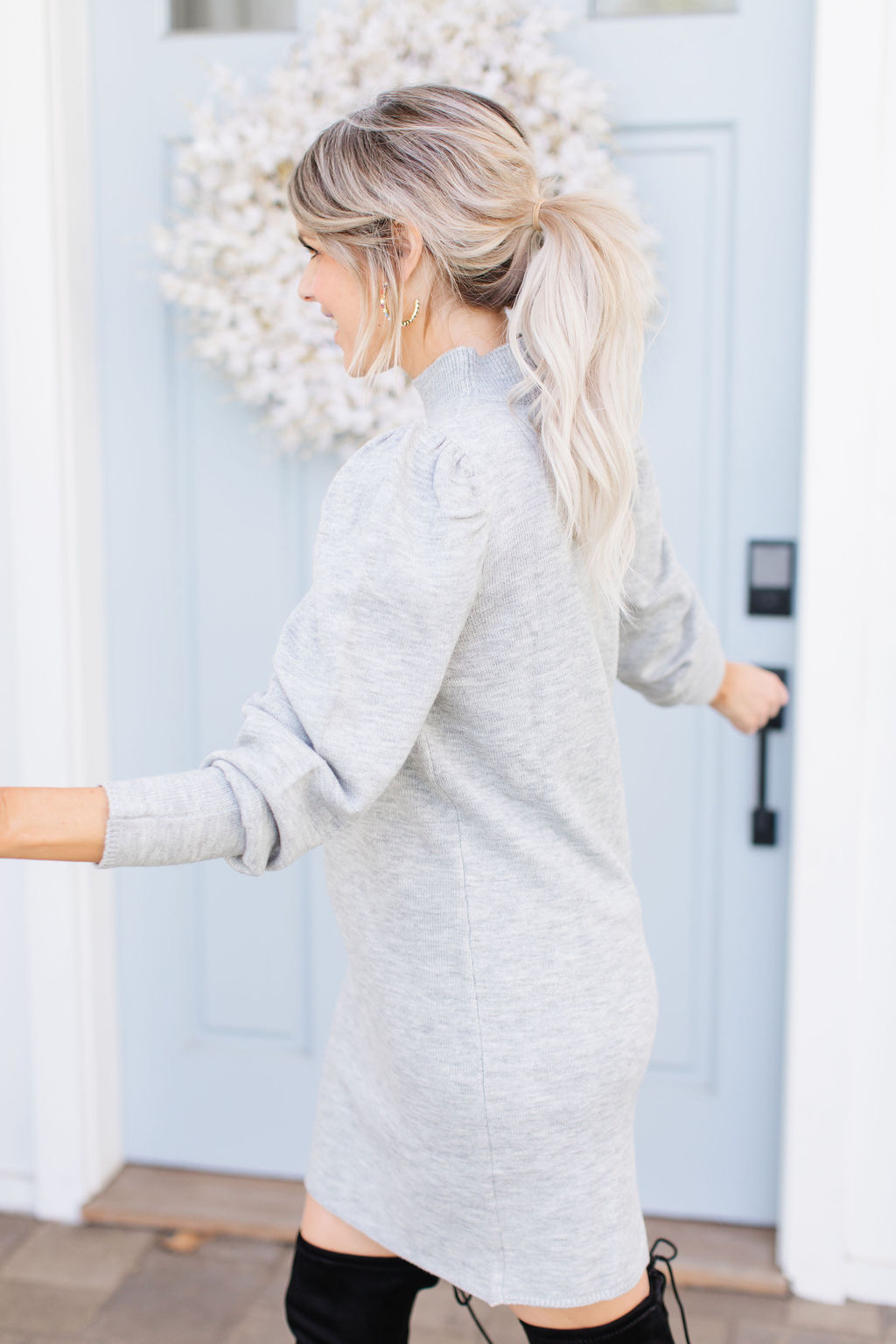 Bonus Jacket for Cold Weather!
It has been so chilly over here in the mornings, and even some days are colder than others. So on those days I have been pairing the sweater dress with this puff jacket! I love the way that the color contrasts with the dress, and the hood really helps you stay warm if it is cold in your area. The stock on this is a little low as I am posting, so go check it out if you are interested! It less than $40!!! And it also comes in a pretty gray color.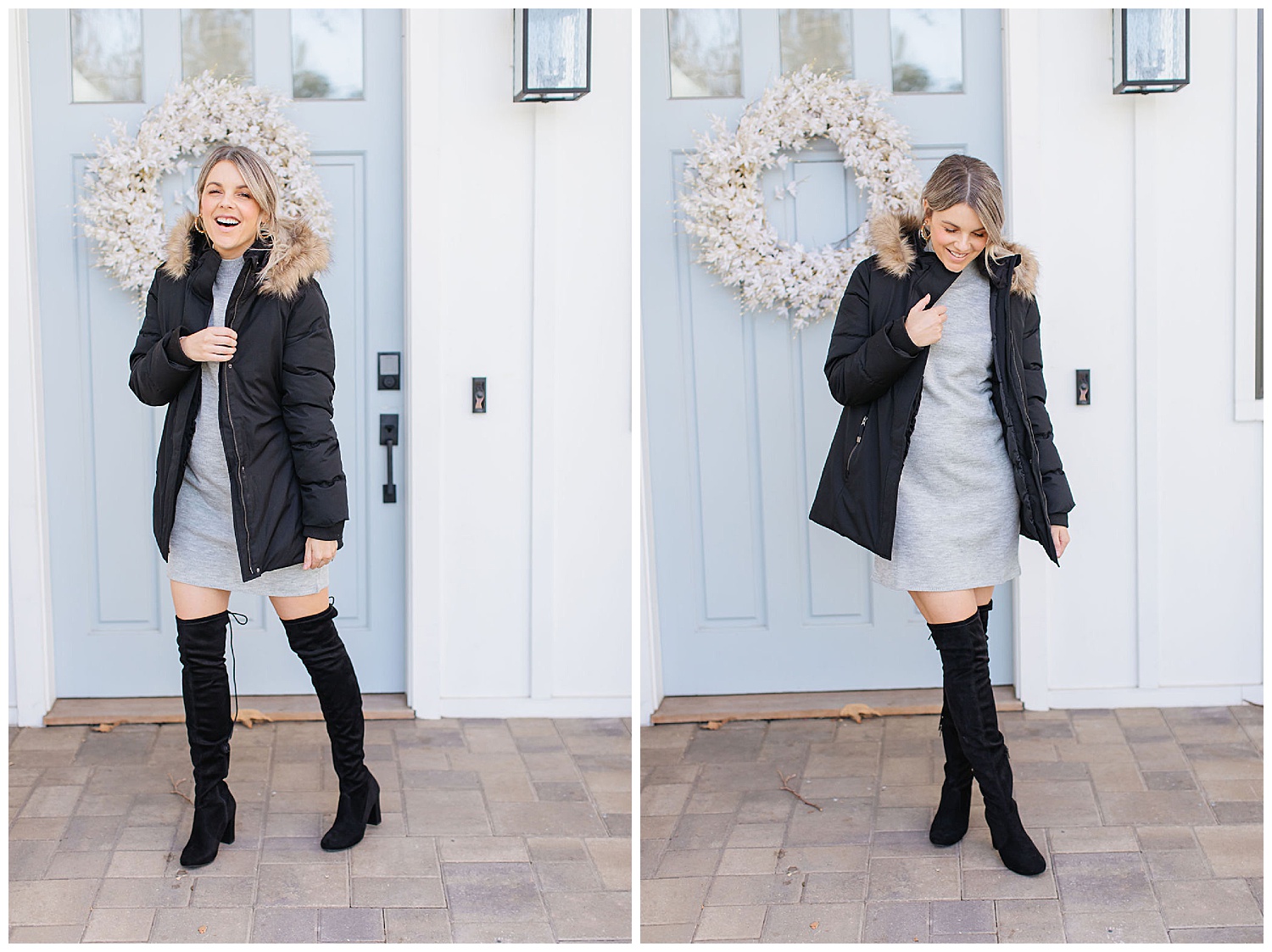 1. GRAY SWEATER DRESS | 2. BLACK OTK BOOTS | 3. JACKET
That's all from me this morning! Let me know if you get this cozy sweater dress, and what color you get! I would love to know! Or if you know of another flattering sweater dress, share with me in the comments! I love getting inspiration from all of you. Don't forget to come back to the blog tonight for my Bachelor post where I talk all about tonight's 3 hour episode!