It's the blog so many of you have been waiting for….my quick kitchen makeover! If you follow me on Instagram stories, then you know that I've been doing a little DIY project in our kitchen with grout stain! And I am so so so so excited to share the results! So I'll just get right into it with a before and after photo below.
How amazing does it look?! If you don't follow me on Instagram stories, you might think that I re-tiled our kitchen walls using darker grout. And just so you know, I actually got a quote from a contractor for that about a year ago and they told me it would cost almost $10,000. No that's not a typo. Legit $10,000! Things are expensive here in LA. Also, can I just rant for one second about how much it annoys me when I watch those home remodel shows in Southern California and it says that to redo an entire kitchen it takes $20K? That is the most ridiculous number I've ever heard! If you're redoing a kitchen here in Los Angeles you're spending at least $50K.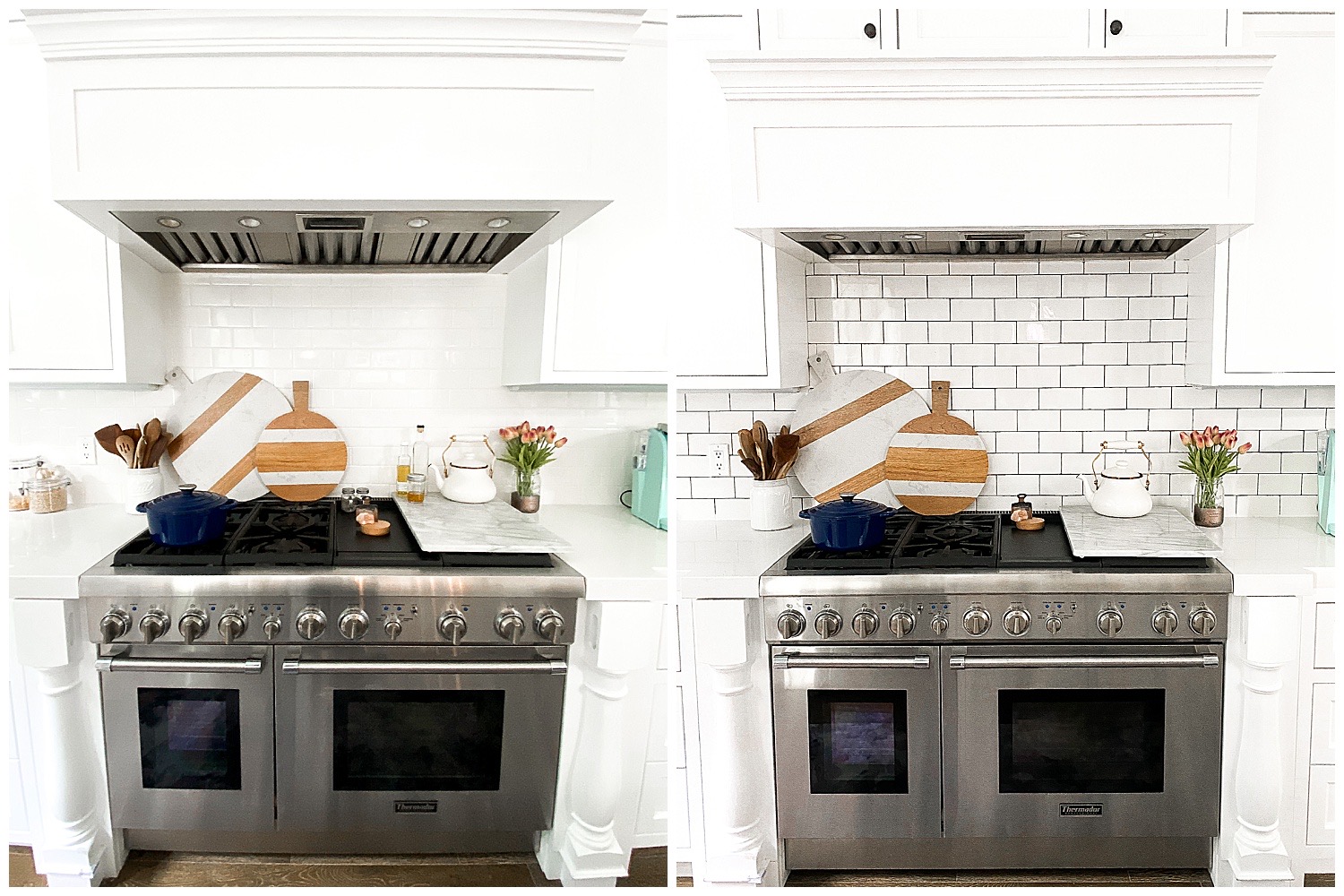 1. BLUE POT | 2. LARGE CUTTING BOARD | 3. SMALL CUTTING BOARD | 4. TEAPOT | 5. FAUX TULIPS
Grout Stain FTW
Anyway, we didn't redo the tile. Instead we used grout stain! I had never even heard of  grout stain until the day before I did this. I was on Instagram and one of the bloggers I follow shared a picture of her kitchen and said that they had stained the grout a darker color. I was immediately intrigued and started googling the process. I found so many amazing before and after photos so I thought I have to give this a try! I immediately got on Amazon and ordered this grout stain in black to have it shipped next day delivery. And then legit I started the process that next day.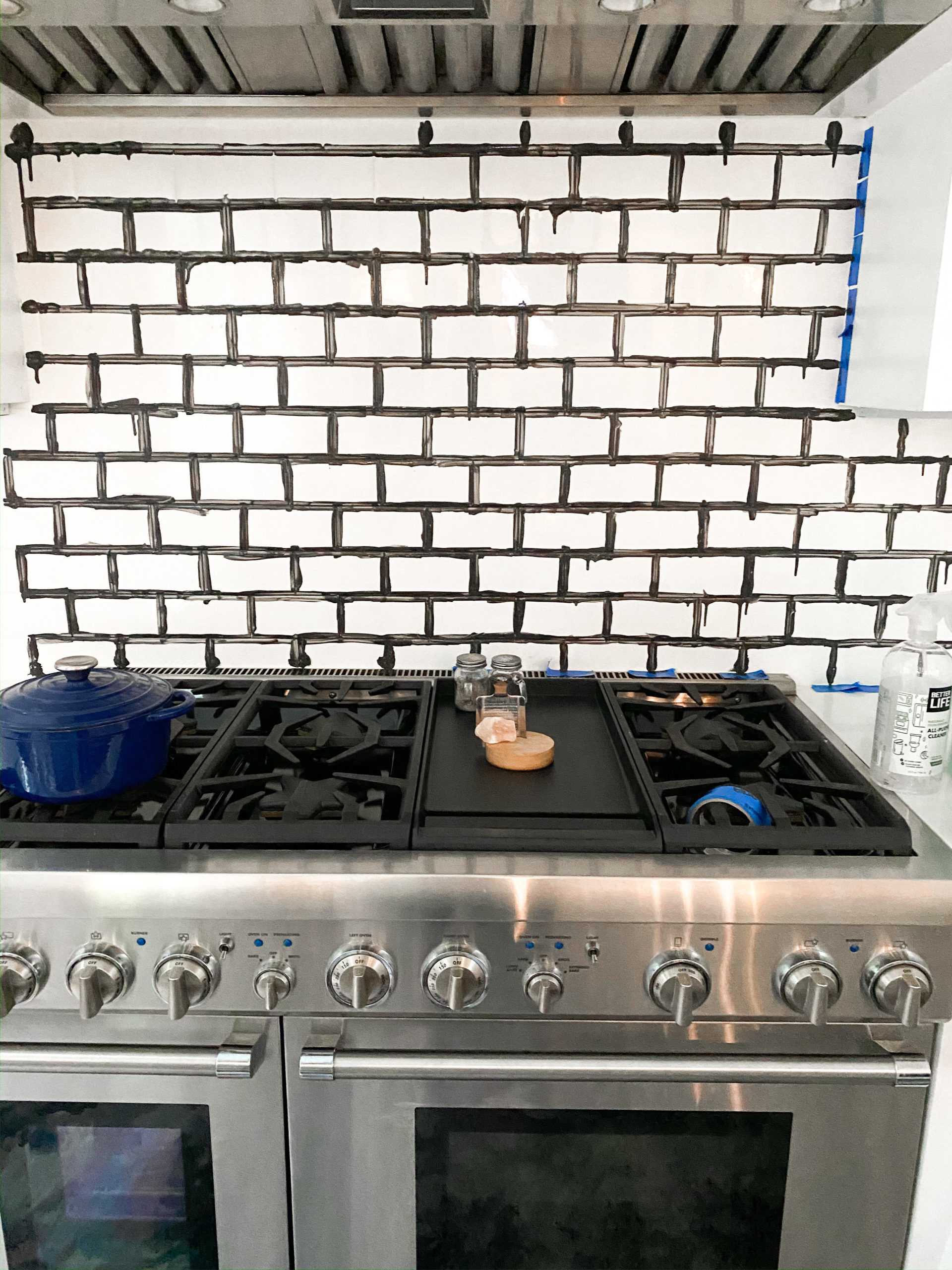 My husband just about fainted. Ha! He came into the kitchen and saw that I had painted black all over the tile and his jaw dropped. But he knew when he married me that when I get an idea in my head, literally I will start working on it that day or as soon as I can. Even if it's a huge project! I just really get committed to something once it's in my mind and I've decided that I'm gonna make it happen. And that's what happened with this grout stain. Ha!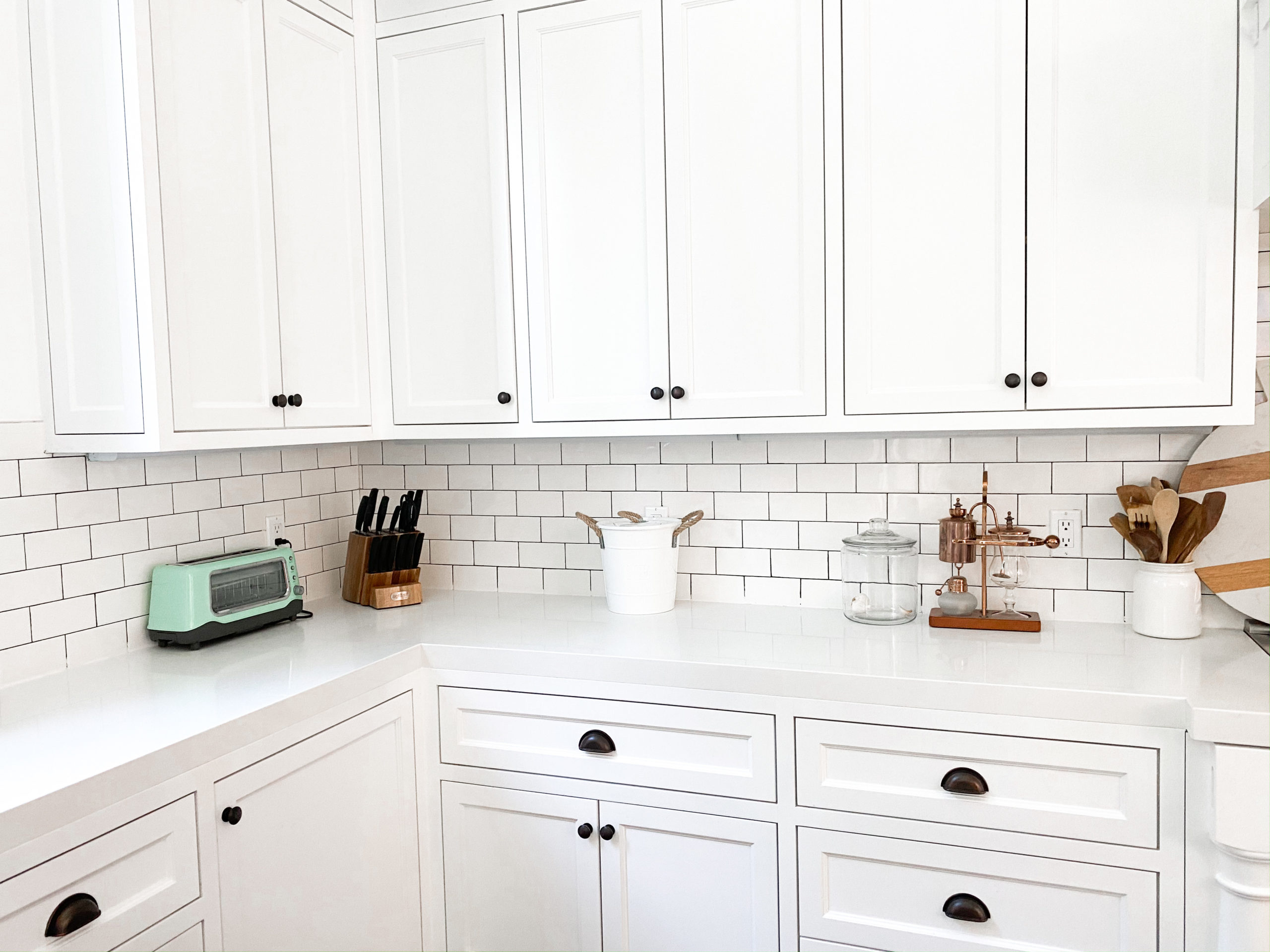 1. TOASTER | 2. BELGIUM COFFEE MAKER | 3. CUTTING BOARD
What You'll Need
If you want to try doing this yourself you're going to need a few things.
An old shirt – Don't make the mistake of wearing a white blouse like I did when I started
A paint dish – I literally just used a small bow for my kitchen and it easily washed out afterwards.
Grout stain – This is the one we used and it worked perfectly! And get this, it's only $18! That's right, we completely change the look of our kitchen for $18. I'm going to get to more about that in a minute.
1 inch foam brushes – I got this pack of 25. You only need one if you're going to do it all in one day. I used three since I did this over a three day period. But the packs that I found that were for a few brushes were super expensive. Like double the price of the 25 brushes for $4. So I figured I get the bigger pack because I'm sure I'll use them for something in the future. Plus, Molly and Riley have loved painting with them. So if you have kids you can use them for art projects.
A towel – Actually scratch that, you'll need a few different dish rags/old towels. We used old kitchen towels because they're a good small size, but we definitely went through about five of them. Now they're super stained and definitely old rags that we will be using for dusting and other dirty projects.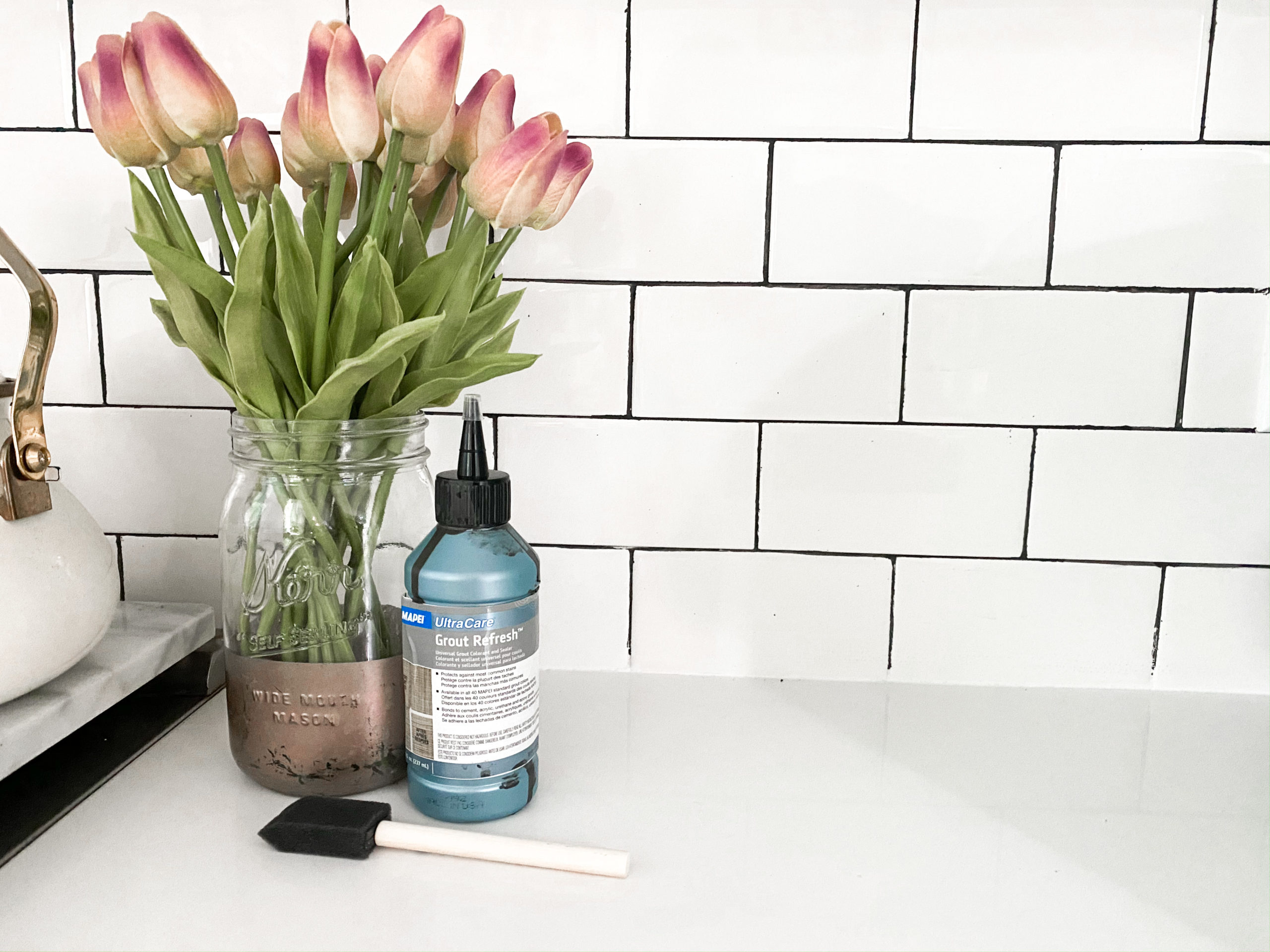 1. ULTRA CARE STAIN | 2. 1 INCH FOAM BRUSHES | 3. FAUX TULIPS
How to Apply Grout Stain
It honestly couldn't be simpler to apply. Read the instructions for the type of tile you have, but there's a wet method and a dry method. I honestly was unsure which of the two tiles I had him when I applied. So I just went with wet method, which basically means you use the foam paintbrush to paint lines along the grout and then wait 20 to 25 minutes before you wash it off. I would basically start applying in a section and then set my alarm for 30 minutes and continue painting. When the alarm went off I would stop wherever I was painting and then go back and wash a section and then continue painting. Some sections were probably left on for closer to 40 minutes because of me working on painting another section while one section was drying. But it honestly could've been easier.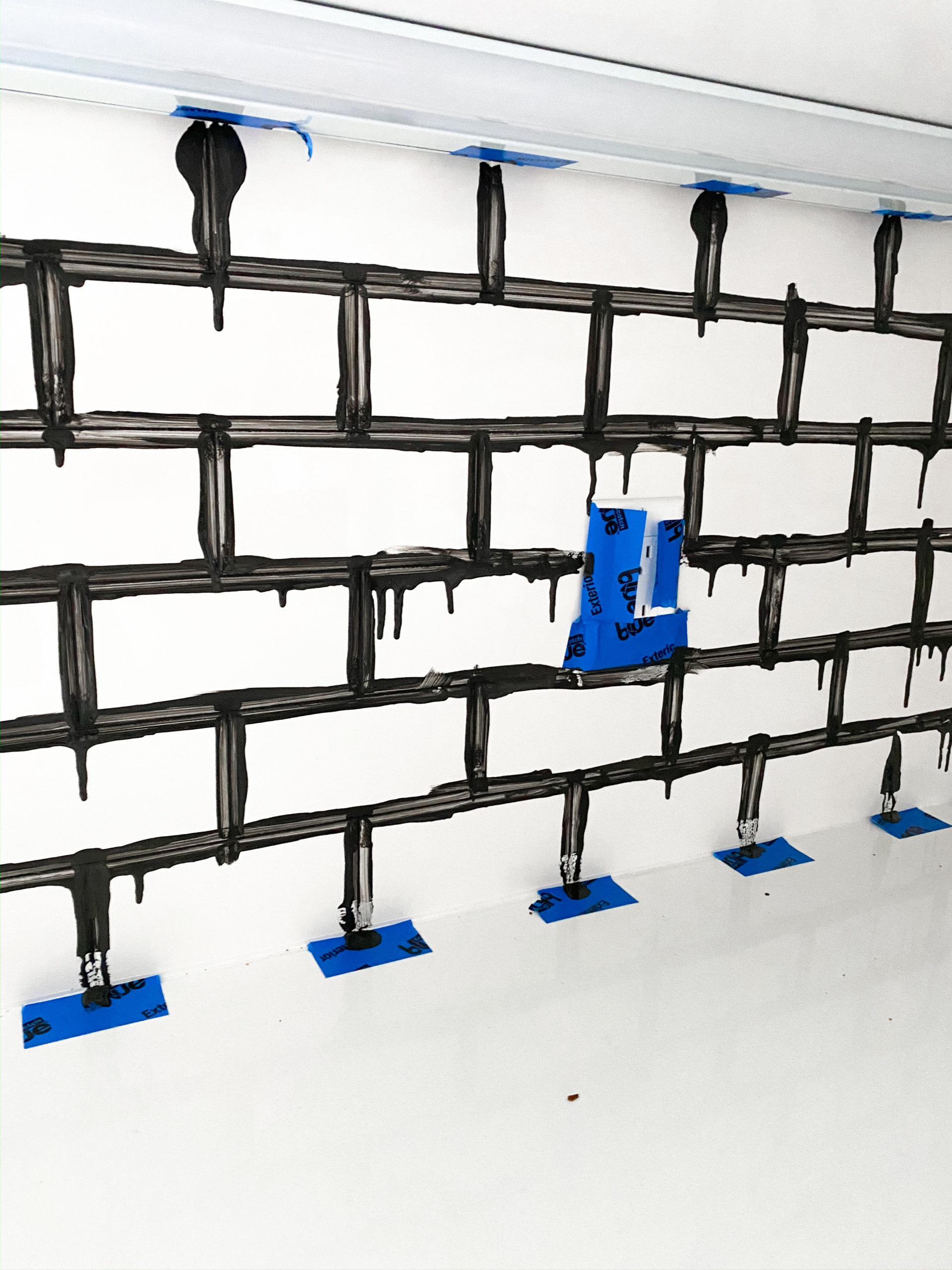 And as you can see from the photo above, the lines really don't need to be perfect. Mine dripped everywhere and are uneven. It truly doesn't matter because it all washes off the tile. The only thing that is important is that you make sure that the grout stain completely covers the actual grout. But honestly it applies so quickly and dries so fast that I really barely had to go in and do any spot touch-ups. Maybe a handful in the entire kitchen.
When you wash it off be prepared for a mess. Once you start wiping it, black will smear everywhere all over your tile. Don't panic. It comes right off. But it's definitely a messy process.
How Long Does it Really Take
So like I mentioned above, I did this whole process over 3 days. I probably could've done in one day. But honestly my arms were getting so tired after each set and when I did it I was getting a cold, so was fatigued in general. So if you do decide to do this, know that it's going to be an arm workout! Some of the blogs that I saw where people showed there before and afters were for the bathtub. So it probably makes it a lot easier to wipe down after you apply the grout stain because it just goes down the drain in your bathtub. But it makes it quite a bit harder when you're doing it over a kitchen counter because you can't just run the showerhead over it and wipe it down. you have to keep going back to the sink and then over to the wall, scrub it, go back to the sink to wash your towel off and then go back to the wall to scrub it. It's a process. And it's not easy to get it completely clean.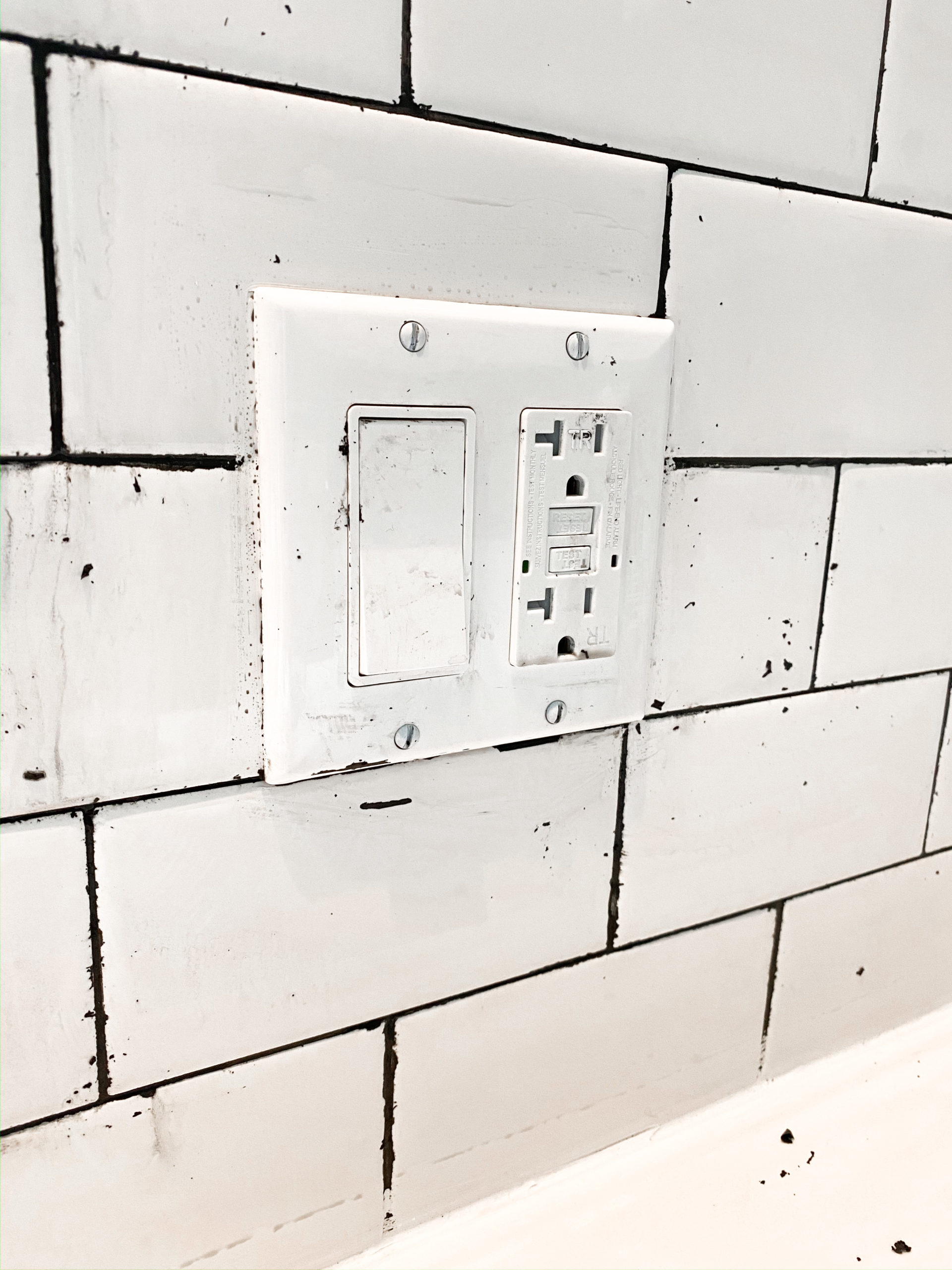 I almost feel misleading saying it's not easy to come off. Because it actually does come off way easier than you think. The problem is all the little bits and pieces want to stick to everything so to get it completely spotless you really have to get in there multiple times. And I didn't even remove the outlet covers and they still wiped clean.
At the end of the day, this grout stain cost $15! I save myself $10,000 by doing this project myself. And the results are just stunning! Honestly I'm so proud of myself that I'm giving myself a big virtual pat on the back right now. Ha! If I had known about this two years ago when we moved into our house I would've done it right away. Going from the white grout to the black grout just gives a kitchen so much more character.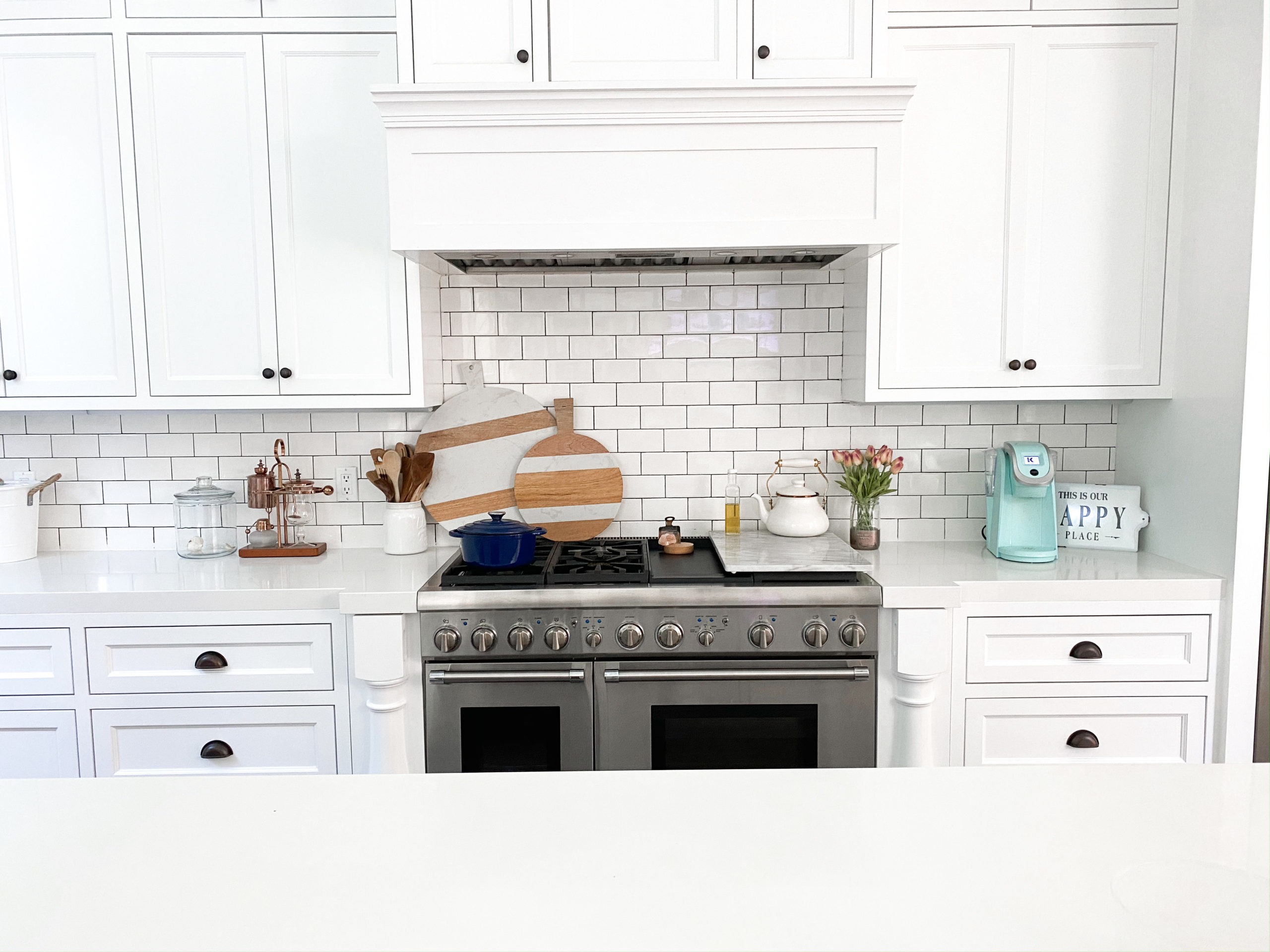 1. BLUE POT | 2. LARGE CUTTING BOARD | 3. SMALL CUTTING BOARD | 4. TEAPOT | 5. FAUX TULIPS
Farmhouse Style
You guys might think I'm crazy when I say this, but I've never really loved our house. Don't get me wrong, I'm so grateful for it because I know it's beautiful and we are so ridiculously lucky to be able to live here. But it's definitely more modern than my taste. And I've always felt like the kitchen was so stark white that it felt like a hospital to me sometimes. But by adding the dark grout stain to the tile, it just feels so much more like a farmhouse which is way more my style. I'm a Joanna Gaines girl all the way!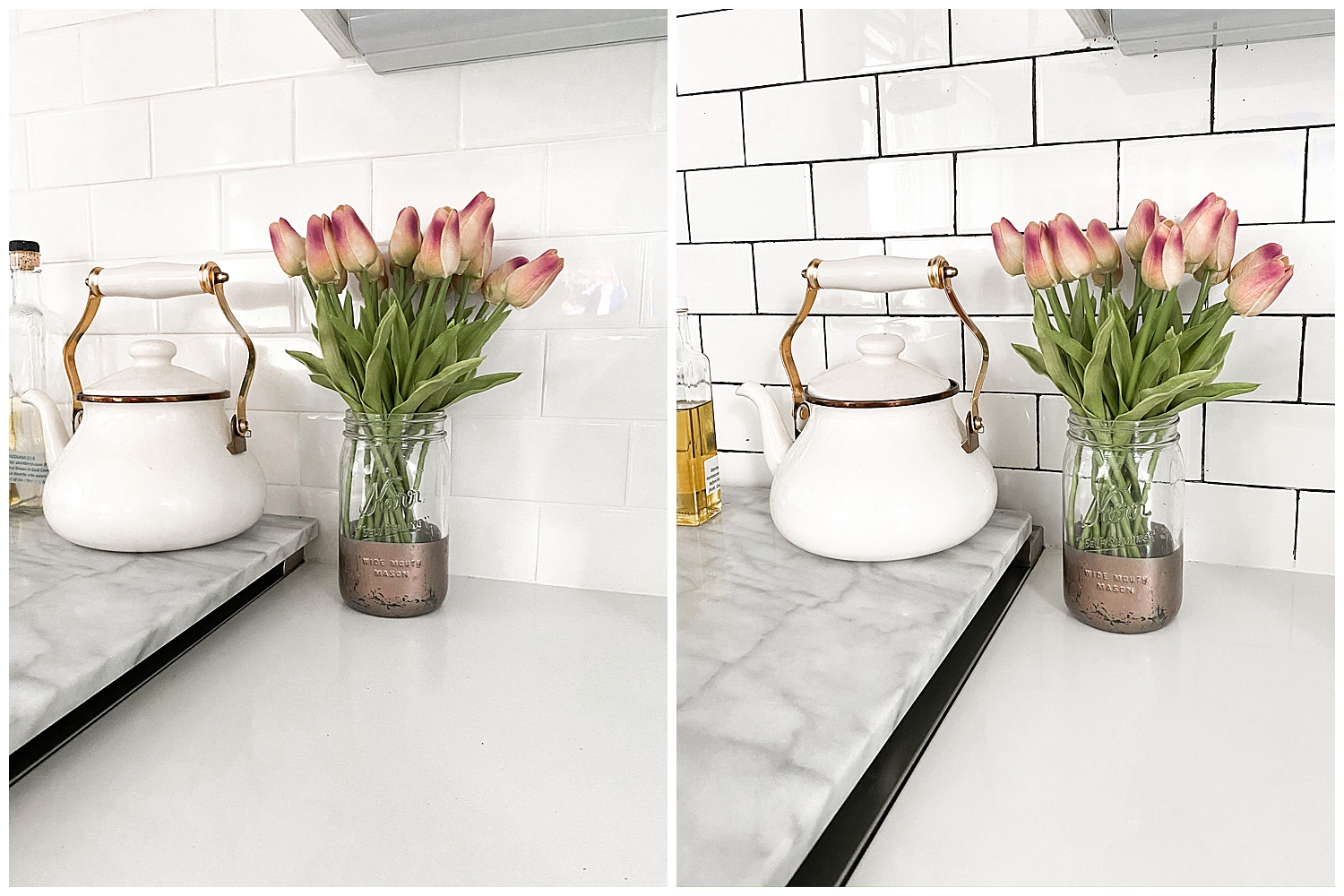 1. TEAPOT | 2. FAUX TULIPS
Clean Lines Using Grout Stain
Okay, back to cleaning the grout stain. After you wipe off the stain on the tile as best you can, you'll really need to get in there and get every groove. You might look at it and think that the lines are messy, but if you take your finger and put your towel over it and then really sort of scratch in between each tile, you'll be amazed at how all the little imperfections fade away and the line is left nice and smooth! The only real imperfections that you'll see are imperfections that are there from the original grout. As you can see in the below photo after my original wipe down, it looked messy. But once I got in there to clean it up with my finger nail essentially, it looks great!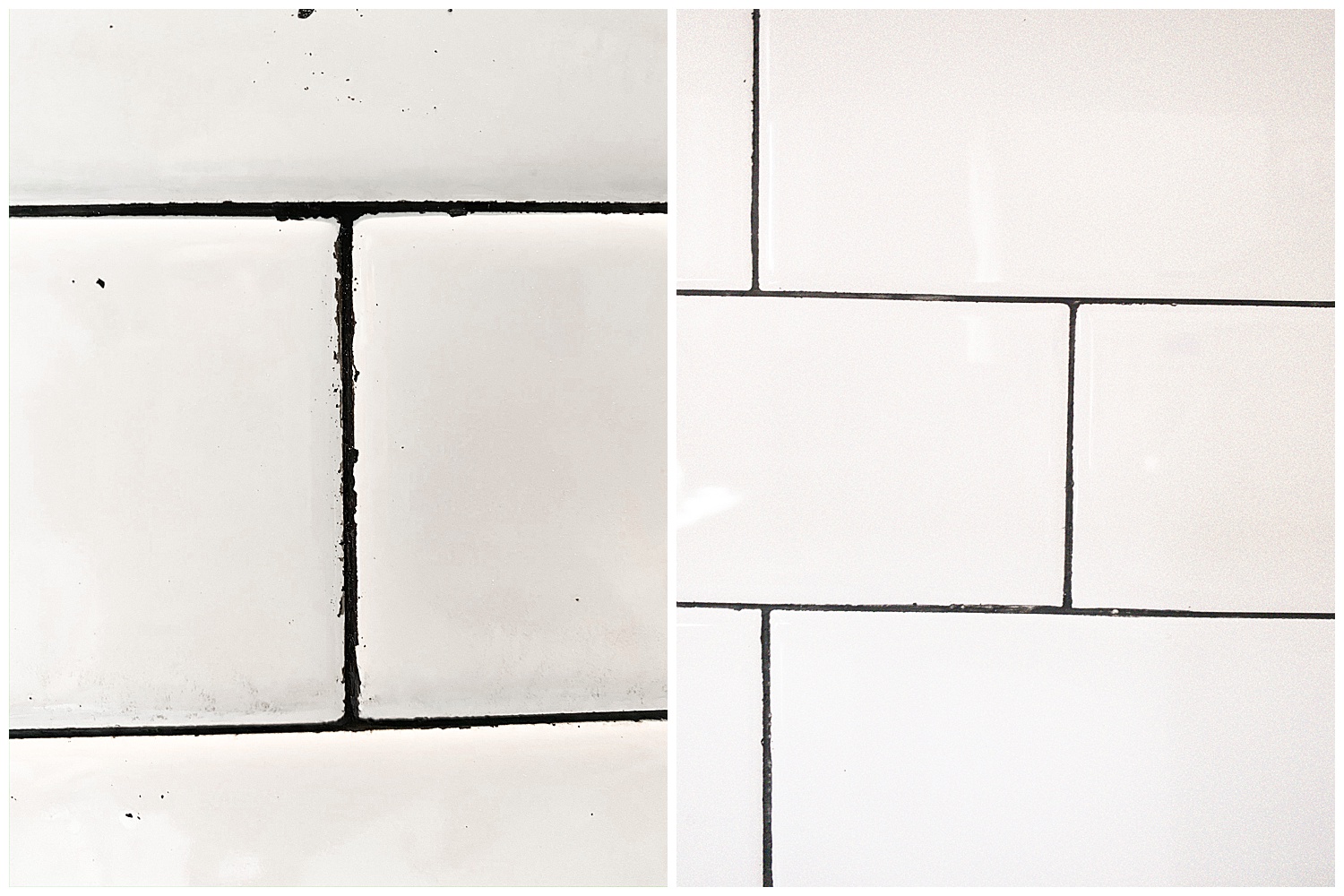 For example, as you can see at the bottom of the tile where the tile and grout meet the countertop.  The grout stain doesn't go all the way to the bottom. And the reason for that is that there's a sealant that use to seal the crack where the countertop meets the tile and when the builders applied it they applied it about an inch up the tile. The reason that didn't matter at the time is because the seal it was white and the grout was white. But here's the thing, the grout stain doesn't adhere to the sealant and only adheres to the grout. So as you can see it's not perfect at the bottoms.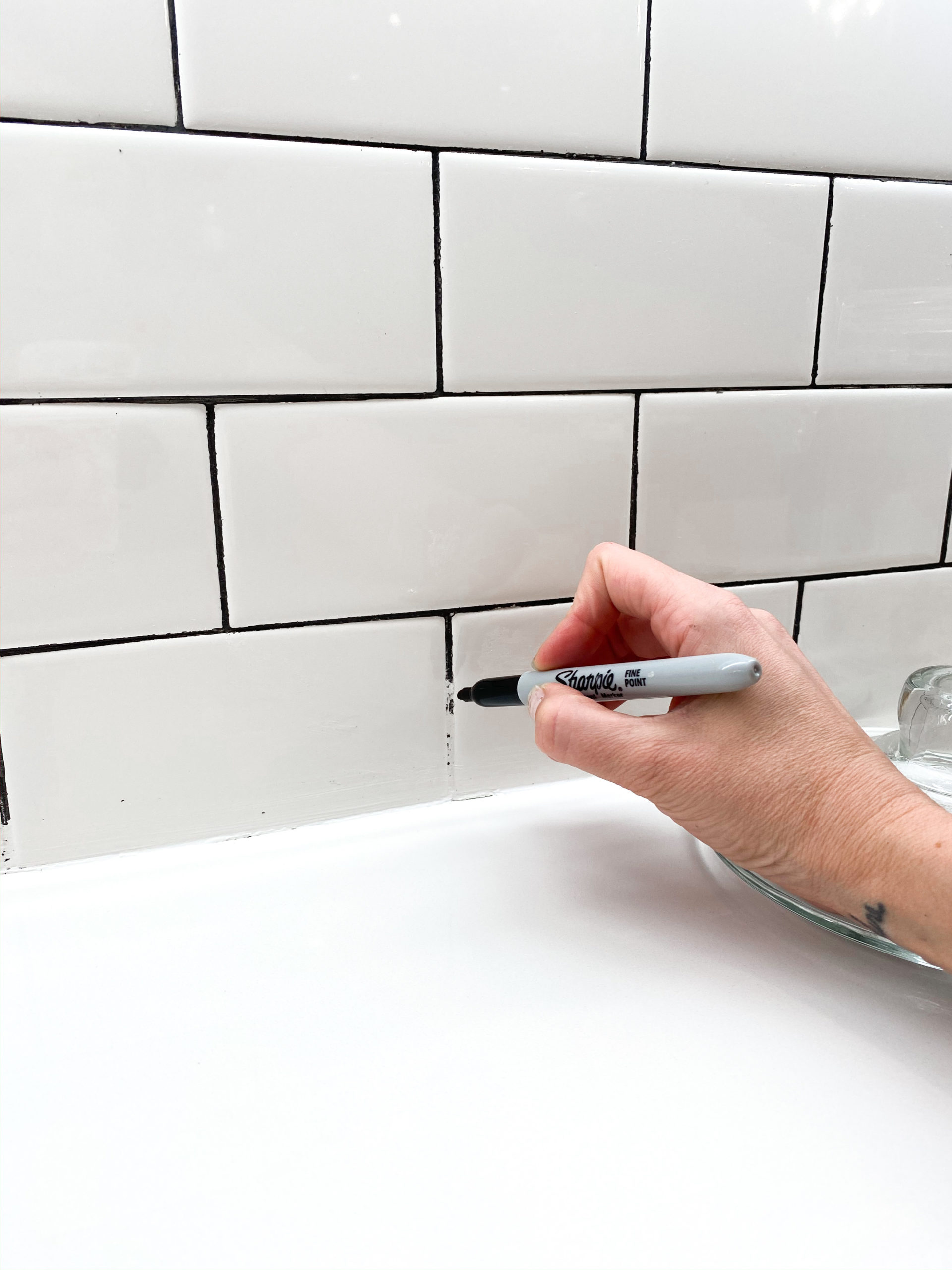 And I tried to fill it in with a sharpie! Don't try that! Ha. It doesn't work and looks messy and gray just an FYI.
I LOVE it!
But to be completely honest with you I don't mind the slight imperfection! I still think it looks amazing and I would do it all over again! In a heartbeat! Know that these pics I'm posting are mostly close up and even in the after pics if you see imperfections, I PROMISE you don't see them when you are just walking about in the kitchen. It looks perfect!  What do you guys think?! Do you love it?! Would you do this in your house? Tell me a thoughts in the comments below and let me know if you have any questions!
And if you want more home decor inspo from my house check out all my home decor posts here!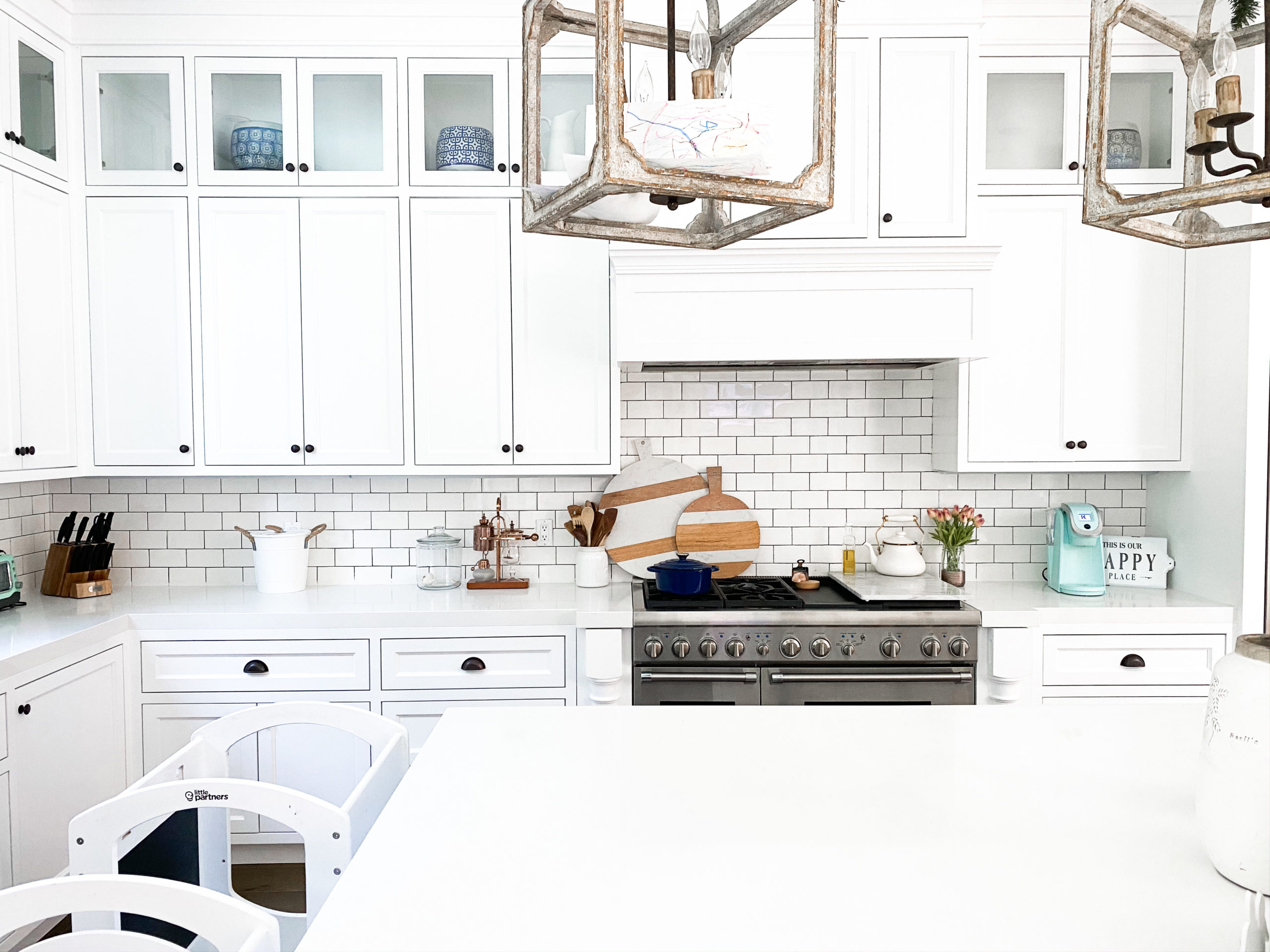 1. BLUE POT | 2. LARGE CUTTING BOARD | 3. SMALL CUTTING BOARD | 4. TEAPOT | 5. FAUX TULIPS