Hi guys!!! So I just realized that I never shared these looks when I meant to back in December… but I still wanted to show them to you because I think they are both so great. They both have the prettiest sequin detailing! I truly think that depending on the event or party that you are going to that they could be worn all year long! There is something about sequins that makes me feel so fancy whenever I put them on. Maybe it's all the sparkle, but I really think it's because when you put sequins on, you get the feeling that's it's going to be a great evening!
GIVEAWAY: I'm doing a giveaway on instagram for the beautiful Eliza J sequin dress from this post– and 19 other items! 1o for you and 10 for a friend!!! Since I only have 1 of the dress and in a size 6, I am sharing all the info with you down below, along with another sparkly, sequin favorite of mine. Head over to Instagram @alifedotowsky to enter!
Sequin Top + My FAVE High-Waisted Black Pants
I want to start with this look with a sequin cami top and black high-waisted pants. I briefly showed them to you in my Cyber Monday post, but they definitely deserve more attention than that. They are seriously my FAVORITE pair of high-waisted pants. Not only are they really comfortable, but they are also very slimming. I'd say that they are pretty true to size! If you need black pants that could not only be worn to work, but could double as a pant that you could wear to dinner or a party, seriously don't look any further. They are that good!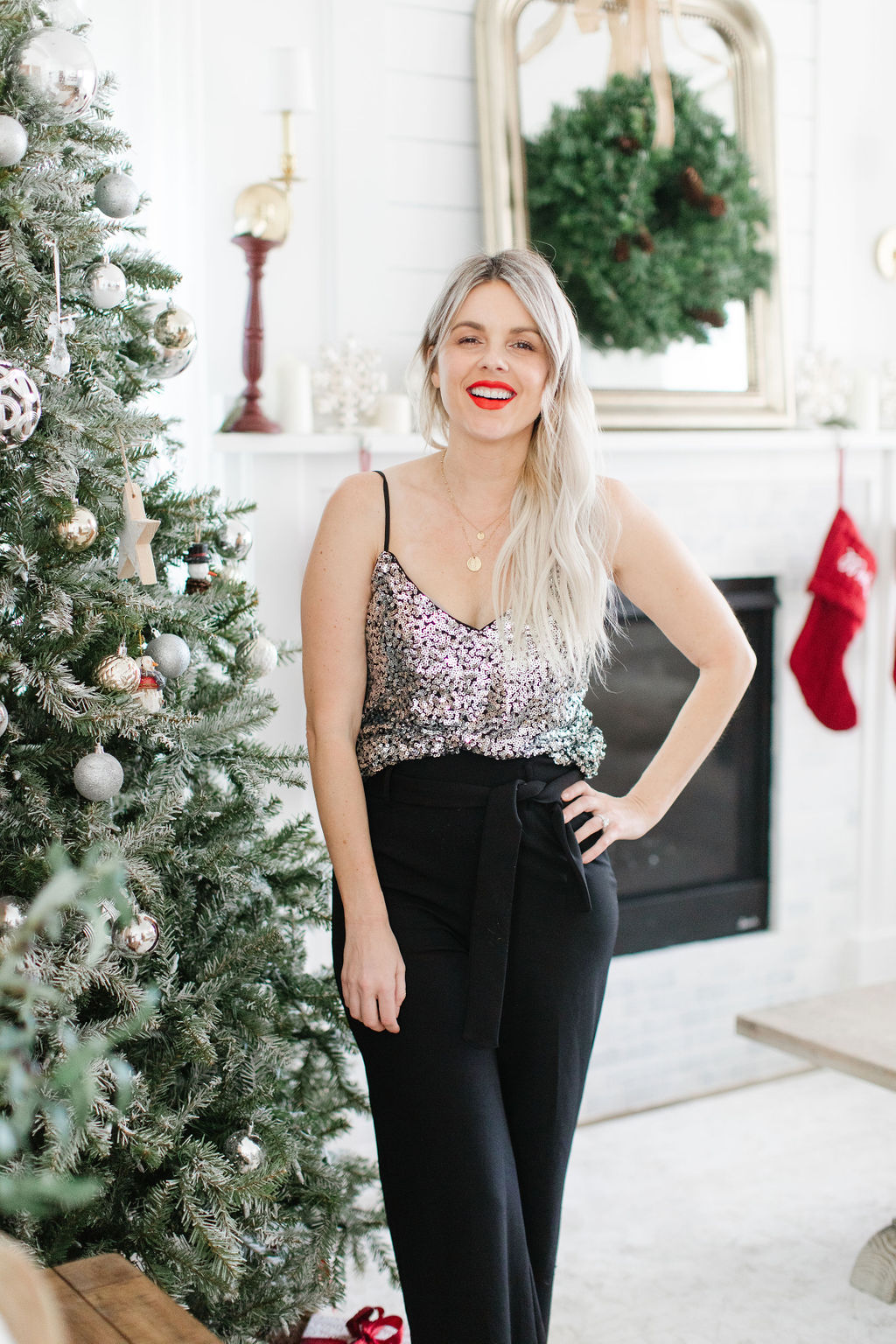 1. SEQUIN CAMISOLE TOP | 2. HIGH-WAISTED PANTS | 3. 'RED SQUARE' LIPSTICK | 4. COIN NECKLACE
Now for the star of the outfit, this amazing sequin camisole! I love that it can be worn both tucked in or untucked! When it is tucked in, it gets the cutest slouchy look to it that I absolutely love. The detailing of the silver sequins on the black tank is really pretty and gives extra dimension to the top. It could be worn to a dinner party or work event pretty much all year. I would say that it would be really cute to add a blazer over top if you are wearing this to a work party! Depending on your line of work and if you're really feeling fancy, maybe on a Friday, I would say why not wear it to the office! Ha!
I bought it from Nordstrom, but I am seeing now that they only have size large left. I was able to just find it from Walmart though! So depending on your size, you can order from either place. I'll put the links to both below!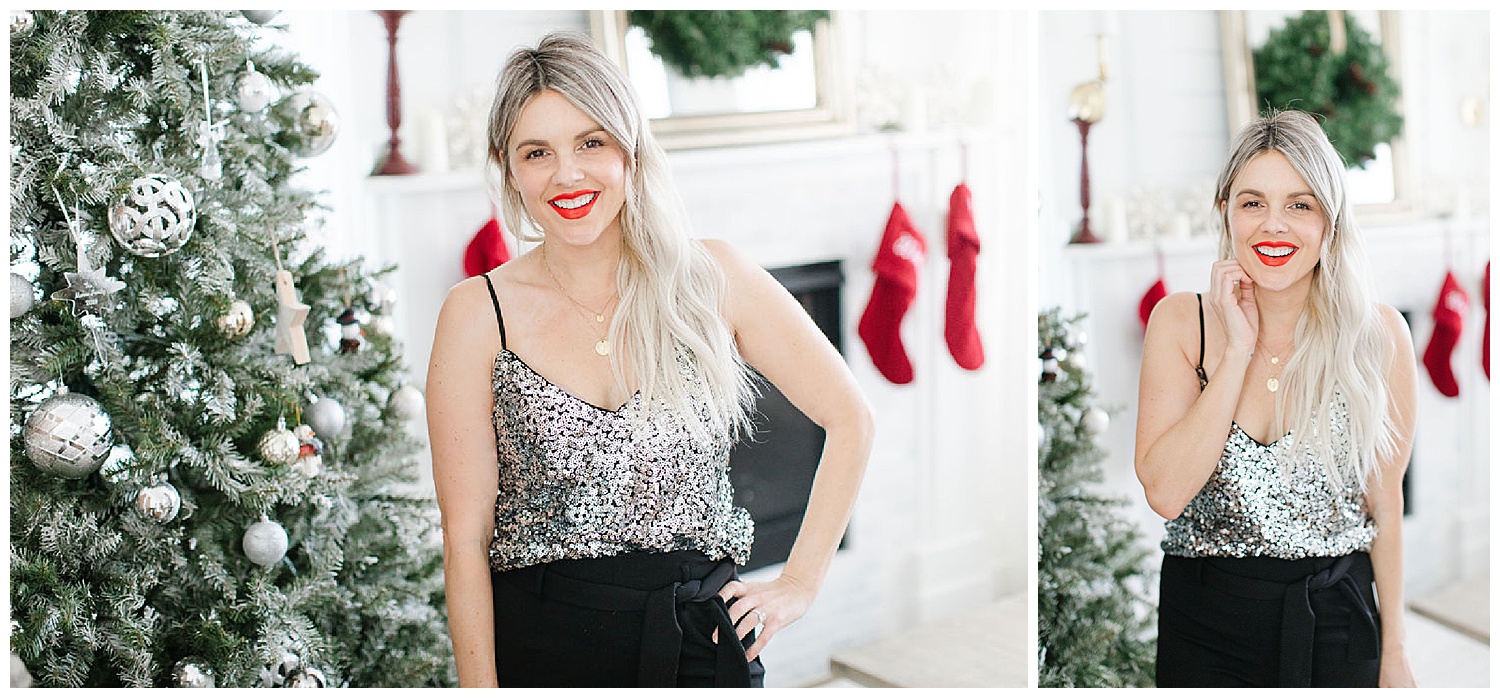 1. SEQUIN CAMISOLE TOP | 2. HIGH-WAISTED PANTS | 3. 'RED SQUARE' LIPSTICK | 4. COIN NECKLACE
Sequin Dress (+Jumpsuit!)
Then I have to show you this beautiful sequin dress!! It's by Eliza J, who you know I love and get so many dresses from! That's just because they are such great quality and they fit so many different types of bodies! I love this one in particular because it has the illusion of a faux wrap dress at the top, or even a "faux wrap" top with a skirt, and has these beautiful poofy sleeves! I love that they stop just after the elbow, and it makes the dress so flattering. The length of it is also great because it's not too short but still comes just above the knee!
This is one of those dresses that you could easily wear to a brunch or a baby shower or even a cocktail party! I would say that you probably shouldn't wear this to a bridal shower, but other than that this would be a great dress for many events!


1. DRESS | 2. DRESS – PLUS SIZES | 3. SIMILAR JUMPSUIT | 4. COIN NECKLACE
On all the sites that I've seen it on, it has 5 star reviews, which is just amazing! Dillards has stock in the most sizes – a lot of sites already sold out, so I would definitely jump on this if you want it! It also comes in plus sizes! I'm going to link Nordstrom here to because some days there are sizes in stock, and some days there isn't, but if you like shopping there here you go!
Finally, I have to mention that during my hunt to find this dress I found a jumpsuit in what I think is the same fabric! It is so beautiful!! So if you are more of a jumpsuit type of gal, I highly recommend trying that out!


1. DRESS | 2. DRESS – PLUS SIZES | 3. SIMILAR JUMPSUIT | 4. COIN NECKLACE
So there you have it! I hope you are able to find a use for these gorgeous dresses throughout this New Year! Do you have any looks or dresses that you got during the holiday season? Maybe even as Christmas gifts? I'd love to see them if you drop me some links in the comments below!